These rainbow-roasted carrots are easy to prep and make. They're perfectly cooked to fork-tender and the caramelization on the outside makes them the best side dish.
Need another vegetable side dish? Try maple glazed carrots, garlic roasted mini sweet peppers, air fryer butternut squash, or maple roasted Brussels sprouts and butternut squash.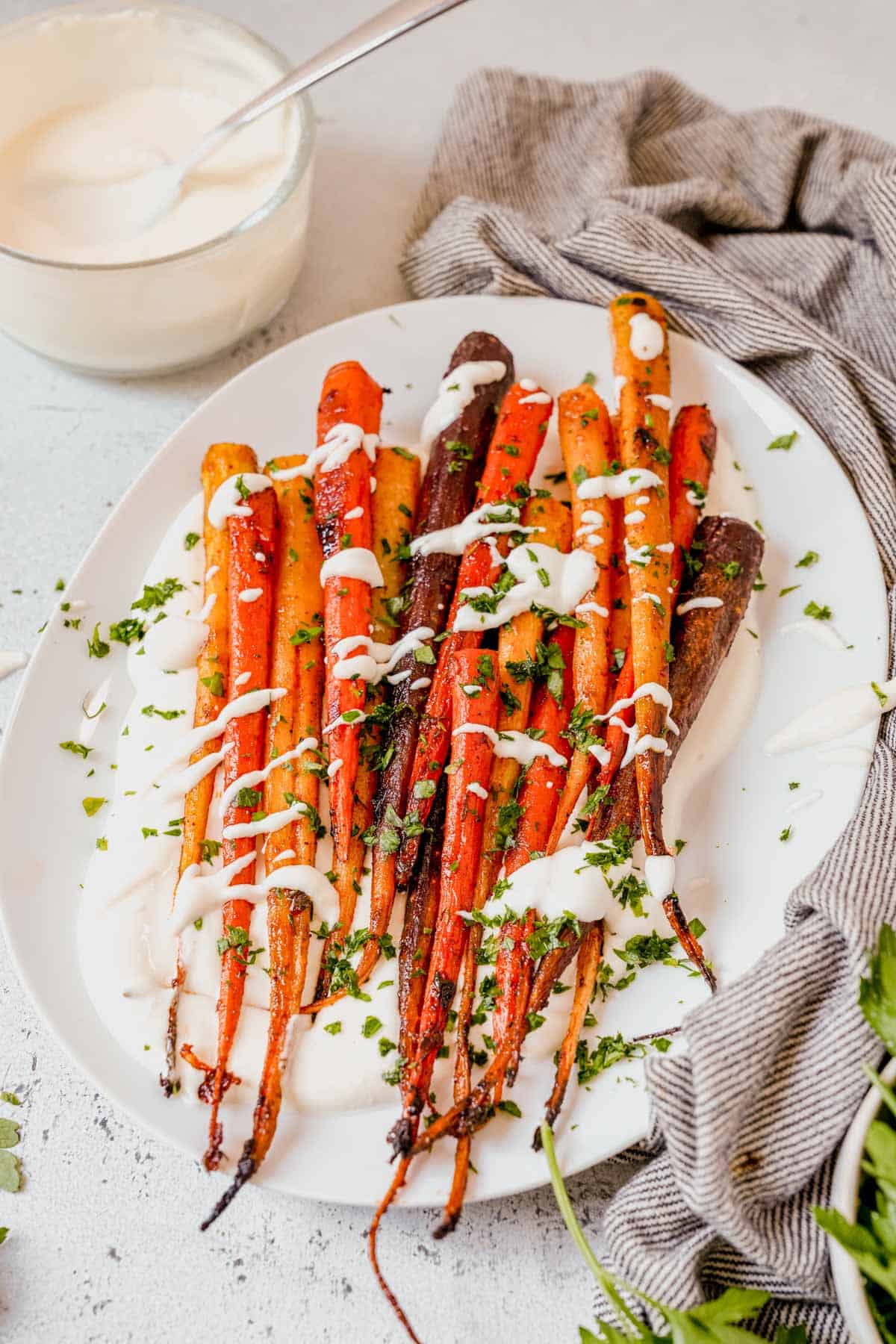 What are Rainbow Carrots?
Rainbow carrots, also known as heirloom or multi-colored carrots, come in a stunning array of hues, including purple, yellow, white, and, of course, the traditional orange. These carrots aren't genetically modified; they are natural variations of regular orange carrots. Each color boasts its unique taste and nutritional benefits. For example, purple carrots contain powerful antioxidants while regular carrots are known for their beta-carotene.
How to find them: you can almost always find a bunch of these colorful carrots in your local farmer's market. The larger rainbow carrots can be a bit trickier to find in grocery stores, but baby carrots are a bit easier. They'll usually be with organic veggies. I had the best luck finding them in our local Meijer and Walmart.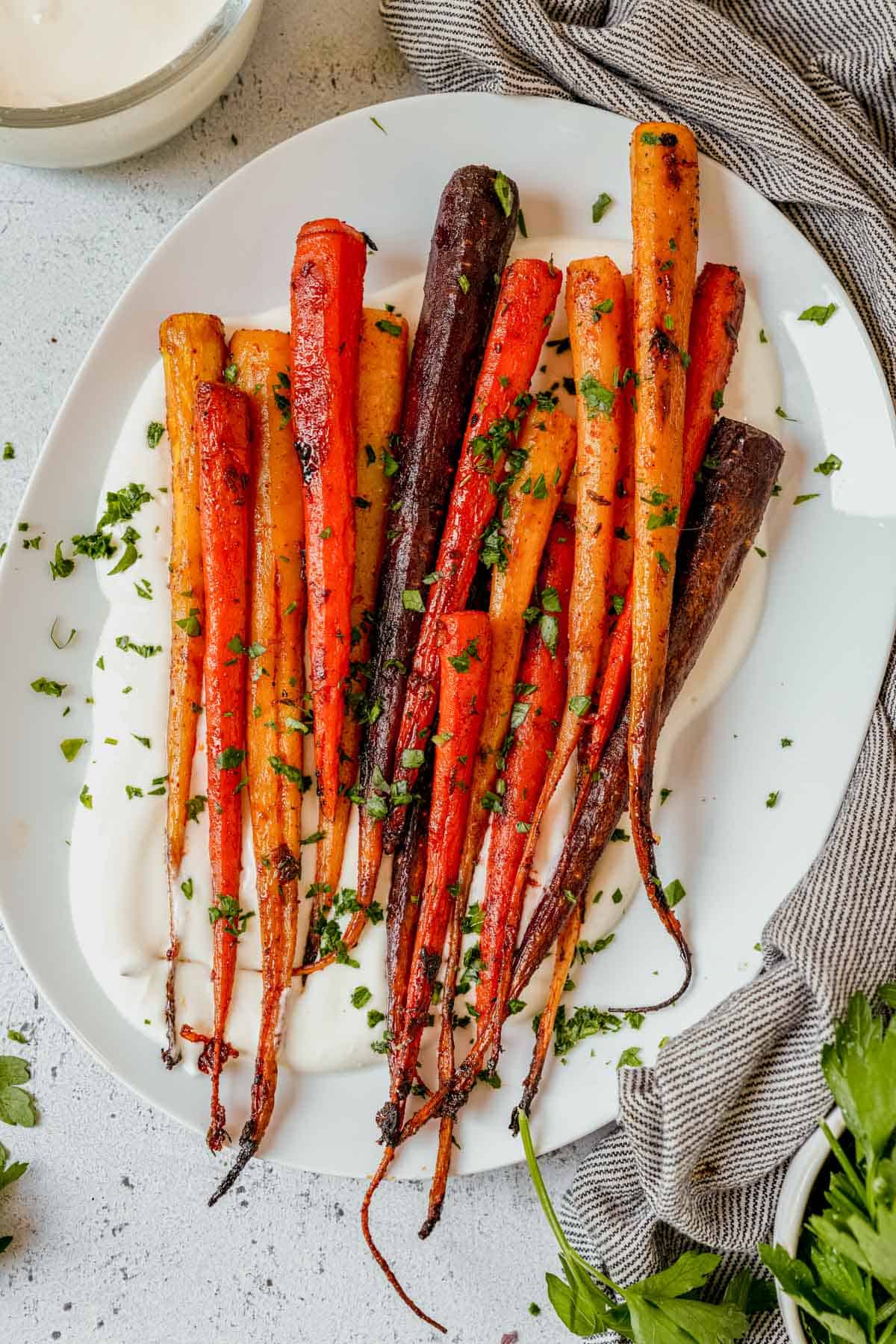 Why I Love this Recipe
Perfect caramelization. The roasting process enhances their natural sweetness, caramelizing the sugars.
Colorful side dish. The vibrant color makes them the perfect side dish for your dinner table.
Easy to customize. Add your favorite fresh herbs or serve with hummus, whipped feta, or harissa dressing.
Perfect for holiday meals. They're delicious and easy to make (so easy you could make them for weeknight dinners).
They're especially great for Easter alongside air fryer turkey breast, asparagus frittata, or cheesy scalloped potatoes.
How to Make Rainbow Roasted Carrots
Here are the step-by-step photos for this rainbow carrots recipe. It's an easy recipe, but these instructions will ensure it turns out every time. Jump down to the recipe card for the full printable recipe with exact measurements.
Prep carrots: Peel the raw carrots and cut off the tops and ends if needed. Do your carrots have green tops? Save the carrot tops for another recipe.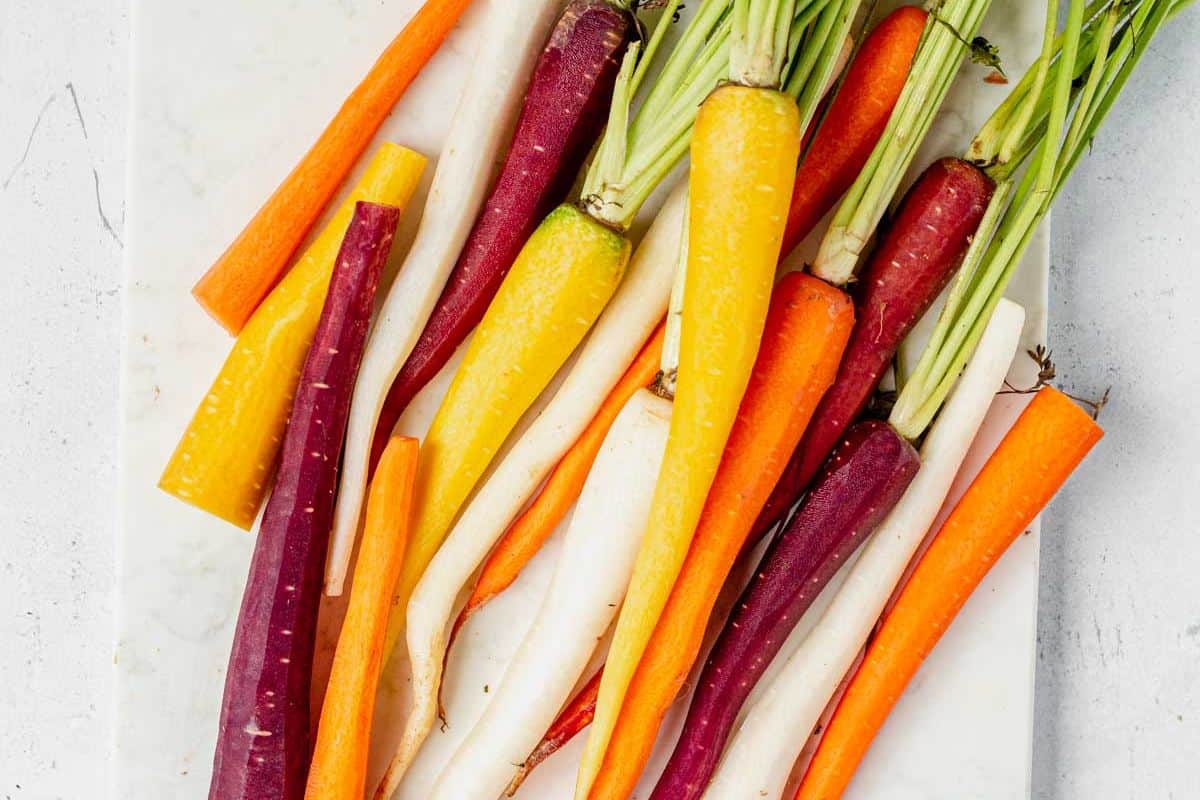 Season: Place the peeled whole carrots on a large sheet pan or in a roasting pan in a single layer. Make sure the carrots aren't touching overlapping or they could steam rather than roast.
Drizzle the with olive oil, spices, garlic, herbs, and syrup and toss to combine.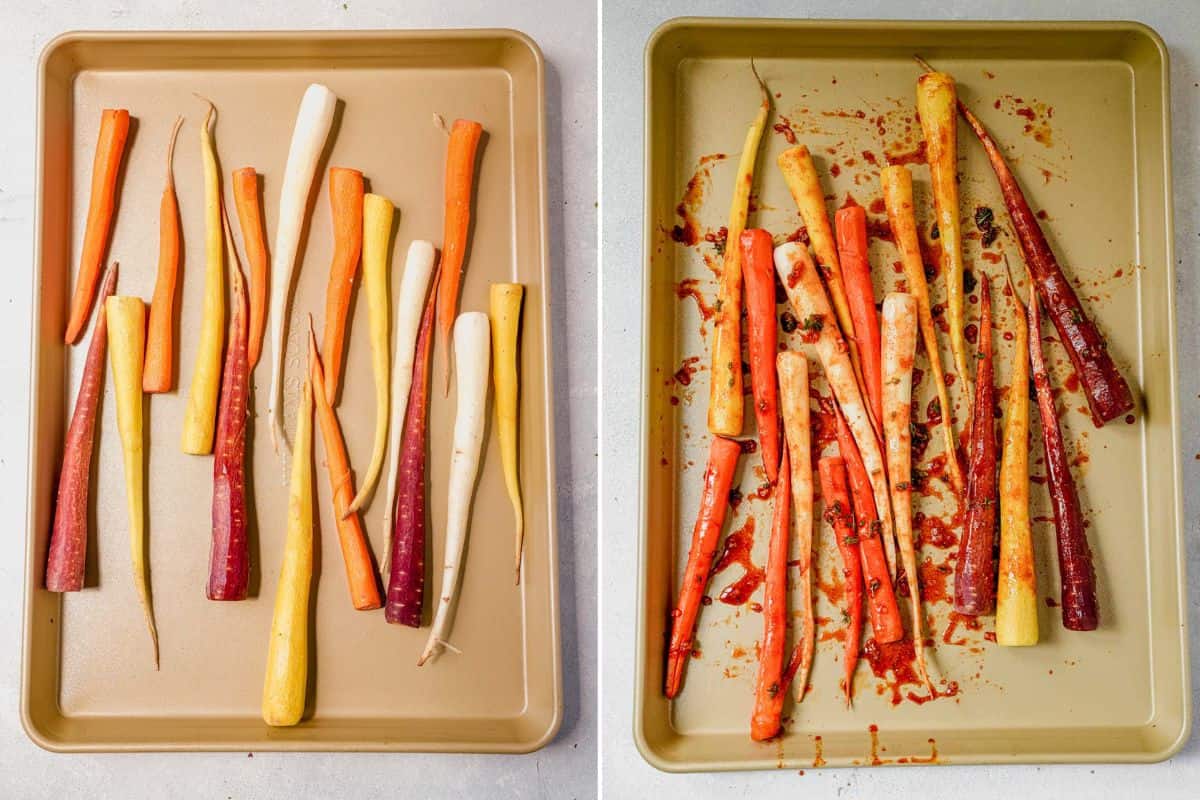 Roast: The exact roast time will depend on the size of your carrots. Bake 18-20 minutes for baby or fresh garden carrots and 25-30 minutes for thicker carrots. The carrots in these photos took about 22 minutes. Ensure carrots are tender when pierced with a fork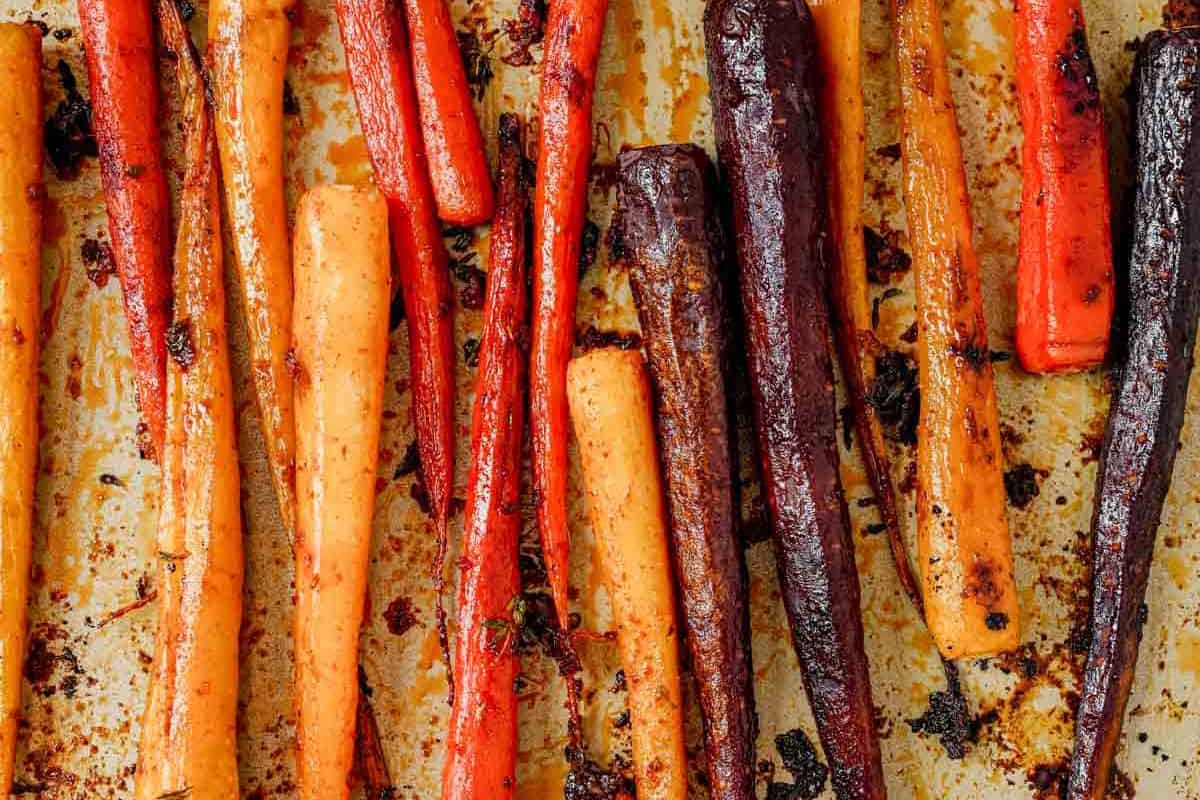 Expert Tips for Roasting Carrots
Size Matters: Ensure uniform sizes for even roasting. Smaller carrots will cook faster than larger ones, so consider cutting them accordingly.
Don't Overcrowd the Pan: Avoid overcrowding the baking sheet, as it can lead to steaming rather than roasting. Give the carrots some space to roast properly.
Enhance the Flavors: Experiment with different seasonings like cumin, garlic powder, or a pinch of paprika for an extra kick of flavor.
Add a Sweet Touch: For a touch of sweetness, drizzle a little honey or maple syrup over the carrots before roasting.
Recipe Variations and Serving Ideas
Citrus Zest: After roasting, add a sprinkle of fresh orange zest or lemon zest to infuse the carrots with a refreshing citrusy note.
Gourmet Nuts: Toss some toasted pine nuts or chopped walnuts over the roasted carrots for added texture and a nutty flavor.
Balsamic Glaze: Drizzle a balsamic reduction over the roasted carrots just before serving to add a tangy and slightly sweet glaze.
Rainbow Carrot Salad: Let the roasted carrots cool slightly and combine them with some baby spinach, feta cheese, and a light fresh herb vinaigrette for a vibrant salad.
On top of feta: my favorite way to serve them is on top of whipped feta or whipped goat cheese. The warming spices and cool and creamy whipped feta makes this the ultimate carrot recipe.
FAQs
Do rainbow carrots taste the same as regular carrots?
While rainbow carrots may look different from regular orange carrots, their taste is quite similar. However, each color may have subtle flavor variations, with purple carrots being slightly sweeter and yellow carrots a bit milder. The unique appeal of multicolored carrots lies in their visual impact and the opportunity to enjoy a medley of flavors in one dish.
Are colorful carrots better for you?
Yes, colorful carrots offer a nutritional advantage over regular orange carrots. The diverse range of colors indicates a higher presence of various antioxidants and phytonutrients, each with its unique health benefits. These compounds contribute to better eye health, improved immune function, and reduced risk of chronic diseases.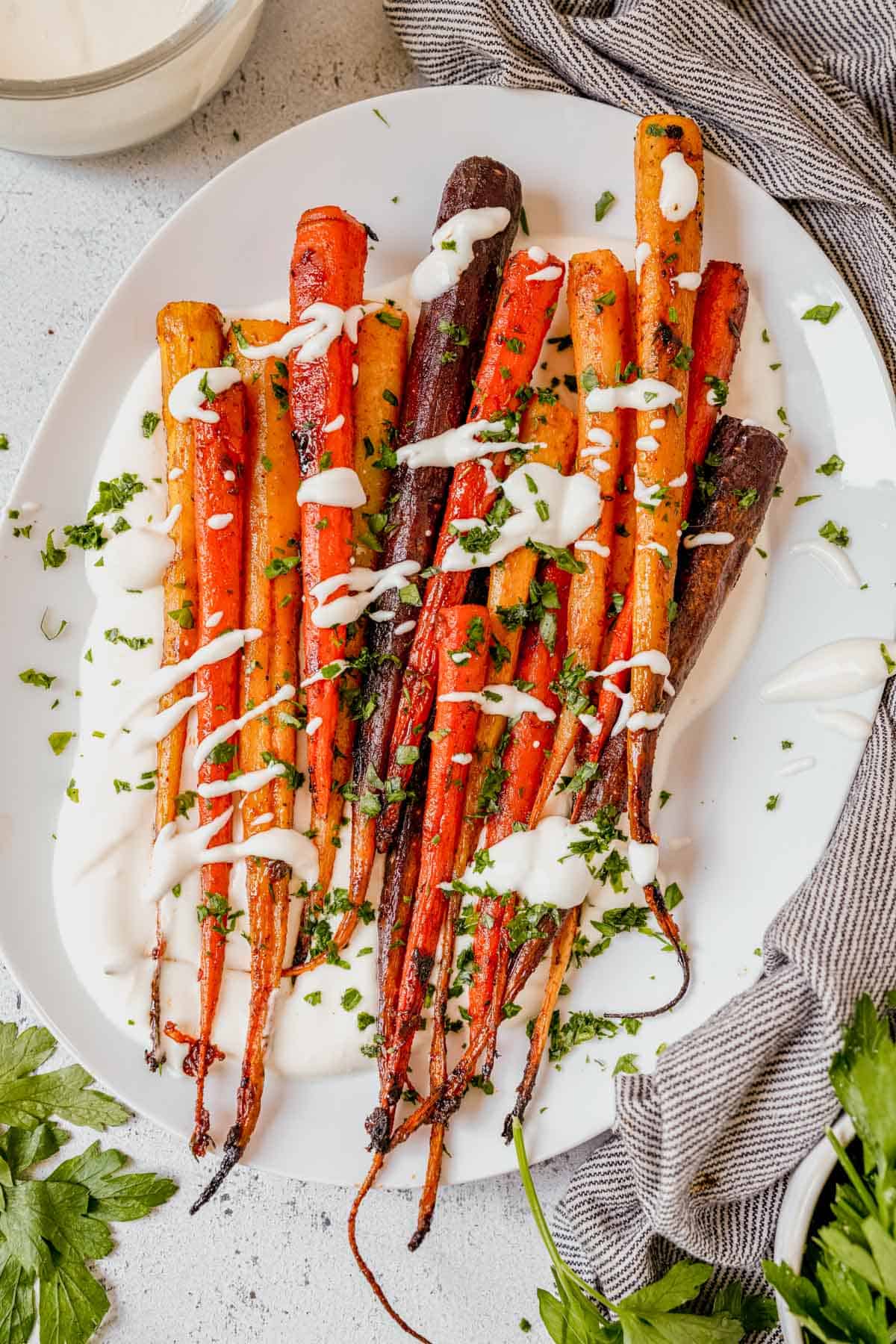 Storage Instructions
If you happen to have leftovers (which might be a rare occurrence!), store them in an airtight container in the refrigerator for up to 3 days. Before reheating, drizzle a little olive oil to refresh the carrots and maintain tenderness. Reheat in the oven or air fryer for best results.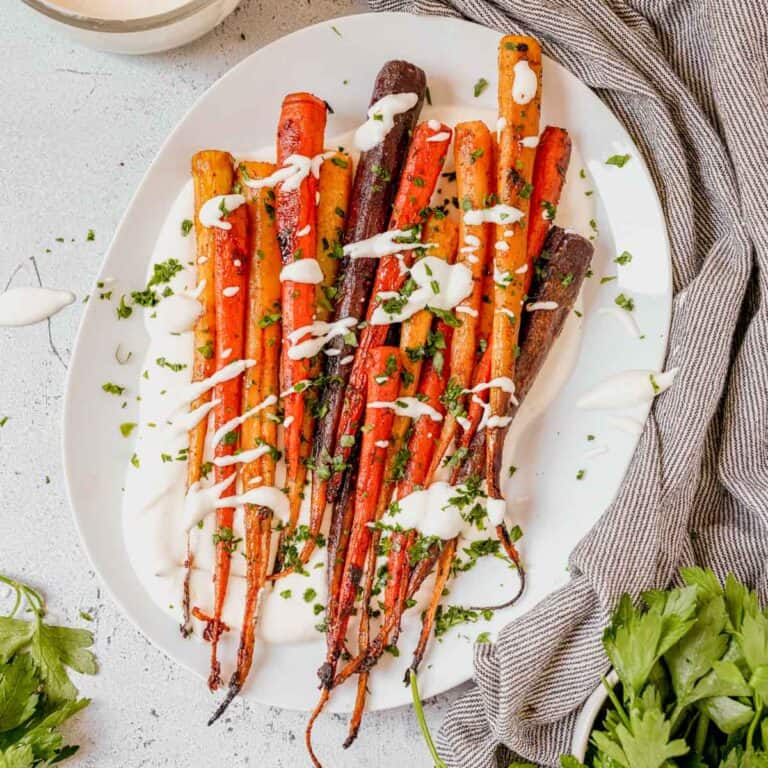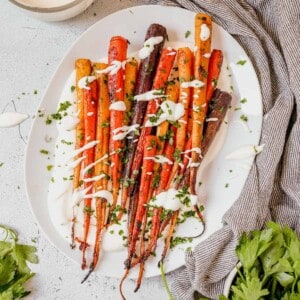 Roasted Rainbow Carrots
These rainbow-roasted carrots are easy to prep and make. They're perfectly cooked to fork-tender and the caramelization on the outside makes them the best side dish.
Print
Pin
Rate
Save
Saved!
Ingredients
1 ½

lbs

rainbow carrots

peeled (I used 3 bunches store-bought, which is about15-17 carrots)

2

Tablespoons

olive oil

1

teaspoon

paprika

1

teaspoon

kosher salt

4

cloves

minced garlic

2

teaspoons

honey or maple syrup

2

teaspoons

fresh thyme leaves

plus more to garnish

Parsley to garnish

optional
Whipped Feta (optional)
8

ounces

feta cheese

¼

cup

plain Greek yogurt

2

Tablespoons

milk

plus more as needed
Recommended Equipment
Vegetable peeler

Large baking sheet
Instructions
Preheat the oven to 425°F.

Place the peeled whole carrots on a large baking sheet or in a large casserole dish.

Drizzle the with olive oil, maple syrup, spices, garlic, and herbs, and toss to coat.

Bake for 18-20 minutes for baby or garden carrots or 25-30 minutes for larger store-bought carrots. The carrots shown in these images took approximately 20 minutes for reference. Pierce the thickest part of the carrot with a fork to ensure it's tender.

While they're roasting, make the whipped feta if using. Add all of the ingredients to a high-speed blender or food processor and blend on high speed for 2-3 minutes, until smooth and no lumps remain. Add a splash of milk as needed to thin it out to the desired consistency.

Serve the carrots warm with optional whipped feta and chopped parsley.
Notes
Note 1. Carrots. The size of the carrot will impact the cooking time. Baby rainbow carrots and smaller garden carrots will take 18-20 minutes to roast while larger, thicker carrots can take up to 30 minutes. Use a fork to determine if they're fork-tender. They shouldn't be overly soft, but soft enough for the fork to pierce it easily.
*Nutritional information does not include whipped feta
Nutrition
Serving:
1
serving
|
Calories:
145
kcal
|
Carbohydrates:
19.9
g
|
Protein:
1.9
g
|
Fat:
7.5
g
|
Sodium:
428.7
mg
|
Fiber:
5.1
g
|
Sugar:
10.2
g
|
Vitamin A:
1435.4
IU
|
Vitamin C:
11.6
mg