Soft and fluffy crepe-like pancake roll-ups with butter and powdered sugar. Dip them in Nutella or syrup! They're a great finger food to serve for breakfast or brunch.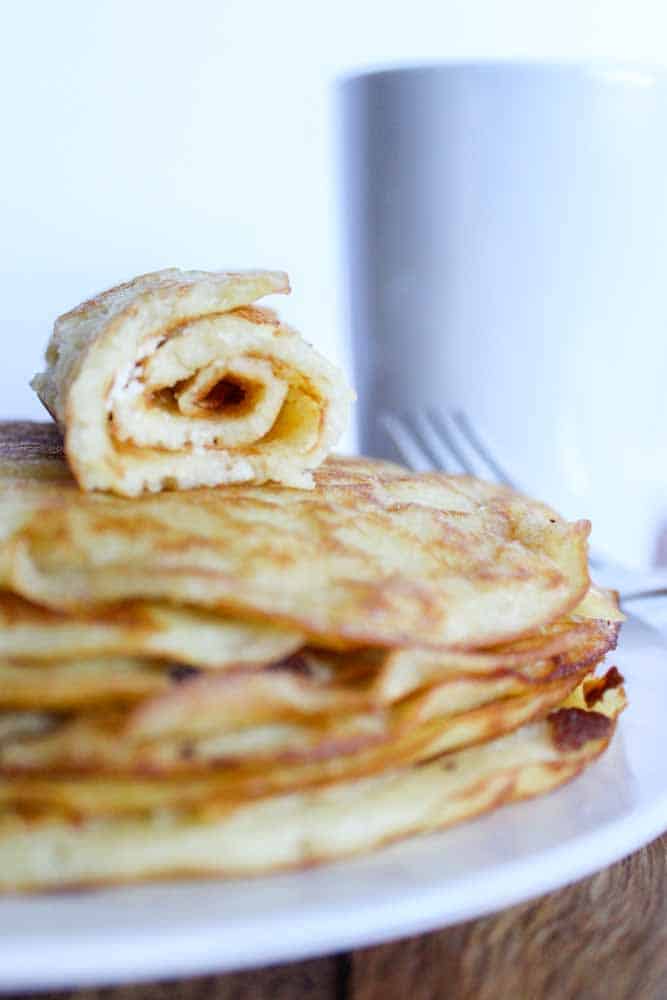 Whoaaa-ho-hooo this is what my brunch dreams are made of.
Brunch is my favorite meal of the day. Mostly because it means you likely got to sleep in. And because coffee, mimosas, pizza and pancakes are all served at the same time.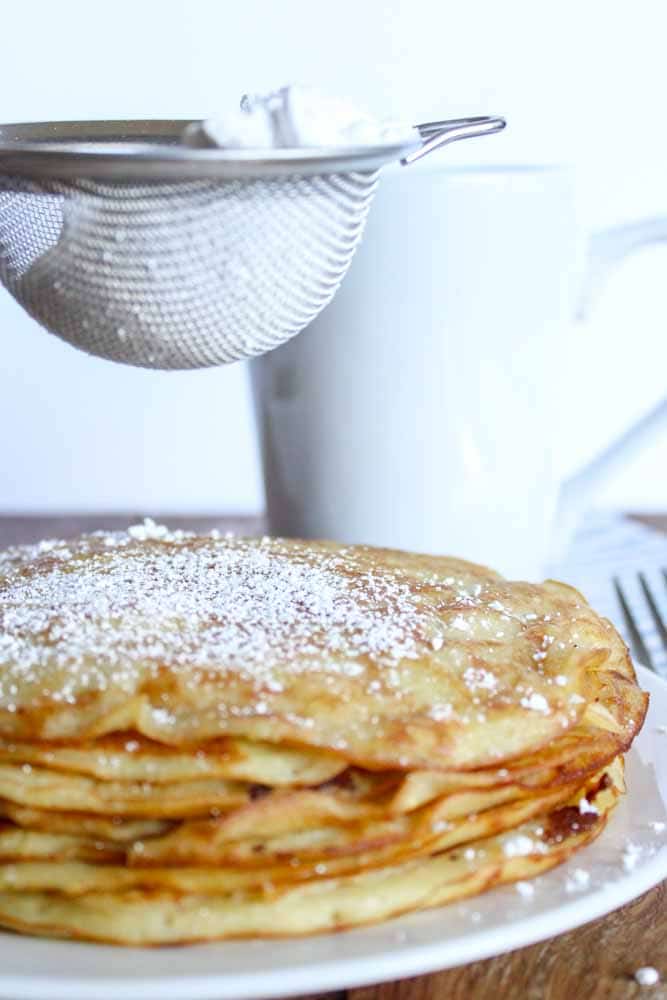 It's been a long time since pancakes made an appearance on my brunch slash breakfast menu. Pancakes are one of my childhood favorites. Because I was OBSESSED with syrup. I used to eat syrup out of the bottle before Elf made it cool.
Whyyy have I not made them recently? For a couple of reasons, I think. Reason #1 I'm lazy. Reason #2 I've been eating healthy. And reason #3: I've been stuck on a chocolate peanut butter protein shake and sometimes it's difficult to think outside the chocolate, peanut butter, healthy, milkshake-like breakfast box, okay?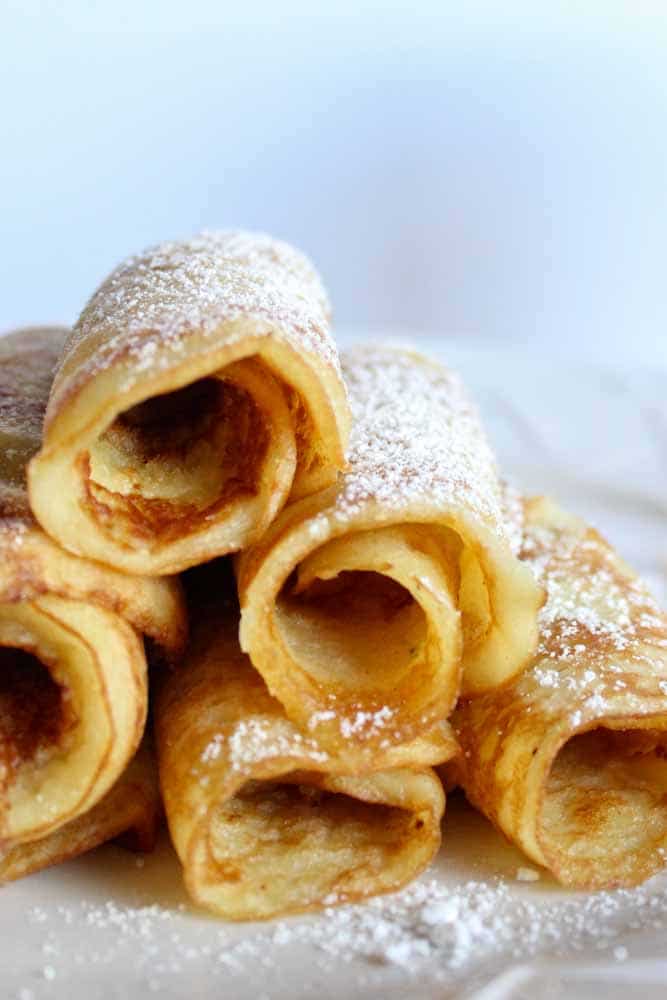 But it wasn't long before my syrup-calling came back and I was filling, stacking (and in this case, rolling) them back onto my morning menu.
So let's get down to the basics of these pancake roll-ups. It's essentially your favorite pancake batter, with double the milk to create a thinner consistency. Then you pour them into a frying pan and swirl it around until it covers the bottom of the pan. Cook for 2 minutes, flip and cook for another minute or so until they turn golden brown.
Then you spread them with butter, dust some powdered sugar and roll them up. All you've got to do is dunk and enjoy!
But as I was making these I started thinking about all the wonderful, amazing fillings I could stuff in these. Nutella, blueberries, cinnamon sugar, strawberries and mascarpone. The list is endless. Which is why I've decided I'm going to host a brunch and create a pancake roll-up bar.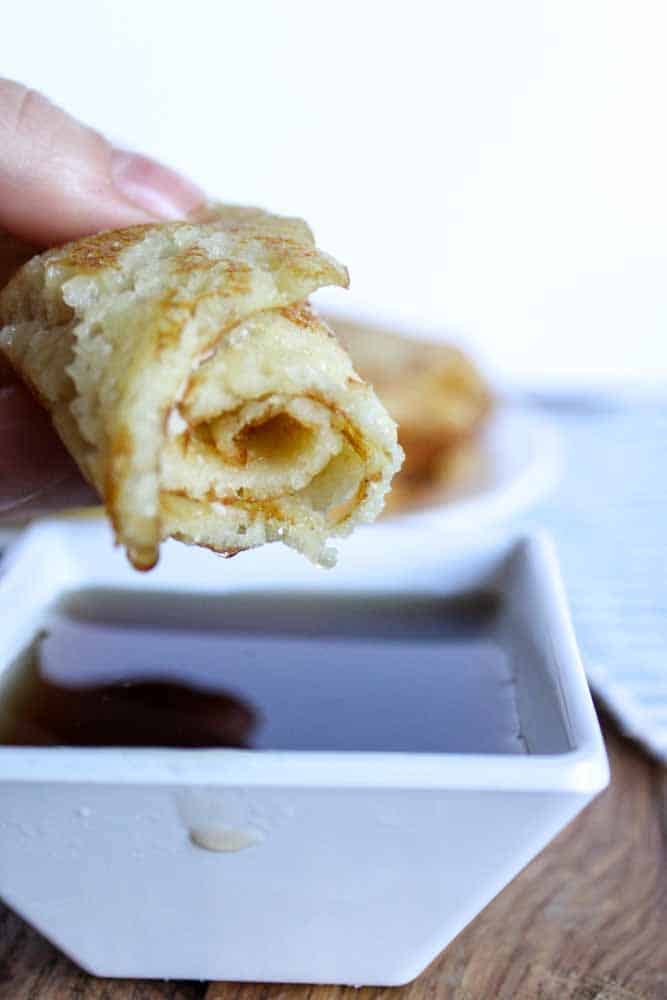 I can imagine it now: stacks of thin crepe-like pancakes, bowls of fruit and chocolate and warm syrup ready for dunking.
Mimosa bar: not included, but mandatory. Stay tuned on how that turns out, though I'm sure it will be fantastic.
Go forth and roll, my fellow brunch lovers!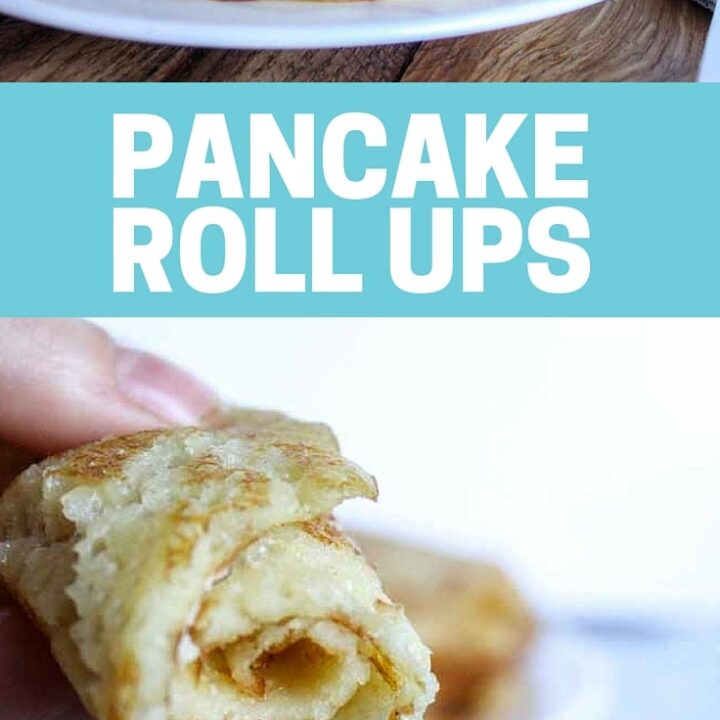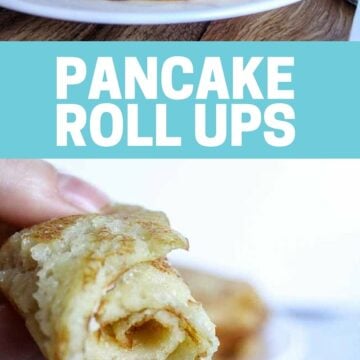 Ingredients
½

cup

butter

divided

1 ½

cups

all purpose flour

3 ½

teaspoons

baking powder

½

teaspoon

salt

¼

cup

sugar

2 ½

cups

milk

1

egg

powdered sugar

for dusting

syrup

optional (but not really)

whipped cream

optional
Instructions
Melt 3 tablespoons of butter in a small bowl for thirty second, until melted. Set aside.

In a medium bowl, whisk together flour, baking soda, salt and sugar.

Stir egg and milk together.

Pour the egg and milk mixture and butter into flour mixture and whisk together until combined.

Spray a small frying pan with cooking spray and warm on medium-high heat. Pour approximately ¼ cup batter into pan. Swirl around until batter covers the bottom of the pan. Cook for about 2 minutes, until bottom is golden brown. Flip and cook for another minute or so. Remove pancake from pan and place on a plate. Repeat until all the batter is gone.

With pancakes will warm, spread with the remaining butter and dust with powdered sugar. Take one end of the pancake and roll it up. Serve with whipped cream and syrup.