I'm finally sharing our daughter's neutral boho nursery! This post is to reveal her boho nursery decor with links to where we got everything and how we set up her room.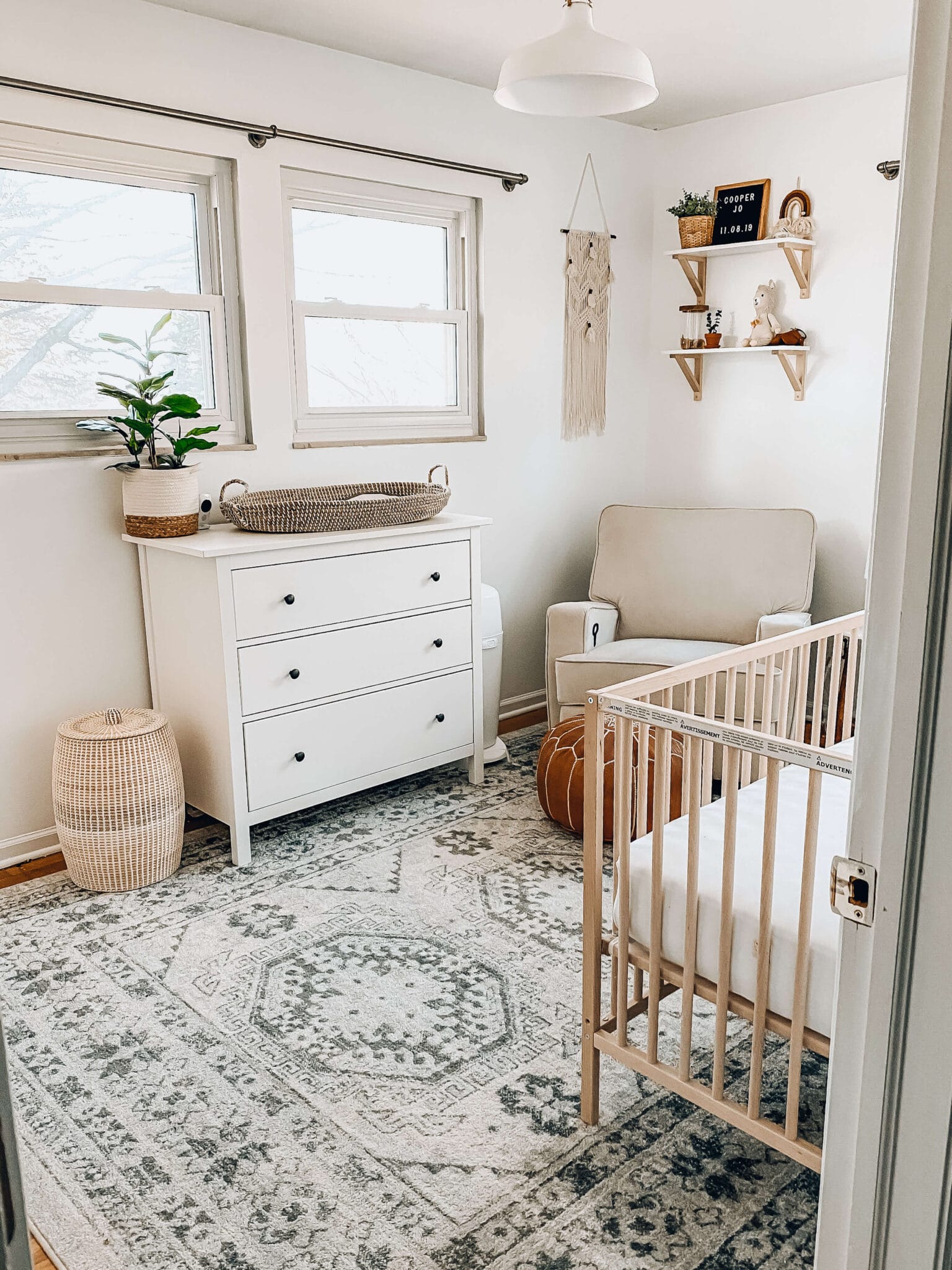 Jump to:
I knew I wanted our nursery to be neutral and once we found out we were having a girl I wanted it to have more of a boho vibe. I started to create a mood board on Pinterest and started saving images of inspiration I loved.
A few words I wanted to feel when we walked into the nursery
simple, peaceful, calm, clean.
I think I hit the nail on the head because every time someone comes into her nursery one of the first things they say is, "it's so peaceful in here!" And it really is. It's a safe space for us to go when things get chaotic with visitors or a place to nurse her and just soak in the moment. Everything we need to raise our sweet girl is in this room and it's such a special space.
Read more for links to decor and to get boho nursery ideas for your baby girl too! If you love Amazon, IKEA, Target and Pottery Barn then this nursery is for you!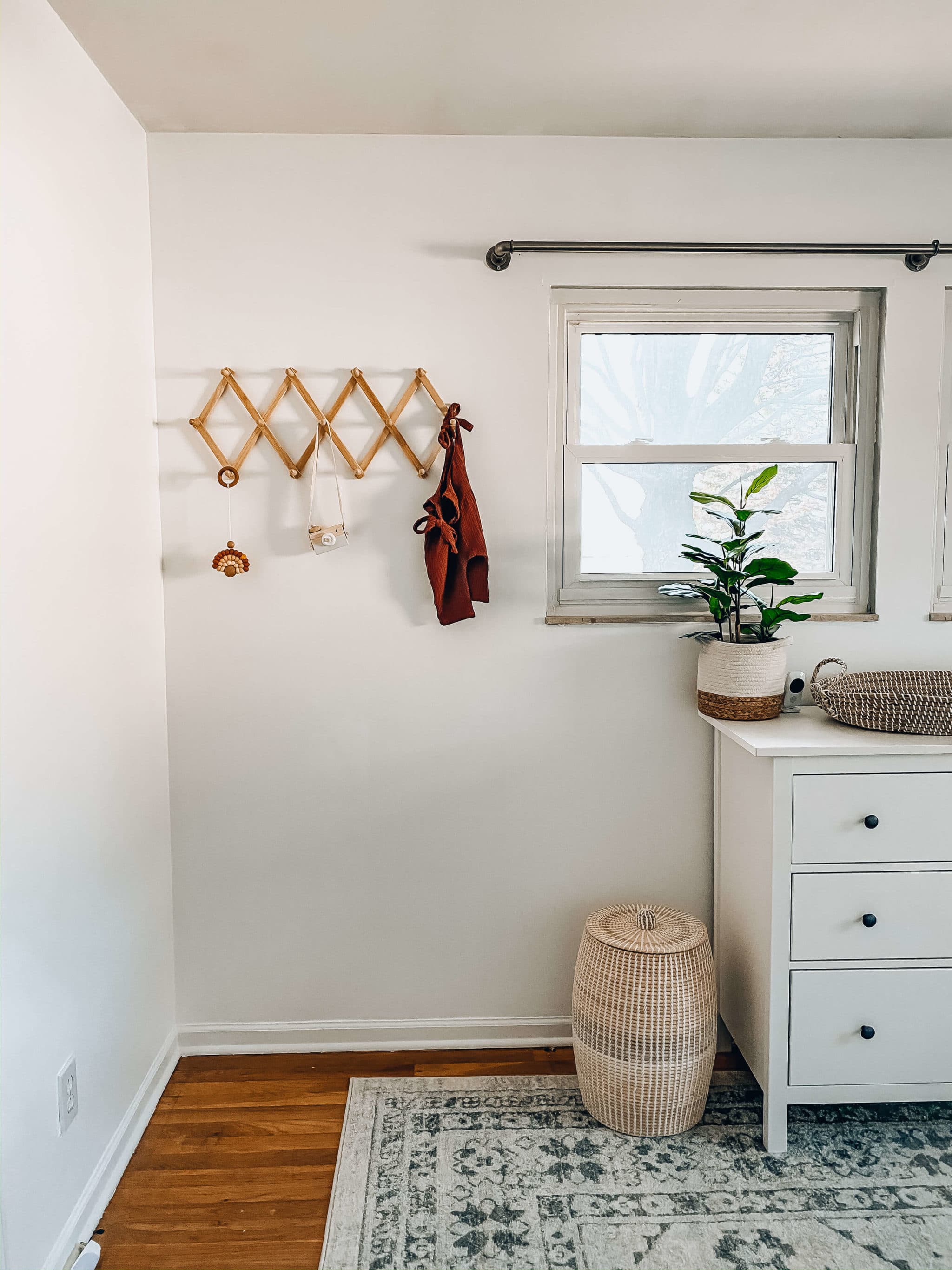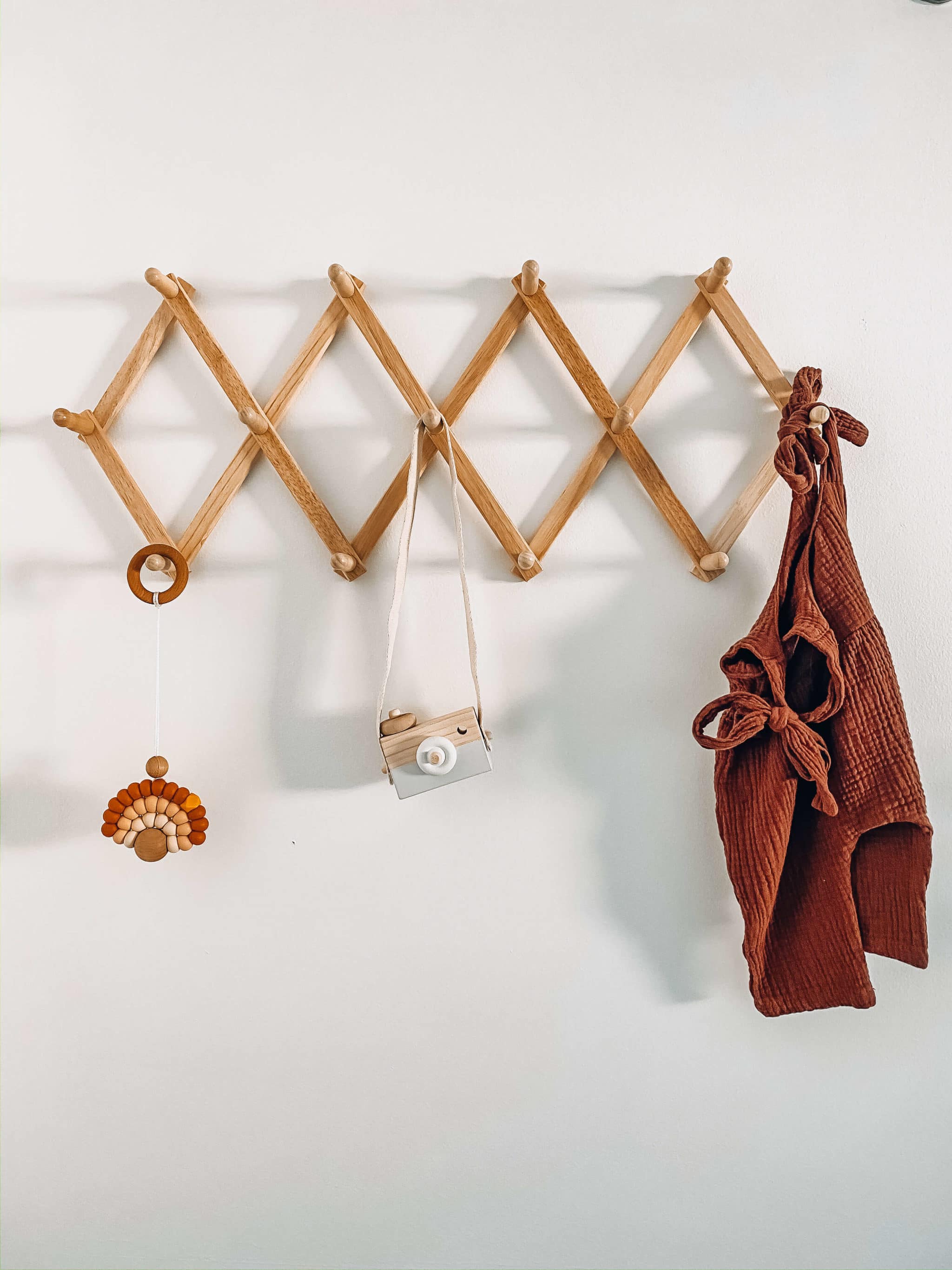 Boho Nursery Decor
Coffee Rack | I've seen these all over Instagram and it was one of the first things I knew I wanted in this room. It's super cheap and you can hang so many things from it! Love the simple, natural color.
Teething Rainbow Toy | When we found out we were pregnant I started saving random Instagram accounts and somehow I came across this one. I loved the color and knew it would be great for Cooper when she's teething.
Wooden Camera | I thought this neutral piece of decor was perfect given my profession. The camera is a huge passion of mine and I loved the idea of putting something special to me in our girl's room.
Romper | I'm loving Amazon clothes for Cooper lately because it's not super expensive. This was kinda a whim that I put the romper on the coffee rack when it came in and I thought it was cute so I left it! I'll probably change this out depending on how I feel.
Laundry Basket | How cute is this wicker basket! It's a little pricey, but if you're basket is going to be sitting out it might as well be cute! We had a gift card to Pottery Barn Kids so it was perfect.
Boho Nursery Rug | We went back and forth on the rug and we even had a different one before this. When we swapped our nursery for the guest bedroom we needed a different sized rug and I found this boho rug. Note: if you're having trouble finding this rug, search "wolbert oriental light gray area rug" on wayfair.
Overhead Light | So I'm not going to lie, I really wanted this wooden beaded pendant light from potter barn, but we just couldn't justify spending $300 on it. Zach went to Ikea and came home with this and we really love how it turned out! Love the tiny hint of gold in it and how it adds a modern touch to the room.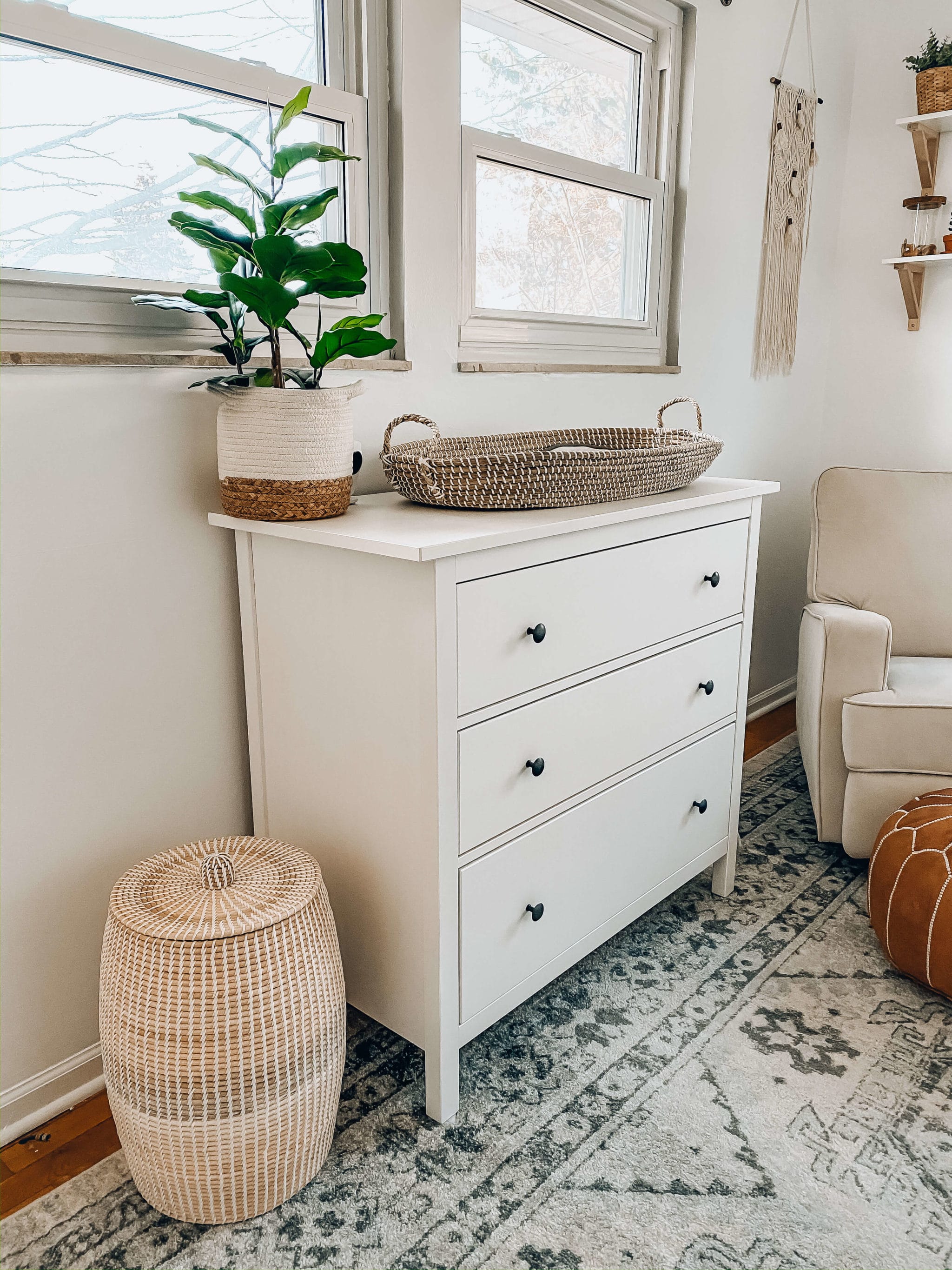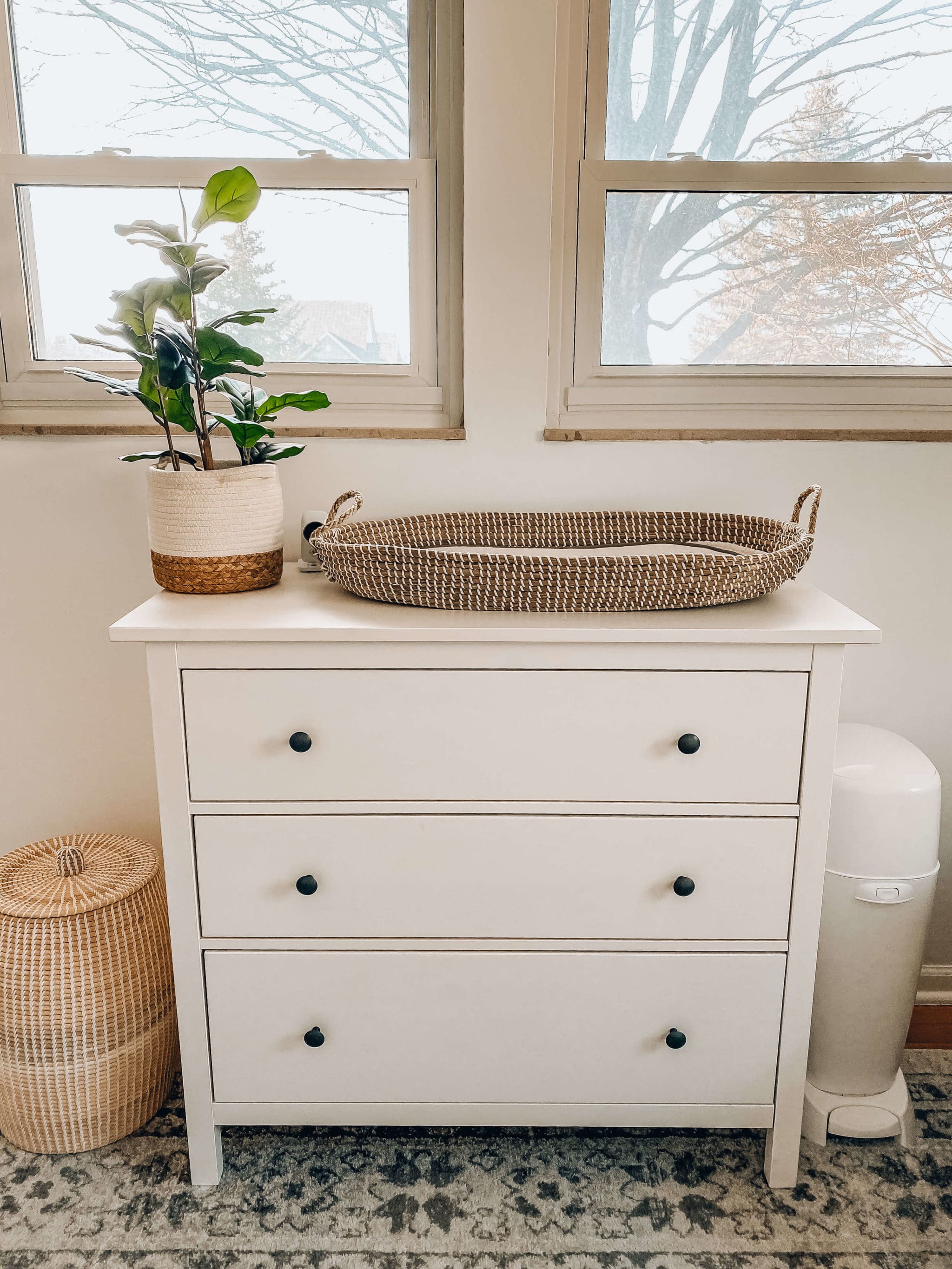 Changing station
Dresser | This dresser is from Ikea and I'm pretty sure it's one everyone has. I love the neutral look of it and it's so simple. We have the larger version of this dresser in our bedroom. Very affordable too! We thought about replacing the knobs for them but decided to keep the black.
Diaper Genie | You have to have one of these for all those diapers! Glad they're white and blend in with the wall.
Changing Basket | I love this changing basket because it's so cute and boho. They have a lot of them on Amazon, but this is the one we bought.
Artificial Plant | Sorry, I can't link to this one because we got it at TJ Maxx randomly one day.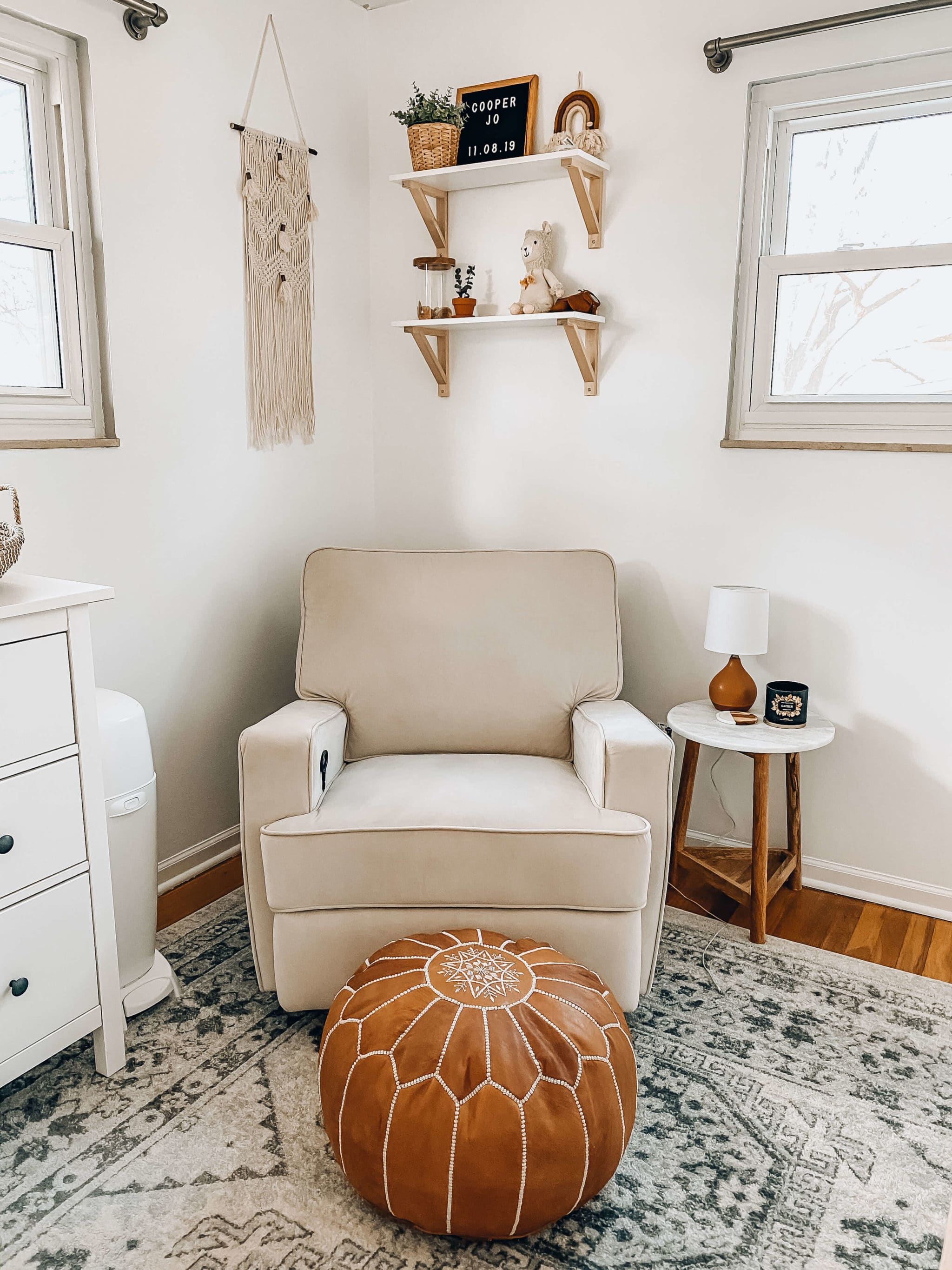 Boho rocker and sitting area
Leather Poof | I knew I wanted one of these from the beginning. I think they're so cute and I love the warm tones of the leather. This one is under $100 and comes with Amazon Prime. The glider does recline but I like having the option of just putting my feet up too.
Poof Stuffing | The leather poof comes unstuffed so I had to buy stuffing to go with it. This one fills up the leather poof perfectly. Just keep stuffing!
Reclining Glider Chair | I searched high and low for the perfect chair for the nursery. I knew I wanted a white/cream one and I looked on all the websites. We even went into Pottery Barn and were so close to buying a custom one but it wasn't going to be shipped until January and her due date was November. Luckily I came across this one. I wanted one that would recline and rock and this is it! It's super comfy and the perfect size. Highly recommend!
Side Table | It's neutral and a little modern with the marble top. Perfect for holding all the things while nursing!
Lamp |I was randomly walking through Target and happened to see this lamp and thought it would be cute for the nursery because it matched the leather poof so I bought it! I love having a little lamp there if I don't want the room super bright from the overhead light.
Macrame | The wall hanging was a gift from a friend that I actually made. It was a kit I got to put together but you can find these all over the place, especially on Etsy.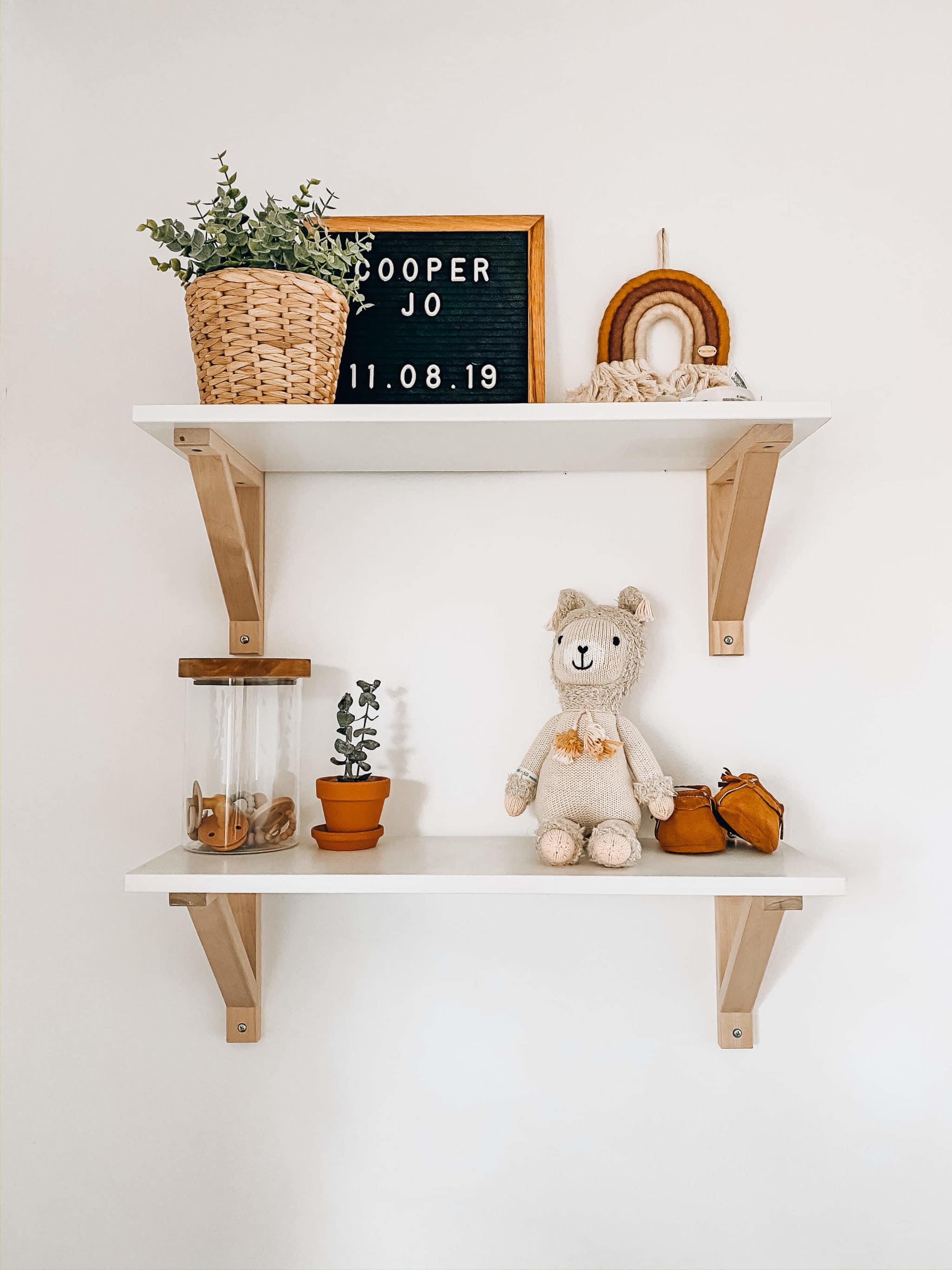 Styling boho shelves
Shelves | I searched everywhere for these shelves after seeing them all over pictures I liked on Pinterest. It took me forever but I finally found them at IKEA (only $12)!
Moccasins | Zach picked these out because we thought they'd be a cute addition to the shelves, plus she can wear them when she gets a little older.
Lama Doll | This is a Cuddle and Kind doll! It's a little pricey but I love knowing they donate a meal to kids for every purchase. Plus she will never grow out of it so we will get our money's worth!
Glass Jar | This cute jar I found at Target to holds her pacifiers and clips.
Pacifiers | Love the neutral tones of these BIBS pacifiers. Not to mention Cooper loves them!
Pacifier Clip | The mauve and wood clip is so cute and goes so well with her pacifiers.
Woven Rainbow | I saw this shop on Instagram somewhere and thought it was so cute and the perfect look/feel for Cooper's nursery. You could hang it on the wall or prop it up against the wall.
Letter Board | These things are everywhere and we love how we can customize and personalize her room with whatever we feel like saying.
Artificial Plant | Is there any better place to get artificial plants than IKEA? Super cute and affordable!
Plant Pot | This wicker pot his super boho and was really affordable too.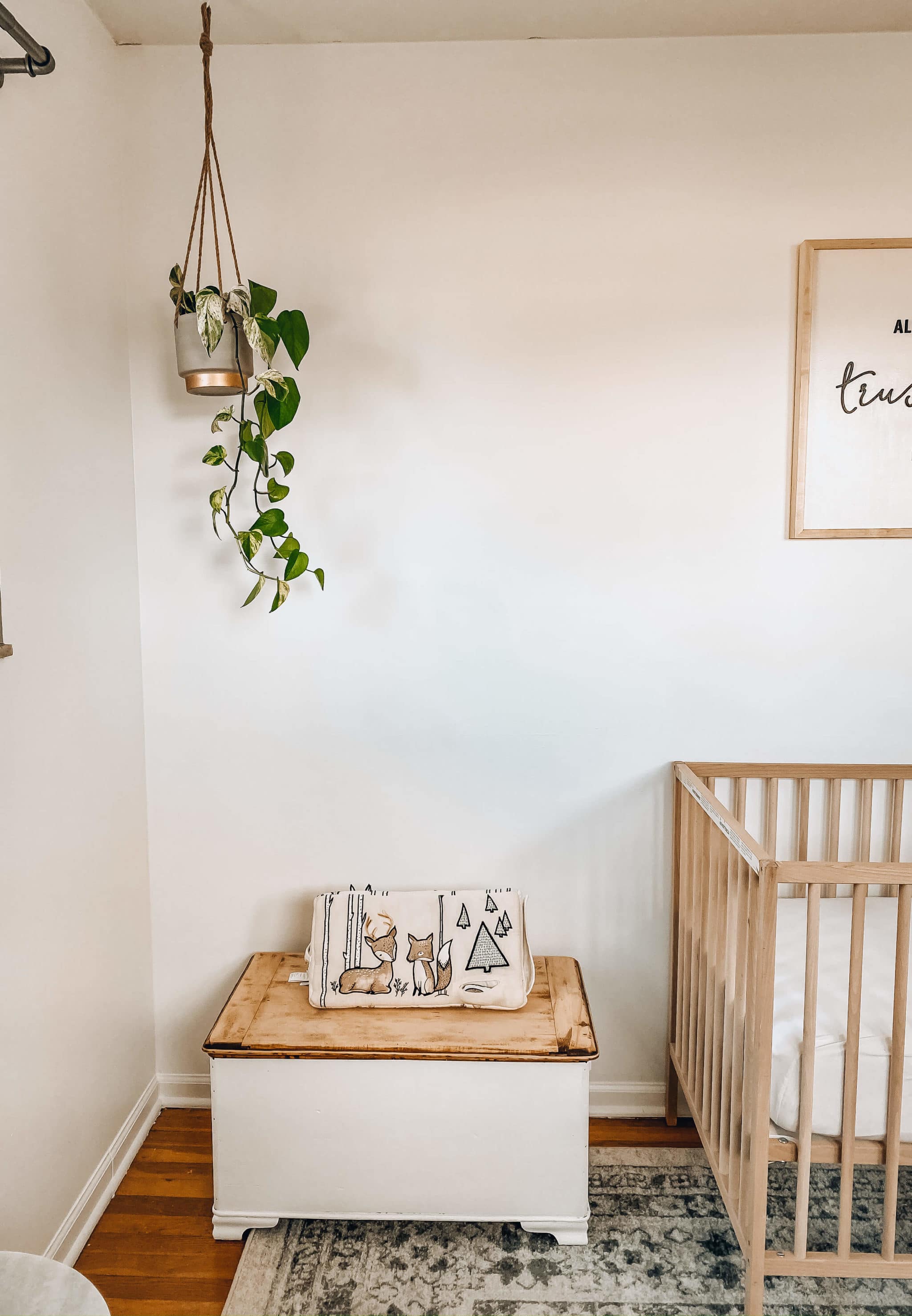 Hanging Planter | The tiny gold accent on the bottom of this hanging planter goes so well with the room. Plus the plant itself livens up the room. Plants just make any room better.
Toy Chest | This was a gift from Zach's dad! Zach sanded it down and refinished it and we love it.
Tummy Time Pillow | Our pediatrician recommended we do tummy time several times a day and this pillow is so cute and fun for her to look at while she's on her belly and helps her look up and work on her core strength. We like to leave it out because we think it's so cute!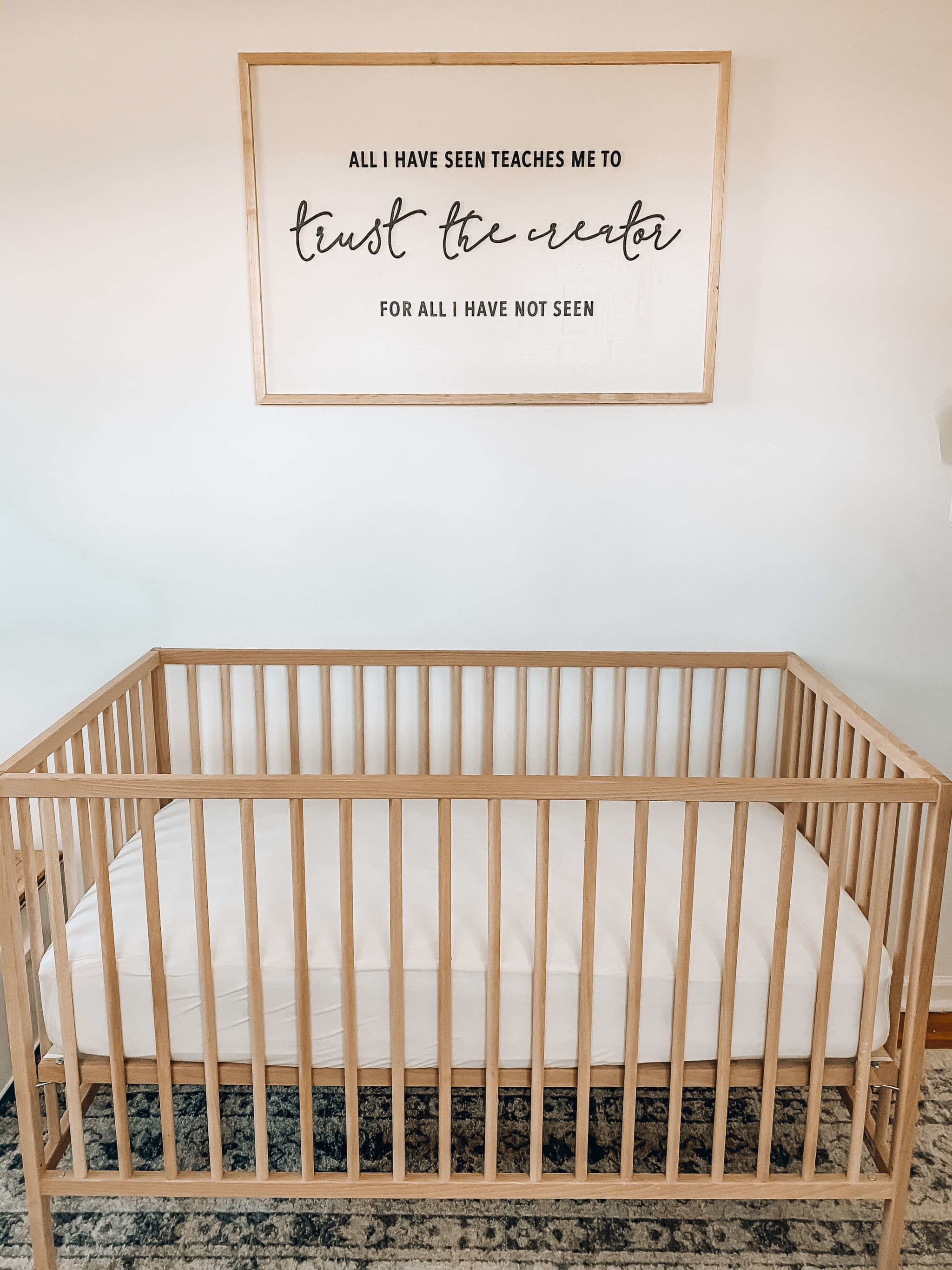 Crib | Another affordable IKEA find! I read all the reviews about it because we wanted to make sure it was safe and people liked it. The reviews were great, it matched our decor and it was really affordable compared to other cribs.
Sheets | We're loving all things Burt's Bees for Cooper. Her bath towels, wash cloths and lots of clothes/PJs are from there so of course our favorite sheets are Burt's Bees.
Custom Sign | We now officially have a Lovely Grains sign in every room in our house. We couldn't finish our nursery without having a custom sign for her. This quote is from Ralph Waldo Emerson (Zach's favorite) and it's so fitting. You have a whole new understanding of the way God loves us and the miracles He creates once you witness bringing a new life into the world. We love this!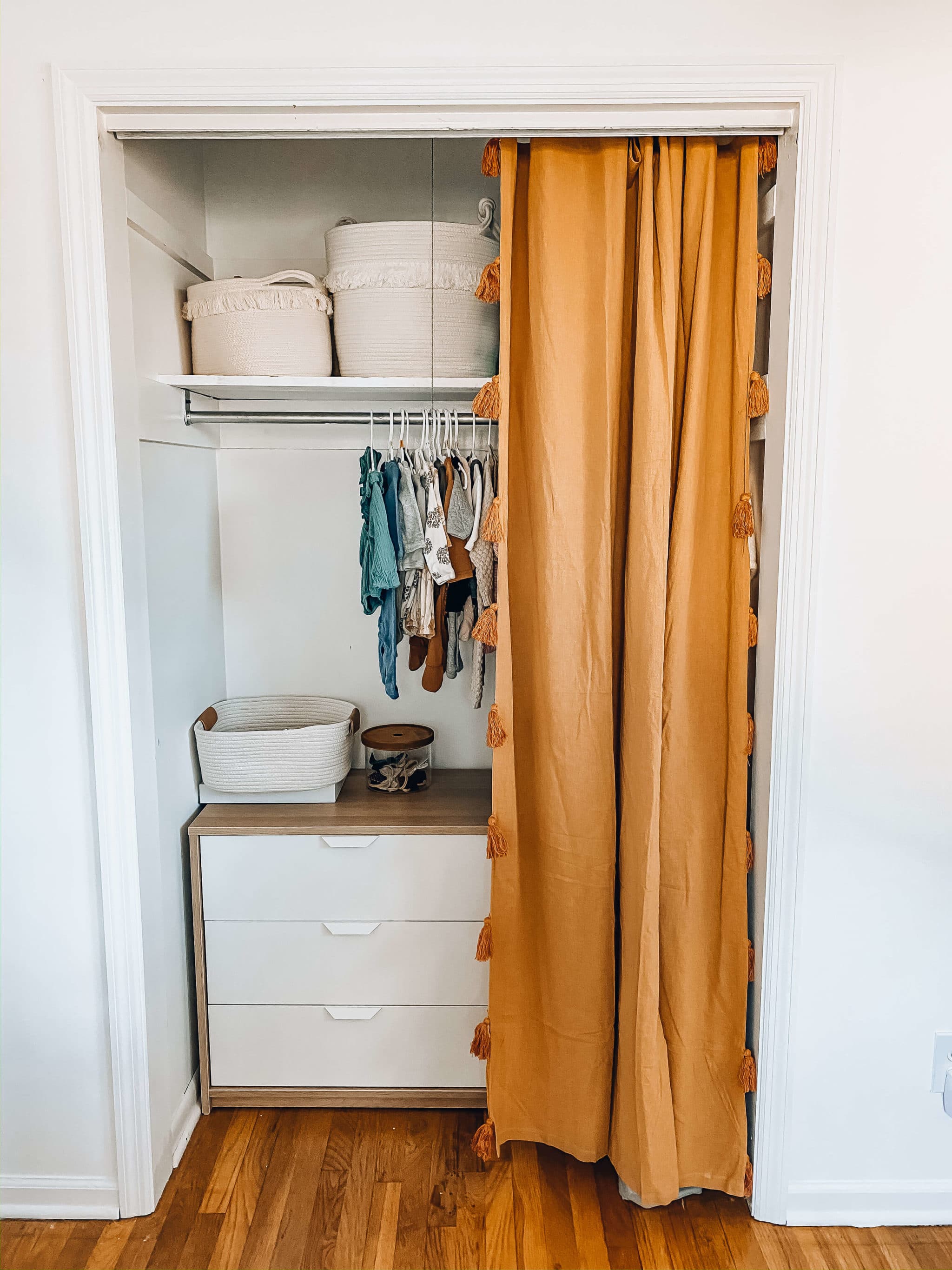 Dresser | This dresser is also from IKEA. It fit really well in her closet and helps us keep organized.
Curtain | I've searched all over for the perfect curtains for the nursery. While I was searching I came across this burnt orange curtain with tassles from Urban Outfitters that I thought was so cute. We took the doors off the closet before we painted and decided the curtain was better than the old doors. I love this pop of color in the almost completely neutral room.
White Bins | You almost can't have too many storage bins in a nursery. I'm doing a dresser and closet organization post soon and bins and separaters have been a lifesaver, especially if your nursery is on the smaller side.
Jar | Another jar for storage! Cooper's bows are so cute so I don't mind having them set out.
How do I start a boho nursery?
If you want to create a boho nursery for your little one, here's a few things I kept in mind while designing this room:
Stick to neutrals in big pieces of furniture and add pops of unique decor
Add plants!
Use warm tones like tara cotta and leather
Use different textures like wicker or fun throw pillows
Natural wood elements are always a good idea
Can't go wrong with a macrame!
If you're interested in more home-related posts, check out our modern farmhouse kitchen reveal and our modern master bathroom.