This all natural skincare routine is what I do each morning and each night to clean, tone and moisturize my skin. It helps decrease acne and prevents wrinkles! You only need a few clean products to start implementing a natural skincare routine like this one.
Watch my all natural skincare routine video: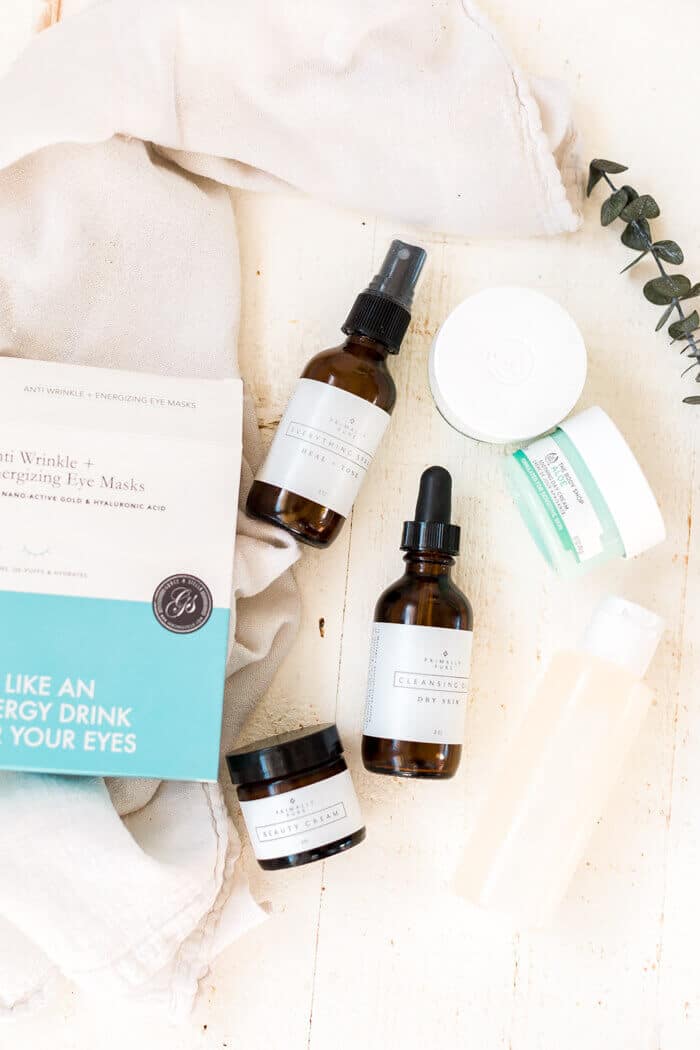 When I was diagnosed with PCOS (a hormone disorder) in the summer of 2018 I decided I was going to reverse my symptoms naturally. There were so many things I did to begin my healing journey that I want to share with you. I did them in this order!
Implemented and anti-inflammatory diet
Got blood work done to learn what specifically was off in my body to find the root cause
Based on the blood labs and my doctor, started on a new supplement routine
Dropped coffee and switched to matcha
Cleaned up my environment:

Created a new natural skincare routine (that's what this is all about!)
Created a new natural makeup routine (coming soon!)
Swapped all natural cleaning products for old ones
Switched from plastic to glass and stainless steel in our kitchen (i.e. meal prep containers)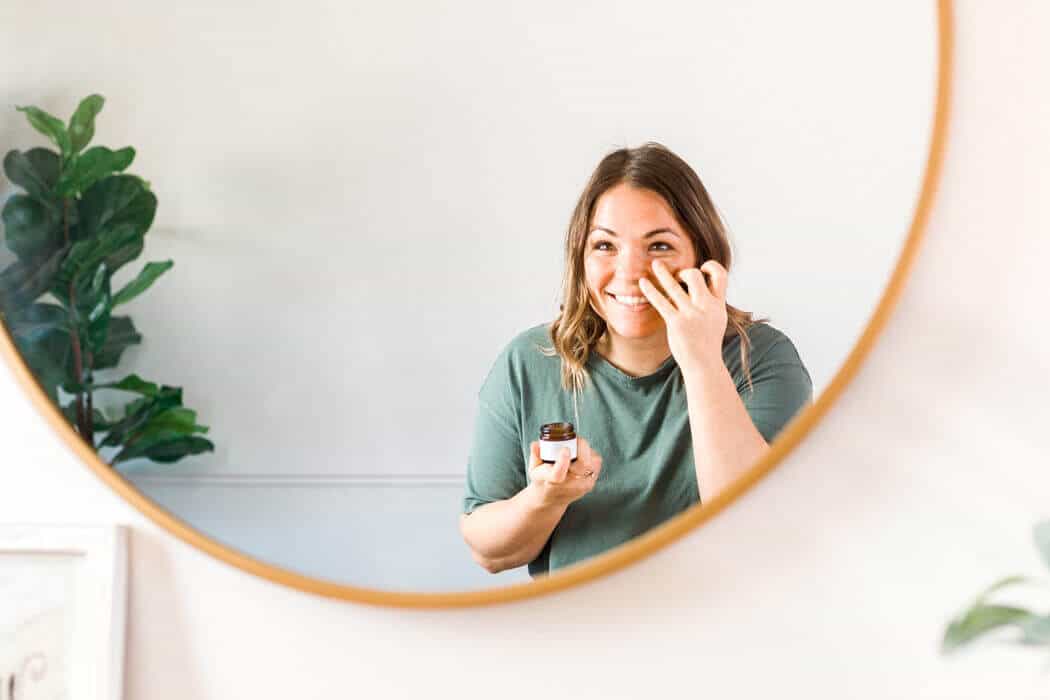 I didn't do these things overnight. It took me a solid 8 months to accomplish all of this and I'm stealing tweaking and changing some of the products we use in our home. I'm happy to report that I've had 7 normal cycles since I started implementing all of these hormone healing strategies!
Our skin is the largest organ in our bodies and we absorb pounds of products each year as women. Products that have toxins in them get into our system and can easily disrupt our endocrine system (aka our hormones).
By choosing products and a routine that have clean ingredients, it's better for our bodies internally and they're usually a lot better quality and work a lot better anway.
So here's what I do each morning and night to help my skin look and feel it's best!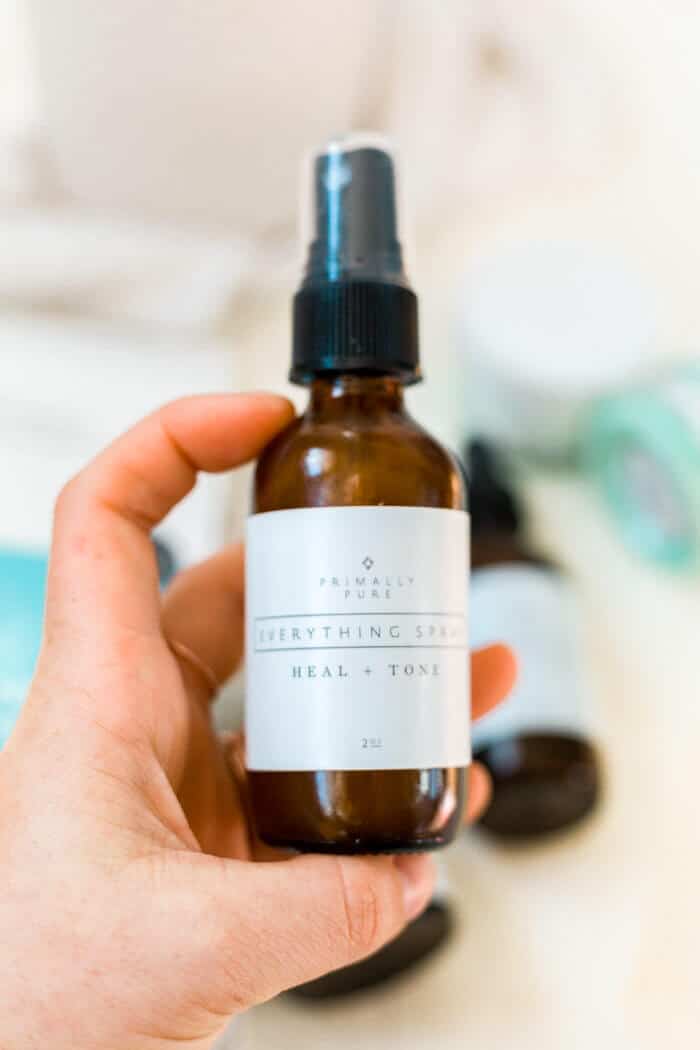 Use the code WHATMOLLYMADE on all Primally Pure products for 10% off your entire order!
My all natural skincare routine:
Oil Cleanser: I use the Primally Pure cleansing oil for dry skin but they also have it for normal skin and oily skin. You may be thinking it doesn't make sense to put oil on your skin to cleanse it but this product is based off the scientific truth that like dissolves like. Aka oil dissolves oil. It purifies and nourishes the skin while keeping it's natural moisture barrier in tact. I skip this one in the morning and just do it at night!
Toner: I use the Primally Pure Everything Spray to tone my skin after I wash it. I use 3-5 sprays all over my face to help with redness and inflammation. You can even use it as an under arm refresher or to help with razor burn! I start my morning with this one since I don't do the oil wash in the morning!
Eye cream: I use the Primally Pure Palmarosa + Mint Beauty Cream. It's only got 5 ingredients in it and it's a combination of fats and organic plant oils that work to nourish the skin and diminish fine lines. I put a bit on my ring finger and dab all around my eyes and between my eyes.
Eye and lip cream: Sometimes I'll also use the Aloe Soothing Eye and Lip Cream from The Body Shop on my lips if they're dry that day.
Day/night face moisturizer: I use The Body Shops Soothing Day Cream and Soothing Night Cream depending on when I'm doing my routine. They're vegan and made completely without fragrance, color, preservatives or alcohol. I dab a dime-sized dollop onto my entire face and neck.
All-over moisturizer: This one I don't use on my face, but I use it on the rest of my body and it's amazing. The Primally Pure Almond + Vanilla Body Butter is amazing! These moisturizer only contains ingredients that are safe enough to eat, and you might want to with how yummy they smell!
Castor Oil: I use a homemade version of this that I buy from the lady that threads my eyebrows but you can buy it online too. I only use this one at night! I rub a little on my eyebrows right before bed and it helps with hair growth!
Eye mask: I don't use these eye masks all the time but I'll use them before an event or about once a week! I use the Grace & Stella Anti-Wrinkle + Energizing Collagen Eye Masks and they help with puffiness, discoloration and diminishing fine lines!
Don't forget to use the code WHATMOLLYMADE on all Primally Pure products for 10% off your entire order!

When to use which products:
I don't use each product every single morning and every single night so I want to give you a rundown of when I use each one in my morning and nighttime routines (in this order)!
Morning: Everything spray (Toner), Aloe eye and lip cream, daytime moisturizer, all over moisturizer
Nighttime: Oil cleanser, Everything spray (Toner) Primally Pure eye cream, nighttime moisturizer,all over moisturizer, castor oil, eye mask (sometimes!)

How to switch to natural skincare:
Please don't feel like you have to buy every one of these products right now! Like I mentioned, it's been a slow process over 6-8 months. The best (and least overwhelming) way to do it is by adding one product at a time gradually.
Once you run out of something, buy a new, all-natural product in its place. For example, if you run out of face wash, instead of buying the same one just buy the cleansing oil instead.
You can also ask for some of these products for your birthday or a holiday like Christmas, Valentine's Day or maybe even Easter. A gradual process is the best way to go.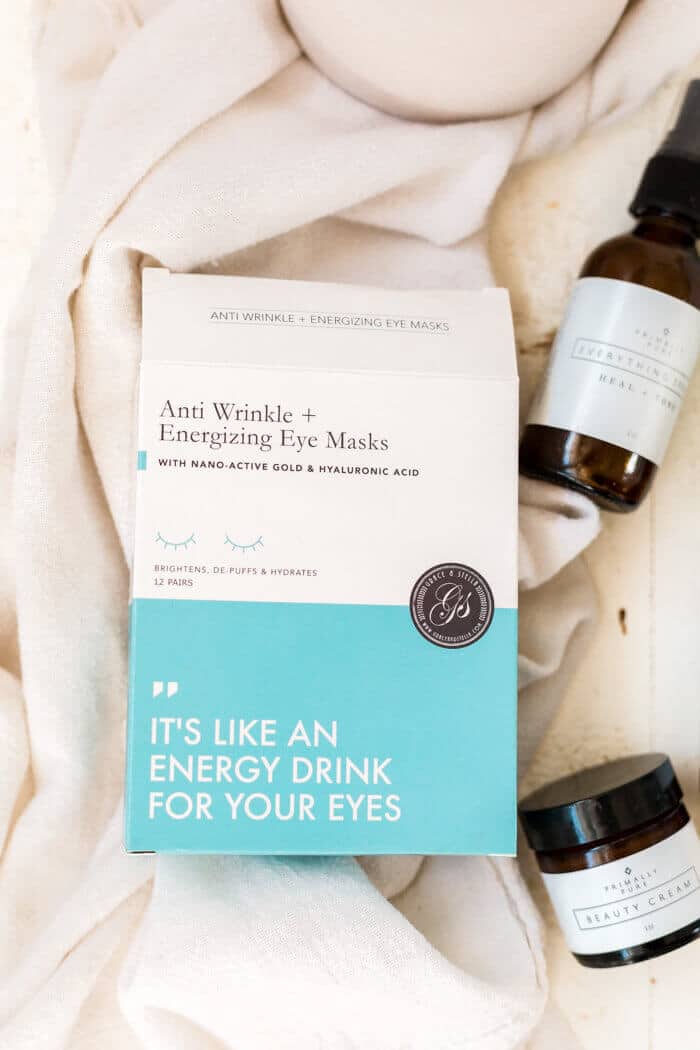 That's all there is to it! Once you make the switch I promise your skin will feel so much better and your hormones will be thanks you!
If you loved this post, check out the rest of my PCOS and healing naturally posts to help you.
Note: some of the links include affiliate codes which help me earn a small commission at no extra cost to you!