Sweet and tangy, these lemon whoopie pies are a cloud-like dessert you won't want to miss this spring. True to a whoopie pie, these are light and fluffy cake-like cookies surrounded by sweet cream cheese frosting. Perfect for spring celebrations!
Are you a lemon lover? Try these gluten-free lemon bars or this gluten-free lemon drizzle cake next.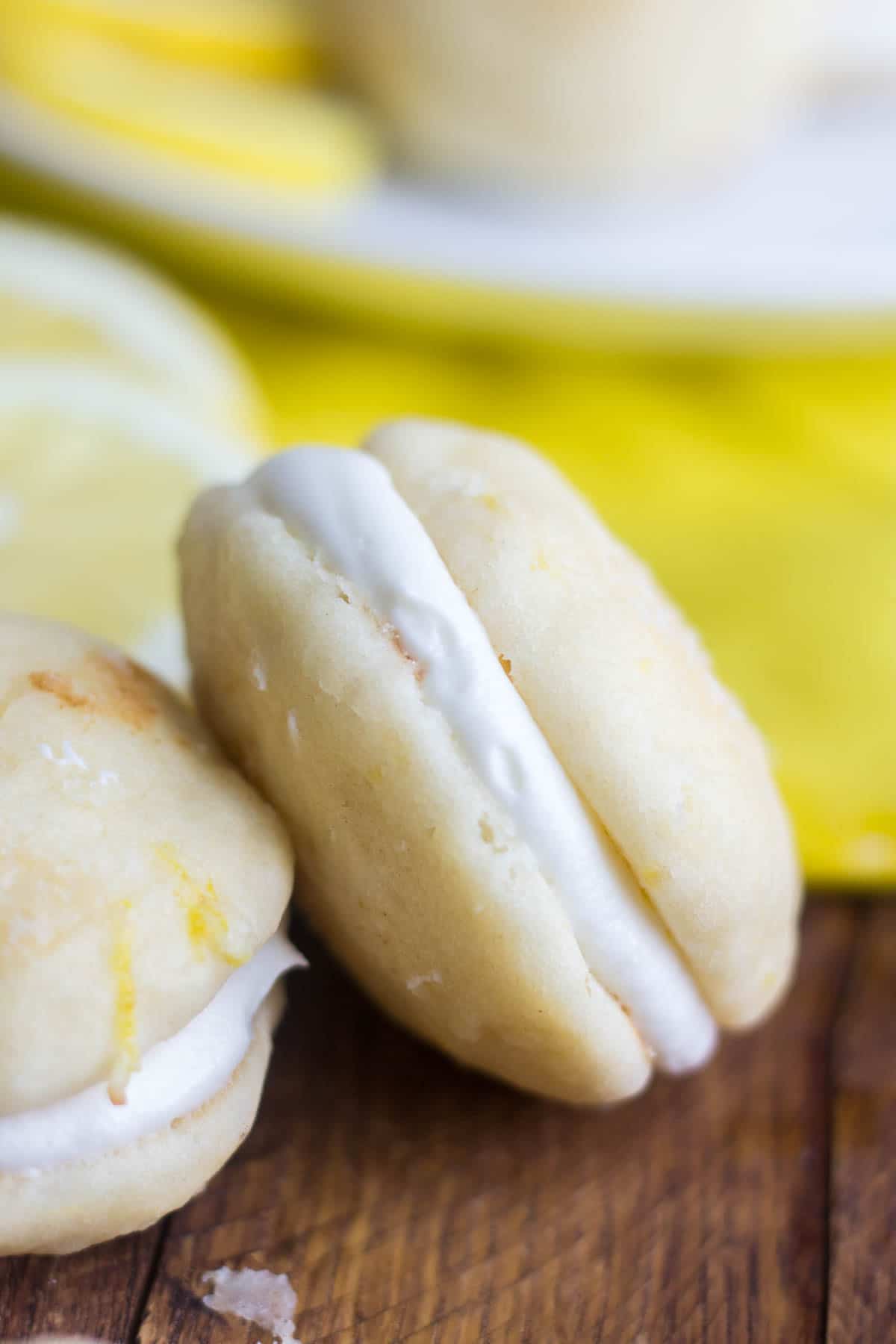 Happy March! We're five days in and I already have spring fever. I'm ready for sunny days, patios and all the lemon and fruity desserts. I'm so ready for spring that I did something crazy! I highlighted my hair this weekend. Eeek!
This may seem like a small feat to some, but I've never died my hair ever in my life. Virgin hair turned highlighted! Well technically, I got balyage, but just another technique for highlighting. I think?
It's definitely lighter than I'm used to, so I'm trying to get used to that when I look in the mirror. But I was definitely ready for a change.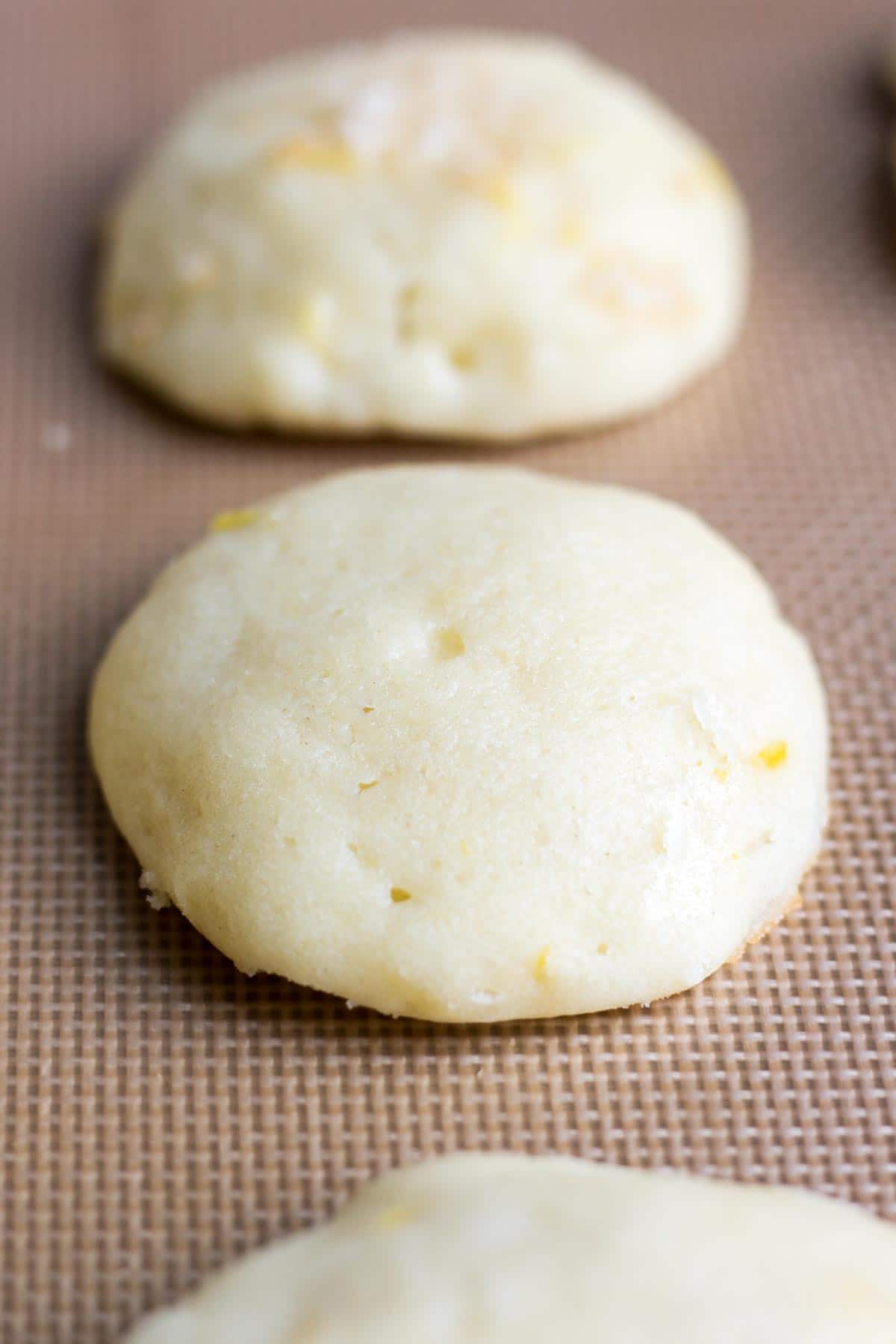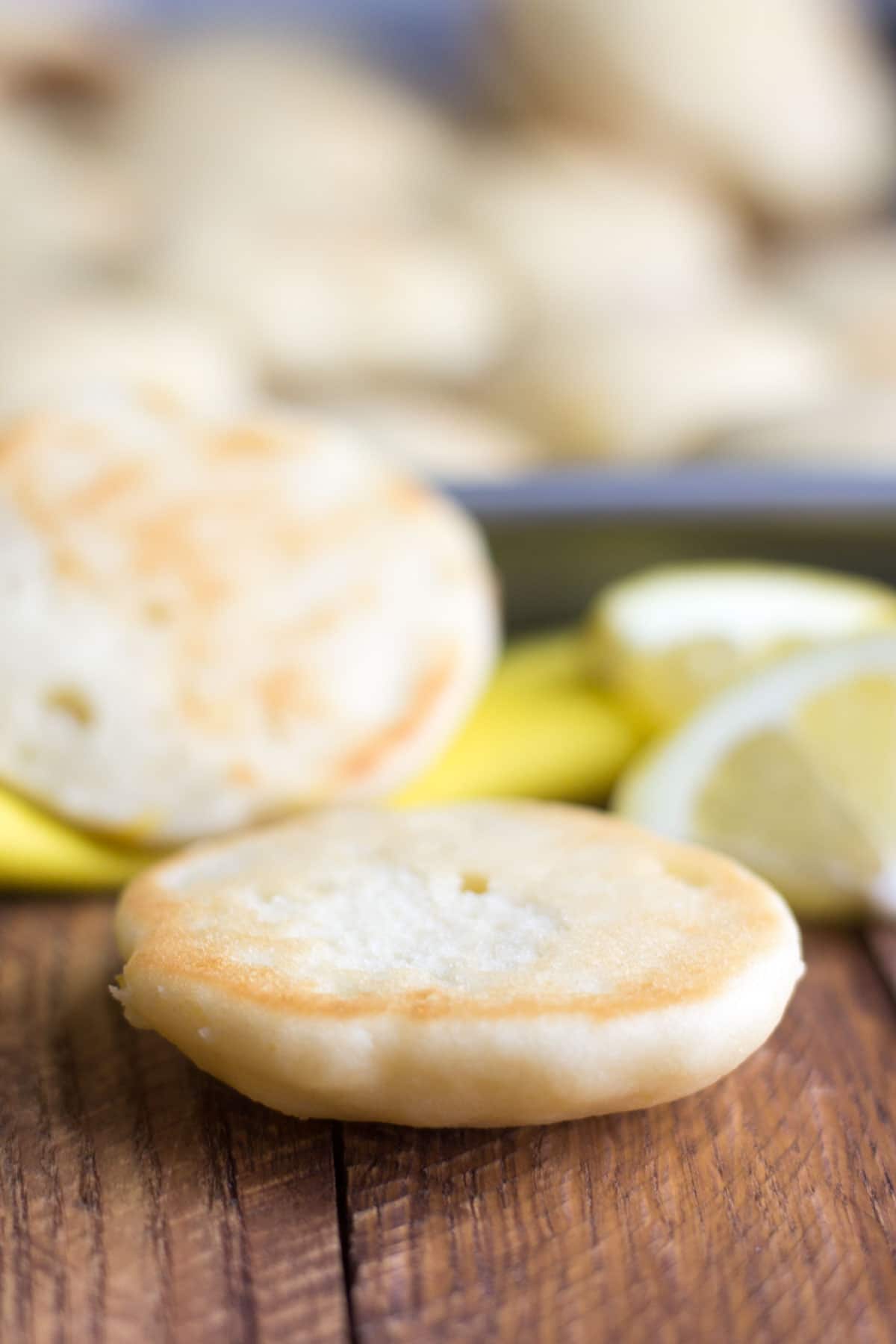 After 26 years of the same thing, I felt like a nice light color was perfect for this time of year. Just makes me even more excited for spring! Which is one of the reasons I came up with the idea for these lemon whoopie pies. Over the last year I've slowly developed a strong love for lemon desserts.
I used to shy away from them and they would never be the first dessert I'd choose from the dessert table, but now I can't get enough!
Hence why I've recently shared these healthier lemon poppy seed muffins. And why my lemon poppy seed bread is one of my favorite recipes on WMM!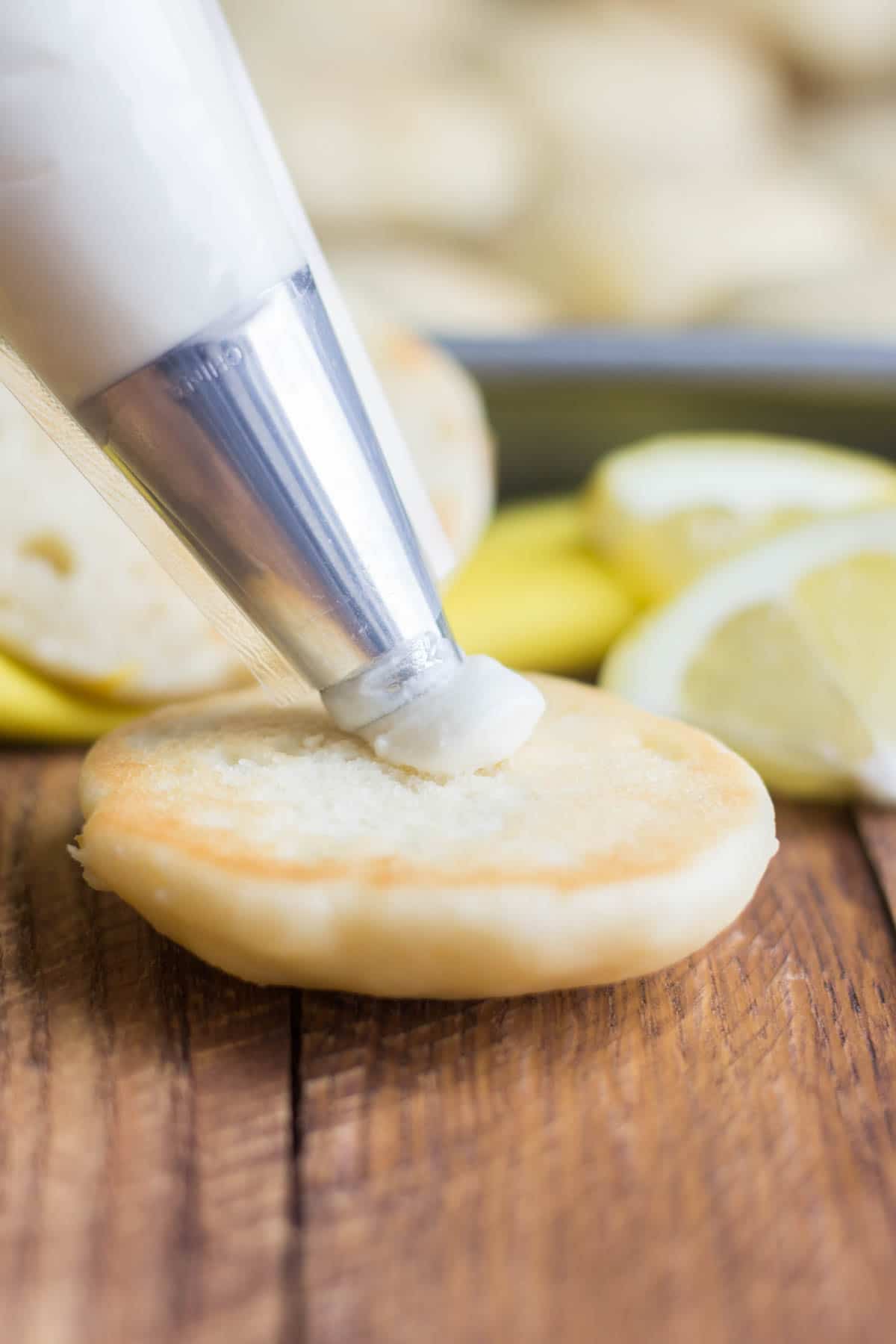 I wanted a great lemon cookie recipe to live here and what could be more perfect than lemon whoopie pies? Think individual lemon cake with cream cheese frosting! They're like cupcakes, but more interesting.
Cake + Cupcakes + Cookies = Lemon Whoopie Pies (aka ?❤️)
What could be better than the three best desserts combined to create one amazing dessert? Maybe adding a zing of lemon!? I added the juice and zest of 2 whole lemons to make the lemon in these lemon whoopie pies the star of the show. Because the cookies themselves hold so much lemon flavor, the cream cheese frosting is the classic recipe! But if you're feeling crazy you can add some lemon zest to that as well.
One thing to know about lemon whoopie pies: They're much easier than they look!
The classic batter is made with the usual baking ingredients: flour, sugar eggs etc. One of the largest differences in this is recipe compared to my other cookie recipes is that we're using shortening instead of butter.
Nerd alert! Shortening is 100% fat, meaning there is no water in it and no steam created during baking. Comparitavely, butter contains about 15% water. This lack of water does not increase gluten production so these cookies are softer and more tender. Exactly the texture we're looking for!
The other large difference between butter and shortening is that shortening has a higher melting point. This allows the flour and egg in these lemon whoopie pies rise and set before the shortening melts, resulting in tall cookies! The only thing it lacks is all the yummy butter flavor. But because we added so much lemon this cookie is not lacking in flavor!
Buttermilk is also essential for the tangy flavor in these lemon whoopie pies. You can buy buttermilk in the milk section at the grocery store or you can sour your own milk by adding one tablespoon of lemon juice or white vinegar and adding enough plain milk to reach ½ cup.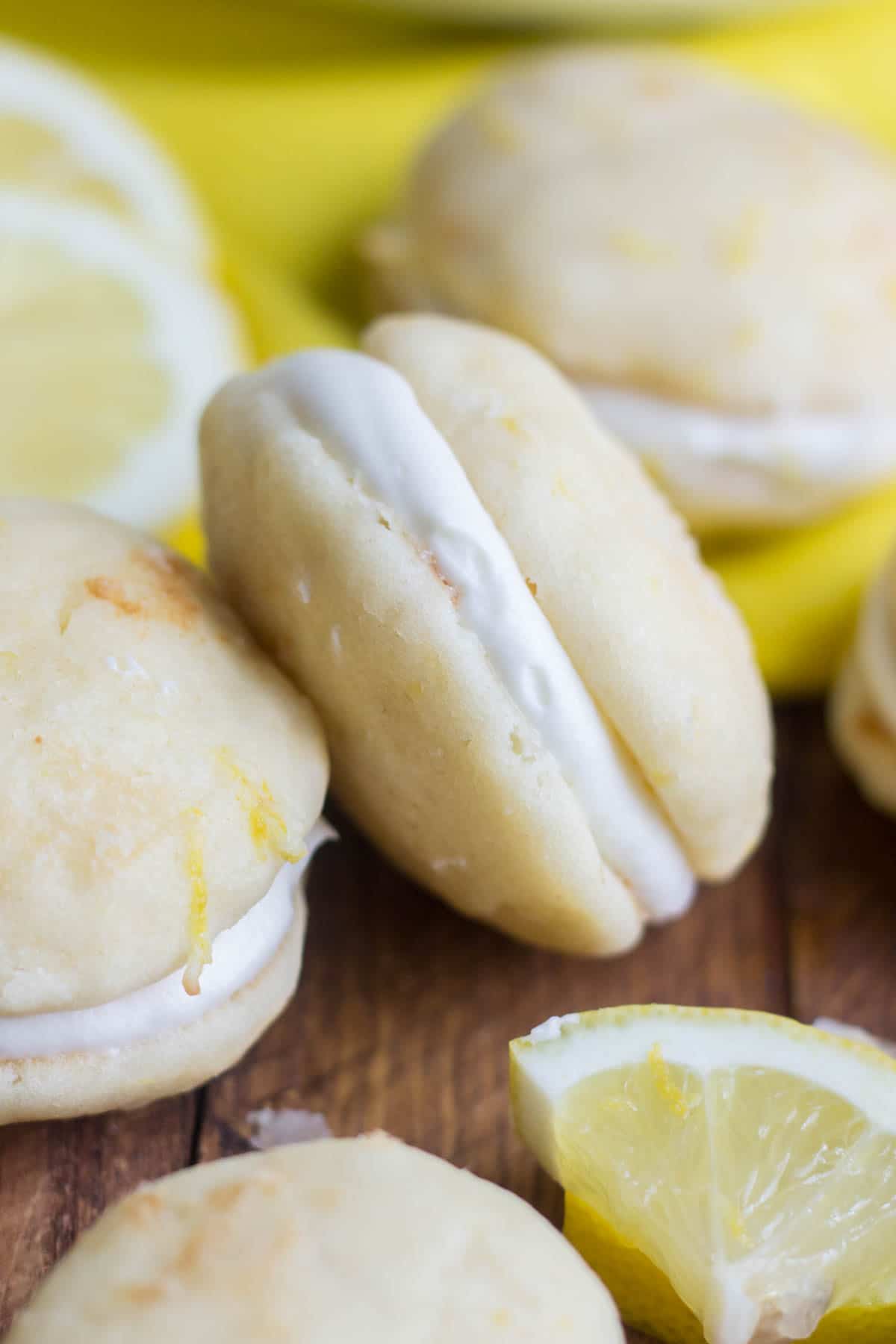 So there ya have it, all the nerdy facts that going in to make the batter for these lemon whoopie pies! Once combined, make sure you use parchment paper or a silpat mat to bake them. They only bake for 6-8 minutes, then let them cool completely before you add the cream cheese frosting.
How much frosting you add is totally up to you! But I love a healthy serving of cream cheese frosting on anything I eat. Especially when it's sandwiched between these lemon whoopie pies!
Can we all agree that the best sandwiches are dessert sandwiches? If you love them as much as us, you'll love our chai whoopie pies.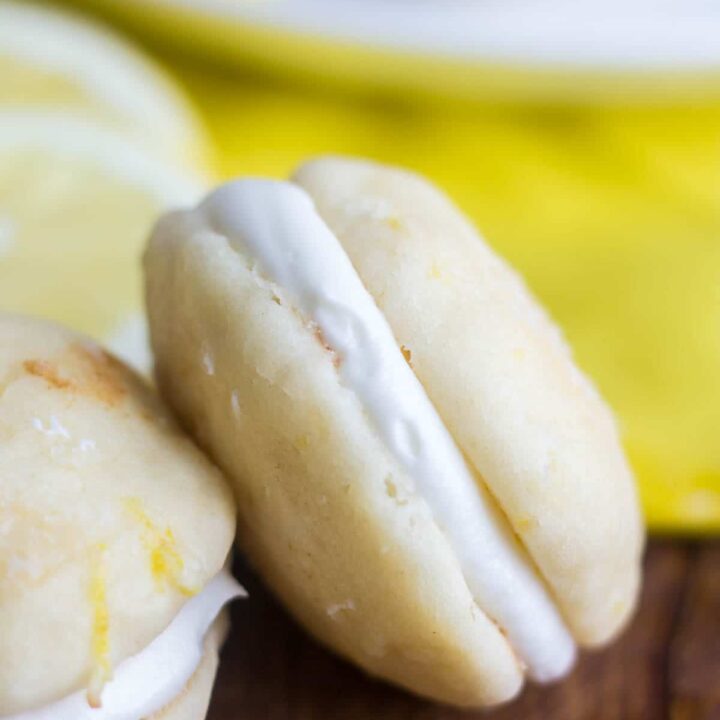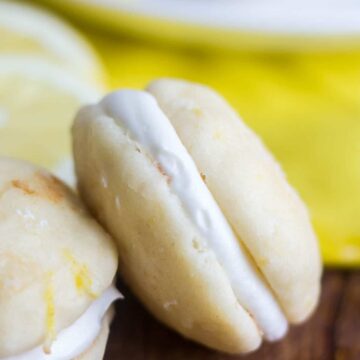 Ingredients
Lemon Whoopie Pies:

½

cup

All-Vegetable Shortening

1

cup

granulated sugar

1

egg

1

teaspoon

vanilla extract

½

cup

buttermilk

¼

cup

warm water

juice and zest of 2 meyer lemons

(about ⅓ cup lemon juice)

2 ½

cups

all-purpose flour

1

teaspoon

baking soda

½

teaspoon

salt

Cream Cheese Frosting:

8

ounces

cream cheese

softened to room temperature

½

cup

unsalted butter

softened to room temperature

3

cups

powdered sugar

1

teaspoon

pure vanilla extract

⅛

teaspoon

salt
Instructions
Preheat the oven to 400°F. Line baking sheets with parchment paper or silpat mats and set aside.

In the bowl of a stand mixer fitted with the paddle attachment, or in a large bowl with an electric mixer, cream together the shortening and sugar until light and fluffy, about 3 full minutes.

Add in the egg, vanilla, buttermilk, water, lemon juice and lemon zest and mix until the ingredients are fully incorporated.

In a medium bowl, whisk together the flour, baking soda and salt. Slowly add the dry ingredients to the wet mixture and mix on medium-low speed until just combined, being careful not to overmix.

Use a small cookie scoop (about 1 tablespoon) to drop batter onto prepared cookie sheets about 2 inches apart. Bake for 6-7 minutes in the preheated oven.

Allow cakes to cool on baking sheets for 5 minutes then transfer to wire racks to cool completely.

While cooling, make the cream cheese frosting. In a large bowl using a handheld or stand mixer fitted with a paddle attachment, beat the cream cheese and butter together on high speed until smooth and creamy, about 2 minutes. Add 3 powdered sugar, vanilla, and salt. Beat on low speed for 30 seconds, then switch to high speed and beat for 2-3 minutes until thick and smoth.