Mashed potatoes are a staple side dish for a hearty meal, especially at Thanksgiving dinner! But nothing is worse than runny mashed potatoes. Keep reading for thee easy ways to thicken mashed potatoes and see which is the best way for you!
Making Thanksgiving dinner or other holiday meal? We love to make these dairy-free mashed potatoes for all of our mashed potatoes needs.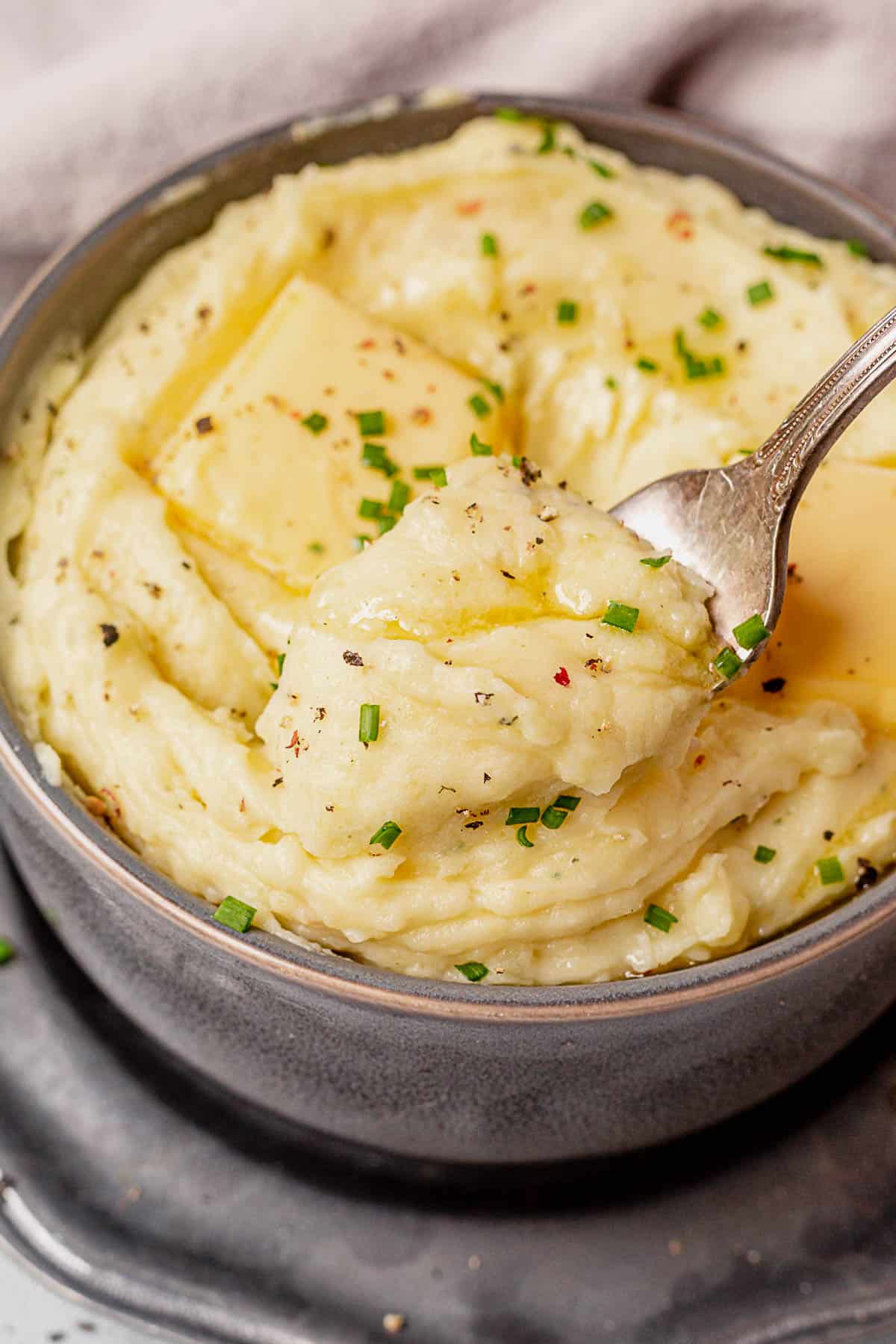 Be sure to check out some of our other favorite Thanksgiving recipes, including our gluten-free stuffing, our Thanksgiving cranberry apple sangria, and our delicious gluten-free, dairy-free pumpkin cobbler!
In charge of the Thanksgiving turkey? Try this cheesecloth turkey with herb butter or use your air fryer to make a perfectly moist turkey breast!
Most of the time when we figure out our mashed potatoes are runny we are nearly ready to serve them. These simple methods are an easy fix to runny mashed potatoes!
​Why we Love these Thickening Methods
They're simple steps for when your short on time! All of our recommended methods are quick and easy fixes to address watery potatoes.
Not all require additional ingredients. The science of cooking is amazing and sometimes, adding a little heat is all you need to revive too wet potatoes!
The best part: none affect the taste! All of our recommendations are purely meant to help get you thicker mashed potatoes. This gives you the confidence to try them all and see which is the right way for you.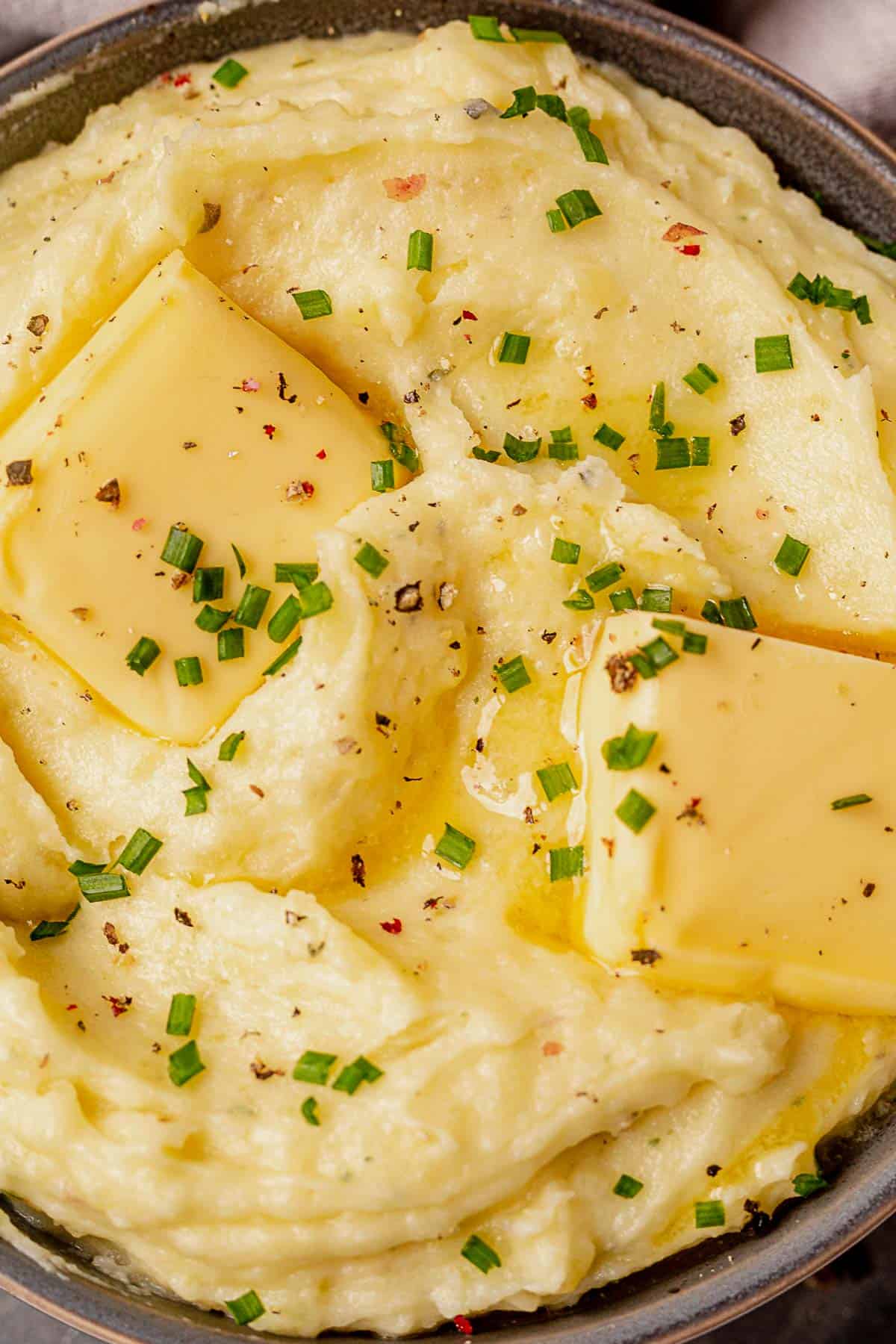 Why Do I have Runny Mashed Potatoes?
There are several reasons that you may have runny mashed potatoes but here are a few of the most common reasons your potatoes may be runny!
Excess moisture. If you have excess moisture in your potatoes, like too much milk or melted butter, you can get soggy potatoes.
Wrong potatoes. Not all potatoes are created equally! When you make mashed potatoes, it is best to use Russet potatoes or Yukon Gold. These two types of potatoes have the highest starch content and assist with giving your mashed potatoes a smooth consistency. Red-skinned new potatoes, or any of the waxy varieties of potatoes, will turn gluey or sticky when mashed.
Excess water. This is different than excess moisture because it focuses on the cooking process of the potatoes before mashing. If your potatoes absorb too much water during the boiling process, you will be left with watery mashed potatoes. Make sure to remove as much drained liquid as possible if you're boiling the potatoes.
You used cauliflower. We LOVE a great cauliflower mash in place of regular mashed potatoes but the fact is, cauliflower mashed potatoes are inherently more watery than regular mashed potatoes. Check out this creamy cauliflower mash recipe if you are looking for a healthy substitute over potatoes!
Ask Dr. Potato. If none of our recommendations help, try asking our trusty friend, Dr. Potato! Dr. Potato isn't a real doctor but a team of potato experts from the Idaho Potato company ready to answer all your potato-related questions! Find out more here: Ask Dr. Potato!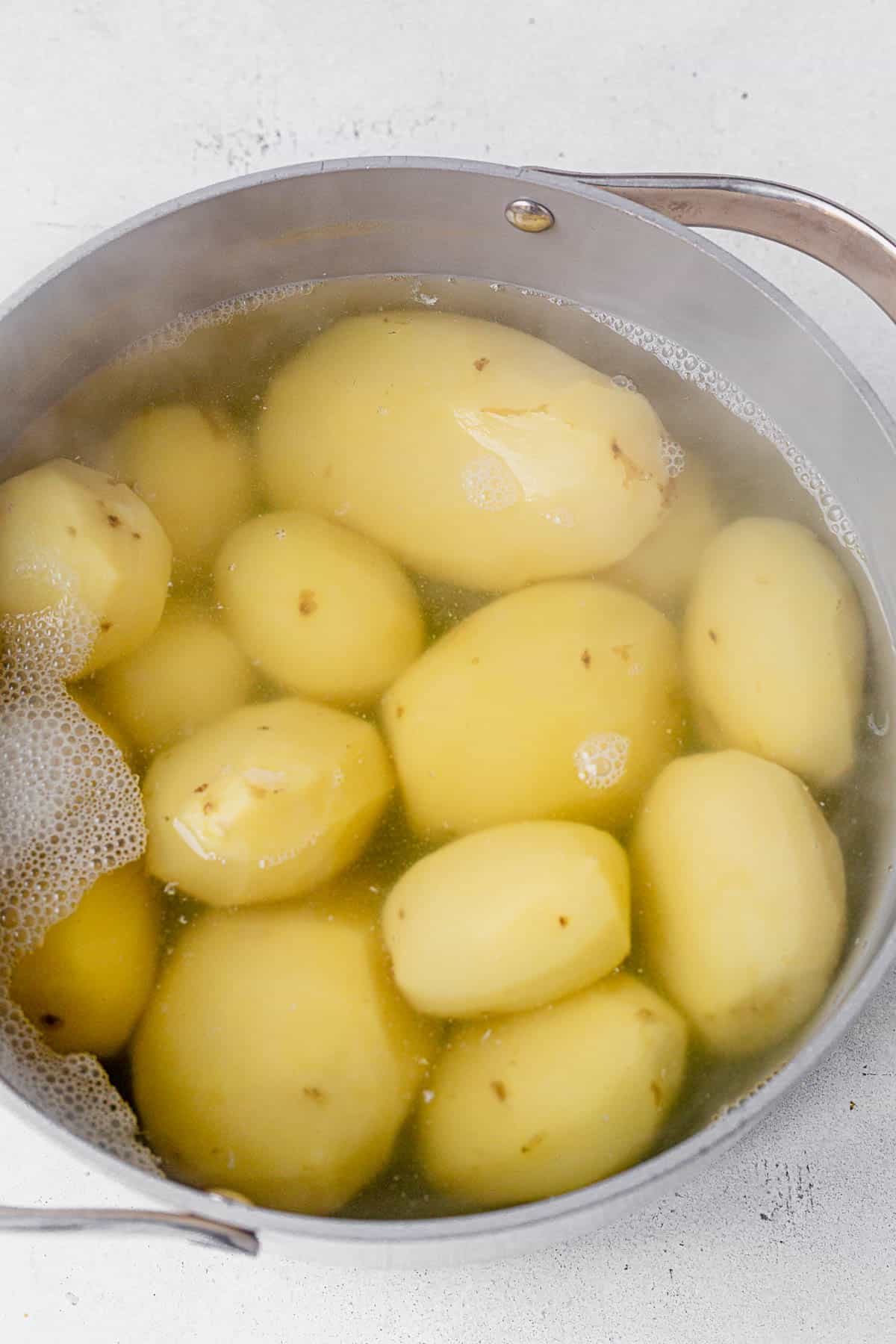 How to Prevent Runny Mashed Potatoes
As they say, the best defense is a good offense, which means: the best way to thicken mashed potatoes is to not need to thicken them in the first place. Store these tips to memory to avoid runny mashed potatoes next time!
Avoid excess water, also called waterlogging, by boiling your potatoes whole. By boiling your potatoes whole, you trap all of the potatoe-y goodness (yes, that's the technical term) inside. Slicing or dicing your potatoes allows more water to be absorbed into your potatoes.
Use a shallow baking dish. If you cook your mashed potatoes in the oven, your potatoes will be less runny if you use a shallow dish. Think of it like this: when you paint, thinner layers dry quicker and faster than heavy, thick layers. This is the same with mashed potatoes! If there is less surface area to cook through in a shallow baking dish, you are encouraging excess moisture to evaporate from the mashed potatoes quicker.
Avoid adding too much liquid. If your recipe calls for one cup of milk, add only one cup of milk. Check the consistency of your mash and add more liquid if necessary.

Expert tip: It is always easier to add additional liquid than it is to remove liquid so follow the recipe and make adjustments as needed.

Use the right potatoes. Yukon Gold and Russet potatoes are the best for mashing. They have the highest starch content and give your mashed potatoes a creamy texture.

Expert tip: Remember that cauliflower has a much different water content then potatoes! If you are making cauliflower to make your mashed potatoes, we recommend using our cauliflower mashed potato recipe. If you are substituting cauliflower into a potato-based recipe, cut the liquid ingredients in half and add more as needed to reach your desired consistency.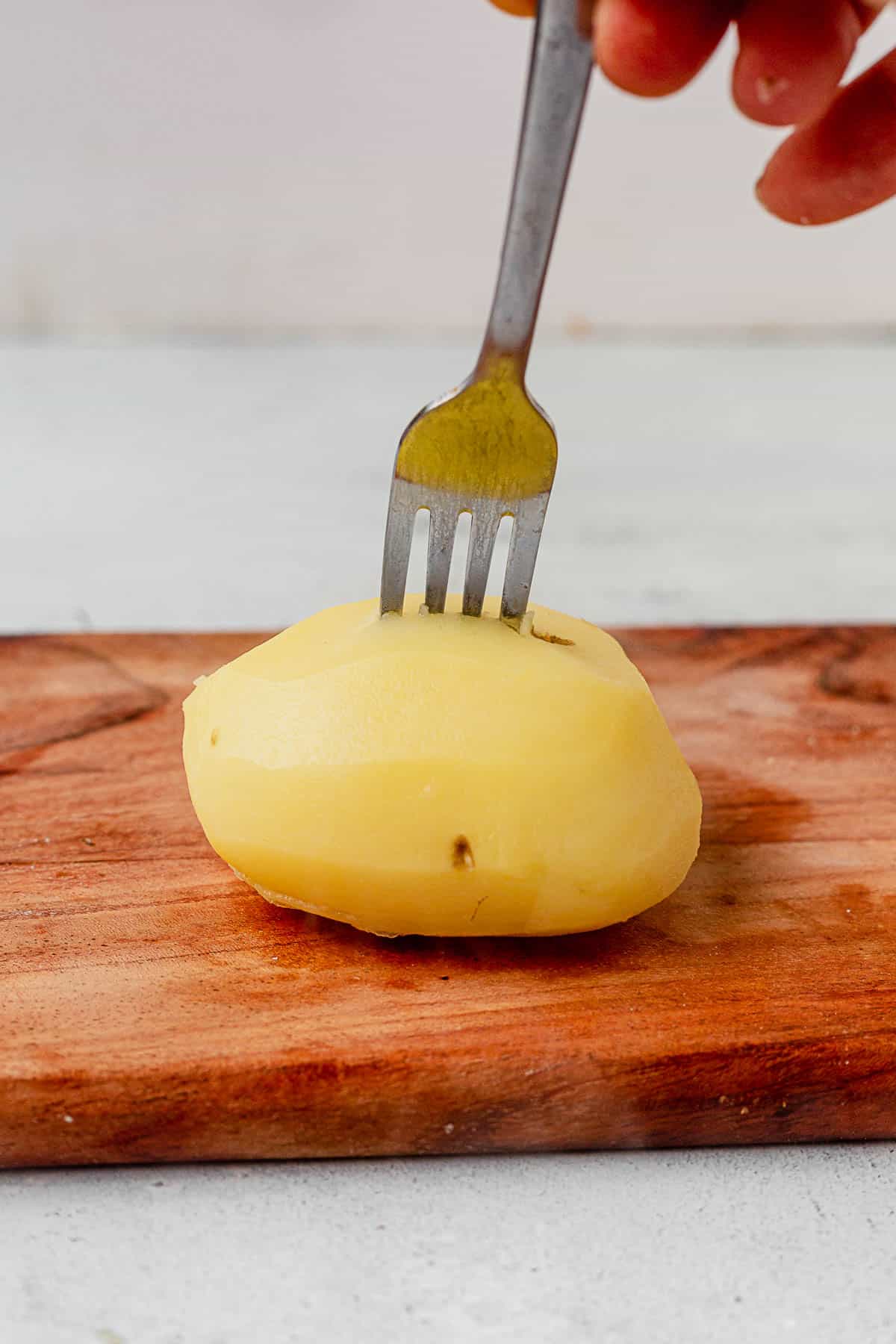 Easy Ways to Fix Runny Mashed Potatoes
Using any of these simple methods will have you fix runny mashed potatoes in no time!
1. Add a Thickening Agent
Adding a thickening agent is easily the best way to fix runny mashed potatoes. We recommend using any thing from the starch family, including corn starch, potato starch, or even tapioca starch. If you are following the Whole30 diet, you can use tapioca starch or even arrowroot powder as your chosen thickening agent.
Add your chosen thickening agent one tablespoon at a time using a food processor, hand mixer, or immersion blender to combine everything together.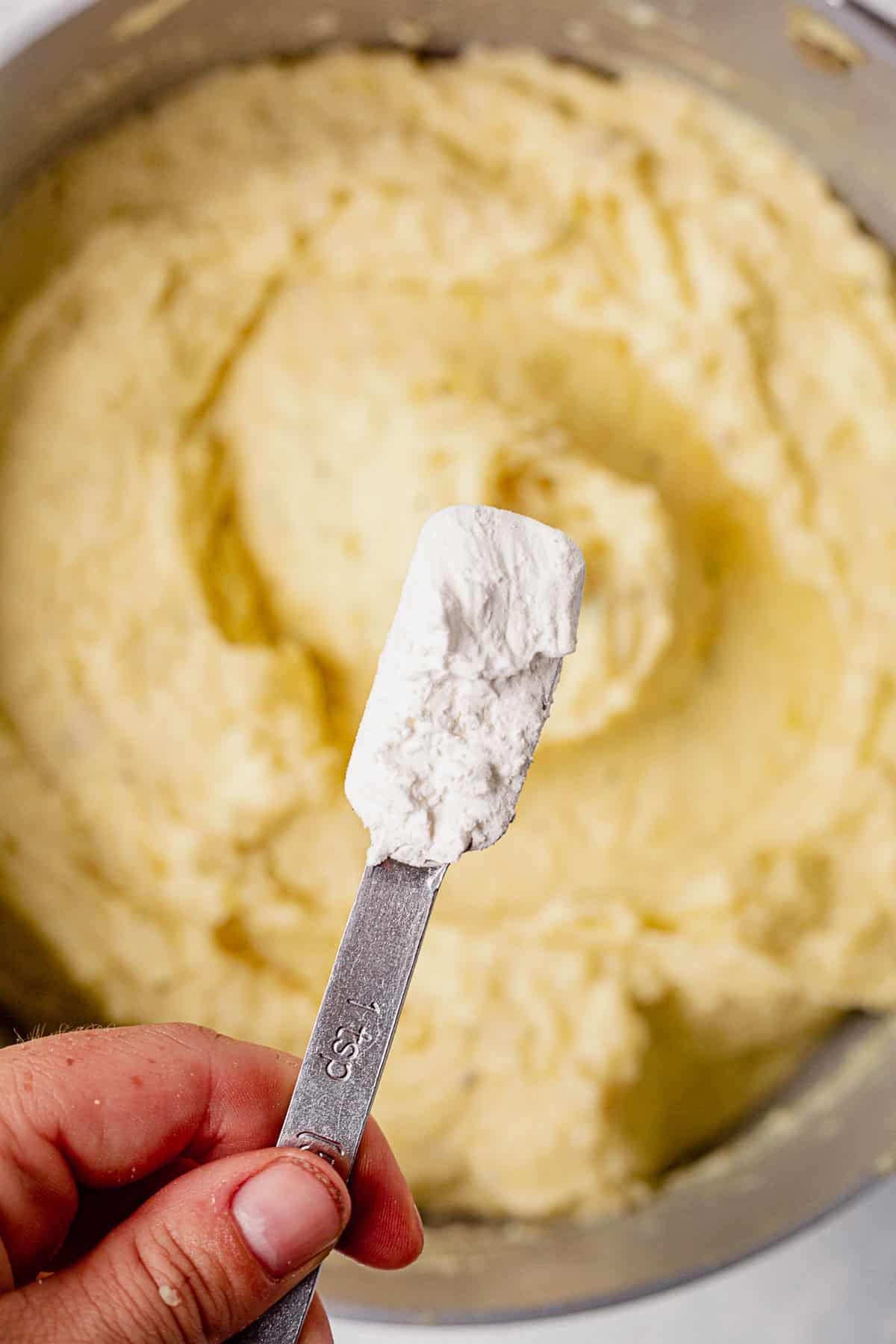 2. Add Dehydrated Potatoes.
Another great way to fix runny potatoes is to add extra potatoes! The simplest way is by adding dehydrated potatoes, or, "instant potato flakes." This is also the method our friend, Dr. Potato, says to use!
Add your dehydrated potatoes one tables spoon at a time.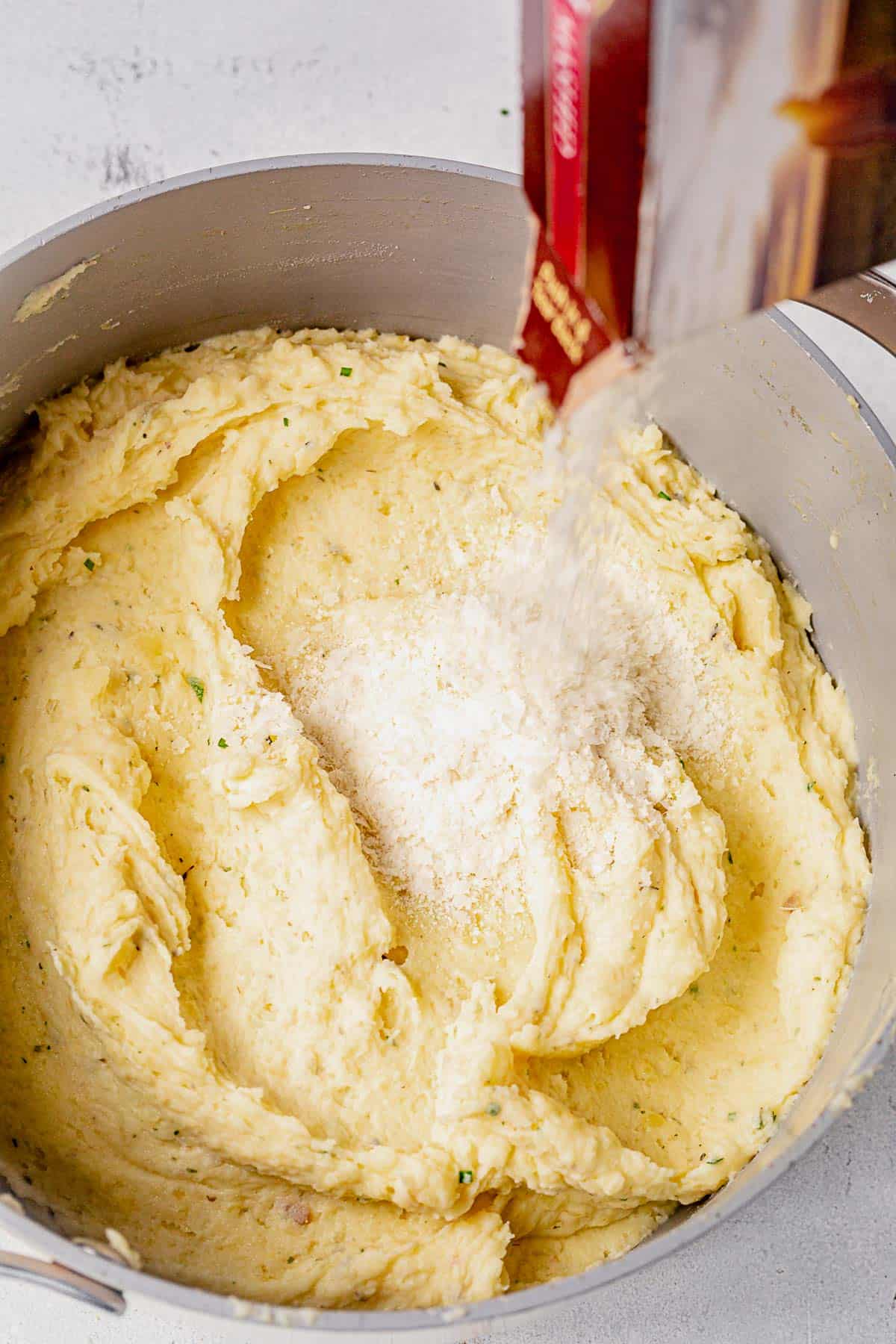 3. Add Heat
Using heat is a great option to fix watery potatoes, too! However, it can be the most labor-intensive method as it requires constant monitoring. Heat draws the excess moisture out of runny potatoes and helps you achieve your desired consistency. Here are 3 easy ways to add heat:
Stovetop. Using a large saucepan over medium heat, stir your mashed potatoes every 1-2 minutes. It's important not to use high heat or they will stick to the bottom of the pot.
Oven. If your stovetop is full of main dishes or another delicious side dish or two, you can add heat by using your oven! In an oven-safe shallow baking dish, heat them for around 10 minutes on a low heat, like 325 degrees Fahrenheit.
Microwave. Microwave them on high heat in a microwave-safe bowl in 1-minute increments, stopping to check and stir after each.
If you are using heat to fix runny potatoes, there are a few other important things to keep in mind. Keep a close watch on your potatoes and don't overcook them. . Using too much heat or cooking on high heat on your stovetop can ruin your potatoes.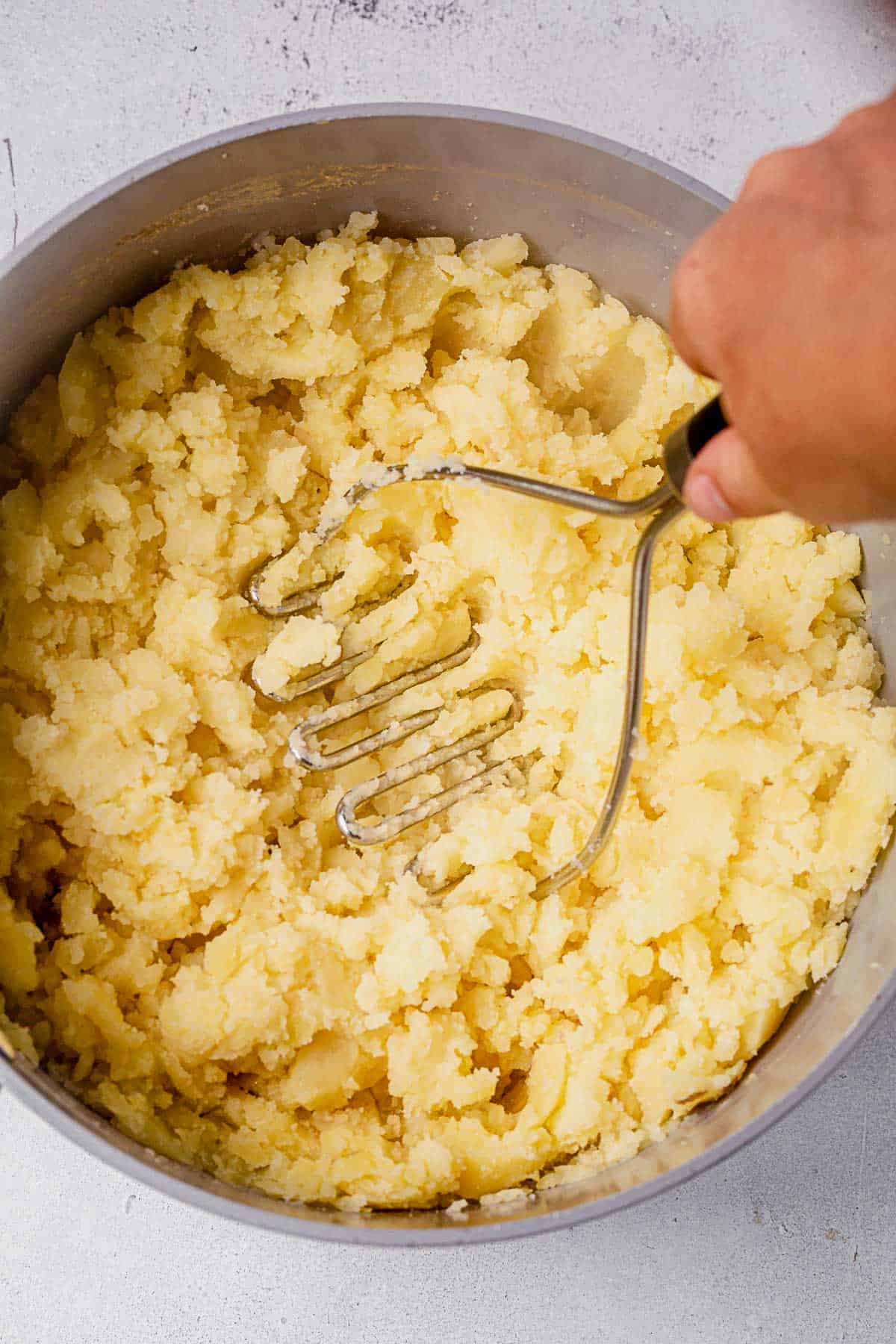 Expert Tips to Fix Runny Mashes Potatoes
We understand that it's not only important to know how to fix your runny potatoes, but also just as important to know what not to do when trying to fix runny potatoes! Here are a few general guidelines to avoid when trying to thicken your mashed potatoes:
Try not to use flour as a thickening agent. Flour is a great thickening agent for baked goods and a hearty soup, like this one pot creamy cauliflower soup, but it is not always a good thickening agent for mashed potatoes. It can mess with the flavor of the potatoes and give them a chalky taste.
Don't add additional potatoes. If your mashed potatoes are runny, adding additional potatoes is a labor-intensive and unnecessary extra step. This isn't to say that you can't add extra potatoes to try and fix your watery potatoes but the three methods above are easy ways to fix your potatoes and don't require you to go through the entire potato-boiling process again.
Try hard cheese: mix in a hard cheese like shredded cheddar to thicken the up slightly. It won't fix really runny potatoes (like the above methods), but it helps the structure some.
Frequently Asked Questions
What's the best way to thicken runny mashed potatoes?
The best way to thicken runny mashed potatoes is to use a thickening agent, such as corn starch, potato starch, or tapioca starch. Add any of these one tablespoon as a time and stir into your mashed potatoes until you reach your desired consistency.
Why are my mashed potatoes runny?
Your mashed potatoes may be runny for a few reasons, but most commonly it's simply because there is excess moisture! Make sure to use the right potatoes (we highly recommend Yukon Gold or Russet Potatoes) to aid in keep your mashed potatoes nice and fluffy!
How long does it take for mashed potatoes to thicken?
The actual amount of minutes will depend on the method you use to thicken your mashed but all methods that we recommend take less than 5 minutes! Whether you add a thickening agent, add dehydrated potatoes, or choose to add heat, all methods are quick and easy ways for you to thicken your mashed potatoes!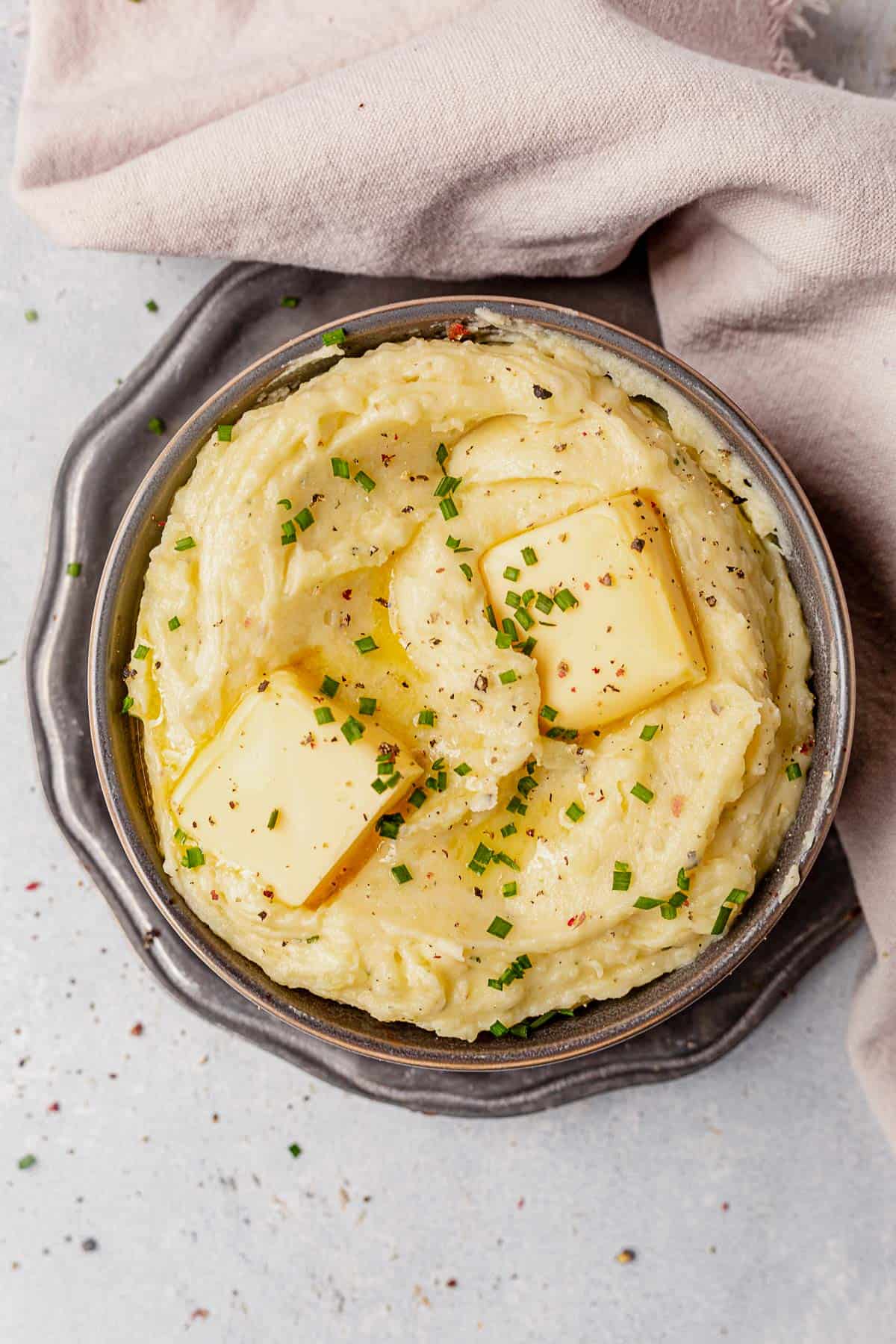 Mashed Potato Recipes