Boursin cheese is a classic recipe! This is an herb-filled, easy recipe that makes the perfect addition to any cheese plate. Make the recipe then learn how to add it to the perfect cheese plate.
If it were socially acceptable (and affordable) to eat a plate of cheese for dinner every night I would.
I love them. Like LOVE them. They are my favorite part about parties and get-togethers. I typically prefer to sit on the couch and netflix (I consider it a verb) every night than actually put pants on. But if I'm going somewhere and I know they're serving a cheese plate, I will go. Cheese plates are totally pants-worthy.
There may be one single thing better than a cheese plate and that's a grazing table. It's an entire table full of appetizers and accouterments.
When Chels and I were 15 she came to Hilton Head with me for a family vacation. We went out to eat one night and for whatever reason nothing sounded appetizing. Until I saw the cheese plate in the appetizer section. This is when my love of cheese and cheese plates started. Aside from the blue cheese, I literally hate blue cheese. But it works out because Chelsea loves it.

What Is Boursin Cheese
Boursin cheese is smooth and creamy cheese filled with herbs and typically spread on bread or crackers. Boursin originated from France and while served here and other countries, it's most famous in France. It's buttery and sweet and filled with delicious herbs and spices.
My favorite type of cheese of all is boursin cheese. I fell in love with it last summer when my boyfriend and I visited his grandparents in Colorado. His grandma is a standout cook and can make anything you want. But she makes a mean boursin cheese and it's now a staple on any cheese plate I make.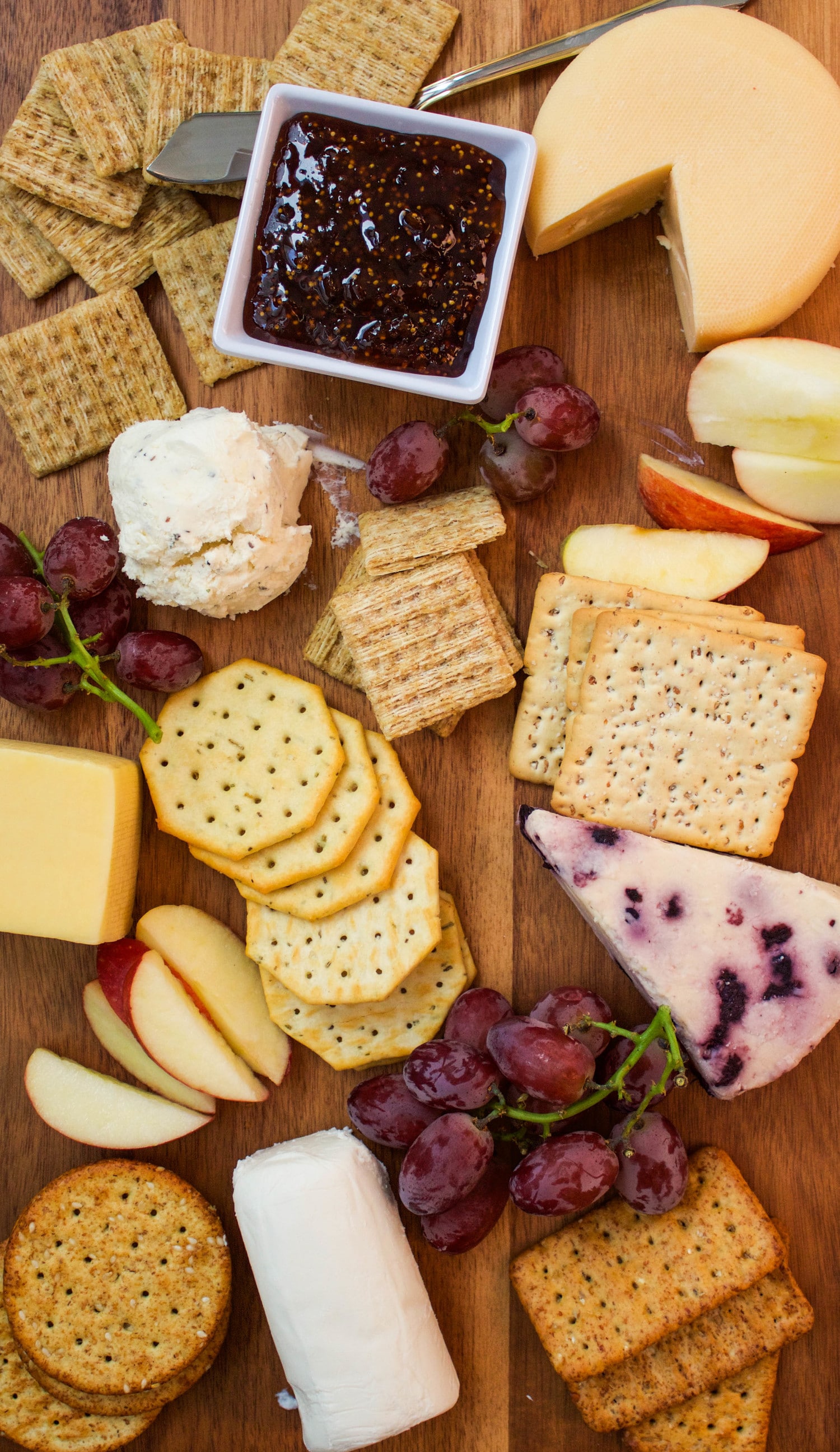 I've had so many in my day that I like to think of myself as somewhat of a charcuterie connoisseur (I'm so fancy). Creating your own is honestly one of the easiest appetizers to serve because you don't have to get crazy, you can just serve a variety of your favorite cheese with some fresh bread and whatever fruit is in season.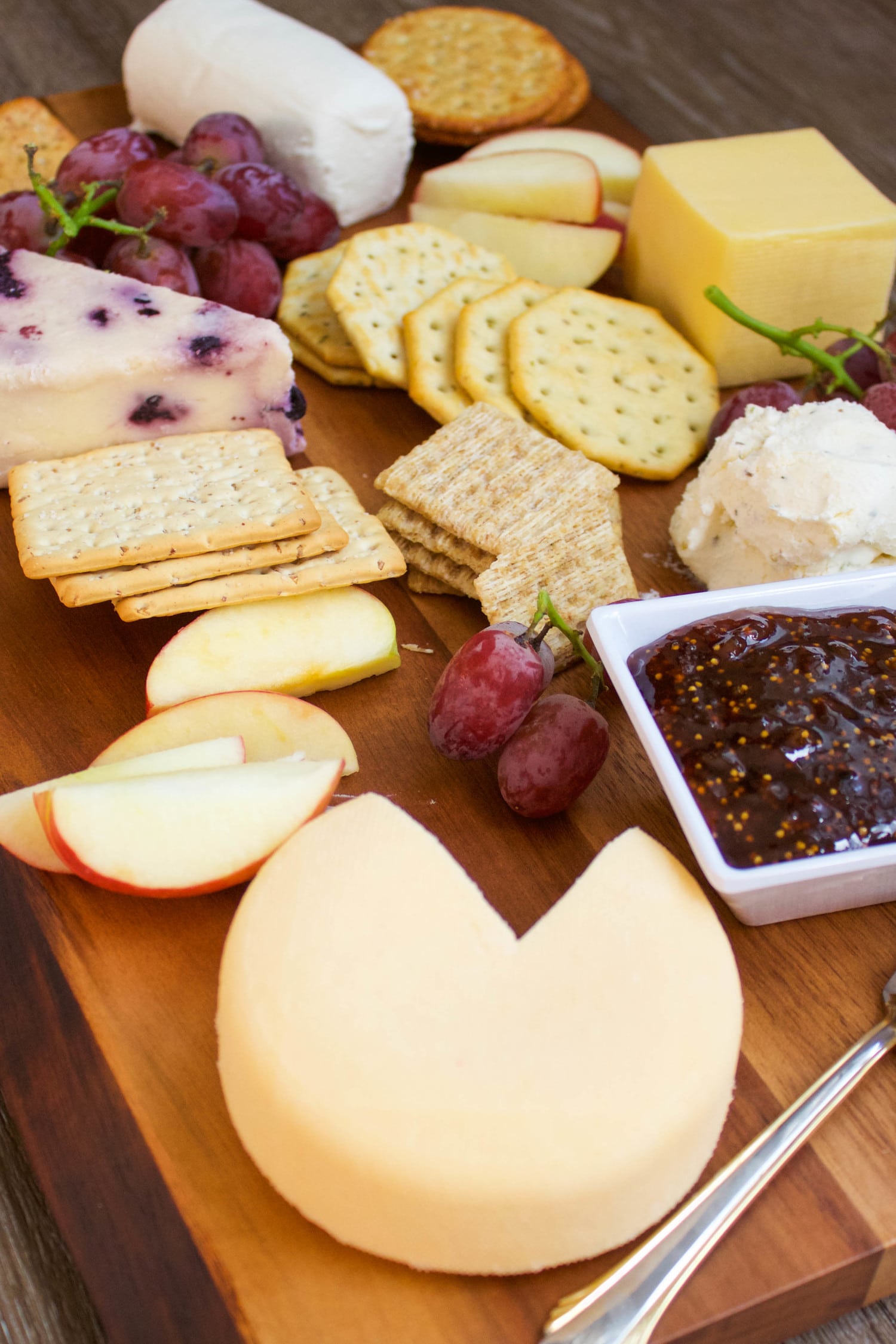 5 Tips for Creating the Perfect Cheese Board:
Know your audience and how adventurous they are. For those who like classics stick to the basics like cheddar, swiss etc. If they are more of a foodie you can throw in some more unique cheese like blues and goats.
Knowing your party size is an important element to consider so you know how much cheese and food to buy and how many varieties to get. A good rule is to assume 3 ounces of cheese per guest. If you're serving dinner too, only serve around 3 varieties, but if you're only serving bites and appetizers go with around 6.
Having the right tools is essential to executing your cheese board. I love this slate cheese board because you can write the types of cheese in chalk. Set out these knives so your guests can dig in.
Selecting the right cheese is the heart of your cheese board. In addition, make sure you serve your cheese at room temperature for easy cutting. A good rule is to set it out 30 minutes before your guests arrive. Here are the important elements for choosing your cheese:

Something sharp like a Cheddar or Parmigiano Reggiano.
Something funky like a Wedge or Gorgonzola or Blue Cheese.
Something creamy like Brie or Boursin Cheese (recipe below).
Something fresh like a Fresh Goat's Cheese.
Something fun like a Fruity Cheese.
Something nutty like Smoked Gouda.

Jazz up your plate with accompaniments. You can choose these based on the season, but here are some of my favorites:

Honey, for drizzling
Olives
Crusty bread or crackers
Seasonal fruit
Nuts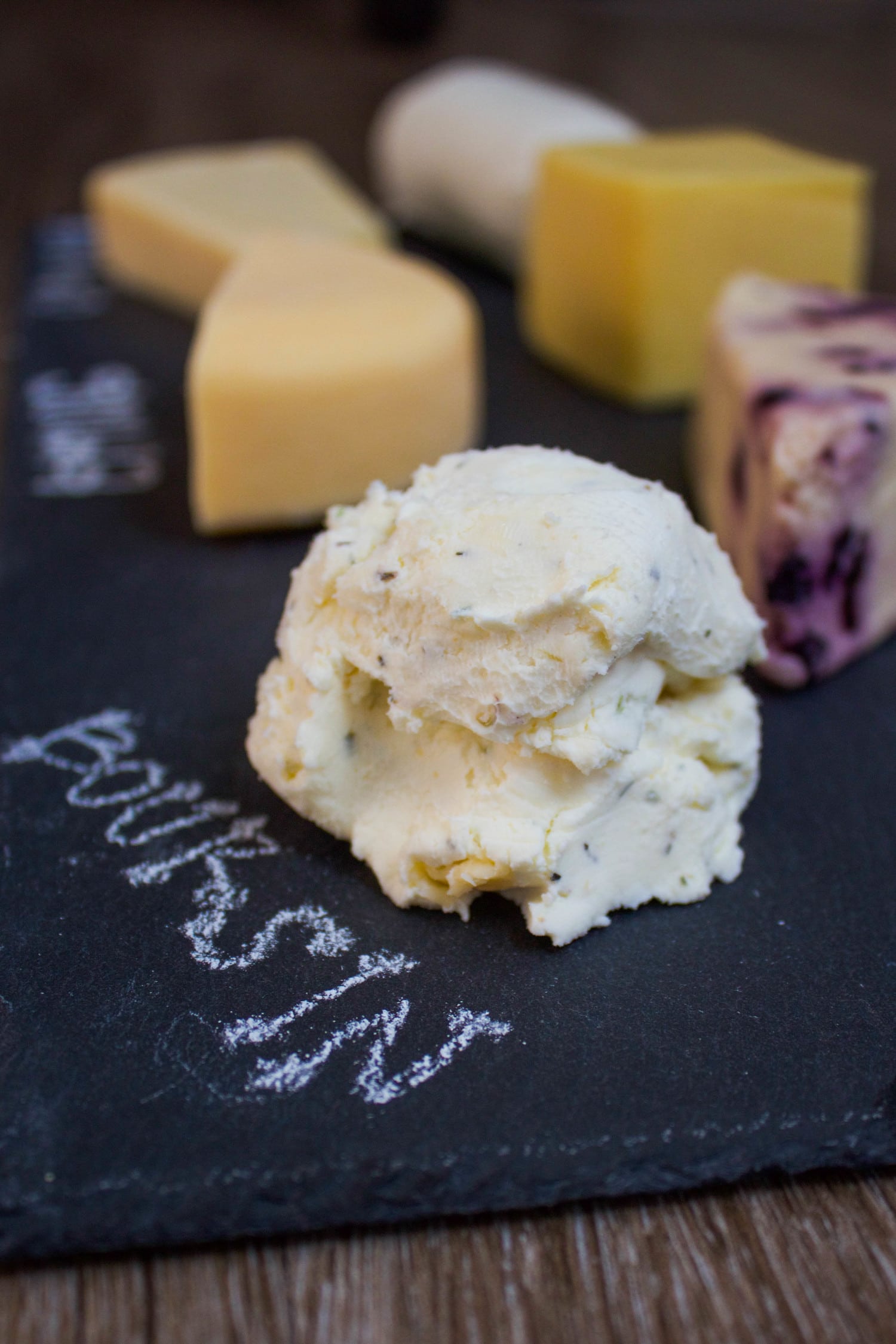 How Do You Make Boursin Cheese?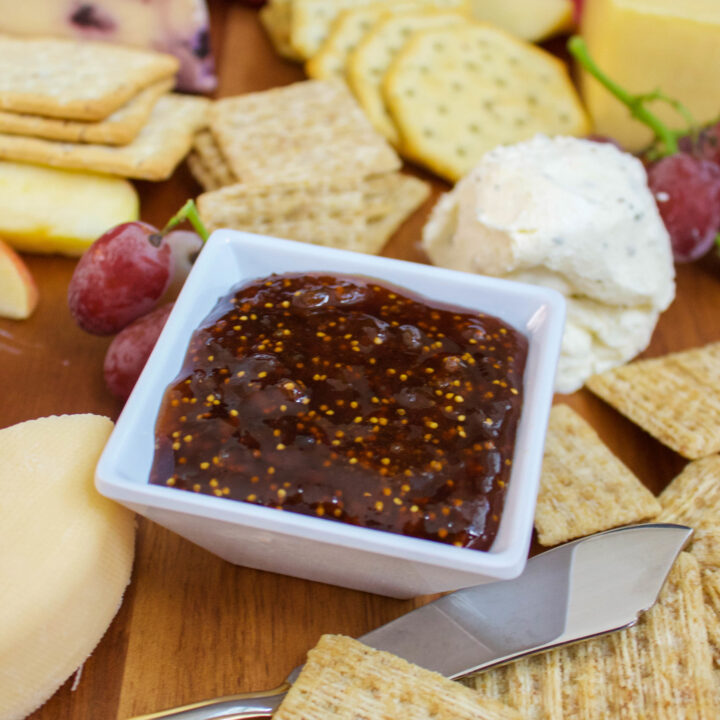 Homemade Boursin Cheese
Creamy and delicious, this spreadable cheese is filled with herbs and spices and are perfect to top with all kinds of crackers.
Print
Pin
Rate
Save
Saved!
Ingredients
2- 8

ounce

packages of cream cheese

8

ounces

of butter

1

teaspoon

garlic salt

½

teaspoon

dried oregano

¼

teaspoon

dried basil

¼

teaspoon

dried dill

¼

teaspoon

marjoram

¼

teaspoon

black pepper

¼

teaspoon

dried thyme
Instructions
Using a hand mixer or food processor, mix the butter and cream cheese until combined.

Add all of the seasons and mix until smooth.

Refrigerate for at least 2 hours. Can keep refrigerated up to 1 week.