This Spooky Monster Ice Cream Sandwich is an easy Halloween treat for kids and adults alike! This Halloween recipe is a fun dessert for any spooky occasion, from a kid's party to a trick-or-treating night in.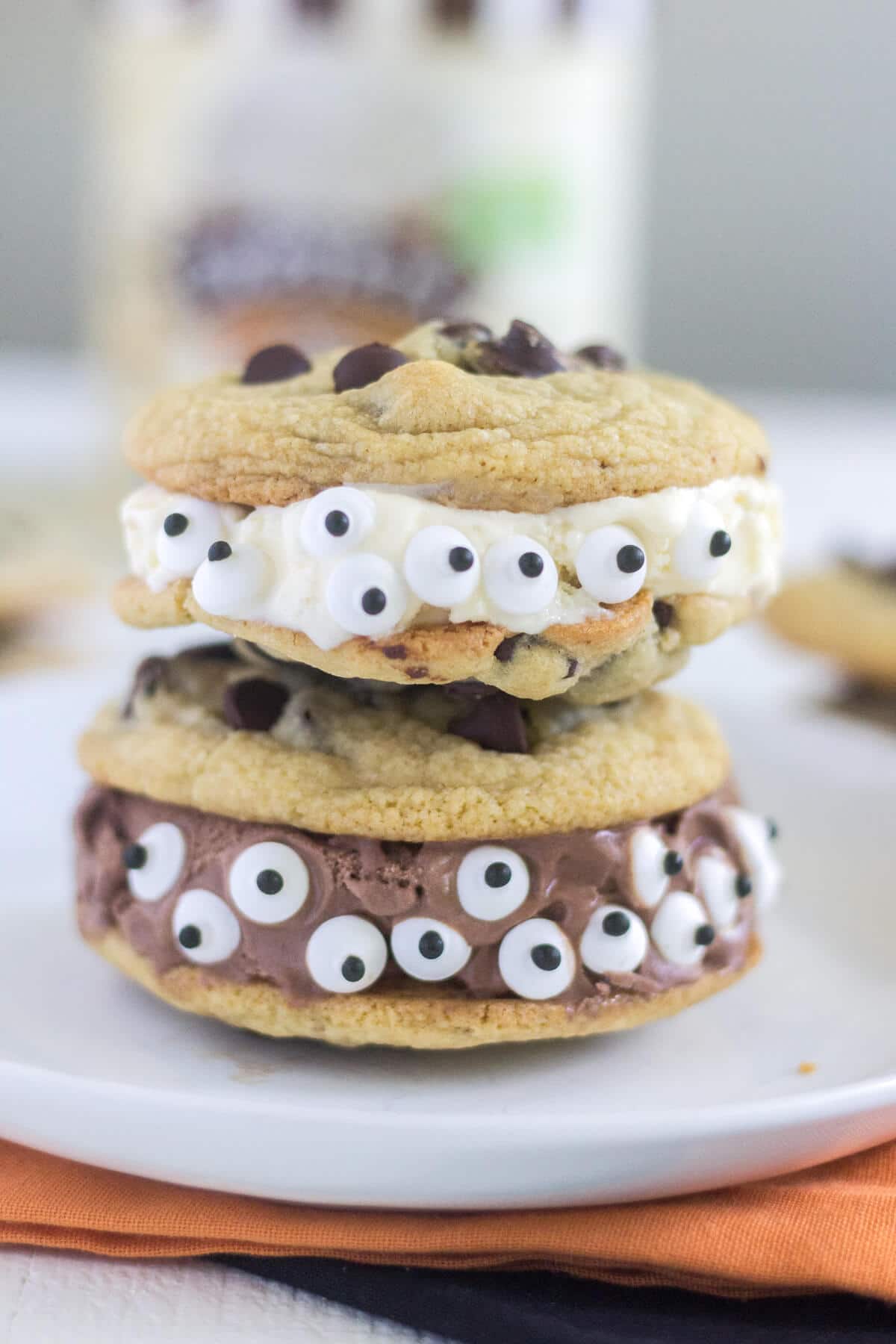 Can you believe we're approaching Halloween!? Halloween costumes have been trending on Pinterest for at least a month now and I've had multiple conversations with my sisters about what my nephews are going to be this year.
My nephew, Eli, is 3 and a half and he is in LOVE with Michael Jackson. Any time we're together he insists on playing "triller" and "smooooth criminal" and proceeds to dance around the kitchen. Needless to say, he's going to be MJ for Halloween.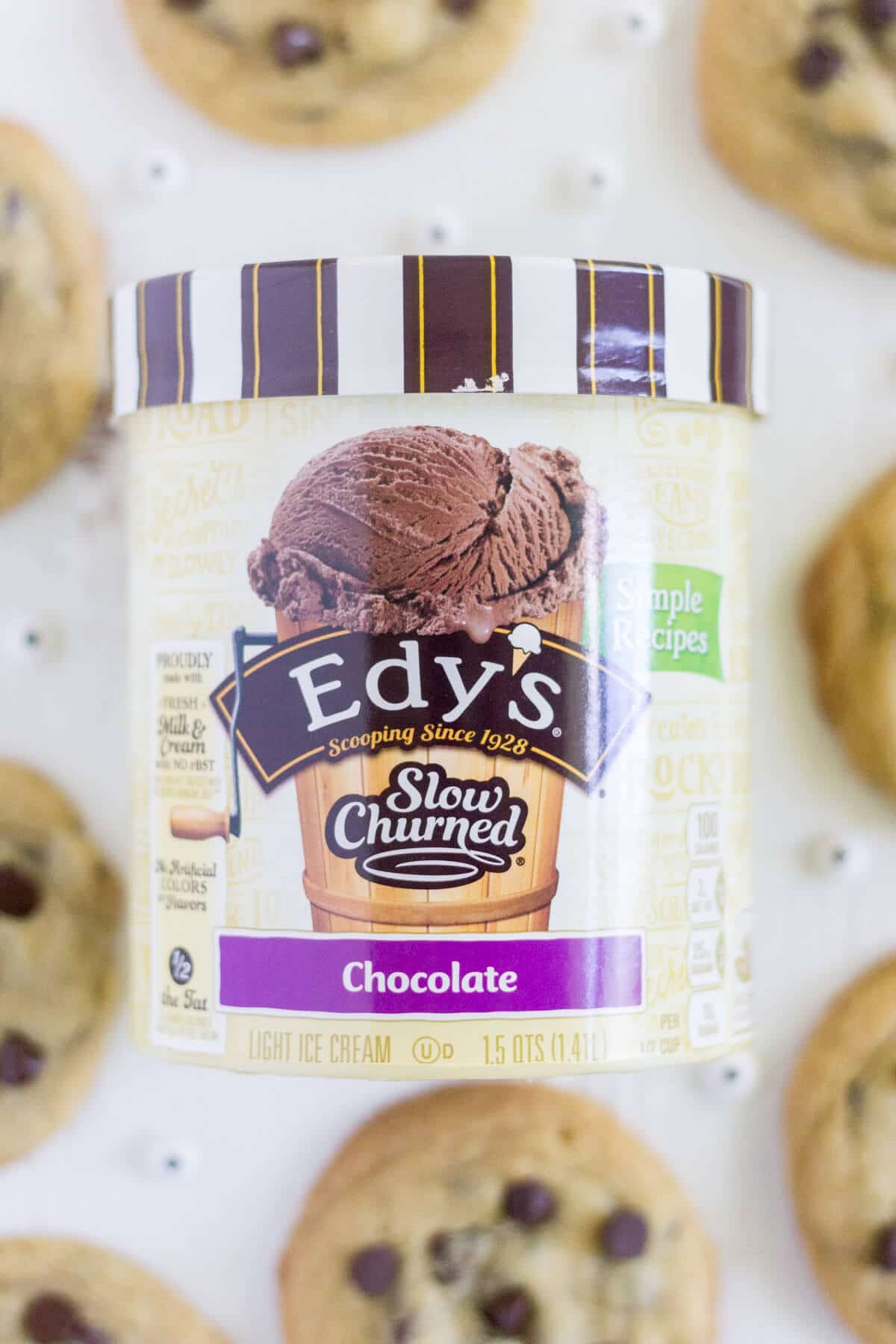 One of my other nephew's, Jacob, is only 2 months and he's likely going to be something warm and cozy so he can stay warm all night. My other nephew, Hutch, lives in Iowa and I need to give my future sister-in-law a call to find out what he's going to be!
After school and college, celebrating Halloween kinda loses its sparkle until you have nephews and little kiddos to celebrate with again! Zach and I love passing out candy for trick-or-treating and making halloween treats.
Especially delicious and spooky Halloween treats like these spooky monster ice cream sandwiches!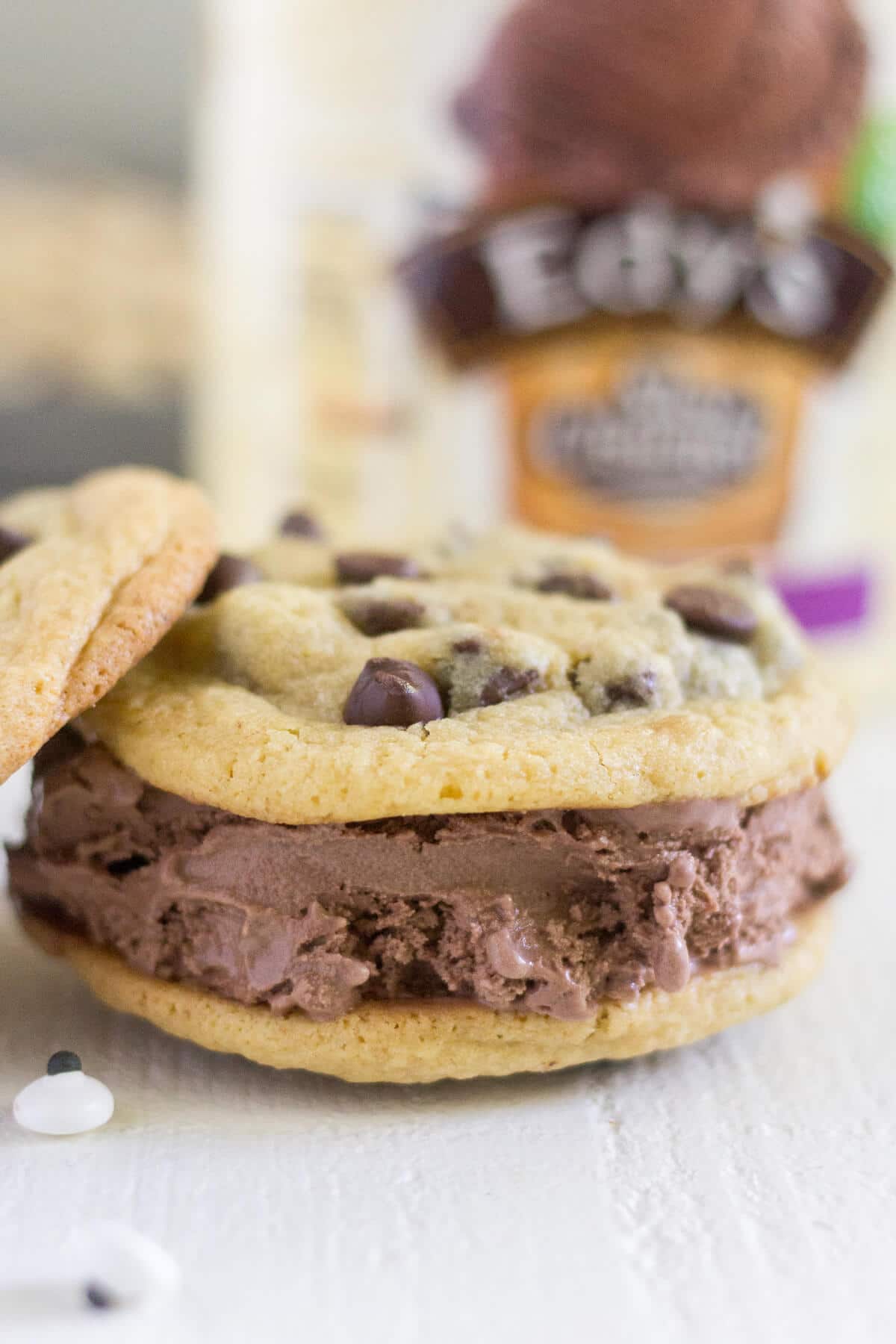 They get their extra spookiness from the candy eyeballs surrounding the Edy's ice cream, ease from the pre-made cookies, and their deliciousness from the smooth and creamy Edy's Slow Churned light ice cream.
Delicious, spooky and easy. Those are three killer (get it?) things for a Halloween treat!
This year I'm heading to my sister's to hand out candy and these spooky monster ice cream sandwiches will undoubtedly be on the dessert menu!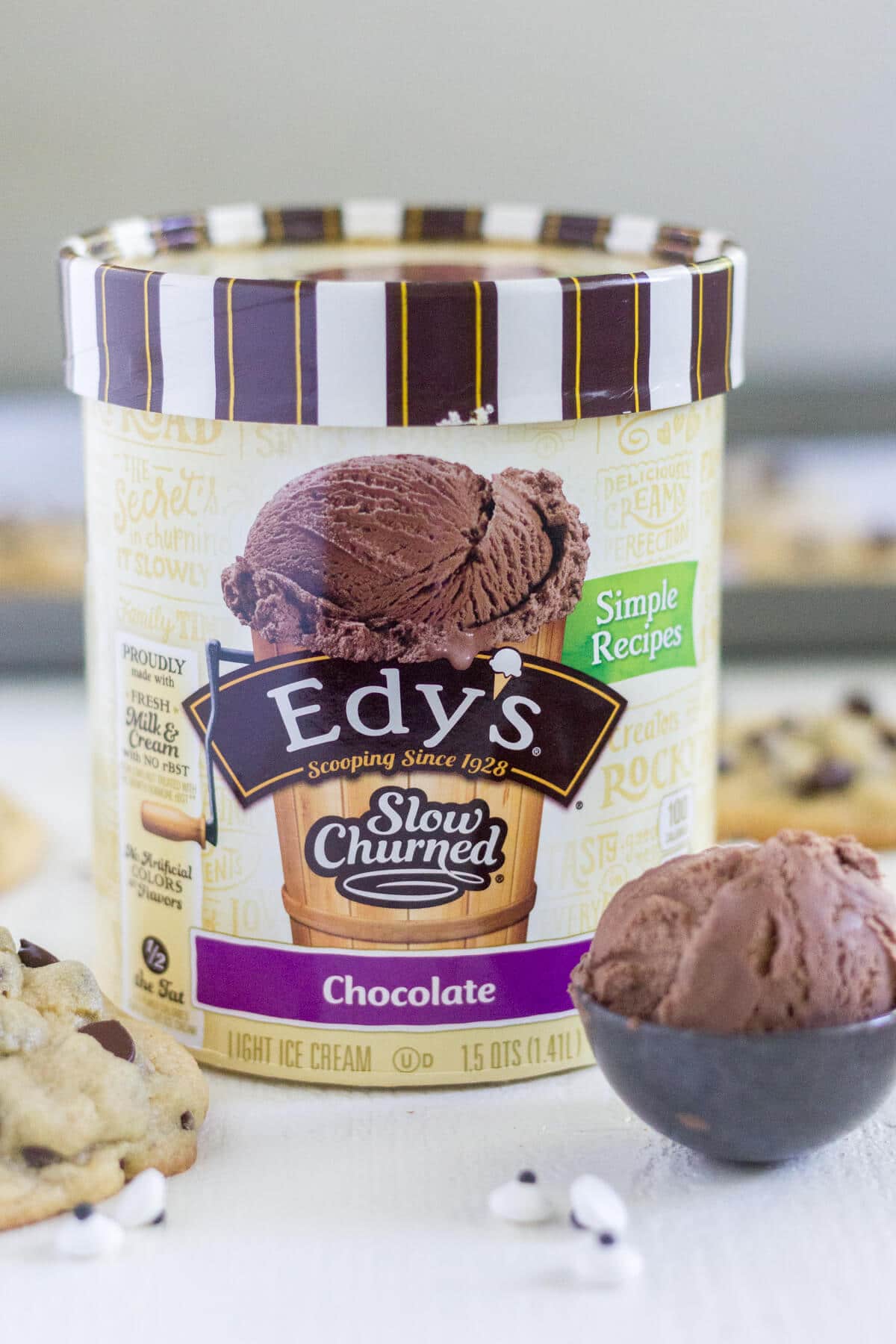 I feel good about serving them with all the candy because the Edy's Slow Churned light ice cream in these sandwiches is a better-for-you option because it's made with only wholesome ingredients.
I've been trying to incorporate more wholesome ingredients into my diet lately and any way to pass that along to my nephews is a huge plus.
There are no GMOs, ⅓ less calories and no artificial flavors/colors. And my favorite part: made with fresh milk and cream! My mouth is watering right now looking at these pictures and thinking about making these spooky monster ice cream sandwiches again.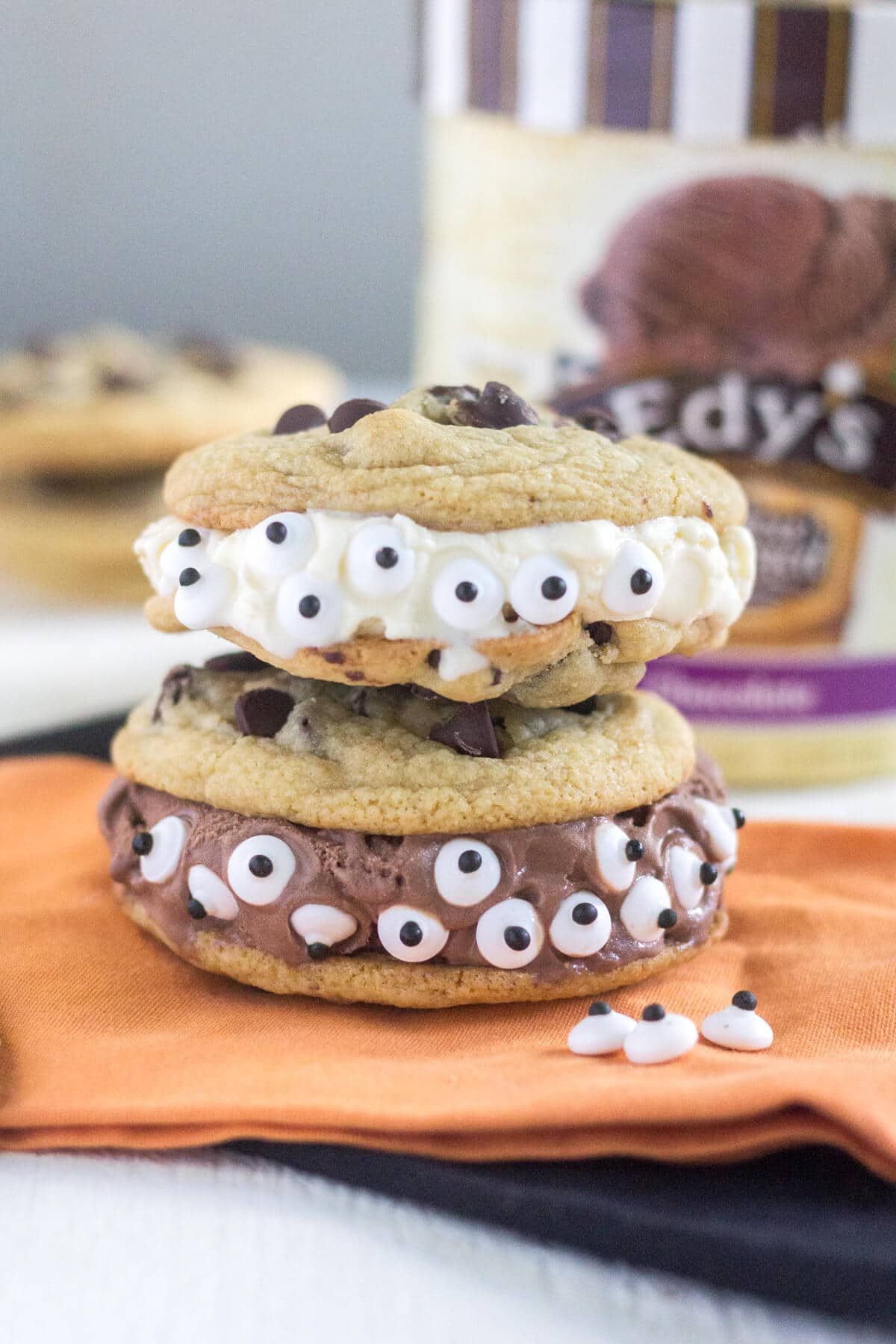 One of the other reasons I love this recipe is because it's super versatile while still being extra easy. I like to make my cookies homemade because I'm obsessed with my chocolate chip pudding cookies, but you can absolutely use pre-made cookie dough.
Pre-made cookie dough for this recipe makes it really easy to bake them up in a few minutes to put together for a party. I tested this recipe with Nestle Toll House Original Refrigerated Cookie Dough and they turned out perfect.
You can also switch it up by using chocolate or vanilla Edy's Slow Churned light ice cream. I like to buy both and do a mix of each because my family members like a mix of chocolate and vanilla.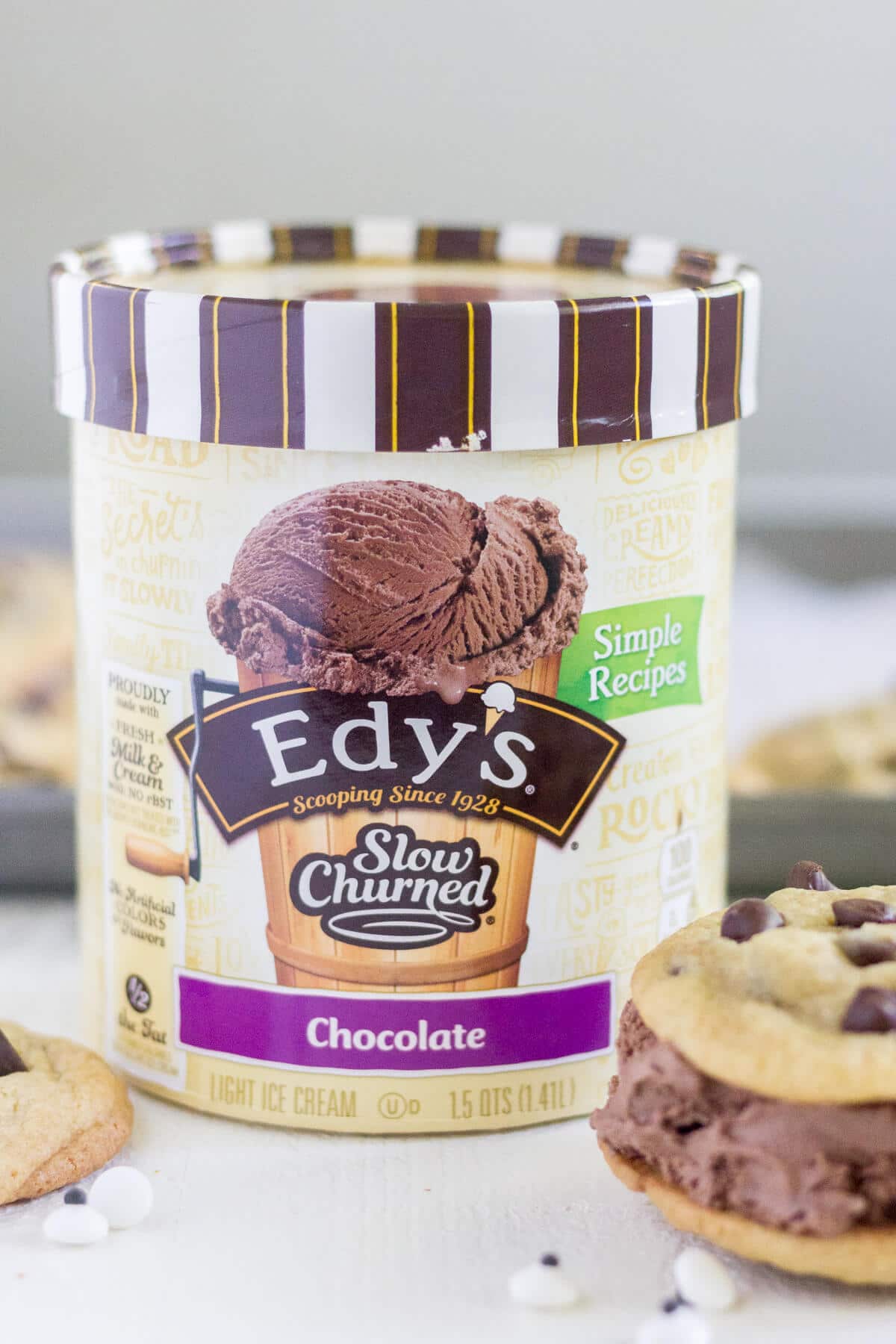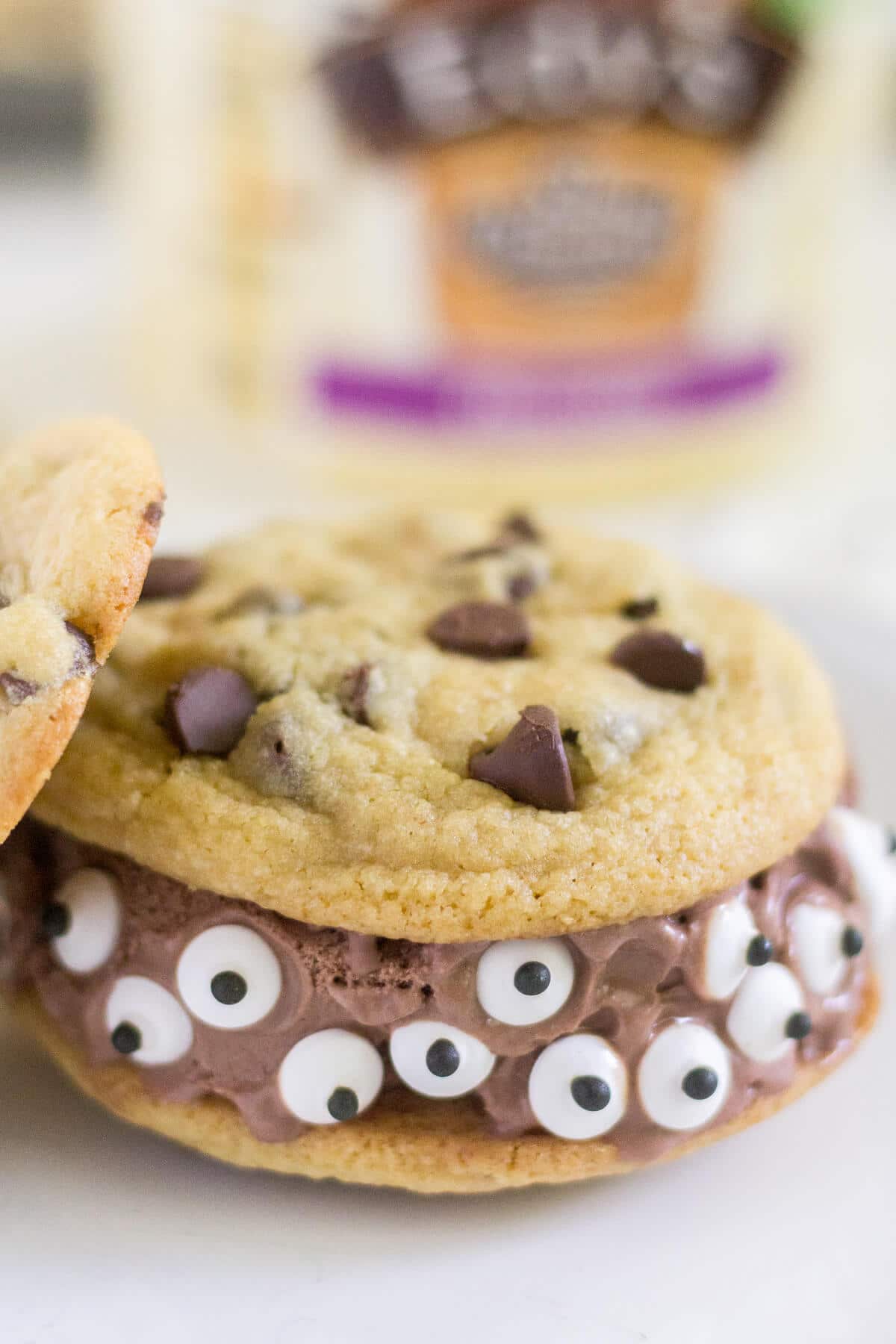 And if you are a busy bee like me and don't have time to make them while you're getting ready for the Halloween festivities you're in luck! These​ ​spooky​ ​monster​ ​ice​ ​cream​ ​sandwiches​ ​are​ ​a​ ​perfect make-ahead​ ​treat.
Pro​ ​tip:​ ​Once you make the cookies and assemble them with the Edy's Slow Churned light ice cream, wrap them individually in foil and place them in the freezer. You can make them up to 3 months in advance! Just let them thaw for a few minutes before serving.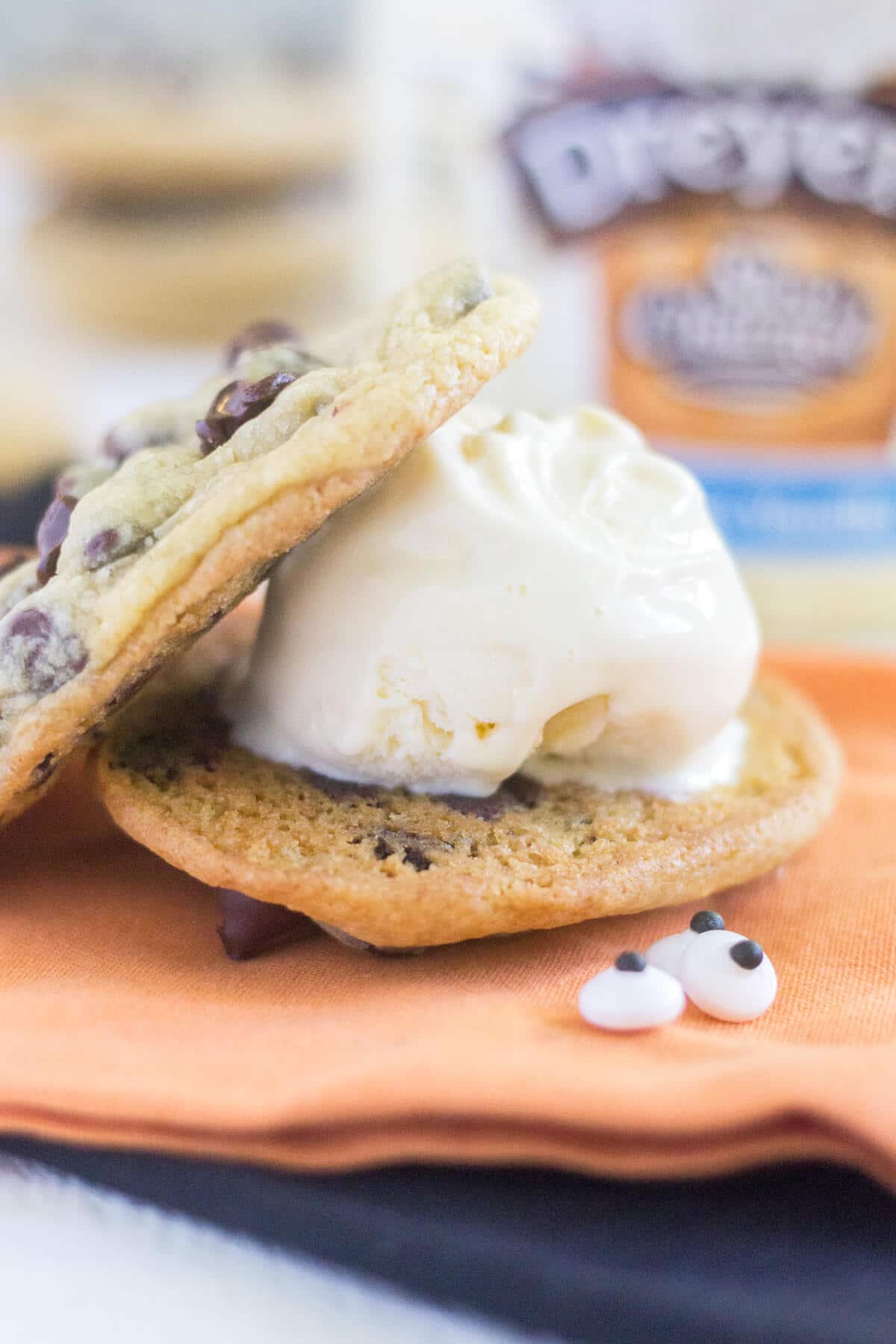 If you make these in advance you'll have all the time to make other treats for your party! I have tons of other Halloween ideas on my Pinterest board and Edy's has some seriously inspirational recipes on their Pinterest page.
All of these recipes and ideas are just the beginning of all the baking that's happening during the holidays! I am SO excited to kick of the holidays with these spooky monster ice cream sandwiches.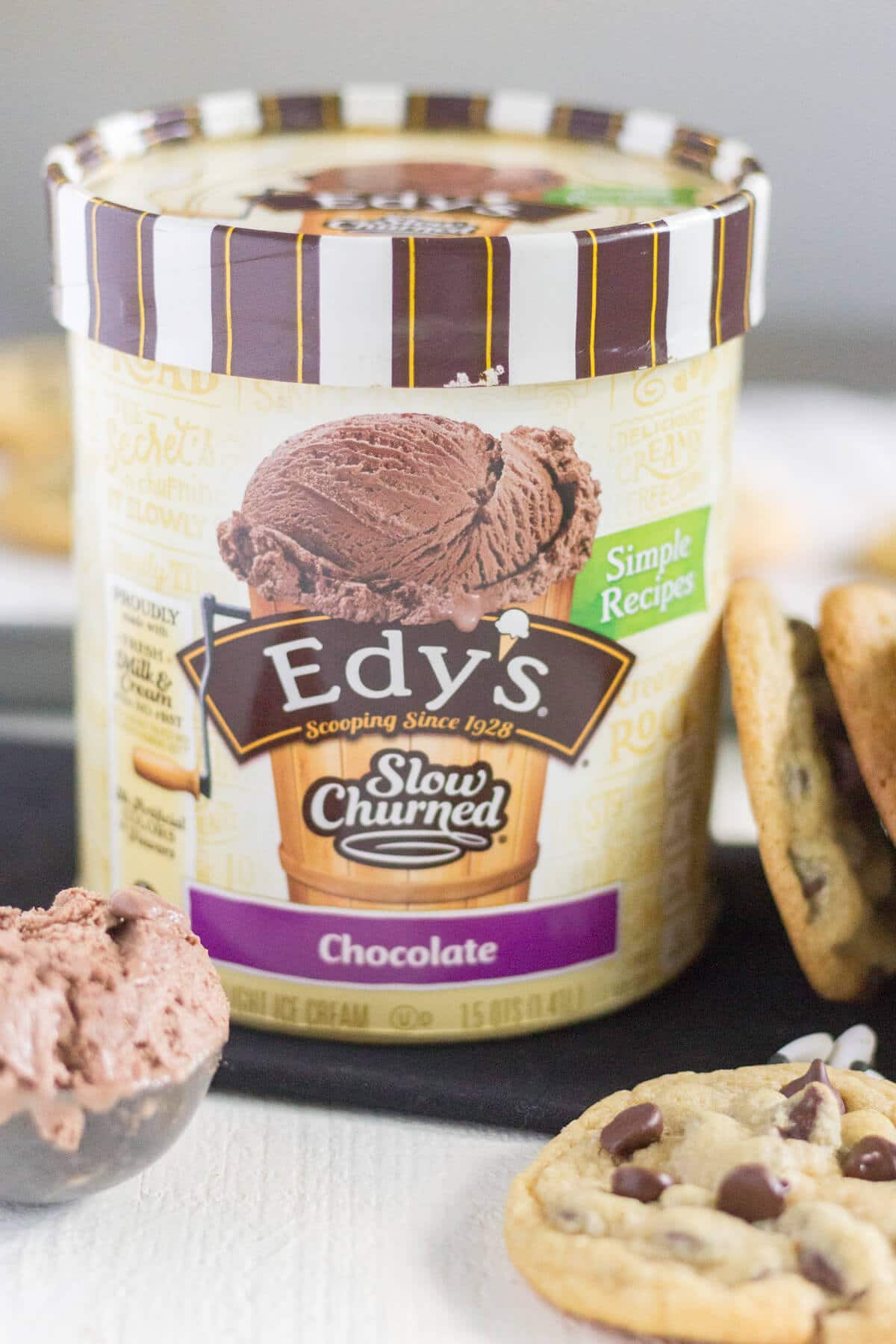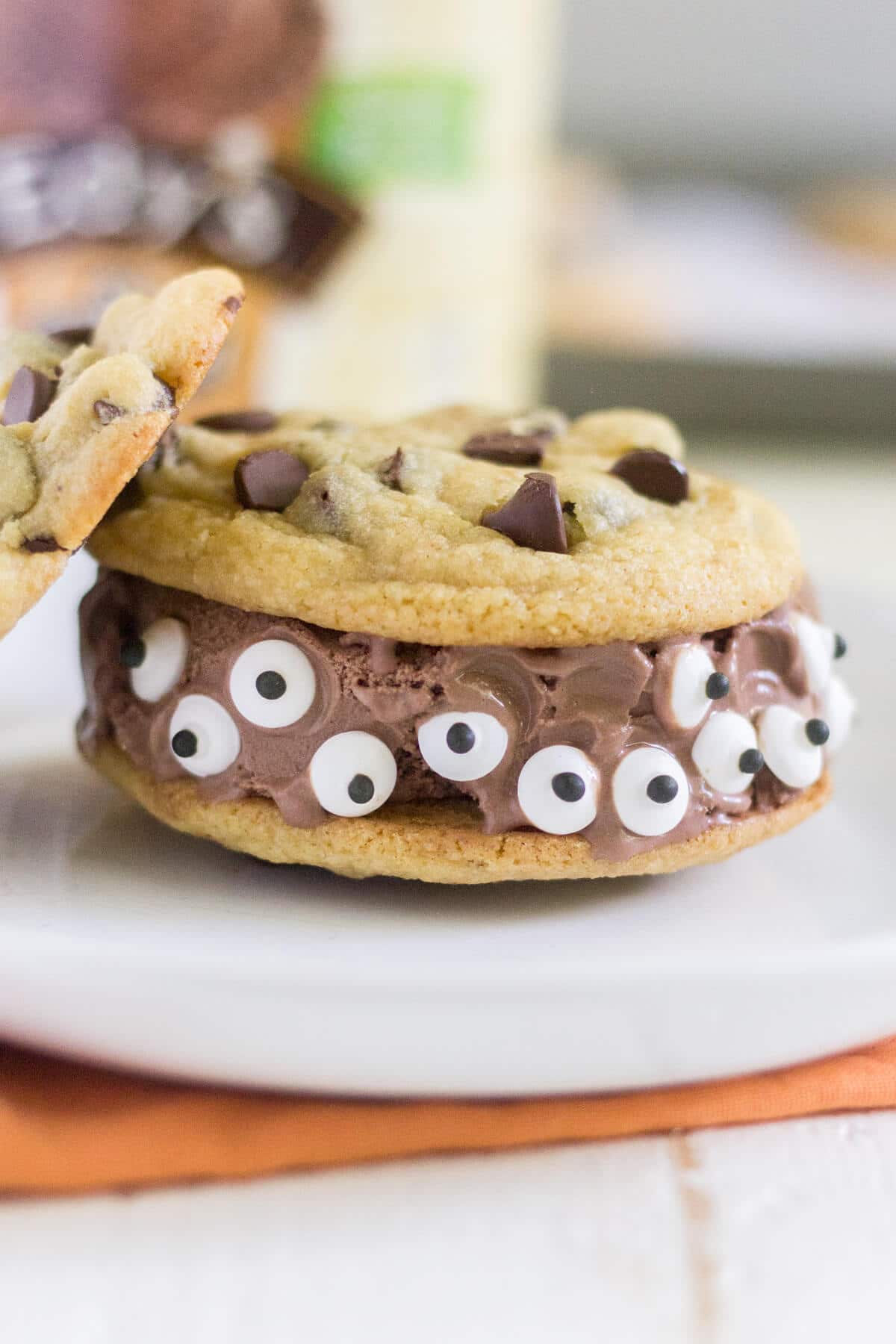 I have some really delicious recipes coming for fall, Thanksgiving and Christmas so don't forget to subscribe to my newsletter to get an update when I share a new recipe!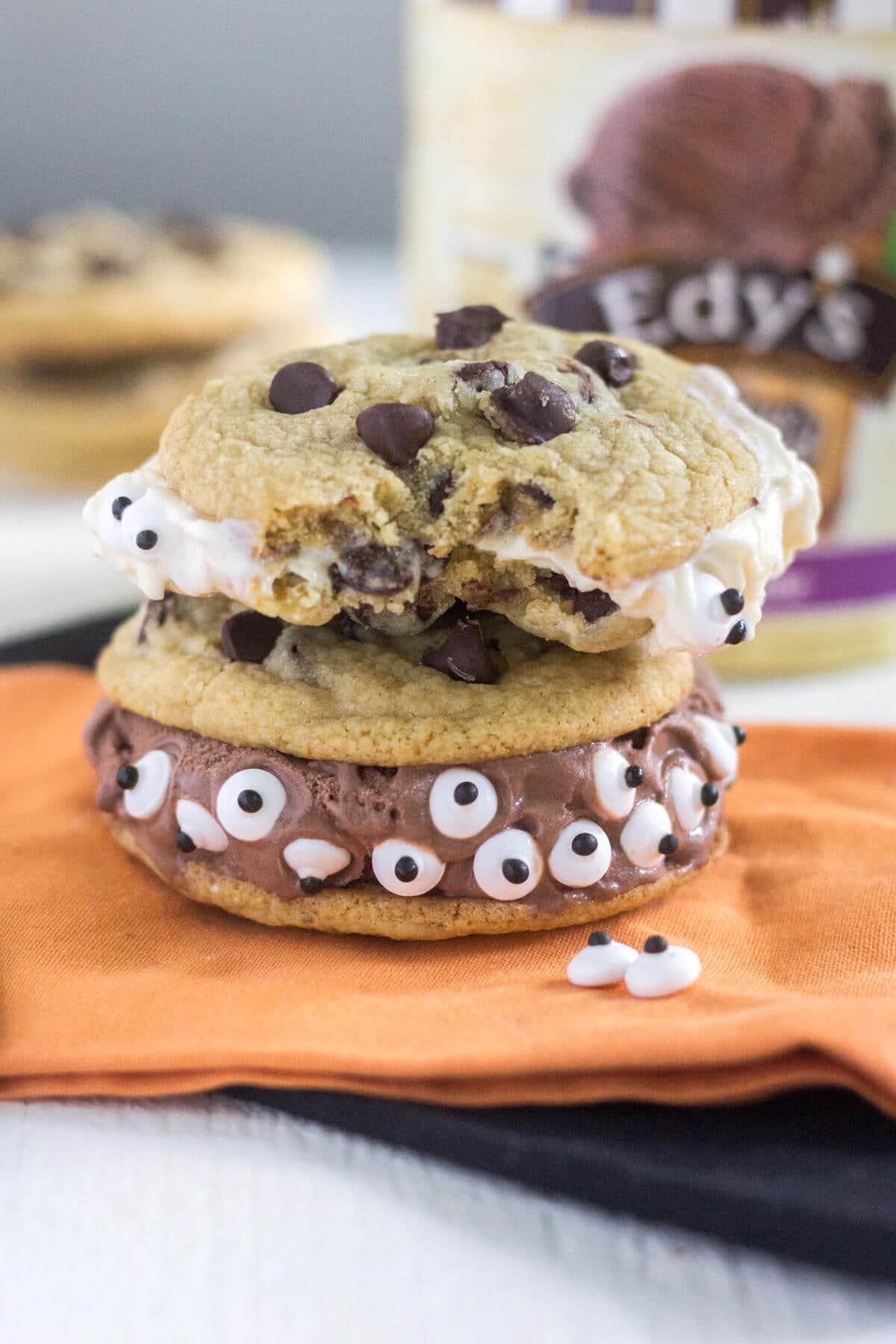 Happy Halloween! I want to hear what you and your kiddos are being for Halloween this year too. Comment​ ​on​ ​the​ ​post​ ​below​ ​so​ ​we​ ​can​ ​chat​ ​all​ ​things​ ​Halloween​ ​treats​ ​and​ ​costumes.
Thank you to Edy's Ice Cream for sponsoring and supporting this recipe and What Molly Made. All thoughts and opinions are my own!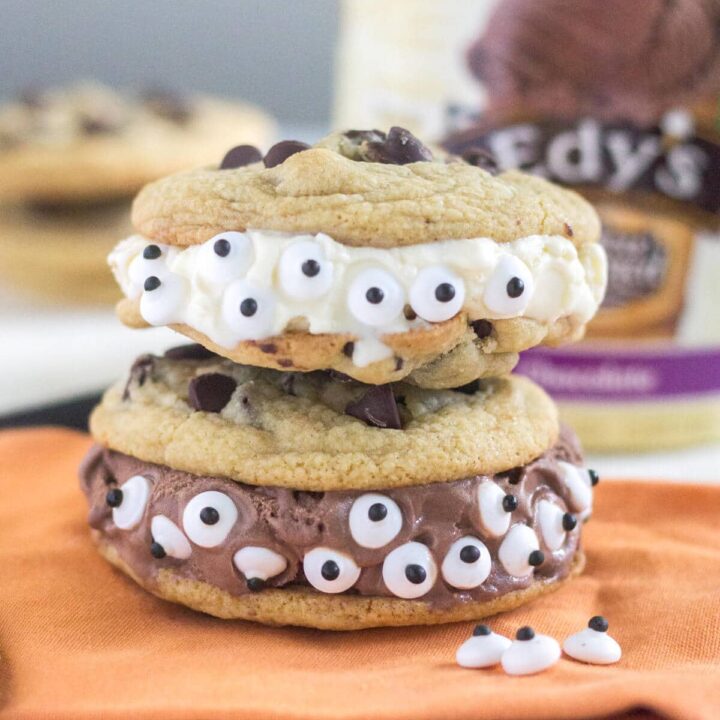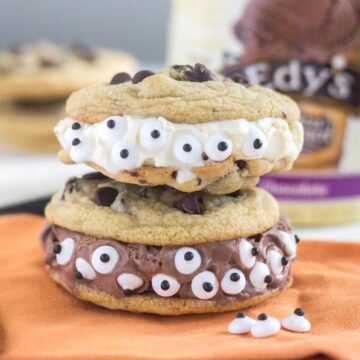 Ingredients
2¼

cups

all-purpose flour

spooned and leveled

1

teaspoon

baking soda

½

teaspoon

salt

1

cup

2 sticks unsalted butter, softened to room temperature

¾

cup

light brown sugar

packed

¼

cup

granulated sugar

3.4

ounces

vanilla instant pudding mix

2

large eggs

1

teaspoon

vanilla extract

2

cups

semi-sweet chocolate chips

2-3

cups

Dreyer's Slow Churned Chocolate or Vanilla ice cream

1-2

cups

Halloween Candy Eyeballs
Instructions
Preheat oven to 350 degrees. Line a large baking sheet with parchment paper and set aside.

In a medium bowl, whisk together flour, baking soda and salt and set aside.Using a stand or electric mixer, beat the butter and sugar on high speed until light and creamy, at least 3 minutes. Do not skip this step. Once combined, add the pudding mix, vanilla and eggs and beat on high for 2-3 more minutes.

Slowly add half of the dry ingredients to the wet ingredients and turn the mixer on low to start so

the flour doesn't get everywhere. Turn the mixer up to high and mix until combined, about 30 seconds. Add the rest of the dry ingredients and repeat until dough is just combined. Add chocolate chips and stir with a rubber spatula until incorporated.

Scoop ¼ cup of dough and quickly form into ball of dough. Place 2 inches apart onto the

prepared baking sheet. Bake for 10-12 minutes, or until slightly golden and just set on the top. Be

sure to make an even number of cookies. You should end up with 14-16 baked individual cookies.

Allow baked cookies to cool on the baking sheet for 2-3 minutes then transfer to a baking rack to

cool completely.

Once cooled completely, flip cookies upside down so bottom is facing up. Scoop ¼ cup of Dreyer's Slow Churned Chocolate or Vanilla on top of one cookie. Place another cookie bottom-down on top of the scoop of ice cream and press down gently to make a sandwich. Cover exposed ice cream with Halloween Candy eyes. Repeat until all baked cookies are sandwiches.

Make ahead tip: wrap each ice cream sandwich individually in foil and place in the freezer for up

to 3 months.