This roasted strawberry cobbler is the perfect healthy summer dessert. It's fresh and sweet and so easy to make. Not to mention it's vegan and refined sugar free. #winning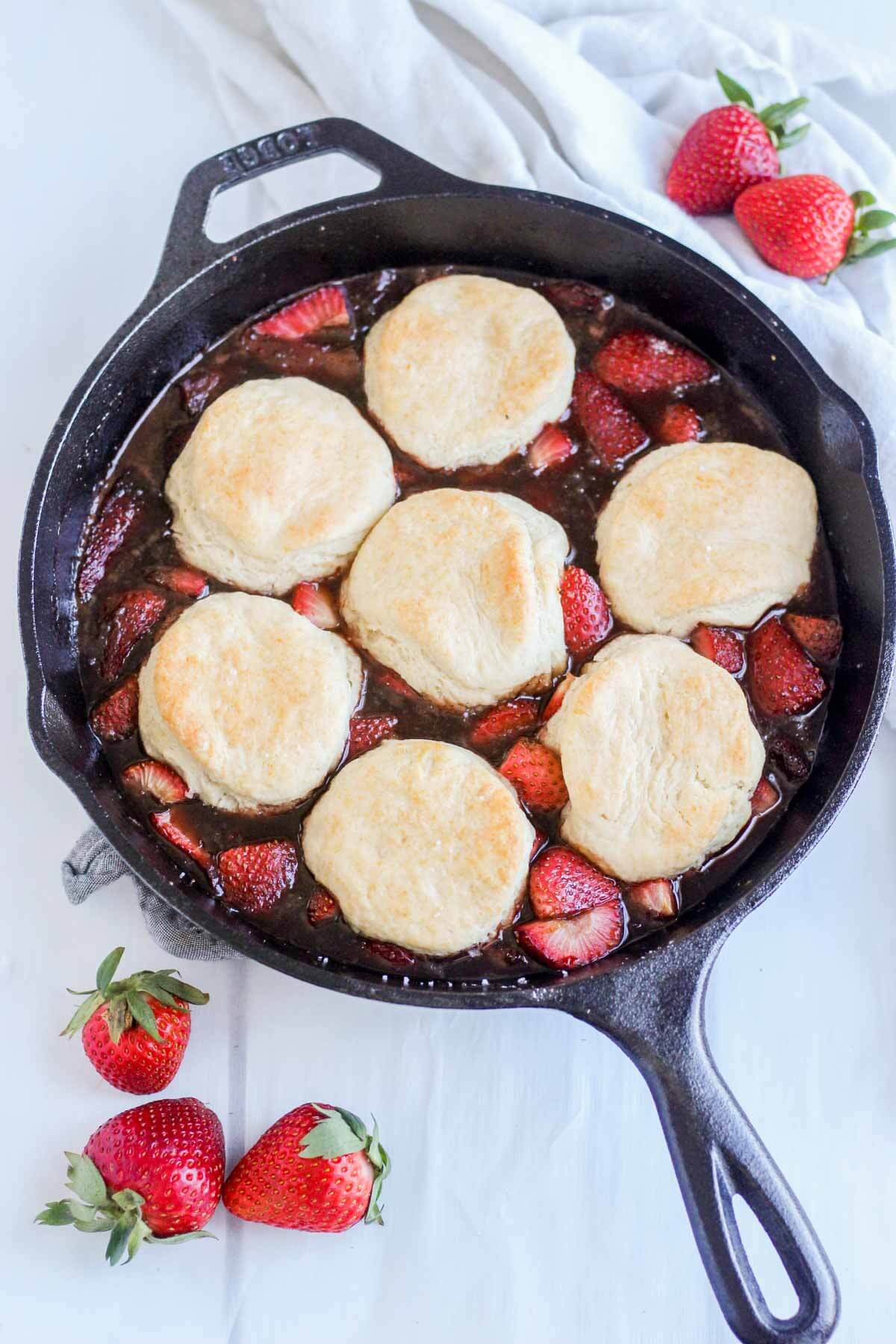 I'm really excited about this cobbler ya'll, but I have to admit I'm not feeling super excited at the moment. I have a million things going on in my life right now and I'm feeling completely overwhelmed tbh.
It's all great things too! Zach and I just got engaged and bought a house and we're going to Ireland next week with friends. So, on top of feeling overwhelmed about everything hitting at one time I'm feeling guilty about being overwhelmed by all of these great things. Anyone know that feeling?
I've also got a lot going on in my full-time job and really working hard here on What Molly Made, plus I'm the leader of the photography team at our church. As I'm writing all of these things I'm already becoming overwhelmed.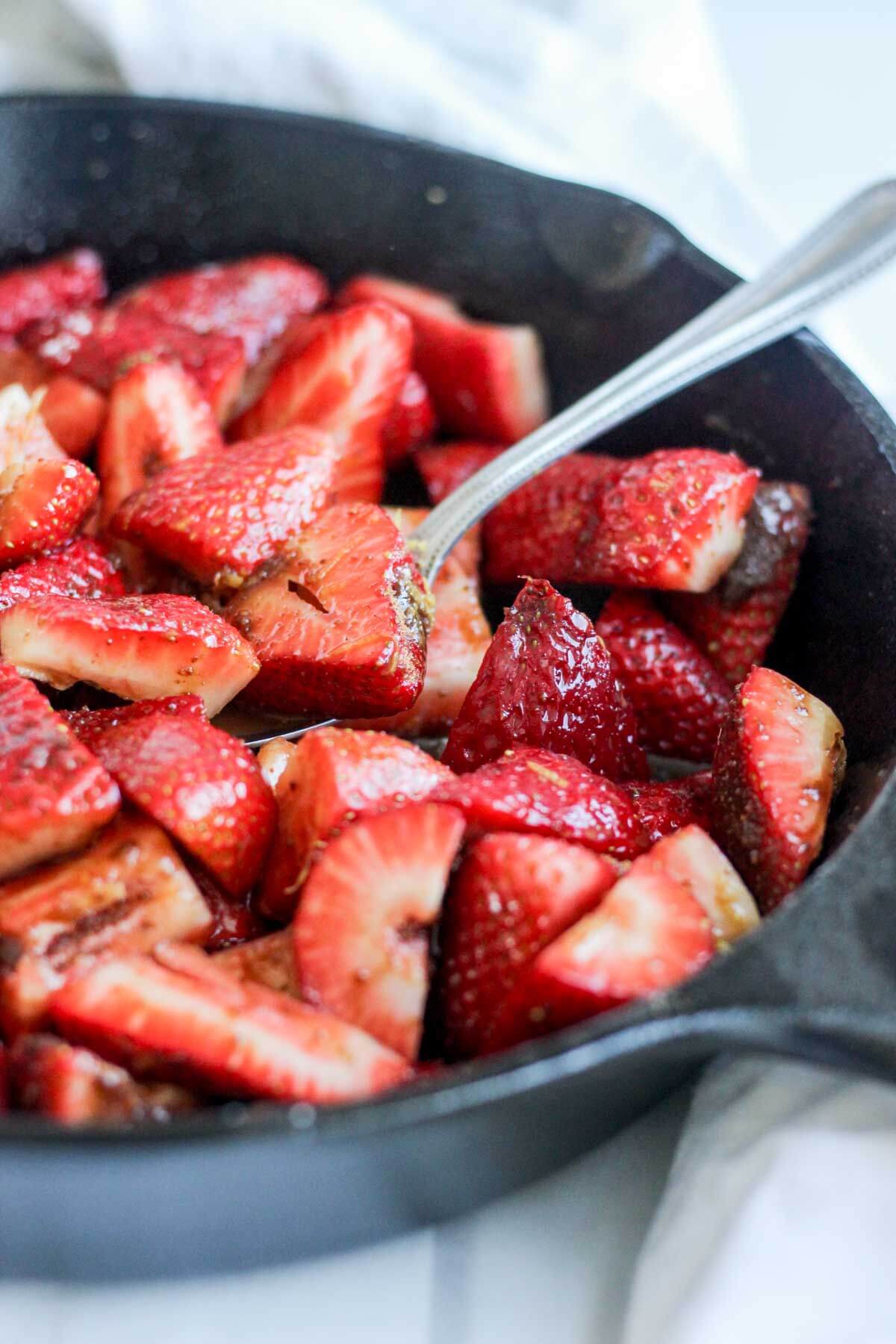 I've come to the realization that I'm just trying to do too much. I kind of realized this a few months ago which is why I've been trying to get on track. I've read Chasing Slow and I'm in the middle of reading Present Over Perfect (highly recommend!).
The largest problem I've realized with all of this going on is that I've become angry and short with the people around me. I've been frustrated easily and rush through the things that I should be stopping to appreciate.
As I slowed down and realized what was going on around me it took me back to a message series our pastor went through last year. There was a huge paradigm shift in my life when I accepted and implemented the idea of this message on a day to day basis.
The idea is this: Who you're becoming is more important than what you're doing.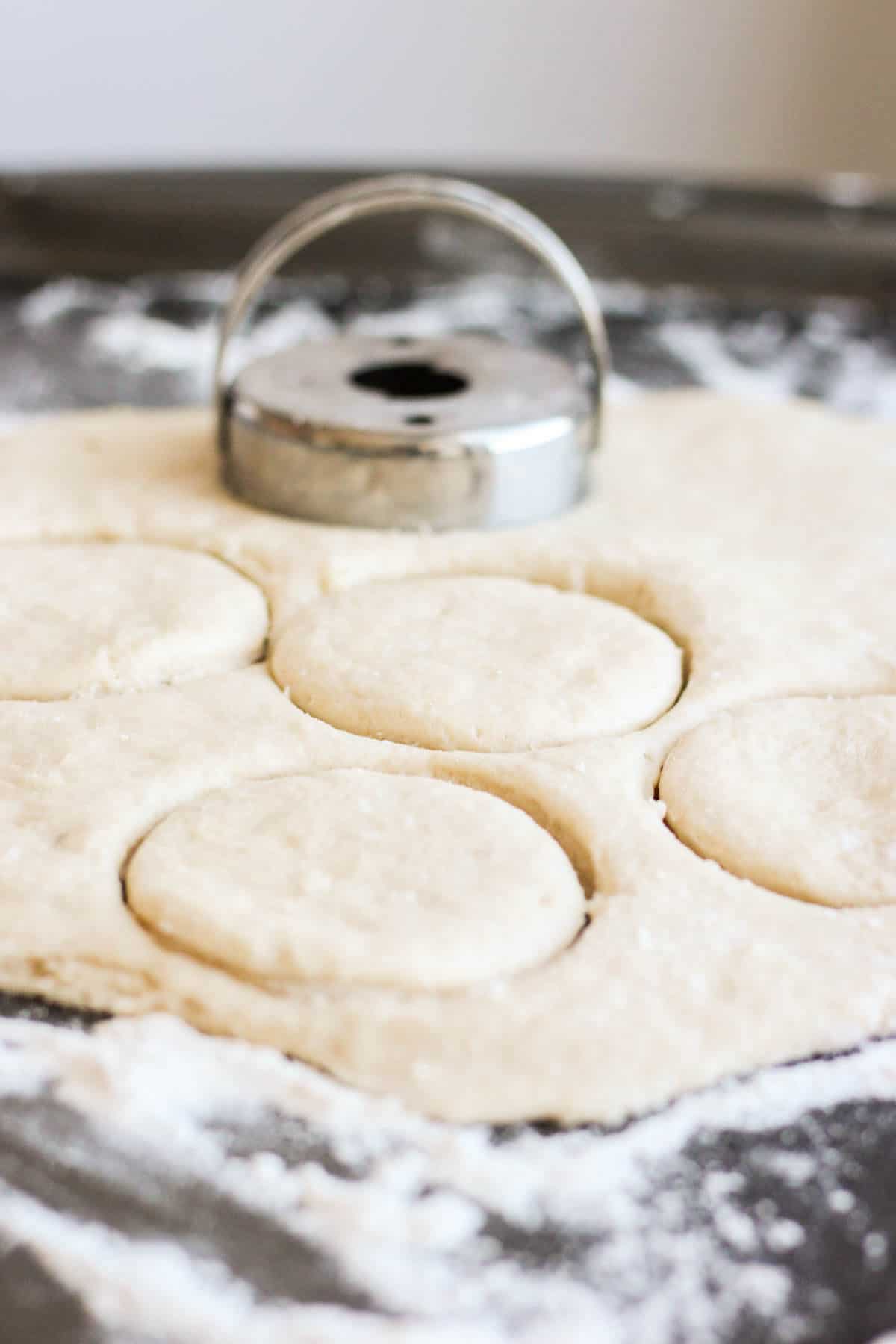 God cares more about the person you are becoming and who you are on the inside rather than the number of boxes checked on your to-do list and the number of charities you volunteer for. I've been running 100 miles a minute trying to accomplish everything and have been sacrificing the way I'm treating the people around me or the types of good qualities that come out from day to day just so I can have more and more and say I do all of these things.
Slowing down gives me a chance to be the person God intended for me to be.
I know this, but sometimes it's hard to do when I set goals for myself. I'm learning to take it a day at a time and be okay with not getting it right all of the time. But as long as I'm trying to be the best person I can be I'm okay with not checking all my to-do's on the list.
So here is my hope for you: if you're in a season of go-go-go like me, know you're not alone. Know that I struggle with you and probably will always struggle with this. My hope is that you have a chance to slow down and appreciate all of the amazing people in our lives and work alongside me to become a better person each day.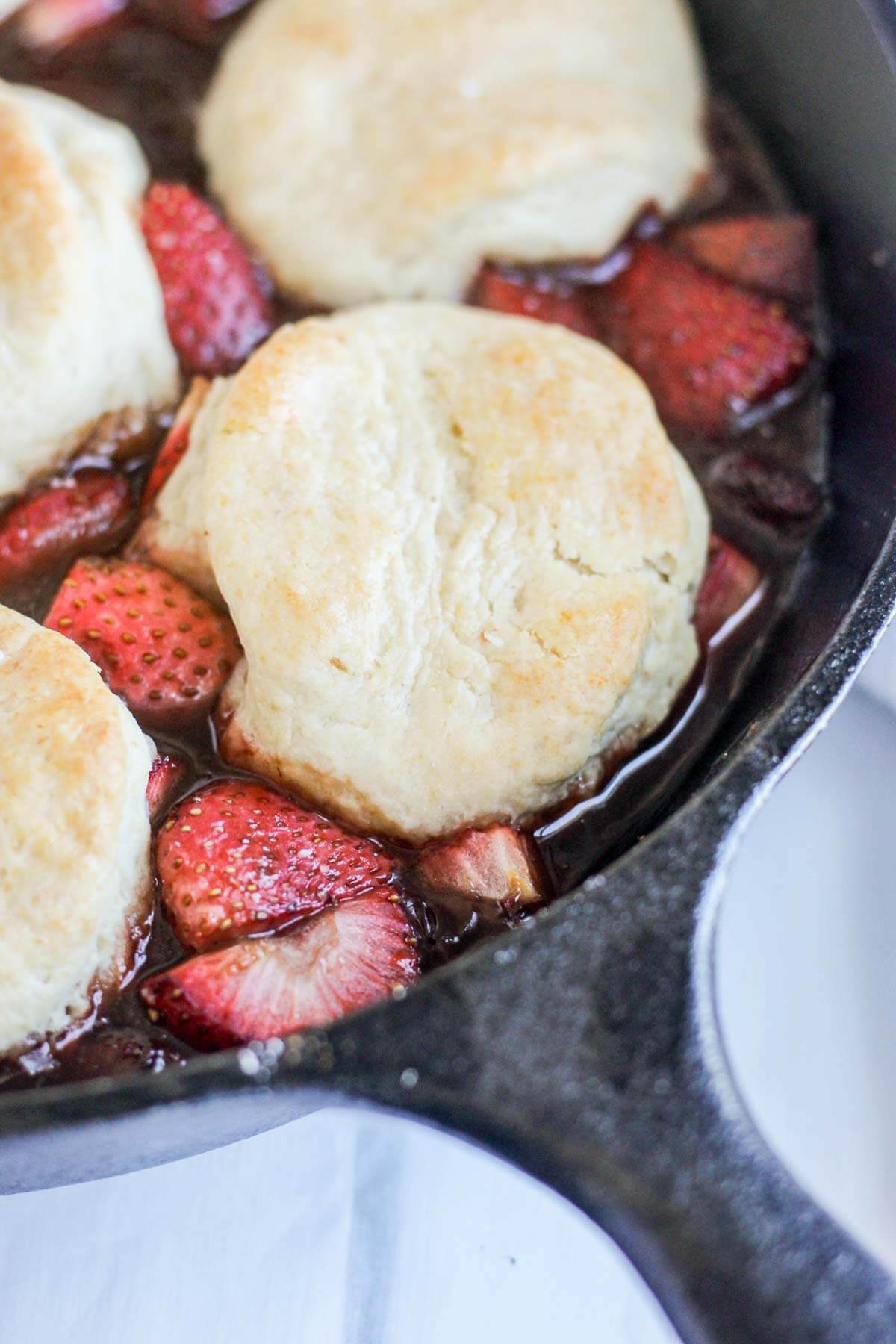 Now on to the strawberry cobbler! This healthy summer dessert will be the wow-factor in your summer gatherings. It's a gooey sweet treat topped with flaky biscuits. It doesn't have any dairy or refined sugar in the whole thing.
Healthy summer dessert is my favorite thing to make. When it's hot and sticky I never want a heavy dessert. I love a light and guilt free dessert knowing I can indulge but still feel good about what I ate.
The base of this healthy summer dessert is made with fresh strawberries. Just mix the strawberries with coconut sugar, lemon juice and cornstarch. You can make it in a cast iron skillet like I did or in a traditional cobbler pan, but I love the rustic look and feel of the cast iron. You can even use mini cast iron skillets if you have them and make individual cobbler for entertaining.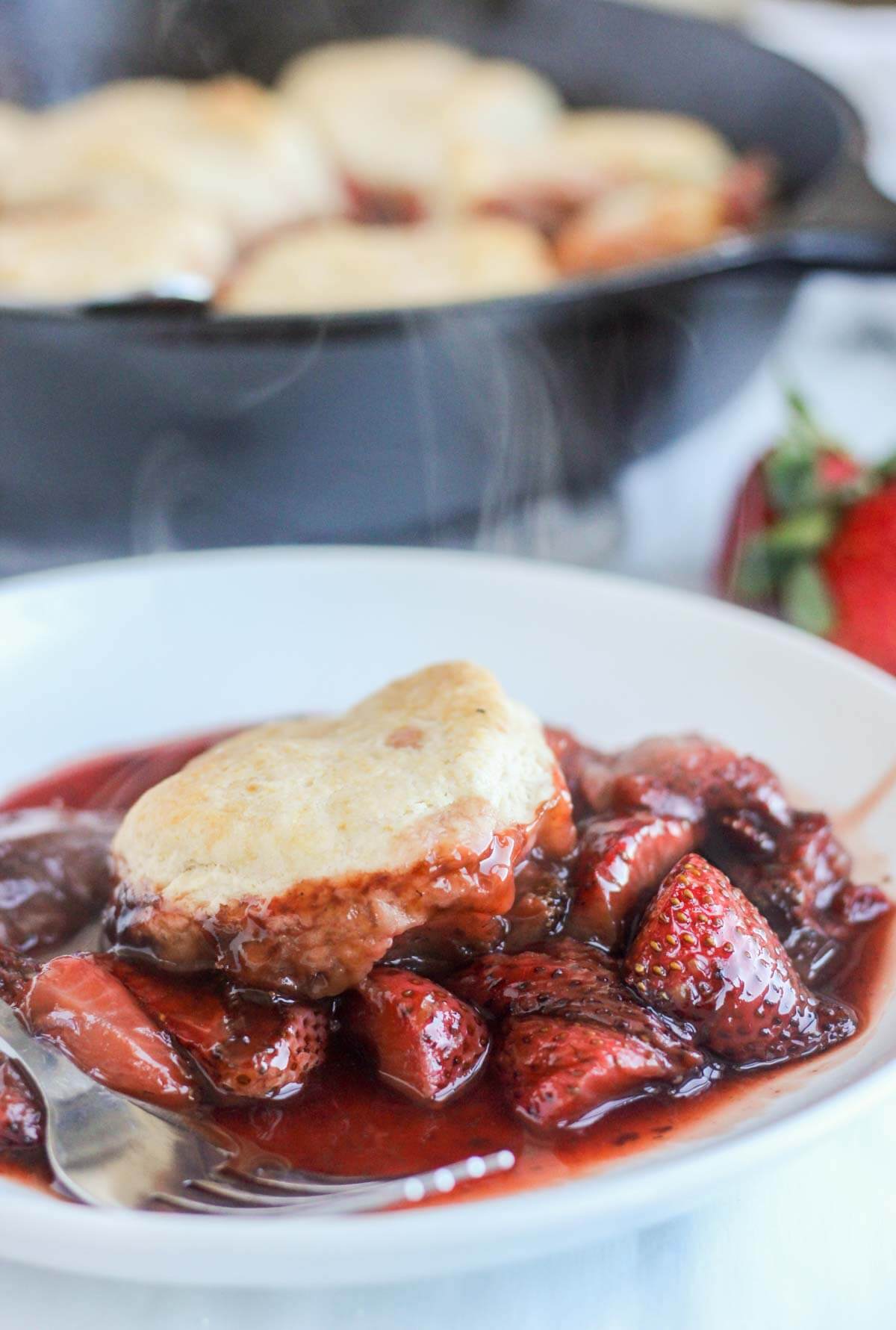 The strawberry layer of this healthy summer dessert is topped with vegan biscuits. I recently shared the recipe for vegan biscuits and wanted to use them in a dessert recipe. The biscuits are made with whole wheat flour and coconut oil mostly. You cut them out and place the dough on top of the strawberries then throw the whole thing in the oven to bake together.
When the cobbler is done, your strawberries will be bubbling and the biscuits will be golden brown.
You are going to be in love with this healthy summer dessert! Top it with vegan ice cream and you're set.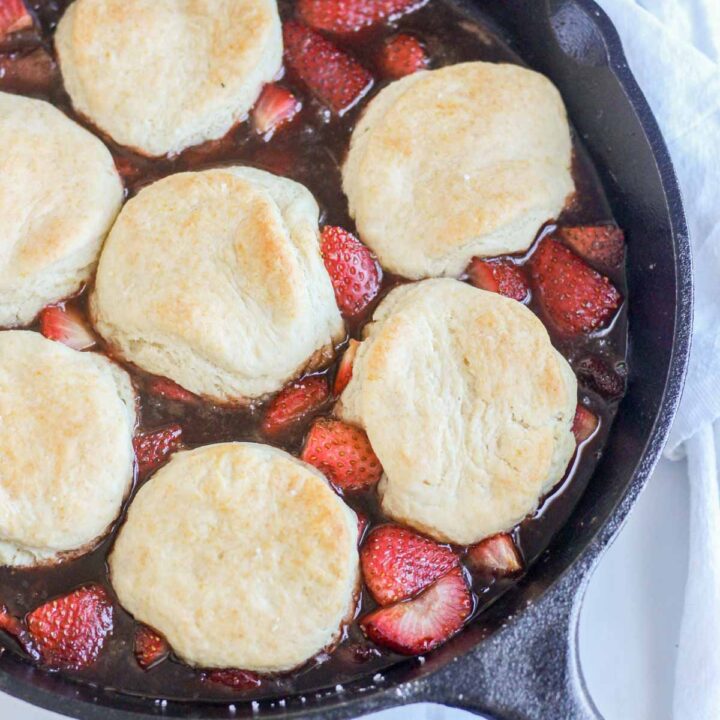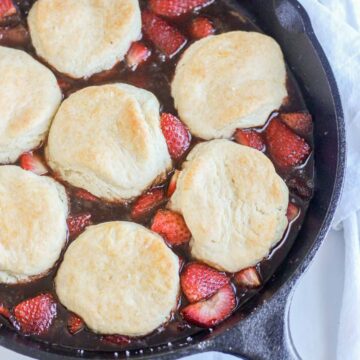 Ingredients
For the strawberries:

2

teaspoons

vanilla extract

Juice and zest from 1 lemon

1

teaspoon

cornstarch

1/3

cup

coconut sugar

5

cups

strawberries

halved or quartered

1/4

teaspoon

sea salt

vegan biscuits:

2

cups

white whole wheat flour

2

teaspoons

baking powder

1

teaspoon

salt

½

cup

coconut oil

solid

1

tablespoon

butter extract

optional

⅔

cup

canned coconut milk

2

tablespoons

pure maple syrup
Instructions
Preheat oven to 375°F. Spray a 10 inch cast iron skillet or 9x9 inch baking pan with non stick spray. Set aside.

To make the strawberry portion, combine all ingredients in a large bowl and toss lightly to coat the strawberries evenly. Pour into prepared pan and set aside to make the biscuits.

To make the biscuits, in a large bowl, whisk together the white whole wheat flour, baking powder and salt.

Using a pastry cutter or two knives, cut in coconut oil until mixture resembles coarse crumbs. Gently stir in coconut milk, pure maple syrup and butter extract just until a dough forms.

Lightly flour a clean surface and pat together and flatten the dough to form a rectangle about ½ an inch thick. Using a circular cookie cutter or biscuit cutter, cut dough into circles and arrange on the prepared baking sheet, positioning them about 1½ inches apart. Re-roll dough out and cut more biscuits. Repeat until dough is gone.

Place biscuit dough evenly on top of strawberry mixture and bake for 35-40 minutes, or until edges of strawberries are bubbling and biscuits are golden brown.

Allow to cool slightly before serving.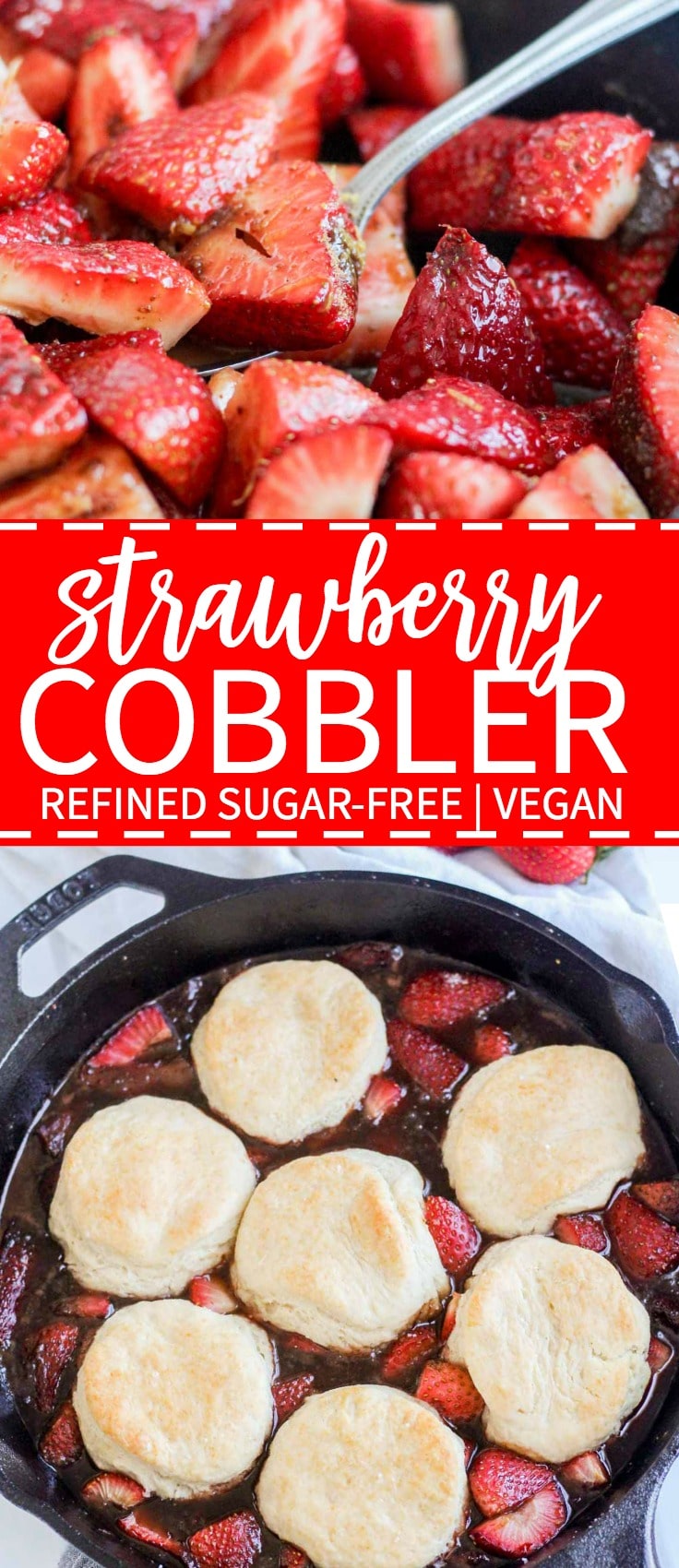 DID YOU MAKE THIS RECIPE!? SNAP A PIC AND TAG @WHAT_MOLLYMADE AND USE #WHATMOLLYMADE!
Here are a couple of items I used to make today's recipe:
Cast Iron Chef's Skillet
, Mixing Bowls
, Dough Blender
, Biscuit Cutter
Some of the links above are affiliate links, which pays me a small commission for my referral at no extra cost to you! Thank you for supporting What Molly Made!