Maple pecan sticky buns are sweet, soft and filled with fall flavors. They're easy to make ahead of time and they will definitely impress all your family and guests.
I'm on day 3 of 11 days off! The first day I felt kind of restless, like I should be doing something but I wasn't exactly sure what to do. Ever have that feeling? Where you don't want to sit and relax because you feel like there's a never ending to-do list? Yeah, that was me yesterday and the day before.
Today I'm slowly sinking into the relaxing feeling that I have 9 more days of relax ahead of me. I had an entire list of recipes I wanted to make this week but our oven broke on Monday. Talk about the worst timing EVER.
I may head over to my aunts to get some recipes done so if you have any recipe suggestions or something you want to learn to make for the holidays let me know!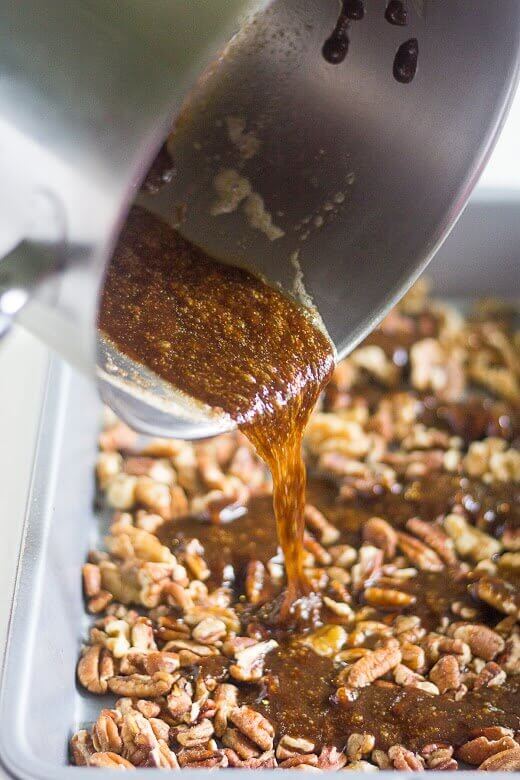 I'm also going to be getting ready for one of my best friend's weddings. We got back from her bachelorette party in Ocean Isle last week and it was so much fun. It made me so excited for the wedding! I took her engagement pictures this summer and I'm a bridesmaid in her wedding.
We're getting our nails done, doing some flowers and then all the fun rehearsal and getting ready things on Thursday and Friday. I can't wait!
Her mom asked me to make some breakfast things for the girls while we get ready one morning and I'm 100% bringing these maple pecan sticky buns. I'm also going to bring a few gluten free breakfast things like these gluten free pumpkin muffins and grain free pumpkin granola.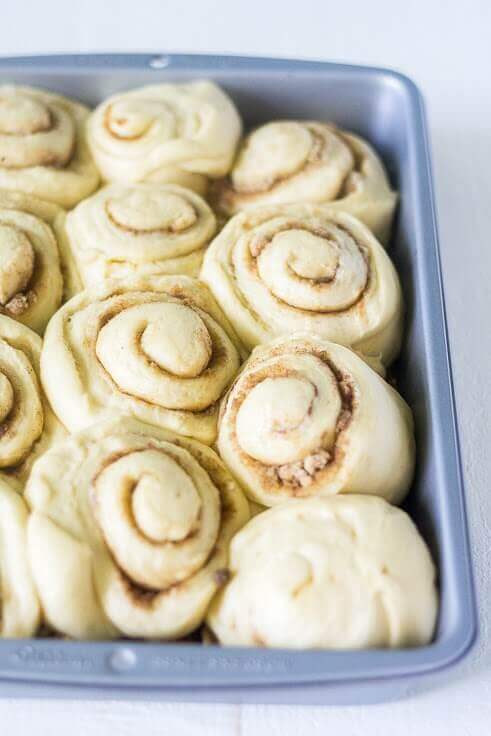 Those recipes are delicious, but I have a feeling these maple pecan sticky buns are going to steal the show! When you warm them up there isn't anything better on a crisp morning with friends.
I love to keep a batch of these maple pecan sticky buns in my freezer to pull out and warm up at a moment's notice. They're so easy to make ahead of time!
The biggest reason I like to make them ahead of time is because the process to make them is a little time consuming, but if you have an open morning or evening it's totally worth the effort. You just can't get a soft and buttery dough any other way.
Don't be afraid of the yeast base! I've got a few tips for you.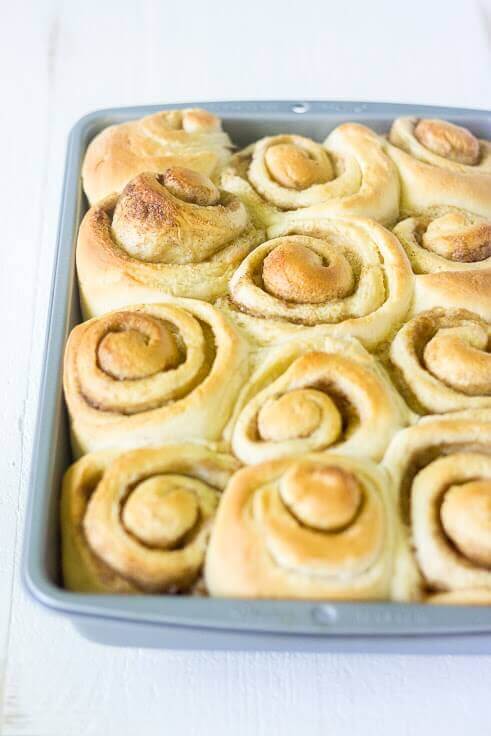 Tips for Making Sticky Buns with Yeast
First, make sure the liquid (in this case, milk) is the right temperature when you dissolve the yeast. If you have a cooking thermometer even better! Try to get your milk as close to 95°F as you can. I put the milk in the microwave for 20-25 seconds and it reached the right temperature. If the yeast doesn't dissolve and foam after it sits in the milk for 10 minutes throw it out and try it again!
Make sure you knead the dough for the specified amount of time! It's best to use a stand mixer with the dough hook attachment, but your hands and a little elbow grease will do the trick
Last, let the dough rise in a warm place. I like to preheat the oven to 200°F then turn it off so it's slightly warm in there. Once it's off, place the dough in and cover it with a paper towel or regular towel to rise.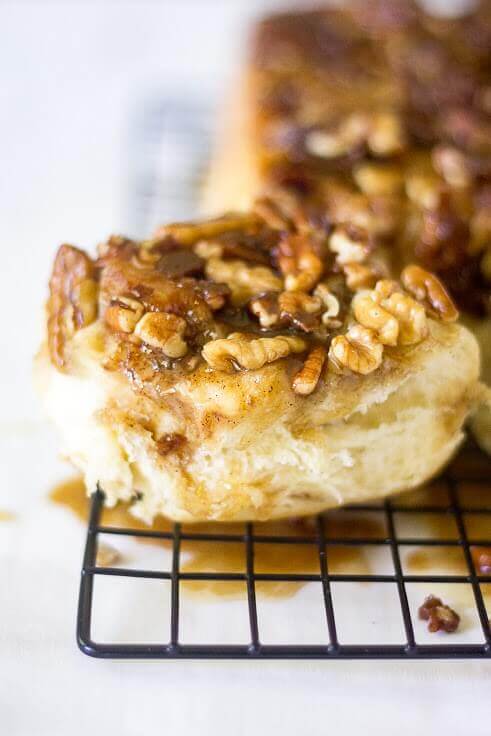 If you follow these simple tips you'll have yourself a soft and supple sticky bun dough to work with. P.S. you can use this same dough for cinnamon rolls too!
Once you're done with the dough, roll the dough on the long edge so you have a long log-like dough. But don't forget to add the buttery cinnamon-filled mixture to the dough first!
The pro tip here is to use some dental floss to wrap around the dough and pull tightly to cut. You can use a knife too but the floss does such a good job of making an even cut!
You're going to add the filling to a greased pan, top with the stick buns then let them rise one more time to get extra big and fluffy in the baking pan then throw them in the oven for about 25 minutes and you will have golden brown buns!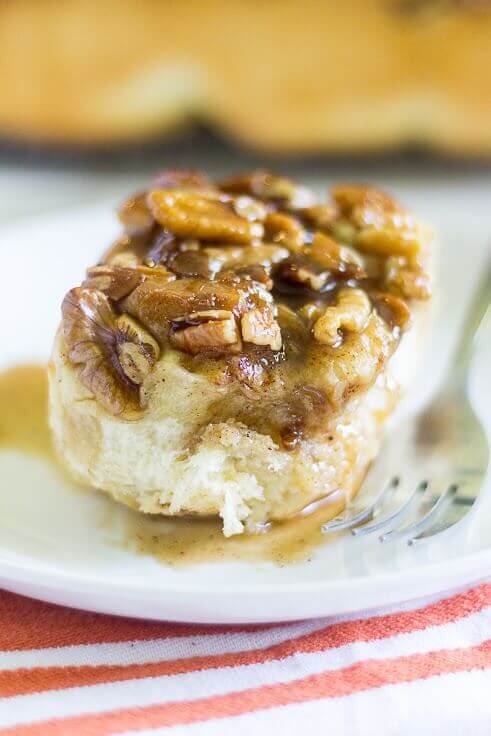 To flip the maple pecan sticky buns over: When you flip them over, put a paper towel or foil down, take a cooling rack and place it upside down on top of the rolls in the baking pan. Grab the pan and the cooling rack and flip them over so the sticky buns come out of the pan and rest on the cooling rack. The topping will stick to the buns and run down the sides. Place the cooling rack on the paper towel to catch any mess.
Now, you can serve them immediately (can't go wrong) or you can let them cool completely and put them in the freezer for later.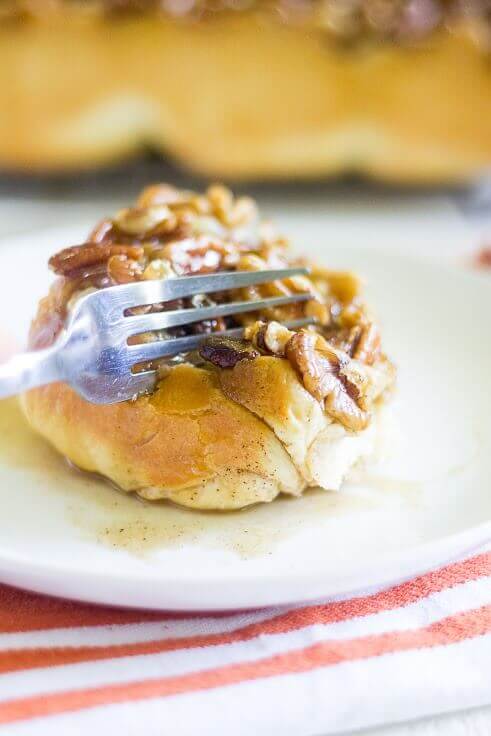 How to Freeze Maple Pecan Sticky Buns
Here's the secret tip to freeze sticky buns: place them in an air tight container once they're completely baked and put them in the freezer for up to 3 months.
Simple as that! I like to bake mine completely, let them cool and have them on demand when friends and family come over.
To warm them up, place them in the refrigerator overnight to thaw. In the morning, preheat the oven to 350°F and put them in the oven for 20 is minutes or until they're warm and gooey all the way through.
I'll have to take these maple pecan sticky buns to my friends to warm them up before we do our wedding festivities because we have no oven, but everyone is going to love them! I can't wait!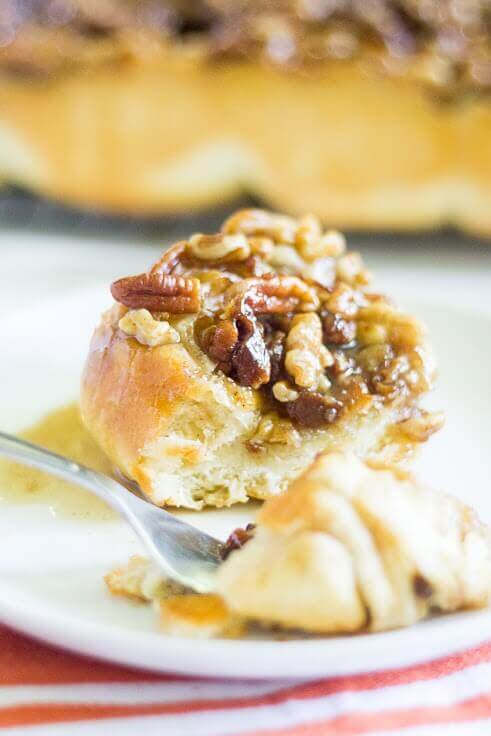 Stay tuned for an oven update. Keeping my fingers crossed they get the parts here asap.
Enjoy this recipe and I hope you're enjoying your fall! If you make these maple pecan sticky buns, or any other recipe on my site don't forget to tag me on Instagram with #WhatMollyMade!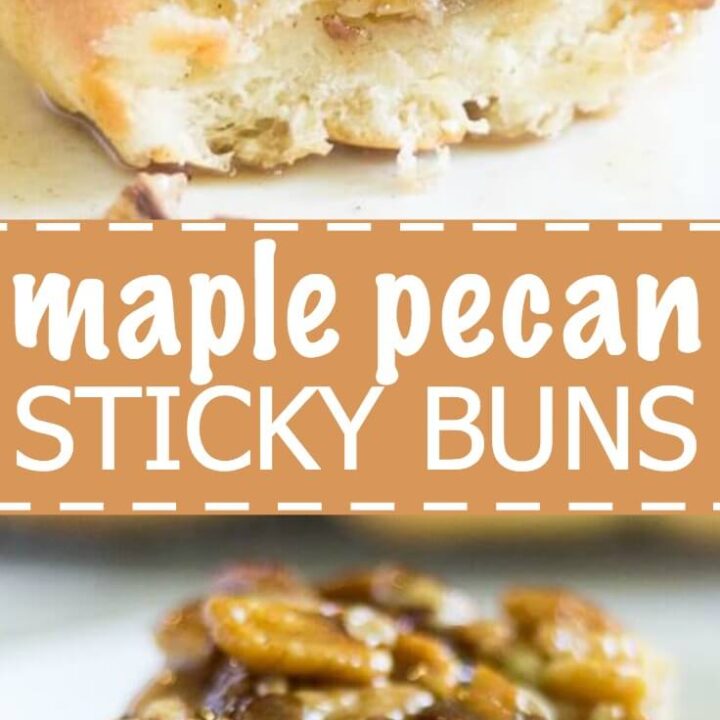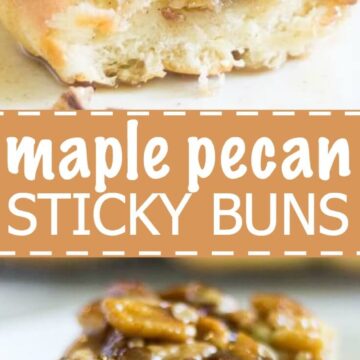 Ingredients
Dough:

¾

cup

whole milk

1

packet

2¼ teaspoons instant yeast

⅓

cup

brown sugar

packed

6

tablespoons

unsalted butter

melted

3

large eggs

2

teaspoons

salt

4

cups

all-purpose flour

plus extra for dusting

Filling:

¼

cup

1/2 stick unsalted butter, softened

¾

cup

brown sugar

packed

1½

teaspoons

ground cinnamon

¼

teaspoon

nutmeg

Topping:

1½

cups

chopped pecans

½

cup

unsalted butter

⅔

cup

brown sugar

packed

⅔

cup

whole milk

⅓

cup

pure maple syrup

½

teaspoon

salt
Instructions
Start by making the dough. Heat milk to about 95°F using the microwave or stovetop. I heated the milk for 20-25 seconds in the microwave. Pour the warm milk into the bowl of a stand mixer fitted with the dough hook attachment. Whisk the sugar and yeast into the milk and cover with a towel. Let sit until the yeast is foamy, about 5-10 minutes. If the yeast doesn't dissolve and foam start over with fresh active yeast as it likely isn't active.

When yeast is foamy beat in the melted butter. Next add the eggs, one at a time, and then the salt. The butter will stay sort of lumpy.

On low speed, slowly add the flour. When it's incorporated, beat turn up to medium speed until a soft dough forms, about 2 minutes. Increase speed to medium-high and beat until the dough is soft, about 6 minutes more. Knead the dough by hand in this step if you don't have a stand mixer.

Transfer the dough to a well-floured surface and knead it with your hands for an additional 1-2 minutes. Form the dough into a ball and transfer it to a lightly greased bowl. Cover the dough loosely with plastic wrap or a towel and let sit in a warm place until doubled in size, about 1 to 1½ hours. to 2 hours.

While the dough is rising, make the topping. Spray a 9x13 inch baking dish with nonstick spray. Spread pecans evenly in the bottom of the pan and set aside.

Combine the rest of the topping ingredients in a medium saucepan over medium heat. Stir using a wooden spoon or rubber spatula until the butter has melted. Bring to a boil and allow to boil for 3-4 minutes. Remove from heat and pour on top of pecans then set aside.

Once the dough has risen, turn it out onto a well-floured work surface and roll into a 12x18 inch rectangle using a rolling pin, making sure the dough is even.

Once rolled out, add the filling. Spread softened butter all over dough to the edges. Sprinkle evenly with the brown sugar and cinnamon then tightly roll up the dough to form an 18-inch-long log. Cut into 12 even rolls then arrange them cut-side-down in the prepared baking pan.

Cover the rolls with aluminum foil and allow to rise in a warm environment again for 30-40 minutes.

Once risen, preheat the oven to 375°F. Bake rolls for 25-30 minutes until they are golden brown. Cover rolls with aluminum foil if they begin to brown too much. Remove pan from the oven and allow to cool on a wire rack for 5 minutes.

Once cooled, turn the pan onto a large serving platter or cooling wrap.