These healthy salted caramels are made with only three ingredients! Those three ingredients are tahini, dates and coconut oil. You're going to be amazing by how sweet and chewy there are! I like to add some extra salt and dip the bottoms in dark chocolate.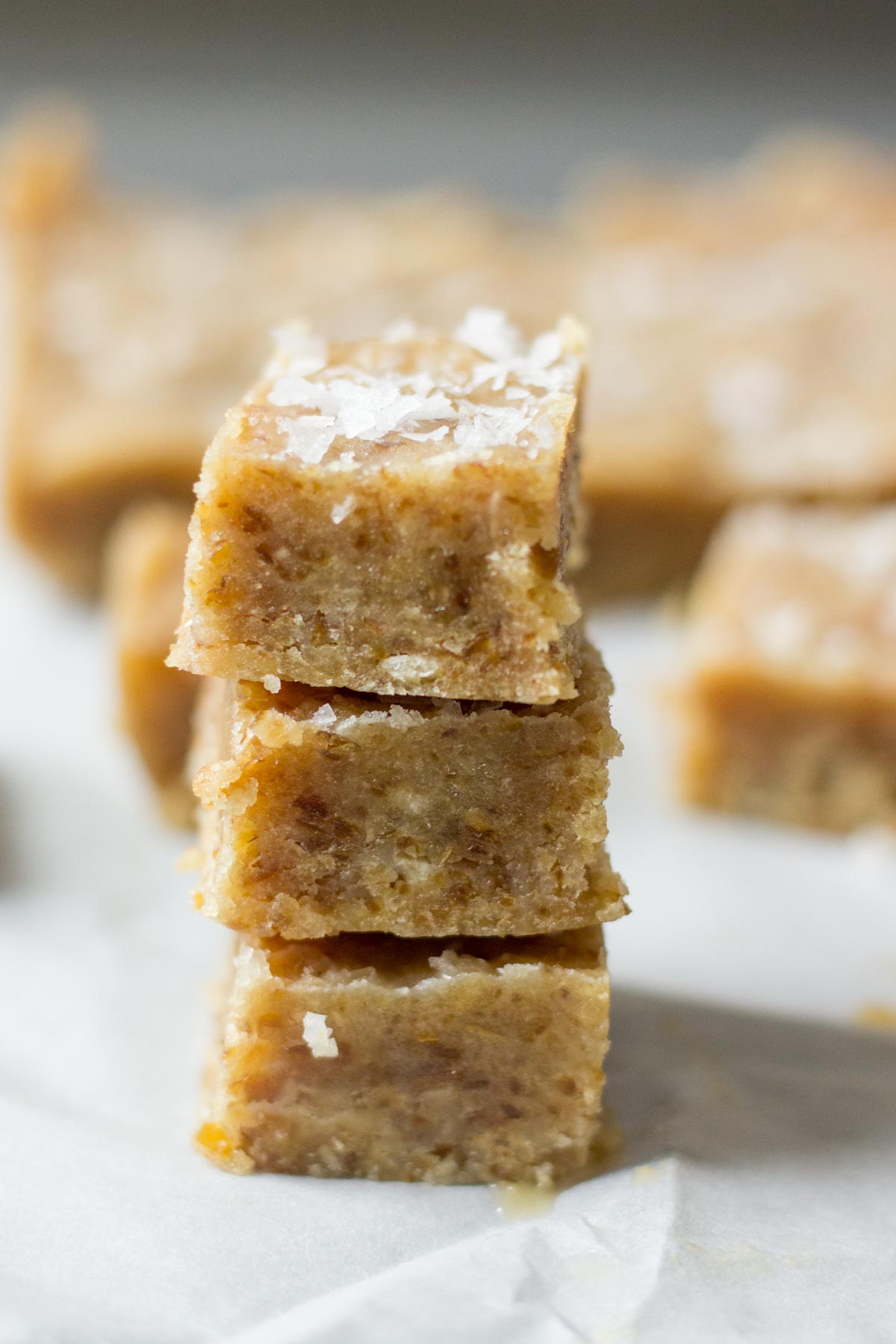 Huge update everyone! Zach and I are in contract on our very first house (eeeek!). This is so huge. I never imagined myself being a homeowner. I just always saw myself as the young, cool millennial living downtown in an apartment for the rest of my life.
But here I am moving to the suburbs.
And I'm totally happy about it. If you've been following along the last couple of months then you know Zach and I got engaged at the end of January. The same day Zach moved into my apartment with me. We quickly grew out of our 800 sq ft of space and knew we wanted to put down some roots.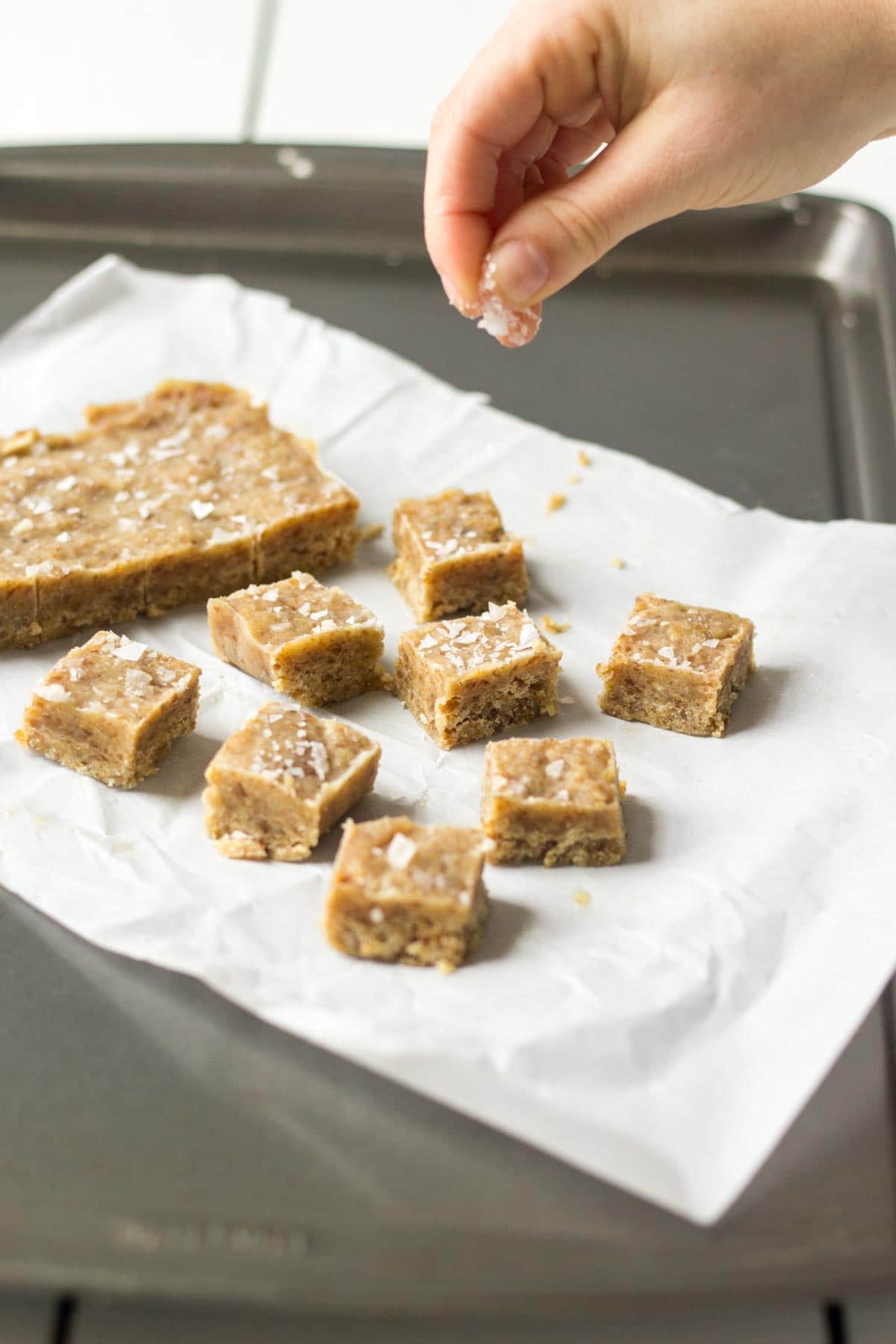 Zach is from the smack dab middle of Iowa and he's always dreamed of living in the suburbs on a chunk of land. I loved growing up in the suburbs and am completely happy with a big piece of land as long as I get a puppy! That's the deal, of course.
Right when we got engaged we started on the home buying journey and let me tell you, it's a whirlwind. I had no idea how emotional the process is. Especially since the Columbus housing marketing is plain nuts. If you didn't go see a house the day it came on the market you're SOL. Thank goodness we had an awesome realtor, Sam Powell, who just so happens to be my college roomie.
One day we saw a house and it was like a giant house party there were so many couples looking. The house had 70 showings in 20 hours. Insanity. What made it worse is that I'm just about as emotional as you can get and I would instantly start imagining my family in the house and needed to have it. I think there were only 2 houses we saw I didn't. Thank goodness I have Zach he is was more reasonable and logical than I am.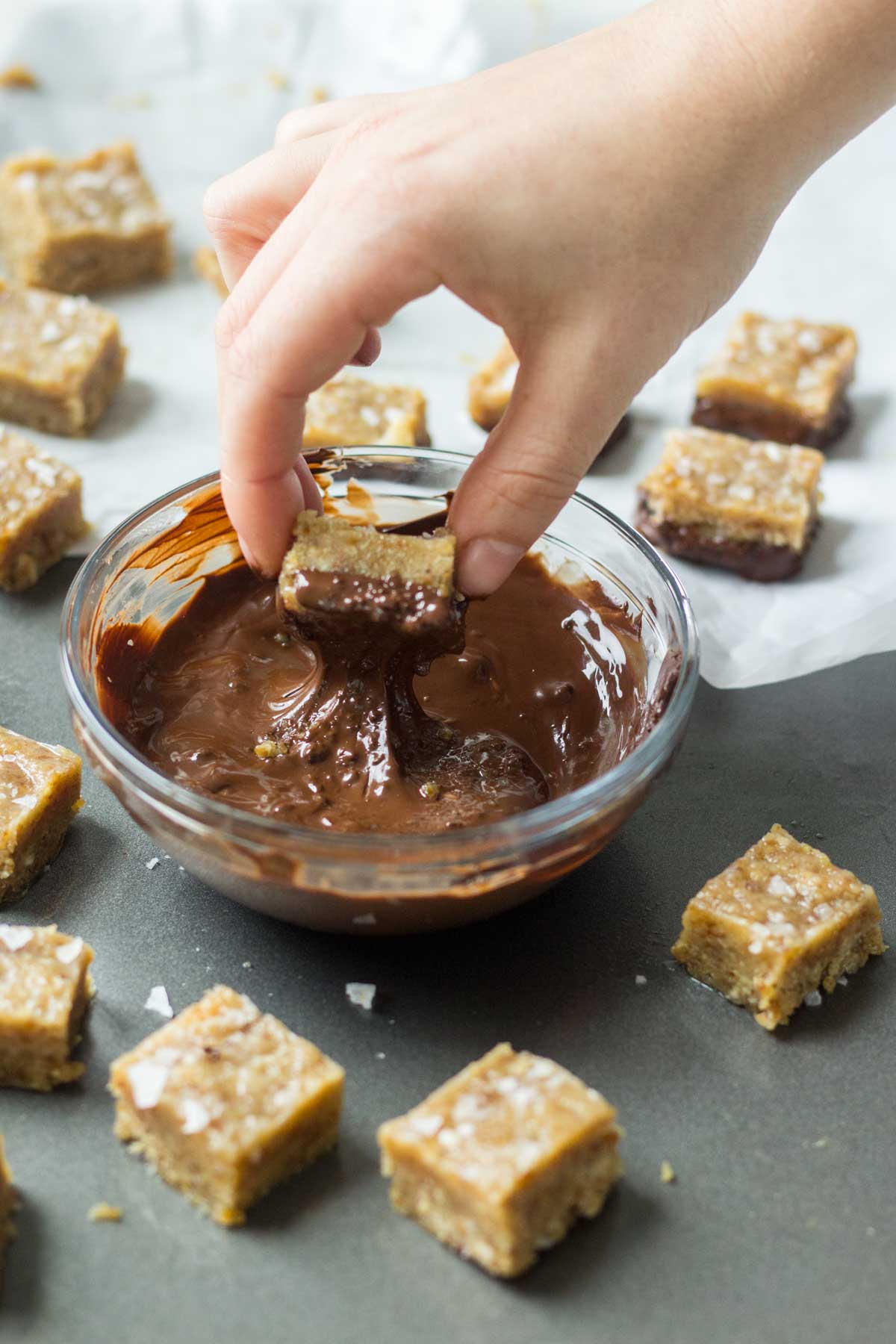 So just when we started to get frustrated Sam sent us the most adorable white ranch that sits on .6 acres out in the country. It's far enough out we feel secluded but really close to shopping at the same time. It also just so happens to be around the corner from our wedding venue.
They accepted our offer and Zach and I had the inspection on Monday! We were a little nervous because it's an older home but luckily we walked away with the majority of the to-do list being youtube searches and easy fixes. Next comes the appraisal and the house is ours! We'll know in about 2 weeks so I'll keep you posted.
Could be a little interesting considering we leave for our trip to Ireland in a week and a half. We may have to get creative with signing the documents if we're out of the country. But I like a challenge.
And that's where we are! Now that you're all caught up to speed on the life happenings let's also chat about these healthy salted caramels.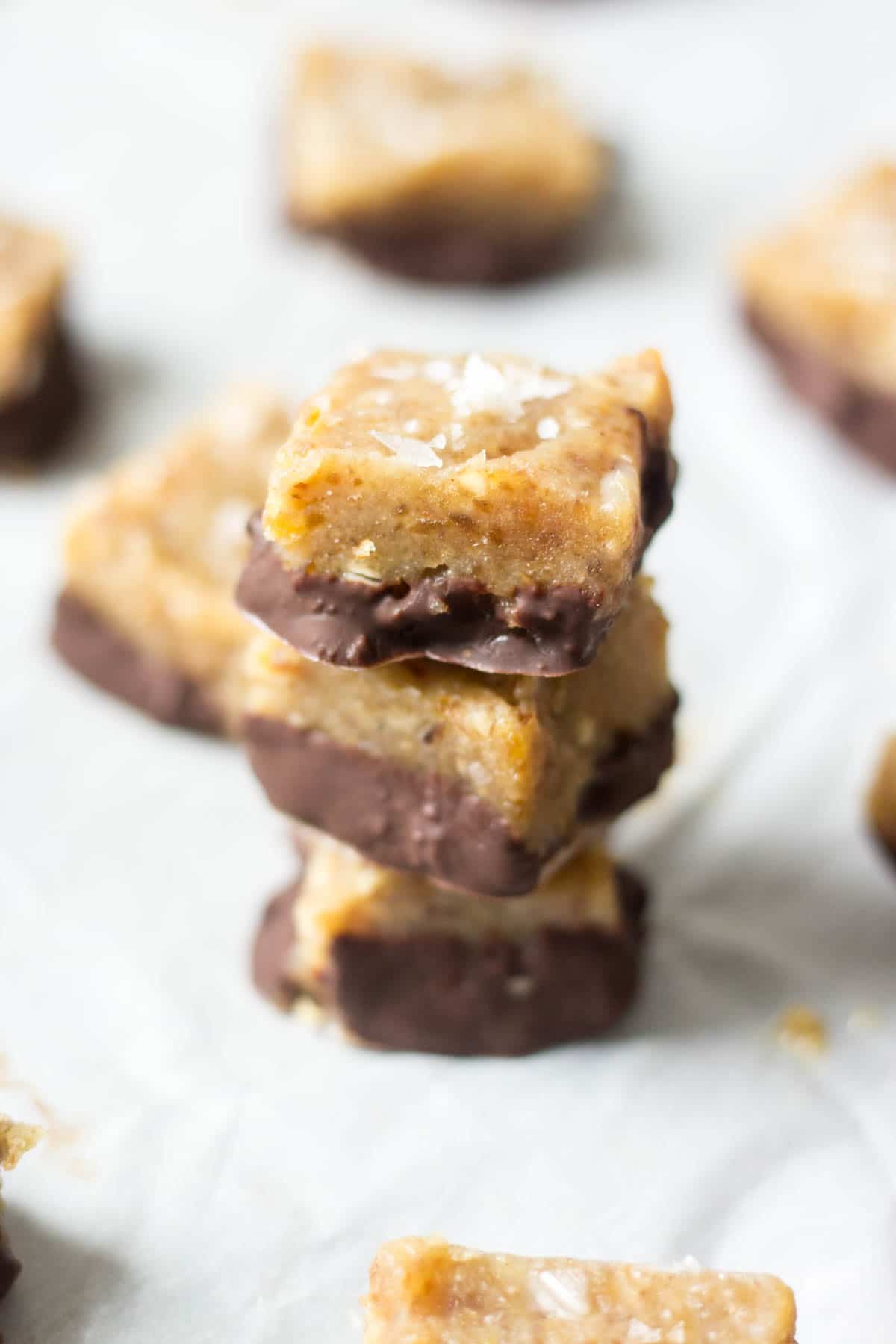 It almost feels like healthy and salted caramels shouldn't be in the same sentence together because it seems nearly impossible. But I'm telling you right now these healthy salted caramels will change your life. You won't feel an ounce of guilt because they're only made with raw, healthy ingredients. No sugar whatsoever.
And no baking or heating required either. No bake and no sugar? Dreams do come true.
You will need a good food processor to make these happen. If you have a low powered one that's totally fine it may just take you a little longer to blend everything together.
Here's how you make healthy salted caramels:
Add the dates, coconut oil and tahini to the bowl of your processor. Blend on high and leave it on until smooth. This could take you up to 10 minutes. If it's about 7 minutes and there are still some chunks, don't panic. It will get smooth!
Transfer mixture to a loaf pan lined with parchment paper and spread evenly. Sprinkle with sea salt.
Look like a boss to all your friends.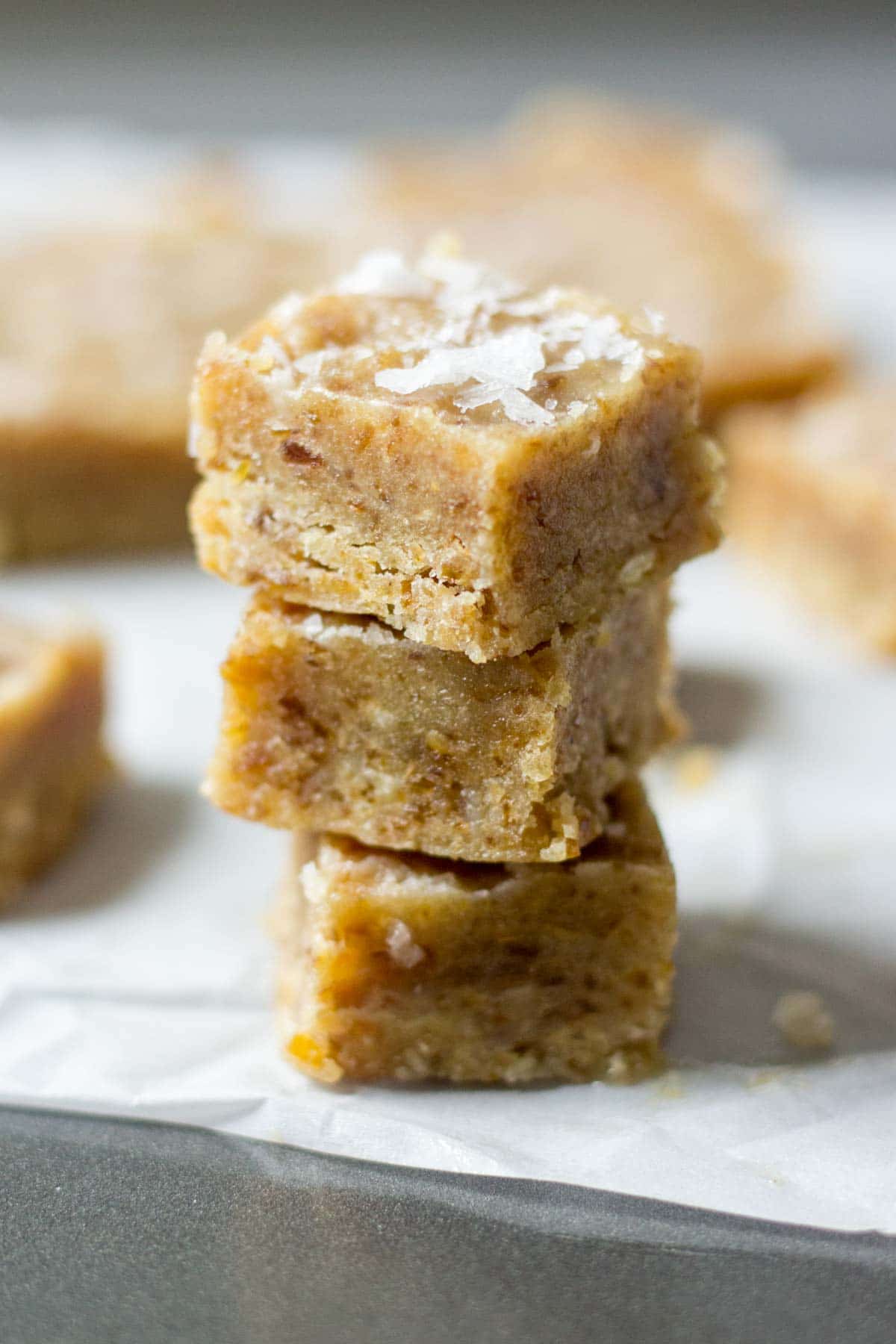 If you show up to a party with these healthy salted caramels no one is even going to know they're healthy. Let your friends eat them then tell them how healthy they are! I guaranteed they'll be amazing.
Bonus points if you dip the bottoms in dark chocolate.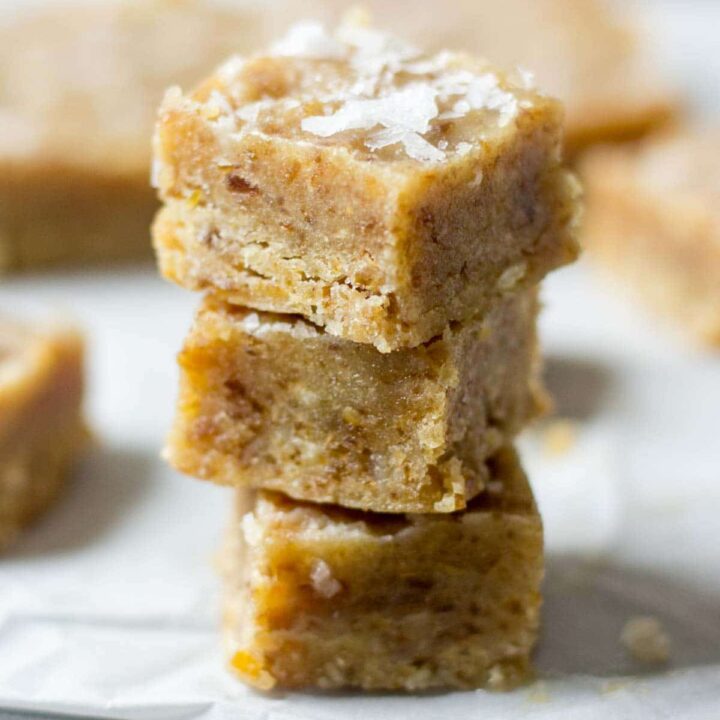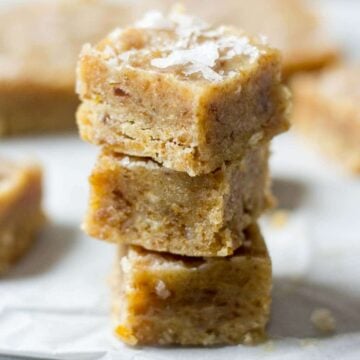 Ingredients
1 1/2

cups

pitted dates

3/4

cup

tahini

3

tablespoons

coconut oil

melted

3/4

teaspoon

vanilla

1/2

teaspoon

sea salt

1/2

cup

dark chocolate

optional
Instructions
Line a loaf pan with parchment paper and set aside.

Combine the dates, tahini and melted coconut oil in the blender or food processor. Blend on high until smooth and creamy, about 5-7 minutes, stopping to scare down the sides as needed. You may need to blend a little longer depending on the power of your food processor. The mixture should be like a thick paste.

Add mixture to the prepared loaf pan and use a spatula to press it down evenly. Sprinkle with salt.

Freeze until firm, about 1 hour. Remove the parchment paper and cut the caramels into squares.

If you're dipping in chocolate, melt the chocolate on the stovetop over medium heat or in the microwave in 30 second increments until smooth. Dip the bottom of the healthy salted caramels into the chocolate and place on parchment paper. Repeat until they're all dipped. Place in the freezer until set, about 10 minutes.

Store in an airtight container in the freezer for up to a month.
DID YOU MAKE THIS RECIPE!? SNAP A PIC AND TAG @WHAT_MOLLYMADE AND USE #WHATMOLLYMADE!
Here are a couple of items I used to make today's recipe:
Ninja Mega Kitchen System
, Kevala Organic Tahini
Some of the links above are affiliate links, which pays me a small commission for my referral at no extra cost to you! Thank you for supporting What Molly Made!