This mocha protein smoothie bowl has all your favorite breakfast flavors in one healthy bowl! It's rich, creamy and filled with chocolate and protein. You will love how easy it is to make!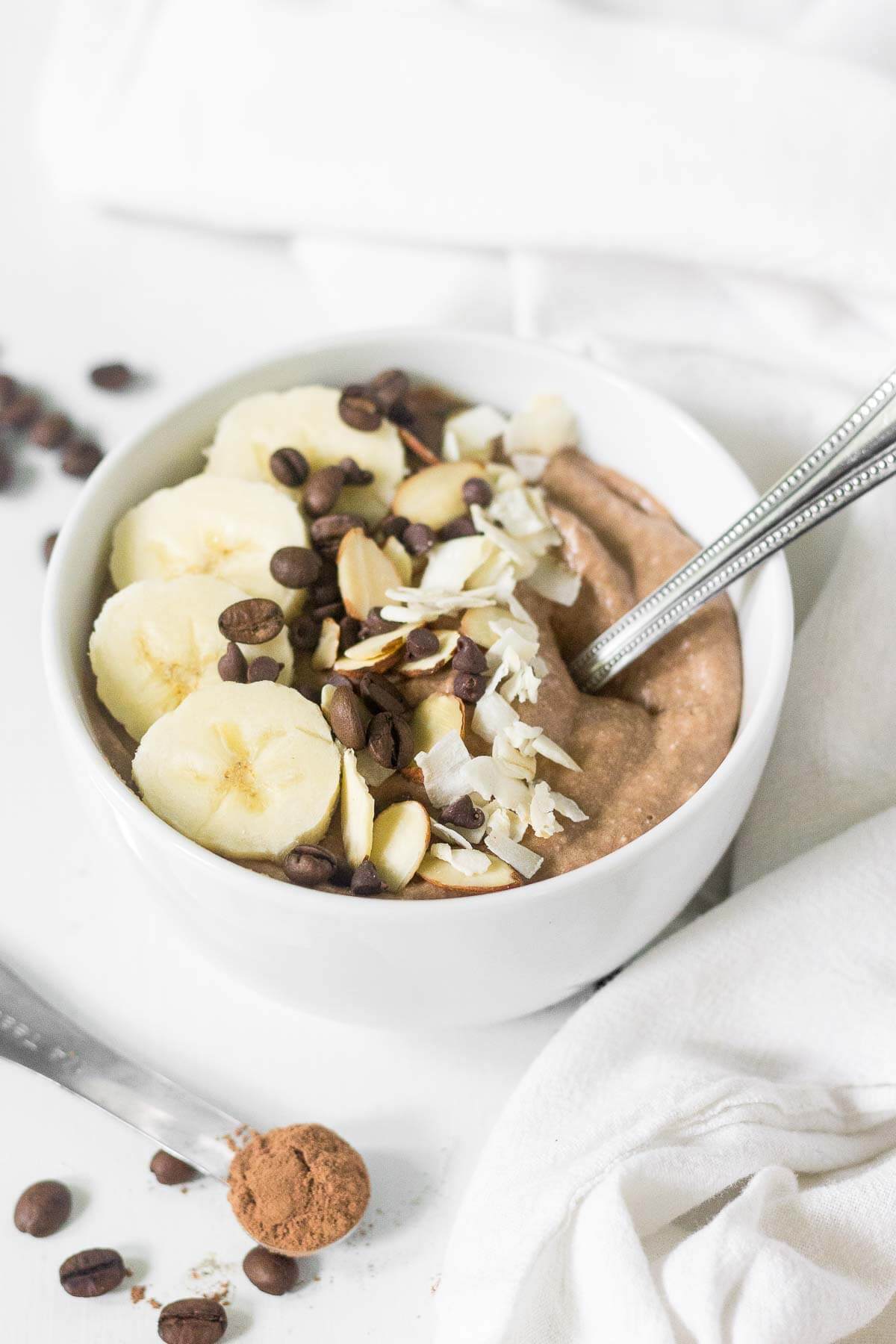 Recently I've been monitoring my sugar intake and trying to keep my sugar levels stable throughout the day. Since about January I've been struggling with mood swings, crashes and overall anxiety and stress. After a few trips to several doctors I started listening to a podcast by a naturopathic doctor and decided my diet was likely playing a huge factor in the way I'm feeling. Seems like a no brainer when I say it out loud!
After talking to Zach (my fiance), I decided to start monitoring my sugar levels and eating more healthy fats and protein to stay more stable throughout the days.
One of the ways I love to start my mornings is with a protein smoothie bowl. Unfortunately for my lifestyle right now, a lot of smoothies and smoothie bowls are packed with a lot of fruit.
Don't get me wrong, I love fruit and I'm not saying fruit is bad for you, but when I'm watching sugar levels I need to watch my fruit intake as well because fruit contains a lot of natural sugar. Regardless of the type of sugar it is, your body will react the same way and spike your insulin if its granulated sugar or natural sugar from fruit.
In an effort to keep my levels stable each day I wanted to create this Mocha Protein Smoothie Bowl that contains less fruit than a typical smoothie bowl but still has the delicious flavor and creamy texture.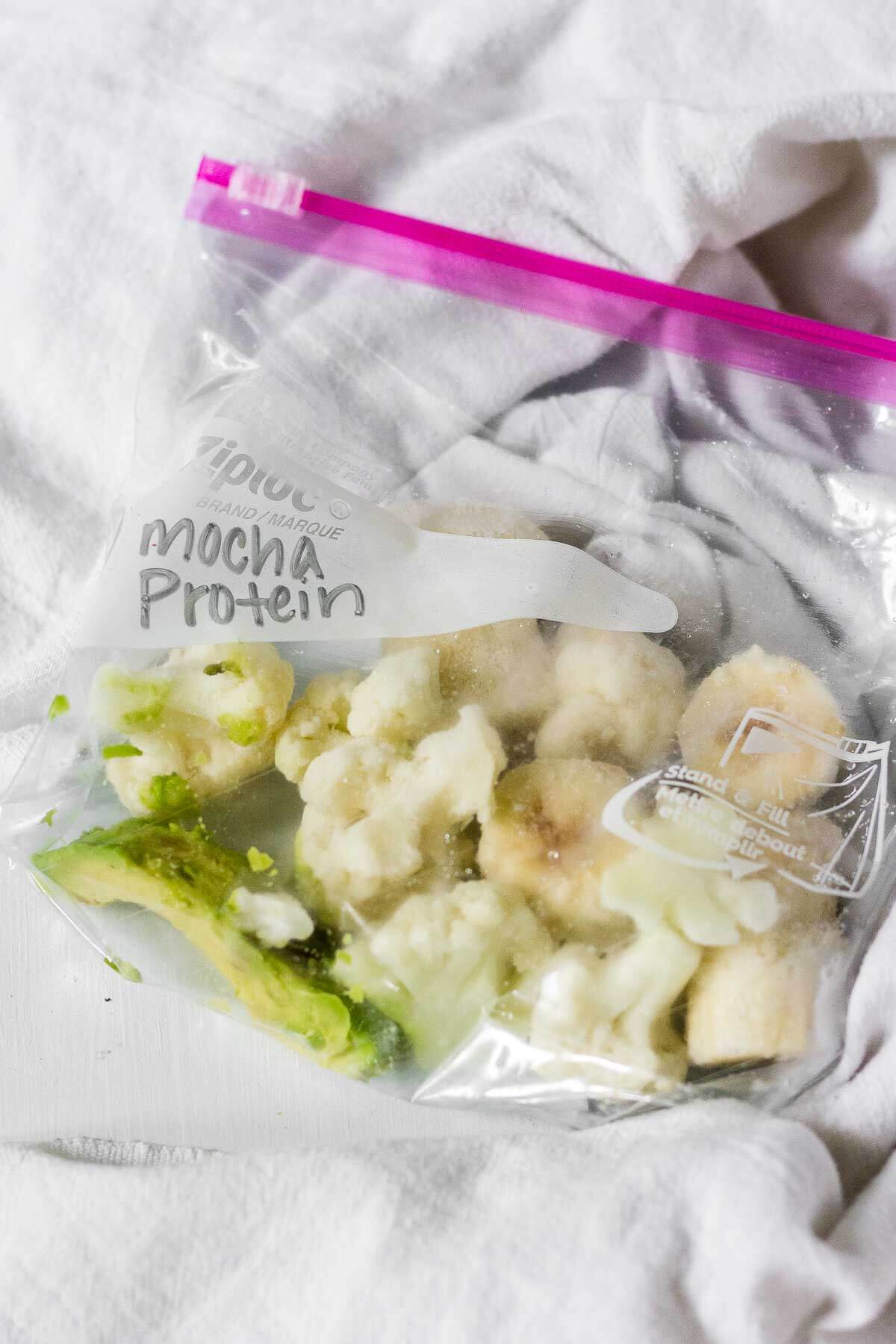 Mocha Protein Smoothie Bowl Recipe Rundown:
Taste: This smoothie bowl recipe is a mix of chocolate and coffee flavors. Hence the mocha! It's like a cup of coffee in a protein pack, superfood breakfast. That's like a triple win. It seriously tastes like a chocolat-y mocha you can eat with a spoon. There are a few veggies and healthy fats in here that you can't even taste at all!
Ease: Talk about easy! Put everything in the blender and you're done. I love to put all of the main ingredients in a small baggy at the beginning of the week so all you have to do is dump it in, add a few extras and blend. Meal prepping breakfast is a key to staying on my healthy routine.
Texture: The texture of this smoothie bowl is so smooth and creamy! The frozen banana and cauliflower add a great deal of thickness and the avocado adds smooth and creamy. It's almost like a deliciously cold chocolate mousse/ice cream for breakfast.
Appearance: When you're breakfast looks this pretty it's just a great way to start the day. It's so easy to top with your favorite nuts and seeds and that just makes it look even more pretty. I feel accomplished in the morning just by eating this pretty bowl of healthy.
I would make this recipe in a heartbeat and highly recommend you add it to your meal prep next week! Buy enough ingredients to make this 5 times and, as I mentioned, portion it out between 5 baggies. That way all you have to do is add it to the blender each morning!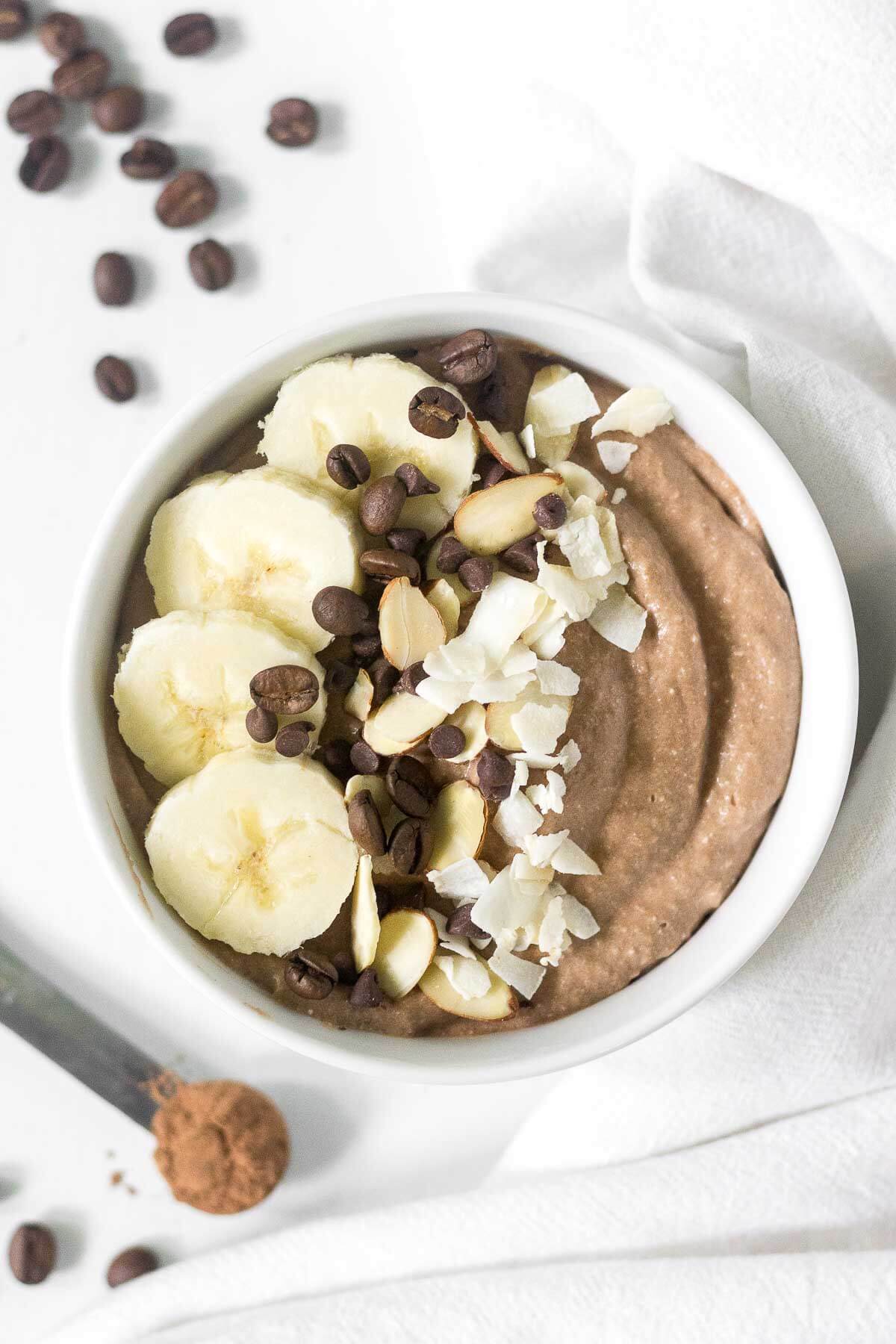 How to Make a Protein Smoothie Bowl
They key to making a delicious smoothie bowl is having frozen ingredients on the ready. The frozen ingredients is what makes smoothie bowls so thick and creamy. When you use fresh fruit or ingredients you'll have a yummy flavor but you won't get the thick texture smoothie bowls are known for.
Throw all of your ingredients into the blender and turn it on high for a good couple minutes. If you don't have a blender super strong you may need to leave it on a little longer. Blending it really well makes sure it's really smoothie and there aren't any lumps or clumps when you eat it.
Once it's blended, now it's time for the most fun part: topping your smoothie bowl. You can get really creative and add anything you want. My general rule is to add extra flavor, nutrients and texture to complete your smoothie bowl. My go-to protein smoothie bowl toppings are extra fruit, nuts/seeds, granola and unsweetened coconut. Sometimes I melt peanut or almond butter and drizzle it on top too!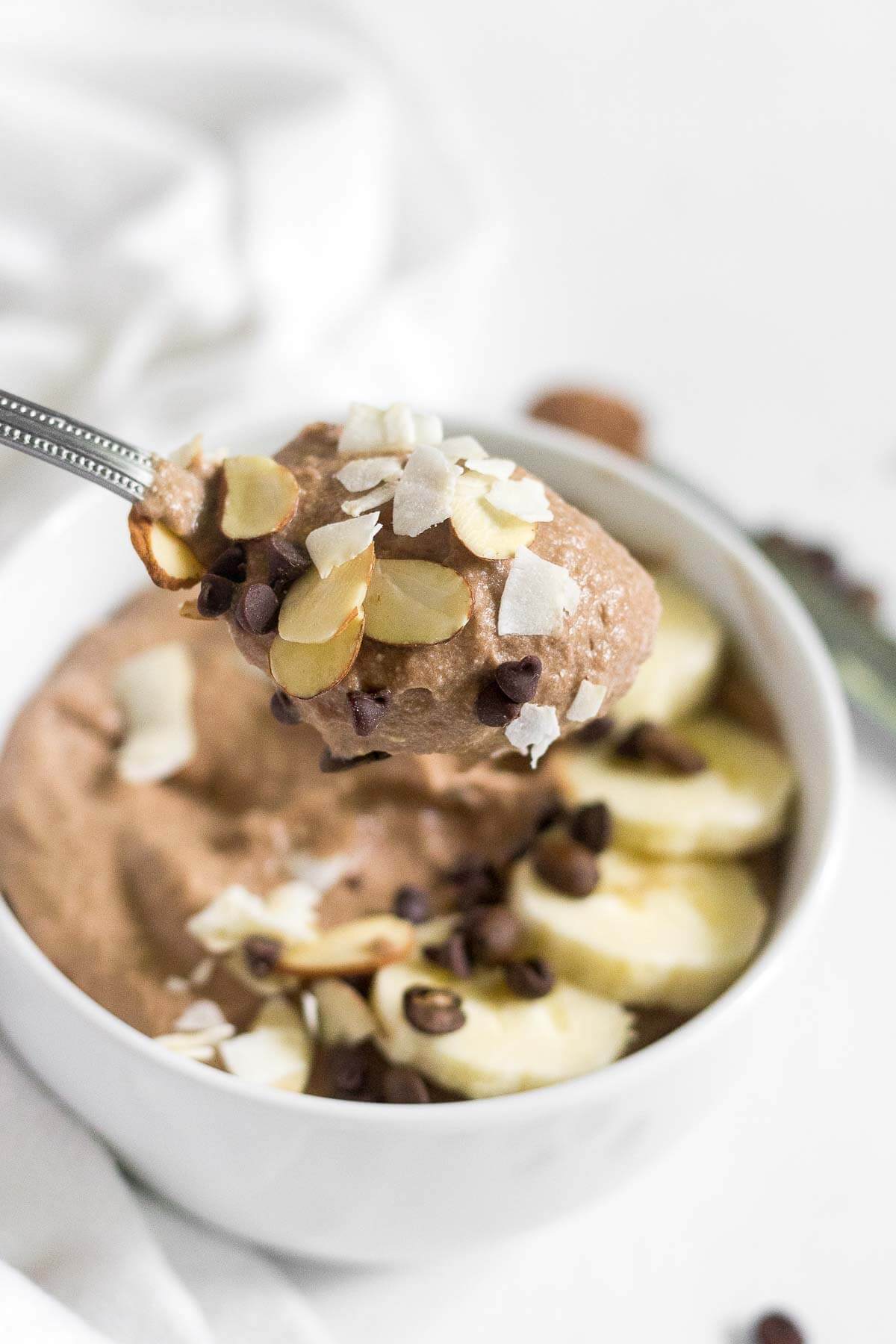 I also love smoothie bowls because they include a lot of simple ingredients that aren't hard to find. For this recipe, there are two ingredients included you may not be used to buying: coconut milk and instant coffee granules.
For the coffee granules, you can find these in any grocery store in the coffee aisle. It's usually next to the ground coffee! I also linked to it on Amazon below. For the coconut milk, we're using canned coconut milk. You can find it in the baking aisle next to the sweetened condensed milk or evaporated milk.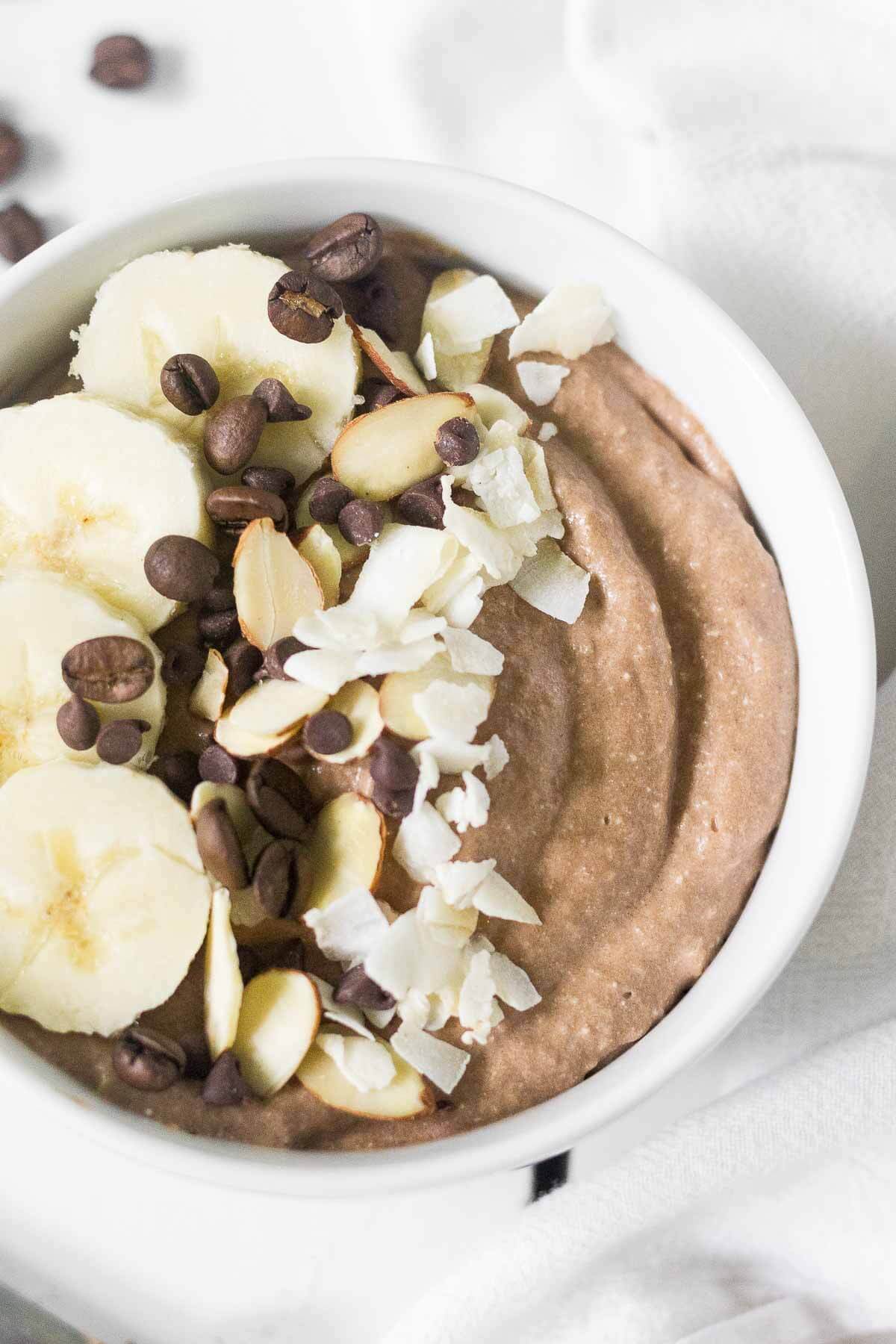 Why Make a Smoothie Bowl with Coconut Milk
Using coconut milk in a smoothie bowl adds extra creamy texture and delicious flavor. Canned coconut milk is a great non-dairy alternative to add to smoothie recipes. Typically the non-dairy option is an almond milk but I like to use canned coconut milk in smoothie bowls because it's thick and creamy and my dairy-free friends love it!
Flavor + Texture + WIN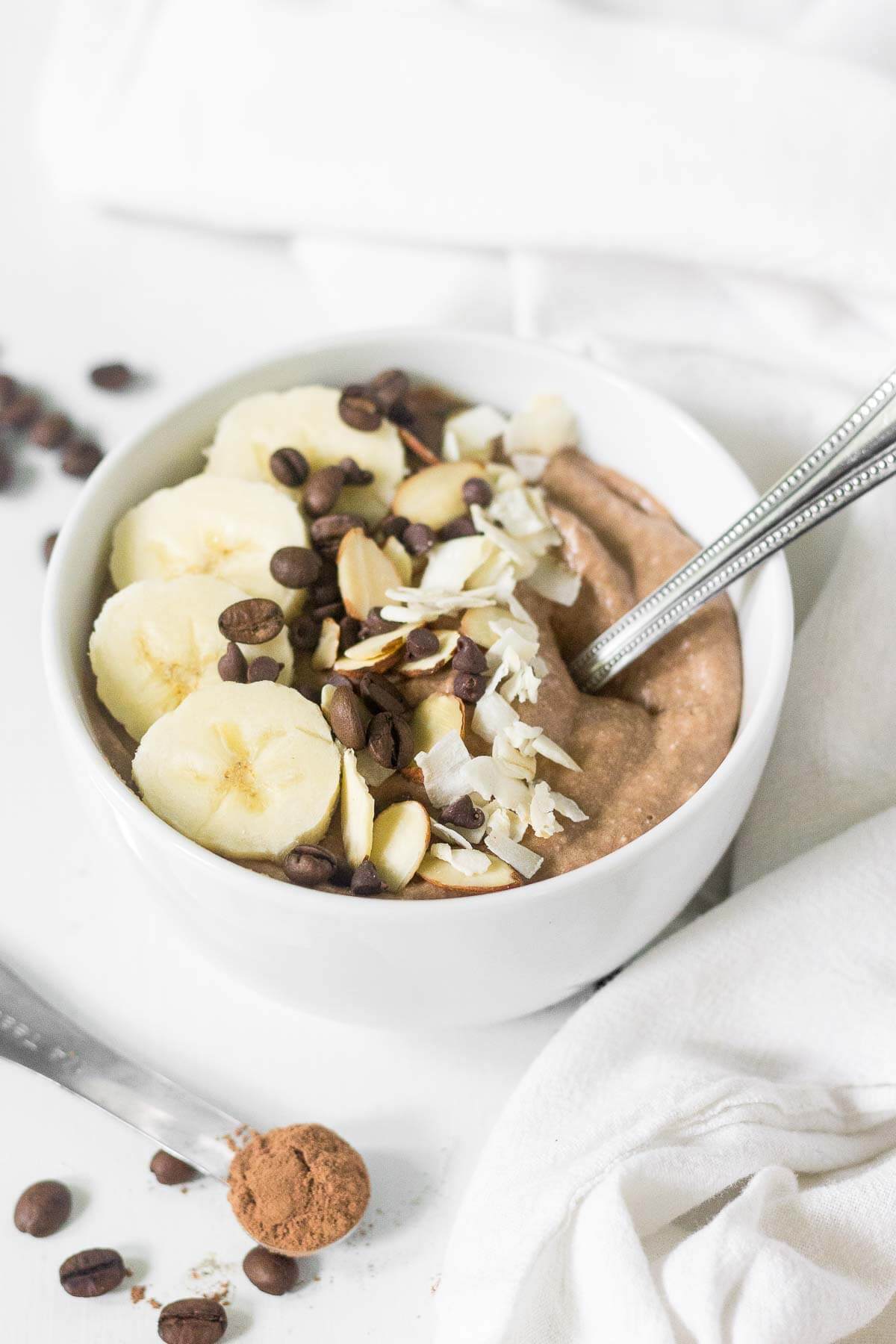 So far I've been monitoring my sugar levels for the last two weeks and feel absolutely amazing. It's a combination of this diet change and managing my stress levels with a new morning routine (sharing more on that soon!). If you're someone that struggles with crashing during the day or feeling overwhelmed with stress and diet struggles please comment or email me! I've started to feel so much better and am starting to feel like I've got my health back in my control. If that's you I'd love to chat more, swap stories and learn from each other!
If you love this recipe, don't forget to give me a virtual high five by sharing on Pinterest and following me on Instagram!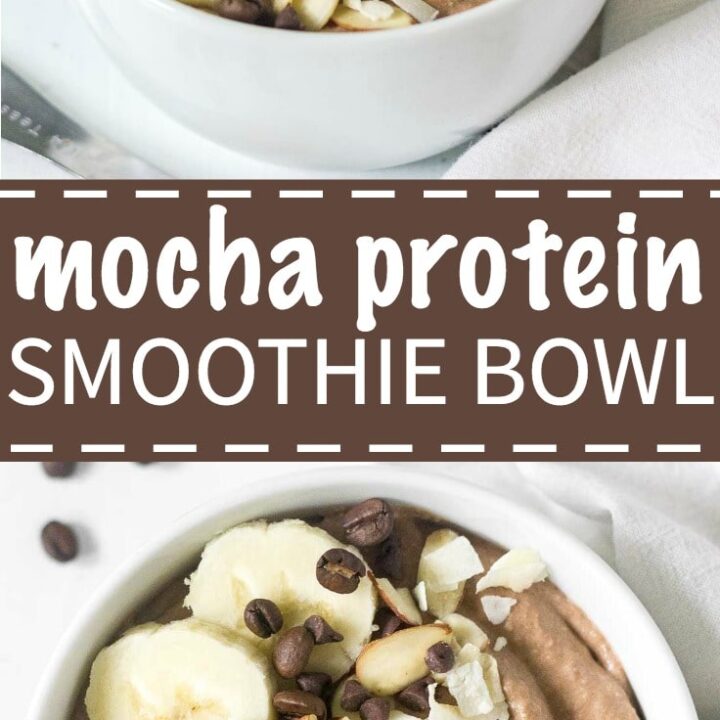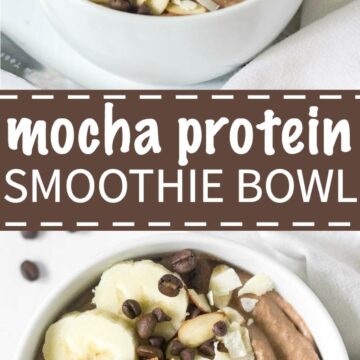 Ingredients
1

frozen banana

½

cup

coconut milk

canned and shaken well

1

teaspoon

instant coffee granules

½

cup

frozen cauliflower

¼

avocado

frozen or room temp

1

scoop chocolate protein powder

2

tablespoons

unsweetened cocoa powder

Optional toppings: banana slices

unsweetened coconut, chia seeds, dark chocolate chips, granola
Instructions
Add all of the ingredients to a high powered blender and blend on high for 1-2 minutes, or until mixture is smooth and has no clumps.

Pour into a bowl and add your toppings, if using. Eat immediately and enjoy!
Here are a couple of items I used to make today's recipe:
Nescafe Original Coffee Granules
, Organic Classic Coconut Milk
, Shredded Coconut (Organic)
Some of the links above are affiliate links, which pays me a small commission for my referral at no extra cost to you! Thank you for supporting What Molly Made!