This post has been sponsored by Mondelēz International Group. All thoughts and opinions are my own.
Caprese dip is an easy appetizer or snack to make for family and friends for the big game. Caprese dip with pesto makes it an even more simple recipe. Make it ahead of time and pop it in the oven for serving quickly.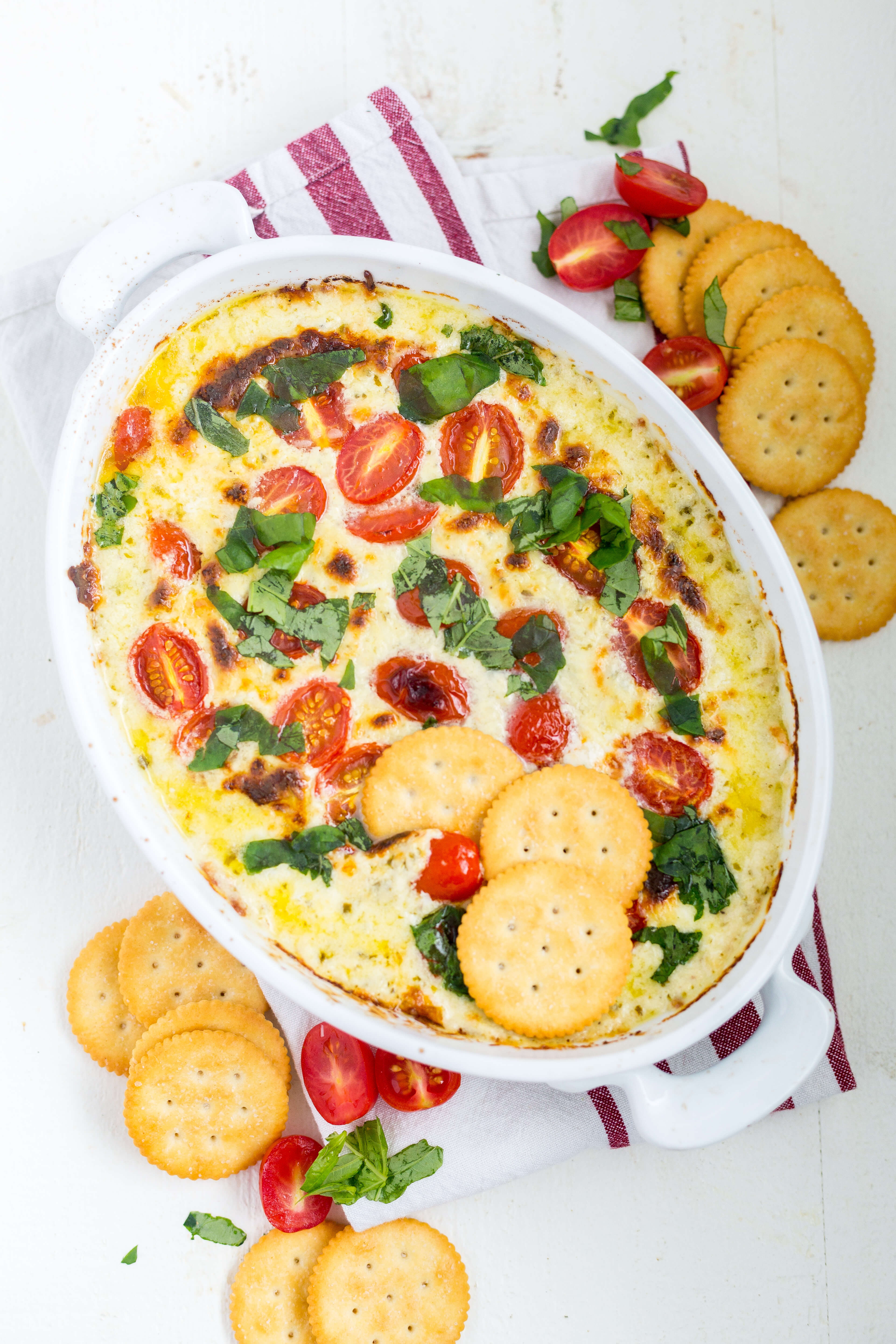 The best kind of dips are cheese and gooey, no? Just the right amount of stringy cheese, but packed with lots of flavor. This hot caprese dip right here is exactly that.
I am an appetizer LOVER. All caps necessary because I could live off appetizers. My family jokes every year around the holidays that we could totally skip the whole fancy dinner thing and just chow down on appetizers the entire night.
We seriously considered doing only heavy appetizers for our wedding because I love them so much. What's not to love? You get to taste test a little bit of everything for hours. Such a genius concept.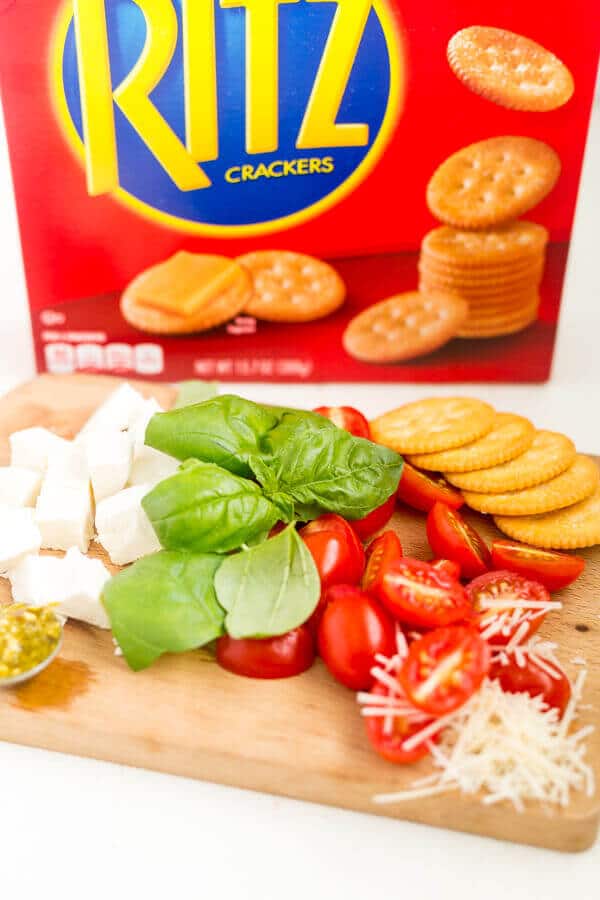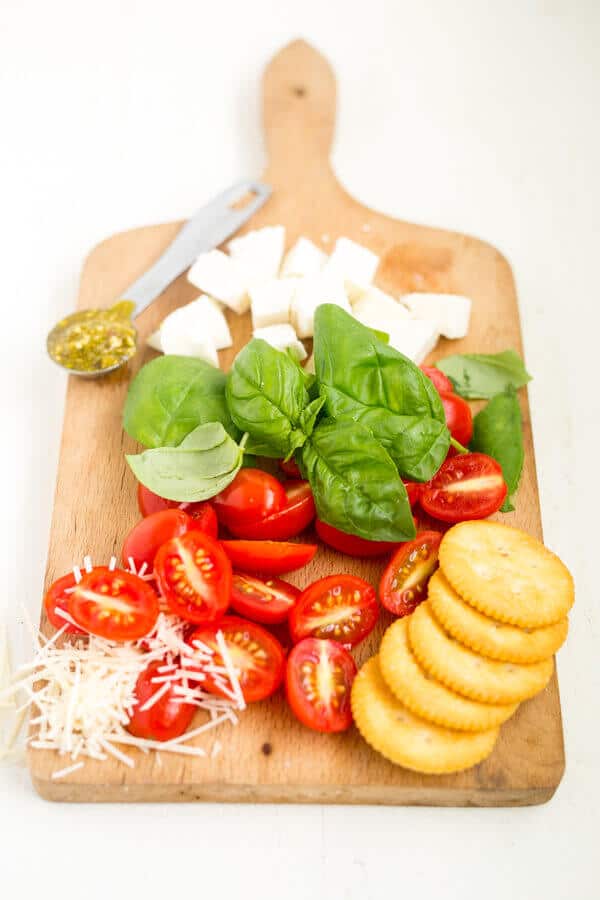 My favorite kind of appetizers are dips, always and forever. I love a good cheesy dip, like this easy caprese dip. The kind of cheesy dip that's super stringy and makes it really fun to eat because it's extra cheesy (see video below for example).
Yeah, that kind of dip. What's your favorite kind of dip?! Comment below I'd love to hear. I have a feeling it may involve some sort of cheese....and pesto....and tomatoes...Just a hunch.
I also love appetizers because you can make them any time. If you're getting together for the big game this easy caprese dip is a serious crowd pleaser. I just took it to my nephews birthday party and it was a huge hit. Happy 4-year-old and very happy adults.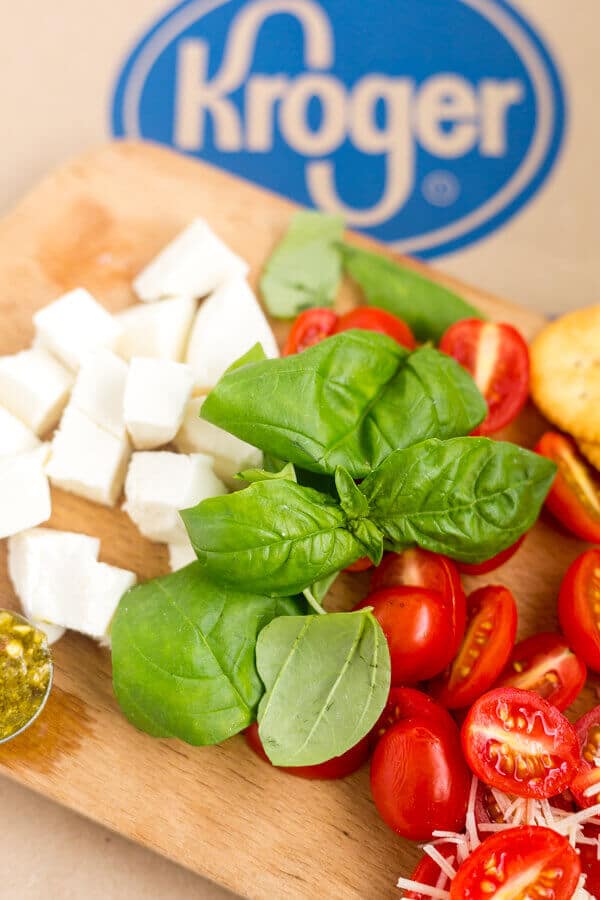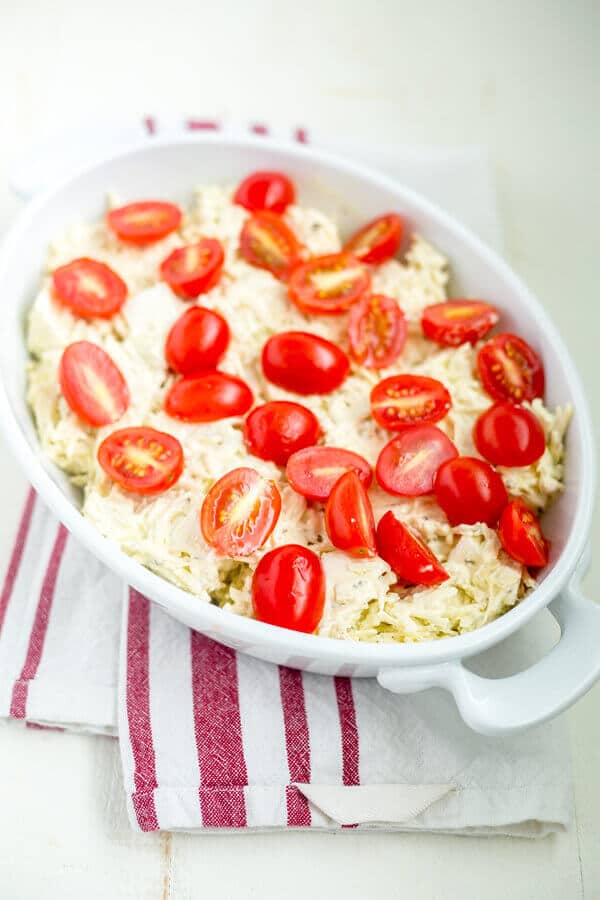 If you're hosting or heading out, this easy caprese dip works well. Just cover it and throw it back in the oven to warm up and get extra bubbly then serve with RITZ Crackers.
It's super easy to put together too. I grabbed all of my ingredients (only 7 of them) at my local Kroger and was back at my house with a delicious appetizer in less than 40 minutes.
You'll find the majority of the ingredients in the cheese aisle (YUM) then head over near the pasta to grab the pesto and then into the crackers/snack aisle to grab the RITZ Crackers. I don't know about you, but I hate walking into a store not knowing where to get everything.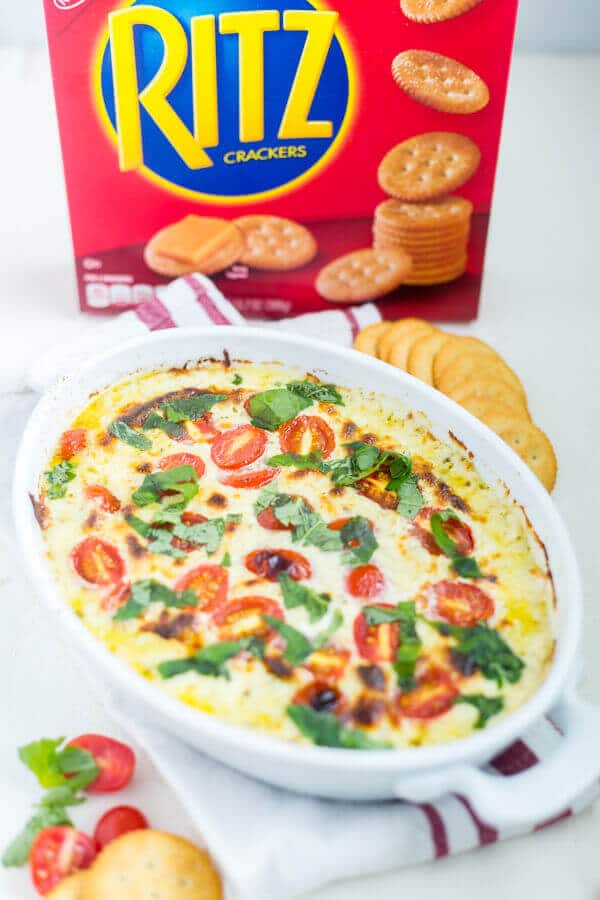 BETTER YET, get everything on click list and then just pull up to the door and have them load it in your car. Has anyone done this yet?! I'm dying to know what you think of it.
Also, RITZ Crackers and other yummy snacks just so happen to be on sale at Kroger for $1.99 until Jan 28. Just saying.
All the game time snacks. You can never have too many game time snacks.
Especially cheesy game time snack that are crazy easy. Like throw-everything-into-a-bowl-and-bake easy.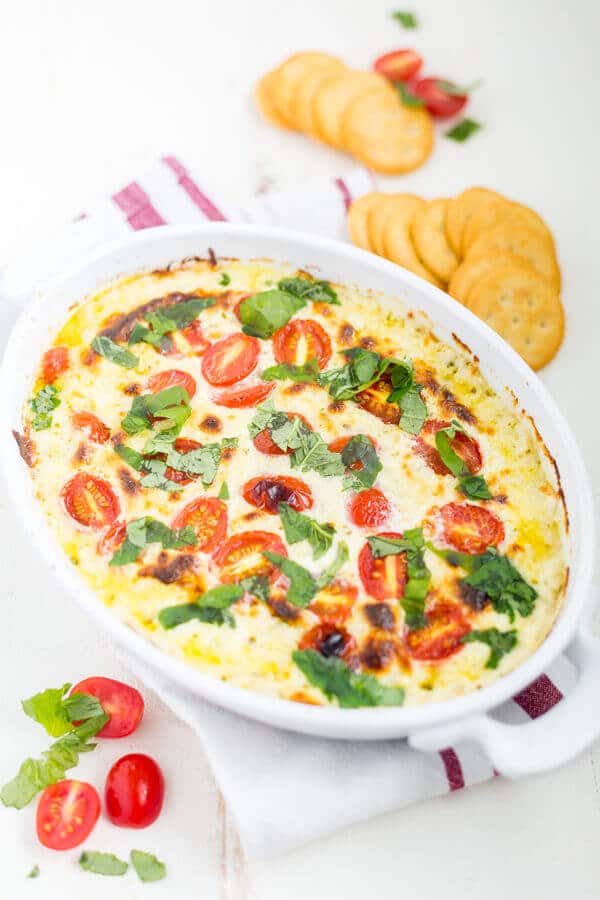 How To Make Easy Caprese Dip
To make easy caprese dip you only need one bowl, 30 minutes and less than 10 ingredients.
To start, mix the sour cream and the basil pesto together in a large bowl. Add the cheeses, salt and pepper and transfer everything into a baking dish. Before you pop it in the oven sprinkle it with cherry tomatoes and bake for about 25 minutes, until it's bubbling and starts to brown around the edges.
When it comes out of the oven sprinkle it with fresh basil if you have it and serve warm with RITZ Crackers.
Simple as that. It isn't called easy caprese dip for no reason:)
And I have a really great feeling all your football-loving friends are going to love this recipe as much as I do. Delicious snacks are in play, people.
I'm making this for our football party and probably 3 other times before then. I've already made this caprese dip twice in one week. It's been a hit both times.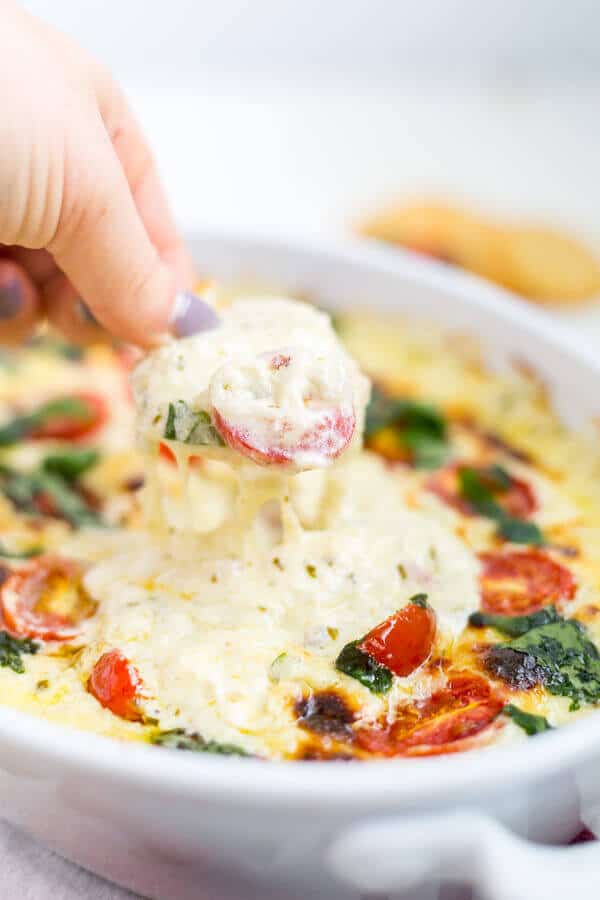 You just can't go wrong with an easy and delicious appetizer. See a few more appetizer recipes here.
If you love this recipe, don't forget to give me a virtual high five by following along on Instagram (I hang out there every day) and Facebook.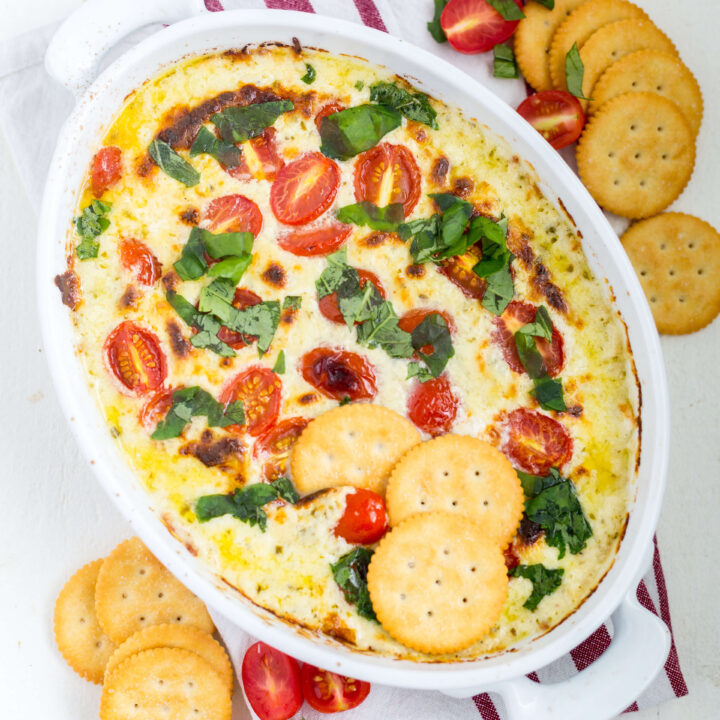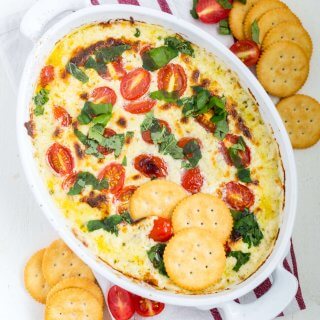 Ingredients
¾

cup

sour cream

½

teaspoon

salt

¼

teaspoon

pepper

3

tablespoons

basil pesto

8

ounce

package fresh mozzarella

cut into chunks

8

ounces

1 package shredded provolone

¼

cup

parmesan cheese

grated

1

pint

grape tomatoes

cut in half lengthwise

Ritz Crackers for dipping

5 crackers per serving
Instructions
Preheat oven to 425°F and adjust the oven rack to the middle position.

In a large bowl, stir together sour cream and basil. Add the fresh mozzarella, provolone, parmesan, salt and pepper and stir to combine.

Spread mixture into small 8x8 inch pan or casserole or pie dish. Sprinkle with tomatoes.

Bake for 25 minutes or until cheese has melted and starts to bubble around the edges. Turn oven to broil and broil for 3-5 minutes to get golden brown on top if necessary. Watch closely to make sure it doesn't burn. Serve warm with RITZ Crackers.