Not only does this cucumber lemon water taste crisp and refreshing, but it's also packed with powerful health benefits. (Like providing antioxidants, lowering blood pressure, and balancing blood sugar.)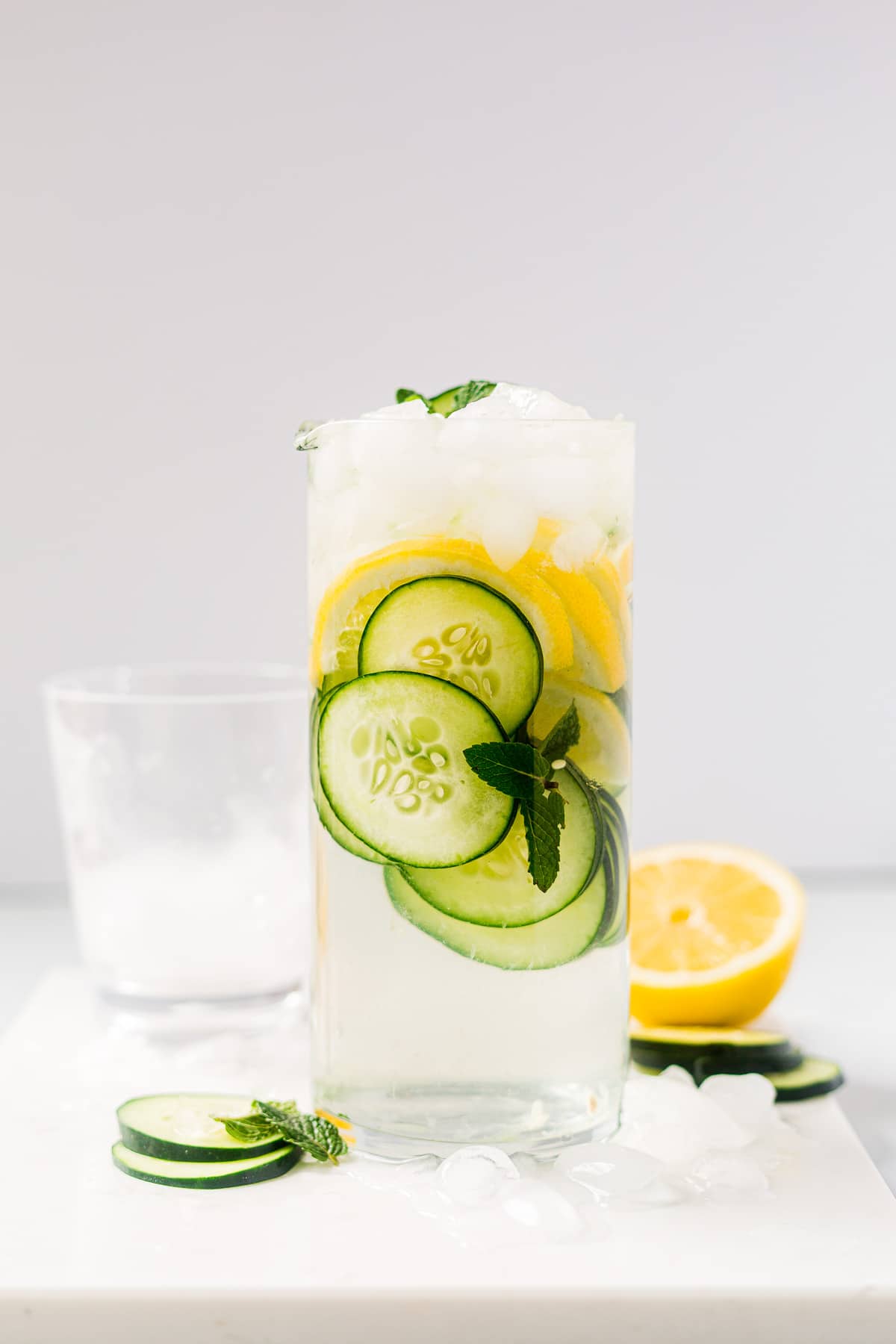 Jump to:
Lemon cucumber water is a fun way to mix up your water routine and is the most refreshing drink, especially on a hot summer day. You get all the benefits of drinking water and staying hydrated (healthy skin!), plus a crisp and refreshing taste.
Adding this cucumber water recipe to your daily routine is a great way to incorporate more glasses of water. It will make you look forward to staying hydrated!
Why You'll Love This Cucumber Lemon Mint Water
Simple Recipe: The best part about this recipe is how quick and easy it is to put together. We love infused water recipes because it's such an easy way to dress up regular water and increase water intake. Make it before bed and refill your water bottle all day.
Natural Ingredients: What do you get when you use natural ingredients? Natural flavor. The fresh flavors from the sliced fruit and veggies and the fresh mint taste so delicious.
Healthy Drink: Read on for all of the health benefits this refreshing drink provides!
Health benefits of cucumber water
This recipe is a great substitute for sugary drinks or sodas because it can help balance blood sugar, reduce high blood pressure, keep you hydrated, and aid in weight loss.
Cucumbers are high in antioxidants and other nutrients like calcium, magnesium, vitamin C and vitamin A. Of course, it's always good to eat the actual cucumber, but this cucumber water offers some nutrients and keeps you hydrated!
Cucumbers are also a good source of potassium and drinking cucumber water on a daily basis can help boost your immune system and fight off free radicals.
Improve your skin by drinking this because you'll be more hydrated. Staying hydrated always helps your skin and contributes toward a healthy complexion!
The bottom line: This is the perfect drink to motivate you to add more water to your diet. And drinking more water is always a good idea! If you're craving sugary sodas or soft drinks, opt for this instead and see how you feel!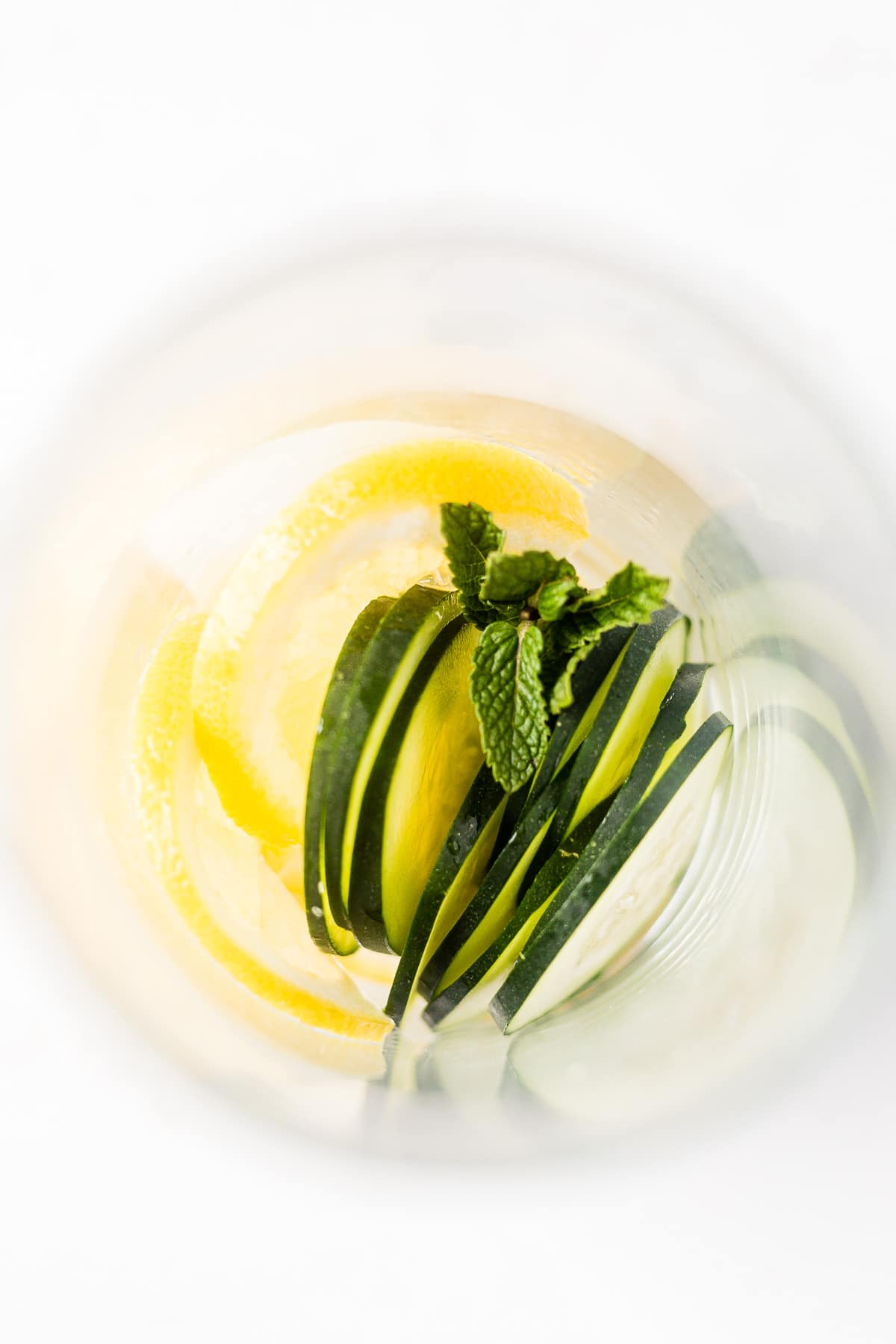 Ingredients
Here are the simple ingredients for this delicious infused water recipe. Most are pantry staples and easy (and affordable) to find in the grocery store. Jump down to the recipe card for step-by-step instructions and exact measurements.
Fresh cucumbers: Make them thinly sliced. (You can also use a vegetable peeler to make ribbons.) No need to peel the cucumbers prior to adding them to the water. The kind of cucumber does not matter; regular cucumbers, organic cucumbers, or english cucumbers are great.
Fresh lemons: Fresh lemon slices and lemon juice add so much flavor.
Fresh mint leaves: Nothing like fresh herbs to freshen up your drinks in the summertime.
Plain water: Use water from the fridge, plain tap water from the sink, or bottled water.
Keep reading for a fun variation on how to serve this for parties!
Have leftover cucumbers? Add them to this simple cucumber tomato avocado salad or a fresh cucumber margarita.
How to Make Cucumber Lemon Water
Add the slices of cucumber, lemon and mint to a large pitcher and top with 8 cups (2 quarts) of tap water or filtered water.
For the best result, store the water in the fridge for up to 12 hours then serve with ice.
FAQs
How long do I keep cucumber slices in the water?
If you're serving longer than 12 hours later, remove the cucumber, lemon, and mint from the water and store the water separately in the fridge. Add fresh lemon and cucumber to garnish when serving. If you feel like this recipe either makes too much water or not enough water for what you're able to drink up, just adjust as needed.
Is it OK to drink cucumber lemon water every day?
While incorporating cucumber lemon water into your daily routine can provide you with a range of health benefits, it's always important to keep moderation in mind. Like any food, you should enjoy it in reasonable quantities as part of a balanced diet.
Can I take lemon and cucumber water on an empty stomach?
Yes, you can consume lemon cucumber water on an empty stomach. In fact, it can be a great way to start your day. Consuming it on an empty stomach can help kickstart your digestive system and support proper digestion throughout the day. It also can help with detoxification. Lemons contain citric acid, which can help stimulate liver function, and cucumbers have natural diuretic properties that can aid in flushing out toxins from the body.
Recipe variations
Omit the lemon and mint: You can just use cucumbers alone if you aren't a fan of lemon or mint. It's up to you!
Fresh fruit-infused water: Throw in some fresh strawberries, blackberries, or citrus fruit like oranges. If you enjoy watermelon and basil, they make a great combo — even with the cucumber. We have tips for cutting watermelon. We also have tips for cutting peaches if you'd like to try some peaches with a little bit of ginger and some fresh basil.
Serve with frozen edible flowers: How gorgeous are these cucumber waters with flower ice cubes?! Add water and edible flowers to ice cube trays and freeze them solid. Make the water then serve it with the ice cubes. You could also put the flower ice cubes in a cooler surrounding the pitcher for a pretty display!
Make it a cocktail: Combine the cucumber lemonade with a shot of vodka and simple syrup. Top it with a little lemon-flavored seltzer water if you find the vodka to be too strong of a flavor.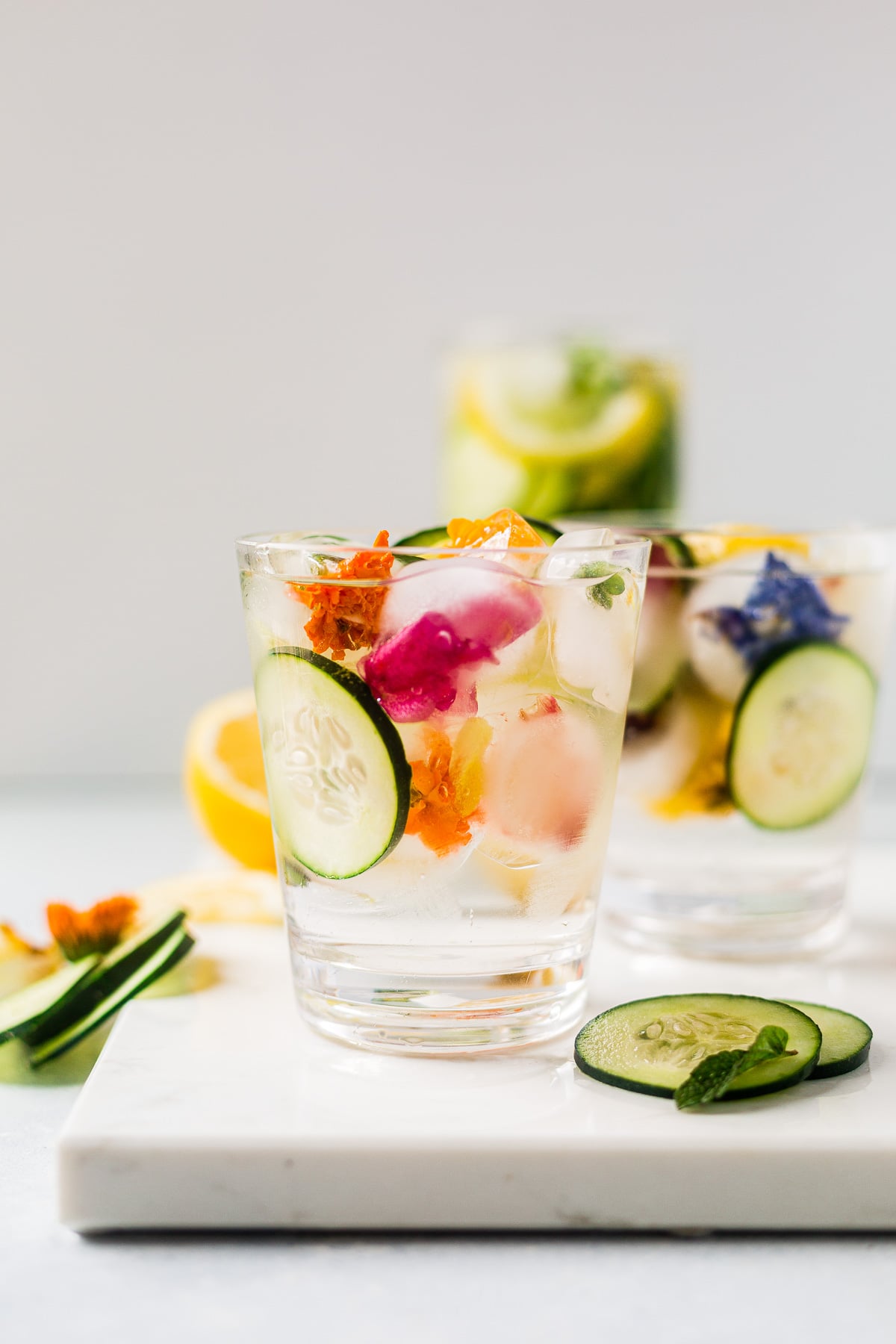 If you make this recipe, I'd love for you to give it a star rating ★ below. You can also tag me on Instagram so I can see it!
More Refreshing Drinks
If you're looking for more fun drink recipes to switch it up from plain old water, we have plenty of suggestions!
This green juice recipe is easily made in a blender. (No juicer required!) It's packed with green veggies, sweet fruit, and flavorful herbs to support skin, weight loss, hormones, and digestion. It's a great addition to any healthy diet and can support several medical conditions (like PCOS).
Our hormone-healing green smoothie has anti-inflammatory properties, helps balance blood sugar, and is a great source of vitamins and minerals. It's a tasty way to support healthy eating habits.
For coffee lovers, we love both iced coffees and iced lattes as a refreshing caffeinated drink. This easy, 5-minute whipped coffee is so smooth and creamy! Serve it over a glass of ice-cold milk for a pick-me-up or morning treat. This homemade iced caramel latte is one of my favorite coffee drinks — especially on a hot summer day. It's cold and refreshing and has a touch of sweetness, a bold espresso flavor, and a smooth, buttery texture.
If you're looking for a coffee alternative, this Iced matcha latte is a healthy drink recipe made in the blender with matcha powder, dairy-free milk, vanilla, and maple syrup. Make it with our homemade oat milk that's ready in 5 minutes!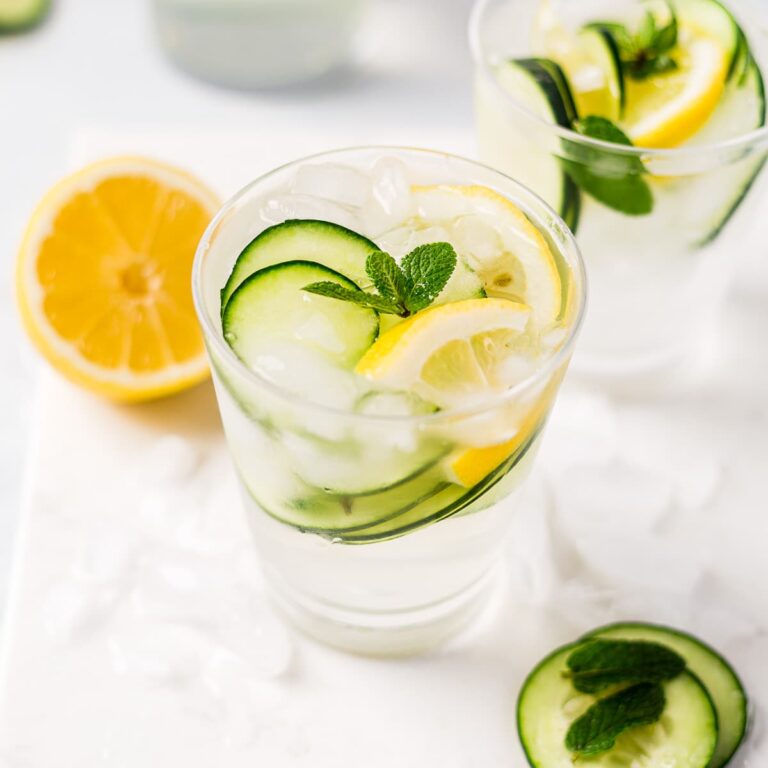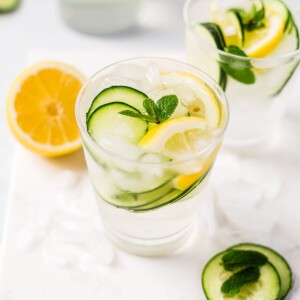 Cucumber Water
Not only does this cucumber water taste crisp and refreshing, but it's also packed with powerful health benefits like delivering antioxidants, lowering blood pressure and balancing blood sugar.
Print
Pin
Rate
Save
Saved!
Ingredients
8

cups

(2 quarts) water

1

medium cucumber

thinly sliced

1

large lemon

thinly sliced

2-3

sprigs fresh mint

optional

Make it fancy: ice cube trays and fresh edible flowers

(near the herbs in the produce aisle)
Instructions
Add the cucumber, lemon and mint to a large pitcher and fill it up with the water. Chill in the fridge for at least 1 hour or up to 12 hours.

Serve with fresh ice and an extra sprig of mint if desired.

If it will be longer than 12 hours before serving: remove the cucumber, lemon and mint and and store for up to 2 days. Serve with extra slices of lemon, cucumber and sprigs of fresh mint.

Make it fancy for serving: place 1 edible flower in each ice cube tray and fill them up with water. Store in the freezer until solid and you're ready to serve. You can serve the ice cubes right in the cucumber water or you can fill a cooler with the flower ice cubes surround the pitcher for a pretty display.
Nutrition
Serving:
1
cup
|
Calories:
8
kcal
|
Carbohydrates:
2
g
|
Protein:
0.1
g
|
Sodium:
9
mg
|
Sugar:
0.9
g