This post has been sponsored MARS, Inc. All thoughts and opinions are my own.
Light and fluffy chocolate cupcakes are topped with a sweet and creamy peanut butter frosting. Plus, there's a fun Easter surprise on the inside! These Chocolate Peanut Butter Piñata Cupcakes will surprise and delight all of your friends and family.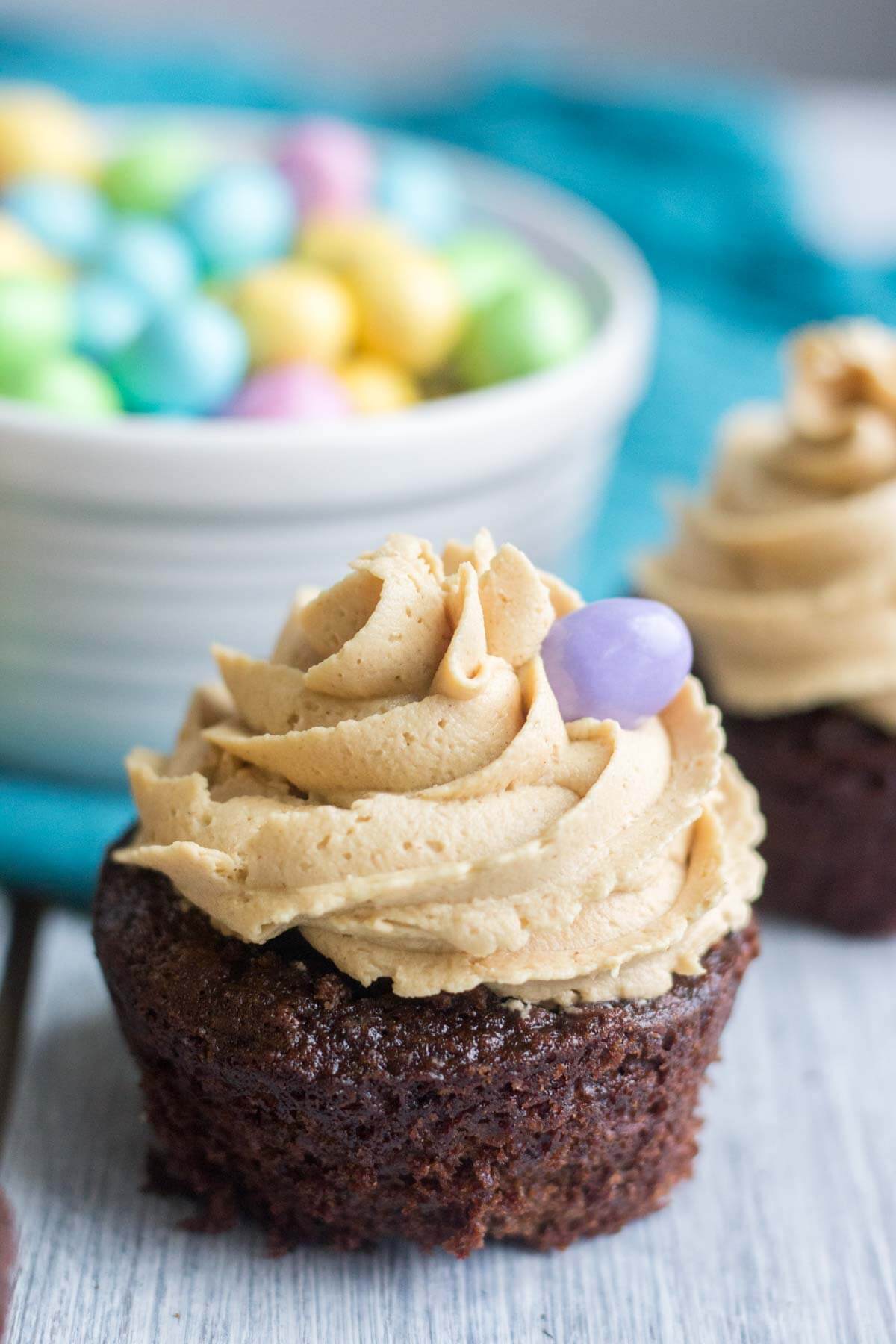 When Spring rolls around there is nothing I love more than baking! Something about the sunshine and smells make me want to open the windows and bring the smell of fresh baked cupcakes to my house.
Then there's Easter brunches and celebrations to bake for. A family gathering to celebrate is the perfect reason to make cupcakes (like you needed another one!). And the kiddos will swoon over these chocolate peanut butter piñata cupcakes. Who doesn't love a surprise center of Peanut Easter M&M's®?
The milk chocolate melts in your mouth and the crunchy peanuts add another layer of texture to these cupcakes that take it to another level. You can let people know there's a fun surprise on the inside or you can pleasantly surprise them and watch their reaction when they take a bite!
Both equally great options. I prefer the ladder, but to each their own!
Love chocolate desserts? Try this chocolate chip mug cake, chocolate potato cake, or chocolate pudding cookies.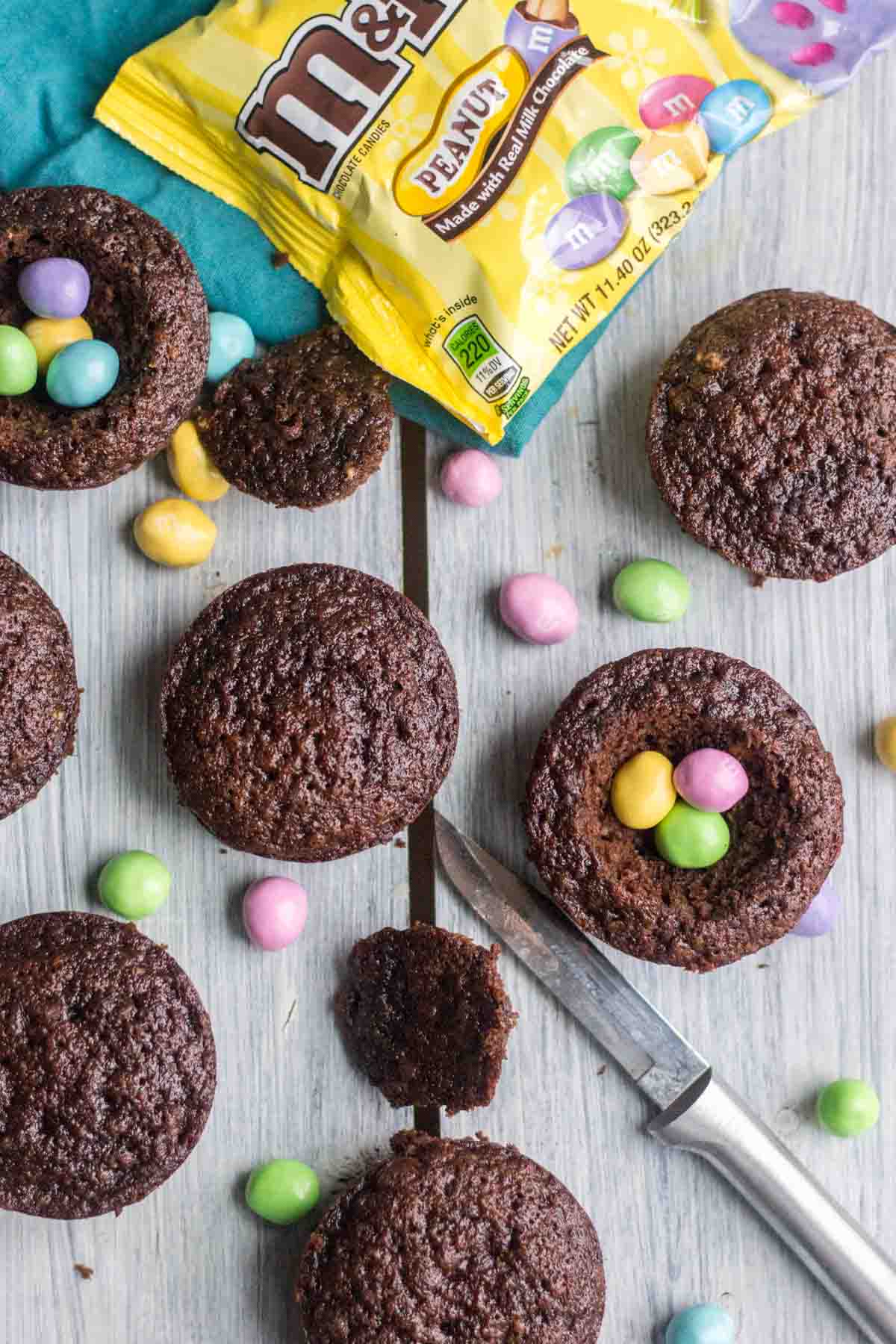 One of the reasons I love this chocolate peanut butter piñata cupcake recipe is because it's super simple to whip up. You likely have all of the ingredients in your pantry and fridge right now! And if you don't keep the Peanut Easter M&M's® on hand, no worries. Head over to your local Kroger to grab some from the candy aisle.
And while you're there you might as well pick up all your Easter candy needs. Those Easter baskets aren't going to fill themselves! And any Kroger is going to be your one stop shop (find one near you) for all the recipe and chocolate needs, trust me, I know from experience.
To whip these up you can easily do them the day of or making them the day before. Busy schedules mean we all need recipes we can make quickly or in advance right? Right.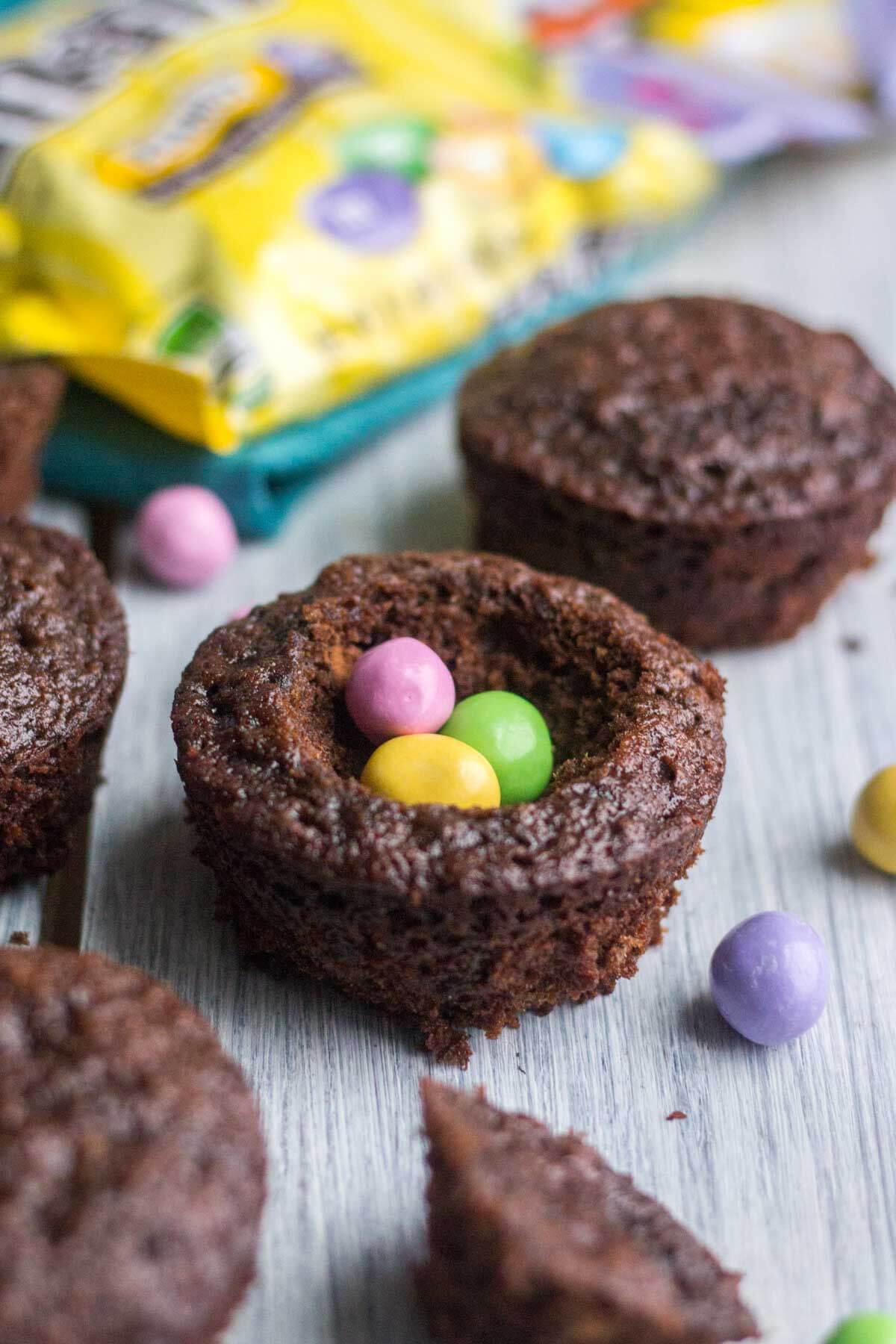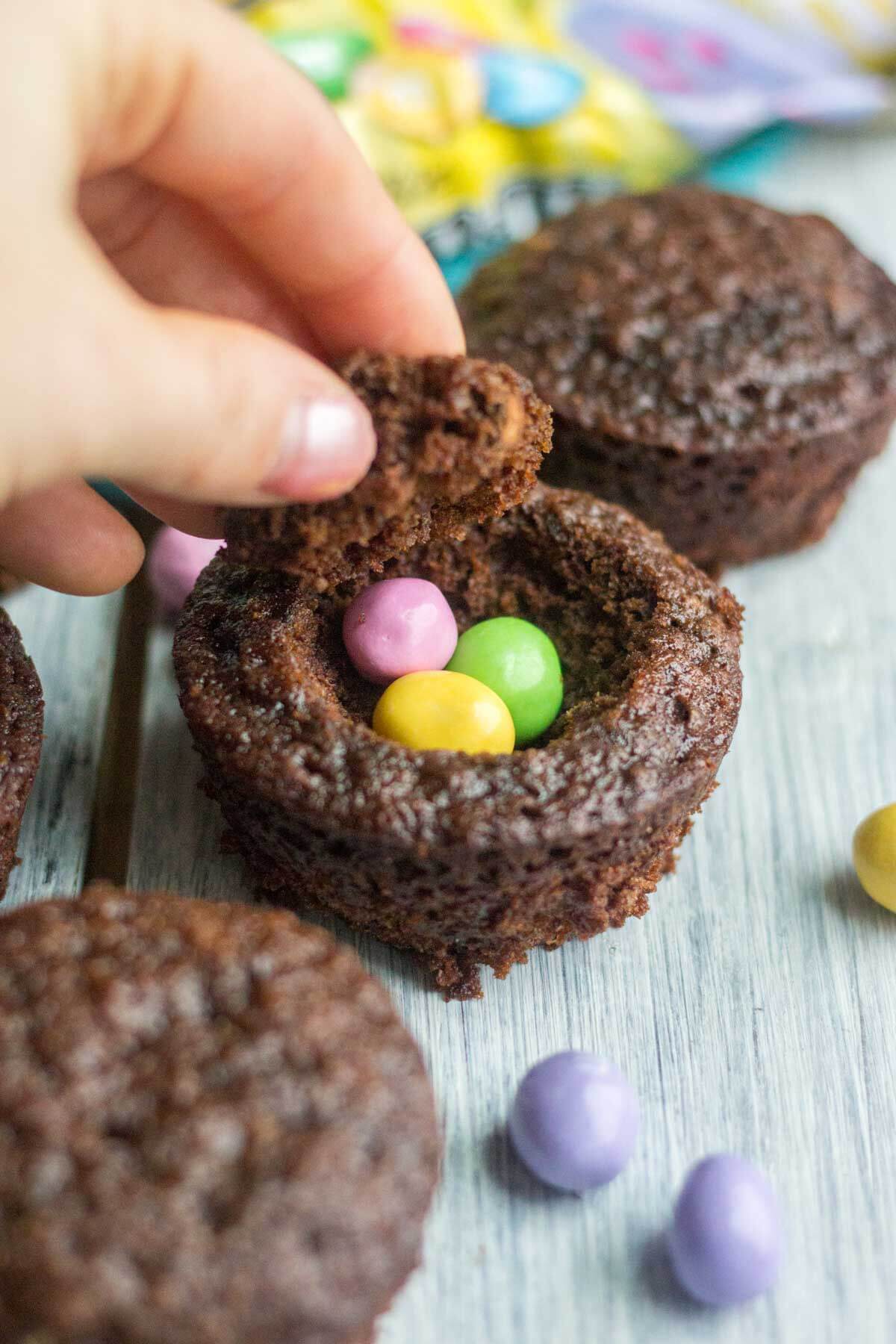 The chocolate cupcakes are made in one bowl! That's my kind of batter. The only thing to note here is only fill your cupcake liners just about half way full. Less is more. You may be tempted to over fill, but avoid this! These cupcakes rise quite a bit so avoid the urge to overfill.
Once the chocolate cupcakes are baked and cooled, we'll carve a hole into the centers, fill with Peanut Easter M&M's® and place the carved section back on top. More detail:
The cupcakes are about 1.5 inches tall. You will want to carve a 1 inch deep section out of the cupcake. A little less is perfectly fine but aim for around 1. The section you will remove will be the shape of a cone I like to slice about half of the narrow end of the cone because it won't fit back on top with all the Peanut M&M's® inside (see above picture). Hint: this is a perfect excuse to give those tasty cupcakes a taste!
Fill the cupcakes with 3 or 4 Peanut Easter M&M's® and place the cone back on top to cover up the candies.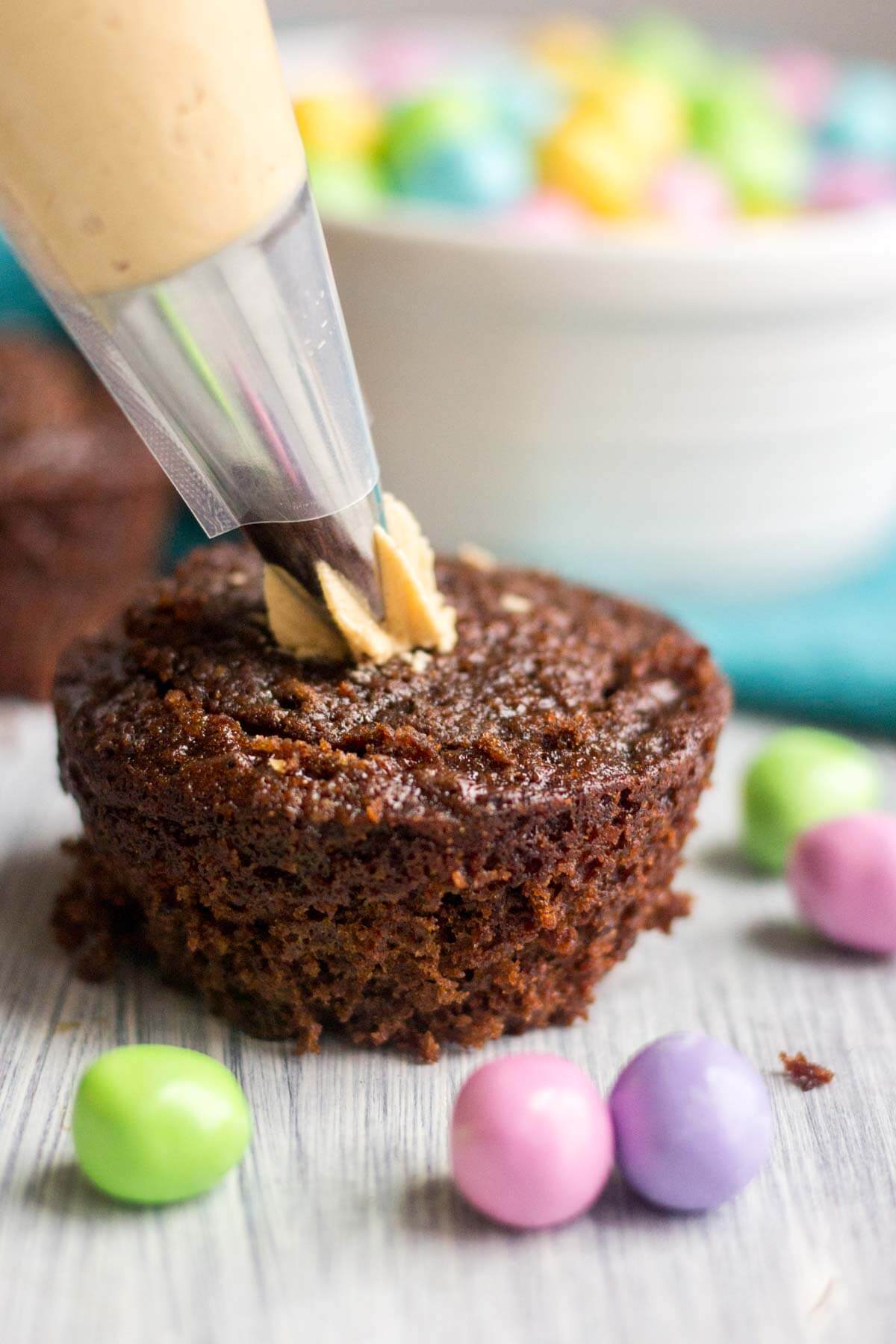 When you frost these chocolate peanut butter piñata cupcakes you won't be able to tell there's anything inside. Just start at the center of the cupcake and apply pressure to squeeze the frosting out of the piping back. Slowly swirl around to the outside and on top to create the perfect cone.
Note, I used a star tip for this look but you can use any larger Wilton tip, or just cut off the end of the bag. Both are great options!
When you're done you can top with one more Peanut Easter M&M® to add a festive touch.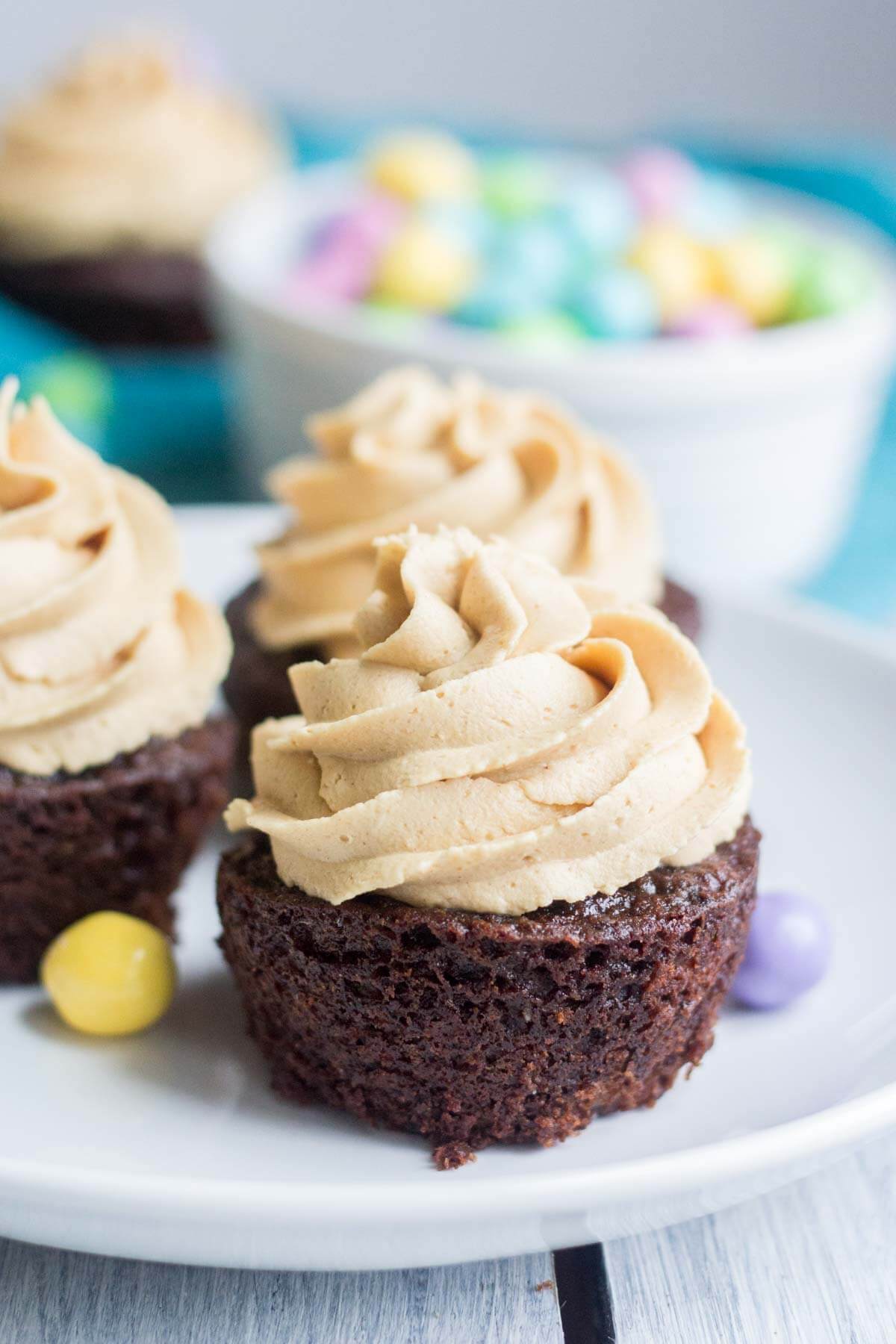 Now, let's chat about why these chocolate peanut butter piñata cupcakes are so darn yummy:
The cupcake: A classic chocolate cupcake recipe that's always been a tried and true in my book. You can't go wrong with a light and fluffy chocolate cupcake.
The frosting: I've never met a peanut butter recipe I didn't like. It's classic and adds so much flavor to the frosting. It's light and creamy and you whip it up to peanut butter perfection. Not to mention it ties the Peanut Easter M&M's® into the recipe in the best way.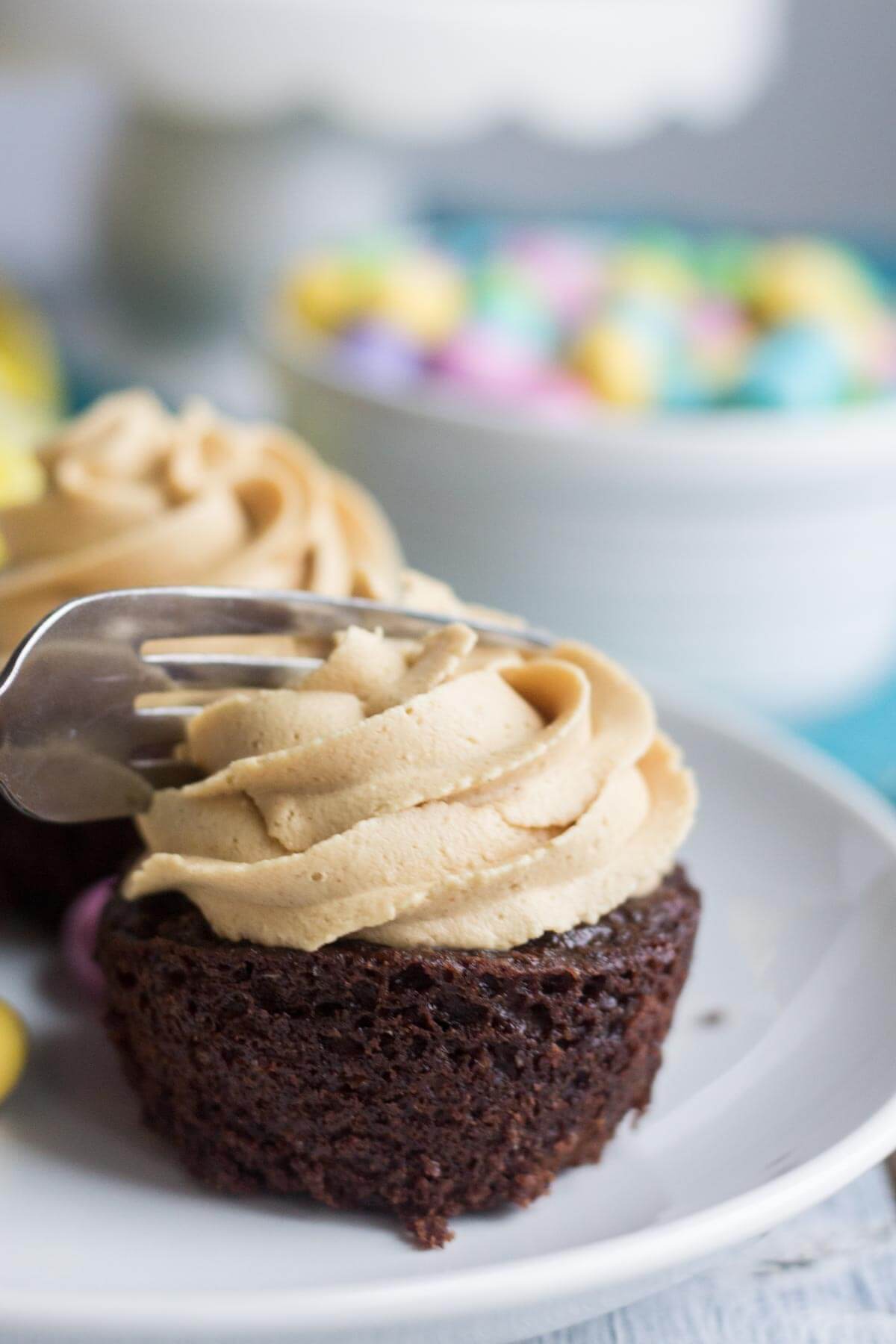 The Surprise Inside: As mentioned earlier, the crunch peanut surprise inside that is the Peanut Easter M&M's® will knock the socks off your friends and family. Such a simple surprise, but one that will no doubt impress everyone with your creativity.
Then you're ready to celebrate with all your Kroger candy and these fun and festive Easter chocolate peanut butter piñata cupcakes.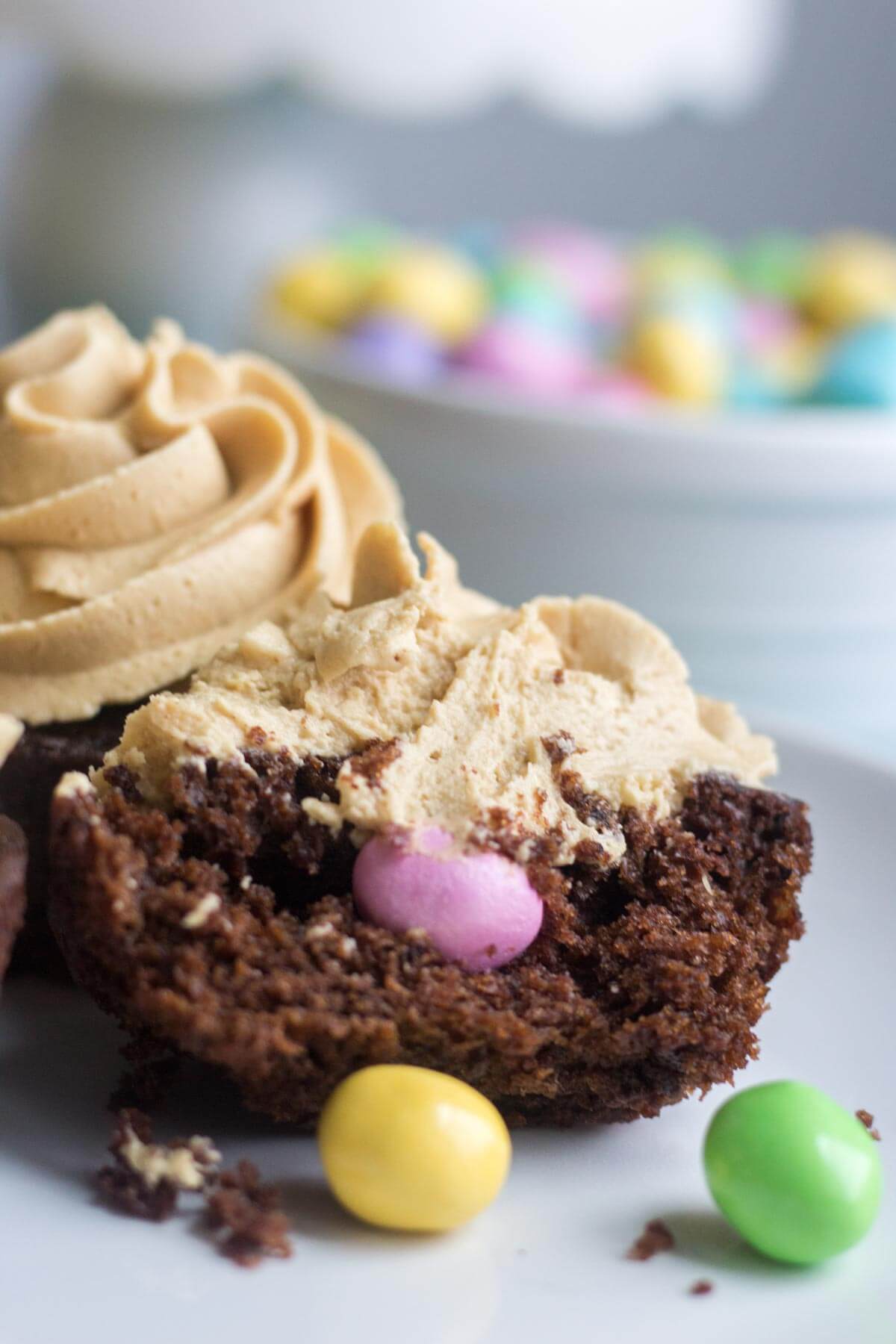 Party on.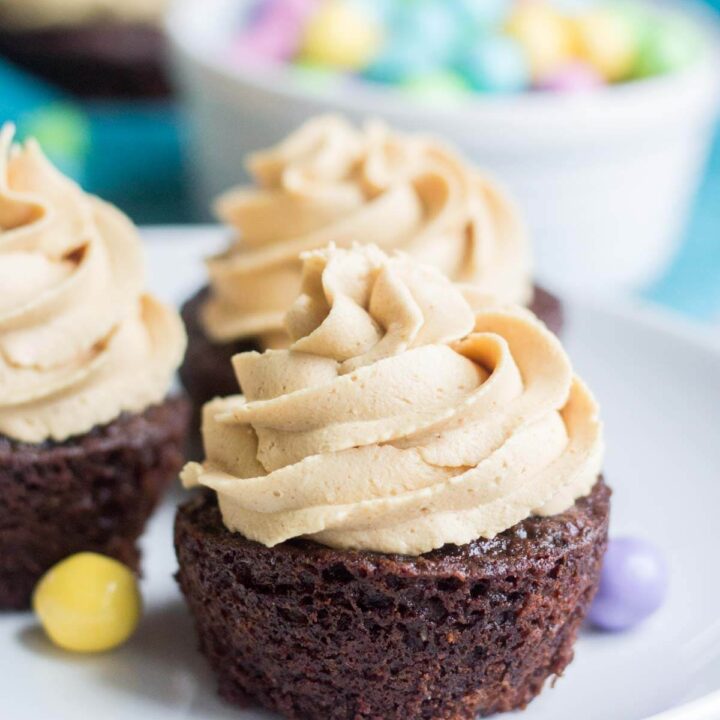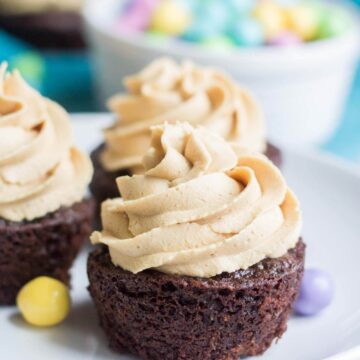 Ingredients
Chocolate Cupcake:

½

cup

unsweetened cocoa powder

¾

cup

cake flour

½

teaspoon

baking soda

¾

teaspoon

baking powder

¼

teaspoon

salt

2

large eggs

room temperature

½

cup

granulated sugar

½

cup

light brown sugar

packed

⅓

cup

melted coconut oil

2

teaspoons

vanilla extract

½

cup

buttermilk

1

cup

Peanut Easter M&M's®

Peanut Butter Frosting:

1 ½

cups

creamy peanut butter

½

cup

unsalted butter

room temperature

1 ½

cups

powdered sugar

2

teaspoons

vanilla extract

4-6

tablespoons

heavy cream
Instructions
To make the cupcakes, preheat the oven to 350°F. Line a 12-cup muffin pan with cupcake liners. Set aside.

In a large bowl, whisk the cocoa powder, flour, baking soda, baking powder, and salt together until thoroughly combined. Set aside. In a medium bowl, whisk together the eggs, sugar, brown sugar, coconut oil, and vanilla together until completely smooth.

Pour half of the wet ingredients into the dry ingredients and stir until just combined. Then add half of the buttermilk and gently stir until just combined. Repeat this process with remaining dry ingredients and buttermilk. Stir until just combined, it will be very thick.

Spoon the batter into the prepared liners approximately halfway, being careful not to overfull. Bake for 17-18 minutes, or until a toothpick inserted in the center comes out clean. Allow to cool completely.

Once cupcakes are cooled, use a knife to cut a circular hole in the top of the cupcakes about ¾ way into the cupcake in a cone shape (see pictures above for reference). Place 2-3 Peanut Easter M&M's® to each. Cut the pointed part of the cone off and place it back on top of the candy inside the cupcake like a lid. Repeat until all cupcakes are filled.

To make the peanut butter frosting, with a handheld or stand mixer fitted with a paddle attachment, beat the peanut butter and butter on medium speed until smooth and creamy, about 3 full minutes. Add the confectioners' sugar and vanilla. Mix on medium until combined. Add 4 tablespoons of the cream and mix on high until creamy, at least 2 minutes. Add a pinch of salt if frosting is too sweet and more cream if too thick.

Pipe the frosting on top of the Peanut Easter M&M's® filled cupcake. Store in an air tight container for up to 2 days or in the refrigerator for 4 days.