With only three steps, these chocolate chip cookie dough cheesecake bites are an easy recipe everyone will love. The edible cookie dough is a perfect addition and holds the no bake cheesecake just right. Top with whipped cream and chocolate chips and you've got yourself a killer dessert recipe.
To show you how easy it is I've got a quick video to show you how it's done! Scroll down to watch!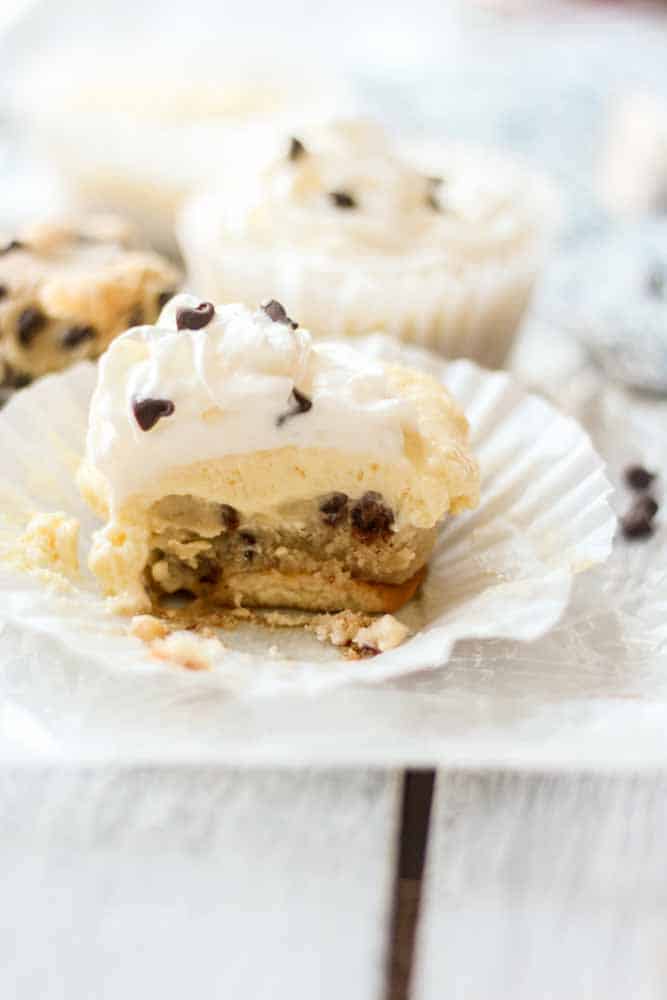 What's everyone up to on this fine Saturday afternoon?! Hopefully celebrating #NationalCheesecakeDay and watching Harry Potter Weekend on Freeform. ⚡️
I've been watching for a solid 10 hours and have no intentions of leaving my couch any time soon. Unless it's to walk to the fridge and pick myself up some chocolate chip cookie dough cheesecake bites.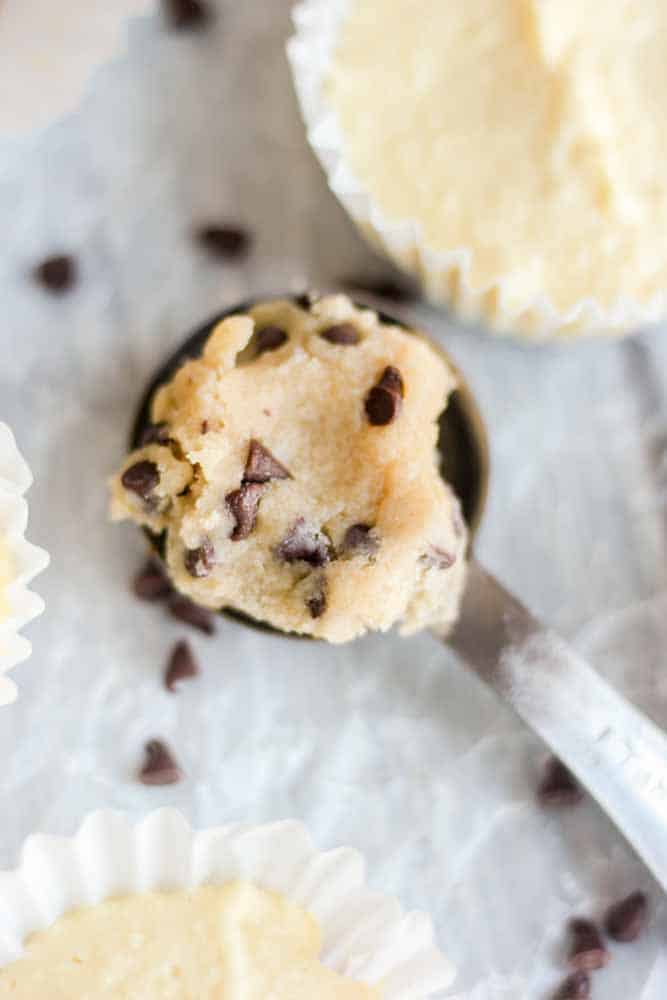 Edible cookie dough + no-bake cheesecake + whipped cream. The only combo that will tear me away from the HP watching madness happening in my living room. Because it's really getting good here. I'm on the third one (Harry Potter and the prisoner of Azkaban) and Harry just found out Sirius Black was his parent's friends and he is out for vengeance. He's on a mission! You guys, if you haven't figured already I'm a HUGE Harry Potter fan?.
And having nothing on my agenda and a full tupewear container full of cheesecake bites in my fridge means I'm one happy lady.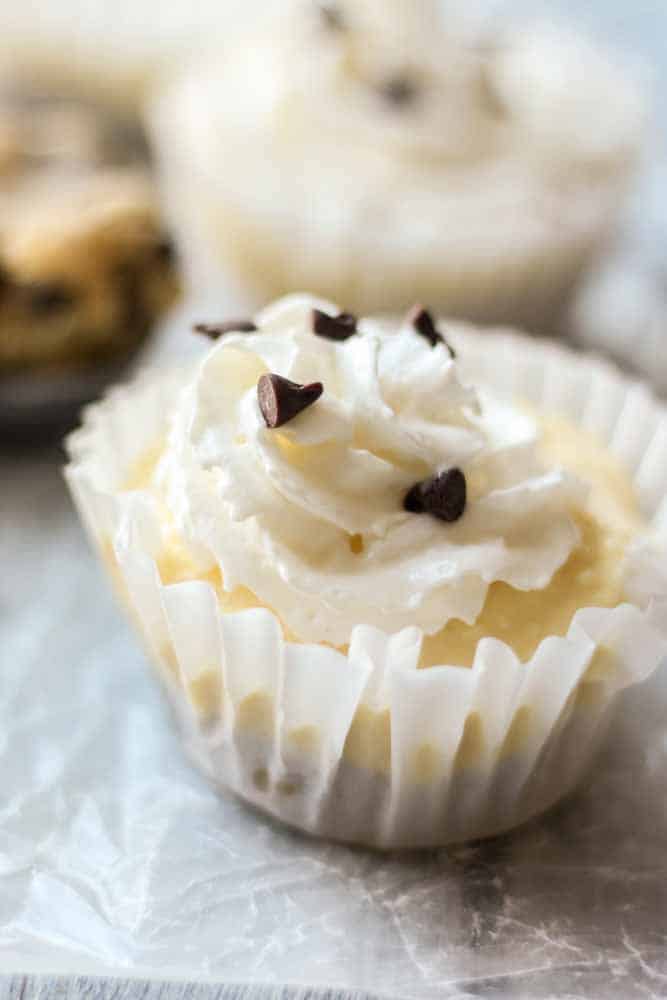 So let me remind you of what is actually happening in this recipe. The bottom layer is a vanilla wafer. Just a vanilla wafer, you ask? Yep. Because it's easy and that's how I roll. The second layer is edible cookie dough!! I tend to make a lot of this because I love using it in my recipes. I keep it in my freezer and add it to recipes when I need it. I HIGHLY RECOMMEND IT. Then there's no bake cheesecake. Vanilla, creamy, luscious cheesecake filling that sets up perfectly.
Top with whipped cream and mini chocolate chips and you'll be celebrating the weekend right along with me. Just flip on Freeform and it will be like we're watching together!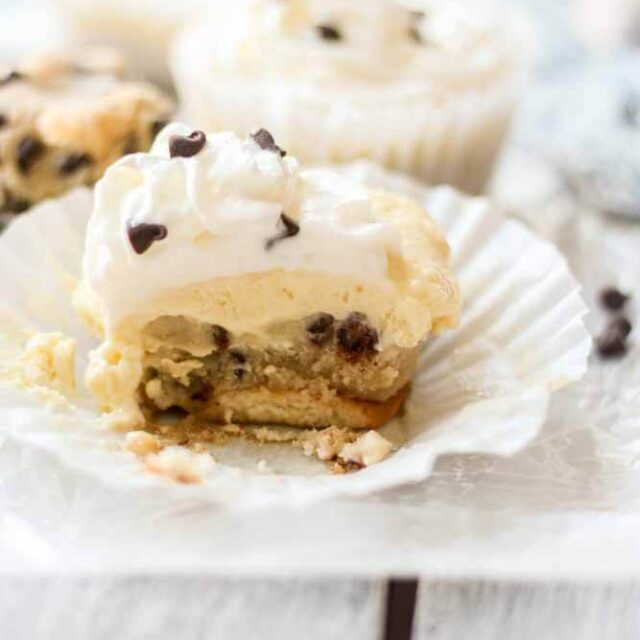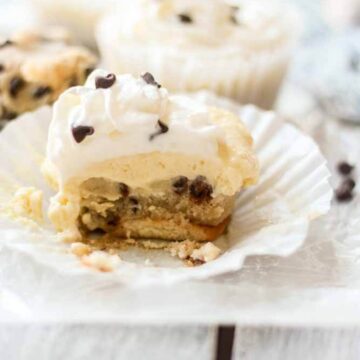 Ingredients
12

vanilla wafers

cookie dough layer:

½

cup

brown sugar

⅛

cup

granulated sugar

½

cup

unsalted butter

softened

1

teaspoons

vanilla extract

½

teaspoon

salt

1

and ¼ cups flour

1

tablespoons

milk

½

cup

miniature chocolate chips

8

oz

cream cheese

softened

1 ¼

cup

cold milk

3.4

oz

instant vanilla pudding mix

whipped cream

extra mini chocolate chips
Instructions
Line a 12 cup muffins tin with cupcake liners. Fill each cupcake hole with one vanilla wafer. Set aside.

In a medium bowl, cream the brown sugar, granulated sugar and butter until combined, about 3 minutes. Add the vanilla and salt and mix well. Add the flour and milk and beat until well-combined, about 2 minutes. Add another tablespoon of milk if it needs to come together better. It should be a consistency of cookie dough. Add the mini chocolate chips and stir together until incorporated.

Scoop one tablespoon of edible cookie dough and roll into a ball. Press gently into the muffin tins on top of each vanilla wafer. Set aside.

Add the cream cheese to a medium bowl and beat until whipped, about 3 minutes. Add the pudding mix and milk and beat until combined. Mixture should be smooth.

Scoop one tablespoon of cheesecake on top of the cookie dough layer. Refrigerate for 20 minutes. Top with whipped cream and mini chocolate chips and enjoy.