This bourbon bacon brittle is made with candied bacon, toasted pecans and bourbon. It's the crunchiest, most delicious brittle you will ever have.
But, wait! That's not all. Ya know what I topped it with? Sea salt. Because you can't have a sweet and savory brittle without a little salt on top (in my world, you can't have anything without a little salt on top).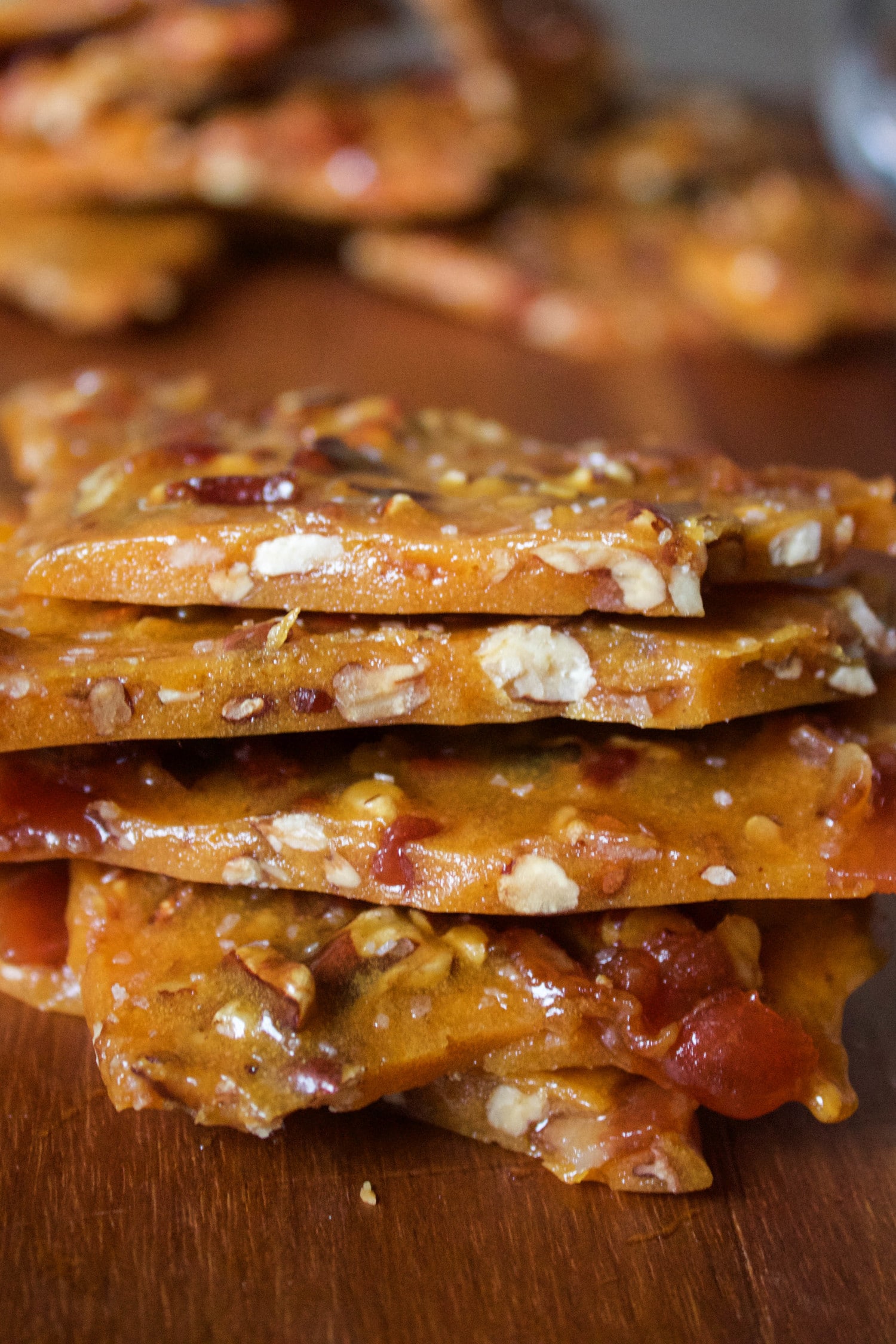 Everyone that knows my father knows that his drink of choice is bourbon. Makers Mark to be exact. On the rocks. Once when Chelsea came over, she thought that his glass of bourbon sitting on the counter was coke and chugged it.
I cried laughing it was so funny. From that day forward, there was not one glass that I didn't sniff before I took a swig. Even water. Could be anything...vodka, tequila, gin.
Even if it's 10 a.m. I don't risk it.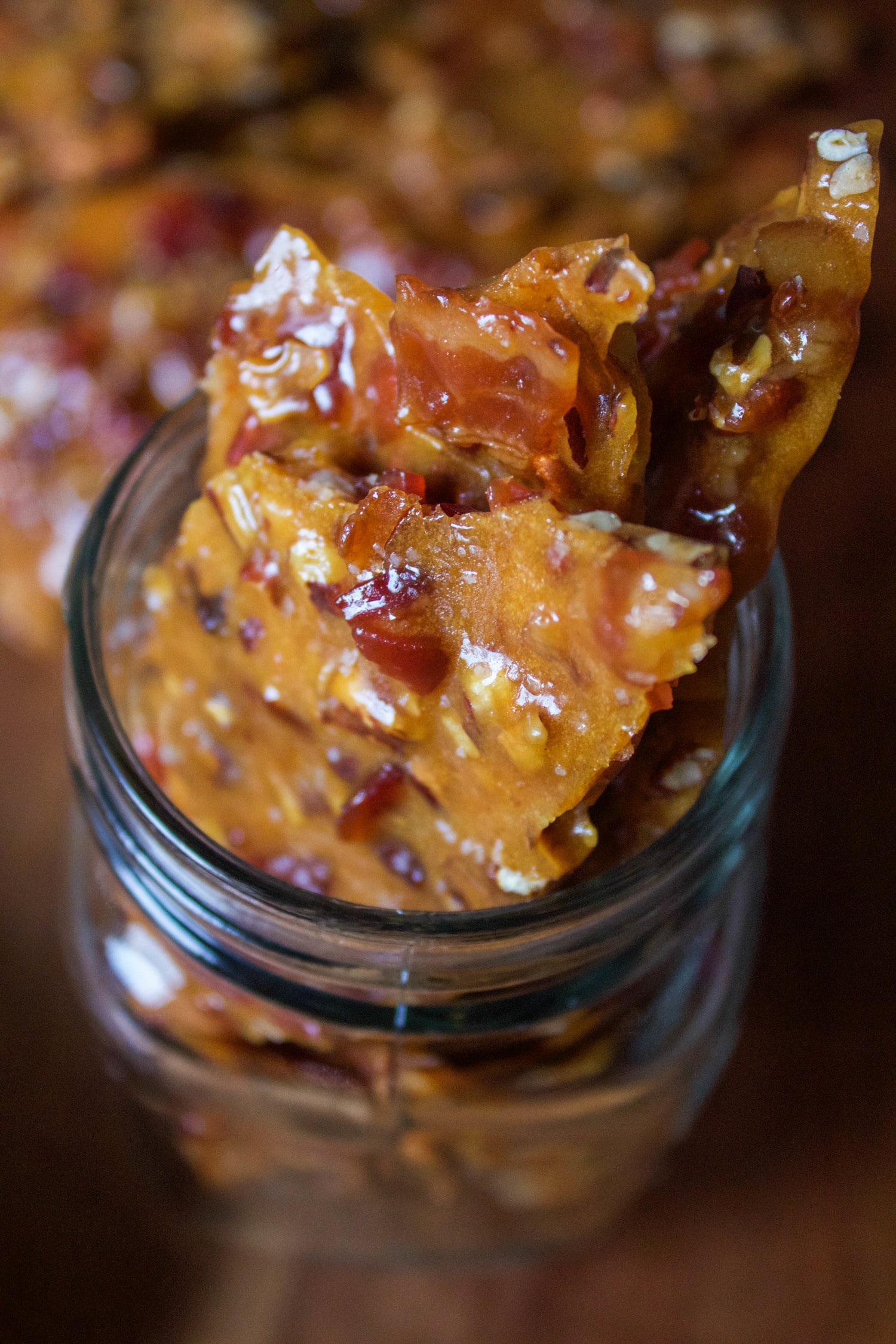 You may be thinking this candied bacon sounds complicated, but I promise, it's not! Just throw some bourbon and brown sugar on them, pop them in the oven and wha-la!
The slightly tricky part of this recipe is the actual brittle. The timing of when you pull it off the heat and the amount of time you have to get it spread out makes it challenging. But that's what makes it fun!
And like 100 times more rewarding when it works.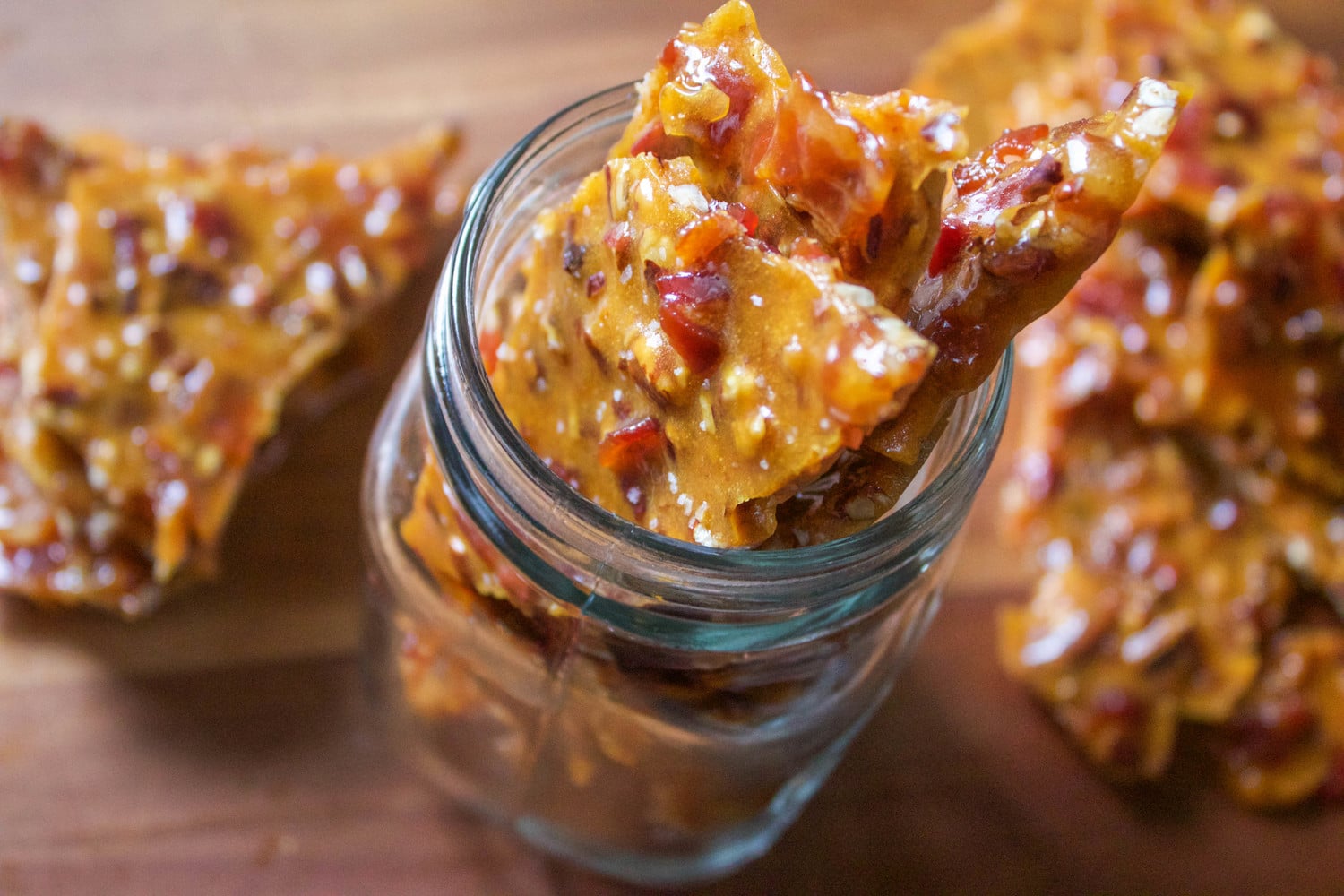 This recipe is made for sharing. Wrap it up during the holidays and give it as a gift, set it out at parties, share with your friends or even add it to ice cream.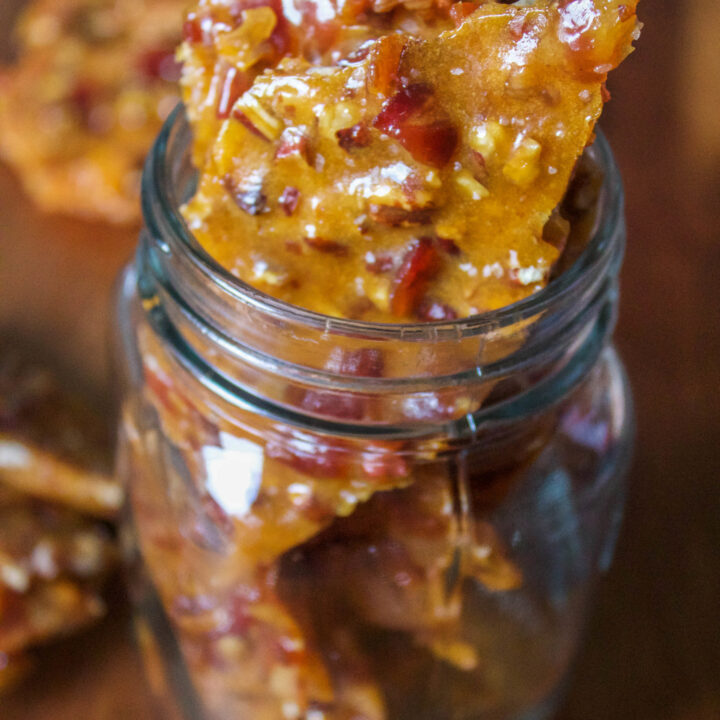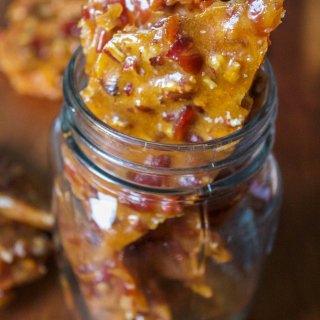 Bourbon Bacon Brittle
Sweet, salty and crunchy, this Bourbon Bacon Brittle is a delicious snack or amazing added to recipes like ice cream and popcorn.
Print
Pin
Rate
Save
Saved!
Ingredients
For the Candied Bacon:

12

strips thick cut bacon

3

tablespoons

bourbon

3

tablespoons

brown sugar

For the Brittle:

1

cup

granulated sugar

½

cup

light corn syrup

½

cup

water

1

tablespoon

unsalted butter

2

tablespoons

bourbon

1

teaspoon

vanilla

1

teaspoon

baking soda

½

cup

chopped pecans

sea salt for sprinkling
Instructions
For the Candied Bacon:

Preheat oven to 400 degrees.

Lay bacon strips on a foil lined baking sheet. Brush bacon with bourbon and sprinkle with brown sugar on both sides.

Bake for 13-15 minutes, until it starts to caramelize and becomes crispy.

Chop the bacon with a knife into small bite size pieces.

For the Brittle:

Spread the pecans on a baking sheet and lightly toast them in the oven at 400 degrees for 7 minutes.

Line a baking sheet with a silpat mat or parchment paper.

Make sure you have all the rest of your ingredients measured and ready to pour in the brittle when it gets to the candy stage. You can mix the vanilla and bourbon and the bacon and pecans together to make it easier.

In a medium sauce pan, combine the sugar, corn syrup and water over medium heat. Stir constantly until the sugar dissolves and the mixture starts to boil.

Increase the heat to high and cook, without stirring, until it reaches 290°F using a candy thermometer. I recommend using one, but if you don't have one, boil until it turns a golden amber color. Once it reaches this temp add the bourbon, bacon and pecans. Mix and allow mixture to get to 310°F. Immediately remove from heat.

Quickly stir in butter, vanilla, and baking soda.

Pour mixture onto the prepared baking sheet as quickly and thinly as possible. Use a wooden spoon to spread it if necessary.

Sprinkle with sea salt right away and cool for at least 20 minutes. Once it set, break into pieces and enjoy!

Can be stored in an air tight container for up to a week.
Note: This recipe was tested again and updated so the mixture reaches 310°F.