The flavor combination in this beef tenderloin appetizer will impress everyone at your holiday gathering. The tenderloin is cooked perfectly to medium rare and rolled up with an herby goat cheese, sweet caramelized onion and topped with a tangy balsamic glaze.
Looking for another delicious appetizer recipe? Try fried goat cheese, beef satay, or bacon wrapped dates.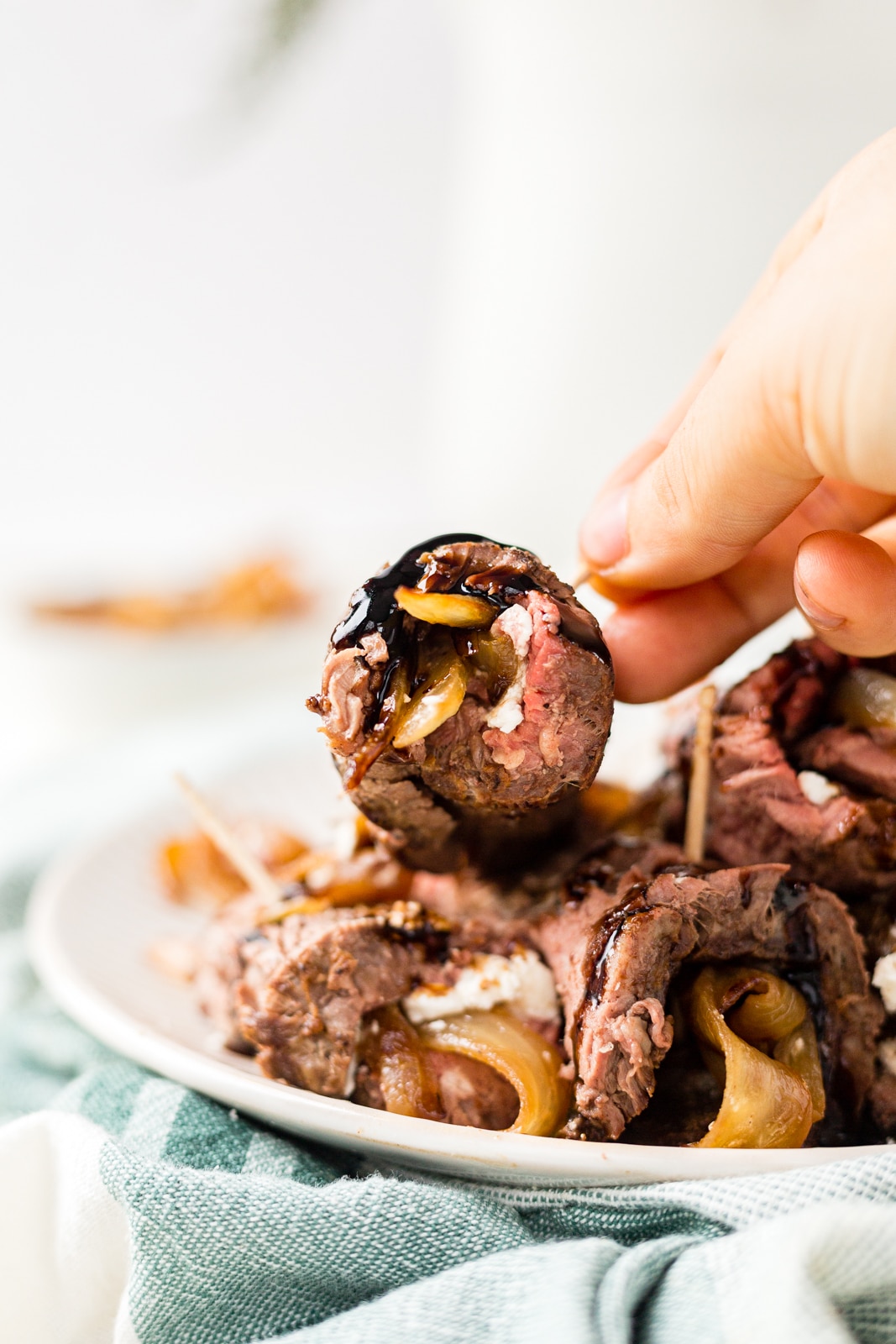 This holiday season will look different for many families. No matter how you celebrate with loved ones, make beef the center of your holiday feast! Tenderloin is such a show stopping cut of beef that it's the perfect cut to celebrate the holidays.
The top cuts of beef for the holidays include:
Prime Rib
Tenderloin Roast
Strip Roast
What is beef tenderloin?
The tenderloin is a cut of beef that comes from the short loin of the cow. Because it isn't weight bearing, this cut is very tender and contains less connective tissue. It tends to have less flavor (because there's less fat), but it's sought after for how tender it is.
Did you know? Filet mignon is a cut of the beef tenderloin. We're using the whole tenderloin in this recipe, but if you wanted to make filet mignon, you'd buy the individual steaks, which are just steaks cut from the large end of the tenderloin.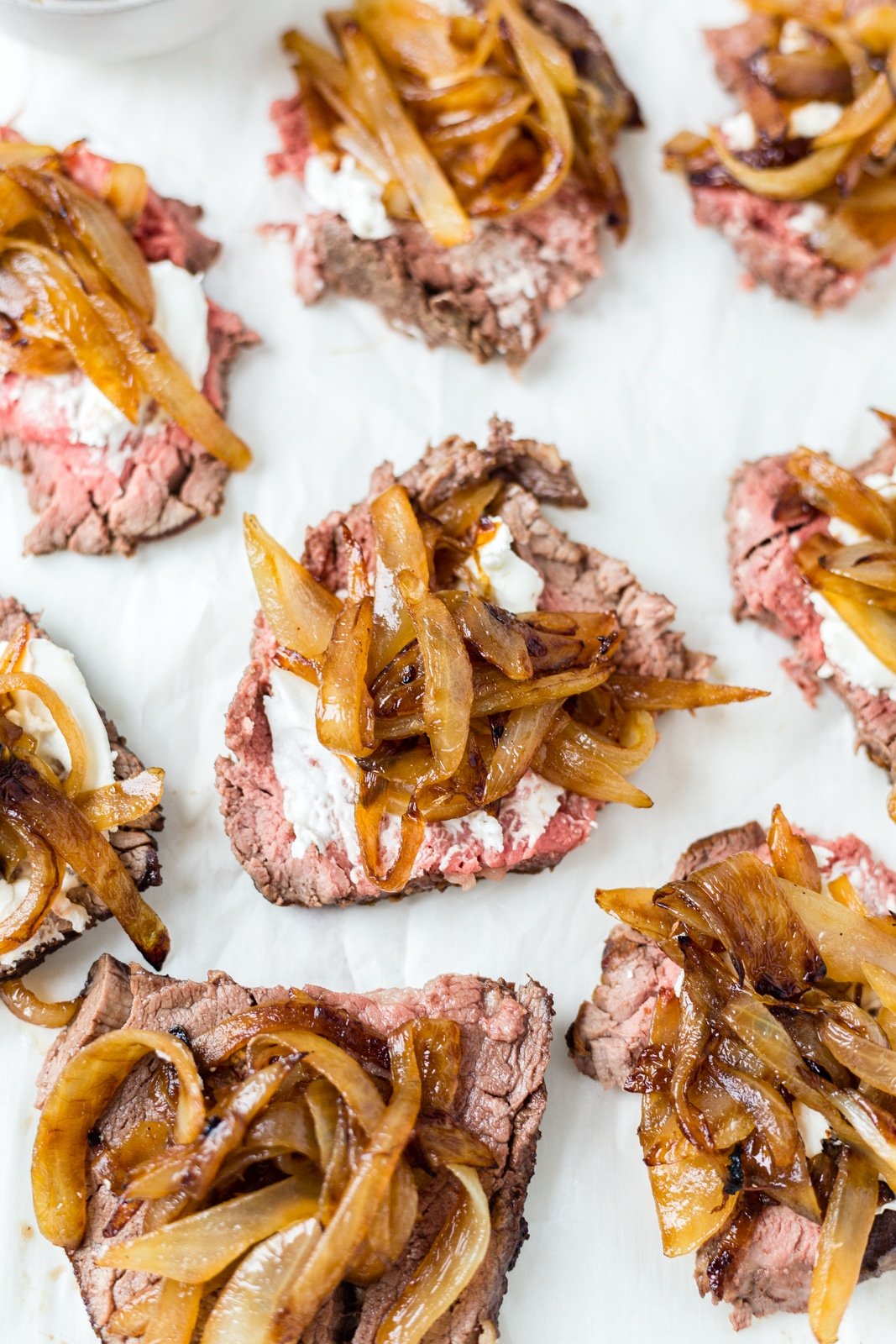 Buying Tenderloin:
The best way to buy tenderloin is asking the butcher for a 2 pound tenderloin that's been peeled, trimmed and the side muscle removed. See the video below for what the tenderloin should look like!
If you're only able to buy a whole tenderloin (not prepped and ready), here's a great video on how to break down a tenderloin at home. You won't cut it into steaks, you'll leave it whole!
Ingredients for this Beef Tenderloin Appetizer:
beef tenderloin
balsamic vinegar
olive oil
yellow onion
goat cheese
fresh rosemary
coconut sugar
salt and pepper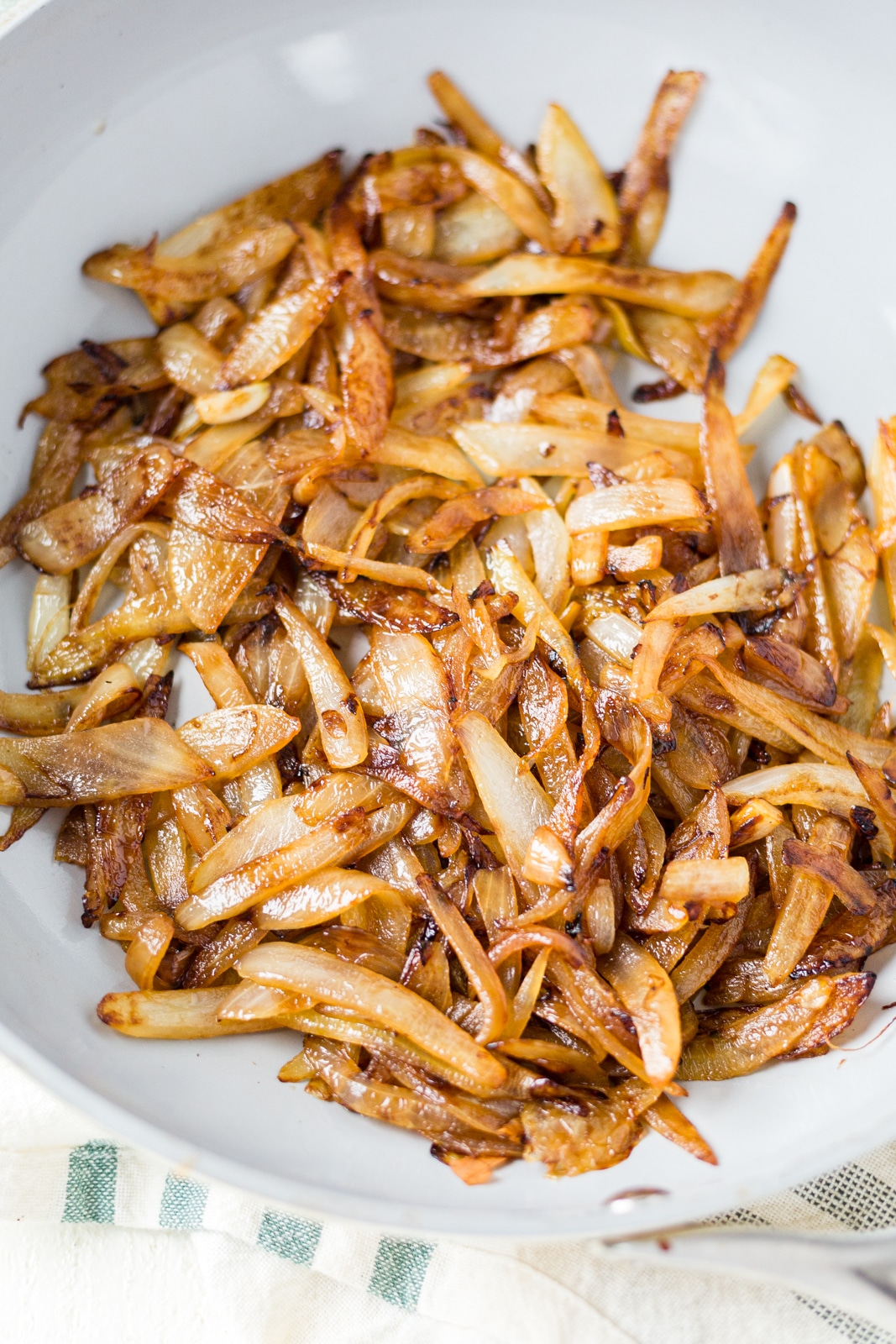 Tips for beef tenderloin roll ups:
When the tenderloin is removed from the oven, transfer it to a cutting board and cover it loosely with foil (known as tenting) to set it rest before cutting it.
Use a meat thermometer to determine when your tenderloin is done. A thermometer inserted into the thickest portion of the tenderloin should read between 135°-145°F. It will continue to cook (called carry over cooking) while it's resting.
Cook your onions low and slow and keep an eye on them constantly so they don't burn.
You'll know your balsamic glaze is done when it's thick enough to coat the back of a spoon.
Related: Internal Temperature of Beef | Determining Doneness
How to make this recipe in advance:
If you're hosting a small gathering, you may not have time to prep these while entertaining guests. Here are a few things you can do in advance. Up to 3 days before, make the balsamic glaze and goat cheese. Before guests come, marinate the tenderloin and roast it. Slice, roll and serve when you're ready!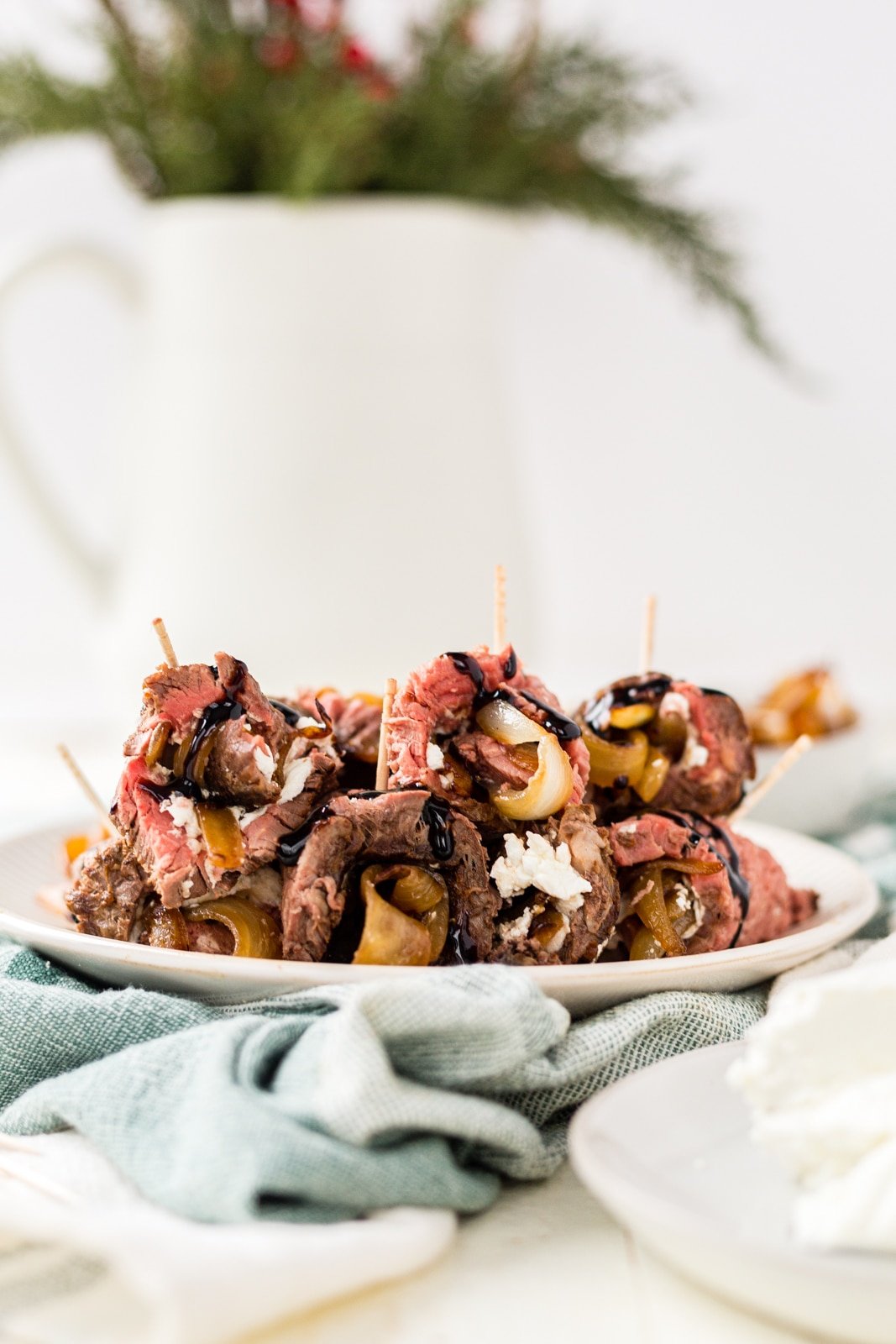 If you love this recipe, please don't forget to leave a star review, comment and come hang out with me on Instagram!
This recipe is sponsored by The Ohio Beef Council. All thoughts and opinions are my own. I'm so grateful for brands like them that believe in me and my recipes so I can keep sharing free ones with you! Give them a follow on Facebook and Instagram for more fact and tips!
More great holiday recipes: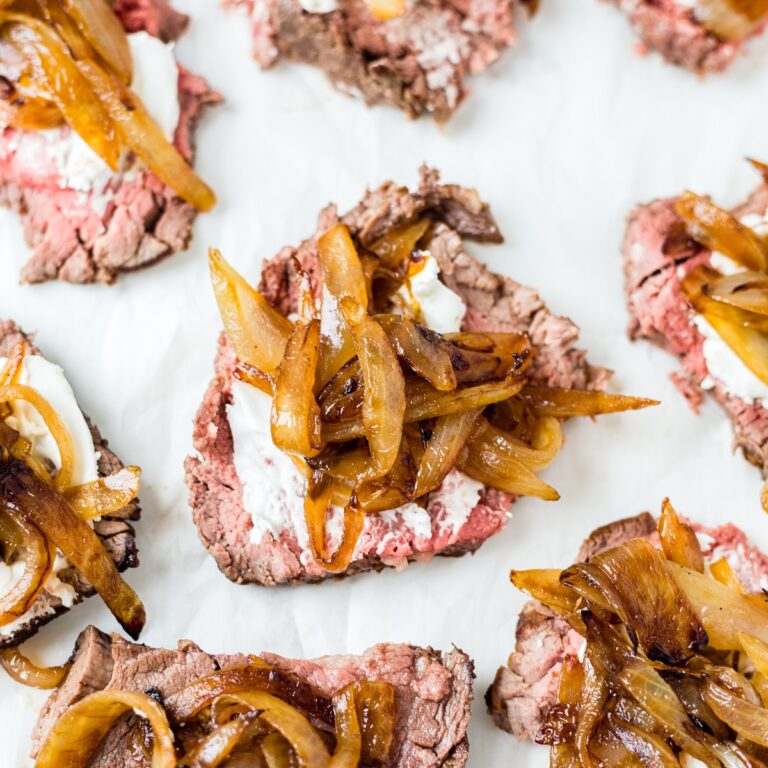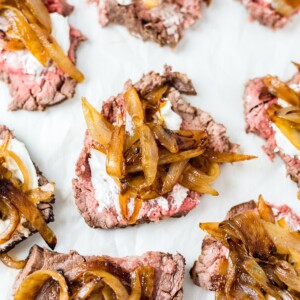 Beef Tenderloin Roll Ups
The flavor combination in these beef tenderloin roll ups will impress everyone at your holiday gathering. The tenderloin is cooked perfectly to medium rare and rolled up with an herby goat cheese, sweet caramelized onion and topped with a tangy balsamic glaze.
Print
Pin
Rate
Save
Saved!
Servings:
6
(2 roll ups each)
Ingredients
For the beef:
2

lbs

beef tenderloin

¼

cup

balsamic vinegar

2

tablespoons

olive oil

1

tablespoon

worcestershire sauce

or coconut aminos

1

clove

minced garlic

½

teaspoon

salt

14/

teaspoon

pepper
For the caramelized onion:
2

tablespoons

olive oil

1

medium yellow onion

sliced
For the goat cheese:
4

ounces

goat cheese

1

teaspoon

fresh chopped thyme

½

teaspoon

salt

¼

teaspoon

black pepper
Balsamic glaze:
1

cup

good quality balsamic vinegar

¼

cup

coconut sugar

or brown sugar
Instructions
Add the tenderloin, balsamic vinegar, olive oil, worcestershire sauce, garlic, salt and pepper in a bag and marinate for 25 minutes.

While it's marinating, preheat the oven to 475°F and line a baking sheet with foil or a silpat mat. If you have a grill pan you can use that too. Set aside.

When the tenderloin is marinated, remove from the bag, discard any extra marinade and place in the middle of the prepared baking sheet. Bake at 475°F for 10 minutes then reduce the heat to 425°F and bake for an additional 20 minutes or until the internal temperature reaches 125-130°F. Do not overcook or the beef will be dry.

While the beef is roasting, make the fillings. Start by making the caramelized onion. Add the olive oil to a large saute pan over medium heat. When the oil is hot, add the sliced onion and cook, stirring frequently (almost constantly), for 15-20 minutes until the onions soften and turn a dark amber color. The natural sugars release from the onion and caramelize.

When the onions are done, make the goat cheese. Add the goat cheese to a small bowl and add the salt, pepper and fresh rosemary. Use the back of a fork to mix it all together and set aside.

At this point, the beef should be done, check the internal temperature by inserting a digital thermometer into the thickest part of the beef. It should read around 140°F. Place it on a cutting board and cover it with foil to rest for 15-20 minutes.

While it's resting, make the balsamic glaze. You can use the same pan that you cooked the onions in. Pour the balsamic vinegar into the pan and add the sugar. Cook on medium-high to bring to a gentle boil then reduce the heat to low and simmer for 10-15 minutes, until it's reduced in half and is thick enough to coat the back of a spoon. Remove from heat and allow to cool while you assemble the roll ups.

Thinly slice the beef against the grain and lay flat on a cutting board. You should have between 12-14 thin slices. Spread the goat cheese on top of each slice and top with caramelized onion. Starting at the short end, roll the tenderloin up tightly and place a toothpick in the center to hold them together. Drizzle with balsamic glaze before serving.
Notes
Make ahead: make the glaze and goat cheese up to 3 days in advance. You can cook the tenderloin the day before if serving these cold!
Nutrition
Serving:
2
roll ups
|
Calories:
381
kcal
|
Carbohydrates:
17.1
g
|
Protein:
32.1
g
|
Fat:
19.2
g
|
Cholesterol:
90.6
mg
|
Sodium:
518
mg
|
Fiber:
0.5
g
|
Sugar:
14.6
g