Oatmeal breakfast cookies with cinnamon and apples! These healthy cookies are made with oats, cashew butter, apples, cinnamon and they only need one bowl! They're a healthy make ahead breakfast for sure!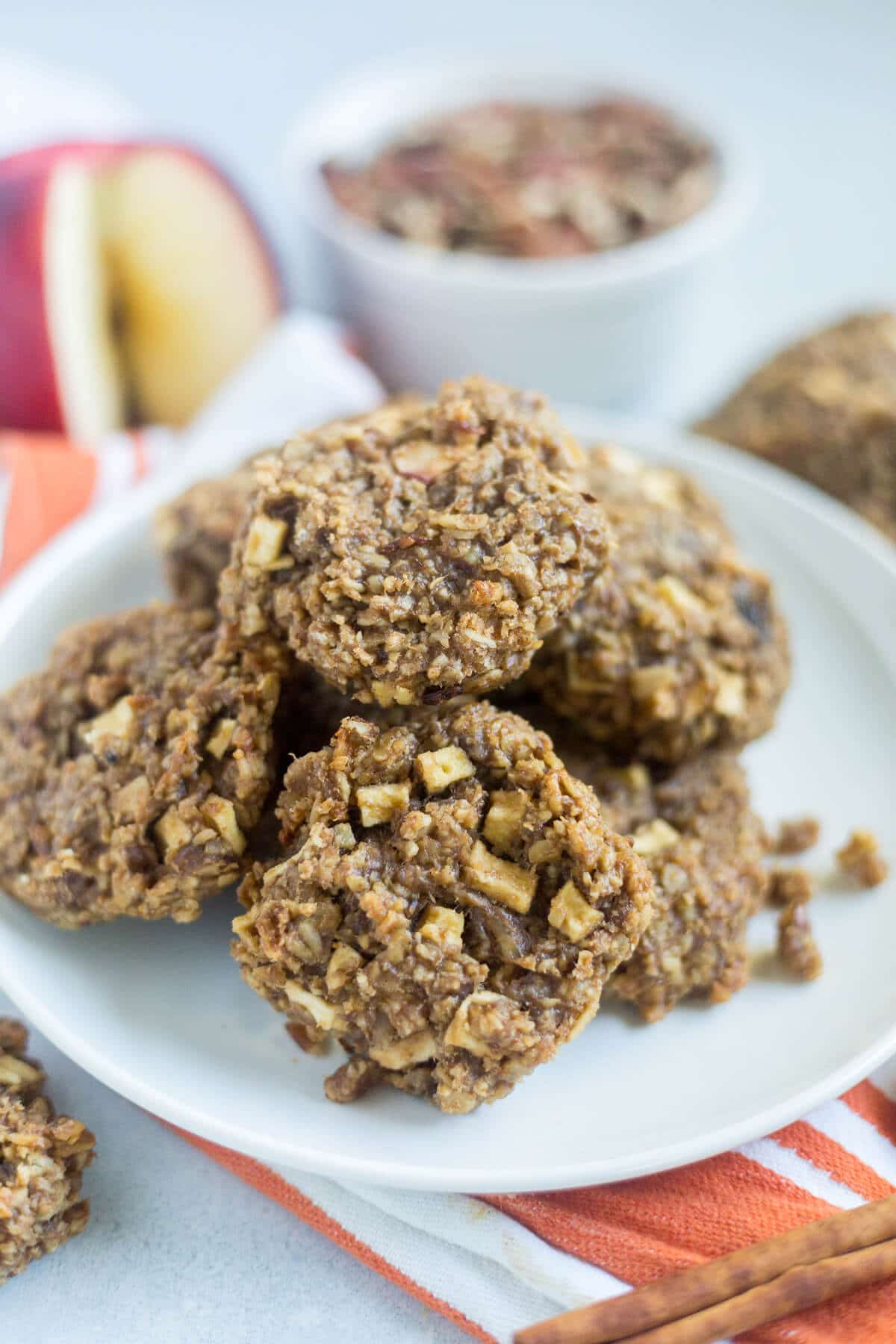 Are cookies the best or are cookies the best?
They are definitely the best. Especially when they'r one-bowl-healthy-eat-them-for-breakfast cookies.
Side note??: I just misspelled definitely 4 times and couldn't figure it out. Like when you spell it so wrong spell check doesn't even know what you're trying to say.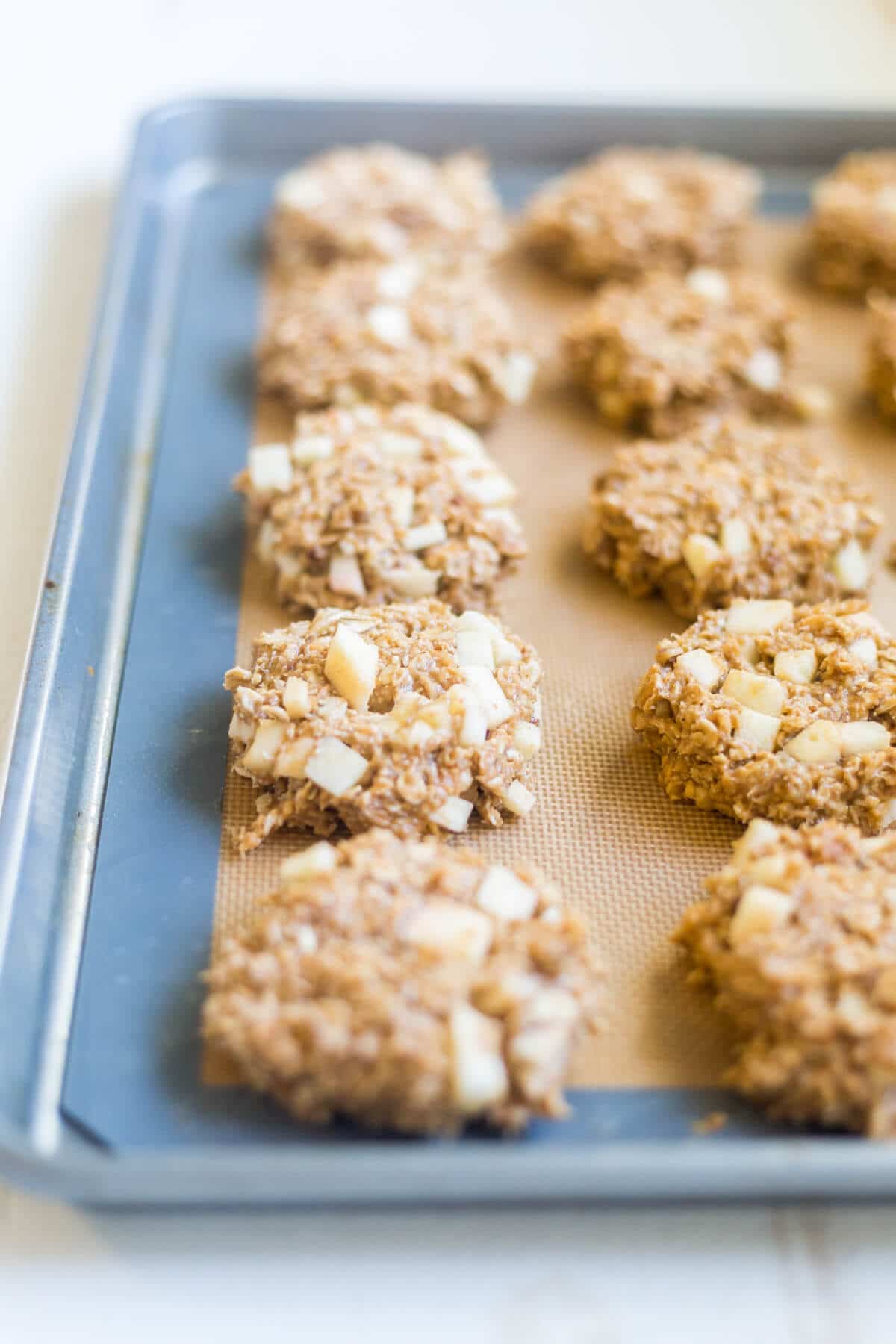 Anyway, oatmeal breakfast cookies.
It's a recipe that requires zero thinking whatsoever. All ingredients go into a bowl. You mix said ingredients with a spoon and plop them on a baking sheet and then you're done. And then you have breakfast for the entire week. Can I get an amen???
Breakfast is ALWAYS a struggle for me. Not because I'm one of those "I'm not hungry in the morning" people. Because I'm totally hungry all the time. It's more because I'm one of those "wake up at the last minute possible" kind of people.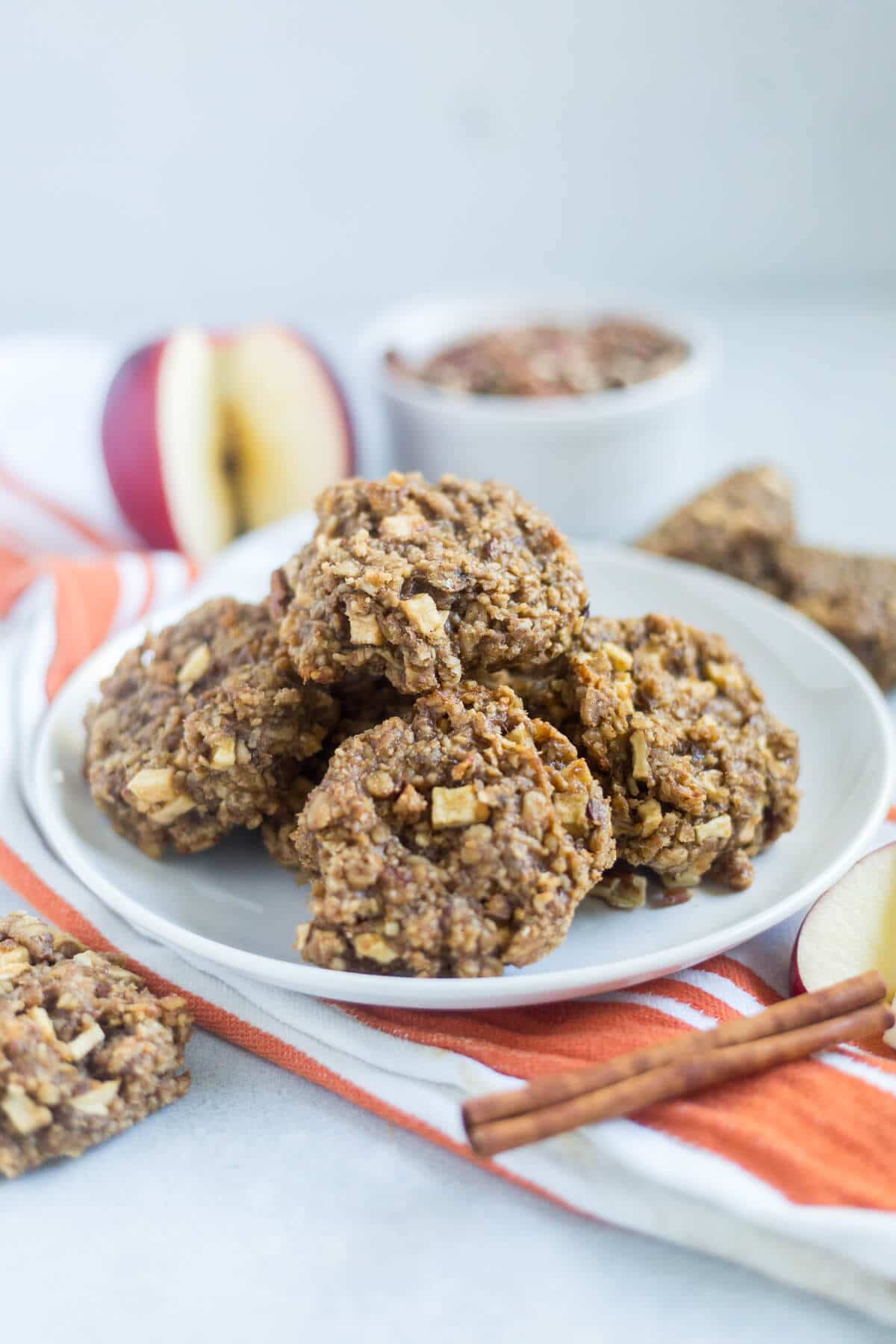 I leave just enough time to do my morning routine, not a minute more. I'm no scientist, but I've definitely got the time thing down to an exact science. And normally breakfast is not involved in the equation. I've been obsessing over bulletproof coffee and doing intermittent fasting so no breakfast was happening.
Then I made oatmeal breakfast cookies.
Another side note: these are called oatmeal breakfast cookies but you aren't required to eat them in the morning. They're delicious at any hour. It's more so you know it's totally acceptable to eat cookies for breakfast. Though if you're here reading this then we're friends and I have a good feeling you already know that.
Case in point: Zach ate ½ of this batch of oatmeal breakfast cookies at 10pm on a Saturday night. Post s'mores-making and cookout. Your boy has a stomach the size of Texas.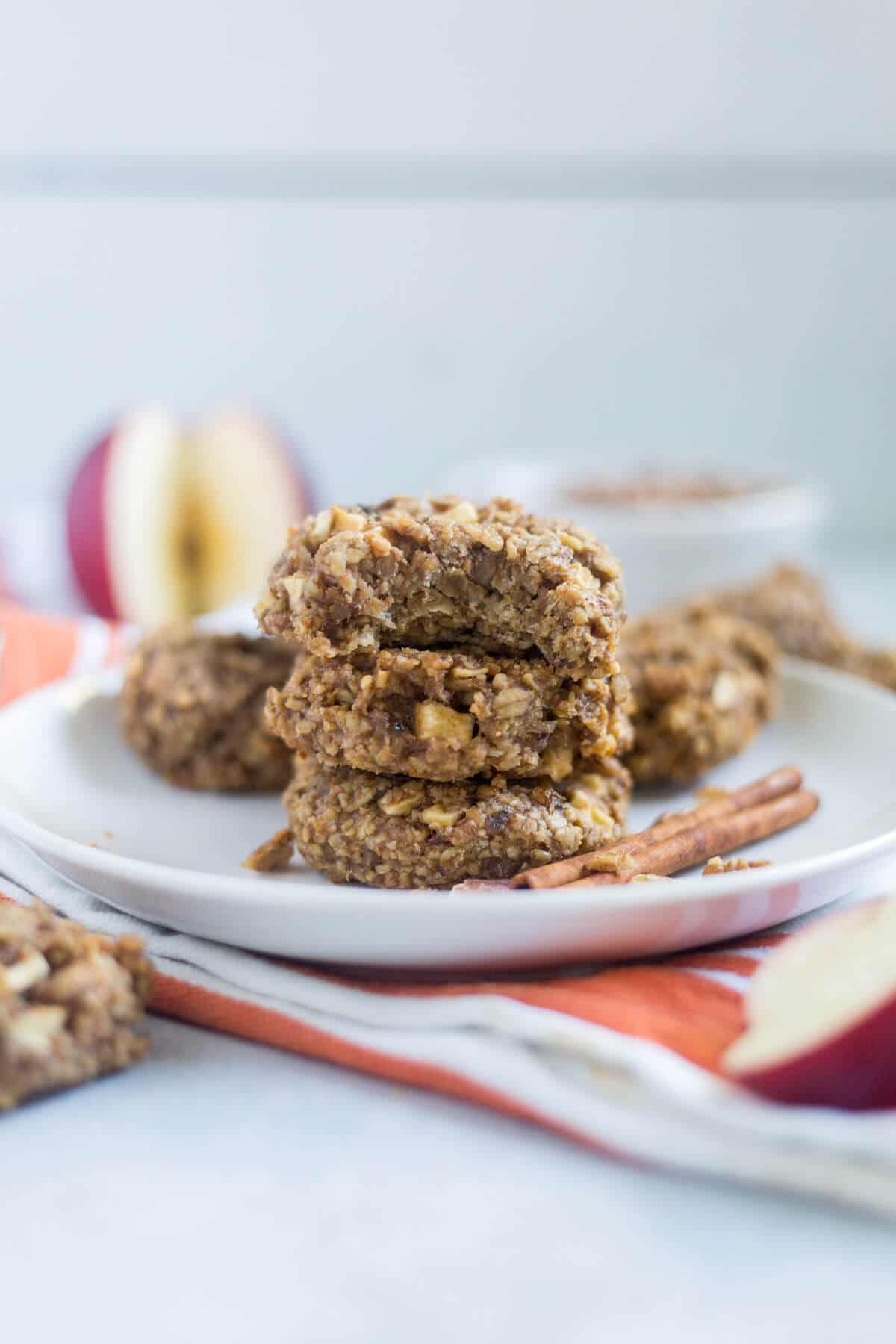 BUT if you aren't a morning person and never leave enough time to make those dang eggs AND clean the pan then you may want to hide these breakfast cookies from your fam and save them for the mornings.
One bowl (aka one bowl to clean) and you've got breakfast for the week. These apple cinnamon oatmeal breakfast cookies only require one bowl because they're thick and filled with apples and oats so they don't require as much precise measuring as a traditional chocolate chip cookie.
I feel like I want to break it down with How to Make Breakfast Cookies heading like I usually do but they're so easy I would have like one thing to say: put everything into a bowl and you're done.
So instead I'll just tell you another few reasons why I love apple cinnamon breakfast cookies.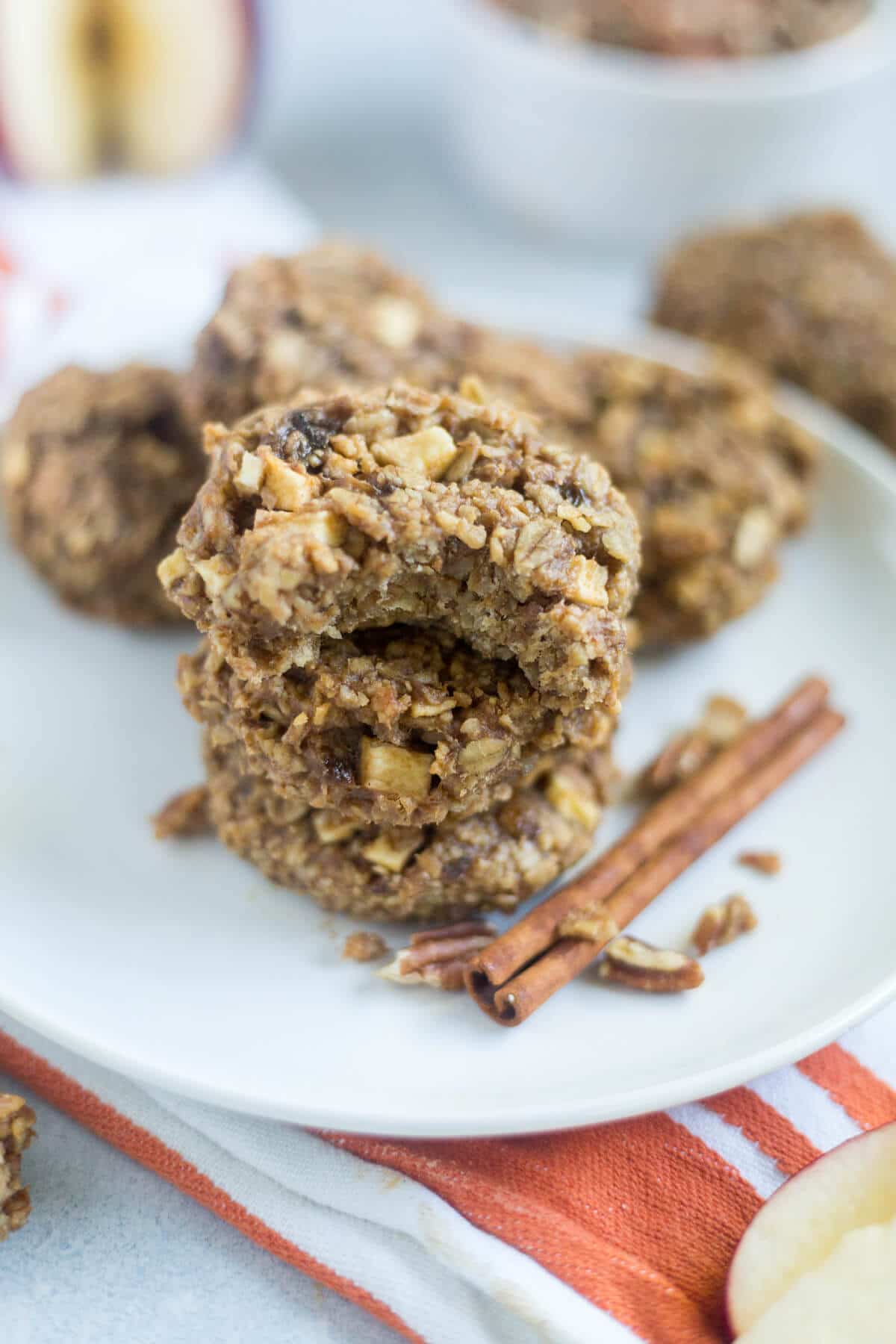 A few notable reasons include:
Adaptability! Don't like cinnamon? Don't use cinnamon. Don't have a fresh apple on hand? Use the frozen blueberries in your freezer. Or the cranberries in your fridge. Or the can of diced peaches in your pantry (drained). Want a little extra protein? Add a scoop of your favorite vanilla to the mix. The base of this recipe is like a blank canvas and you're like the artist.
Cashew butter is my kryptonite. Cashews in general, really. If you're a healthy baker they're a must-have. You can make cheesecake, caramel, tart crusts and so much more with cashews. But also, if you don't have cashew butter handy you can use almond butter, peanut butter or any kind of nut butter. It's a blank canvas, remember.
Did I mention it's a cookie for breakfast?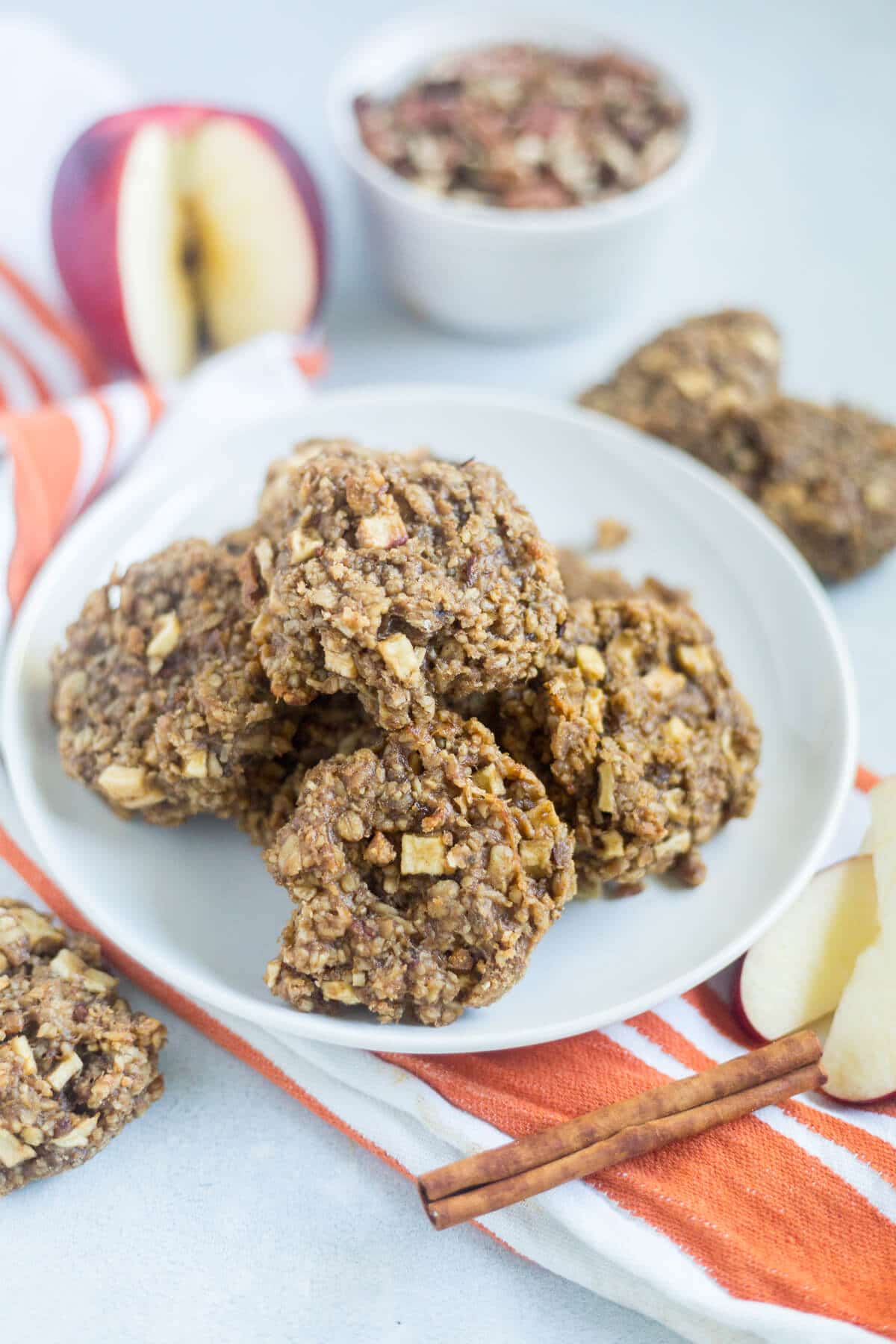 Also, if you're really going above and beyond you can make a double batch and freeze some. I'm talking one giant bowl and breakfast for months. These breakfast cookies freeze really well, up to 3 months. That's like making these today and having breakfast made for January. Weird, but cool.
Who else loves breakfast for cookies?!??
If you love these as much as I do (which is a lot) then don't forget to show me on insta with @what_mollymade or #WhatMollyMade!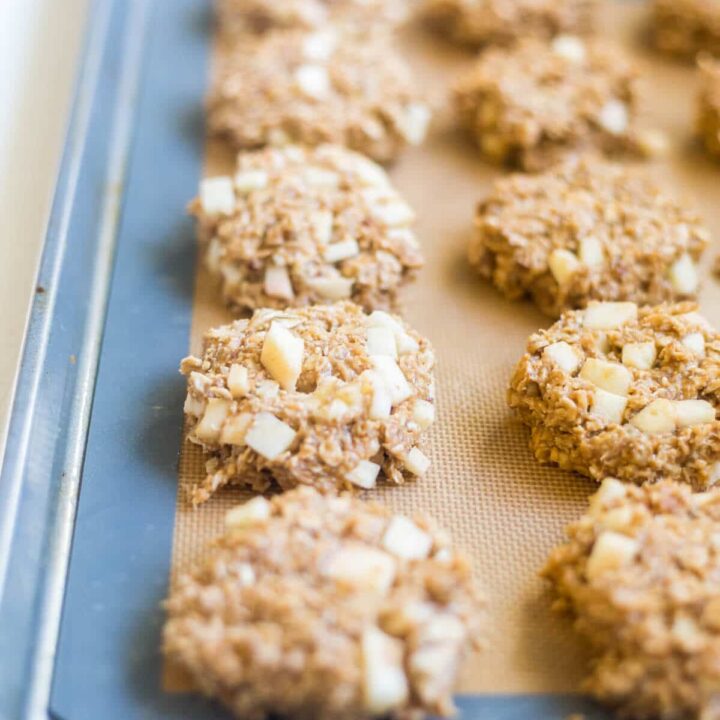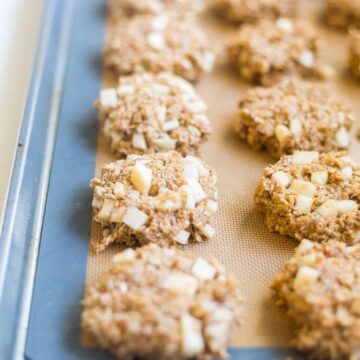 Ingredients
2

ripe medium bananas

mashed

2

and ½ cups old-fashioned whole rolled oats

use gluten free oats for GF option

1

cup

nut butter

I used cashew

½

cup

chopped pecans

almonds or walnuts

⅓

cup

maple syrup

1

teaspoon

pure vanilla extract

½

teaspoon

ground cinnamon

½

teaspoon

salt

1

cup

apples

peeled and diced (about 1 large apple)
Instructions
Preheat oven to 325°F. Line a large baking sheet with parchment paper or a silicone baking mat and set aside.

Add all of the ingredients to a large bowl and mix together with a rubber spatula or wooden spoon until combined.

Scoop ¼ cup mounds of dough onto prepared baking sheets. The cookies don't spread so gently press the mound down with the palm of your hand to create a flatter shape. Bake for 19-22 minutes or until lightly browned on the top and sides.

Allow cookies to cool on the baking sheet for 5-10 minutes then transfer to a wire rack to cool completely.

Serve immediately or store baked cookies in an airtight container at room temperature for up to 1 week or in the freezer for up to 3 months.
Here are a couple of items I used to make today's recipe:
Cashew Butter
, Old Fashioned Regular Rolled Oats
, 100% Pure Maple Syrup
Some of the links above are affiliate links, which pays me a small commission for my referral at no extra cost to you! Thank you for supporting What Molly Made!