Who can resist soft and chewy M&M cookies? These easy to make drop cookies are mixed with a secret ingredient: vanilla pudding! They make the cookies soft and chewy for days.
It's the last and final day of my Christmas cookie extravaganza and I saved one of the most delicious and festive for last. The recipe is adapted from my absolute favorite chocolate chip cookies recipe so you know it's going to be delish.
If you haven't been keeping up to date on all six cookie recipes I've shared this week I'll do a quick recap!
Monday: Giant Ginger Cookies
Tuesday: Sugar Cookies
Wednesday: Triple Chocolate Cookies
Thursday: Soft Maple Cookies
Friday: Hazelnut Sandwich Cookies with Nutella Ganache
Saturday: Funfetti Sugar Cookies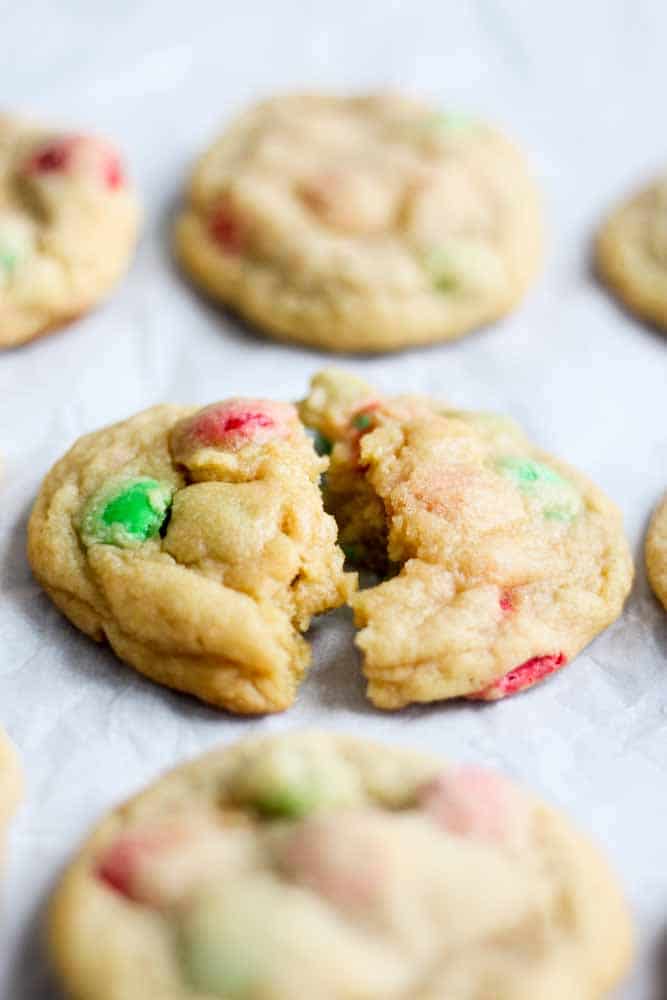 And that leaves us here, the very last day of Christmas cookie sharing. But not the very last day of Christmas cookie baking for any of us, I hope.
I've got all of the ingredients for my Giant Ginger cookies ready in my pantry to make for a Christmas party Zach and I are hosting next weekend.
I'll be throwing them in the freezer until Friday night and pulling them out to thaw to be perfectly soft and chewy for our party Saturday. And I'm doing the exact same thing with these! I love how you can freeze cookies for months and pull them out of the freezer and they're just as soft and chewy as the day you baked them.

But to make sure these soft and chewy M&M cookies stay soft and chewy I've got some helpful tips:
Make sure you have parchment paper on hand. Of course you can make them using a silpat mat but I've made these using both and I swear by the parchment paper. It makes them bake evenly without the bottom browning before the tops are set. I swear it makes a difference.
Make sure your butter is perfectly softened. I leave mine out the night before if I'm making them in the morning or leave it out a couple of hours prior to getting started, at least 3 hours. When you push on the butter you should leave a finger indent in the butter.
Cream the butter and sugar together for at least 3 minutes. Do not skip this step. Beating them together on high speed introduces air into the mixture and creates a light and fluffy texture. It's what makes the cookies rise really high and become really thick when you bake them.
Use a full 1/4 scoop of dough to bake these. If you follow the above steps these cookies will bake to thick and chewy perfection. It seems like a lot of dough but I promise they bake just as thick as they do wide.
I make these cookies constantly during the year whenever I need to take baked goods anywhere. Depending on the occasion I either throw in chocolate chips or different colors of M&Ms. They are my go-to and a guaranteed crowd pleaser. I recently made these for a group and one person said, "holy crap this is the best cookie I've ever had in my life."
That right there is why I bake. Brining happiness and smiles to the people around me. Which is what the Christmas season is all about right? And why I made these soft and chew M&M cookies with red and greed M&Ms.
And why they are one of my favorite Christmas cookies to make this time of year. I can't wait to share them with all of my friends next weekend! And I hope you make them soon too!
Thank you so much for following along with me this week while I shared my favorite Christmas cookies this week. It means so much to me that all of you read and try my recipes!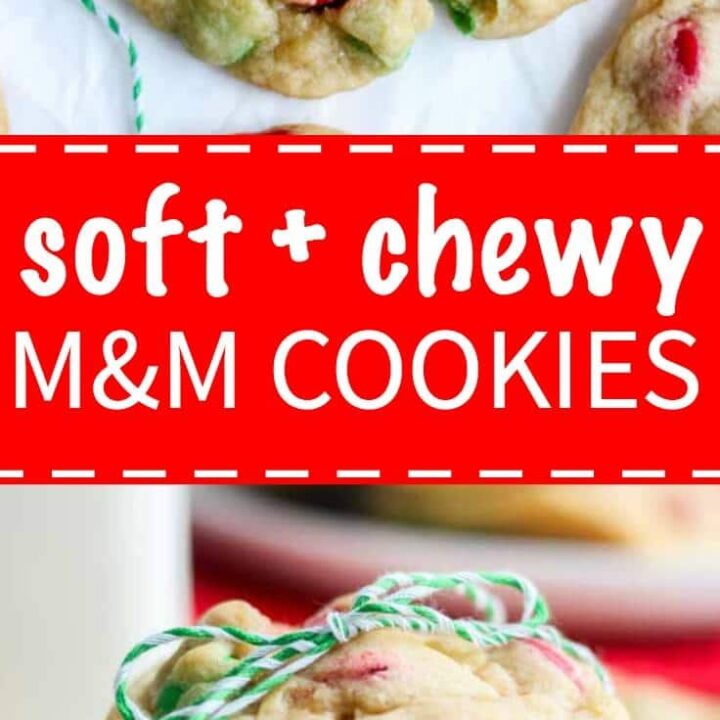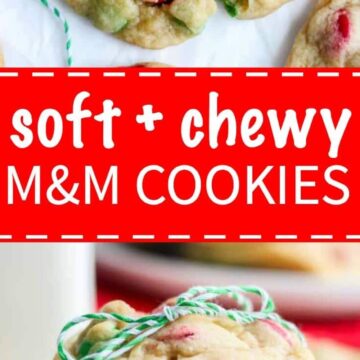 Ingredients
2¼

cups

all purpose flour

1

teaspoon

baking soda

½

teaspoon

salt

1

cup

2 sticks unsalted butter, softened

¾

cup

brown sugar

¼

cup

granulated sugar

3.4

ounces

vanilla instant pudding mix

2

large eggs

1

teaspoon

vanilla extract

1 3/4

cups

M&Ms

1 bag
Instructions
Preheat oven to 350 degrees. Line baking sheet with parchment paper and set aside.

In a medium bowl, whisk together flour, baking soda and salt and set aside.

Using a stand or electric mixer or stand mixer, beat the butter and sugar until light and creamy for at least 3 minutes. Add the pudding mix, vanilla and eggs and beat until well combined.

Slowly add the dry ingredients to the wet ingredients and mix until just combined. Add the M&Ms and stir with a rubber spatula.

Drop cookies by the 1/4 cup onto the prepared baking sheet. Bake for 10-12 minutes, or until slightly golden and just set on the top. Allow to cool on the baking sheet for two minutes then transfer to a baking rack to cool completely.
DID YOU MAKE THIS RECIPE!? SNAP A PIC AND TAG @WHAT_MOLLYMADE AND USE #WHATMOLLYMADE!
See all Christmas Cookie Recipes.