This raspberry cream cheese pound cake is so moist and filled with real fruit and dollops of raspberry preserves. Made with boxed cake mix, the cream cheese and pudding pack creates the perfect texture! Make this for loved ones on Valentine's day to show them how much you care❤️.
For a quick, 10-minute raspberry dessert, try these chocolate covered raspberries with white and dark chocolate.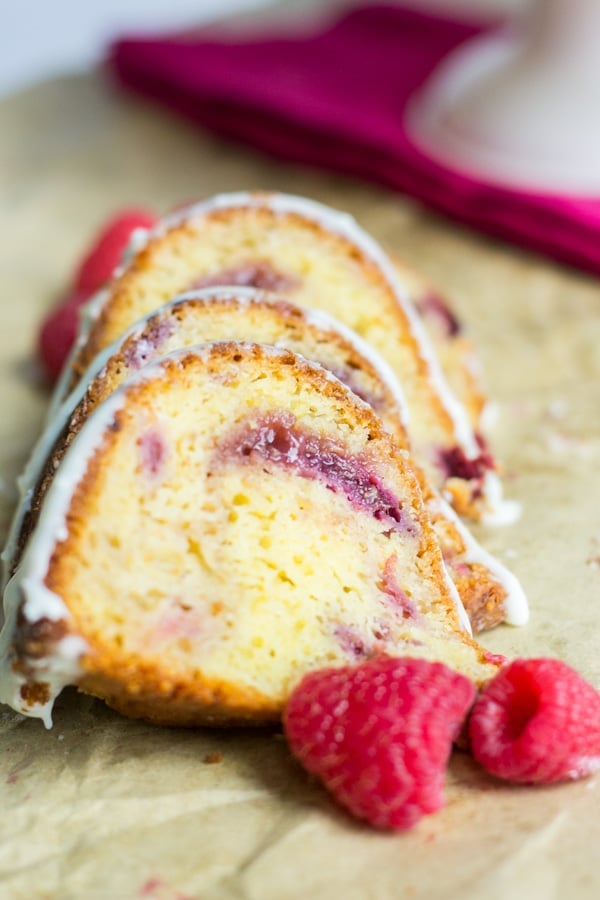 I'm a firm believer in the fact that baked goods do a lot more than giving someone a yummy dessert. It's a labor of love and a delicious baked good can say so many things like, hope you have a great day, I've been thinking of you, or I really appreciate you. All things we try to achieve on Valentine's Day!
I've always loved making people delicious treats on this special holiday. And this raspberry cream cheese pound cake screams I love you! If you want to show someone how much you love them, you could also make them these white chocolate raspberry muffins (muffins are my love language hint hint).
Reasons this Raspberry Cream Cheese Pound Cake is so easy
It starts with a boxed cake mix. I love making homemade cake, don't get me wrong. But I also love dressing up boxed mixes with yummy additions. I used yellow butter cake mix in this recipe because the flavor is so delicious. I used Duncan Hines Butter Golden to be exact. You can find it in the baking aisle with all of the other cake mixes!
You likely have all of these ingredients in your fridge or pantry. Vegetable oil and cream cheese are staples for us baking so my guess is you've got them ready to go! I always have a stash of instant vanilla pudding (for my chocolate chip pudding cookies) so that's easy enough. Eggs? Yup. If you've got these all you need is a pit stop for raspberries/raspberry preserves and you're ready to make this raspberry cream cheese pound cake.
It takes only a few minutes to mix up. The ingredients are so simple and there's hardly any measuring. So you dump it all in and beat until smooth. From there you put it in the oven and forget about it until your oven starts to smell like raspberry heaven.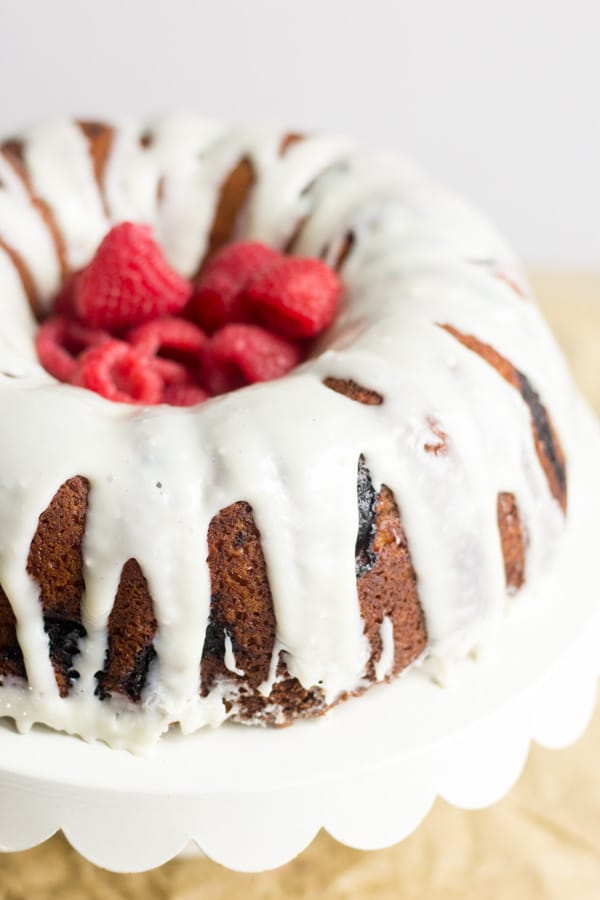 And if you need any more reason to make this, then please just take a look at these pictures! This cake was so moist it almost melts in your mouth. I loved eating it warm with ice cream.
Bonus! Kids will love it too. The first time I tested this recipe I took the finished cake home to visit my parents for the weekend. We were celebrating my nephew's 3rd birthday and this is the cake that we stuck the candles in! Yep, it doubles as a birthday cake too! He isn't the best eater and he downed this cake in minutes.
Right after he adorably attempted to blow the candles out. Seriously, I know I'm biased but he is just about the most adorable human being on this planet and it made my day to bring him so much joy through this yummy cake.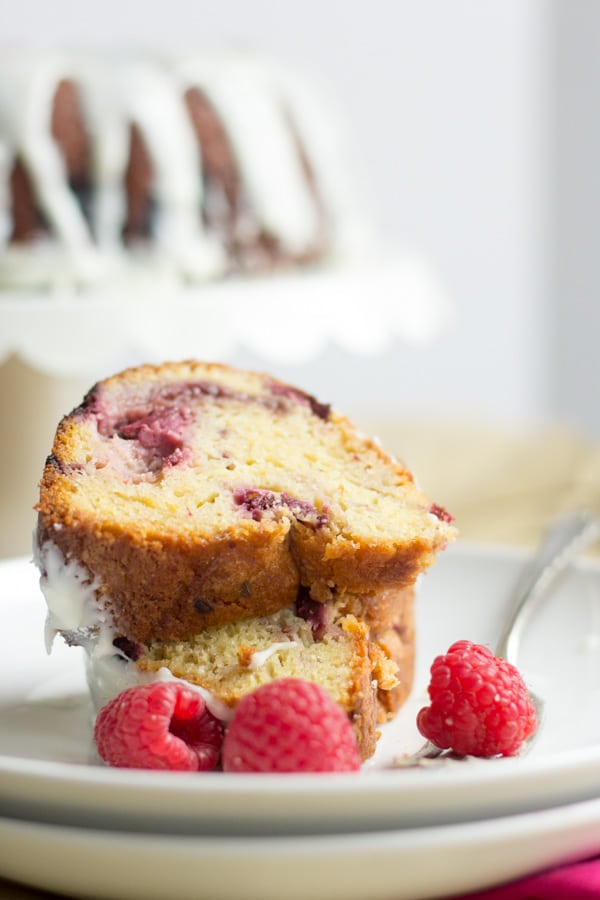 And that's my hope for you! That you make this cake for loved ones and it brightens their day, brings them joy and ultimately brings you closer together!
Happy Valentine's Day❤️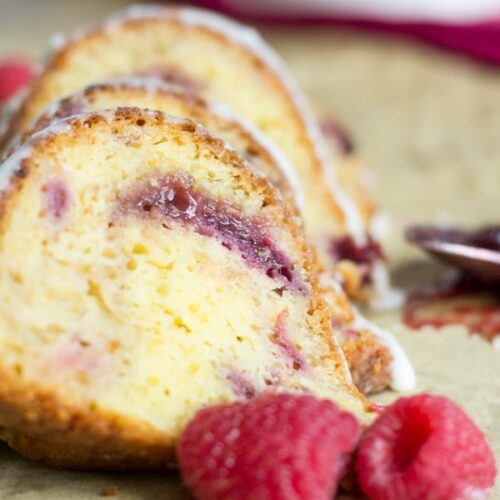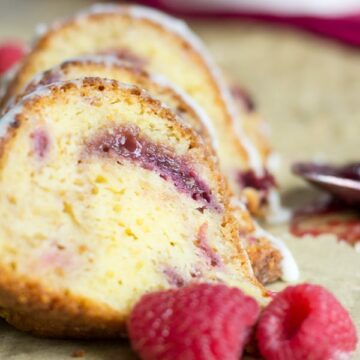 Ingredients
Cake:

1

8 ounce package cream cheese, softened

½

cup

vegetable oil

1

18 ounce package yellow butter cake mix

1

3 ounce package instant vanilla pudding mix

4

eggs

2

teaspoons

vanilla extract

2

cups

fresh raspberries

½

cup

raspberry preserves

White Chocolate Icing:

1

cup

white chocolate chips

¼

cup

heavy cream

⅔

cup

powdered sugar
Instructions
Preheat oven to 325°F. Lightly spray a 9-inch bundt pan with nonstick cooking spray and set aside.

In a medium bowl, with the mixer on medium-high speed, beat the cream cheese and vegetable oil until smooth and creamy, about 3 minutes. Add the cake mix, pudding mix, eggs and vanilla. Beat on medium speed until blended, about 2 more minutes. Fold in fresh raspberries.

Pour half of the batter into the prepared baking pan. Spoon the raspberries preserves over the batter evenly and pour the other half of the batter on top.

Bake for 55-60 minutes, or until a toothpick inserted in the center comes out clean. Cool cake in the pan for 25 minutes then carefully transfer to a rack to cool completely.

To make the icing, combine the white chocolate and heavy cream in a medium microwave safe bowl and heat on high for 30 seconds. Stir and heat again for 30 seconds. Repeat until melted and smooth. Add the powdered sugar and combine until completely smooth. Pour over baked cake. Store in an air tight container in the refrigerator for up to 4 days or in the freezer for up to one month.