Healthy and filled with energizing ingredients, these pina colada energy bites are a sweet and healthy snack that will keep you satisfied all day. It's made with raw ingredients like cashews and macadamia nuts, plus dried fruit and coconut. This energy bite recipe will transport you to the beach!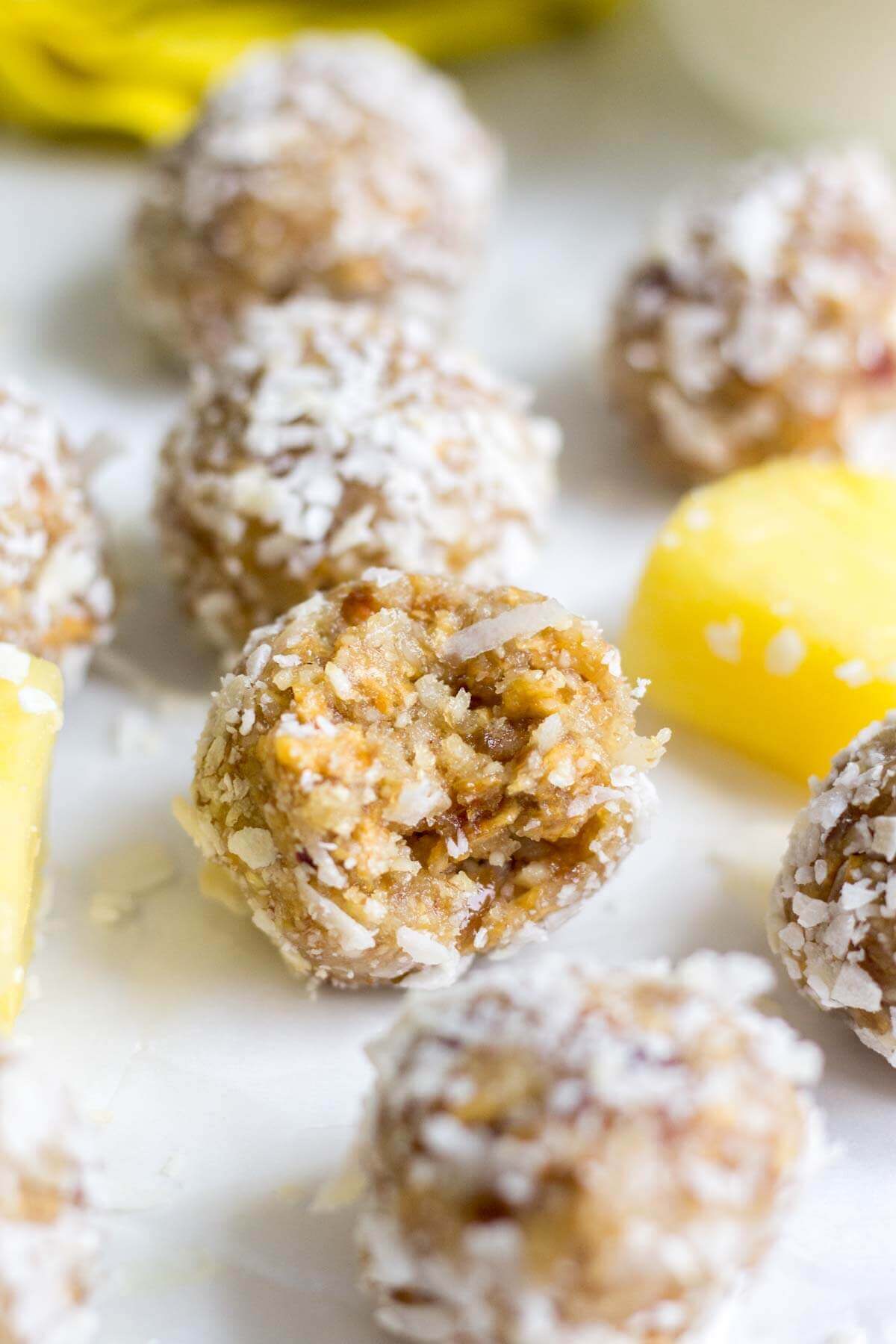 A very happy Friday to you! A very happy Good Friday to be exact. It's the Friday before Easter and I've got lots of big Easter plan happening the next couple days.
I'm lead the photography team at my church and we have 5 services happening throughout the next two days and we want to make sure we capture all the awesome things happening at the church. A couple of ladies are shooting tomorrow's services and a few others, and myself, are covering Sunday.
But in between now and then Zach and I are headed 2 hours up to my parent's house in Akron to celebrate my dad's birthday. It doesn't typically fall on Easter weekend but I feel like Easter is really late this year? Either way I'm excited we get to celebrate both Easter and my dad's birthday at the same time.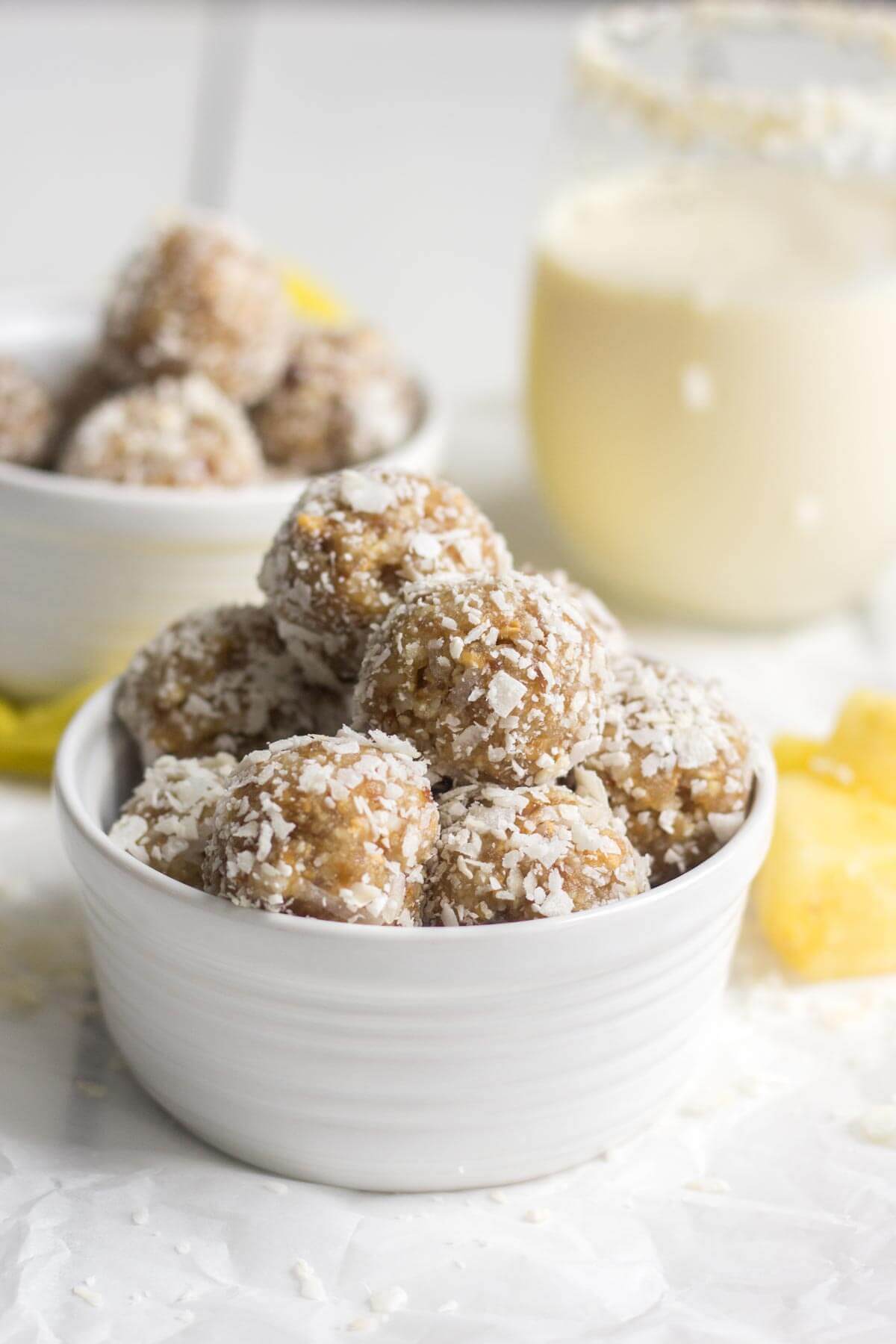 We're giving my nephew, Eli, his Easter basket tomorrow morning. He's the only grandchild, so needless to say, his Easter basket is awesome. It's filled with Spiderman toys and cowboy boots and we cannot wait to see his face when he opens it!
We're heading to the zoo after so we'll have to wait and see if he wears his cowboy boots or the Spiderman gear. Both will be absolutely adorable. It's a tradition for him to go to the zoo with Zach and I, we go at least every year. And my sister sent us a video of him saying he's excited to go to the zoo with us. Having nieces and nephews are the best!
Another reason I'm looking forward to Easter is because it means the unofficial start to warm weather and bright and vibrant desserts. The days are longer and filled with berries, pineapple and cobblers.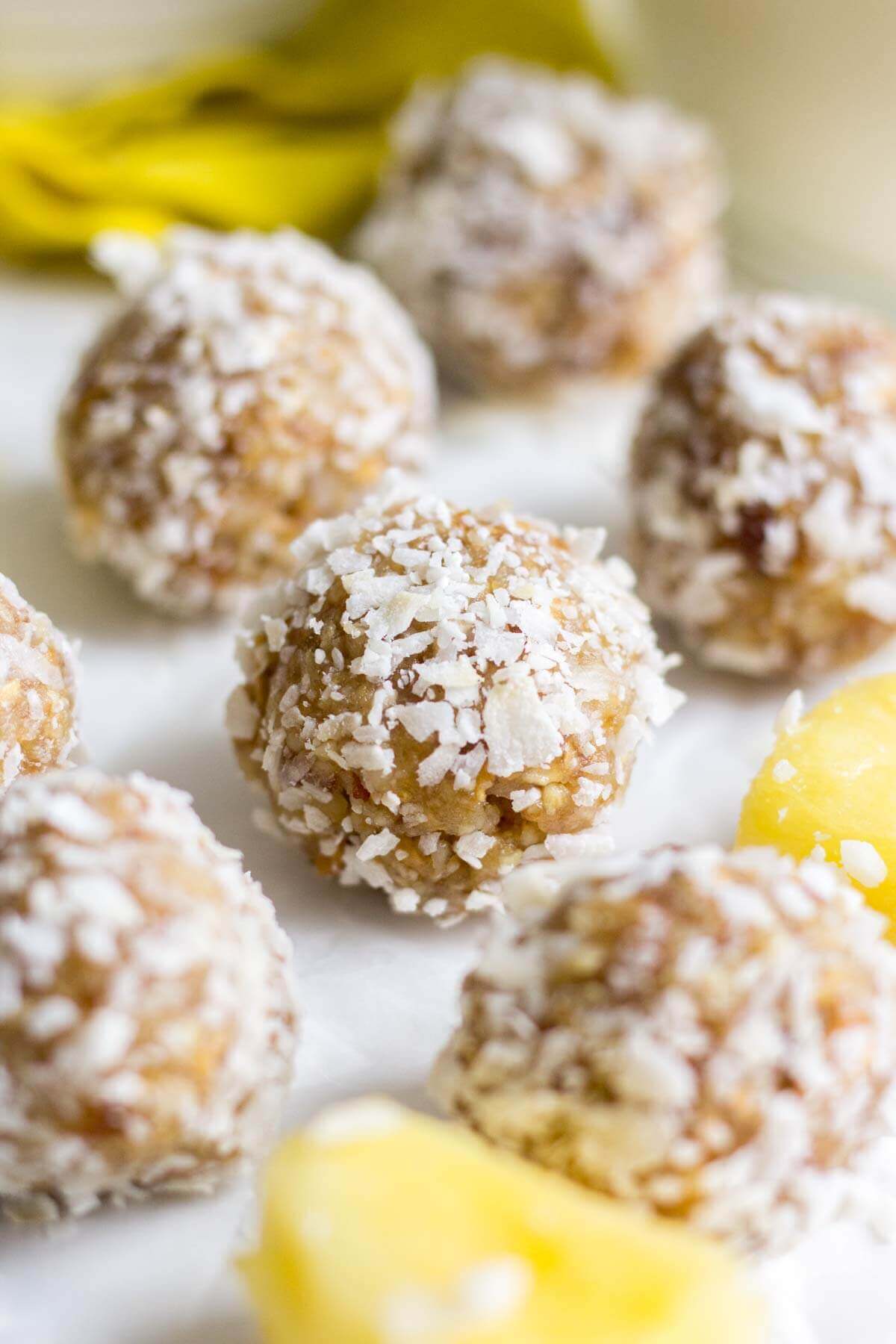 With that in mind I wanted to create a pina colada energy bite recipe that gets you excited about the warm weather too! It will transport you to the beach, kinda like my tropical coconut smoothie bowl.
The base of these pina colada energy bites are made with some of my favorite nuts: cashews and macadamia nuts. These two nuts are the perfect combination to be the base of this energy bites recipe. The cashews are smooth and creamy and the macadamia nuts add a tropical touch.
I then blended them with dates! Dates are sweet and sticky and full of antioxidants. They're my favorite ingredient to bring energy bites together because they're a little bits sticky. They do the best job bonding all the natural ingredients together so you can easily roll them into balls.
The next two ingredients really take us to the beach. Coconut and dried pineapple are the epitome of pina colada flavor so I knew dried pineapple and unsweetened shredded coconut had to make a big appearance in this recipe. You just add all of the ingredients in the blender together until they're combined so you can roll them into balls and roll them in extra coconut.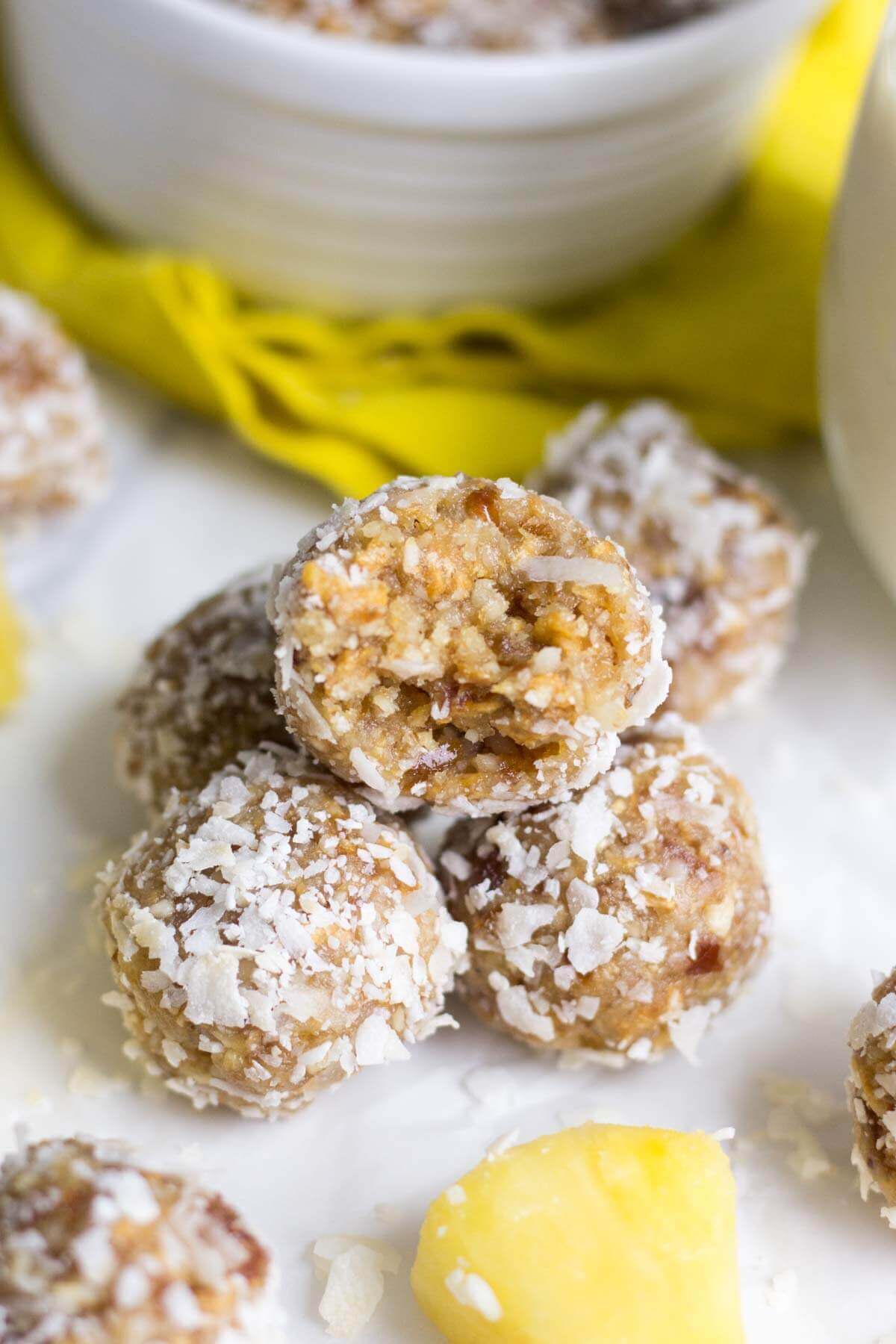 I love these pina colada energy bites because you can eat them any time during the day. They're great to pack for a mid afternoon snack or a side to your lunch. They're also perfect for summer vacation road trips! And even midnight snacks! The sweetness is the perfect touch and the nuts and dates will fill you up and keep you energized all day.
I'll be munching on these as we head to Akron tonight:)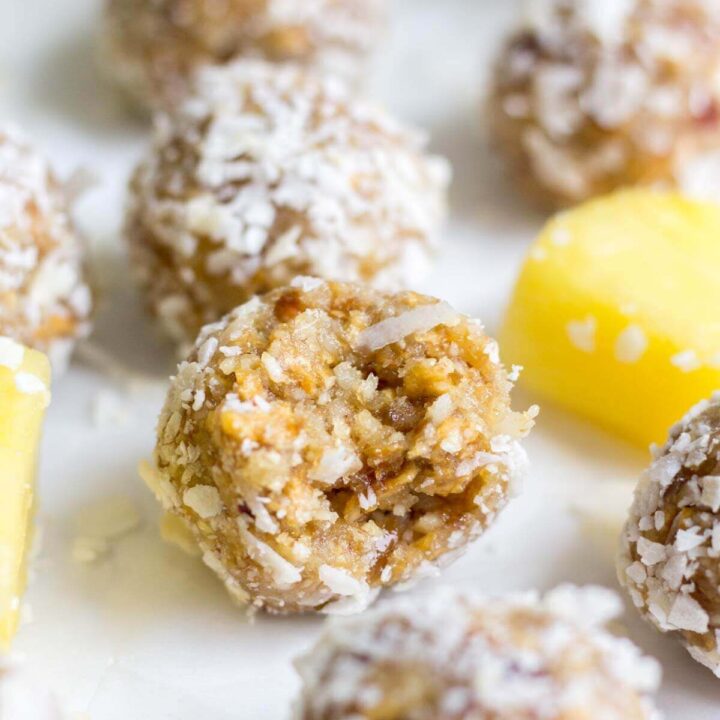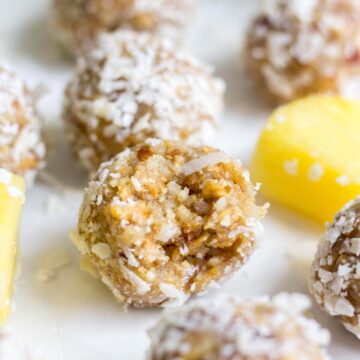 Ingredients
1

cup

toasted whole cashews

1

cup

toasted macadamia nuts

2/3

cup

unsweetened shredded coconut

divided

1

cup

large medjool dates

pitted

1

cup

dried pineapple

diced

1/4

teaspoon

coconut extract
Instructions
To start, toast the cashews, macadamia nuts and coconut. Preheat the oven to 350°F. Place the cashews, macadamia nuts and coconut on a large baking sheet, keeping them separate from one another. Bake for 5 minutes. Remove the pan from the oven an gently stir each individually. Place back in the oven for another 5 minutes until the coconut is golden brown.

Set the toasted coconut aside and place the toasted nuts in the food processor. Blend on high until a course meal forms, about 1 minute. Remove the lid from the processor and add the pitted dates, diced dried pineapple 1/3 cup of the toasted coconut and coconut extract. Blend again until the ingredients until they are fully combined, about 30 seconds. Mixture will be thick, sticky and slightly wet.

Place in the refrigerator for approximately 30 mins to firm up.

Once chilled, using a slightly rounded tablespoon, roll mixture into balls between the pals of your hands. Roll into the other 1/3 cup of toasted coconut until full coated.

Store in an air tight container in the refrigerator for 5 days or in the freeze for up to 1 month.
DID YOU MAKE THIS RECIPE!? SNAP A PIC AND TAG @WHAT_MOLLYMADE AND USE #WHATMOLLYMADE!
Here are a couple of items I used to make today's recipe:
Ninja Mega Kitchen System
, Unsalted Cashews
, Dry Roasted Macadamia Nuts
, Organic Shredded Coconut (Unsweetened)
Some of the links above are affiliate links, which pays me a small commission for my referral at no extra cost to you! Thank you for supporting What Molly Made!