Okay, ya'll! Here's the moment I've been waiting for! OUR CEREMONY! Hands down this was my favorite part of our entire wedding day.
I always knew this was going to be my favorite part. I was so excited for the entire day but I always knew the thing I was looking forward to most was marriage more than anything. I was excited about being married to my best friend and starting our life together and the ceremony was the official moment I got to call Zachariah Thompson my husband. How could that not be my favorite part?!
Photo cred: RKM Photography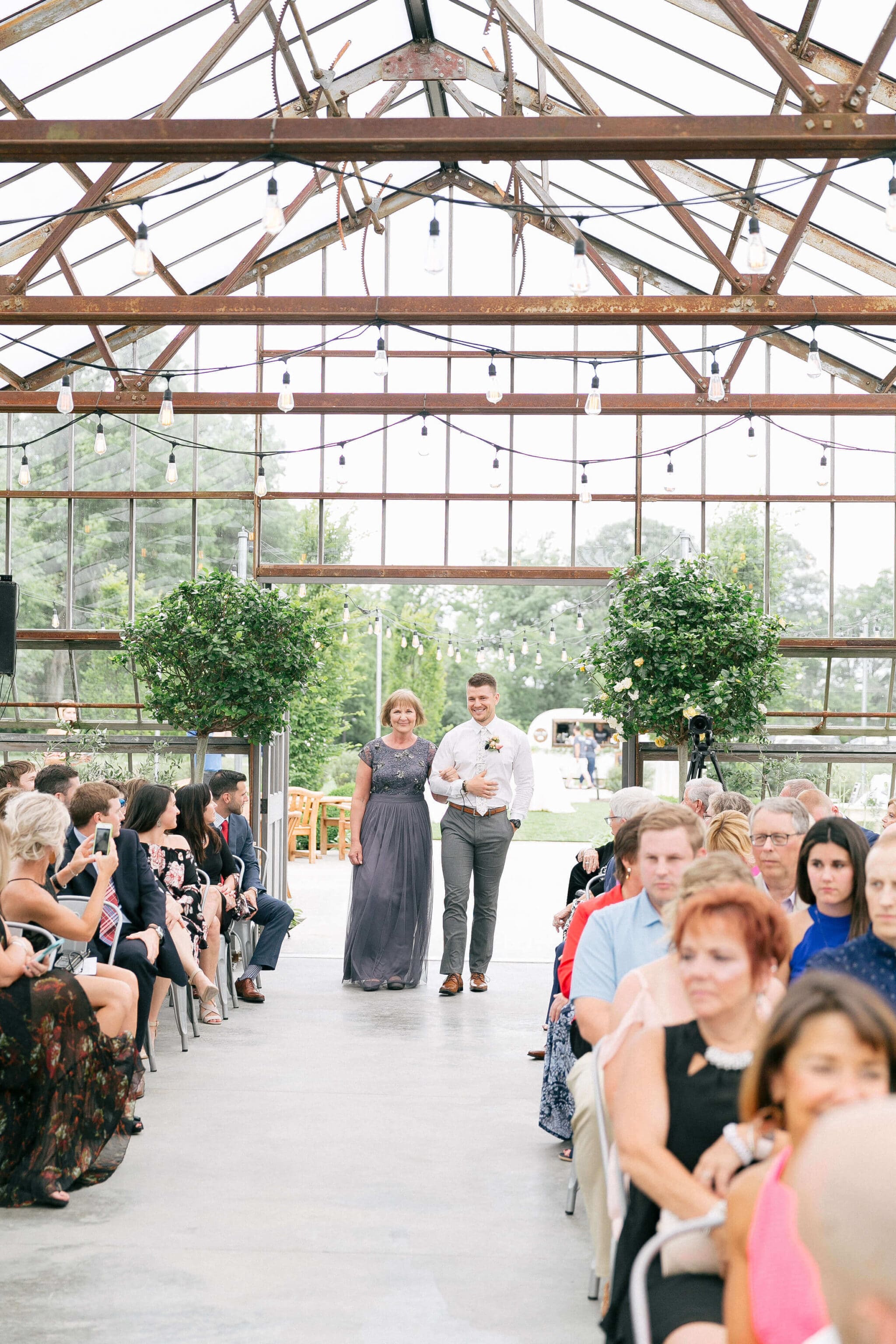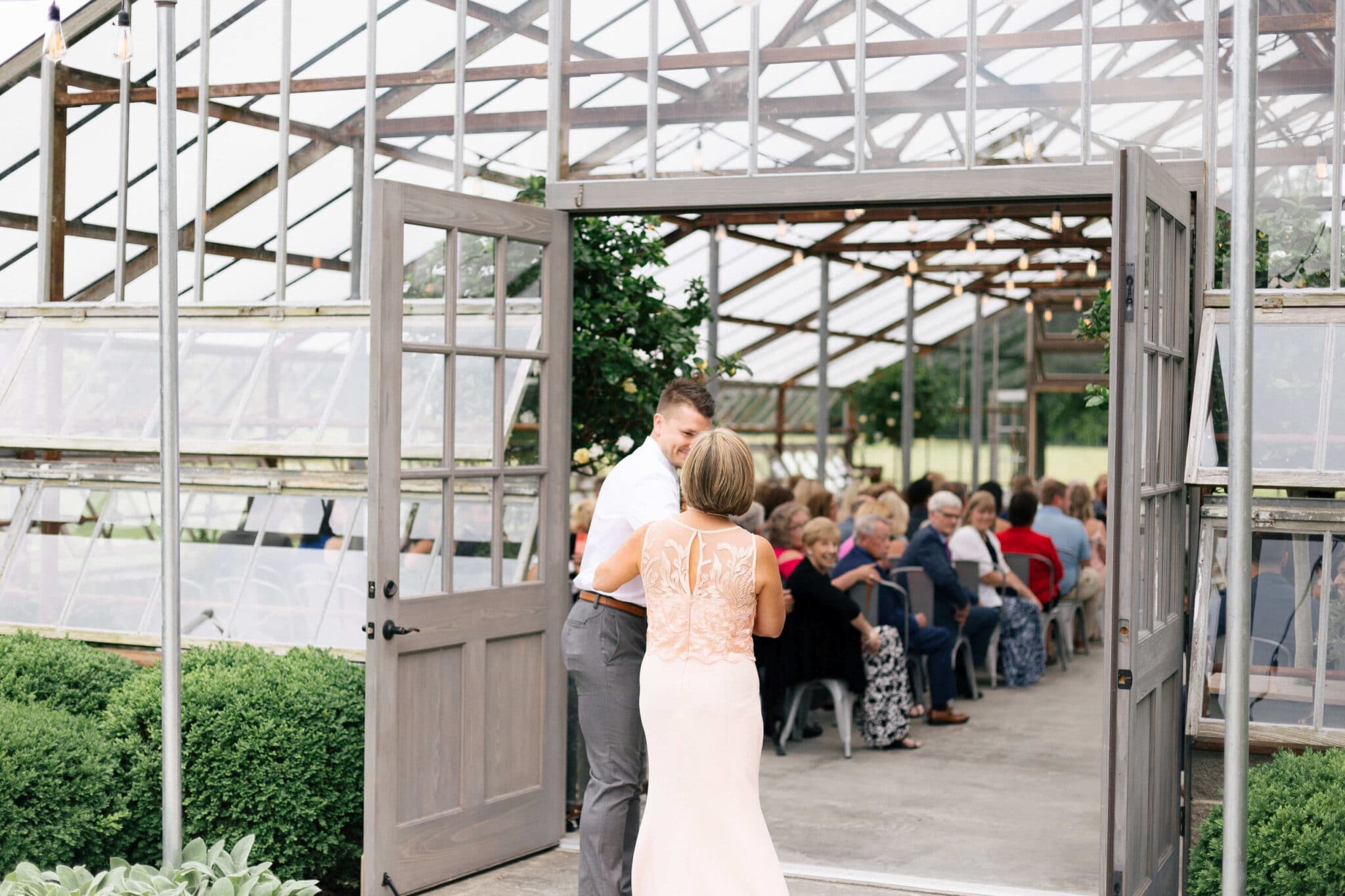 We had a 4:30pm ceremony at Jorgensen Farms Oak Grove. The weather was iffy all week but we woke up on Saturday morning and the radar said clouds. I can't tell you how relieved I was! Although our ceremony was covered, I just wanted to do pictures outside and have everyone enjoy the outside space because it was such a pretty venue.
At 4:30 on the dot, the greenhouse was packed with our favorite friends and family and the ceremony began. Zach walked his mom and my mom down the aisle, then our grandparents went, and the boys followed to stand at the front of the greenhouse with Zach.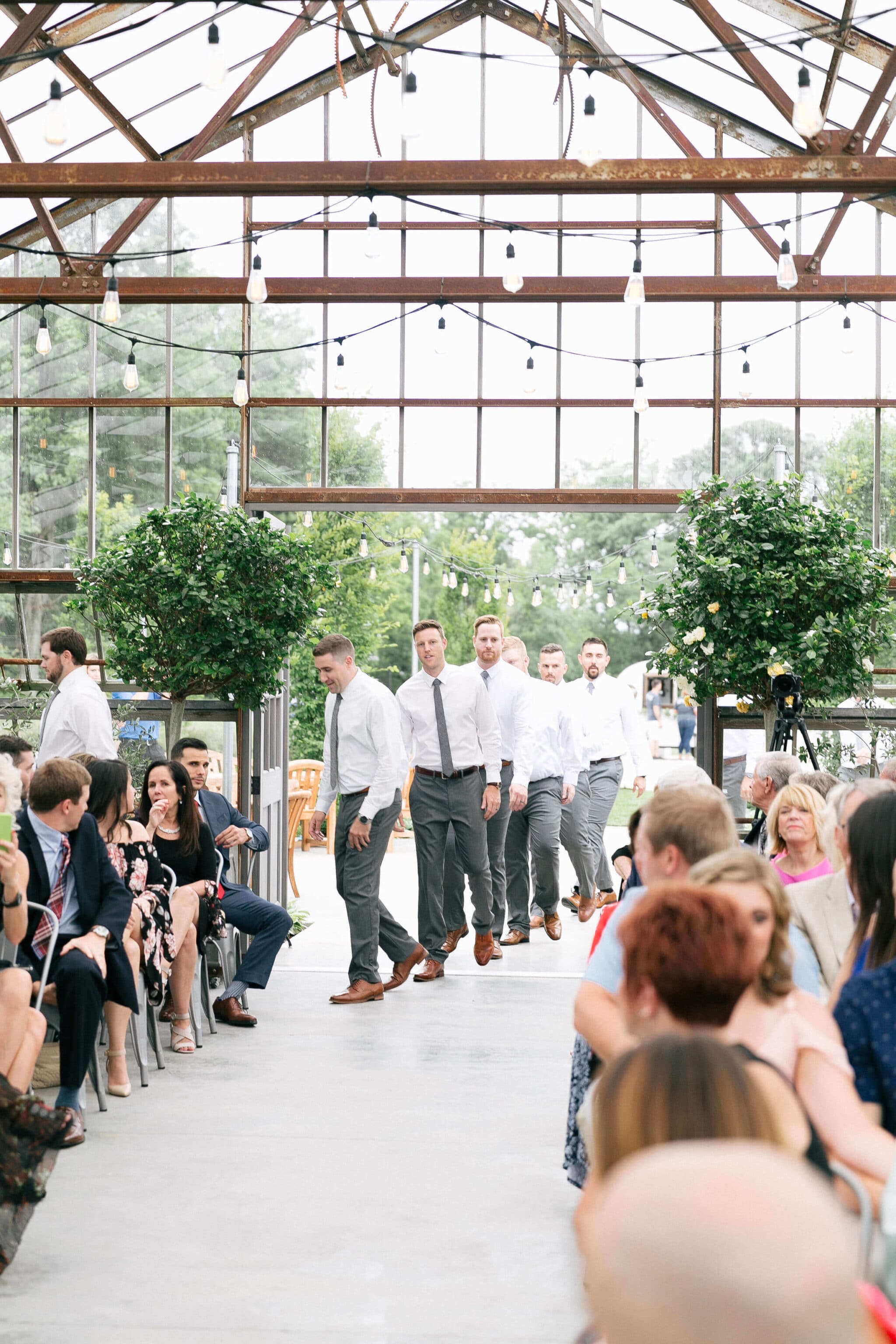 We had the pastor, Greg, of our church (One Church) perform the ceremony. He, the church and our church family have been an integral part in our love story. Greg baptized both Zach and I in the last 5 years and we knew we was the person to help us tie the knot.
Once the boys were set, the girls walked down the aisle to the song Tenerife Sea by Ed Sheeran. They wore sage green dresses and held white and green florals.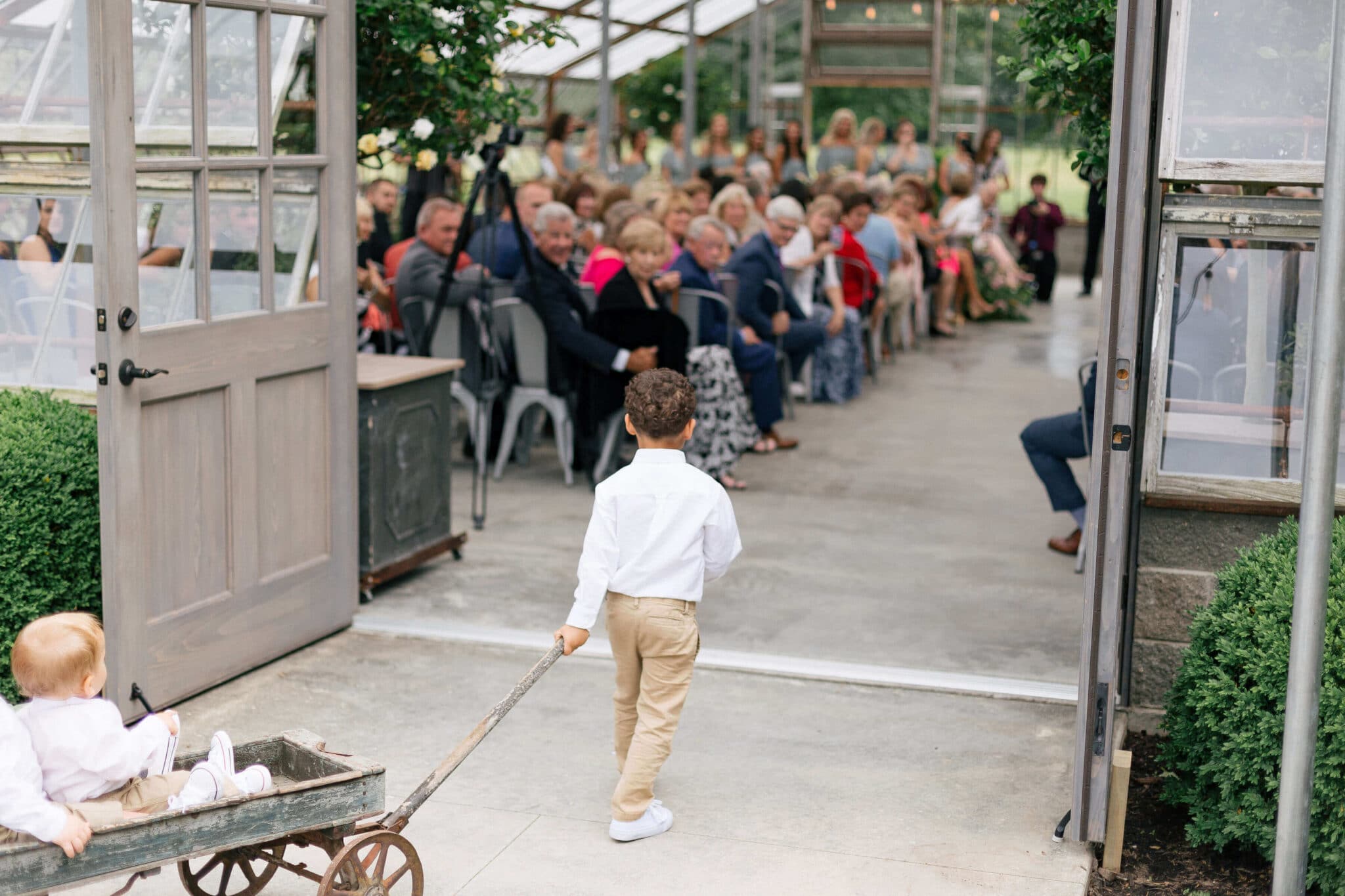 We had the cutest ring bearers of all time! Our 3 nephews, Elijah, Hutch and Jacob went down the aisle in style. Elijah pulled a wagon with Hutch and Jacob.
They almost didn't make it over the bump to get in the greenhouse and everyone started laughing, which was so great! They seriously did SO good! It was adorable.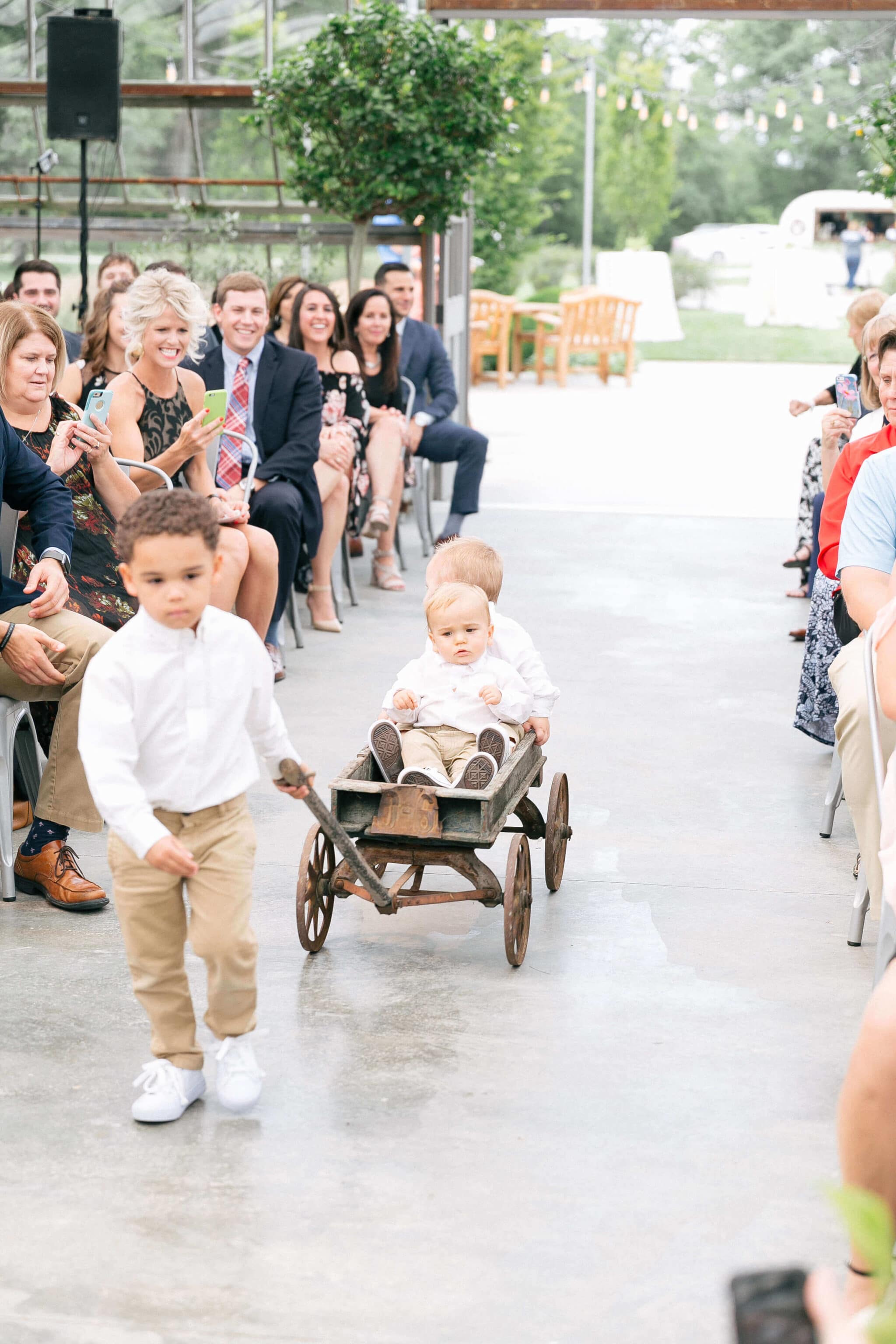 Once they made it down it was my turn! I looked at my dad, hugged him with all my love then grabbed his arm and headed out the door. My dad has been the best constant example of what a husband and father should look like and I was so grateful to walk down the aisle with him. He set a standard I knew would be hard to live up to and I chose such an amazing man as my husband because of that.
And Zach and my dad love each other so I knew that was a good sign!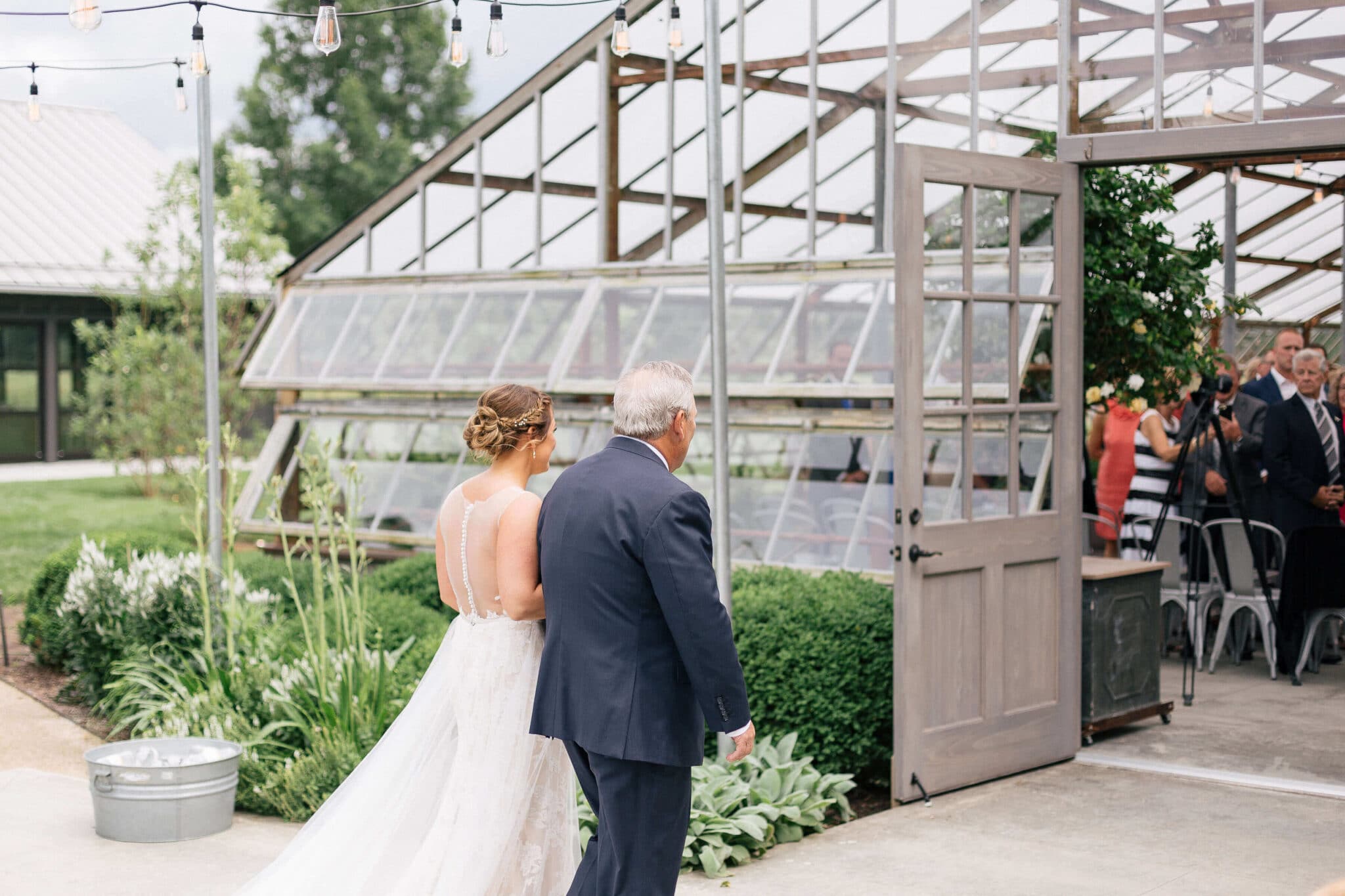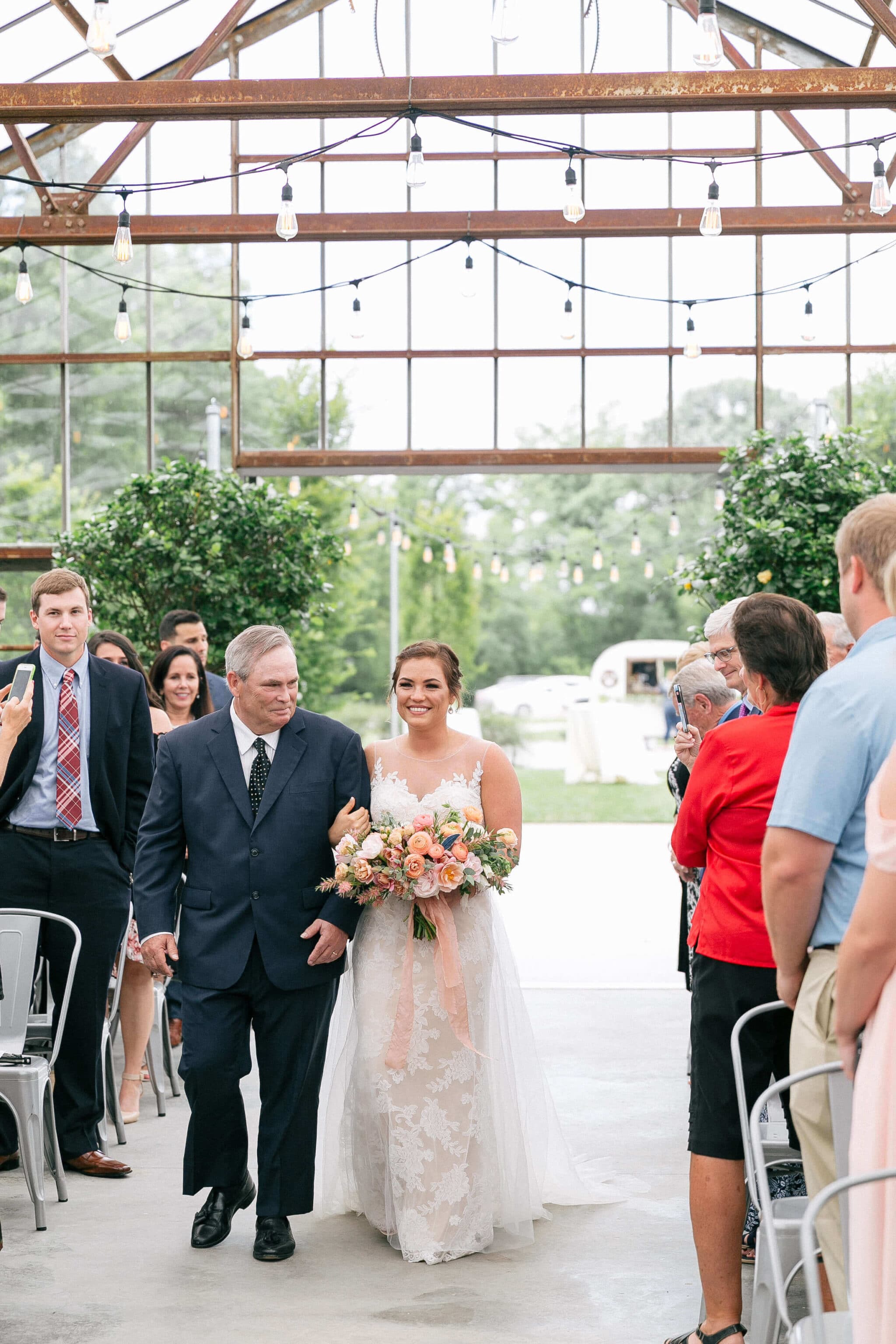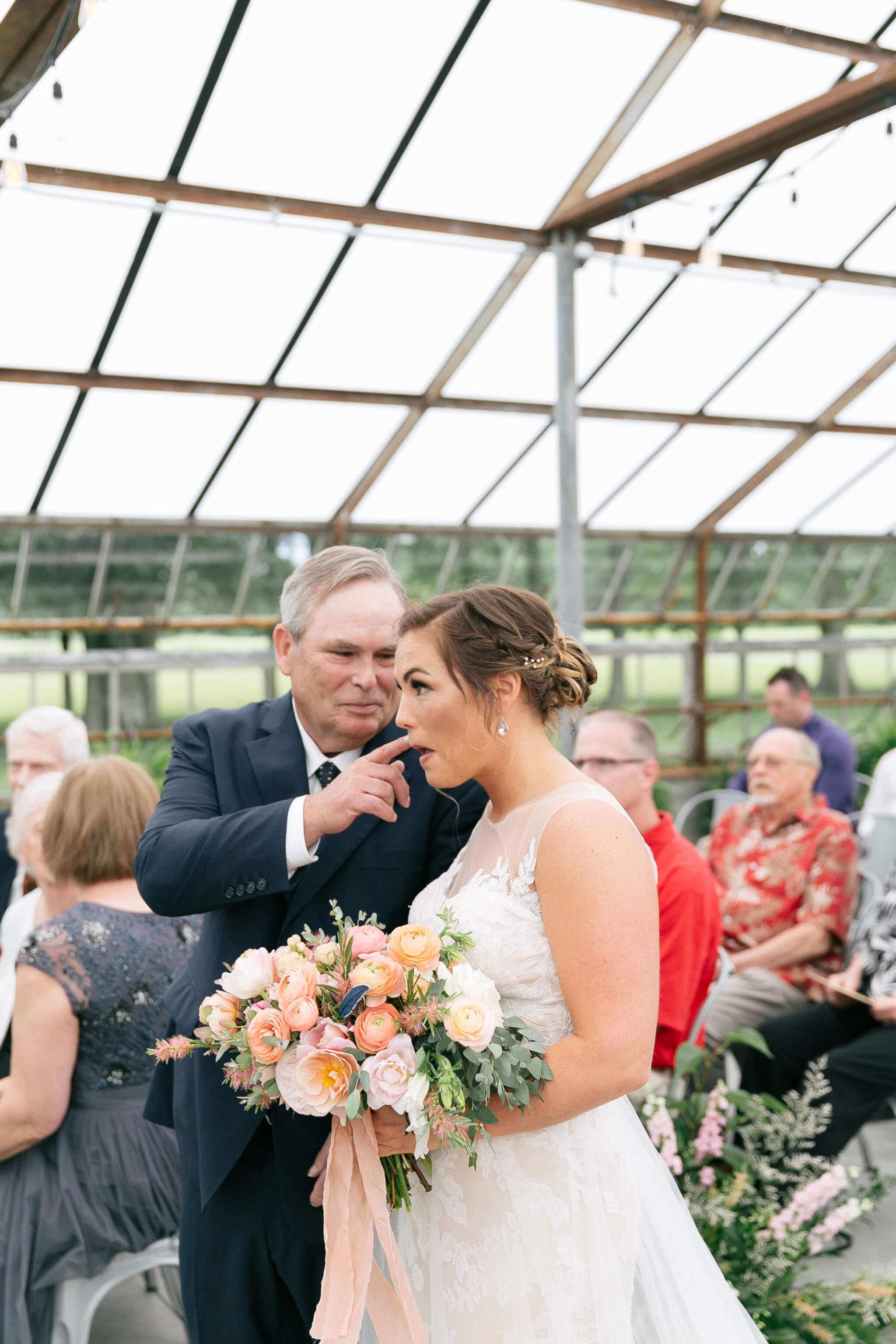 I have to admit, that's kind of a scary feeling having everyone looking at you! I was just so locked in on Zach though that I didn't even notice once I got to the aisle.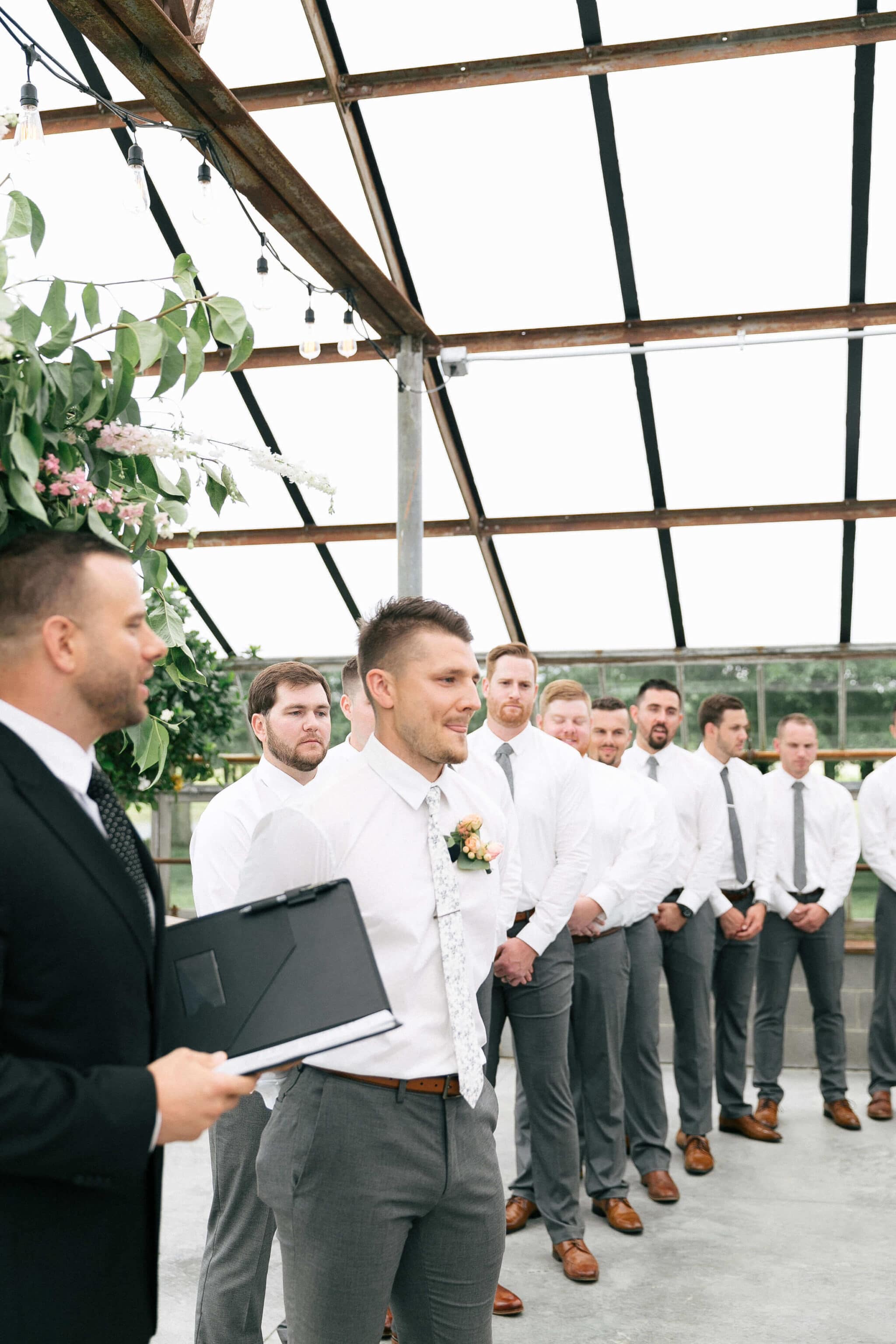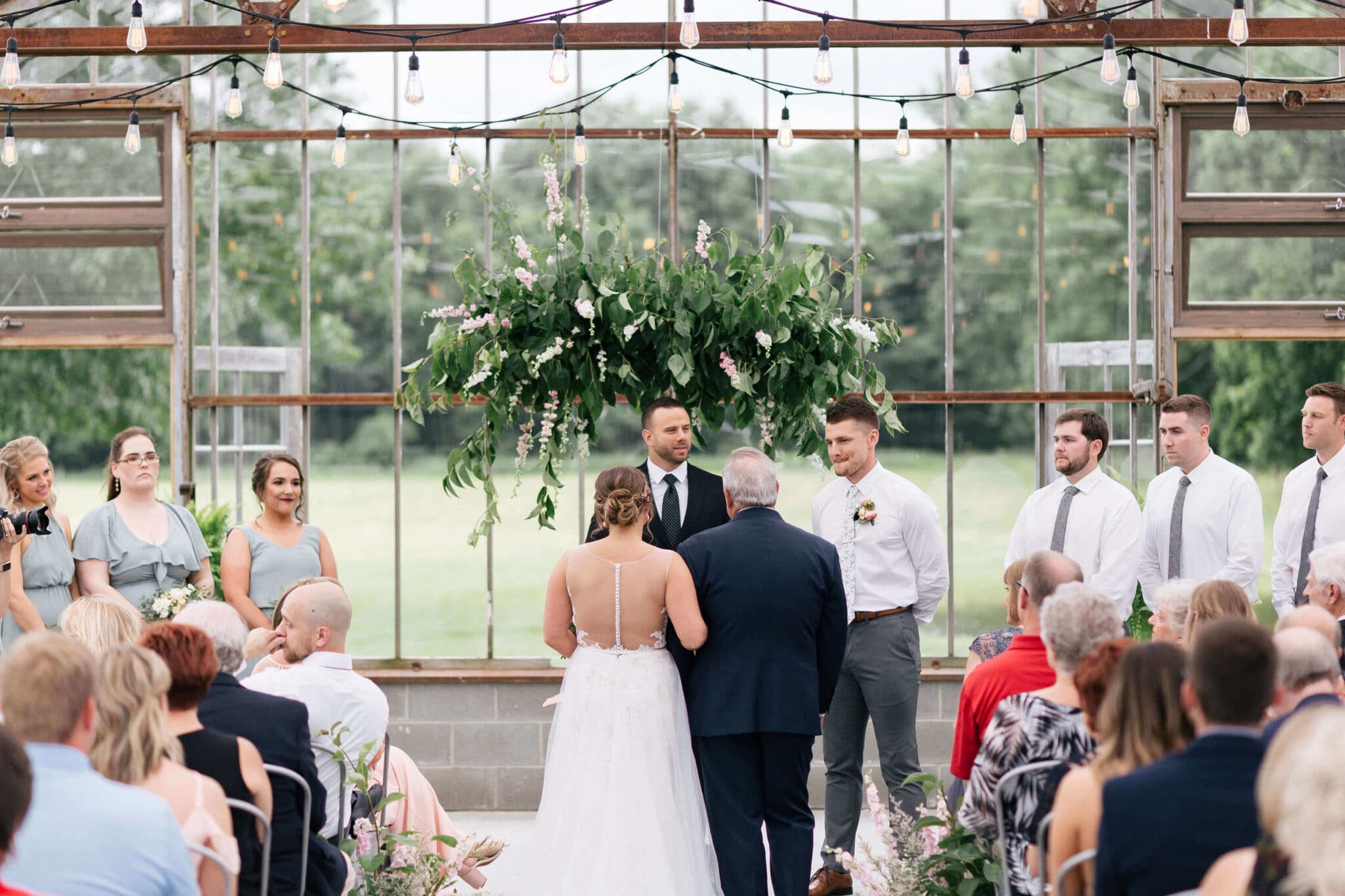 We said a prayer when I got to the end of the aisle and my dad gave me away. I grabbed Zach's hands and Greg welcomed everyone. He continued on to the short message. It was such a personal and heartfelt ceremony. It was more than I could ever have imagined!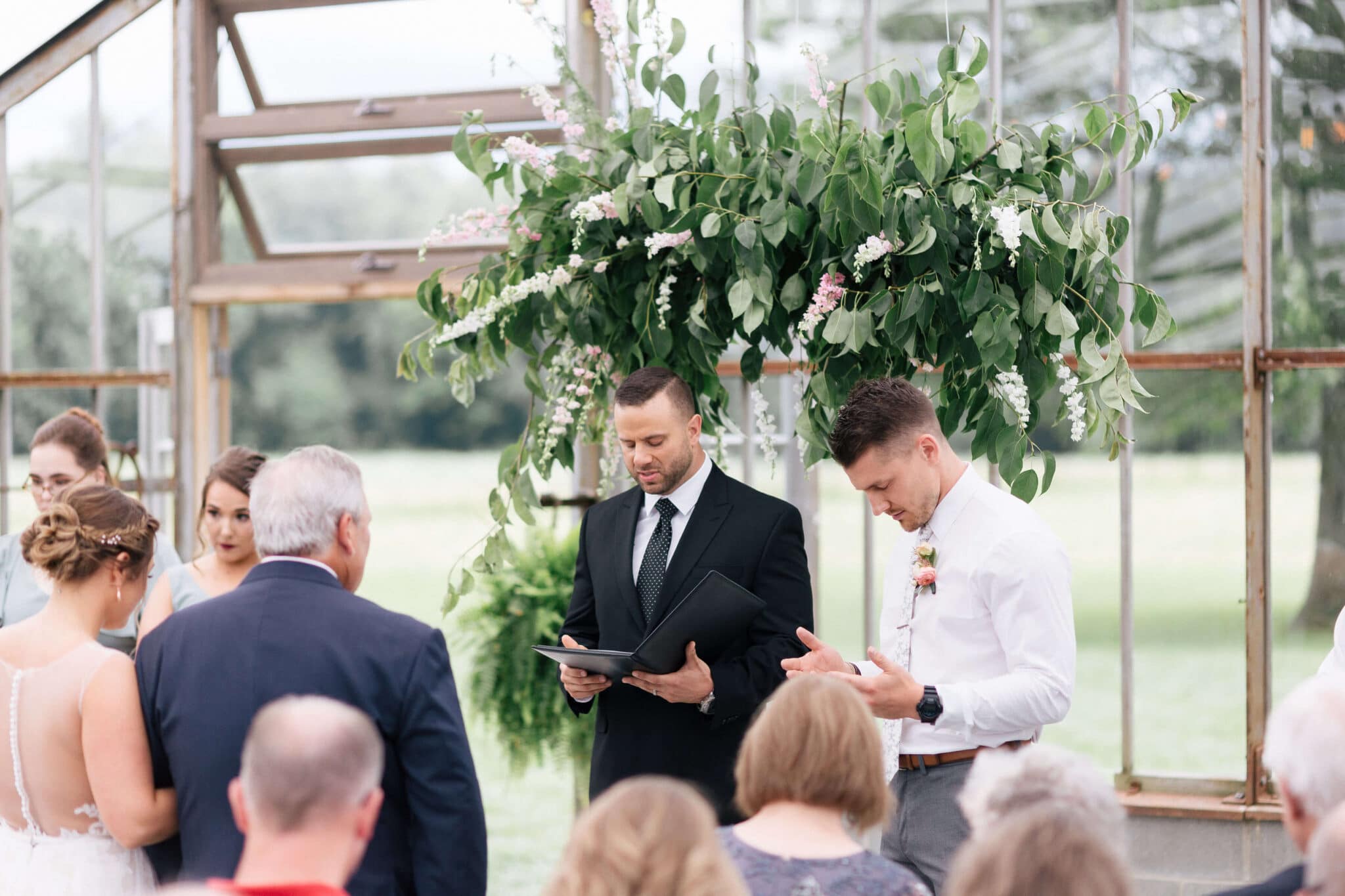 The 9 fruits of the spirit have been a huge part of Zach and I's relationship. We always tell each other we strive to represent all 9 of those in our relationship and in our lives.
Love, joy, peace, patience, kindness, goodness, gentleness, faithfulness and self-control.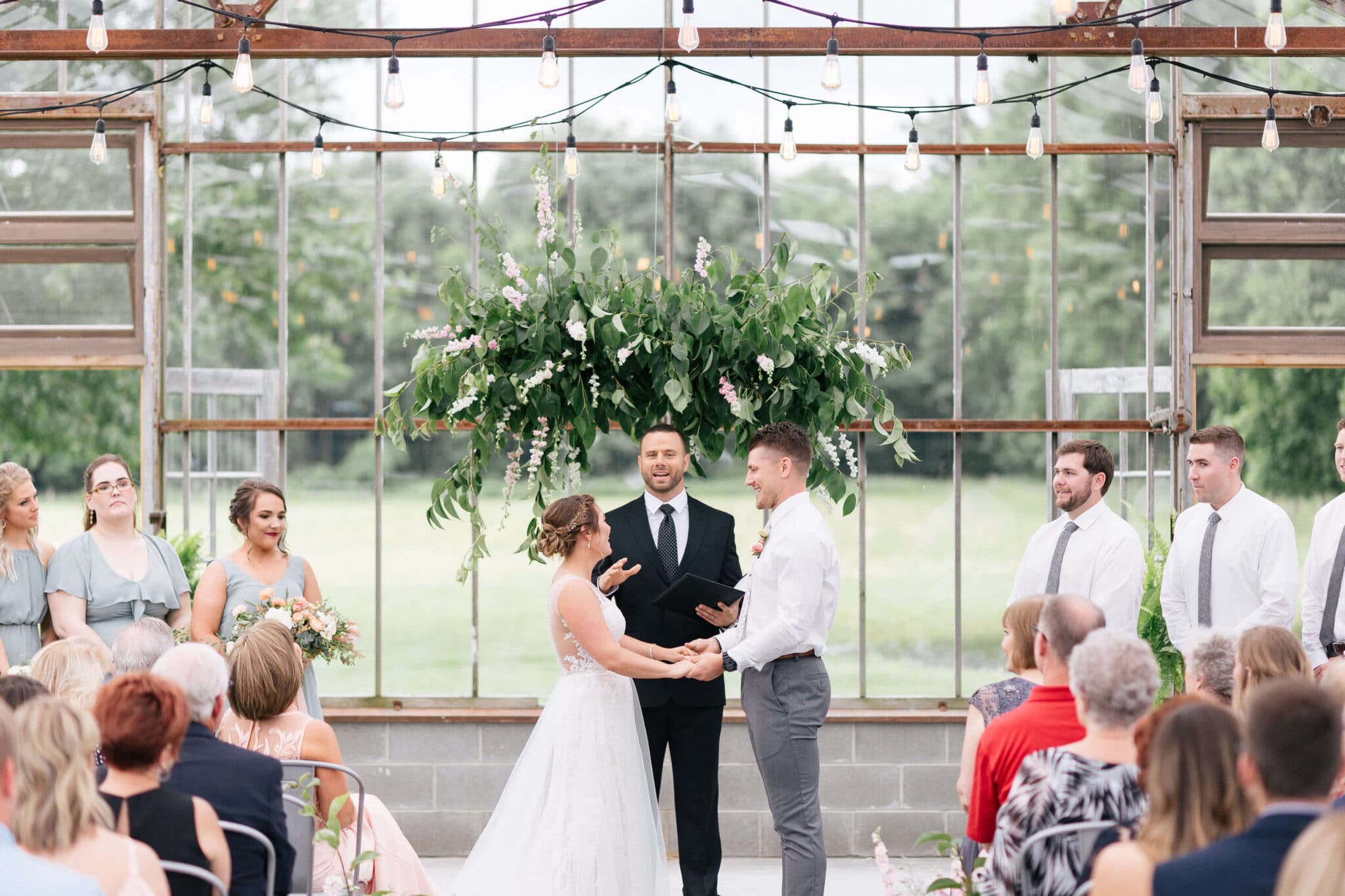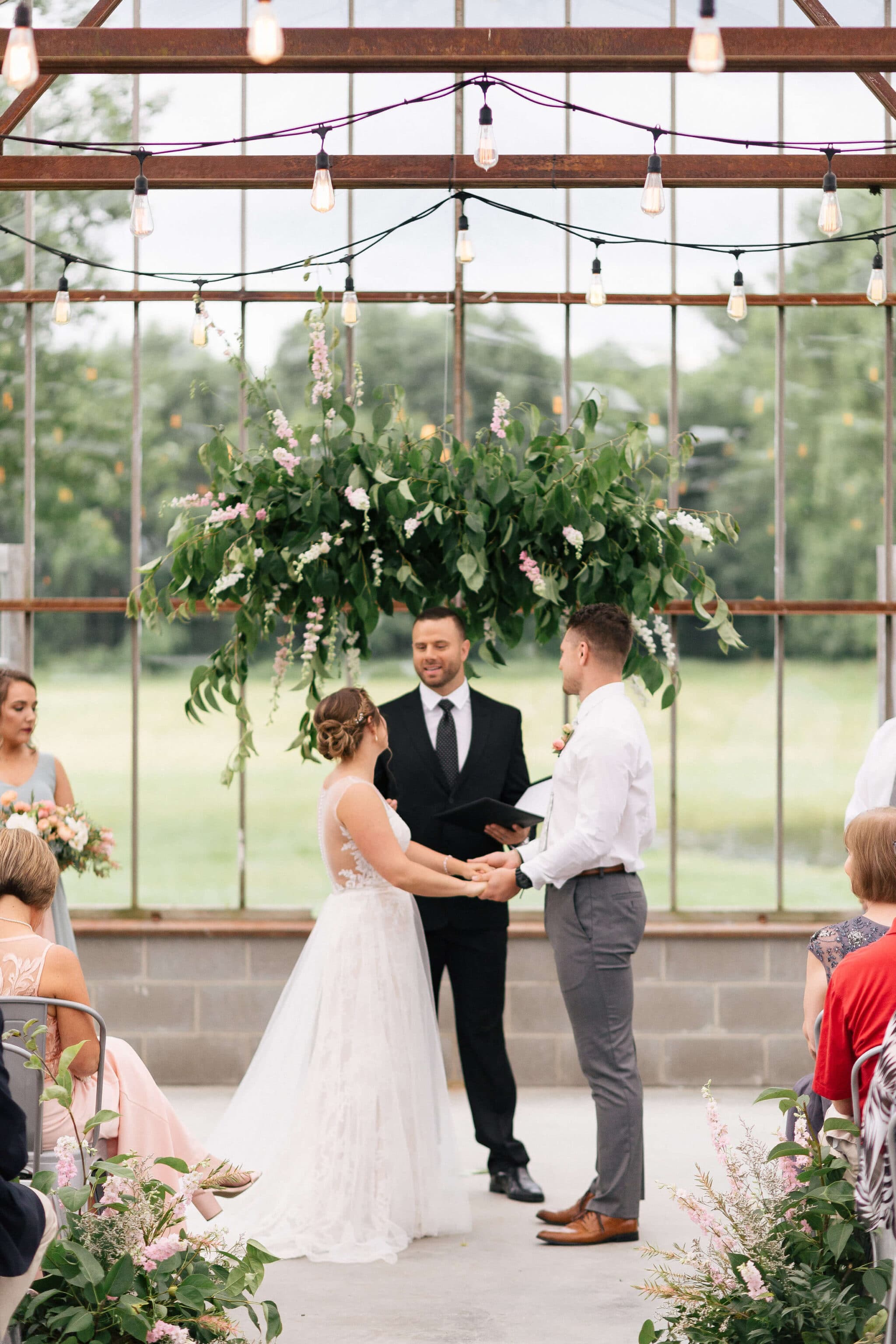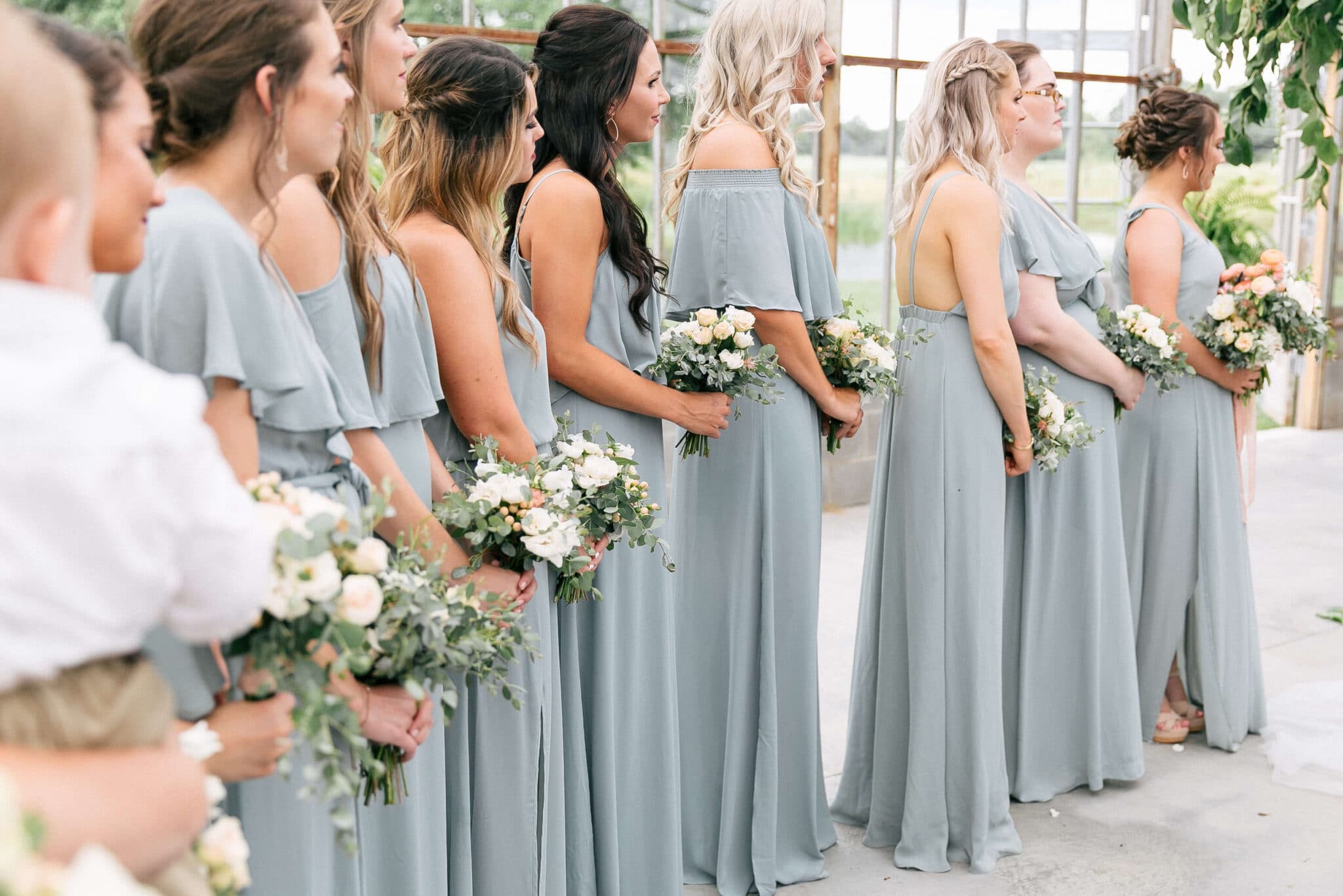 My wedding band has 9 diamonds on it to represent the 9 fruits and Greg shared that story during the ceremony and it was so cool. It started raining right when we started saying our vows and exchanging the rings and it was actually really magical. The rain on the glass greenhouse made a soft pidder padder sounds that was so romantic.
So we said our vows, exchanged our rings and then……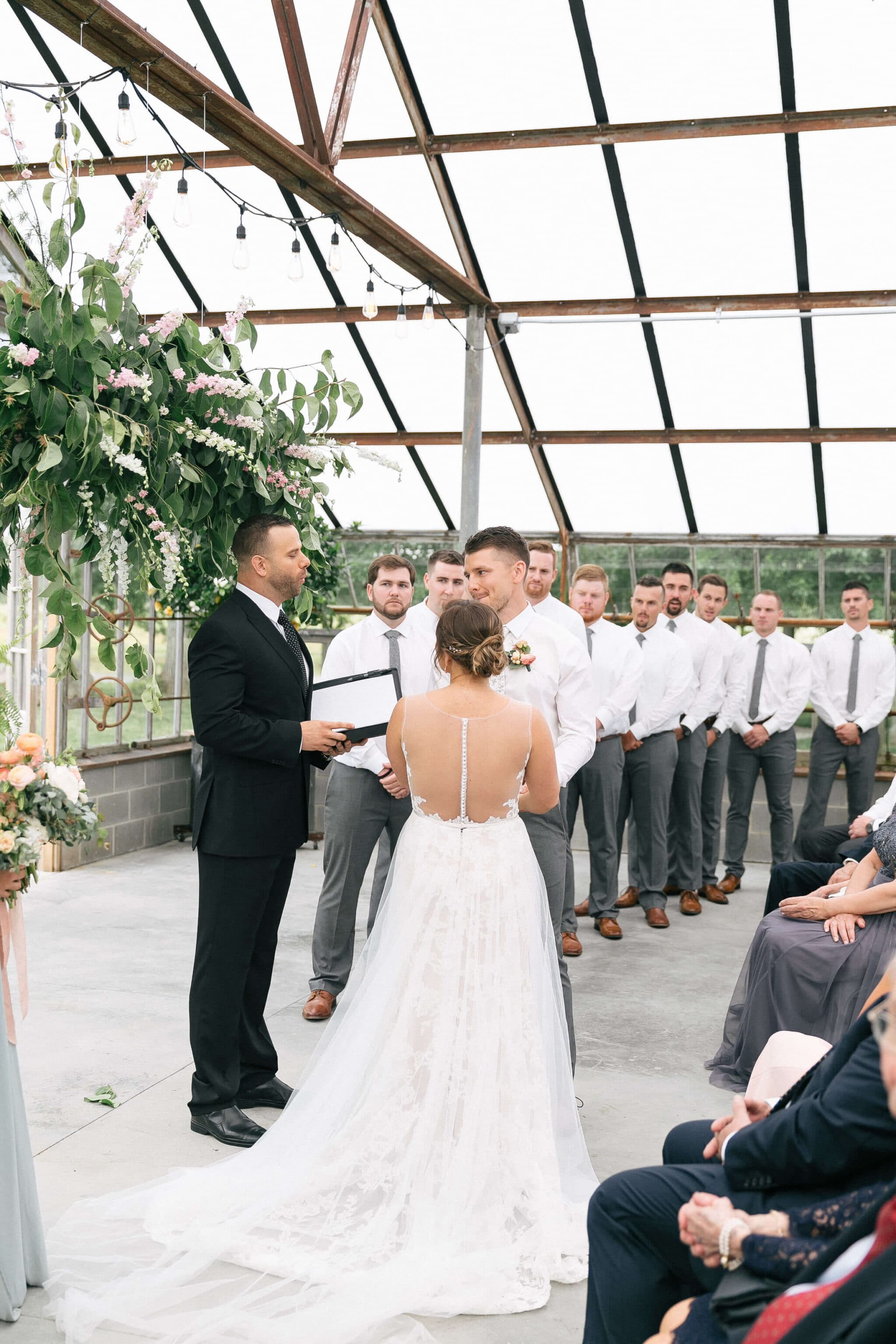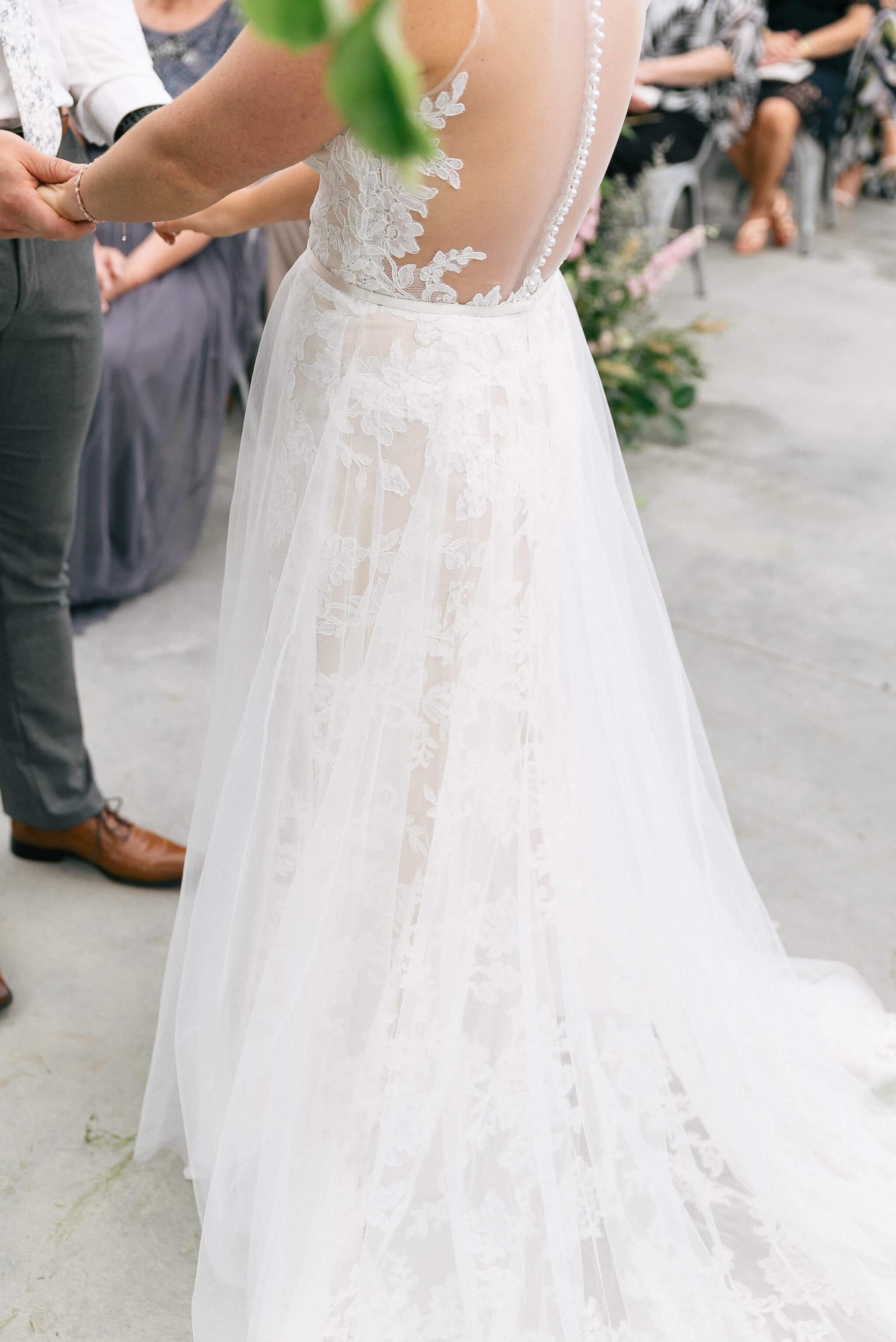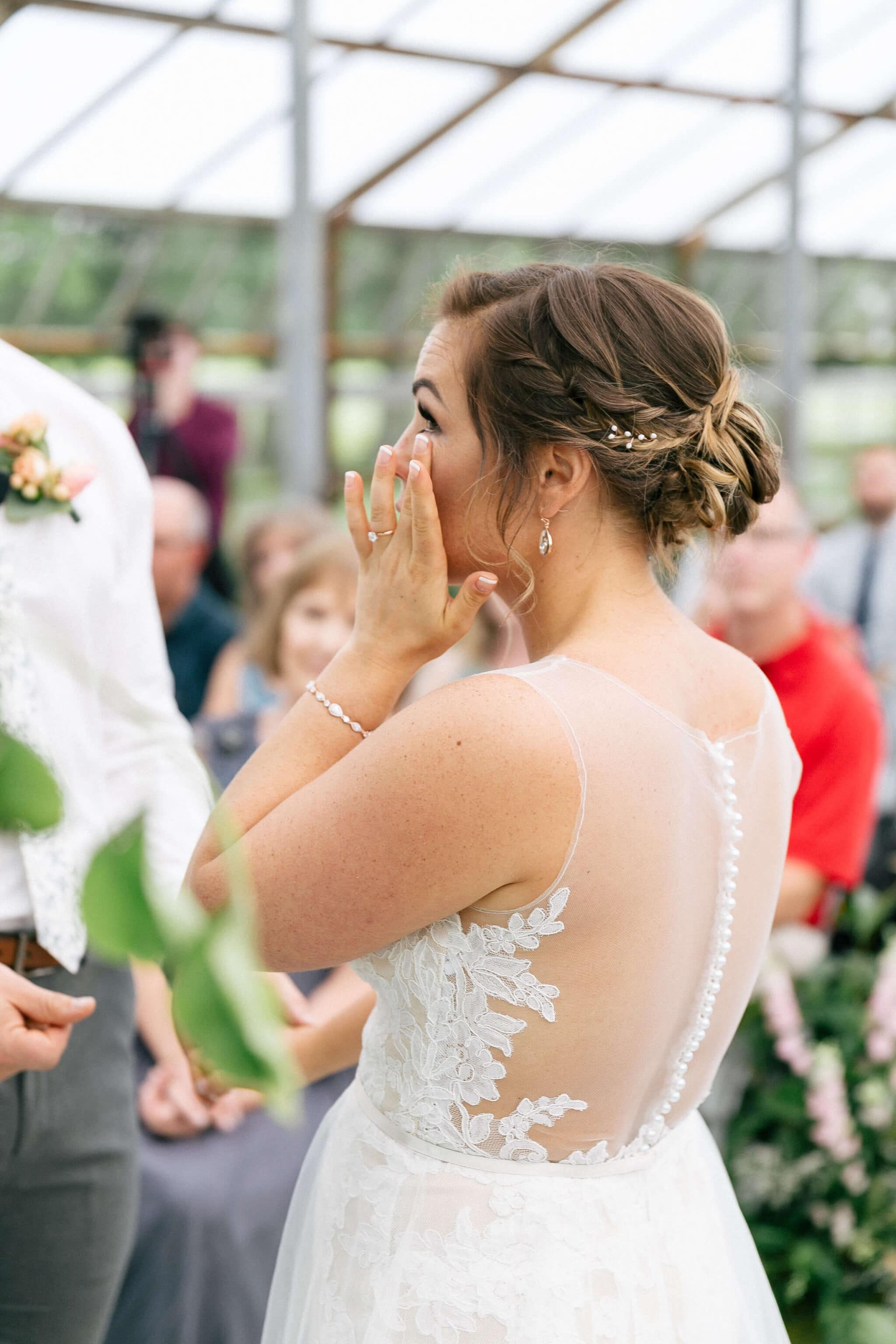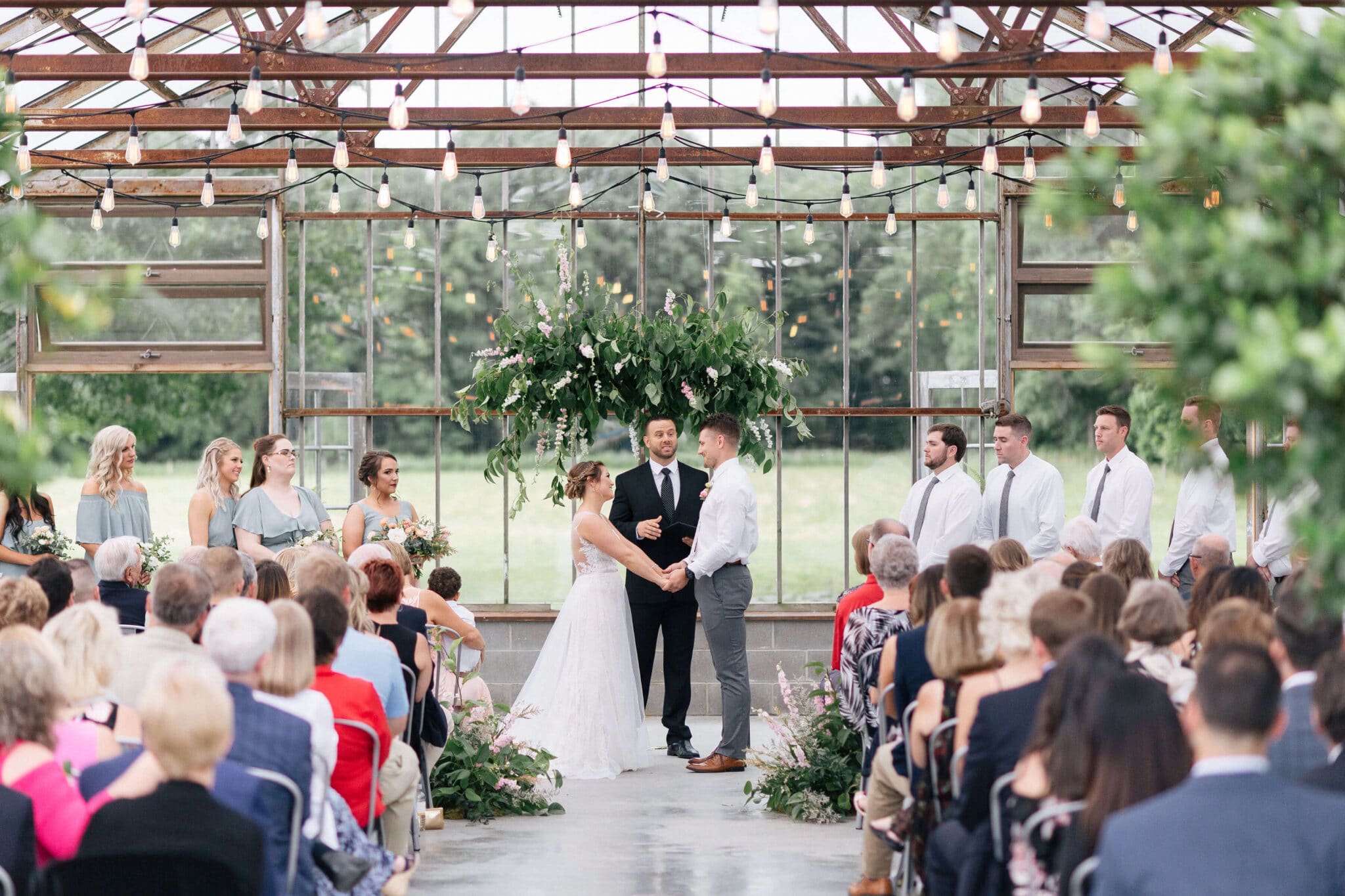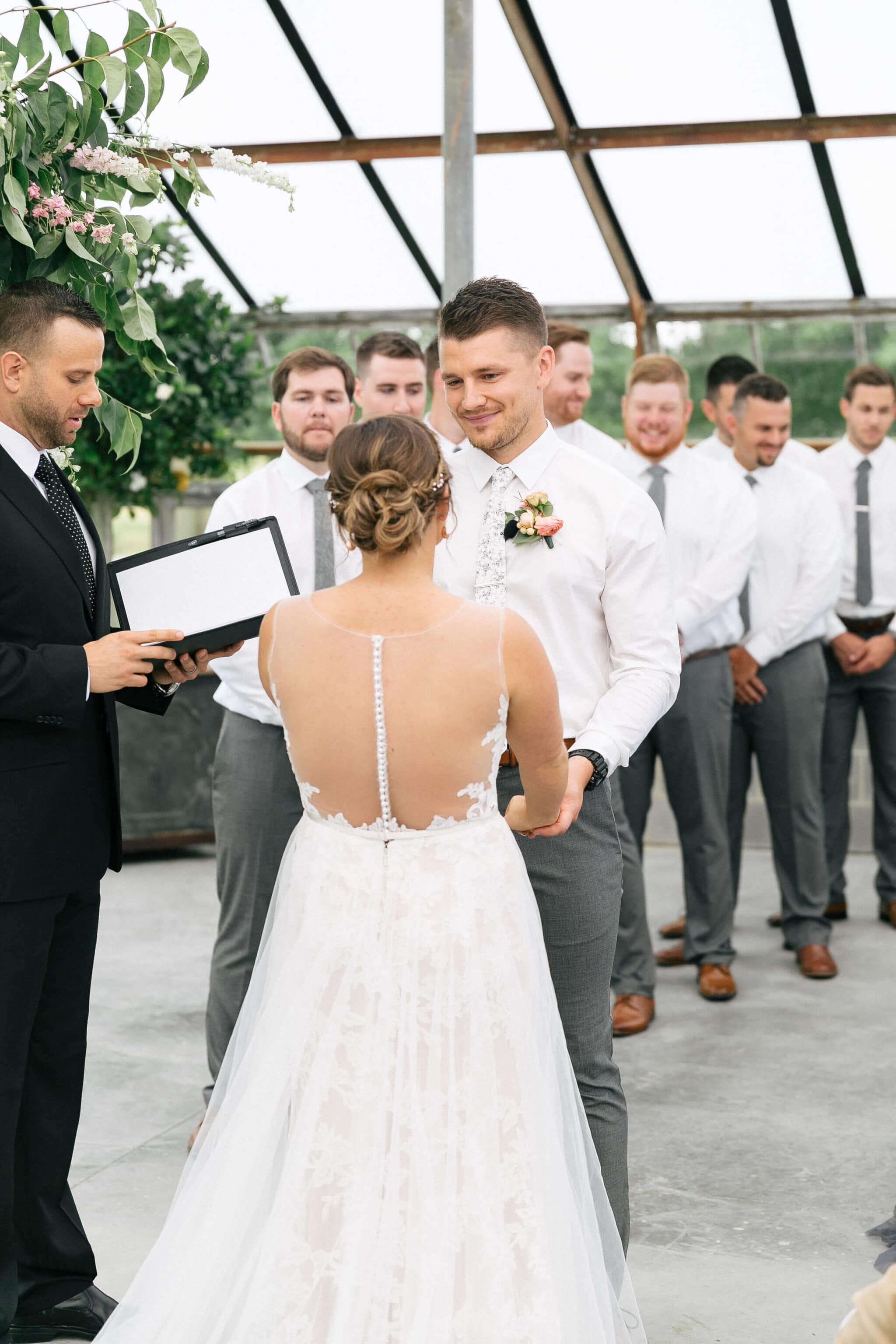 WE WERE PRONOUNCED HUSBAND AND WIFE!
I got to kiss my man and officially be his wife and it was in front of all of our favorite people in the world. We had friends and family travel from all over the country to be there and I can't say enough how grateful we were that every single person was there.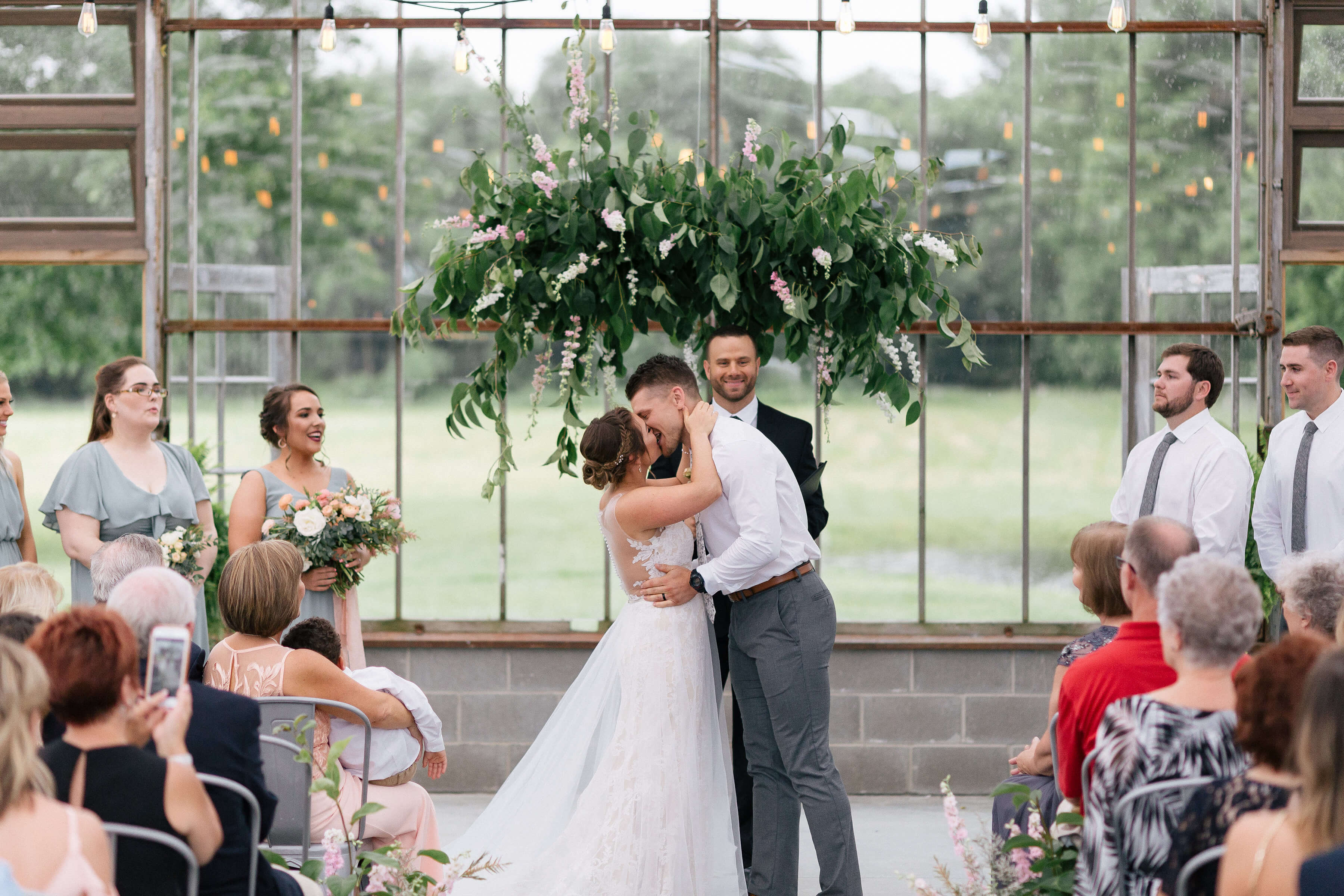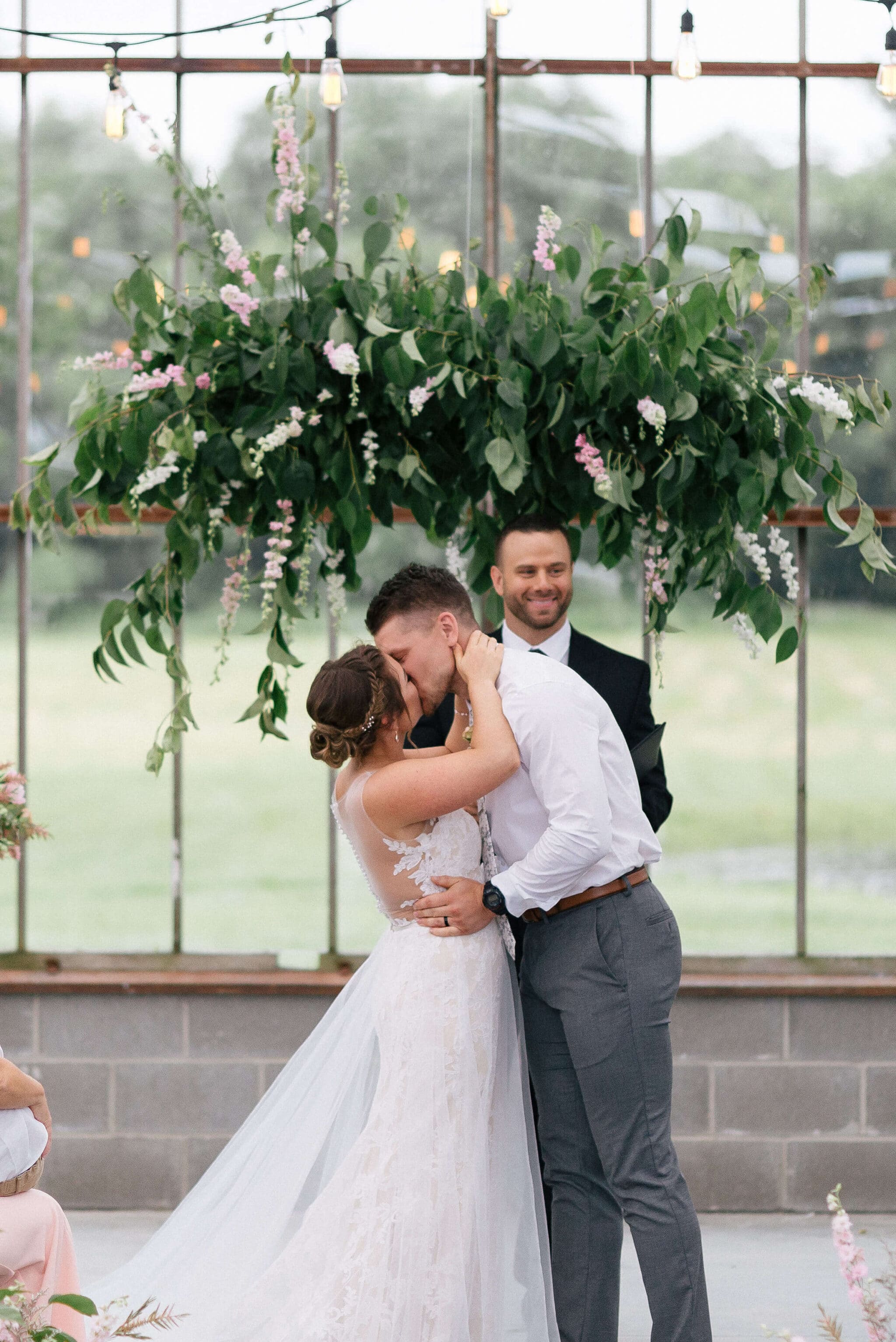 We exited the greenhouse as husband and wife to the tune of Can't Stop the Feeling by Justin Timberlake!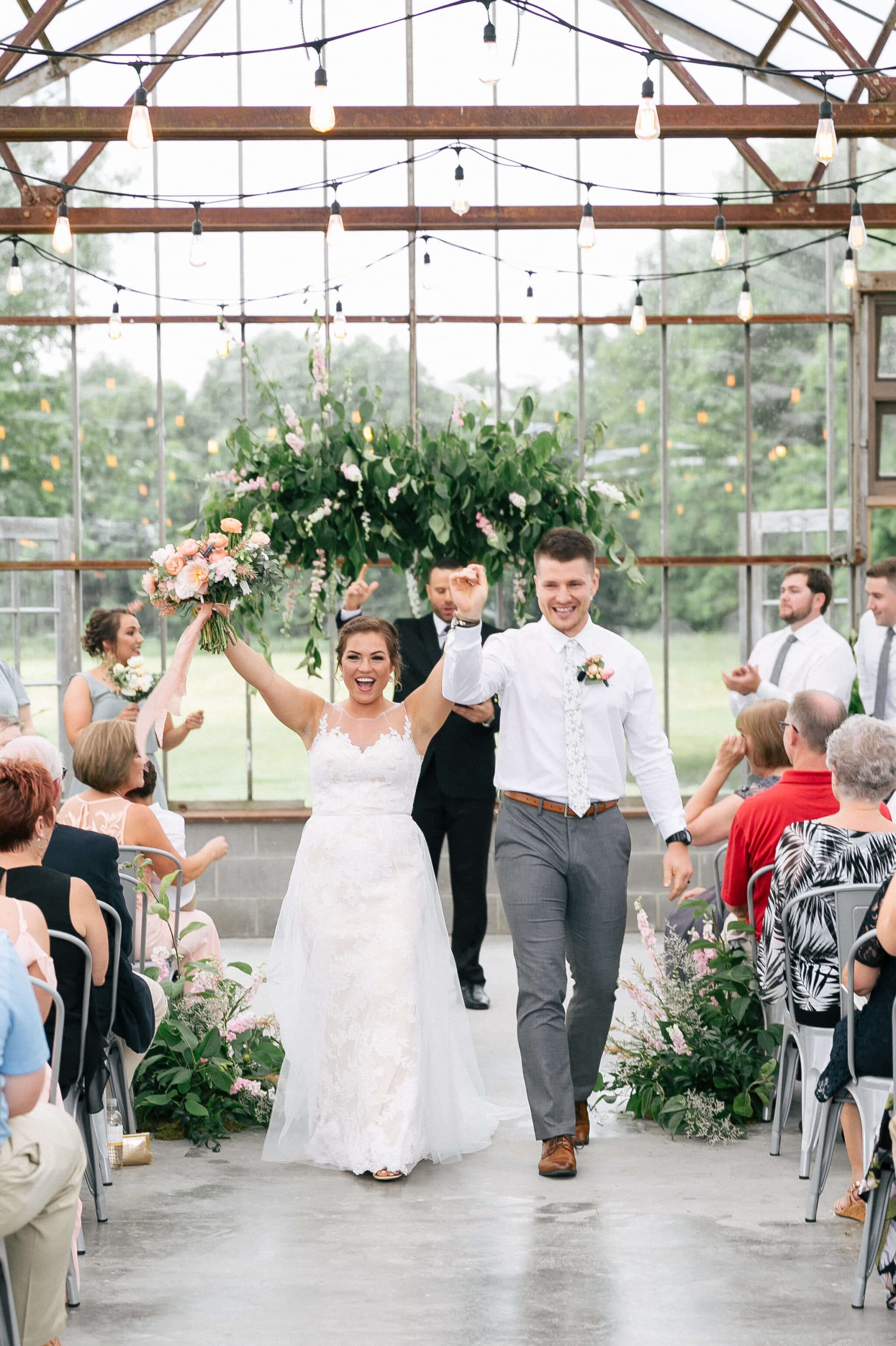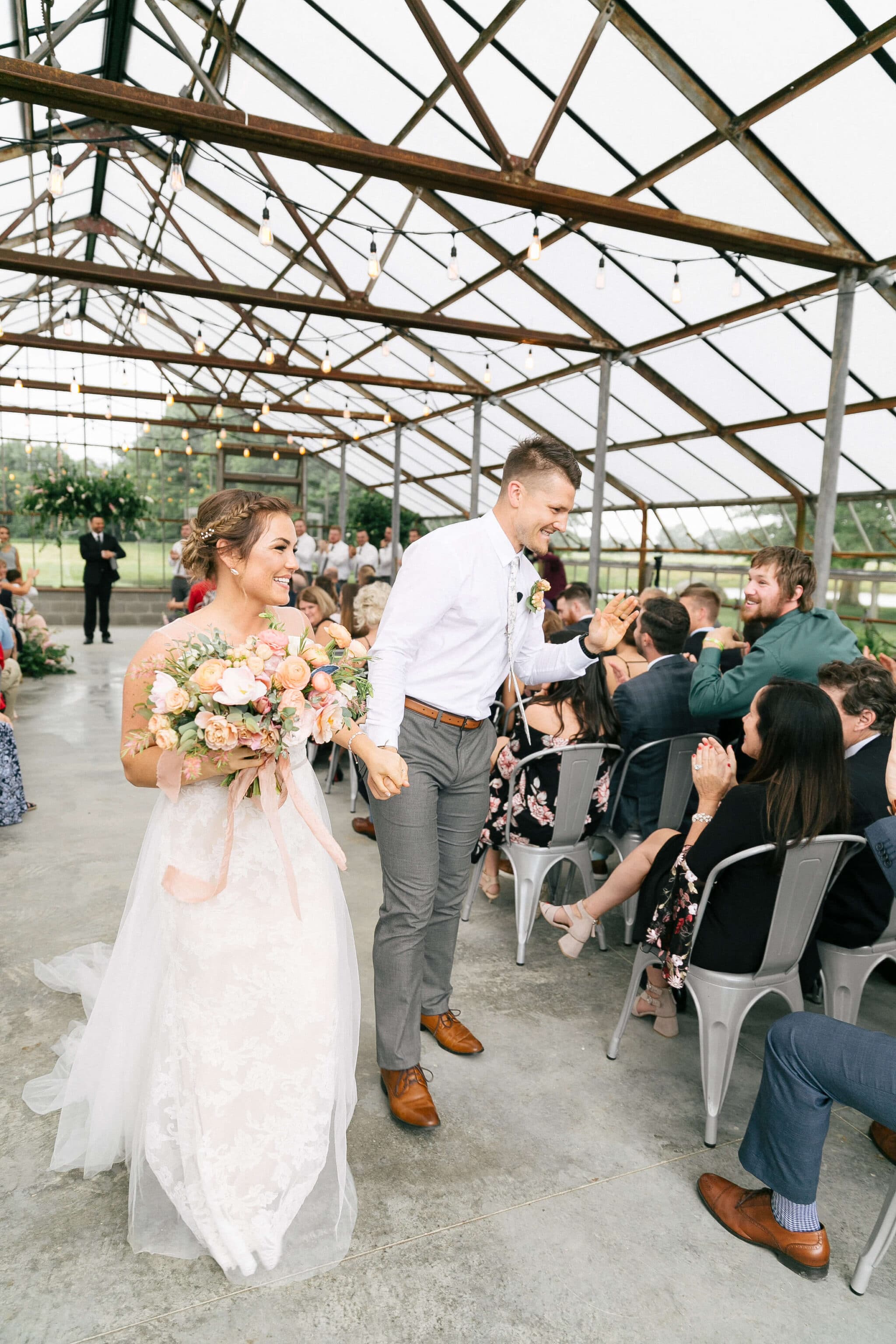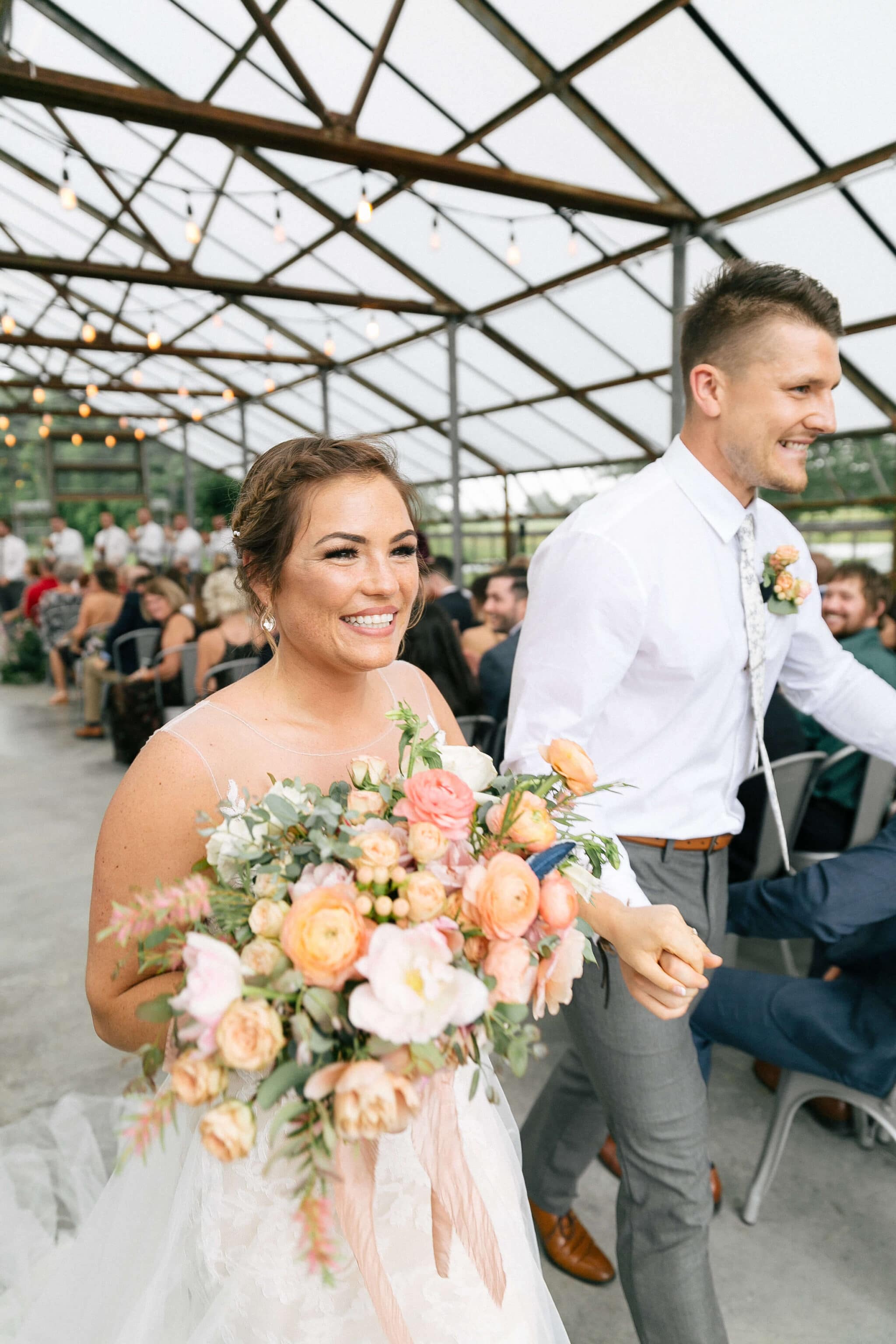 I replay those moments over and over in my head and I wish I could go back. It's why I love and cherish these images so much and why I can't wait to get our wedding video back! This will forever be one of the most amazing moments of my entire life.
Our amazing vendors:
RKM Photography
Alyssa Thomas Event Planning & Design
Bear Roots Floral
Jorgensen Farms Oak Grove
Lovely Grain Studio