Sweet and minty Shamrock Shake Ice Cream made with St. Patrick's Day Cereal Bars. Yes, you read that right. Rice crispy treats made with Lucky Charms and Golden Grahams then mixed in some homemade ice cream.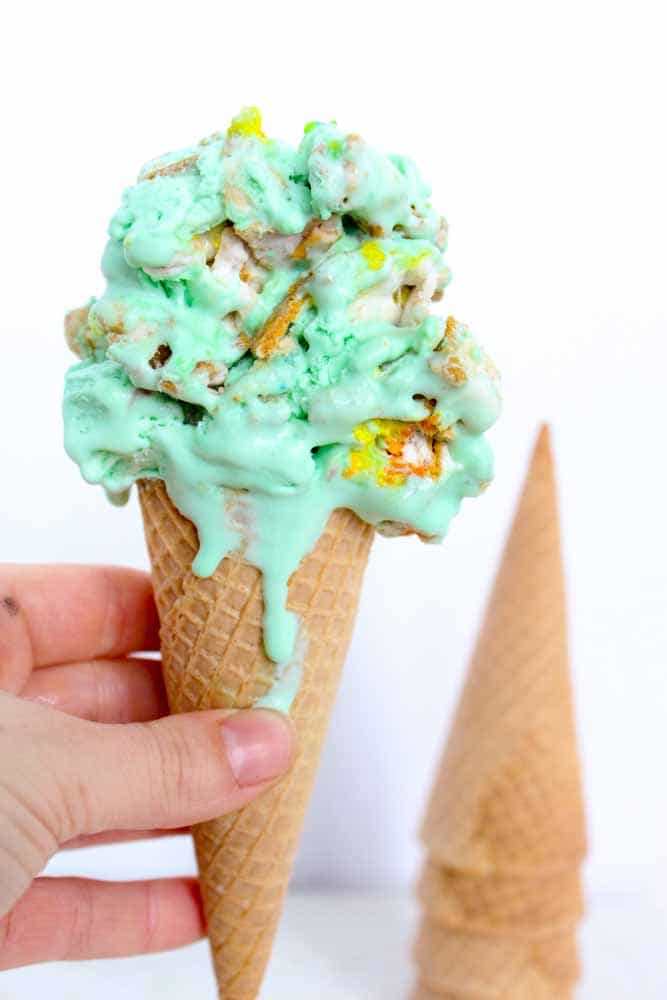 Okay, so this ice cream. It's a real thing. It actually exists and it is so good. I know what you're thinking! This sounds crazy and weird and strange. And it may be all those things, but it's SO GOOD.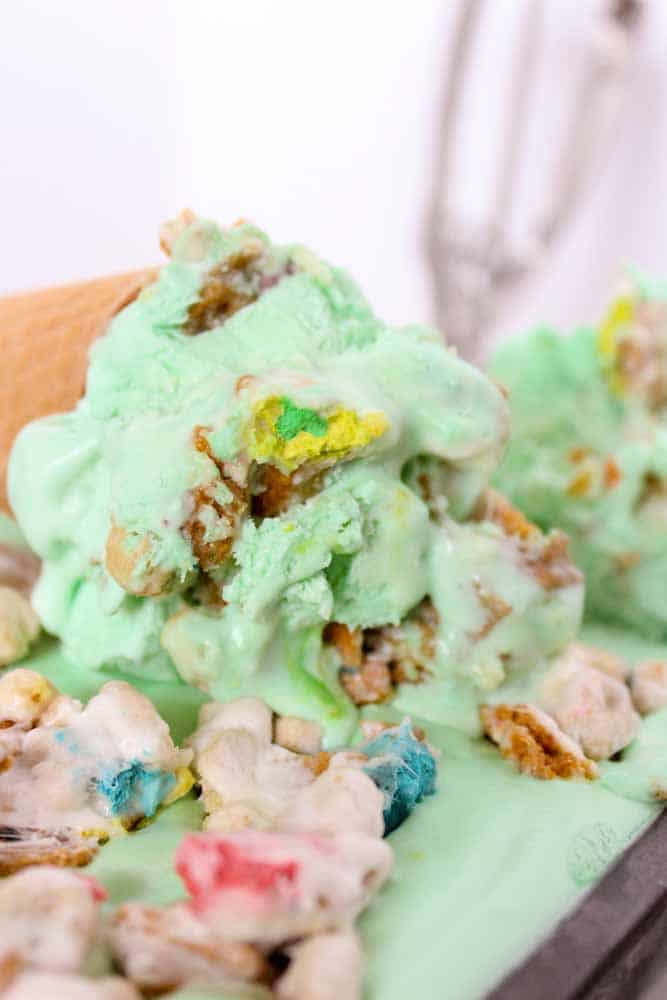 It's green and minty and festive on so many levels.
It's green. Anything green is festive for St. Paddy's Day
It's minty. Like a shamrock shake from McDonalds and that's just so festive.
There are actual pots of god in the Lucky Charms. Doesn't get more festive.
This whole yummy thing is just heavy cream, sweetened condensed milk and peppermint extract. Then you crumble up these crazy good (and crazy easy) St. Patty's Day cereal bars and throw it in the mix. They're crunchy and sweet and give this ice cream such a great texture.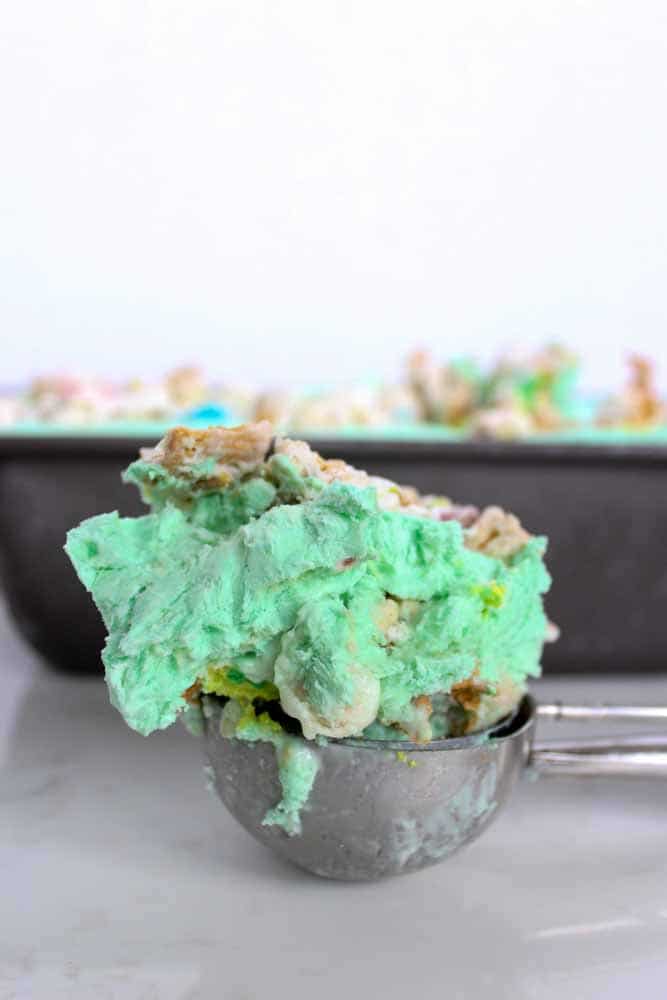 I took this big bread pan of homemade ice cream to my friend's house last weekend for a girls night to celebrate her buying a house. I need to let that sink in for a sec. My friend bought a house. What is going on. She bought a house!
When you're 25, buying a house is so exciting and also very terrifying at the same time. It's that awkward stage where you really should be an adult and start doing grown up things like that but you still just really want to move home and have your mom buy all your groceries.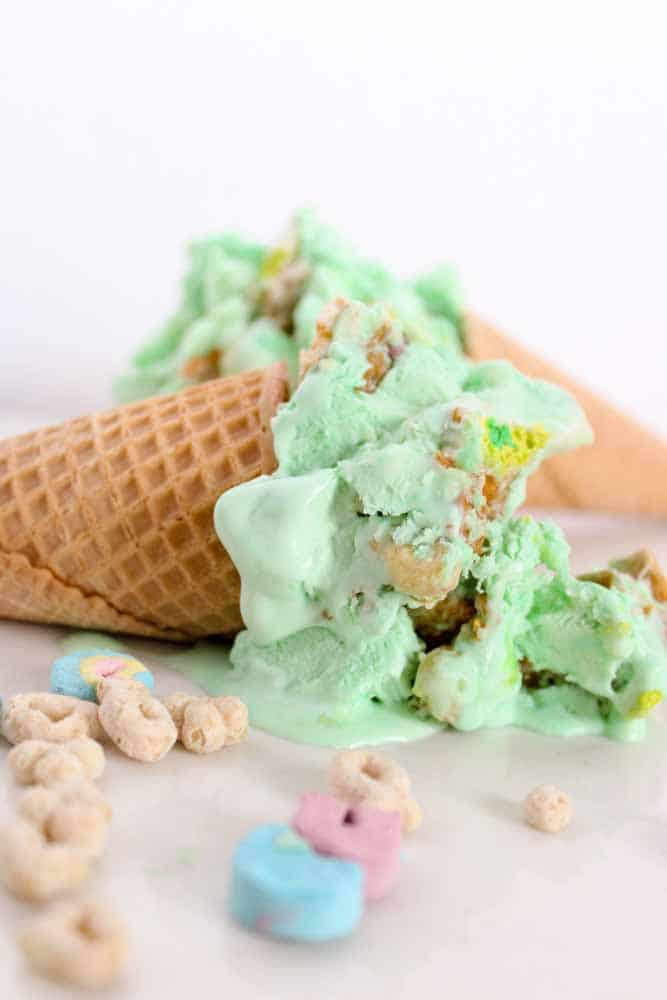 We were all so excited for her we had a dinner to celebrate and afterwards we got four spoons and ate it straight out of the pan. There was no time for that whole bowl and manners thing. Maybe we aren't so grown up...?
Either way, they loved it! My friend Marilu said, "This is the best! It's like I'm digging for treasures!"
She's actually right. Digging into the ice cream to pick out all the chunks of marshmallow-y cereal is the best part. I'm a repeat offender of eating all the cookie dough out of cookie dough ice cream. This Shamrock Shake is no different!?
ONE LAST THING. This recipe takes a total of 15 minutes to prep. Seriously you guys, only 15 minutes to get this stuff ready. 5 minutes for the marshmallow treats (bonus—you don't use all the treats so you sorta have two desserts in one! and while they set it takes about 10 minutes to whip up the ice cream. They you throw it all together in a bread pan and pop it in the freezer and forget about it for about 6 hours.
You could make this St. Patrick's Day morning, go drink all the green beer and come back and it's perfectly set. Dreams really do come true.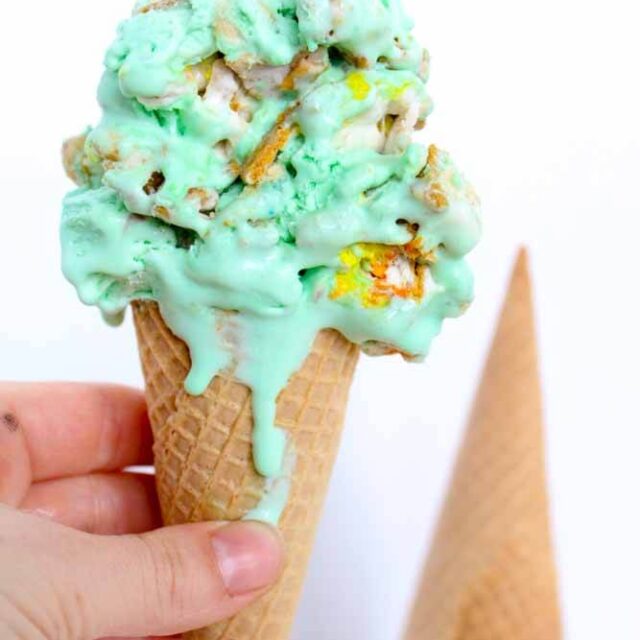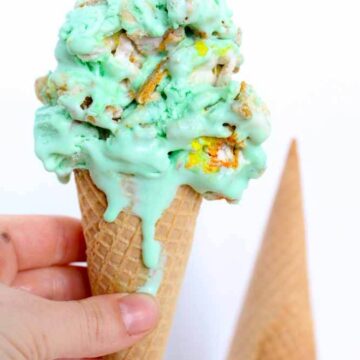 Shamrock Ice Cream
Sweet and creamy Shamrock Shake Ice Cream made with St. Patrick's Day Cereal Bars. It's a sweet and festive treat you can whip up in 15 minutes!
Print
Pin
Rate
Save
Saved!
Ingredients
1

batch of St. Patrick's Day Cereal Bars OR 3 cups of Lucky Charms Cereal

3

cups

heavy whipping cream

1-14

ounce

can sweetened condensed milk

1 ½

teaspoons

peppermint extract

1

tablespoon

green food coloring
Instructions
In the bowl of a stand mixer or a large bowl with a hand mixer, beat heavy cream on high until stiff peaks form, about 5 minutes. With a rubber spatula, gently fold condensed milk mixture into whipped cream. Stir in the peppermint extract and food coloring until well combined.

Pour half the ice cream mixture into a loaf pan. Break up cereal bars into small pieces and cover the top of the ice cream in the pan OR sprinkle 1.5 cups of Lucky Charms evenly on top. Pour the rest of the ice cream mixture over the cereal and then sprinkle more pieces of cereal bars or plain cereal on top.

Cover with plastic wrap or foil and place in the freezer until firm, about 6 hours.

Scoop into bowls and enjoy!