If you love to bake but also love to be healthy, this post on must have healthy baking ingredients is for you!
I recently posted my first annual reader survey and so many of you said you want to see more healthy (but easy) baking recipes. You also said you want to see more baking essentials.
I know healthy baking recipes can be scary sometimes. Either because they take a million years to make or you have to go to a special store just to get one ingredient to make the recipe. Like where in the world do I find tahini and do I really need to use 3 different kinds of flour for these paleo cookies? I get it. Been there, done that.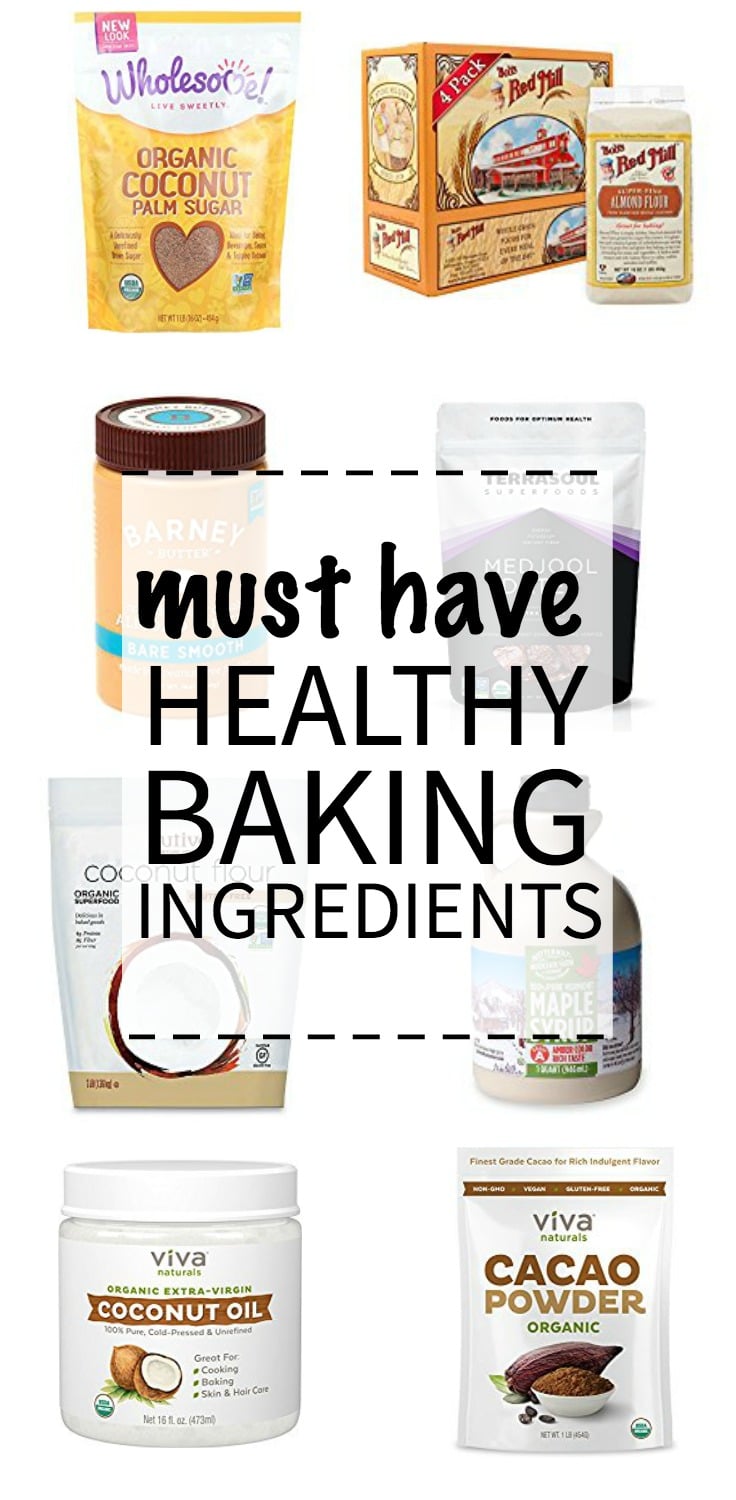 My approach (for the most part) is to share approachable healthy baking recipes that don't take forever but definitely satisfy and impress. Sometimes I'll share something I like to make for special occasions or a recipe just absolutely needs two flours for texture purposes, but the majority of the time my healthy baking recipes are made with my essential healthy baking ingredients.
Must Have Healthy Baking Ingredients
These ingredients are the ones I like to keep in my pantry at all times so when I get the urge to make a healthy baking recipe I don't have to run to the store or order it on amazon quickly.
Next time you head to the grocery store, Sam's Club or Costco add these essential healthy baking ingredients to your list so you're prepared whenever!
Flours
Some sort of flour is the base of a lot of recipes. They add structure and texture and the type of flour you use makes a big difference. Here are the few I like to keep handy:
Almond Flour: Almond flour is essentially whole almonds ground
into a fine flour. It's the famous ingredient in french macaroons, but also a staple in paleo and gluten free baking. It's a little pricier than most flours so I try to buy it in bulk on Amazon or a specialty store when I can.
Coconut Flour: Coconut flour is similar, but made into a flour from defatted coconut meat. It's really high in fiber and lower in carbs. Coconut flour absorbs a lot of moisture so you need to make sure your ratio of coconut flour and wet ingredients in a recipe is right or you'll end up with dry baked goods. I like to couple my coconut flour with almond flour for a delicious texture and flavor. Coconut flour is pretty cheap so any grocery store is a good place to buy it.
.
Rolled Oats: Rolled oats are your typical old fashioned oatmeal oats. They add so much texture to a recipe instead of flour but you can also put them in the food processor and pulse them to create a fine oat flour. You can get gluten free oats too! Any of your favorite stores will have them.
Sweeteners
What's a baked good (and life) without a little sweetness? These are my favorite natural and refined sugar free sweeteners:
Dates: Dates may just be my all time favorite baking ingredient. Dates are oddly brown and wrinkly (kinda gross) but don't be fooled because they are sweet and chewy. I love to put them in the food processor to add to bars and energy bites, put them in smoothies/salads or use them to make a crust for a gluten free tart. They do have seeds in the middle so I recommend buying them pitted because they're ready to go. You can find them near the produce (usually)!
.
Maple Syrup: Maple syrup is always a go-to sweetener of mine for it's natural, earthy flavor. It is liquid so you have to make sure the dry and wet ingredient ratio is right in the recipe. I buy a huge all natural jug of it and keep it in my pantry, it lasts forever!
.
Coconut Sugar: Coconut sugar is a natural sweetener that yields a few health benefits that make it a better choice than granulated sugar. It's better for diabetics, has a few trace vitamins and is much better for gut health. It's usually right near the granulated sugar in the grocery store but a little pricier.
.
Fats
Fats add flavor and texture to your baked goods and hold them together when you put them in the oven. Here are my two favorite all natural fats for healthy baking:
Coconut Oil: Coconut oil is a staple in my pantry for all cooking in general, but especially for baking. It's solid at room temperature but it can also be melted and used that way. If you don't want the coconut taste in your baked goods use the Refined coconut oil—it's been bleached and deoderized to remove the flavor. When it isn't a huge deal I like to use unrefined (aka virgin) coconut oil because it's less processed.
.

Nut Butters: Nut butters are so good to add to baked goods. My go-to is usually almond butter, but I absolutely love cashew butter and use peanut butter a lot too as long as the brand I use doesn't have a lot of added sugar. Make sure you read the labels on these nut butters so make sure it's natural and doesn't have added sugar!
.
Other
There are a few other, random ingredients I like to keep on hand for different recipes. These are likely ingredients you already have!
Cocoa Powder: Cocoa powder is your typical powder you would buy for any other baking project. Lucky for all of us cocoa powder is natural and not bad for you, right?!
.

Baking Soda/Powder: What's there to bake without a quality leavener to add lift and rise to your treats? Again, nothing fancy here you can just use the baking soda and baking powder you would use for any other baked good!
.

Raw Nuts: Raw nuts like almonds, pecans, cashews etc. add so much texture to a recipe! They are also great to add to your food processor to create a crust for a tart.
.
The majority of my healthy baking ingredients have one or a combination of these essential healthy baking ingredients! They're all so easy to find and store really well in the pantry so you have them in stock whenever the sweet craving strikes.
These essential healthy baking ingredients aren't scary at all! Once you have them in your pantry the options are really endless to bake a little healthier for you and your family.
Curious about a healthy baking ingredient you've seen here or one you've seen in another recipe? Just ask me! I love helping you feel better about trying new ingredients and want to help you make that perfect paleo bar!