Healthy hot chocolate is a must-make in the winter. This healthy peanut butter hot chocolate is a rich and creamy winter drink. It comes together in minutes and it's filled with good-for-you ingredients. Not to mention this healthy homemade hot chocolate is dairy free, gluten free and refined sugar free!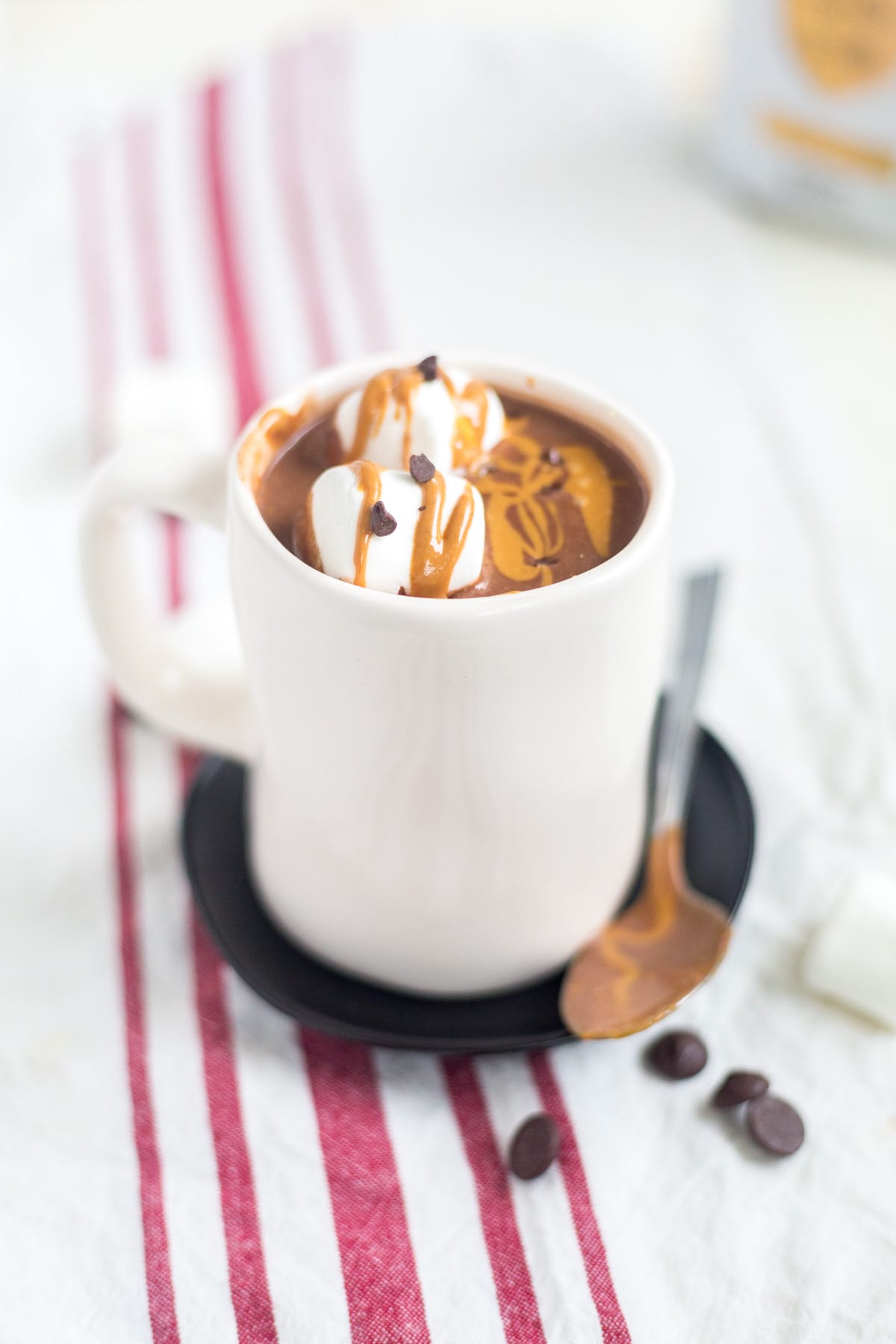 There's nothing like a warm cup of cocoa during the holidays. Especially around Christmas time. My family has a tradition of eating chili and cornbread on Christmas Eve then following it up by a big mug of hot chocolate and a classic Christmas movie.
And there's nothing better than a healthy hot chocolate. With peanut butter! I mean really, is there anything better than a peanut butter and chocolate combo? Other than one that's healthy?!
All the flava, none of the unhealthy stuff that could weigh your present-opening down the next day. It's so rich but not filled with weird stuff you don't know anything about.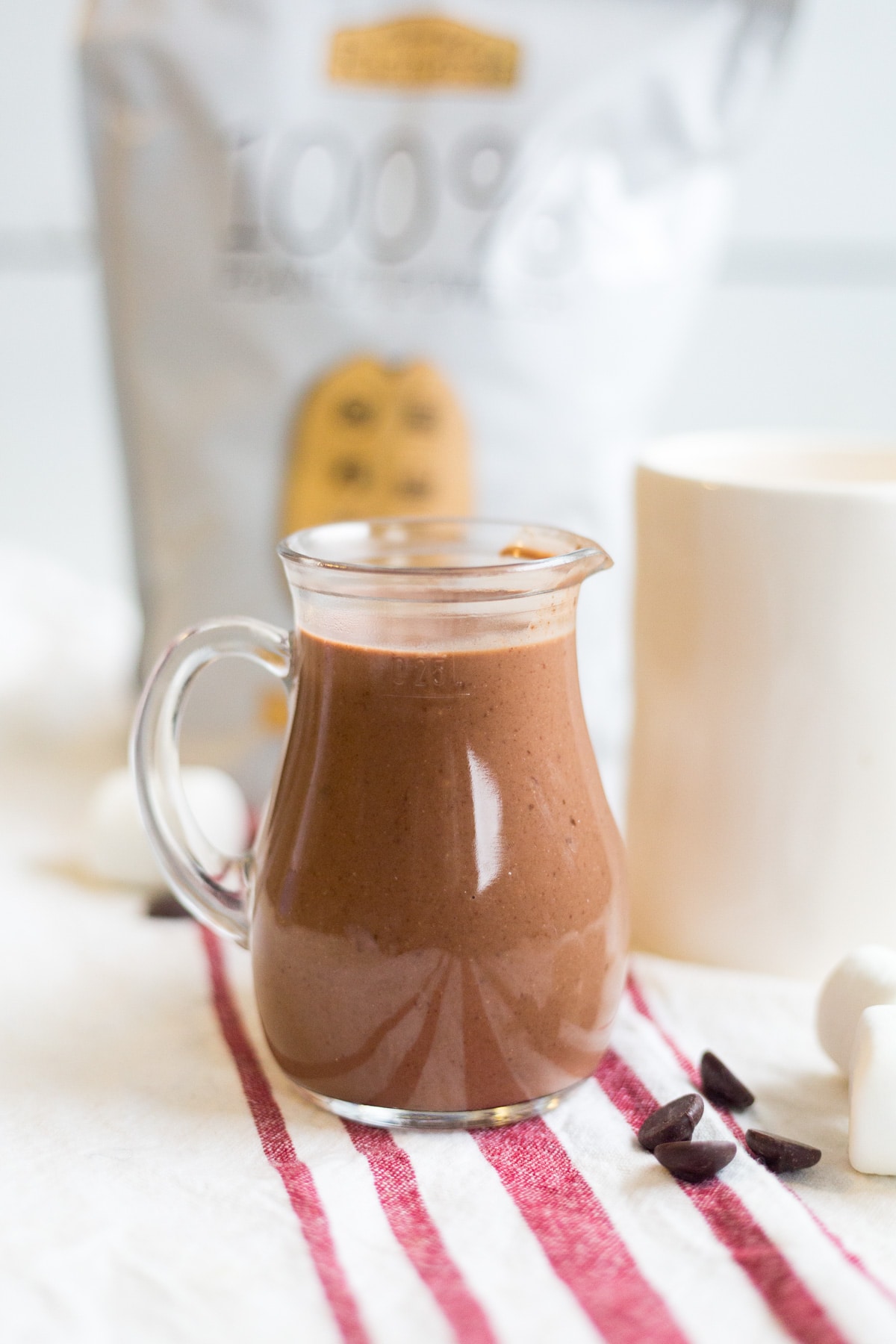 Is Hot Chocolate Good For You?
Hot chocolate is good for you if you make it with healthy ingredients like this healthy hot chocolate. Stay away from all the sugar and fill it with healthy fats like coconut milk and dairy free chocolate chips and it is! Here are the ingredients in this healthy hot chocolate:
Coconut milk is the first ingredient and the base of the recipe. It's what makes it so thick. I used the full-fat can but you can use the light version too. Be sure to get a quality brand of coconut milk you love since there's a good amount of it in this recipe.
Crazy Richard's 100% – Peanuts, Peanut Powder is a simple and healthy ingredient that packs a lot of flavor. It's only powdered peanut butter, nothing else!
Almond milk is added to thin out the coconut milk a bit and makes it a little easier to drink. Depending on your taste feel free to add more or less depending how you like the consistency!
Dairy free chocolate chips makes this recipe so chocolatey! It also doesn't have dairy since we're trying to keep this that way with the coconut and almond milk.
Cocoa powder is another healthy ingredient that makes this healthy peanut butter hot chocolate extra chocolatey.
Vanilla adds some extra flavor so don't forget that!
When you've got all of the ingredients on hand it only takes a couple of minutes to bring them all together. Throw them all in a large saucepan and heat it on the stove!
It only takes a couple of minutes to warm up, then you've got some healthy hot chocolate for two!
This recipe does make two good-sized mugs, but if you're anything like me you may want to double the recipe so you can make an extra large mug or share with more family!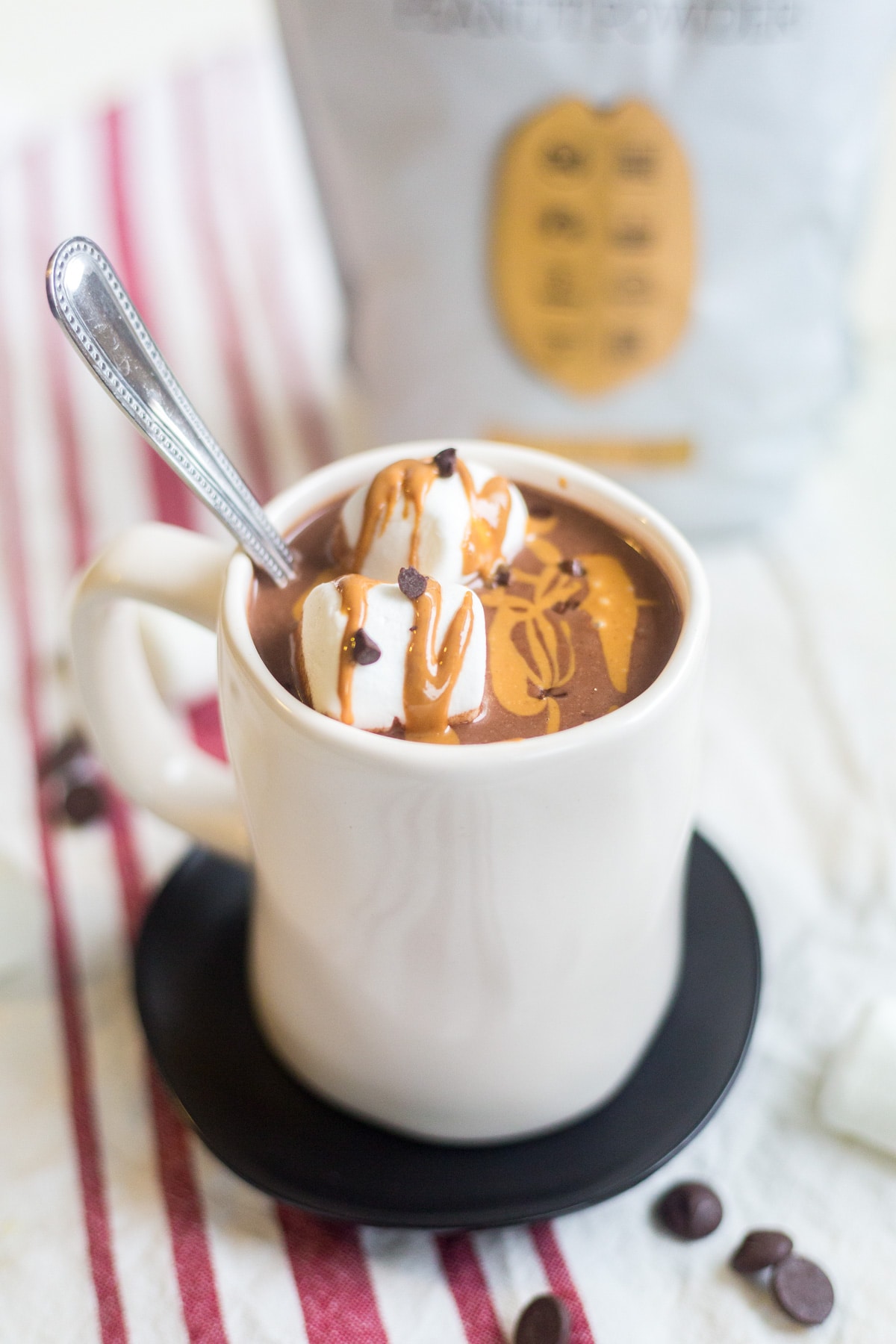 I'm planning to make a triple batch on Christmas Eve to cover me, my fiance, and my parents. We're thinking it's going to be Elf this year for our movie. It's a classic!
But I have to admit, if I could convince my dad and Zach to watch The Holiday my Christmas Eve would be complete. It might be my favorite movie of all time, not just my favorite Christmas movie. It's SO good. Anyone else love The Holiday?! Someday I'll go to a cozy cottage in England for Christmas.
And you better believe this healthy hot chocolate will be making the treck across the Atlantic when that time comes. Something this delicious should be shared with the world.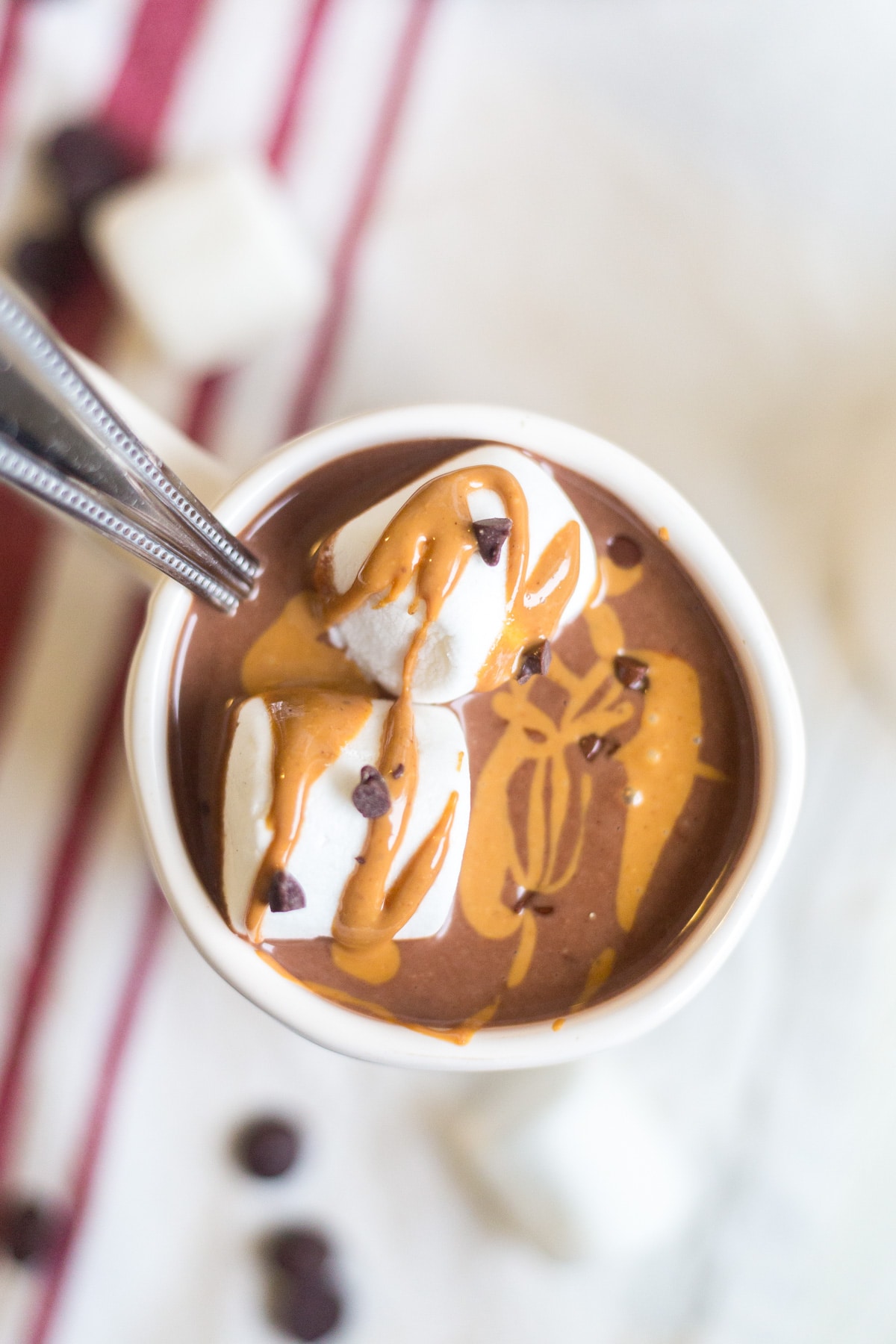 This post is sponsored by Crazy Richard's. Thank you so much for supporting What Molly Made. All opinions are my own.
I really really hope you guys make and love this healthy hot chocolate recipe as much as I do! A healthy and delicious recipe is always a win-win for me and my family!
If you do love it don't forget to give me a virtual high five by tagging and following me on Insta so I can see that you made it! And don't forget to check out my other healthy recipes.
How to Make Healthy Hot Chocolate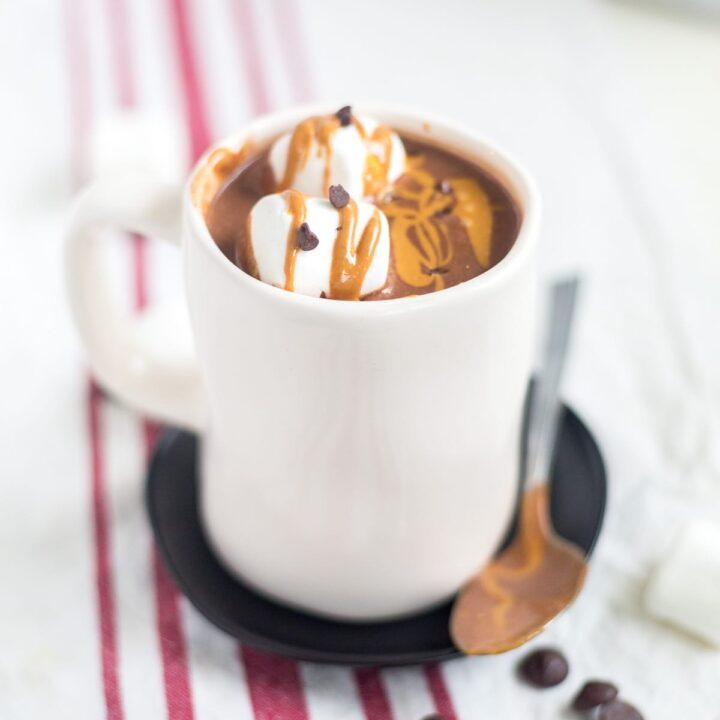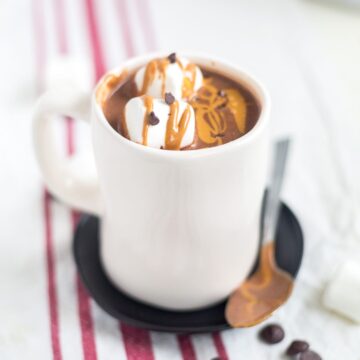 Ingredients
1

– 13.5 ounce can full fat

or light coconut milk

⅓

cup

almond milk

½

cup

dairy free chocolate chips

1

tablespoon

cocoa powder

1

tablespoon

Crazy Richard's 100% – Peanuts

Peanut Powder

½

teaspoon

vanilla extract

Pinch

of salt

to taste

For topping: coconut whipped cream

marshmallows or drizzled peanut butter/chocolate
Instructions
In a medium saucepan over medium heat, whisk together the coconut milk and almond milk for about 1 minute. Add the chocolate chips, cocoa powder, Crazy Richard's 100% – Peanuts, Peanut Powder , vanilla an pinch of salt and whisk until chocolate is melted and smooth. Mix and stir until mixture is hot all the way through, but not boiling. Top with optional toppings and serve immediately.