This easy paleo fudge comes together in a few minutes! It's made with coconut oil, coconut milk, honey and cocoa powder so it's dairy free, grain free and refined sugar free, making them a delicious paleo dessert!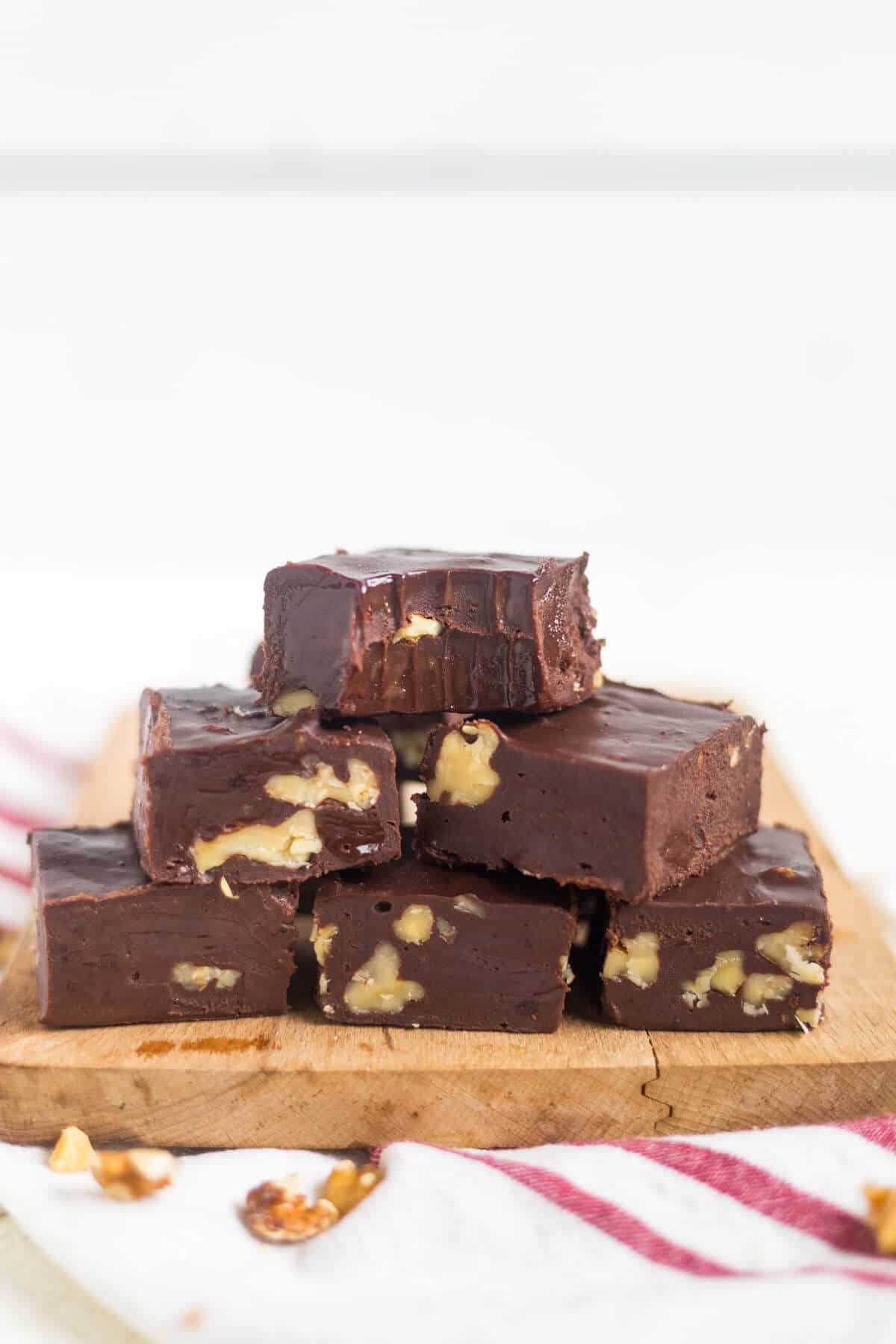 It's a big day! I've got TWO really awesome things to share with you today. First, this easy paleo fudge. Second, a giveaway! I'm giving away two Madhava Sweetener products of your choice to three lucky winners. Just in time to finish up holiday baking or stock up on healthy ingredients into the new year!
Madhava carries an assortment of natural, organic sweeteners like honey, coconut sugar, agave and more. I use all of these ingredients all the time in my healthy baking so this give away is perfect for me! If I could enter myself I would.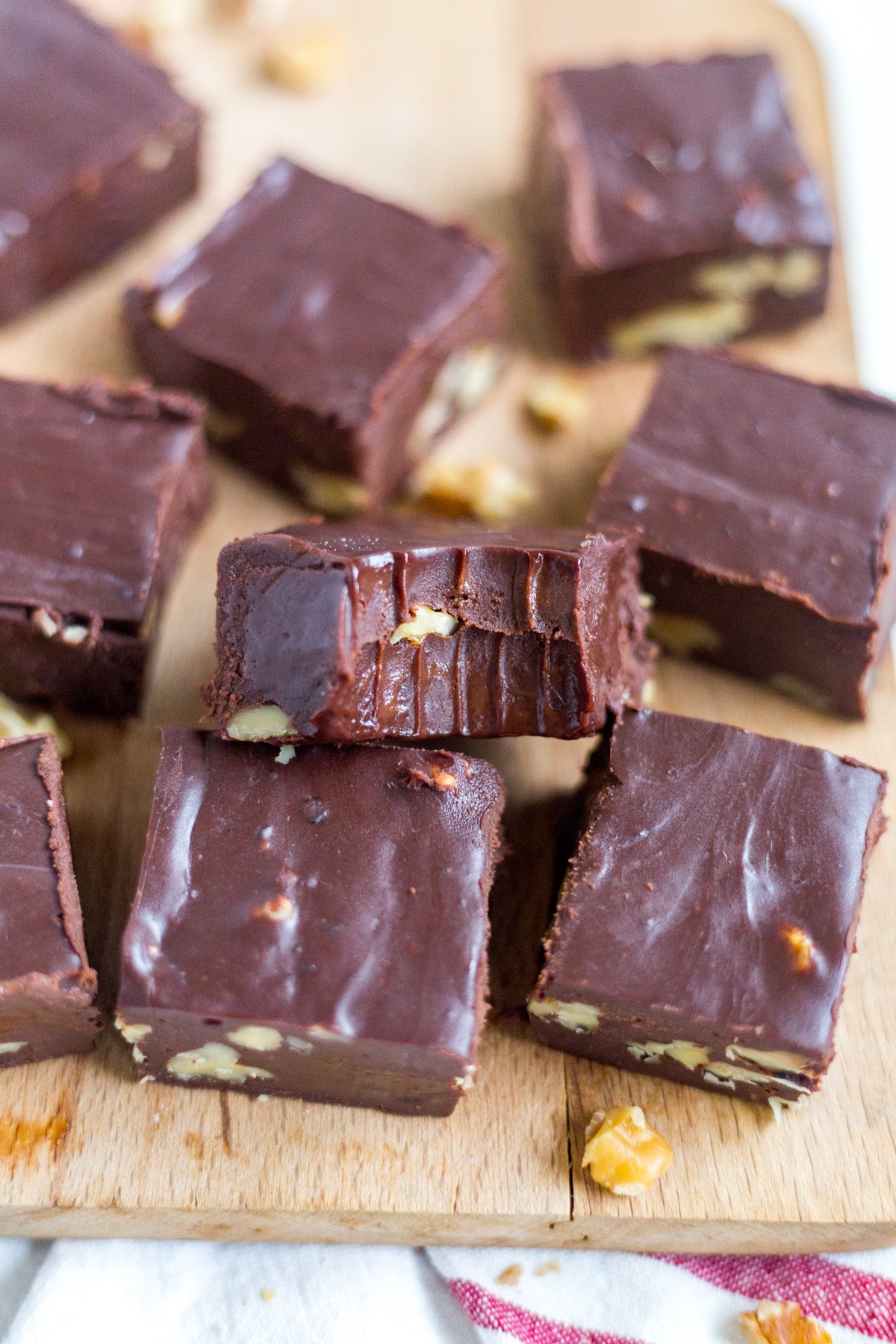 Here's how to enter the giveaway:
Go to my Instagram post with the fudge and tag a friend, each friend tagged will count as an additional entry
Follow me (@what_mollymade) on Instagram
Follow @madhavasweet on Instagram
The giveaway will end on 12/17/17.
I'll notify the winner on Instagram that day so be sure to check back and see if you won!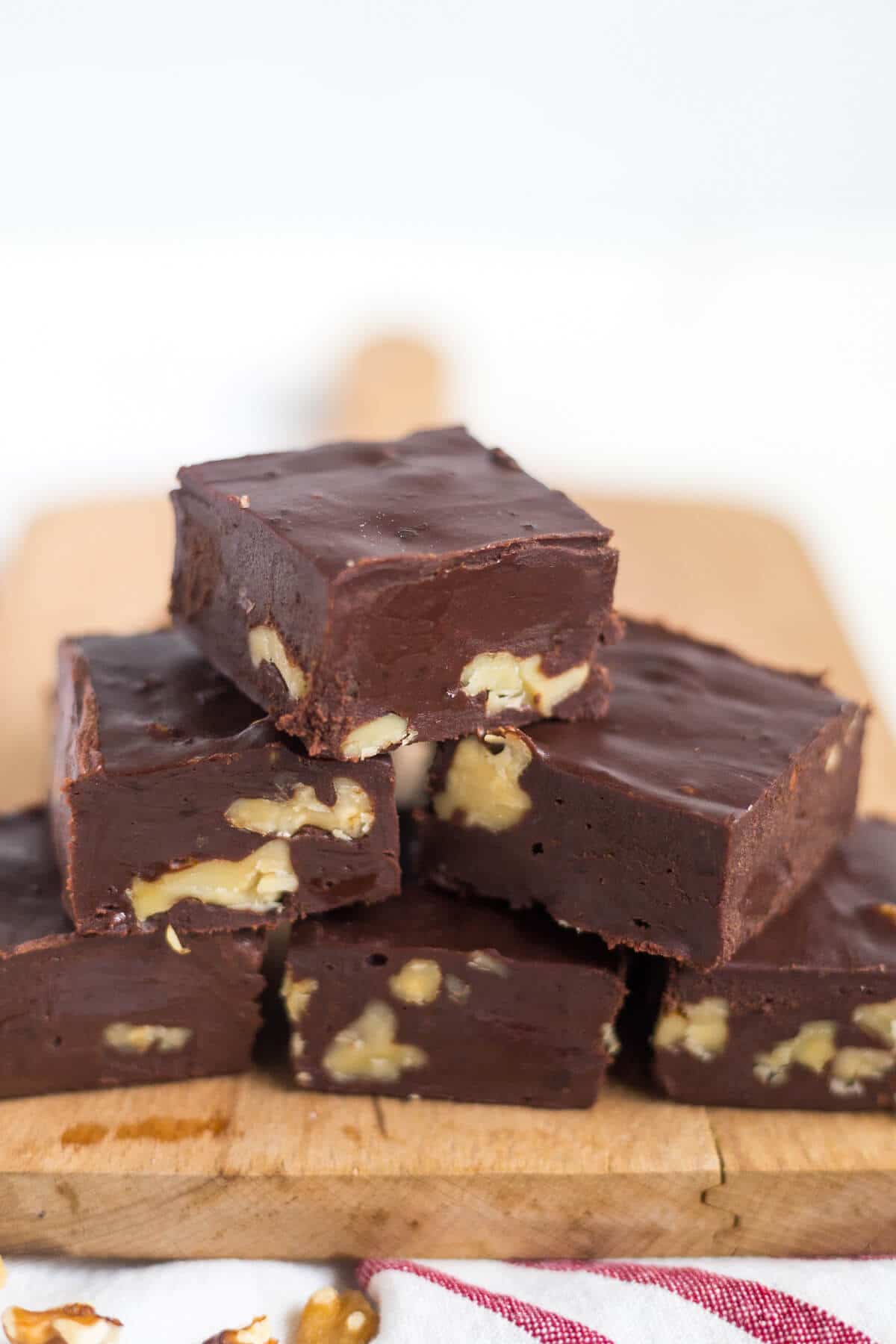 The reason I paired the giveaway today with the easy paleo fudge is because I used the honey in this recipe!
This paleo fudge is one of the best things I've made for the holidays. It disappeared so fast! No one will even know it's healthy!
I tried on my wedding dress for the first time on Friday (eek!) and I took the ladies at the bridal shop some of this fudge to say thank you for helping me find the dress and being so perfect and kind and knowledgable throughout the whole process. I've looked at pictures of my dress no less than 1000 times since Friday.
I kept an extra batch of this in my freezer so I could share with them and share with my mom and aunt when they came over for dinner. I love that it freezes so well so you can have a healthy treat to share with people at a moment's notice.
Or if you're just craving a bite of chocolate. AKA me everyday.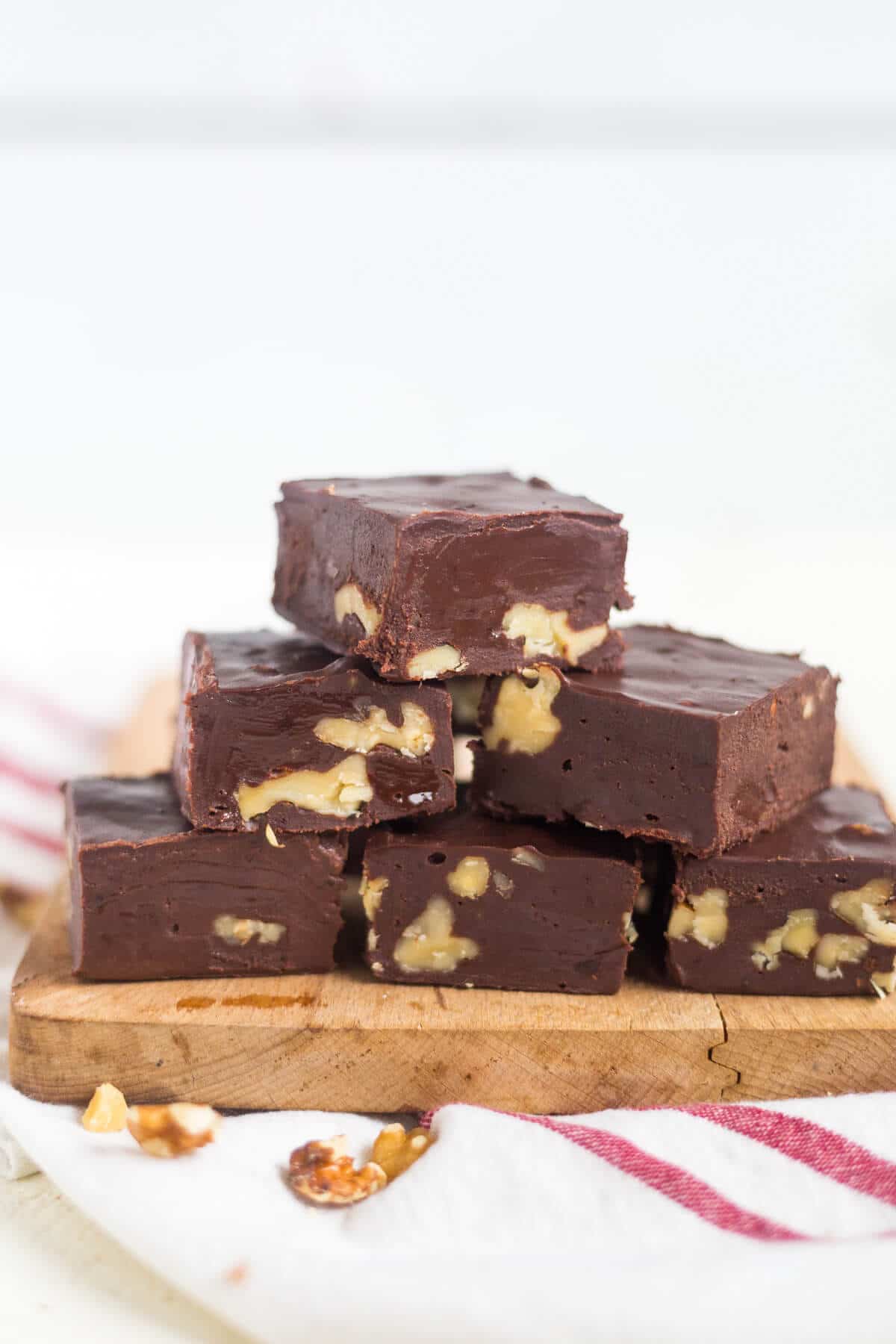 Here's How to Make Easy Paleo Fudge:
To make easy paleo fudge, cook the coconut milk (liquid and solid part) over medium-high heat until it starts to boil. Turn the heat down and let simmer for about 5 minutes. Then add the coconut oil and honey and simmer for another 10 minutes.
Once it's done simmering, add the rest of the ingredients and stir until melted and smooth.
Add the walnuts into the mix then pour into a a square pan lined with parchment paper. Place it in the fridge for a couple hours to set then cut into squares!
That's all! I told you it was easy.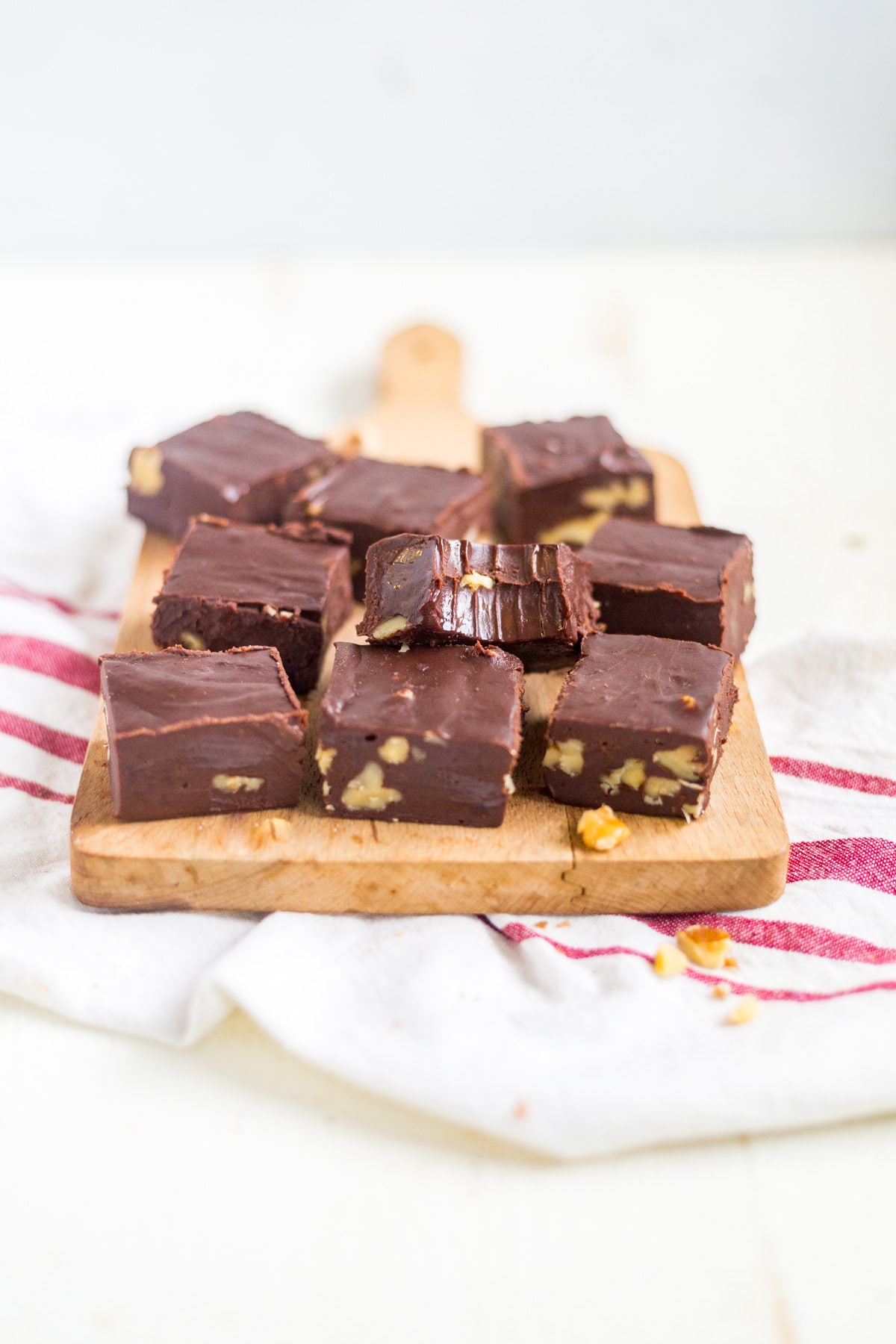 I also love how healthy it is. Just in time for the holidays or a sweet treat when you're sticking to those New Year's resolutions as we head into January.
This easy paleo fudge is made of cocoa powder, coconut oil, honey, dairy free chocolate, coconut milk and vanilla. No funny business in here! Just all natural, refined sugar free and dairy free.
That means this easy paleo fudge is vegan! I promise you, you will fall in love with how rich it is! But healthy at the same:)
Related: 39 best paleo desserts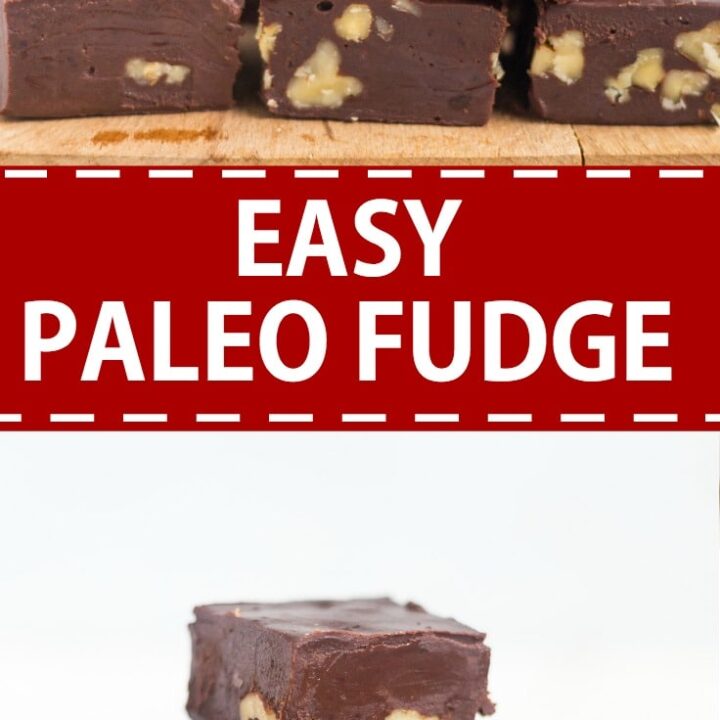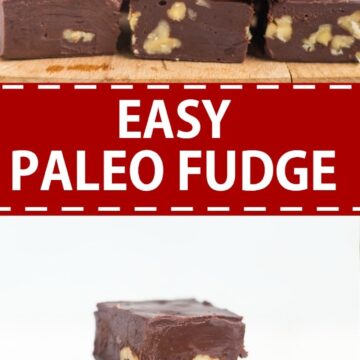 Ingredients
1-13.5

oz

can of full fat coconut milk

½

cup

coconut oil

½

cup

honey

¼

teaspoon

sea salt

1

tablespoon

vanilla

⅓

cup

cocoa powder

3

cups

dairy free chocolate chips

1

cup

chopped walnuts

or other nuts of choice
Instructions
Line a 8x8 pan with parchment paper. Set aside.

Add the entire can of coconut milk into a medium saucepan over medium-high heat until boiling. Reduce to low heat and simmer for 5-7 minutes, stirring occasionally.

Whisk in the coconut oil and honey and simmer for another 10 minutes. Remove mixture from heat and stir in the salt, vanilla, cocoa powder and chocolate chips until the chocolate is melted and smooth. Stir in the walnuts. Pour the mixture into the prepared pan and spread to the edges.

Cover with foil or plastic wrap and refrigerate for at least 2 hours or until set. Cut into squares and enjoy! Store the fudge in the refrigerator or the freezer until ready to serve.