Mini pecan pies are the perfect, bite-sized dessert recipe! These easy pies are filled with pecans and topped with whipped cream. They're a great recipe for a crowd!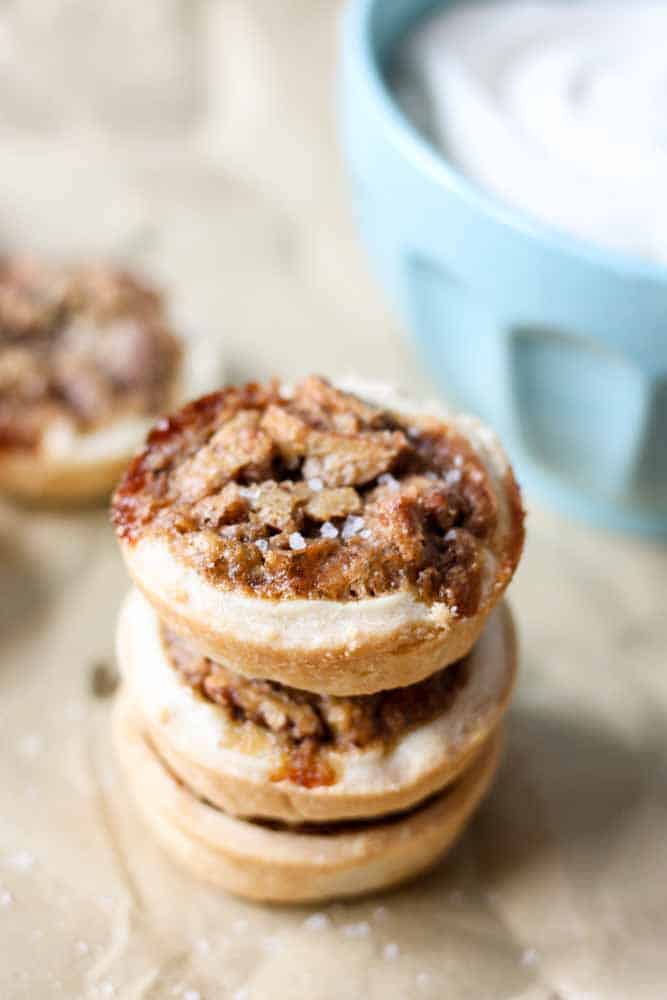 For the first time ever I was invited to 2 Derby parties! Not zero, not one, but two! Who am I?
I've always wanted to go to a Derby Party. And by always I mean since they became super popular like 3 years ago. But still, they just look like so much fun! All the mint juleps and dresses and betting on horses just sounds so fancy.
And because I'm just about the fanciest person you'll ever meet (not), this sounds like a soiree I need to attend.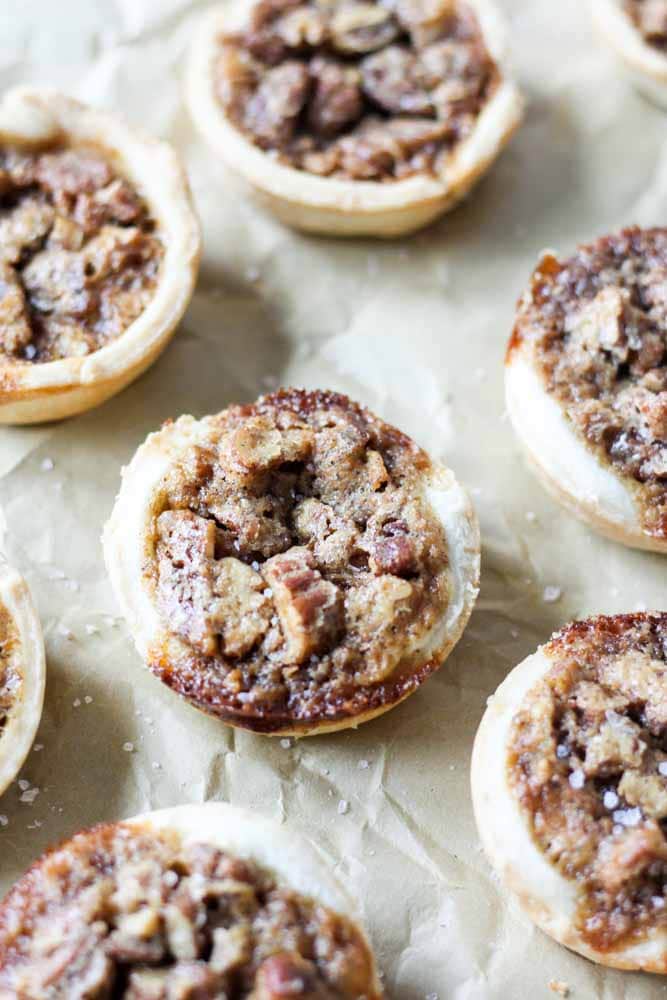 However, this year I'll be heading to a very good friend's bridal shower. I'm not mad at all because I'm sure it will be equally as fun! I have a good feeling, next year is gonna be my year. I'm saving the date right now.
But because I can't attend any myself I thought I would pay if forward to all the folks headed to a party, or hosting a party, that needs a festive pecan pie recipe!
These mini pecan pies are so easy! I used a pre-made pie crust to speed the process along. If you're feeling ambitious, by all means make your own! The longest part of the process is cutting out the dough, and even that only took a couple of minutes.
I used my 1 cup measuring cup to cut out the circular dough to fill the muffin tin molds and it worked like a charm. When they're all cut out you place them in the bottom of a 12 inch muffin pan and use your fingers to fit the mold. The dough will likely not reach the tops of the muffins tins, that's okay! Just make sure you don't fill them too high.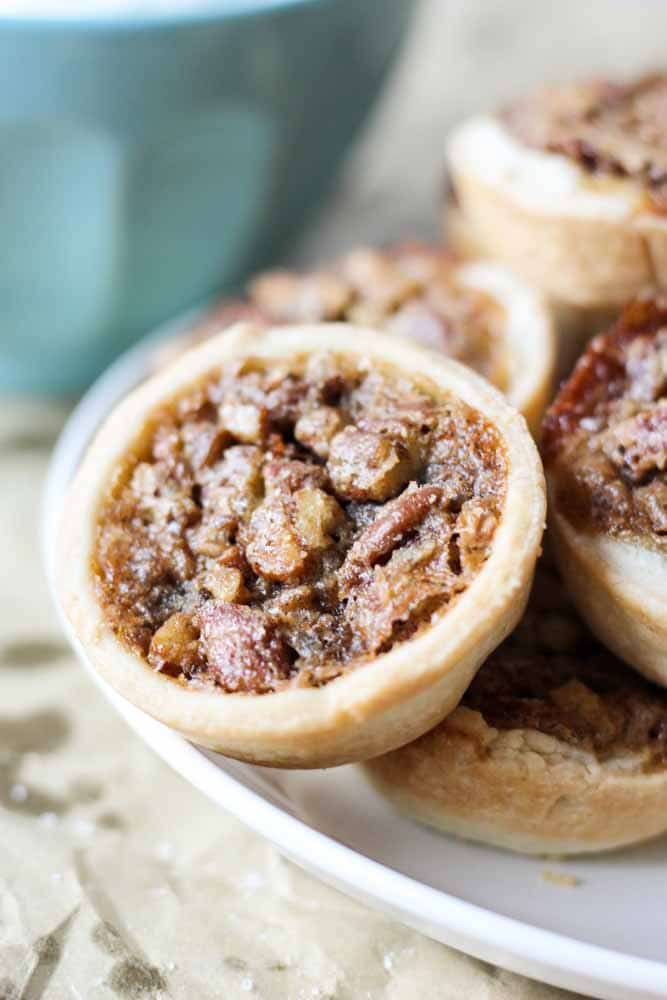 I love chocolate so I added a few chocolate chips on top of the dough before I filled them with the pecan mixture. They're chocolatey treasures hidden under a gooey, sweet filling. It's optional, but not really.
And to top? Sea salt and bourbon whipped cream. Yep, bourbon whipped cream. Because the pies are so easy to make I though I'd add homemade whipped cream to take them up a notch. All your guests and friends will be real impressed!
It's actually really easy too, but no one has to know that ?.
These mini pecan pies are also just perfect for parties because they're mini! No plate or fork required, just your fingers! You can have a mint julep in one hand and mini pecan pies in the other!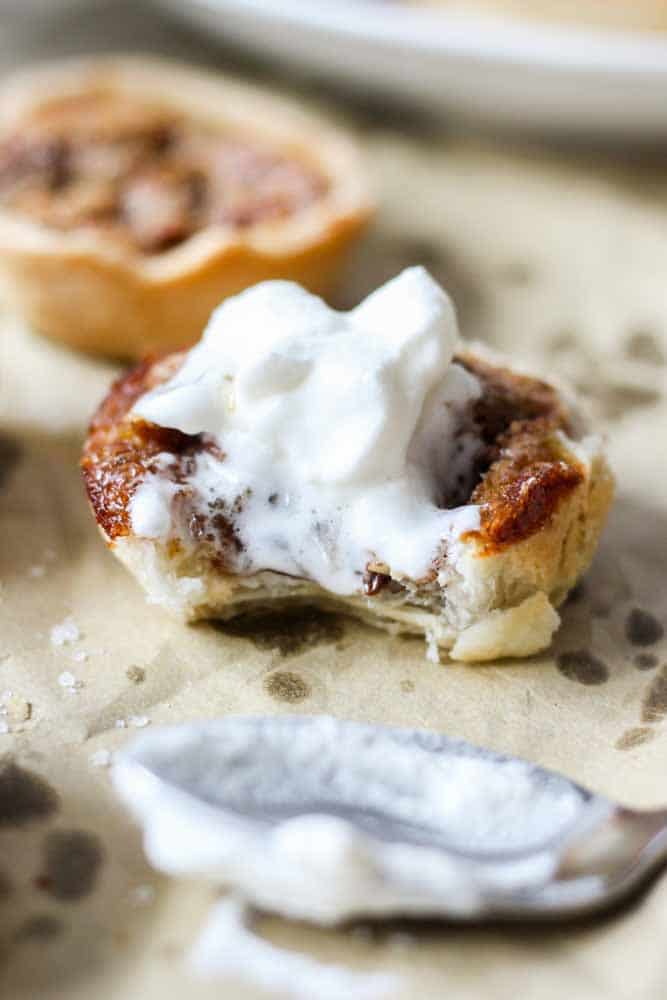 How Long Do You Bake A Mini Pie?
You bake mini pecan pies for less time than a traditional pecan pie because they're a lot smaller, so they need need as much time in the oven. To bake them all the way through bake them for about 24 minutes, allow them to cool and they'll be ready to eat.
Ingredients
Pecan Pie:

2

homemade pie crusts

½

cup

semi-sweet chocolate chips

2

Tablespoons

unsalted butter

melted

½

cup

packed dark brown sugar

1

large egg

1

teaspoon

vanilla extract

¾

cup

96g chopped pecans

coarse salt for sprinkling

Bourbon Whipped Cream:

1

cup

heavy cream

2

tablespoons

powdered sugar

1

tablespoon

bourbon
Instructions
Preheat oven to 350 degrees.

If using pre-made crusts, remove from fridge and allow to warm to around room temperature. Lay on well floured surface and cut 6 rounds from each dough, for a total of 12. I used my 1 cup measuring cup.

Place the dough into a greased 12-count muffin pan. Press it flat into the bottom of the tins and around sides.

To make the filling, melt the butter in a small bowl in the microwave. Allow to cool slightly for a few minutes. In the meantime, whisk the brown sugar, egg, vanilla, nutmeg, and cinnamon together in another medium bowl. Ad the melted butter and whisk together. Stir in pecans.

Sprinkle each pie with approximately 8 chocolate chips. Then spoon 1 tablespoon of the filling into each pie on top of the chocolate. Top with coarse salt.

Bake pies for 20-24 minutes. Be careful not to overbake. When the pie crust starts to slightly brown, they're done.

To make the bourbon whipped cream, combine heavy cream, powdered sugar and bourbon in a large bowl. Using your stand mixer or hand mixer, beat on high until stiff peaks form, about 4 minutes.

Allow the pies to cool completely before serving. Top with a dollop of bourbon whipped cream. Store at room temperature or in the fridge for up to three days. Or in the freezer for up to 3 weeks.