Creamy Mushroom Pasta with Garlic Kale is an Italian-inspired meal made with Bertolli pasta sauce that brings the taste of Tuscany straight to your table!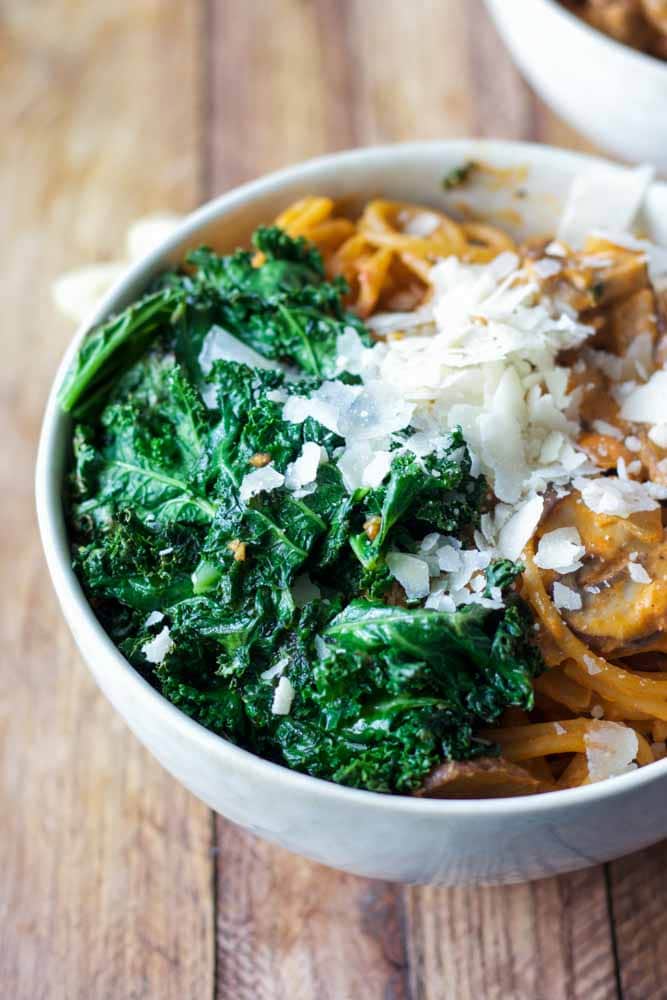 You guys! We're three days into spring (!!!). I'm overflowing with joy for warm weather and sunshine!! Here in Columbus, Ohio it's actually starting to feel like spring too. ? It's going to be 60 degrees today!! If you can't tell by all the exclamation points, I'm pretty happy about the spring situation.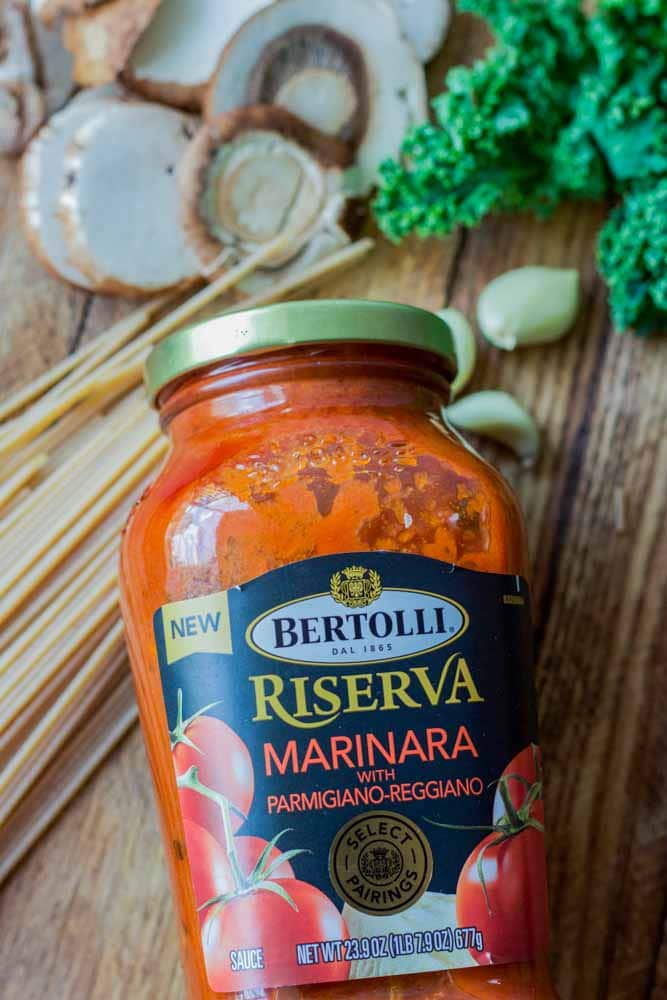 (Don't forget to check out Bertolli for more inspiration!)
So naturally I had to make a meal that brings all of the spring seasonal ingredients together. There are 4 delicious ingredients in this recipe that are perfect for spring:
Kale
Onion
Garlic
Mushrooms
All four of these ingredients come together so perfectly to create one delicious dish that will no doubt take you to a whole new culinary level. And the best part? It's so easy! I used the Bertolli pasta sauce with the mushrooms and cream cheese to make a crazy good sauce that is as yummy as it is simple to make.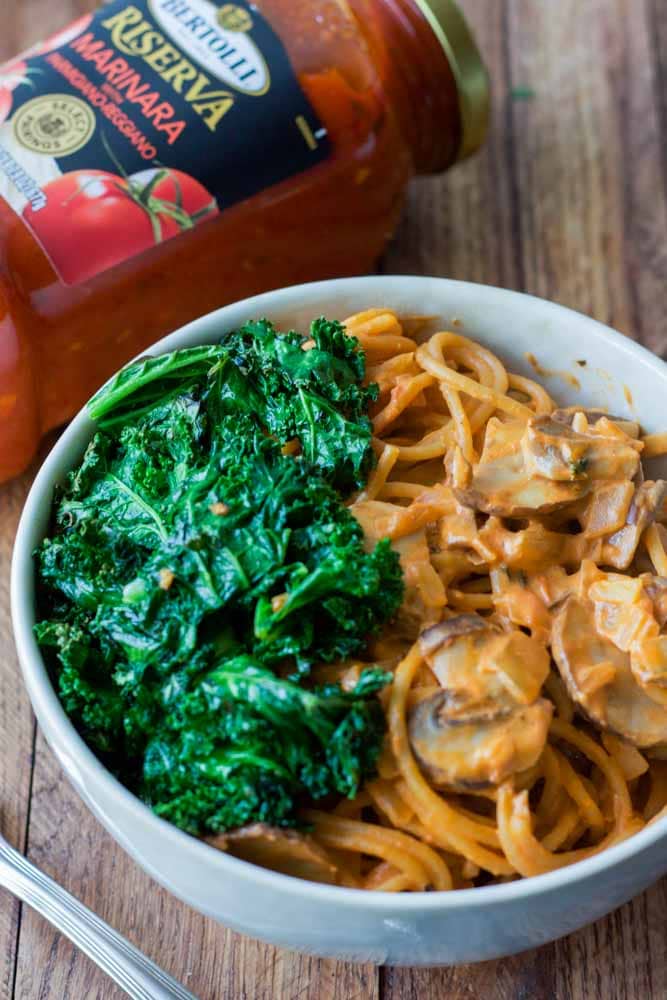 And guess what? Bertolli has 150 more recipes to give you some inspiration for the season? And most likely for me too! Probably because I'm currently eating it for lunch right now and it's almost gone and I really don't want to run out.
I ate this on Sunday night with my boyfriend and family for dinner and everyone raved about it! I had a couple of bowls leftover for lunches this week (yay!), but when it's gone I will 100% be making more.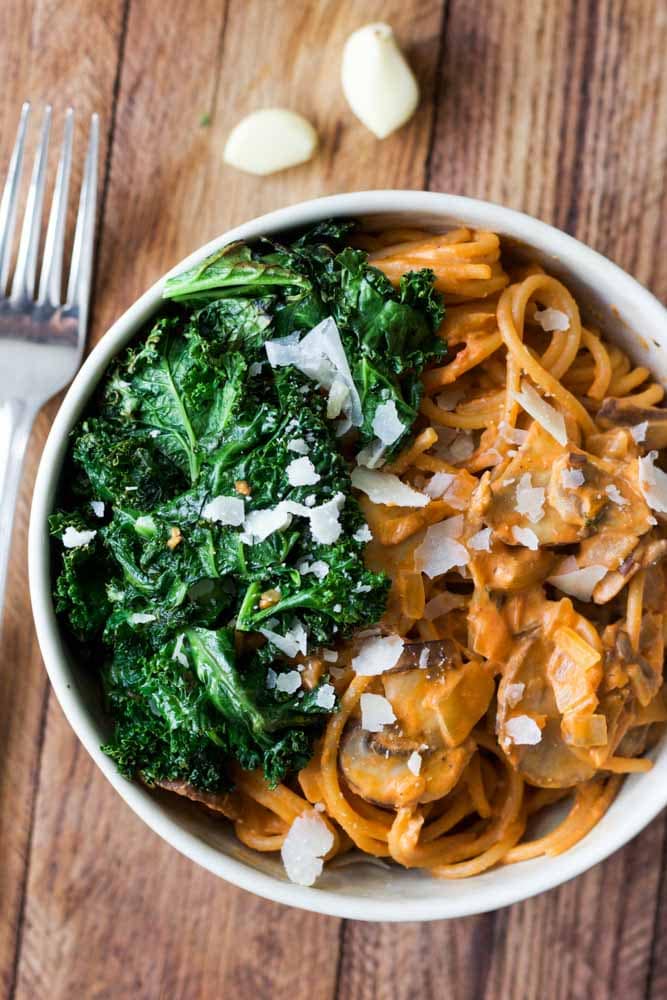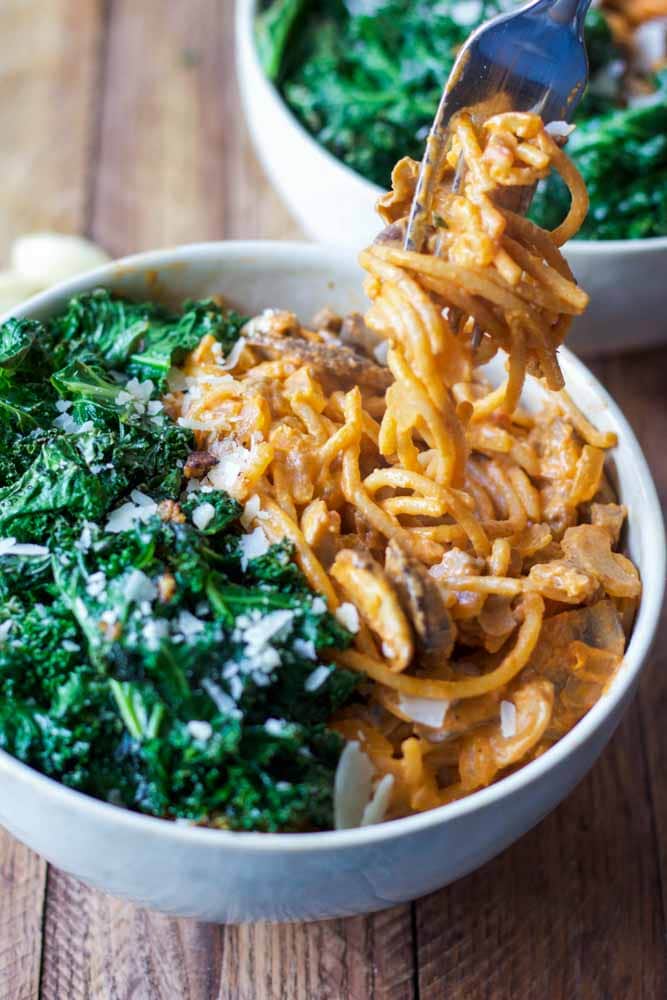 You start this recipe by sauteing garlic in olive oil and you will be instantly transported to Tuscany through the aromas that waft through your kitchen. Then you add the kale and cook it down until it wilts. It will turn this gorgeous bright green that will make you want to eat it immediately. You can obviously have a taste, but trust me, it will be so good in the creamy mushroom pasta sauce.
Then you add more olive oil to a large sauce pan and cook the mushrooms and onions down, add the Bertolli pasta sauce, some salt and pepper and you've got a killer sauce with so much flavor.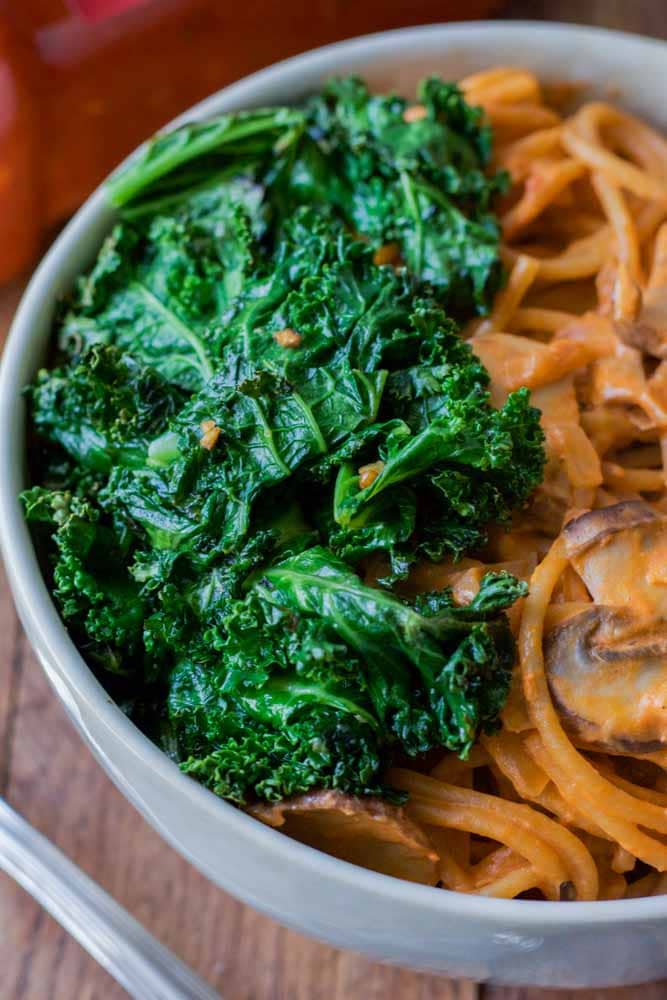 Obviously, you need some pasta to make this recipe, so you cook that then toss the sauce with it to make sure all that great sauce covers every single inch of spaghetti. Top with Kale and wha-la! You have a Tuscan meal on your table in no time.
I was so inspired by all of the delicious recipes Bertolli has on their Facebook page I have to thank them for how awesome this recipe turned out!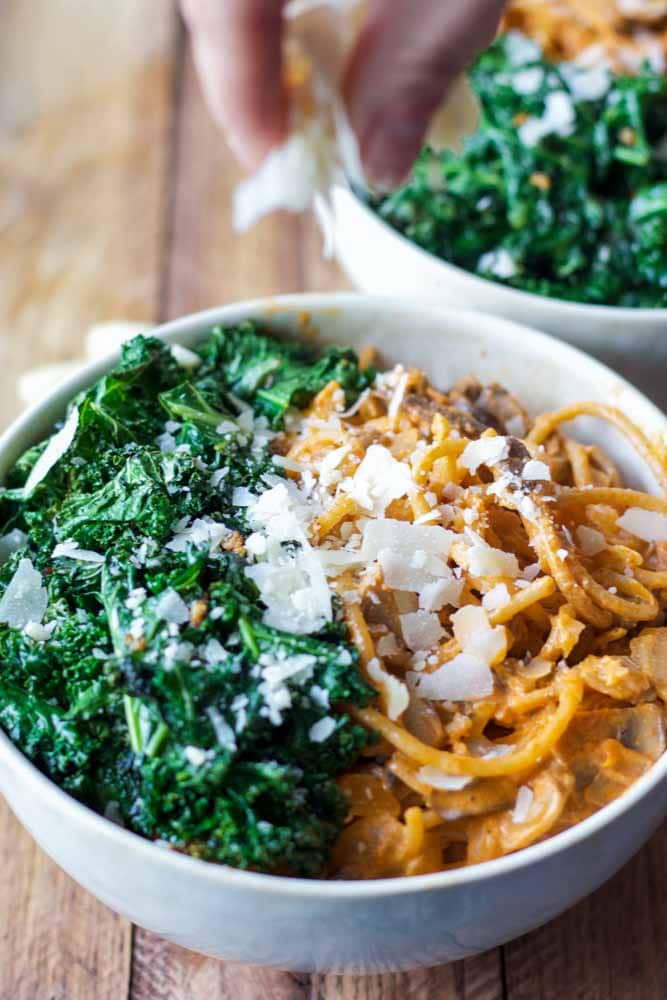 One of the best things I've ever made. I'm not kidding.
If you love this recipe, give us a virtual high five by visiting the Bertolli Facebook Page and homepage for more awesome inspiration and tag us in your Insta posts! #BestsAndBites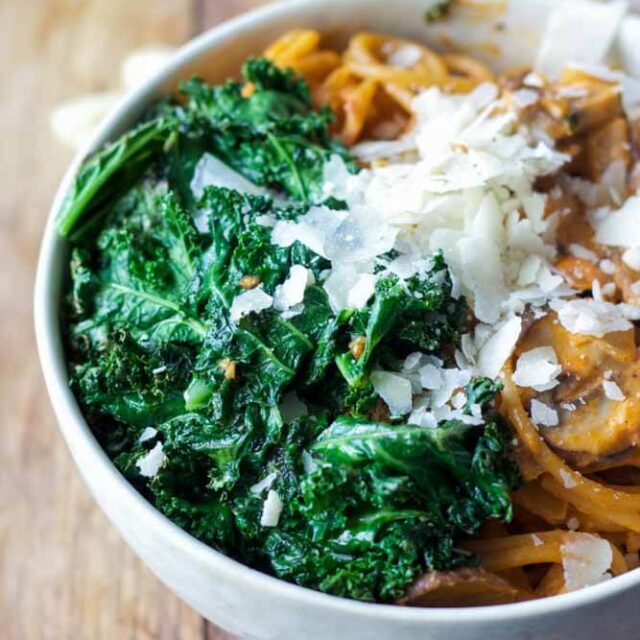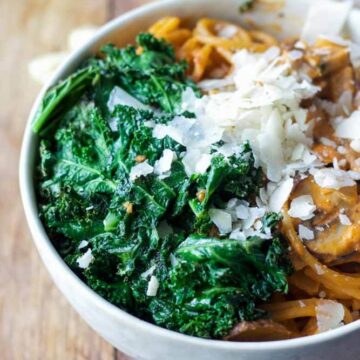 Creamy Mushroom Pasta with Garlic Kale
Creamy mushroom past with garlic kale is the perfect spring meal to serve to all your family and friends!
Print
Pin
Rate
Ingredients
For the Creamy Mushroom Sauce

2

tablespoons

olive oil

5

cups

Crimini mushrooms

roughly chopped

1

large yellow onion

1

jar of Bertolli Riserva Marinara

4

ounces

cream cheese

softened

For the Garlic Kale

3

tablespoons

olive oil

3

cloves

garlic

minced

2

bunches kale

For the pasta

8

ounces

whole wheat spaghetti
Instructions
Pasta: Boil the pasta according to the package directions. While the pasta is boiling make the garlic kale.

Kale: Heat the olive oil over medium-high heat in a large sautee pan, about 1 minutes. Add the minched garlic and cook until slightly browned, being careful not to burn it. Remove the kale from the stems and roughly chop. Add the kale to the pan and cook until wilted, about 6 minutes. Set aside.

Sauce: In a large sauce pot, add olive oil and cook on medium-high heat to warm. Add the mushrooms and onions until cooked down. Onions will be slightly translucent, about 7 minutes. Add the

Bertolli Riserva Marinara

and mix to combine. Add the cream cheese and mix until melted and fully incorporated. Sauce will turn a lighter red color. Toss the cooked pasta with the sauce to coat it all. Serve in large bowls and top with garlic kale.