Currently stuffing our faces with this Chorizo Cornbread recipe before Thanksgiving.
My uncle makes his famous and traditional recipe, which is always a great go-to. Then someone in the family takes on the feat of making a fun and different one. In the yester years of friendship Chels and I attempted this and it wasn't our most successful recipe. We'll just say we hadn't exactly honed in our cooking expertise yet.
When my boyfriend and his mom (he's from Iowa and his mom comes to celebrate with him) came to my family Thanksgiving last year he decided to make a family favorite: Cornbread Stuffing. He's from Iowa; it's only appropriate he brings the CORNbread stuffing (Sorry Zach- had to).
I have to admit, I didn't even know it was a thing before he made it for us. I was blown out of the water. The sweet flavor from the cornbread takes stuffing up another notch. Yes, that's possible.
So this year I'm taking on the feat (again) that is stuffing. After testing this recipe I have no fear it will live up to all the expectations.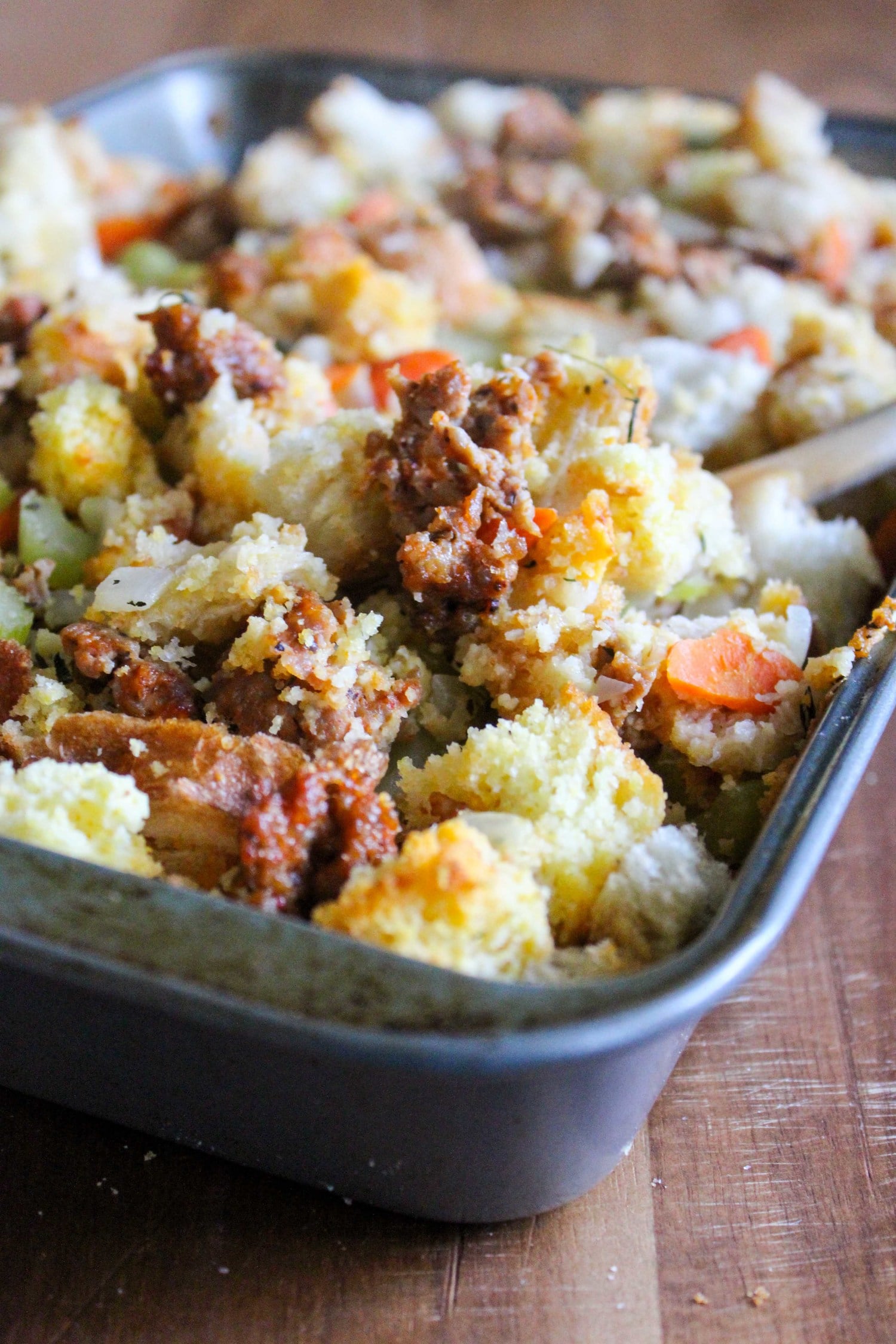 This particular cornbread stuffing is made with chorizo and lots of delicious herbs for two reasons. First, the spicy chorizo is the perfect compliment to the sweet cornbread. Helloooo spicy chili and cornbread? A combo like no other.
Second, let's talk about the herbs going on in this dish. They give it the most delicious earthy taste that is so reminiscent of the Thanksgiving holiday. Rosemary is by far my favorite herb. I love it on fries, in drinks and it's a staple in this stuffing along with some sage and dried basil.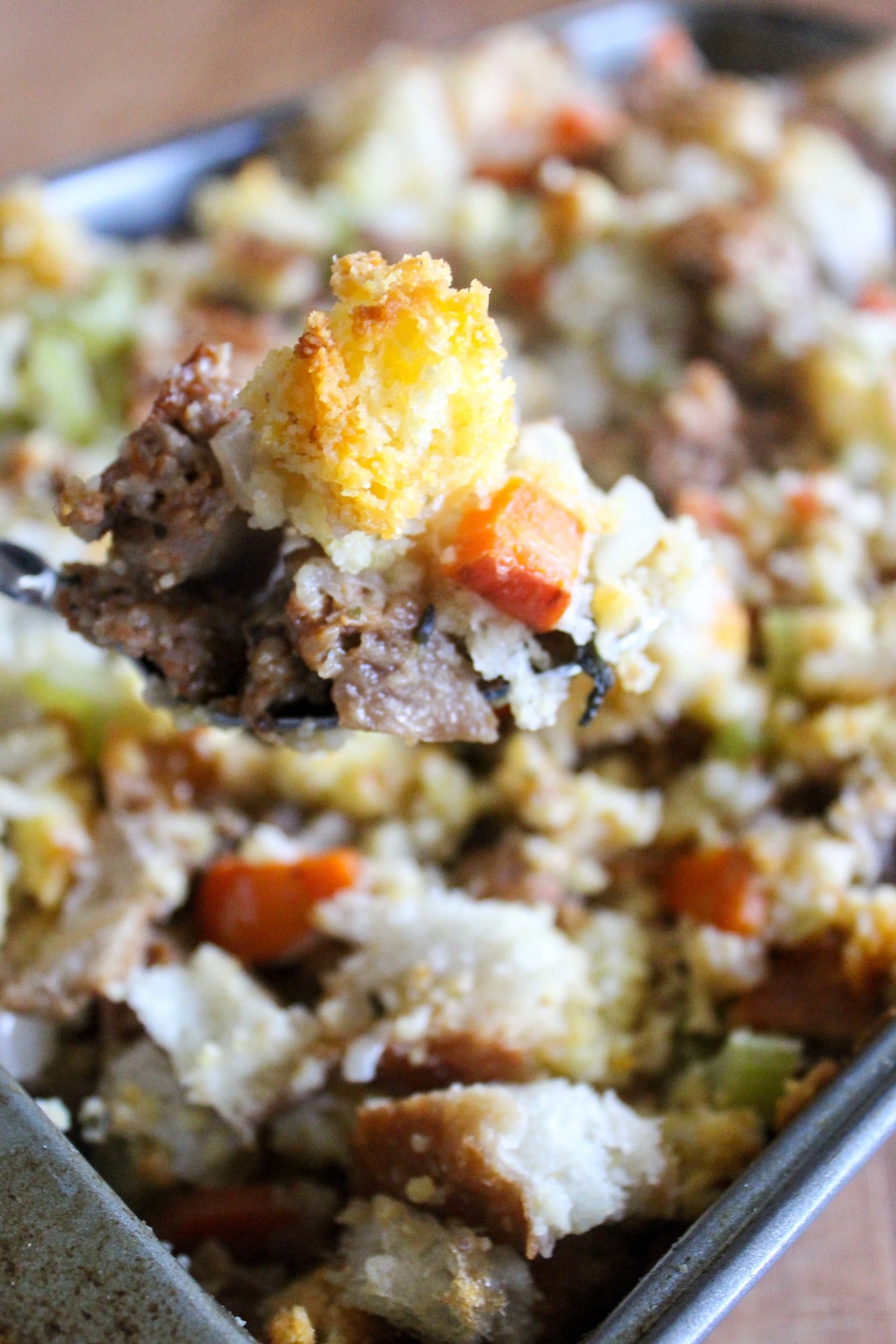 They all mix together and combine with the bread. All the aromas seep into the bread and those flavors get veryyy merry in the oven for about 30 minutes.
So, my fellow stuffing-lovers: do not waste one more moment without making this recipe. I have a wonderful feeling about your Thanksgiving dinner this year and it involves a lot of "mmmm's" and ahhh's."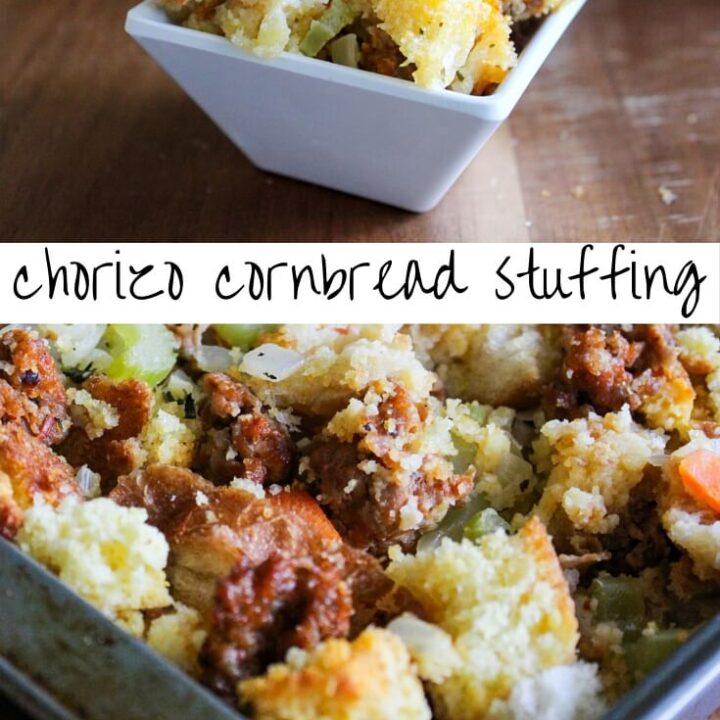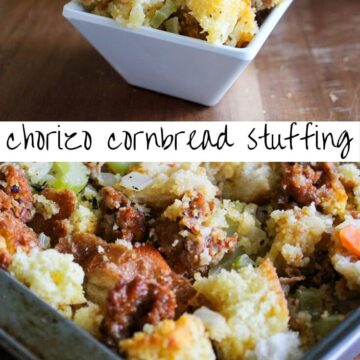 Ingredients
12

slices

of bread

1 8

x8 pan favorite cornbread

1

pound

chorizo

1

stick butter

2

cloves

garlic

minced

1

medium onion

chopped

1

carrot

peeled and chopped

2

cups

celery

chopped

3

cups

low sodium chicken broth

1/2

teaspoon

dried basil

1/2

teaspoon

thyme

2

teaspoons

fresh rosemary

chopped

2

teaspoons

fresh sage

chopped

salt and pepper
Instructions
Preheat the oven to 350 degrees. Cut or tear the bread into small bite size pieces and place on a large baking sheet. Spray with cooking spray (I used olive oil spray). Bake for 15 minutes or until bread is crispy.

While the bread is in the oven, cut the cornbread into small cubes. (you can make the cornbread a day or two in advance and let it dry out.) and brown the chorizo and set aside.

In a large saucepan over medium heat melt the butter. Add the garlic, onion, carrot and celery and cook for about 5 minutes or until the onions are soft and translucent. Add the chicken broth and bring to a boil. Add the basil, thyme, rosemary and sage and stir until combined.

In a large bowl, add the bread, cornbread and chorizo and mix together. Gradually ladle the broth mixture onto the bread, tossing lightly as you go.

Gradually add more broth to the mixture, tasting as you go and adding salt an pepper if needed.

Layer mixture into a large 9x13 dish (or larger) and bake at 350 for 20 to 25 minutes or until the top is golden brown.