These macadamia nut cookies are thick, soft and chewy! They're so easy to make and they freeze really well!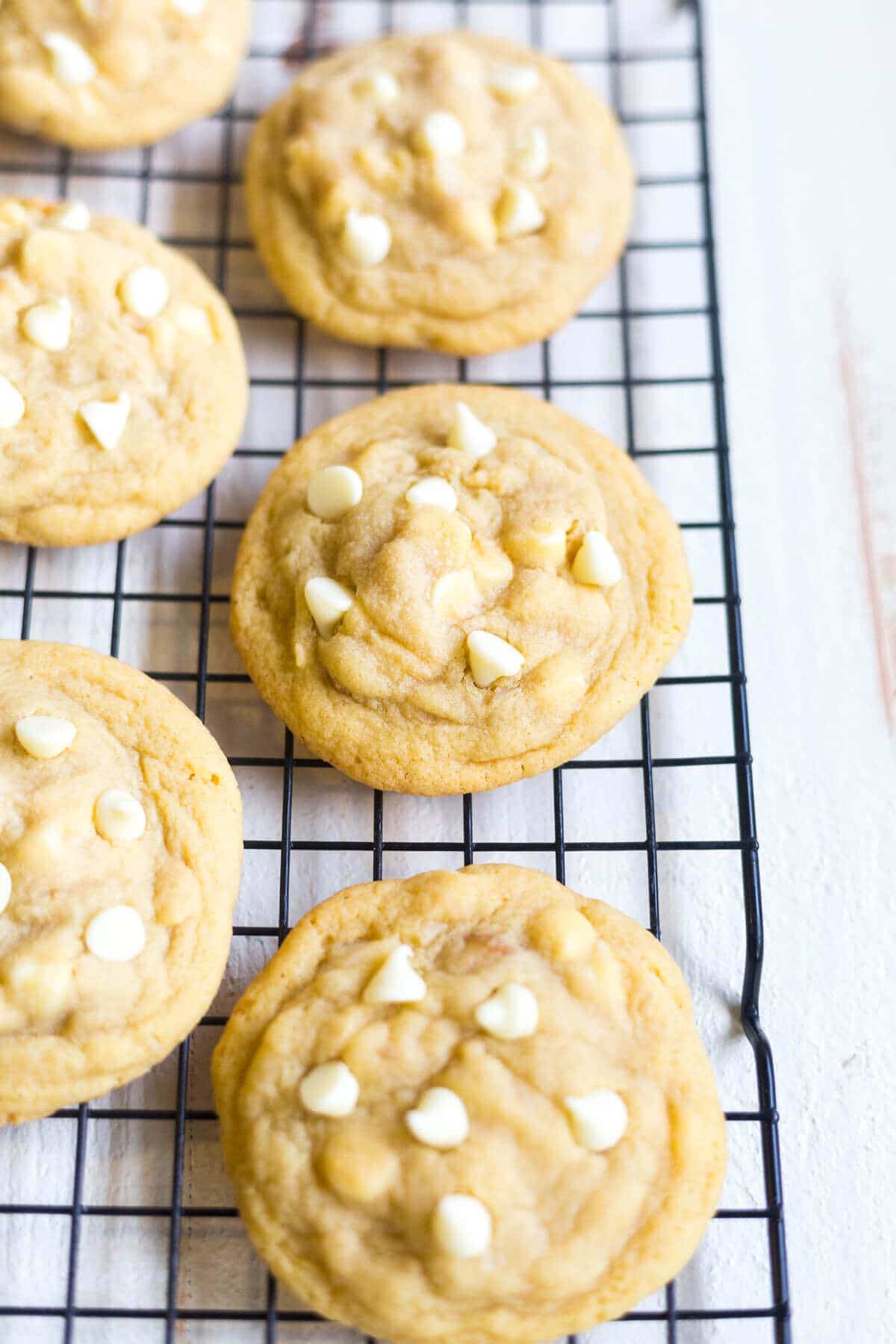 Is there anything better than a classic white chocolate macadamia nut cookie? I think it's really underrated, tbh.
The chocolate chip cookie and other chocolatey cookies tend to get all the limelight while the white chocolate macadamia nut cookie flies under the radar. Let's change that.
Let's make these cookies the star or our Christmas cookie platters. Because they're totally worthy of that title. The base of the cookie is actually the exact same base as my most-favorite chocolate chip pudding cookies.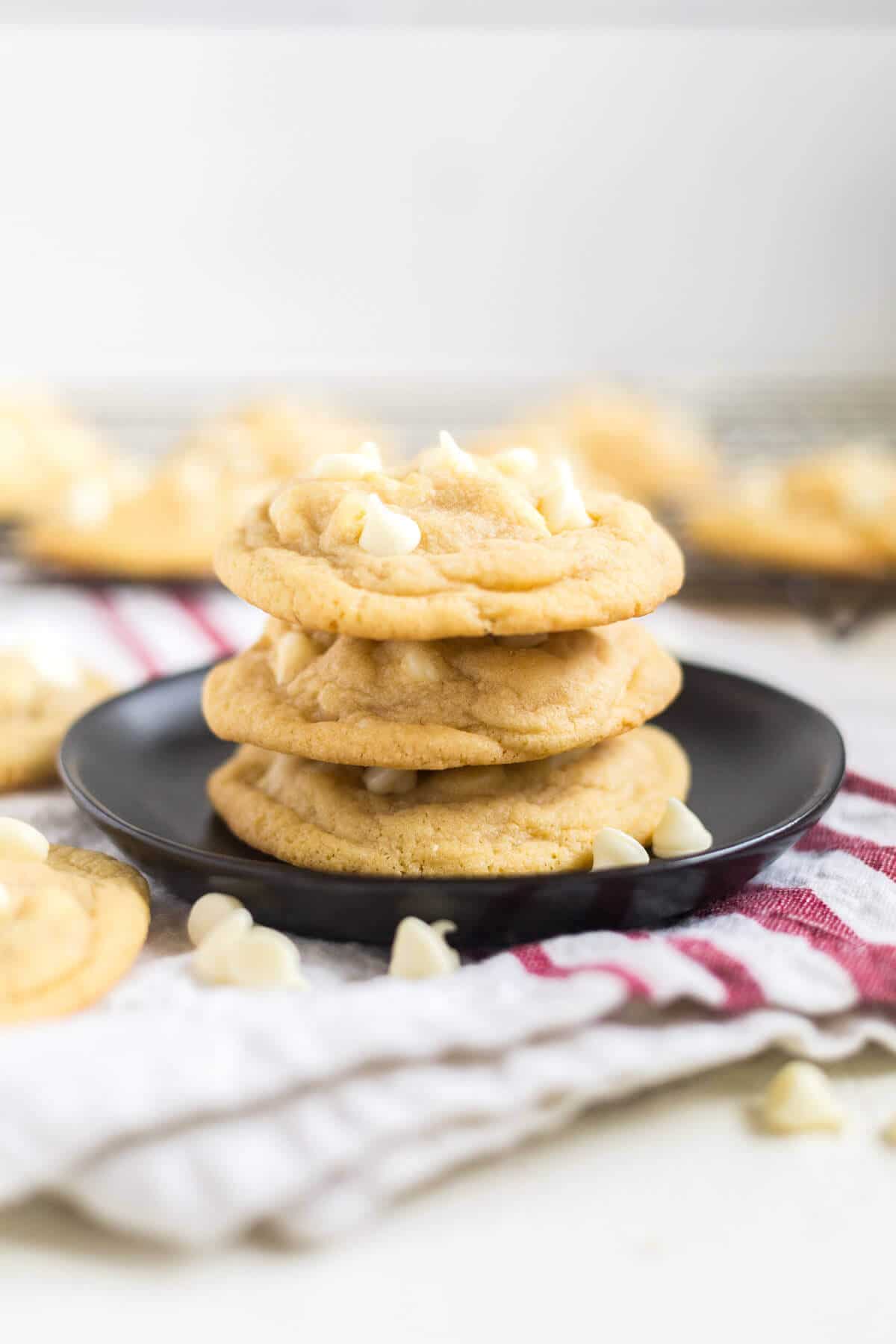 I made this recipe a different way at first and I was just not happy with the way they turned out. They were okay, definitely edible, just not up to my Christmas Cookie standards. So, I decided to remake them and I'm SO happy I did.
They're thick and chewy and stay really soft for days because of the pudding inside of them. Once the dough is mixed you'll toss in your macadamia nuts and white chocolate chips.
Pro tip: save some extra white chocolate chips and nuts to add to the top of the cookies. Once you pull them out of the oven place a few extras on top to make them look pretty.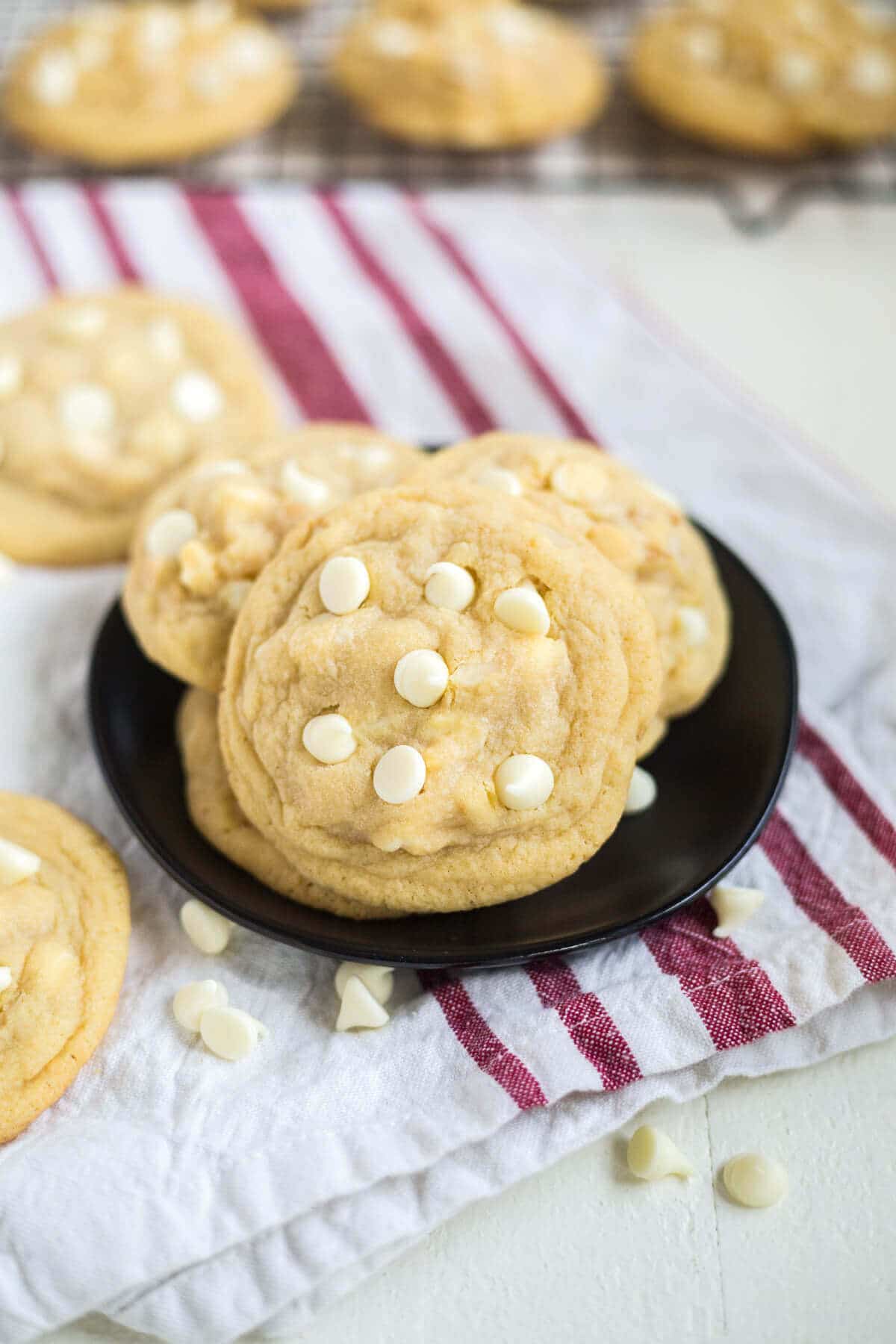 Do you know what's really random, but true? Macadamia nut cookies remind me of Subway. Is that weird? Or do you feel the same way?
Any time I would do the meal combo with a 6 inch and a pop I would get the white chocolate macadamia nut cookie. I cannot be alone in this! They're SO good.
I don't really venture to Subway very often any more so homemade white chocolate macadamia nut cookies (that are way better!) will do.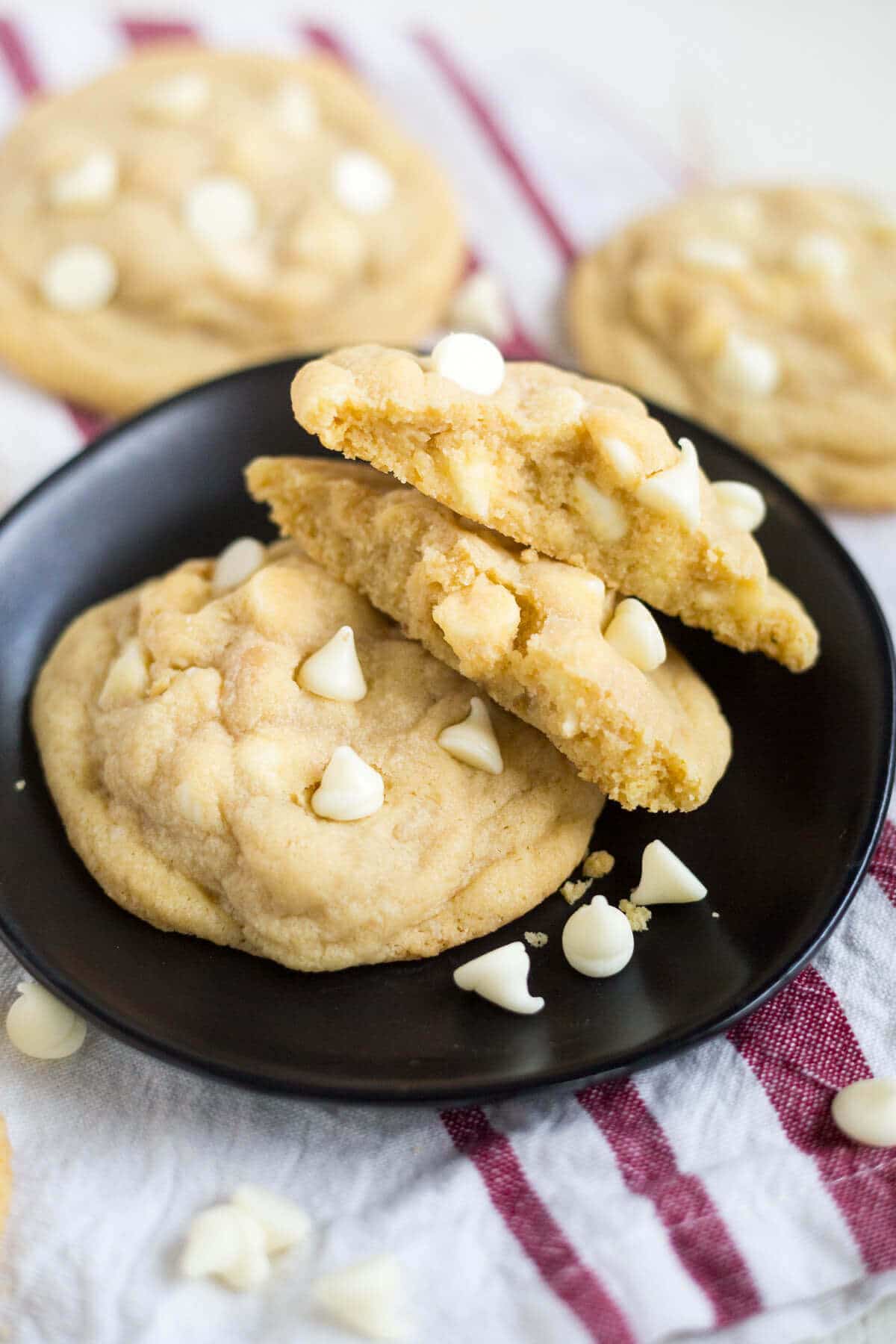 Tips for perfect white chocolate macadamia nut cookies:
Make sure to cream the butter with the brown sugar and granulated sugar for the allotted amount of time. When you cream the butter and sugar together the sugar cuts into the butter and creates air pockets. This is what makes the cookies bake tall and not spread everywhere. It also makes them so thick and chewy!
Measure the flour correctly. To measure it perfectly, spoon the flour into the measuring cup then scrape it off the top.
Use parchment paper! A silicone baking mat works well too, but I swear by parchment. It creates even baking and the cookies stay thick and chewy the whole time.
Use 1/4 cup of cookie dough for each cookie. Yes, that's a lot of cookie dough! But it's what makes them so perfect and thick. You're going to feel like it's a lot but don't worry, it's the perfect amount. I like to roll my dough into a rustic looking ball, it doesn't have to be perfect!
Place white chocolate chips on top when they come out of the oven. There's a good amount in the batter, but adding a few more chocolate chips to the top of the cookie right when you pull them out of the oven makes them look perfect! That way the outside matches all the yummy and gooey cookie on the inside?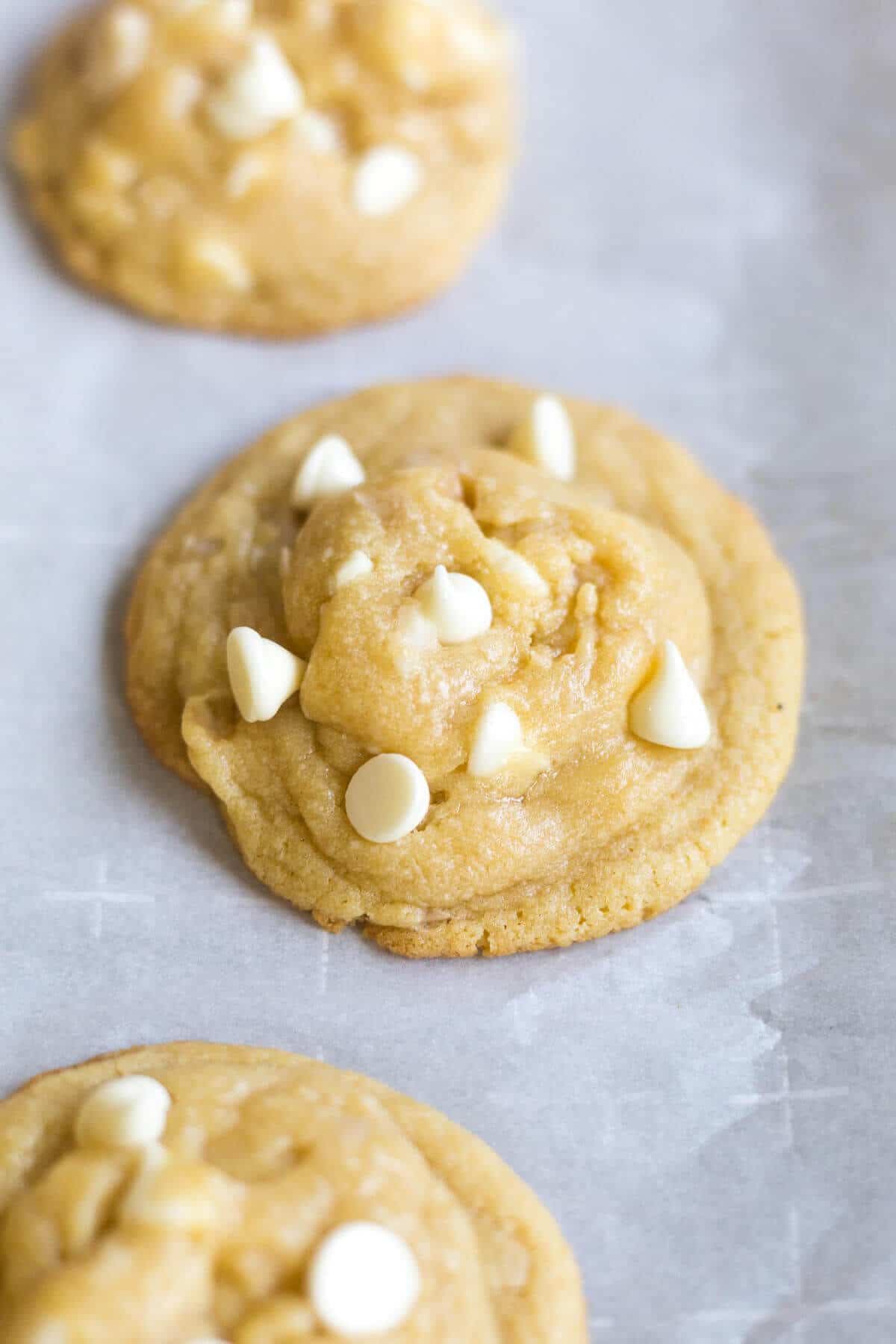 If you follow these steps I promise you will wow all your friends and family! This white chocolate macadamia nut cookie delivers on texture and taste.
They also freeze really well! You can bake them completely then cover and put them in your freezer for up to 3 months. Or you can put the dough in the freezer! Just bake them for a few extra minutes. They can go straight from the oven to the freezer that way.
How Do You Make Macadamia Nut Cookies?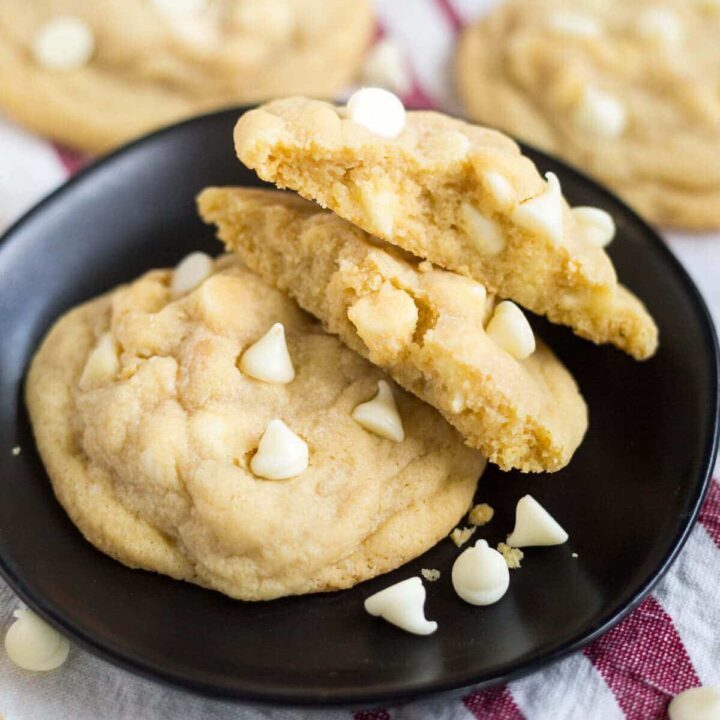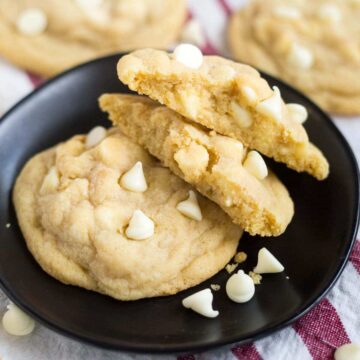 Ingredients
2¼

cups

all purpose flour

1

teaspoon

baking soda

½

teaspoon

salt

1

cup

2 sticks unsalted butter, softened

¾

cup

brown sugar

¼

cup

granulated sugar

3.4

ounces

vanilla instant pudding mix

2

large eggs

1

teaspoon

vanilla extract

1

cup

macademia nuts

1

cup

white chocolate chips
Instructions
Preheat oven to 350 degrees. Line baking sheet with parchment paper and set aside.

In a medium bowl, whisk together flour, baking soda and salt and set aside.

Using a stand or electric mixer, beat the butter and sugar on high speed until light and creamy, at least 3 minutes. Do not skip this step. Once combined, add the pudding mix, vanilla and eggs and beat on high for 2-3 minutes.

Slowly add half of the dry ingredients to the wet ingredients and turn the mixer on low to start so the flour doesn't get everywhere. Turn the mixer up to high and mix until combined. Add the rest of the dry ingredients and repeat until dough is just combined. Add white chocolate chips and macadamia nuts and stir with a rubber spatula until incorporated.

Drop cookies by ¼ cup onto the prepared baking sheet. Bake for 10-12 minutes, or until slightly golden and just set on the top. Allow to cool on the baking sheet for two minutes then transfer to a baking rack to cool completely.