The classic blondie turned peanut butter and jelly just in time for school to start! These peanut butter and jam filled blondies are soft, chewy and a perfectly sweet back-to-school dessert or snack.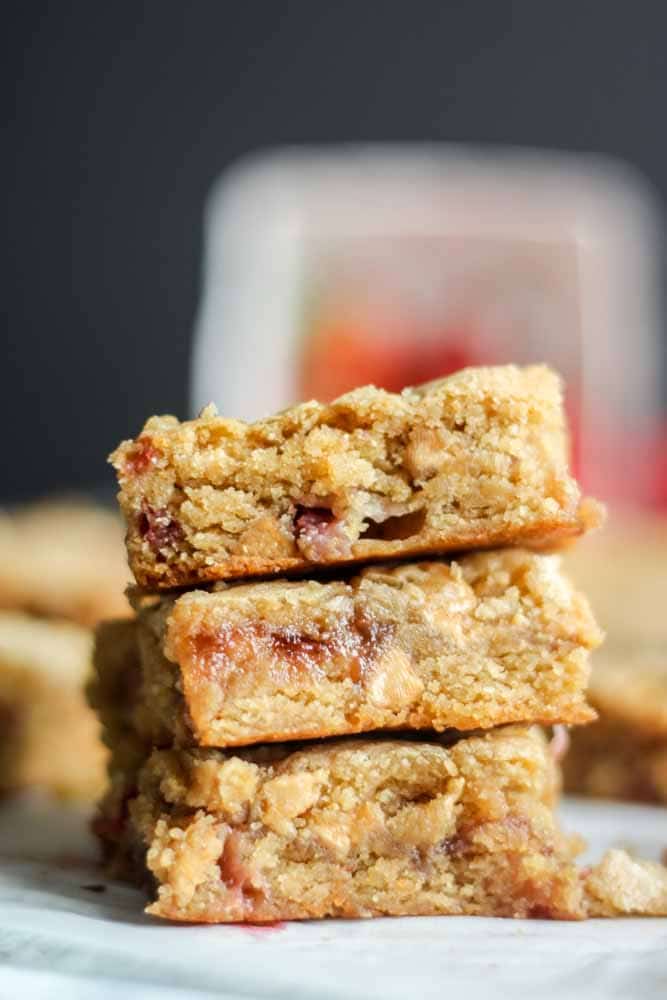 Does anyone ever remember their first days of school? I don't remember all of them but I have a specific memory of my very first day of freshman year high school. I went to Copley High School, in Akron OH (go Indians!). And it was circa 2003 (oh, the good ol' days) and I wore a double popped collar. If you don't know what that is (it probably means you actually had/have style), it's two polos with both of them "popped" simultaneously.
For me, the underneath one was brown and the top one was white with a brown bird. Because what other color would it be? My coordination was on point. So basically, I wore two shirts. Because it looked good or I couldn't decide or maybe I thought it was going to be cold? I'm not totally sure.
Nevertheless, it was quite memorable. Do you have any super memorable back-to-school moments like mine?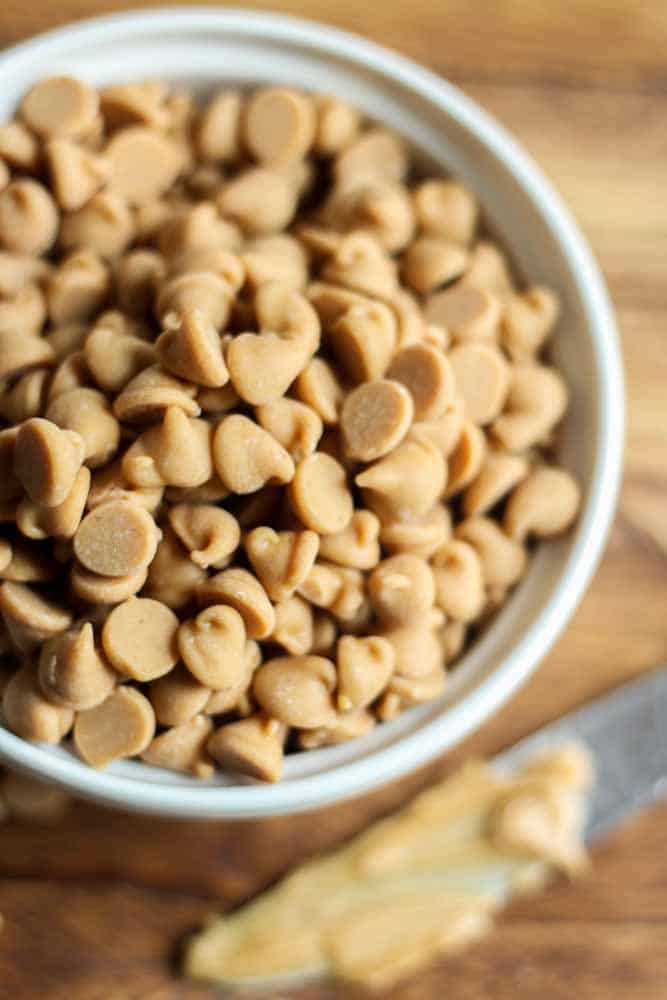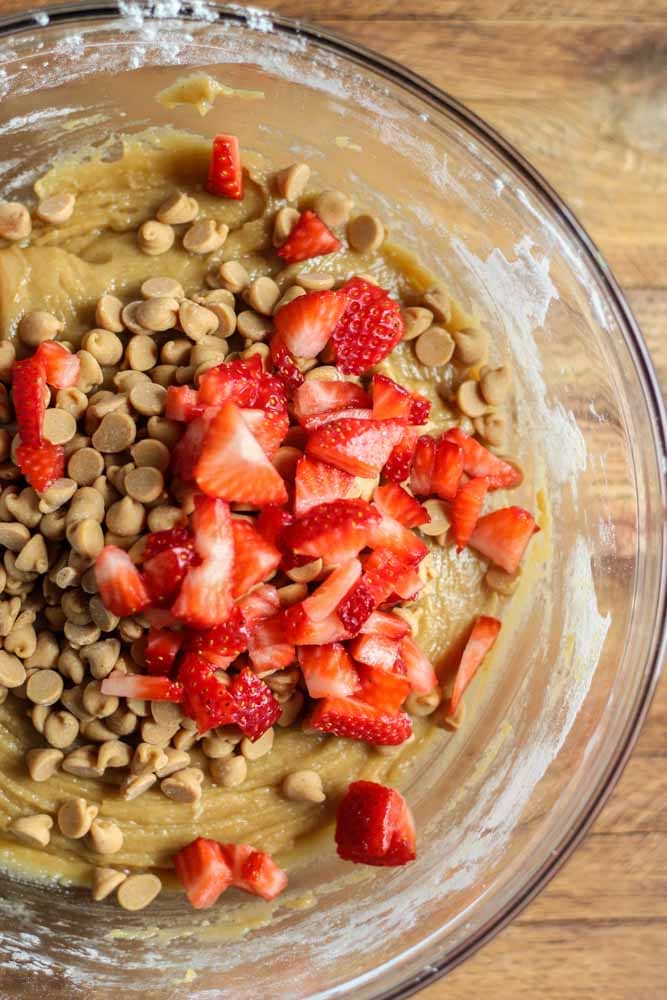 And something that would have made it just as memorable is these peanut butter and jelly blondies. I took one bite and actually felt like I was sitting in my cafeteria back in the day enjoying a PB&J. They really taste just like one! I was kinda amazed, in a really good way.
There is a really good amount of peanut butter in the base of the blondie. Creamy peanut butter gives them a lot of rich thick texture and so much flavor. The sweetness from the strawberry jam and fresh strawberries adds a light fruity touch that balances out the peanut butter.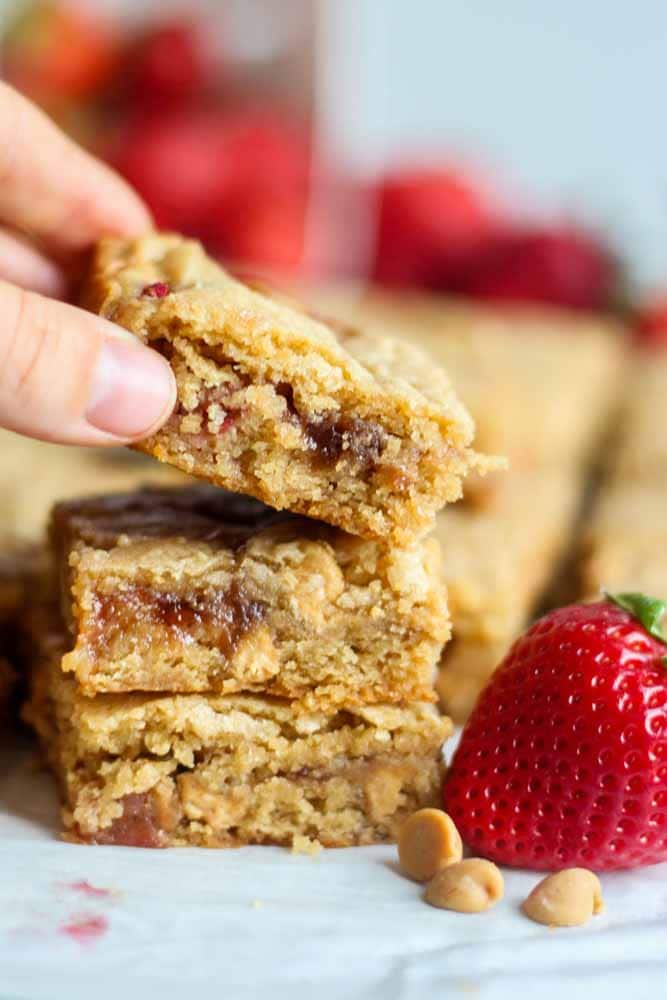 Wouldn't be awesome if you got one of these in your lunch instead of a pb&j? Or both?! That would be one epic first day of school meal.
And you can freeze them to save for later (if they last that long!).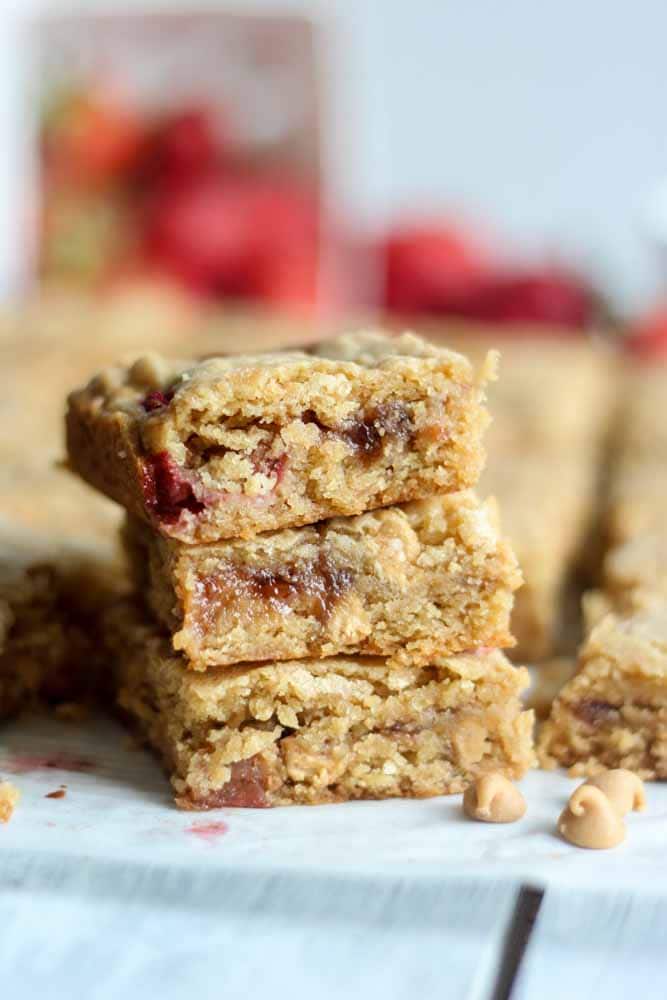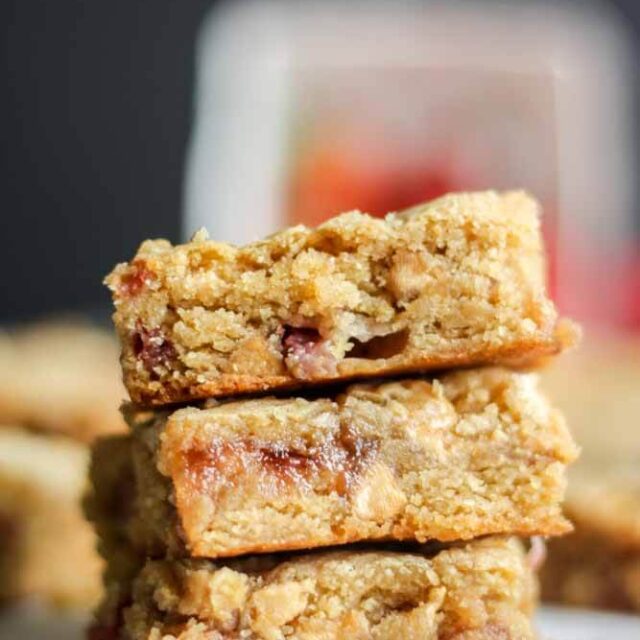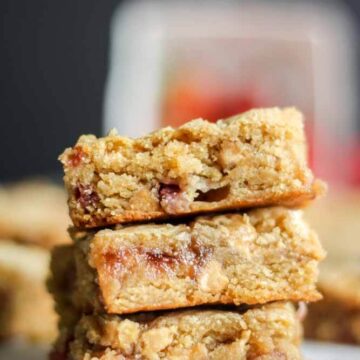 Ingredients
1/2

cup

one stick unsalted butter, melted

1/2

cup

creamy peanut butter

1

and 3/4 cups brown sugar

packed

2

large eggs

at room temperature

1/2

teaspoon

salt

2

cups

all-purpose flour

1

teaspoon

baking powder

1

cup

Reese's peanut butter chips

½

cup

fresh strawberries

chopped

¼

cup

strawberry jam
Instructions
Preheat oven to 350 degrees (F). Line a 9" x 13" pan with parchment paper. Lightly grease the paper and set aside.

Melt the butter in a medium saucepan over medium-heat or in the microwave in 30 second increments. Once melted and still warm, stir in the peanut butter and brown sugar, whisk until well to combine.

Whisk in eggs, one at a time, mixing well after each addition. Stir in the salt, flour, and baking powder, mixing just until combined, being careful not to over mix. Fold in the and peanut butter chips and chopped strawberries.

Spread ¾ of the batter into prepared pan, smoothing it lightly with a spatula. Drop the strawberry jam by the tablespoon onto the batter and swirl with a knife to spread it evenly across the pan. Dollop the remaining batter over the top and spread evenly.

Sprinkle the top with additional peanut butter chips, if desired. Bake the blondies for 15 minutes then cover the pan with foil and bake for another 15-18 minutes, or until they're light brown on the edges and top. Carefully remove them from the oven and cool completely before cutting.