Crunchy and delicious, these chocolate peanut butter protein bars are made with the new Kashi® GOLEAN™ Plant Powered Shakes are a sweet and perfect treat for breakfast, a snack, or pre/post workout meal. Plus they're gluten-free and vegan!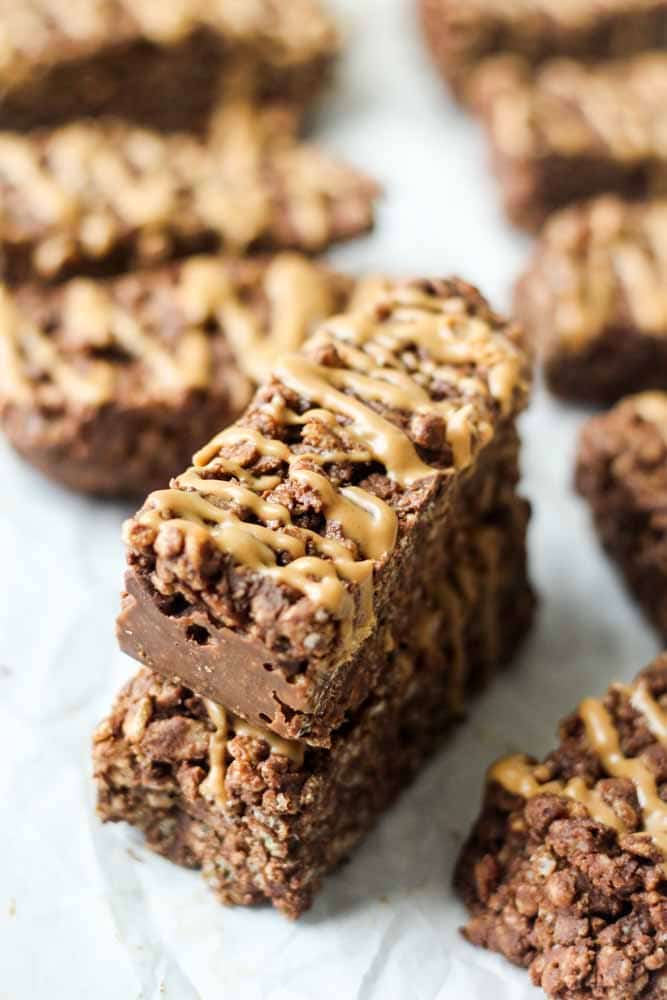 The greatest homemade protein bars to hit the internet: Chocolate Peanut Butter Protein Bars.
They're RAW(mazing) and no-bake and vegan and naturally sweet and extremely simple. And just everything good you likely have in your pantry right now. They remind me of the epic no-bake cookies we all know and love. But sans the sugar and gluten and with all the energy, diverse protein sources and flava!
To start us off making these chocolate peanut butter protein bars: coconut oil, peanut butter (or cashew butter) and 100% pure maple syrup. Pop these three ingredients in the microwave to get them all melty and happy and then mix em all up to get super marry together. At this point I tasted the combo (just to make sure it was edible, of course) and it was SO GOOD.
Like I want to drink it out of a coffee mug in the morning good. But I didn't. Because these ingredients were destined for something much better.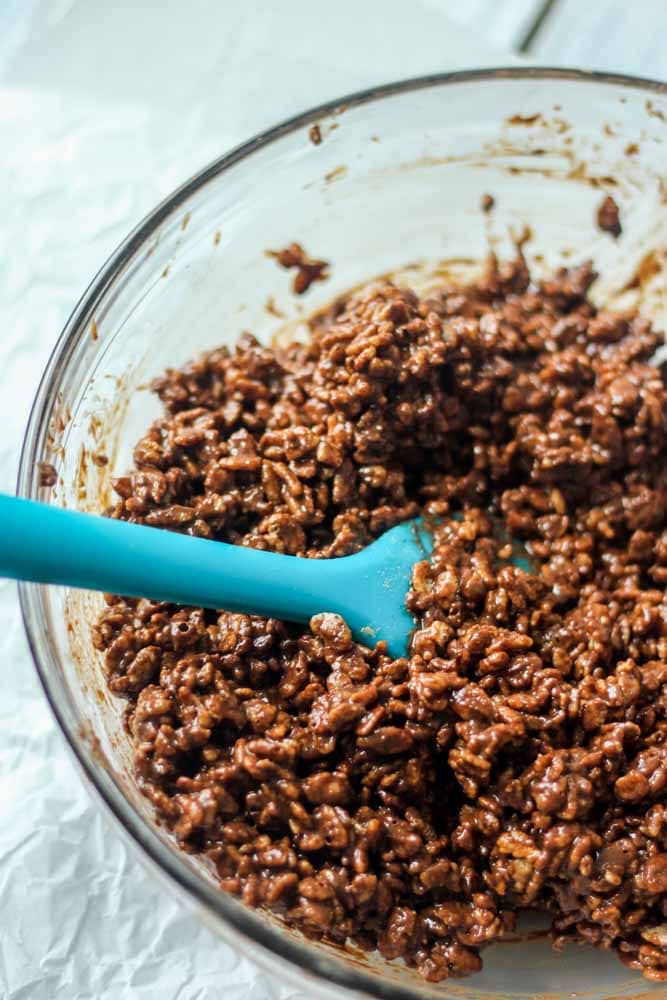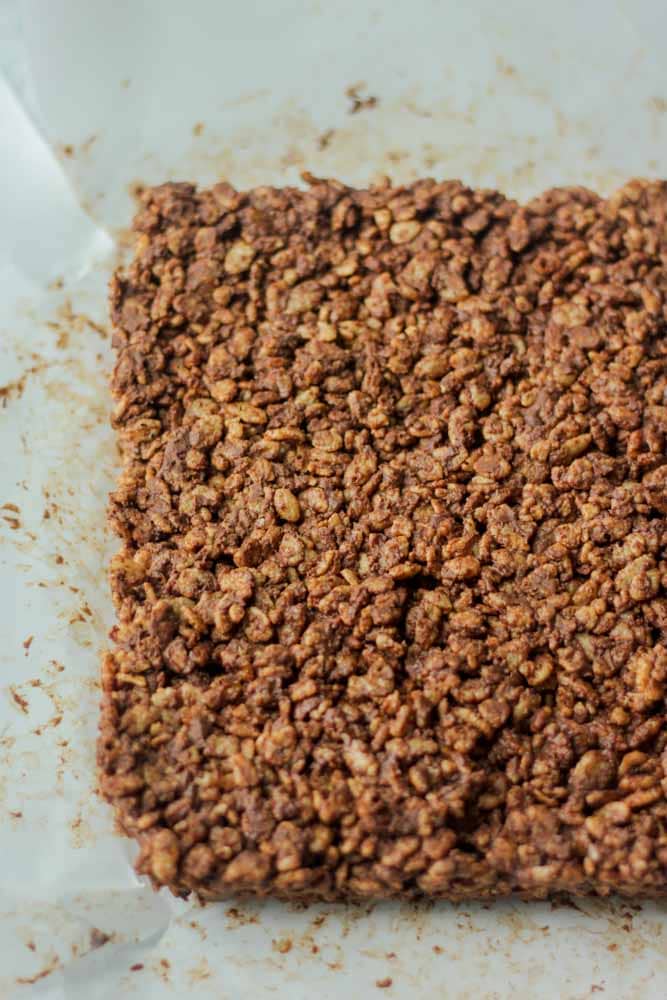 Next, you add the vanilla, cocoa powder and Kashi® GOLEAN™ Dark Cocoa Powder. You end up with this naturally sweet and chocolate-filled mixture that I could totally eat with a spoon. But again, I didn't (or did I?).
Stir in the organic rice puffs, or rice crispy cereal, and place in your pan. You only need about 15 minutes and these bars set just right! Drizzle some melted peanut butter on top and pop back in the freezer for a few minutes and you've got delish and convenient chocolate peanut butter protein bars, and you know exactly what's in it!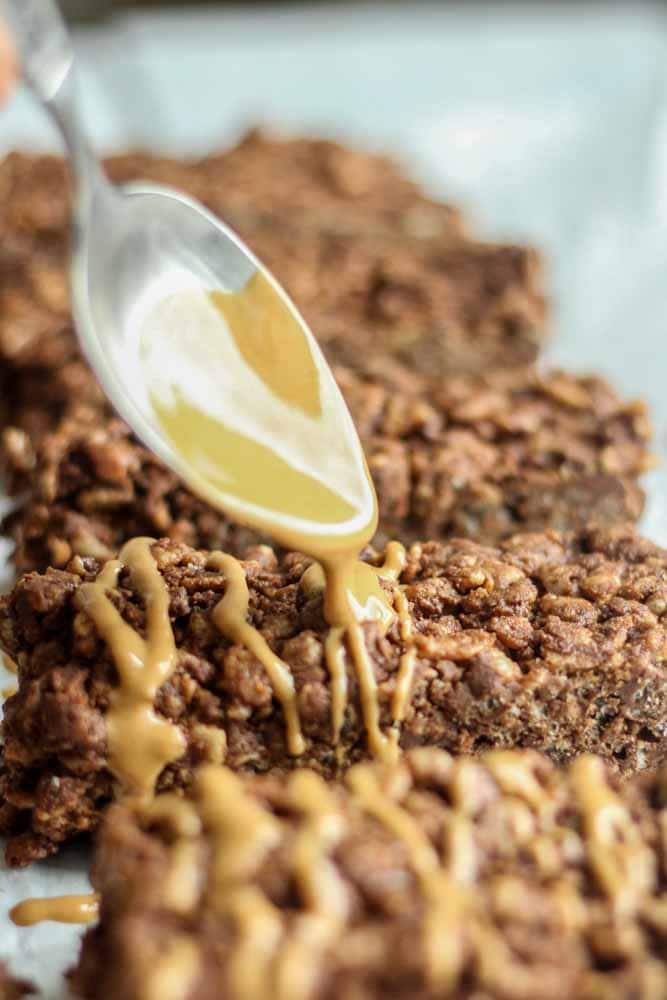 I can't tell you how many hours of my life I've spend in the grocery store health bar aisle staring at the back of every bar's ingredient list to figure out if it's actually healthy. Sometimes I can't even read half of the ingredients on the back because they're all chemicals and fake sugar-filled. No. Thanks.
These bars are gluten-free and naturally sweet and filled with so much protein! There's 21 grams of multi-source plant protein in each serving of the Kashi GOLEAN powder. These bars are right up my alley. Hopefully you're walking down the same alley.
I've been eating gluten-free for the last month because I've been having stomach problems, and I have to tell you, I feel awesome! And I hardly miss it. The only thing I've missed is my protein bars, and now I don't have to! Double win.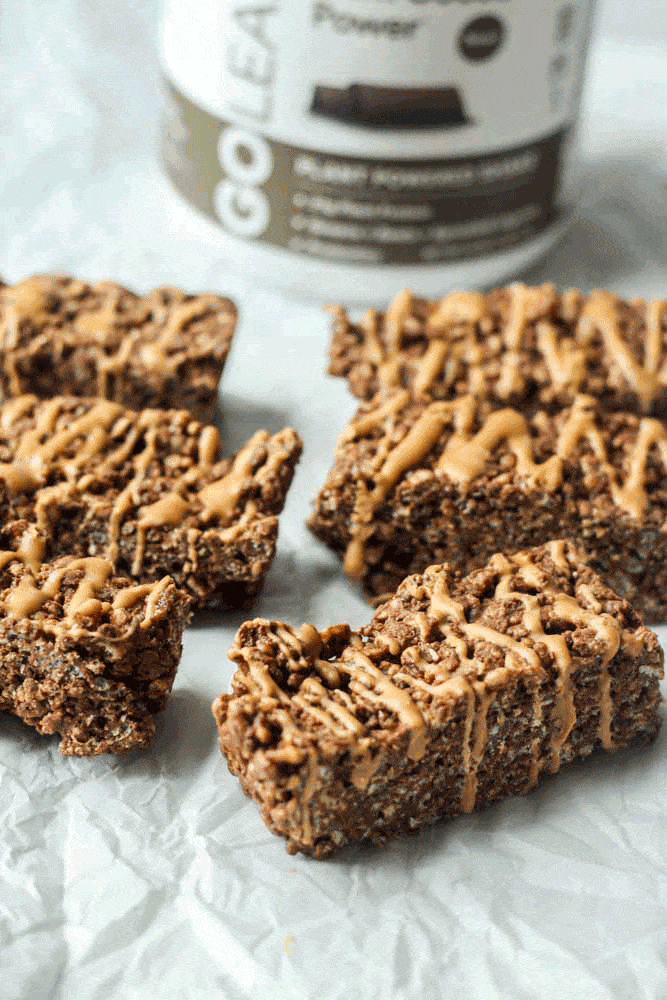 AND you can get one Kashi GOLEAN Powder $10 off with this coupon code at Target.com: TGTKASHI.
The best part about these chocolate peanut butter protein bars is they last at least a week! I get so busy during the week that I love to have a protein bar on-the-go during the week. I made a batch this weekend and I've been enjoying breakfast and snacks the whole week.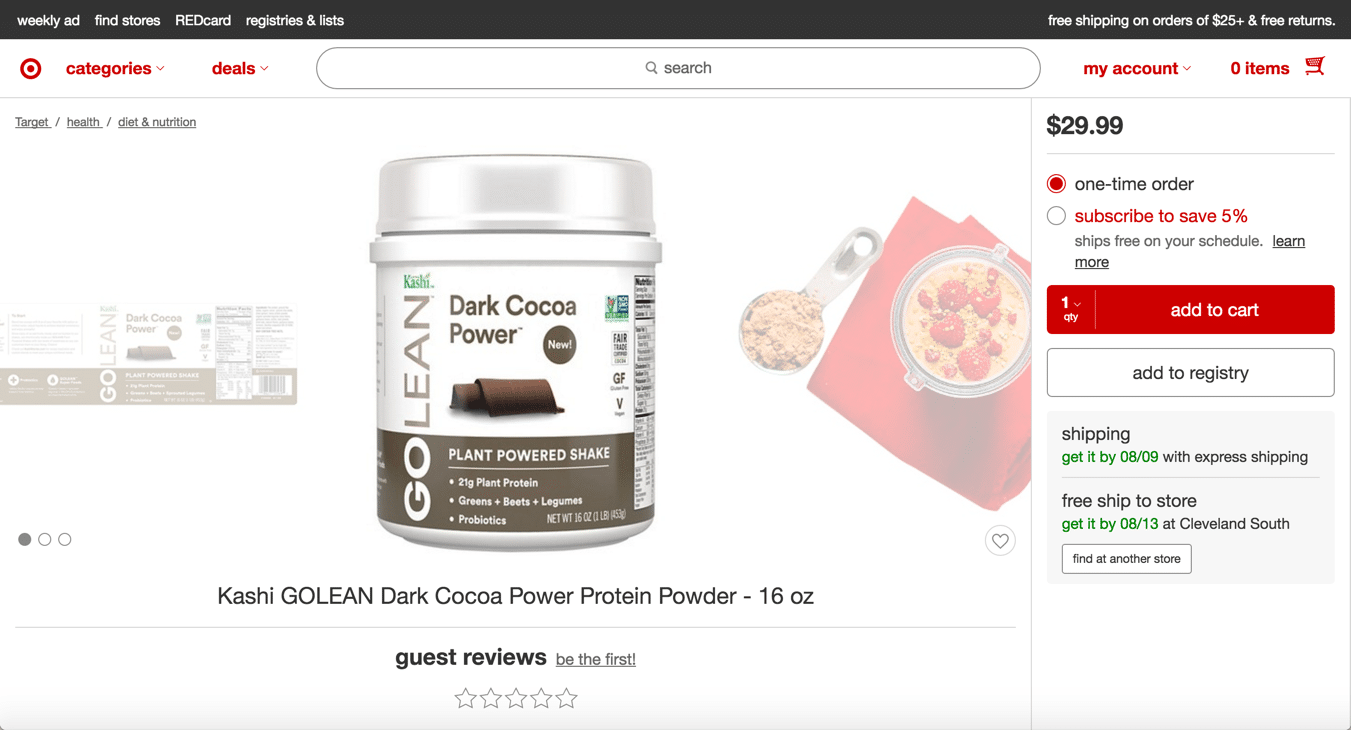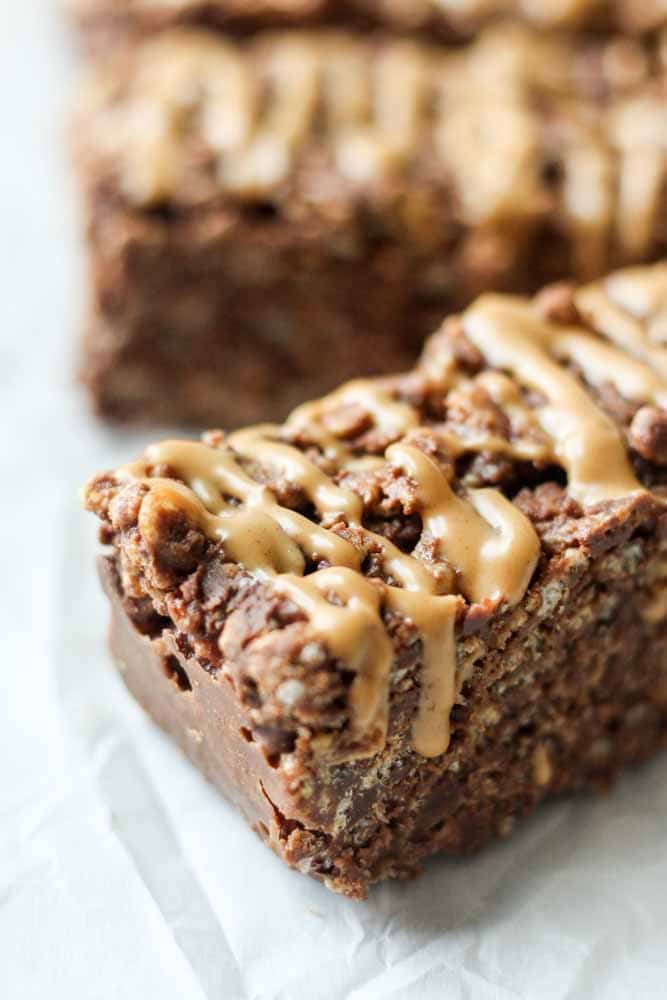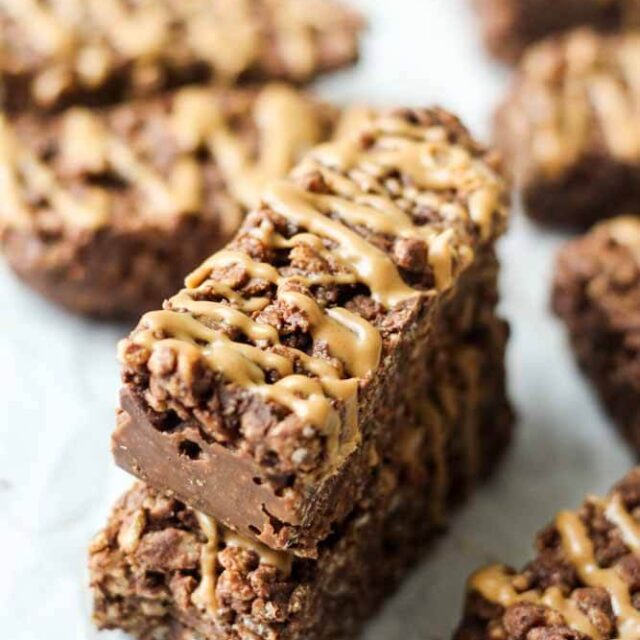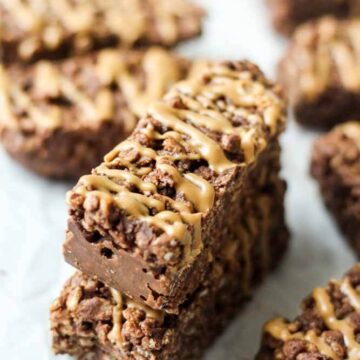 Ingredients
½

cup

natural peanut butter or cashew butter

I used JIF natural peanut butter

⅓

cup

coconut oil

½

cup

100% pure maple syrup

1

tablespoon

vanilla

¾

cup

Kashi GOLEAN Dark Cocoa powder

¼

cup

cocoa powder

4

cups

organic rice puffs or rice cereal

½

cup

dark chocolate chips

optional

½

cup

natural peanut butter

melted for topping
Instructions
Cover a 9x9 pan with parchment paper and set aside.

In a large microwave safe bowl, combine the peanut butter, coconut oil and maple syrup. Place in the microwave and heat on high for 30 seconds. Stir the mixture then place it back in the microwave for another 30 seconds to melt completely. Whisk together until combined. Add the vanilla and mix well.

Add the Kashi GOLEAN Dark Cocoa powder and cocoa powder and mix well. Mixture should be thicker but still wet. Add the rice puffs and stir to coat completely. Stir in chocolate chips, if desired.

Pour mixture into prepared pan and press gently to set the bars in place. Place in the freezer for 15 minutes. While freezing, place the peanut butter in a small microwave safe bowl and heat on high for 30 seconds until melted. When bars are set, drizzle peanut butter over top. Place bars back in the freezer for 10 minutes. Cut into bars and enjoy! You can keep them in the freezer for up to two weeks.
This recipe is sponsored by Kashi®. All opinions are my own. Thank you to brands like Kashi who support WMM!