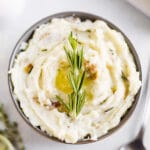 Print Recipe
Best Dairy Free Mashed Potatoes
This recipes is the best dairy free mashed potatoes you will try! They're made with russet potatoes, almond milk, garlic and herbs. It's healthy, creamy and so easy to make. Make ahead for an even easier Thanksgiving side dish!
4

lbs.

4 large russet potatoes, quartered with the skin on ( or peel them if you don't like using the skins)

1

can coconut milk

(cream only)

1/4

cup

ghee (for paleo) or coconut oil (for vegan)

2

teaspoons

sea salt

1/2

teaspoon

black pepper

1

tablespoon

fresh thyme

chopped

1

tablespoon

fresh rosemary

chopped

1/2

cup

dairy free milk (I used cashew)

as needed
Start by washing and drying your potatoes. I like to keep the skin on, but if you prefer them without, you can peel them. Cut the potatoes into small 2 inch cubes, trying to cut them to the same size to cook evenly.

Add the cut potatoes to a large stock pot and water until potatoes are submerged. Place uncovered on the stove and turn to high heat. Bring the potatoes and water to a boil then reduce to medium heat and boil for 20 minutes, or until potatoes are soft enough to pierce with a fork.

Strain potatoes and place them back in the same pot. Remove the cream from the coconut milk can and add it to the potatoes. Then add the ghee, sea salt, pepper, thyme and rosemary. Mash potatoes using a hand mixer or potato masher if you like them more chunky. If they're too thick, slowly add the dairy free milk a few tablespoons at a time until you reach your desired consistency. Serve with more ghee or just as they are!