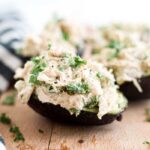 Print Recipe
Chicken salad stuffed avocado
Chicken salad stuffed avocado is a great low carb and whole30 lunch recipe. You can whip this healthy recipe up in minutes and serve it for lunch or dinner.
f you're baking the chicken, bake 3 chicken breasts at 400°F for 20-25 minutes. Shred the chicken breasts or rotisserie chicken with 2 forks and set aside. Pit avocados. Scoop out a little more of the middle of eachand place in large bowl. Mash gently with a fork then add the rest of the ingredients to the bowl and mix together.

Scoop the chicken salad filling back into the avocado and serve immediately.
Meal prep instructions:
Follow the recipe instructions but don't cut the avocado or hollow out the center. Just add the chicken with the mayo and rest of the ingredients and separate it into individual meal prep containers. Put an avocado in your lunch and when you're ready to eat you can halve it and scoop the insides into your prepped chicken salad and add the rest inside the avocado.
To make homemade mayo: Add 1 egg, 2 teaspoons lemon juice, 1 tsp brown mustard, ¼ tsp salt and ¾ cup light tasting olive oil in a tall jar/cup and mix with immersion blender for 20-30 seconds. Can also use a traditional blender.