Love is in the air. Mostly with this White Chocolate Raspberry Cheesecake Dip. It's a light and fluffy dessert dip made with white chocolate and raspberries. Pair with chocolate graham crackers and share with your loved ones❤️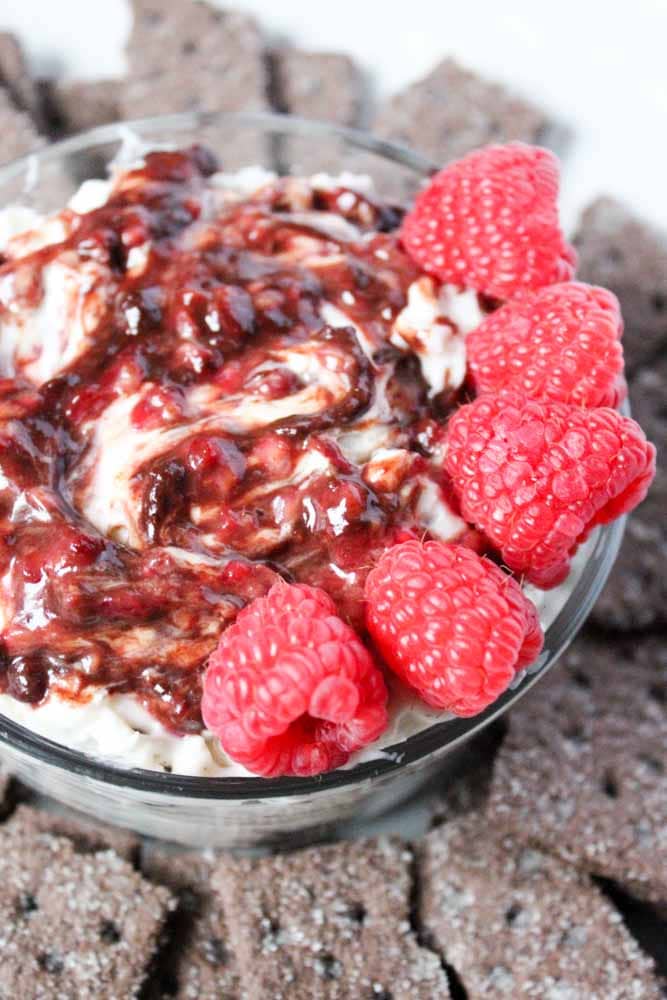 So many people have fallen in love with our buckeye dip, I created this scrumptious white chocolate raspberry cheesecake dip just in time for Valentine's Day!
I created this recipe with my boyfriend in mind. He is a huge cheesecake fan. Every year for his birthday he requests cheesecake to celebrate. I happen to like Funfetti (it's way more festive), but you really can't go wrong with a solid cheesecake. It's sweet, tangy and so silky smooth.
Turning it into a dip is so easy because you don't have to bake it. Not to mention, it's so easy to share between two people (*cough* Valentine's Day *cough*) and everyone can choose how much they want. Two, five, ten, or fifty scoops. It's up to you!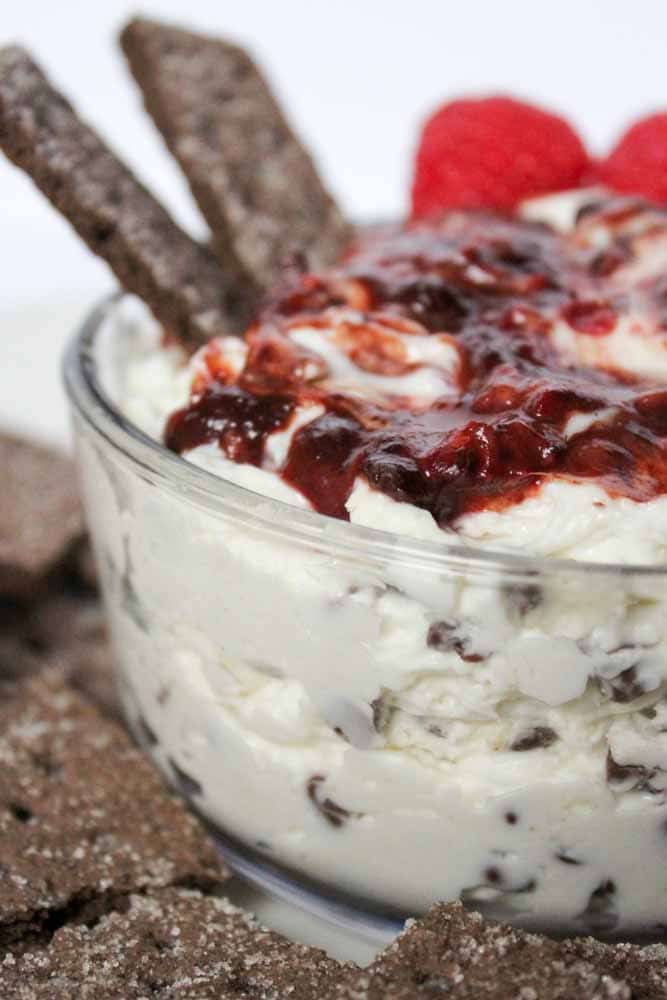 I also L-O-L-O-L-O-L-O-V-E (in my very best Ashley Simpson voice) raspberries. And so does Chels. There's a restaurant we patroned many a times back in our prime and they have this irresistible raspberry sauce. Chelsea would pour it over every dessert. She also loves them plain. She may turn into a raspberry one day. So I can't wait for her to give this recipe a try!
My love for raspberries doesn't stop at dessert. My best friend from college, Sam, introduced me to the International Delight White Chocolate Raspberry coffee creamer about a year ago. And last week during our weekly bible study connect group the hostess had an array of creamers, that being one of them. I fell in love all over again and picked it up at the store the next day.
I even bought decaf k cups just so i could have the creamer in my coffee day and night. I'm kind of not kidding. My coffee creamer situation is on point.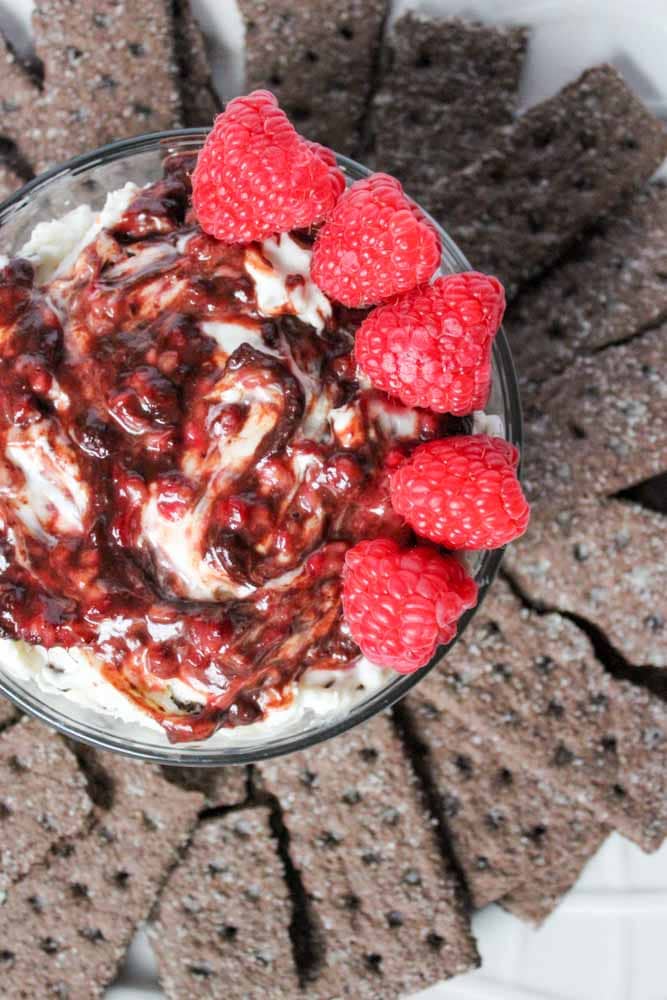 But I thought, WHY must my obsession stop at coffee? So I added it to this luscious dip. Best (and most delicious) life decision I've made in a while.
So how do you make this white chocolate raspberry cheesecake dip, you ask? It's so simple you only need a spare 10 minutes. Regular cheesecake takes at least 1 hour to prepare. So really I'm saving you 50 minutes for all the other fun Valentine's Day activities you can do. Like make these adorable 12 months of date night ideas craft I came across last week.
Sorry, I'm getting off track. Back to the cheesecake dip.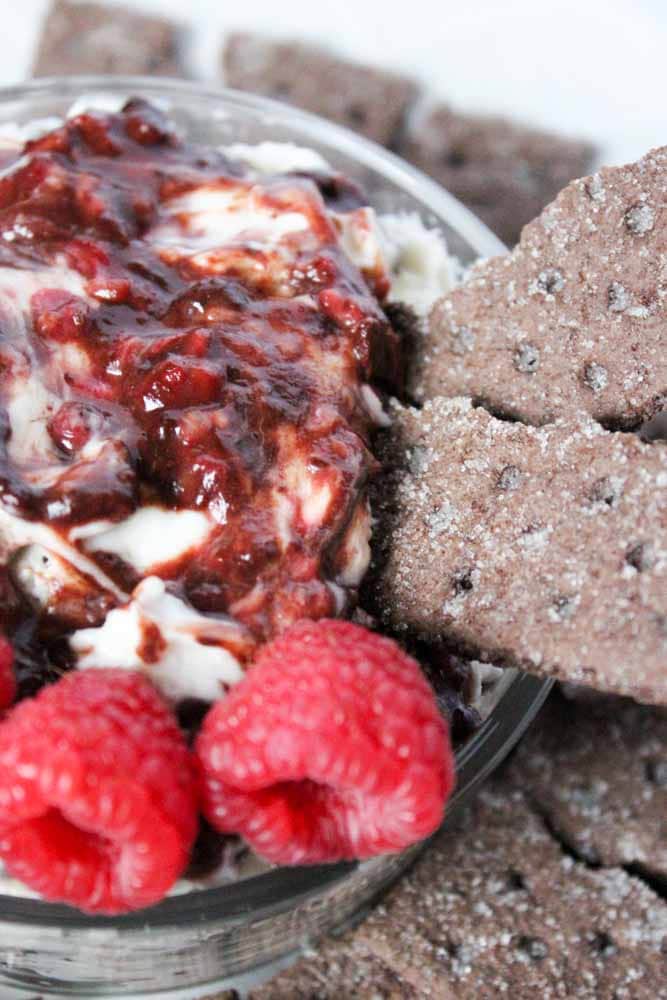 3 easy steps for White Chocolate Raspberry Cheesecake Dip:
Melt the chocolate with half the creamer in a bowl.
Whip the cream cheese
Fold in chocolate mixture and cool whip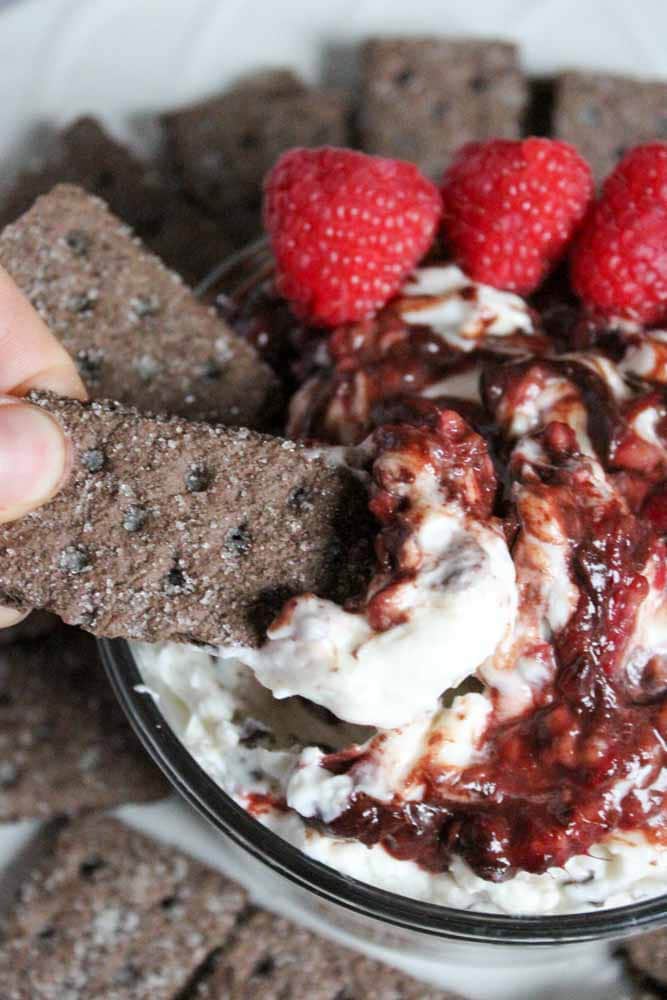 The creamer is great too because it's sweet enough you don't have to include additional sugar. You can also use fat free cool whip and fat free cream cheese if you want to really lighten it up. My boyfriend is very health conscious so I think that's what I'll be doing when I make it again for Valentine's Day. And many, many more times after that.
Enjoy!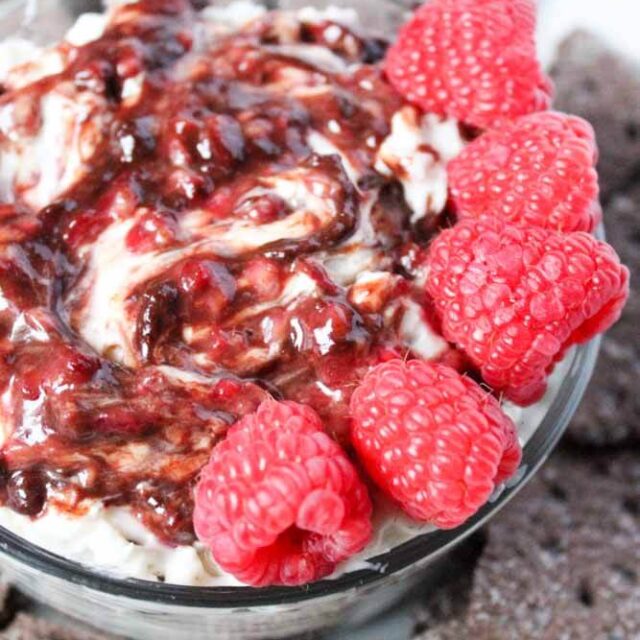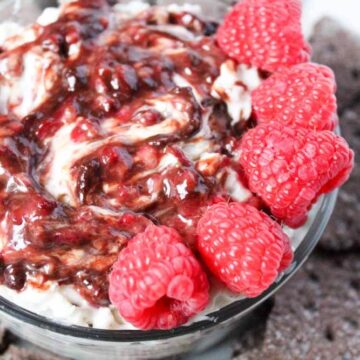 White Chocolate Raspberry Cheesecake Dip
This White Chocolate Raspberry Cheesecake Dip is light and fluffy and is made for dipping with your Valentine
Print
Pin
Rate
Ingredients
1

cup

white chocolate chips

8

tablespoons

white chocolate raspberry creamer

8

ounces

cream cheese

2

cups

cool whip

3/4

cup

mini chocolate chips

divided

1/4

cup

raspberries
Instructions
Place chocolate chips and 4 tablespoons creamer in microwave safe bowl.Heat on high for 30 seconds. Whisk until smooth, reheat for another 30 if needed. Set aside

Using a hand mixer, beat cream cheese until smooth, approximately 30 seconds.

Add remaining 4 tablespoons of creamer and beat until smooth. Beat in melted white chocolate chocolate mixture carefully. Fold in whipped cream and 1/2 cup mini chocolate chips.

Right before serving, in a small microwave safe bowl, warm 1/4 cup chocolate chips and raspberries in microwave for 20 seconds. Stir and pour on top of cheesecake dip. Using a spoon or toothpick, swirl chocolate raspberry mixture.

Serve with chocolate graham crackers, regular graham crackers or teddy grahams and garnish with additional raspberries.