I'm a first-generation baker.
I've learned everything I know from my mom, aside from baking. She just doesn't bake and neither does her mom. And that's fine because she completely owns it. She's the mom that would send me to sleepovers with store-bought cookies instead of homemade and I was not ashamed. Those things are damn good.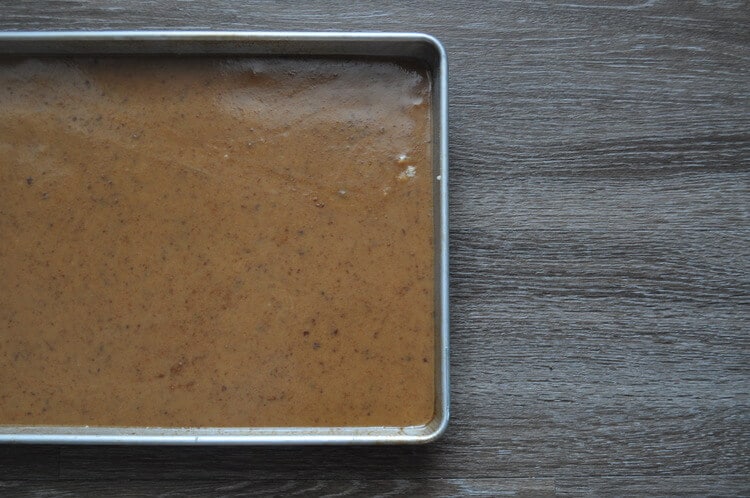 Somehow I got the baking gene. I watched the Food Network religiously where I learned a lot about cooking and baking. The rest came from experimenting and Chelsea's mom. But mostly Chelsea's mom. One weekend we spent the entire saturday at their house and her mom taught us how to make the most delicious dessert I'd had ever had: the Triple Treat. Think homemade Twix bar, but better.
A layer of golden brown short bread is the base for warm and gooey homemade caramel topped with semi-sweet chocolate. I'm the kinda girl that adds salt to everything (I learned that from my mom). So of course I had to take Mrs. Shew's recipe and add a little salty to the sweet.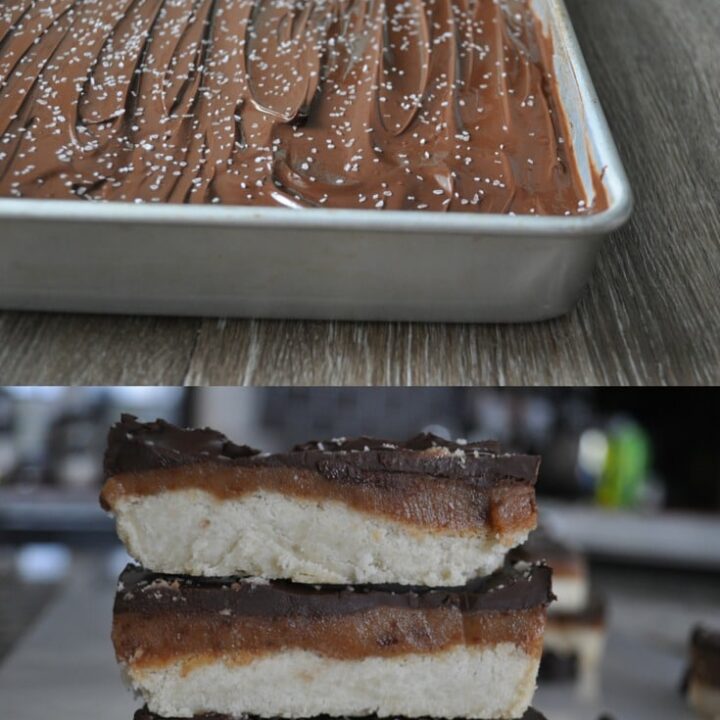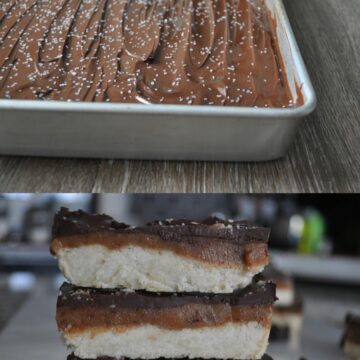 Triple Treats
Three layers of flaky shortbread, homemade caramel sauce and sweet chocolate. These bars taste just like a homemade Twix Bar!
Print
Pin
Rate
Ingredients
Base Layer:

1 1/4

cups

all-purpose flower

4

ounces

butter

softened (1 stick)

1/4

cup

granulated sugar

Caramel Layer:

4

ounces

butter

2/3

cup

soft brown sugar

1/2

can sweetened condensed milk

2

tablespoons

light corn syrup

1 1/2

teaspoons

vanilla

Chocolate Layer:

6

ounces

semi-sweet chocolate chips

sea salt
Instructions
Put all base layer ingredients in a bowl and work together with a fork until you get a dough consistency. Press mixture into an 11x17 inch pan. Bake at 350 degrees for about 30 minutes or until it's golden brown. Watch carefully not to burn.

For the caramel, mix together all ingredients expect vanilla in a large saucepan. Bring to a boil and cook for 7 minutes, stirring constantly. Take off the heat and mix in the vanilla. Pour over the base layer and allow to cool.

NOTE* To clean the caramel from the pan, fill the pot with water and bring to a boil. The caramel residue will disintegrate.

Melt the chocolate chips in the microwave (cook for :30s, stir, repeat until melted). Pour and spread carefully over the caramel layer. Immediately sprinkle with sea salt. Chill before cutting into one inch slivers.