Hey hey! It's #TGIT and I'm super excited to share some thoughts and updates with everyone this week. If you're wondering why the heck this isn't a recipe, I decided to start a new series here where I share what's going on in my life every Thursday. It could be life updates, random things I fell in love with during the week, or something that's been pulling on my heart strings that I want to share.
Last week I talked all about overcoming perfection and the best ways I've been able to battle perfectionism in my life. I've struggled with it all my life (and likely will forever) so the practical ways and simple truths in the post have helped me to overcome this struggle and it's been life changing. If you don't have time to read it or read it last week and may have forgotten by now, know this: you are SO loved no matter what. You don't have to prove yourself to earn the love you already have❤️.
Speaking of LOVE. Though not as deep, today's Thursday Thoughts is all about love! Weddings, to be exact. My wedding. Yep, I'm getting married! My fiance purposed at the end of January and I wrote all about it here, but there have been some major wedding updates since then that I'm so excited to share!
First things first, we set a date!
The BIG day: June 23, 2018
It seems an eternity away but everyone keeps reminding us to enjoy this season of being engaged and that it will be here before we know it. I totally believe them so I'm doing my best to appreciate where we are and this exciting season of engagement because it only happens once. And I don't want to wish time away. I want to appreciate every moment.
Next, we picked a venue!
Oak Grove at Jorgensen Farms
It's located in New Albany, Columbus. A suburb right outside of the city. The actual venue is a 100 acre organic farm where they grow fruits, veggies and flowers year round. They have two venues on the property: the historic barn they built years ago and Oak Grove.
Oak Grove officially opened this month! So I'm really really excited to see some of the pictures of weddings that will be held there this summer. Oak Grove includes a historic greenhouse that is absolutely stunning. They had it shipped from Michigan and it was built in the early 1900's. The rustic copper and metal is a dream for what we're looking for in terms of look/feel. There's also a cottage that's all white inside and includes a bridal sweet, bathrooms and tons of room for food and/or dancing.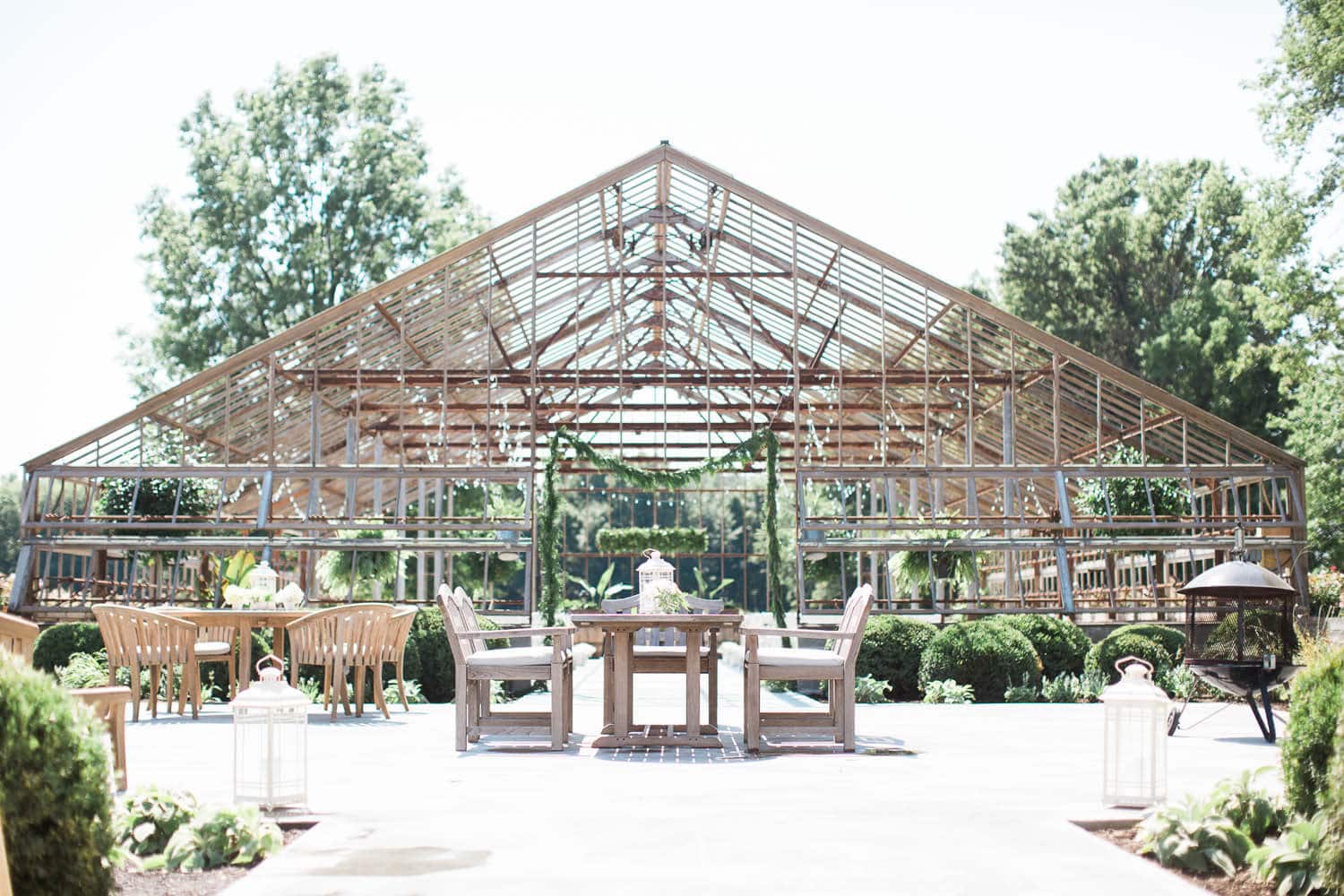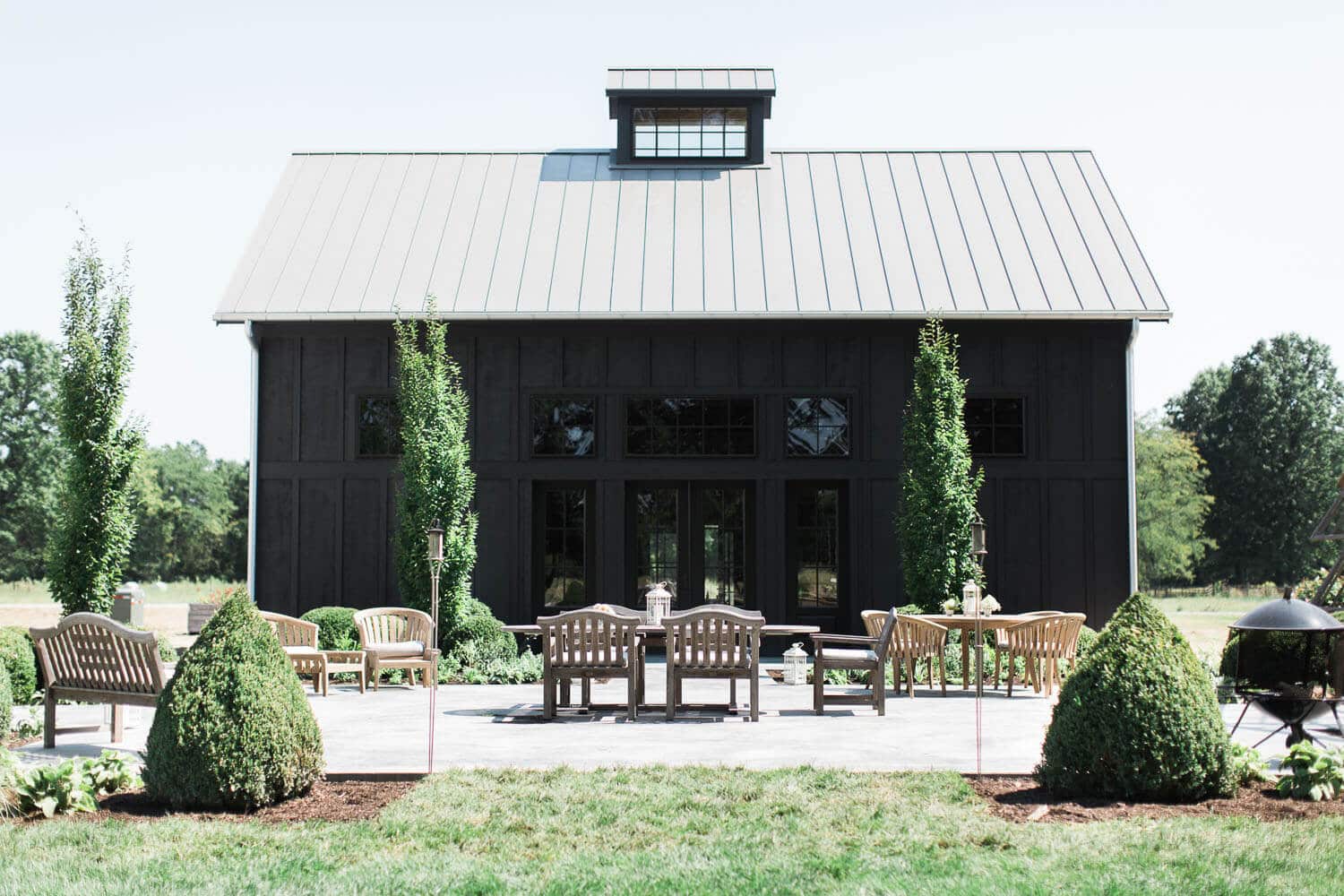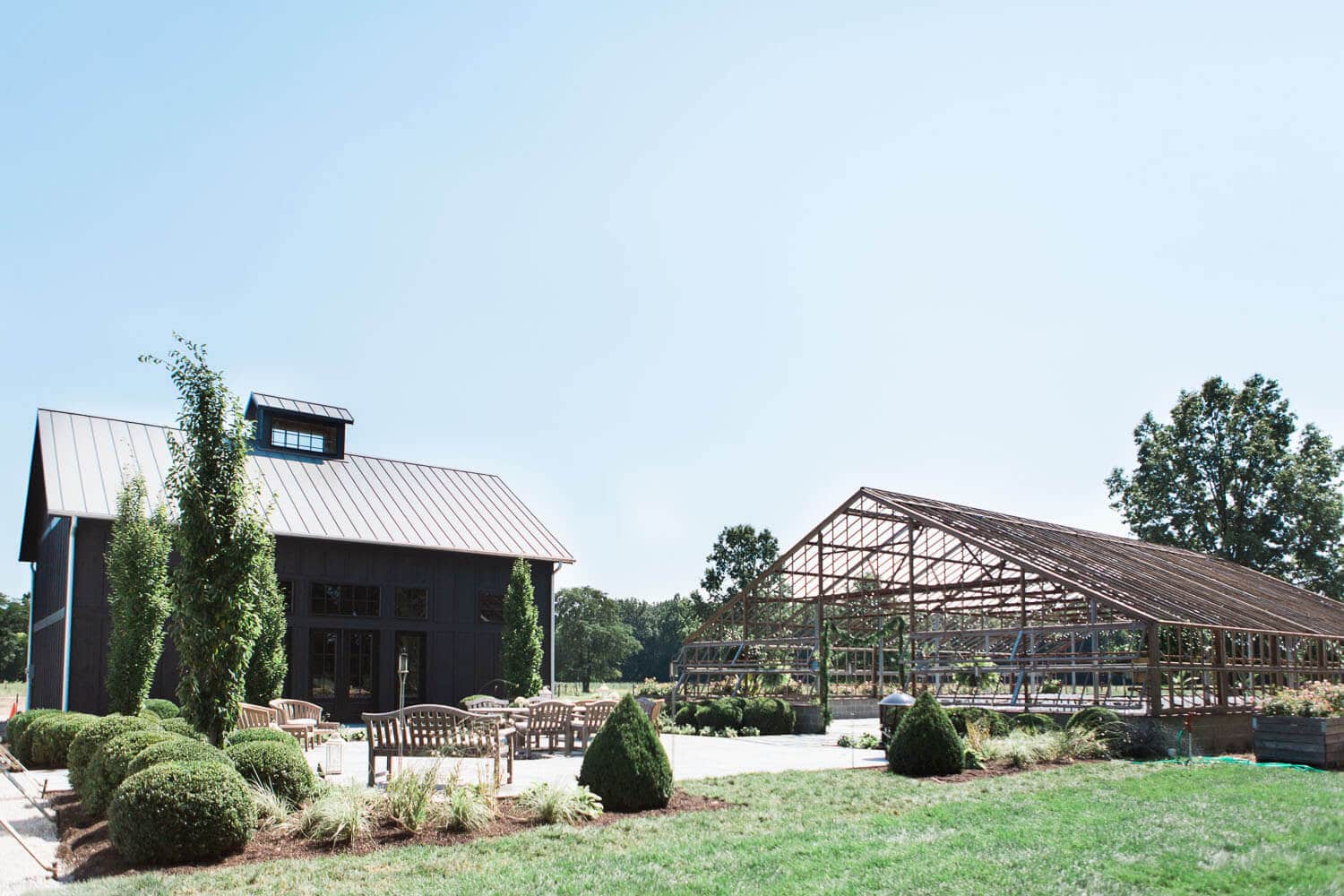 Photo cred: Christina Kimble Photography
When we booked the team there was absolutely amazing. It was the first and only venue Zach and I went to look. We met the team and walked on the property and knew instantly this is where we have to get married. We could just feel it.
Other things I love about the venue: tables and chairs and other things are included, a wedding planner and day-of expert are both included, we get the venue for 10 hours, the organic farm is ours for all the pictures, hotels are close, a giant cocktail lawn, a big oak tree and pond and so much more!
We also locked in our pastor!
The pastor at our church, Greg Ford, baptized both Zach and I in the last two years and it was really important to both of us that he be a part of our ceremony. Zach reached out and he said he would officiate! Him, our One Church family and our faith have been a major part of our lives and have shaped our love story and we're so grateful to be able to share this moment with them!
We saved the date with our photographer!
We reached out to Marissa from Marissa Decker Photography because she is an extremely talented photographer. I've known her for years and she did my sister's wedding two years ago so we knew right away we had to have her! She's ahhhmazing. This is a picture she took from my sister's wedding??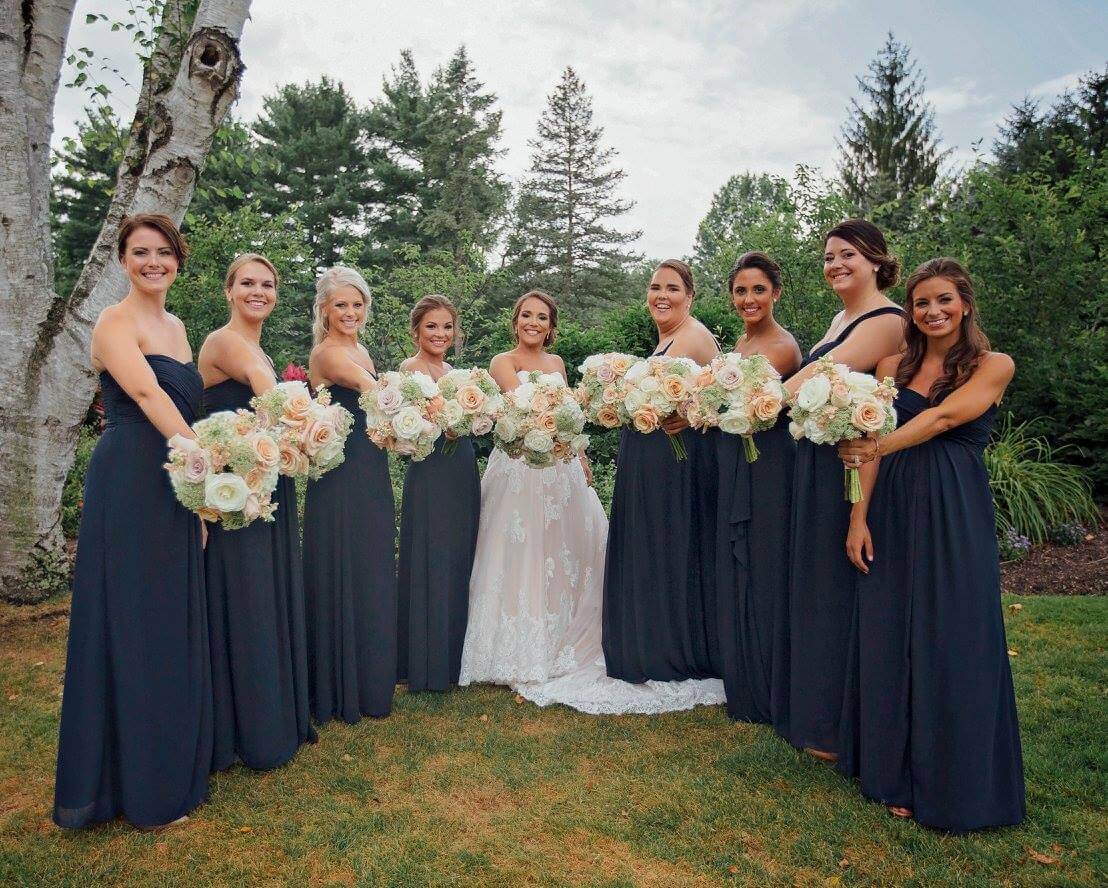 And of course, the DJ!
Zach was in a wedding two summers ago in the Columbus area and fell in love with this DJ. He was the MC of the night and kept the entire party moving quickly. He also played killer music. His name is DJ Tommy Nutter. Yes, that's his real name! So when we got engaged we knew exactly who we wanted! We snagged him early because he books really fast.
We also picked the theme/colors!
Zach and I are super simple and knew I wanted a feel that was really natural. We're going with a greenery theme, where everything is really rustic and simple. There is going to be a lot of greenery and woods and some greys and a little bit of light pink. I pulled some pictures to give you an idea!
I fell in love with this on Pinterest when I was searching and had no clue it was a major trend for 2017. Zach and I just love how simple it is. Turns out we're super trendy (?). A good friend of mine just launched a virtual event planning business and she wrote a blog post all about this theme. It made me super excited for our big day! We're definitely going to be using her expertise as we get closer and nail down all the details. You should too, she's amazing!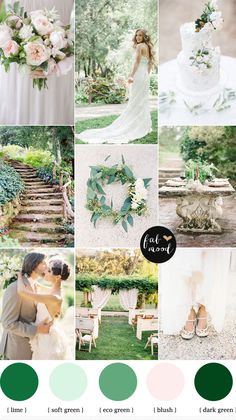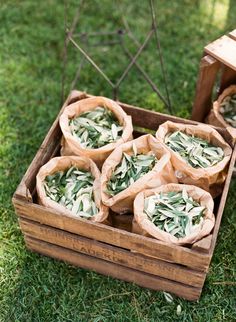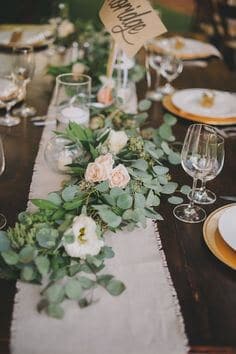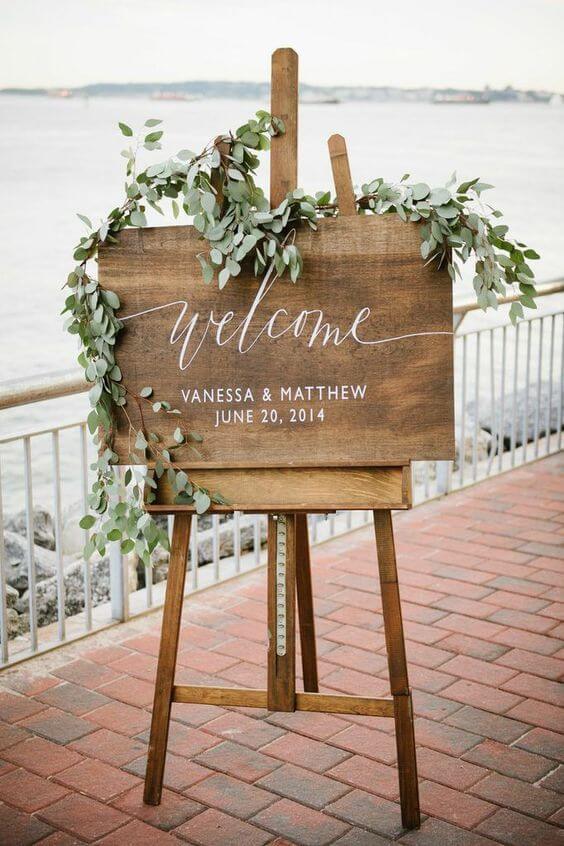 And the next big exciting thing: wedding dress shopping!
Things are kinda crazy with work and travel schedules for Zach and I the next two months so I planned a weekend in June to go wedding dress shopping. Zach's mom is going to be in town from Iowa so she'll be able to be there which I'm super thankful for.
We're going to one shop on a Friday evening just so I can try on a few different styles and get a feel for what I like. Then we're going to grab dinner and drinks in downtown Columbus. I've got 3 appointments scheduled for that Saturday and I'm keeping my fingers crossed I find the dress!
Stores I'm visiting: B Loved Bridal, La Jeune Mariee, Ivy Bridal Studio and Wendy's Bridal.
That's it for now!
We kinda hit the planning hard the first couple of weeks in all of our excitement and haven't been doing much the last month or so, just enjoying this time together. Once we get back from Ireland in May we're going to start thinking about some other fun things coming up!
Other planning things we're looking forward to: catering (food tastings!), DIY things we can do together, bachelor/bachelorette parties, celebrating with our wedding party, picking out wedding bands, engagements photos and so much more!
Also, I will not be making my own cake! I want the day to be as fun and stress free as possible so I'm going to leave it up to a bakery to make the cake cutting sitch possible. Though my chocolate chip cookies may make a special appearance?.
Also: would love suggestions from you guys! Comment below!
Any good bakeries in the Columbus area for cake?
Have you been to a wedding with really good "late night" food?
What are the best wedding songs to get people on the dance floor?
What's your favorite part about weddings?
Wedding hashtag ideas?! My new last name will be Thompson!