Summer Fruit Pizza featuring a chewy sugar cookie, sweet and tangy cream cheese frosting and fresh summer fruit including strawberries, kiwi and blueberries. Because...summer?☀️.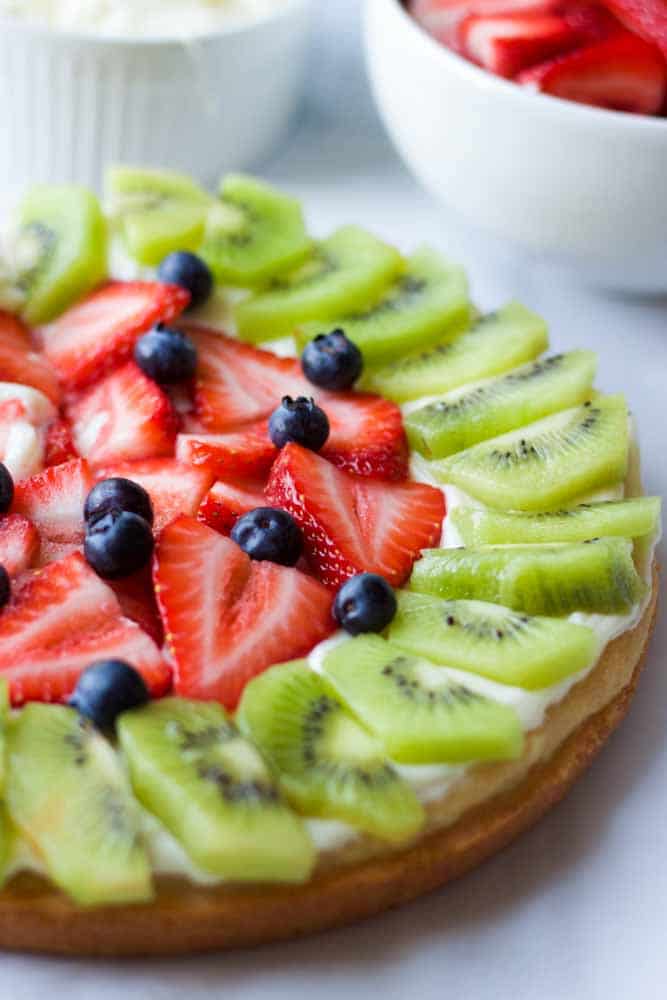 HELLO summer. It's so great to see you again, it's been way too long. Please stay forever.
There are one million and one reasons I love this season:
Its my BIRTHDAYYY season. Yay August babies.
Fourth of July, because who doesn't love celebrating this great country?
Country concerts are the greatest. I'm so sad I missed the Buckeye Country Super Fest last weekend, but I sort of felt like I was there from all the snapchats/instas/FBs/texts from my BF
Weddings. Aren't they the greatest? Celebrating love with food and drinks is right up my ally.
Pool days all day err day. Lake days would be great too but I need to meet a friend with a boat⛵️
Summer fridays! Or should I say FriYAY?! Leaving work early and getting the weekend started 2 hours sooner. Yeah, I'll celebrate that.
Summer fruit pizza, obvi.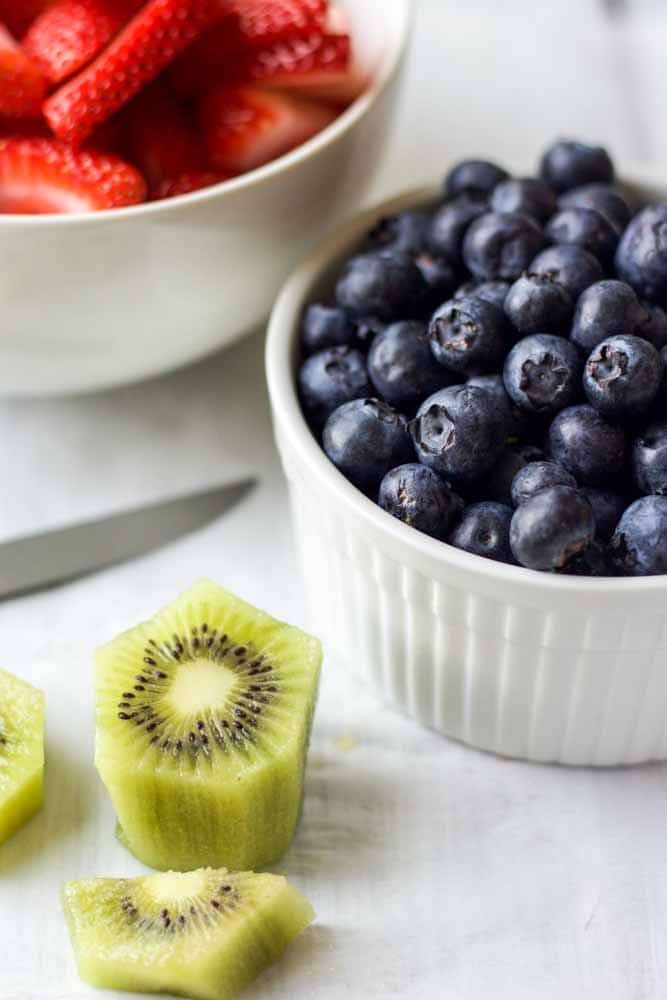 Fresh fruit pizza is a happy, light, and really all-around perfect dessert, essentially made from three layers: sugar cookie, frosting, and fruit.
I have a confession. This fruit pizza was made with pre-made cookie dough. And I'd like to say I'm ashamed because I love baking and the homemade stuff is just so good. BUT, who has time for that when there's so much celebrating of all the bdays, weddings, concerts and pools days to be done? Ain't nobody got time for that. Enter the pre made dough.
And it was damn good. I'd do it again. And I will. And so should you.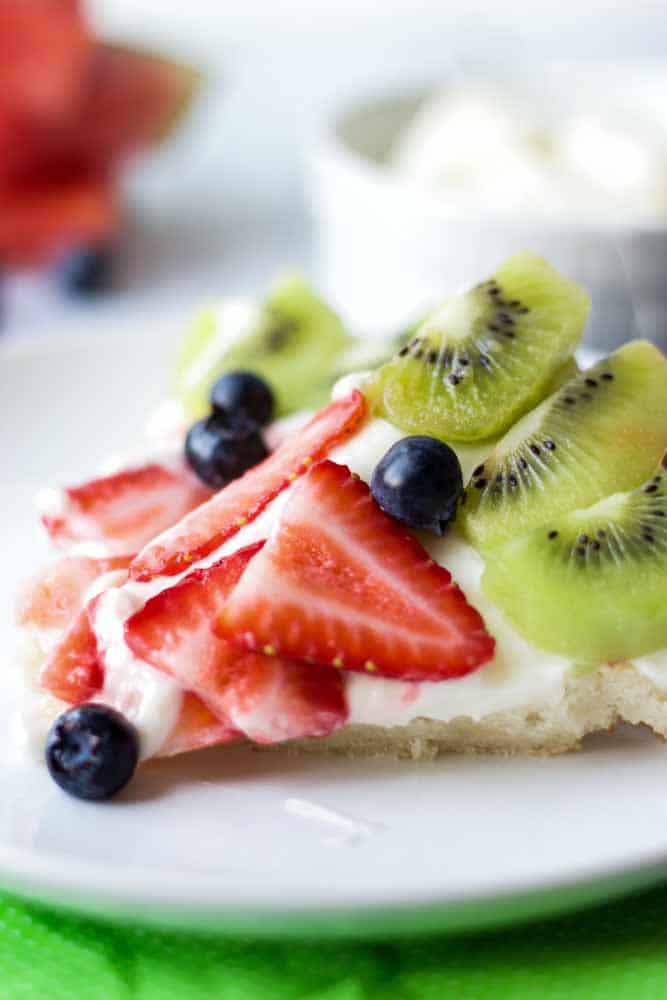 The sweet and tangy frosting for the top of this summer fruit pizza is your typical cream cheese frosting. It compliments all the sweet fruit like they were made for each other.
Now for the fruit. You can use any fruit you fancy. I went with kiwi and strawberries with blueberries because I had this great idea that the fruit tart was going to look like a watermelon and it was going to be so summer and great, and well, it sort of worked?
If you want to do that I suggest cutting the kiwi smaller and using chocolate chips instead of blueberries for the seeds! It will be adorable.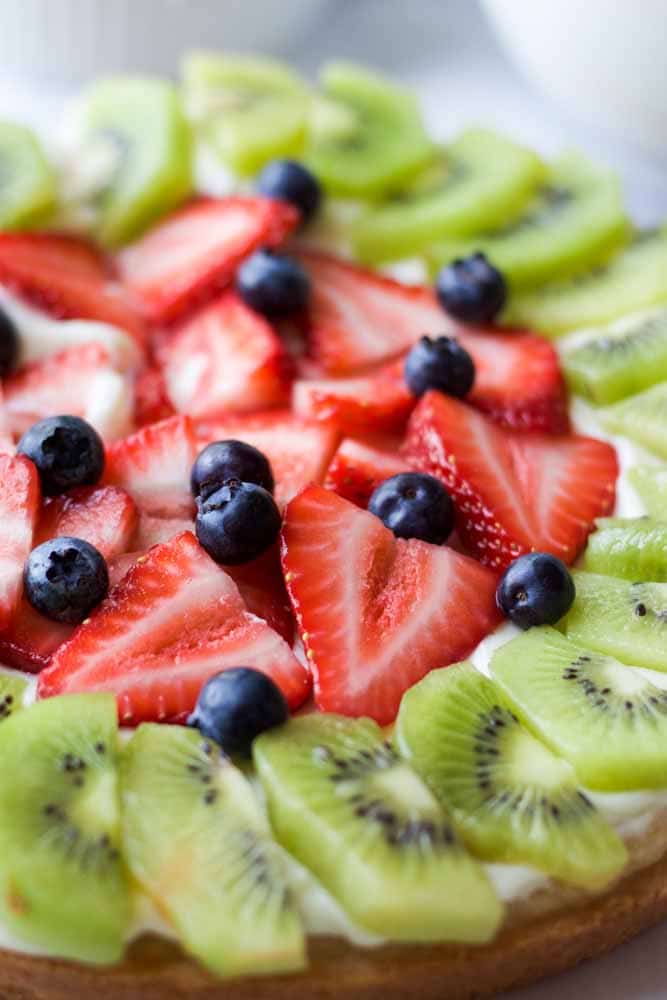 Even though they didn't turn out how I envisioned they still turned out bomb. A piece of this is light and fruity and summery dessert pizza is made for cook outs and pool parties.
P.S. GO CAVS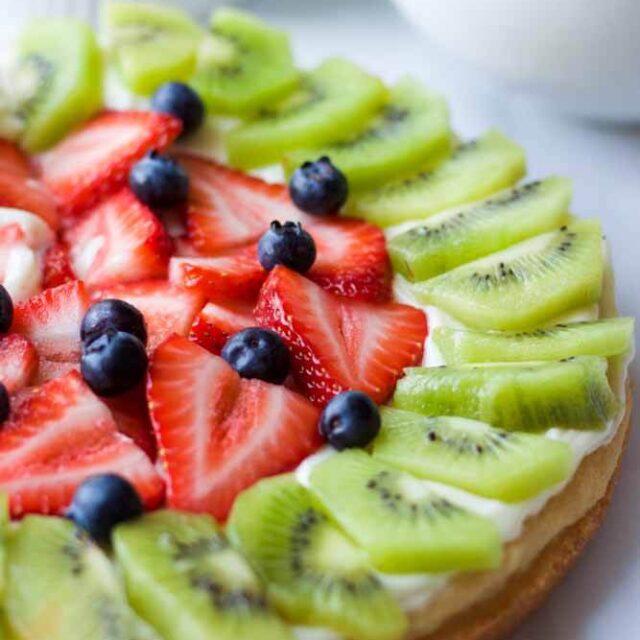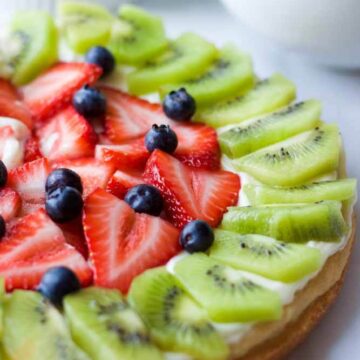 Ingredients
1

pre made sugar cookie dough

I used Nestle Toll House

1- 8

ounce

package cream cheese

at room temperature

1/3

cup

granulated sugar

1/2

teaspoon

vanilla

1 1/2

cups

fresh fruit

strawberries, kiwi, blueberries etc, sliced
Instructions
Preheat oven to 325 degrees. Grease the bottom and sides of a 9 inch tart or cake pan.

Place cookie dough in pan and using fingertips, pat dough gently to cover the bottom of the pan.

Bake for 22 to 25 minutes, until golden brown and toothpick inserted comes out clean. Let cool completely.

To make the frosting, beat the cream cheese, sugar and vanilla in a medium bowl with an electric mixer until smooth, about 3 minutes. Spread over cooled sugar cookie, leaving 1/2 inch of the edge free.

Arrange fruit as desired on top of frosting. Refrigerate for one hour and serve.