Little balls of fall rolled up and dipped in silky smooth dark chocolate. All the pumpkin spice, sans the guilt! This mini dessert recipe comes together in 4 ingredients and has way less fat and calories than your typical truffle. Roll up your sleeves and get ready for the best pumpkin dessert!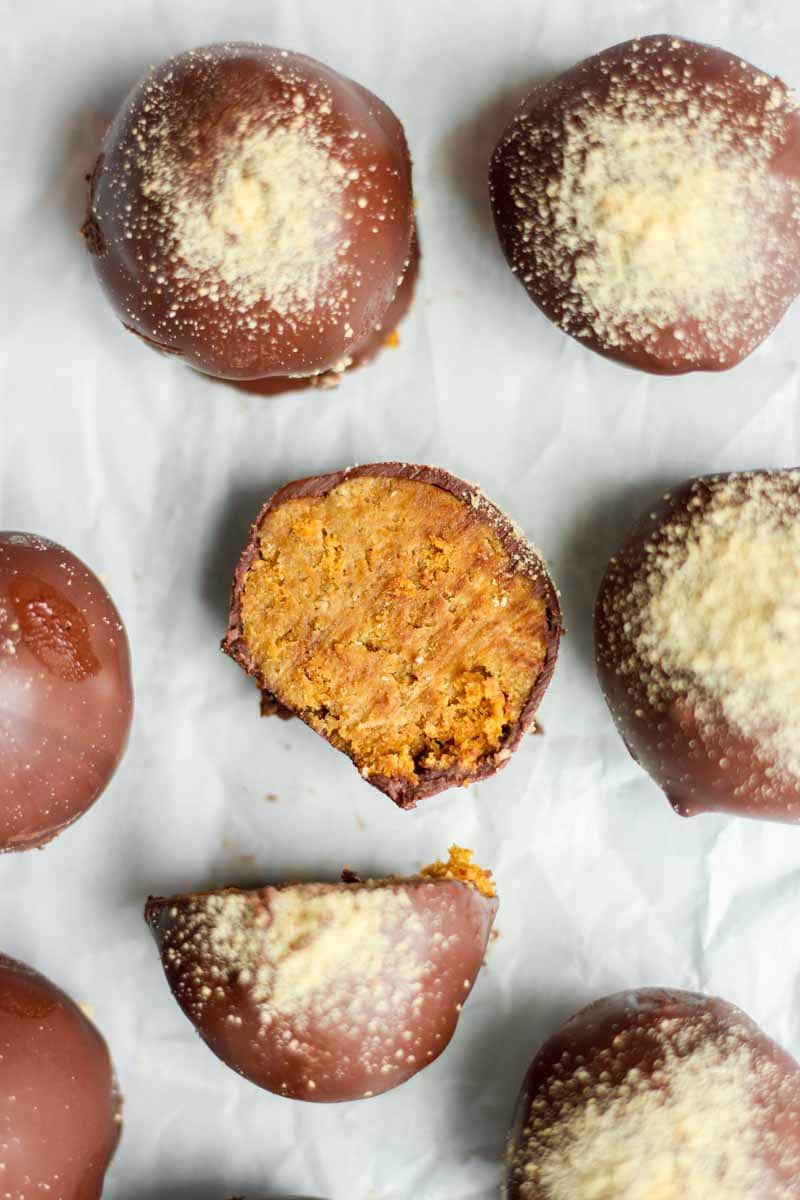 "How could truffle possibly be in the same sentence as skinny? " said everyone, always.
I'm here to show you how! Don't get me wrong, this girl loves some indulgent an indulgent pumpkin recipe in the form of muffins, cupcakes, and cookies. But even with swimsuit season behind me (sigh), I'm doing my best to keep the sugar, fat and guilty sweets behind me.
Especially since I just started a new work out program! And it just so happened to have been created by my amazingly talented boyfriend. He has his Masters in Exercise Science and just launched an online personal training business called, Hearbeat Strength. Beyond all the smarts he's got going on he's easily the most inspirational person I know (his story is awesome!). If you want to be motivated and encouraged by someone's story, I highly encourage you check it out!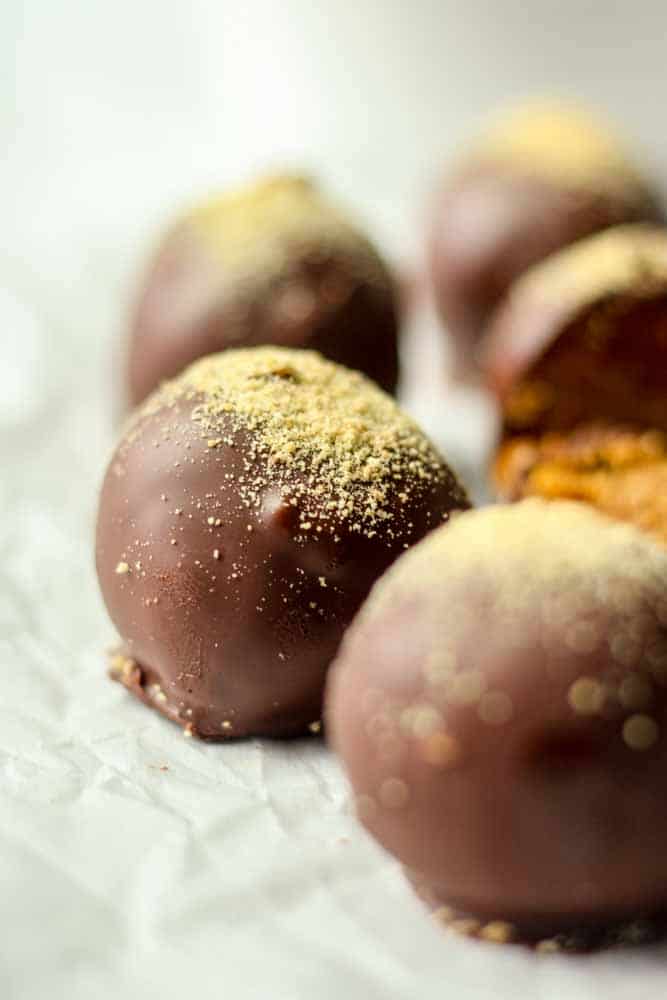 Also, his workouts kick a**. Like, I literally can't (even) walk up the stairs today. On a scale of one to even, I can't. But I love it! Workouts that I feel the next day are my favorite because I feel like I accomplished something.
The best part is each workout he creates is personalized based on your goals, your training style, and the equipment you have available. And all you need is your phone to access them! Not to mention he checks in on progress and provides nutrition guidelines too. Seriously, if you can't tell, I'm beyond proud of him!
So to go along with my sore legs are some light (but delicious!) pumpkin spice truffles. You know those crazy popular 2 ingredient muffins everyone loves? The ones that only include spice cake mix and pumpkin? Yep, I took that idea and turned them in to truffles!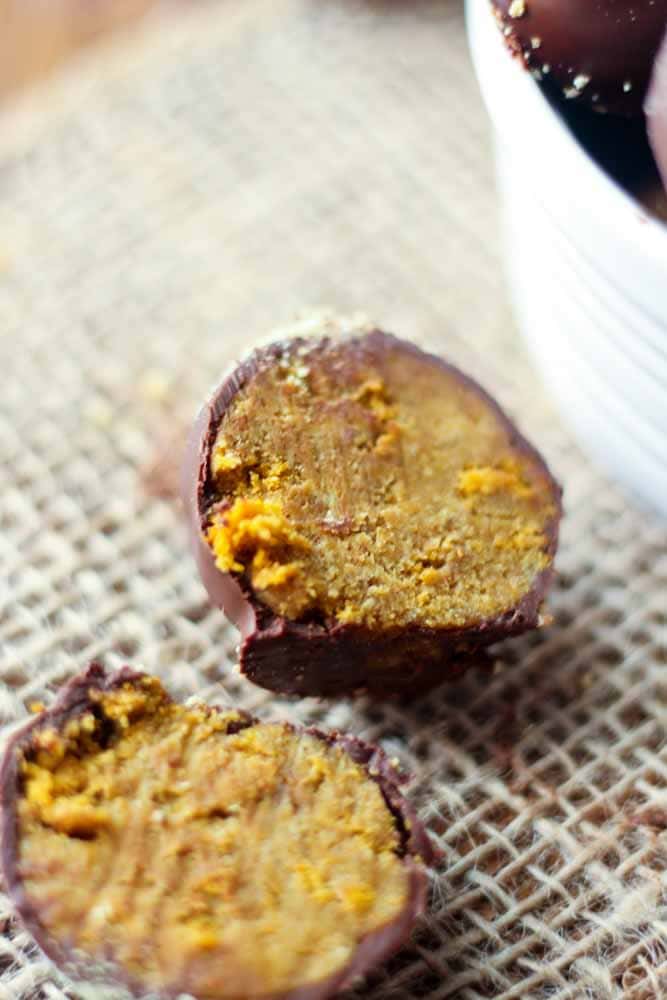 Pumpkin is one of my favorite ingredients! Aside from providing delicious fall flavors, there are so many health benefits and swaps to incorporating pumpkin in to your recipes. You can swap it in any baked good for eggs, oil and butter. And it's so good in smoothies!
The reason we only need cake mix and pumpkin in this recipe is because the pumpkin swaps in for both the oil and the eggs that the back of the box calls for. One box and one can of pumpkin puree. Not the pumpkin pie mix! I'm talking real, field to can pumpkin puree.
The difference in the muffins vs the truffles is you're going to bake the mixture in a large cake pan. Once cooled, crumble the cake into tiny piece. It's a little therapeutic in a way! I like to use my hands to break the cake up in to tiny pieces.
THEN you had low fat cream cheese. Because I truly believe cream cheese and pumpkin were made for each other. To keep these lower calorie I opted for the low fat version and it tastes delish! Beat them together and you get a thicker pumpkin cake mixture that's a little wet. Because of this, throw it in the fridge for about 15 minutes to chill. This makes it much easier to work with and roll into balls!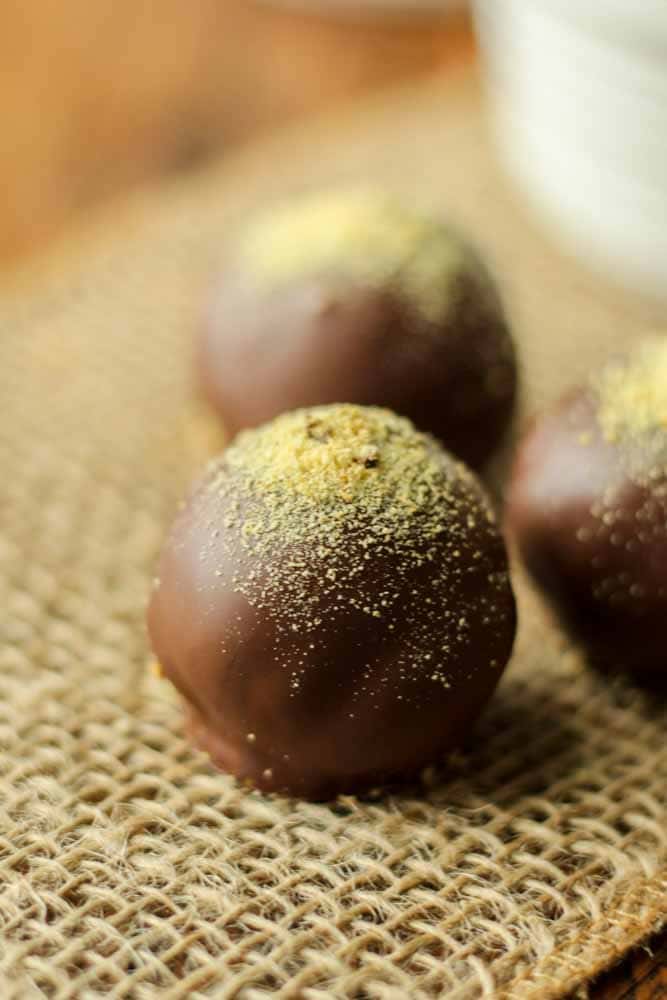 Once chilled, roll in to 1.5 inch cake balls and place them on a baking tray lined with parchment paper. The paper is really for the next step, which is dark chocolate!! When you've got them all rolled, dunk in to melted chocolate and sprinkle with graham cracker crumbs. Then allow them to cool completely. If I'm in a rush I like to throw them in the freezer for about 15 minutes. They set in no time. And if you're making them ahead you can just leave them in there and save them for when you need them!
And that's it! Easy, 4-ingredient and SKINNY pumpkin truffles.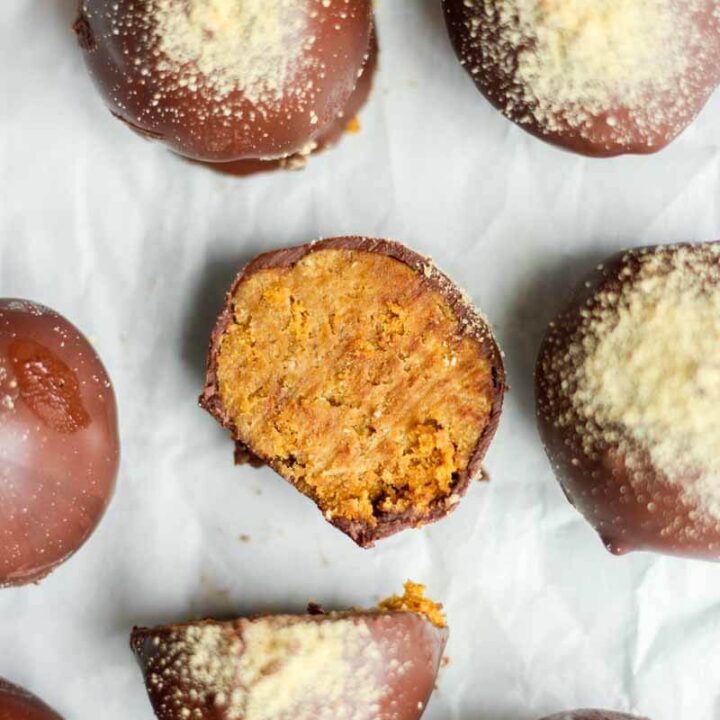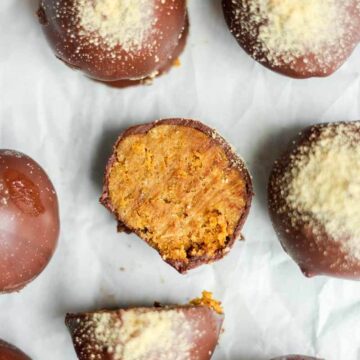 Ingredients
1

box spice cake mix

1

15oz can pumpkin puree

8

oz

light cream cheese

softened

3

cups

dark chocolate

melted

1

tablespoon

coconut oil

Crushed graham crackers

for topping
Instructions
Preheat oven to 350 degrees and spray a 9x13 inch cake pan with non stick cooking spray. Set aside.

In a medium bowl, with an electric mixer on medium speed, beat together the spice cake mix and pumpkin puree until completely incorporated, about 3 minutes. Pour cake batter into prepared pan and place in the center rack in the oven. Bake for 19-21 minutes, or until cake is set on top.

Remove from oven and allow to cool in pan for 15 minutes. Once cooled slightly, using your hands or a fork, break apart the cake into tiny crumbles. Transfer cake crumbles to a large bowl and add the softened cream cheese. Beat on medium-high speed until incorporated. Mixture will be sticky, but thick.

Place in the refrigerator for 15 minutes to chill. While chilling, cover a large baking pan with parchment paper and set aside. Remove from fridge and roll in to 1.5 in balls and place on prepare baking sheet.

Once all are rolled, melt the dark chocolate with the coconut oil in a tall vessel (like a liquid measuring cup) by heating on medium heat in the microwave for 30 seconds. Remove and stir then place back in the microwave and heat for another 30 seconds. Stir and repeat the process until chocolate is smooth.

Dip each truffle into the chocolate and cover completely with dark chocolate. Place back on the baking sheet and repeat the process until all truffles are covered. Sprinkle with graham cracker crumbs and place in the fridge for 30 minutes to set.

Keep in the refrigerator for 7 days or in the freezer for up to 2 months.