This post has been sponsored The Coca-Cola Company. All thoughts and opinions are my own.
This cool and sweet dessert recipe is a light and refreshing end to any summer cook out. Featuring Simply Lemonade with Raspberry, the raspberry and lemon flavors burst with flavor in every bite. This super easy recipe is perfect for the end of summer!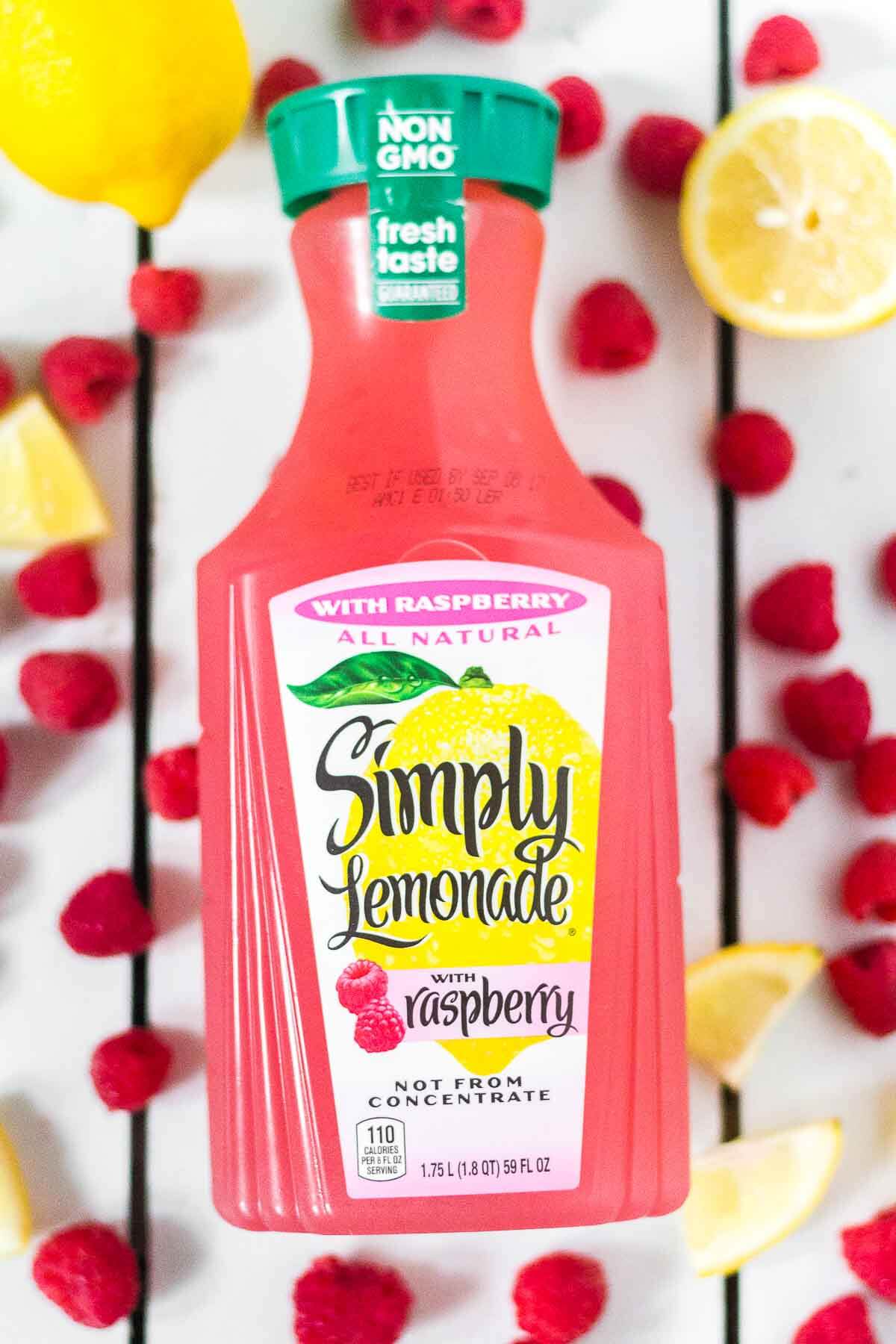 It's cool, refreshing and bursting with flavor. It's easy to make and it could keep even the most melty snowman cool on a hot summer day.
As the summer starts to close I want to soak up every last moment of summer I can. I've been to the lak 3 times in the last two weeks, I've been working out with my garage door open, and my dad just bought Zach and I a grill! BTW the best housewarming gift ever!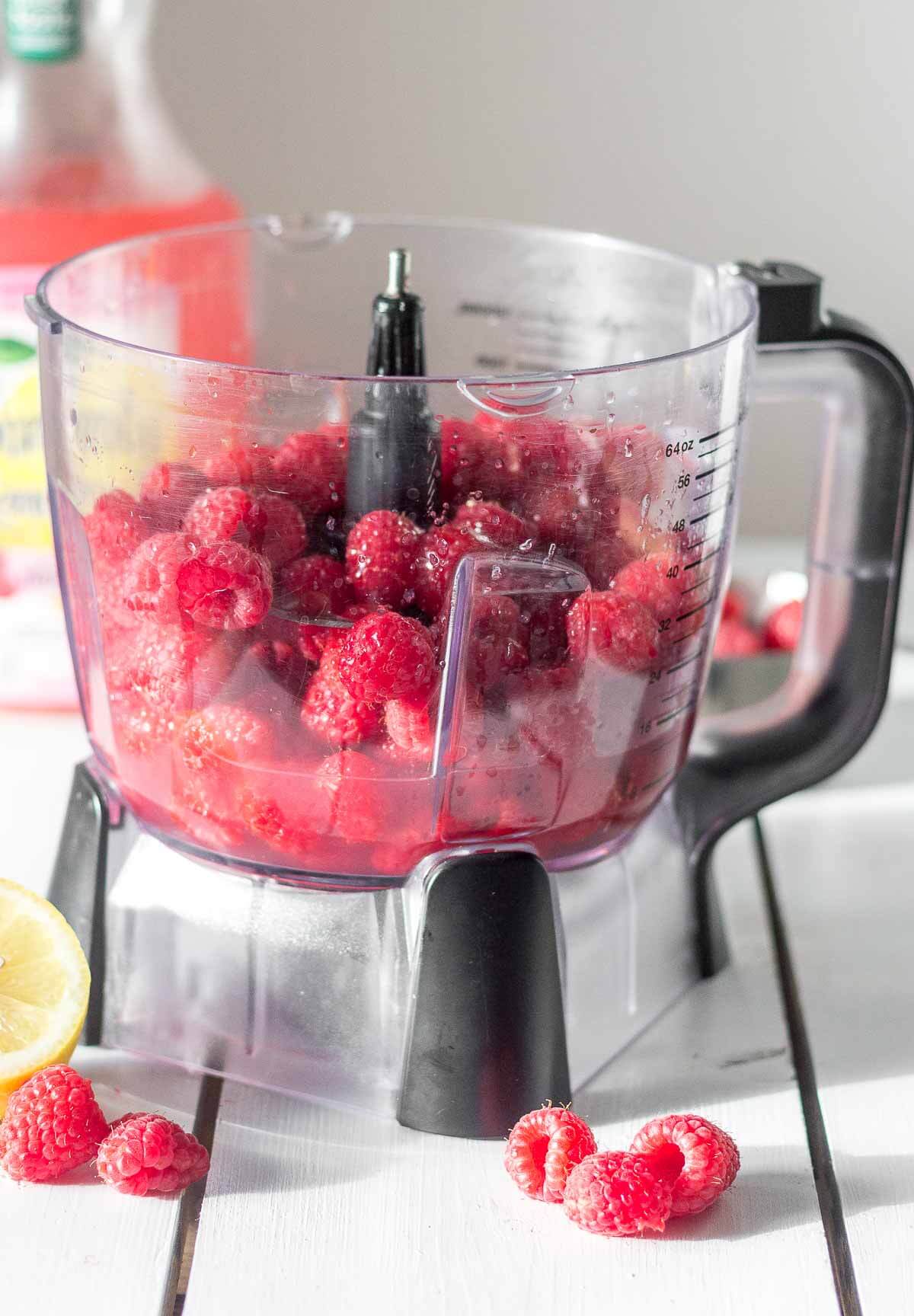 When we're grilling out with friends and family you know I can't go without sharing a sweet treat to end the meal! This raspberry lemonade granita is a delightful cool dessert that's not too heavy. It's such a refreshing way to celebrate the long summer nights!
When the nights are longer and there's less hustle and bustle I try, with every ounce, to be in the present and appreciate the season. The fall, winter and summer months are always so crazy busy I like to take the time to kick back with friends and family over the summer! I can't think of a better way to do that than grilling out and eating raspberry lemonade granita.
If the fancy name "granita" trips you up, don't worry at all. This recipe is one of the easiest I've made all summer!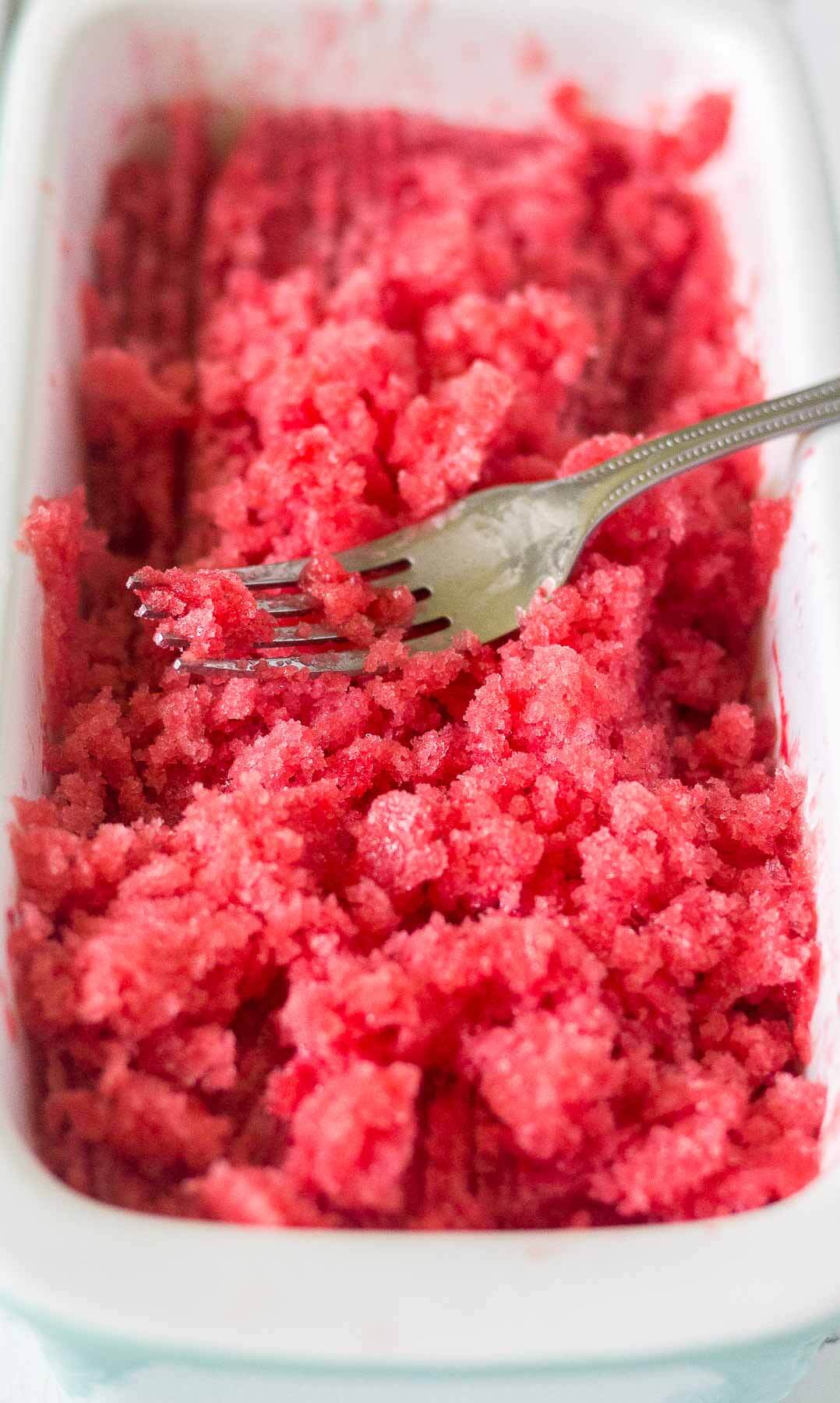 What is Granita
Granita is a coarse, italian-style flavored ice. It's similar to sorbet and italian ice, except it's made by hand instead of in a machine. It's made by hand so it's much flakier, kinda like eating snow! It's crunchy for a second then melts in your mouth.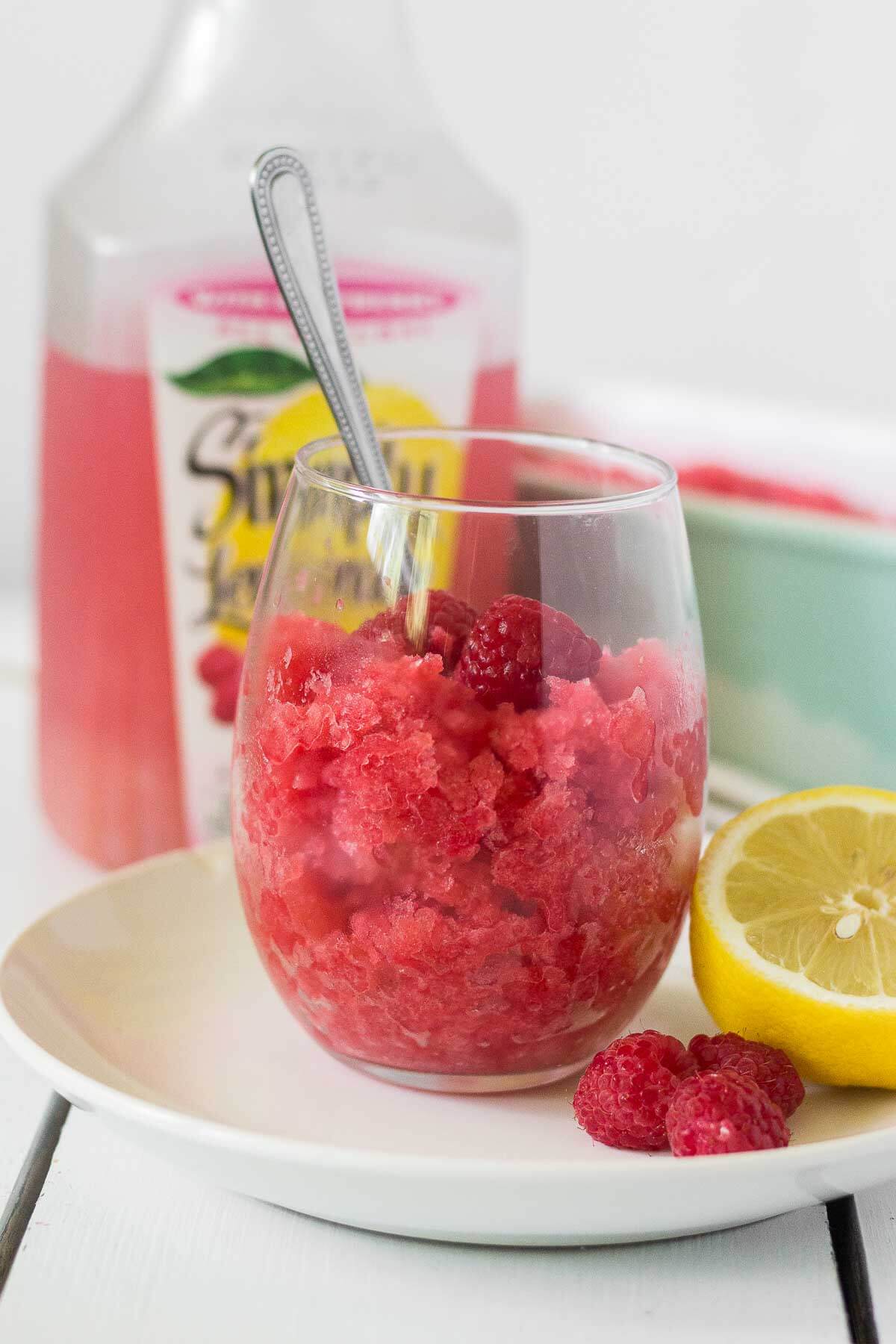 How to Make Granita
All you need to make granita is some fresh fruit, water or delicious juice (like Simply Lemonade® with Raspberry!), some sugar and space in your freezer.
Combine the Simply Lemonade® with Raspberry, raspberries, lemon juice and sugar in the bowl of a food processor and pulse until completely combined. The seeds from the raspberries aren't the best texture to include in a sweet frozen granita so it's important to strain them out.
Using a fine mesh sleeve, pour the granita mixture through the strainer so only the juice is left and the seeds are trapped. You're left with the sweetest raspberry lemonade granita mixture. It should be smooth and thin.
From there, pour the mixture into a loaf pan, cover and place in your freezer. Once it's in the freezer it's important to keep an eye on the clock. You're going to pull it out of the freezer and rake/stir using a fork. You're going to continue this process every ½ hour or so until the granita is frozen and resembles fresh snow.
Put in individual serving bowls or put in a covered container until you're ready to serve!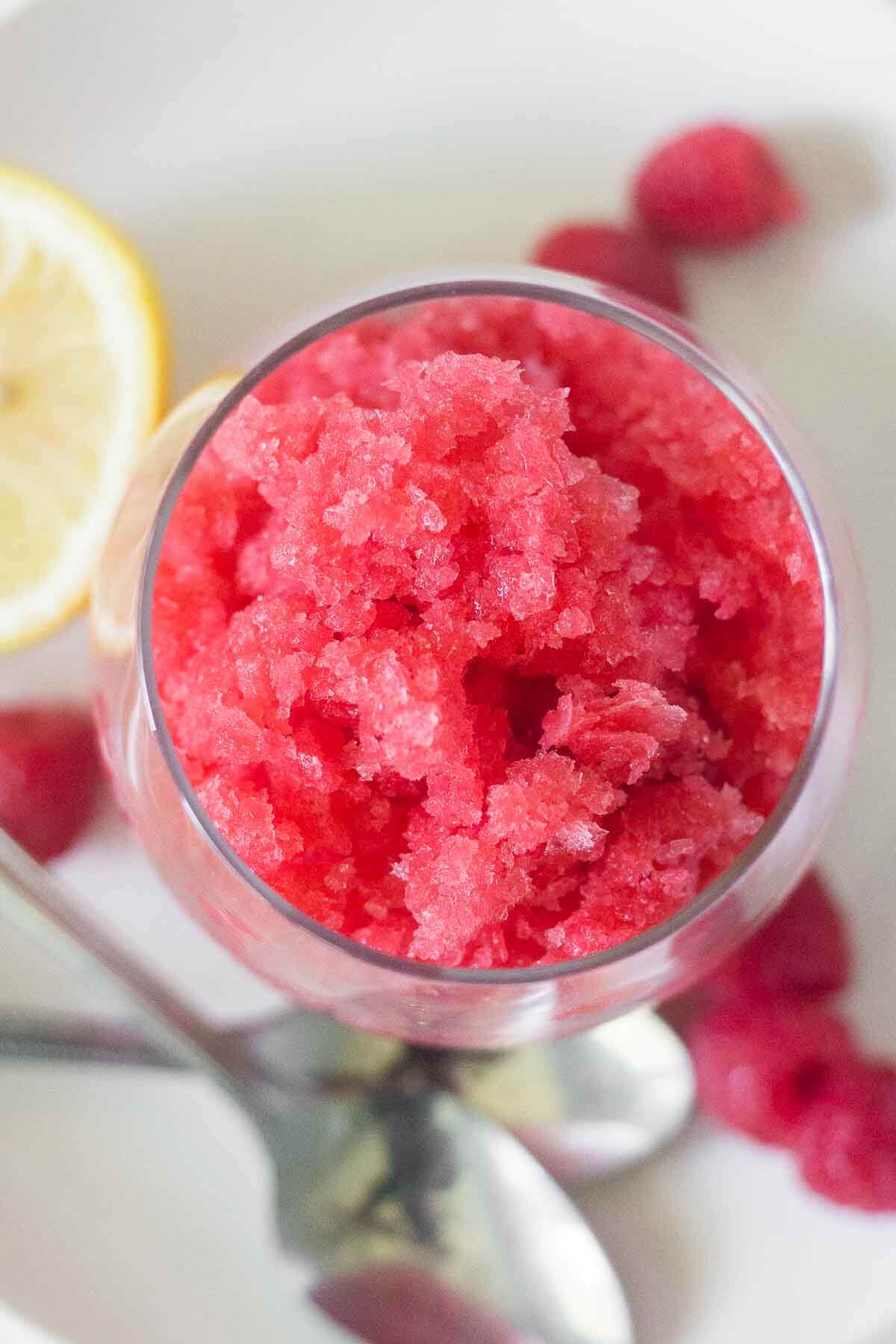 Aside from the fluffy snow-like texture of this Raspberry Lemonade Granita, I love how easy it is to made. You only need a few ingredients to pull this off. I headed to Walmart and only had to go to the produce and juice sections to grab all the ingredients for this recipe! It took me a matter of 10 minutes to get in and out.
I also can't get enough of the flava. I have a hard time opening the fridge and seeing the Simply Lemonade® with Raspberry without taking a sip right out of the carton (anyone else do that?), let alone turning it into a sweet treat and resisting it.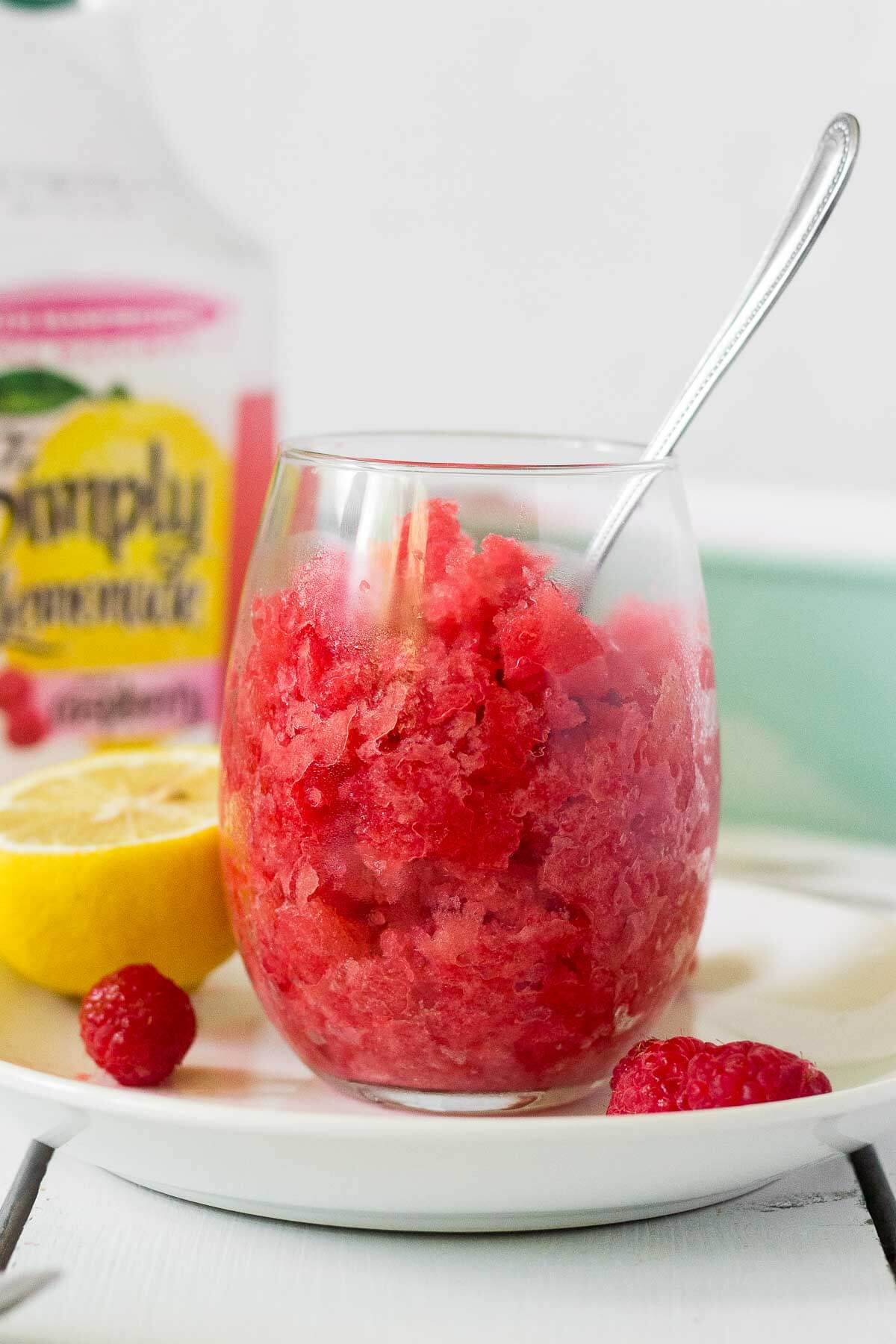 If you love it as much as me I highly recommend making it in a few different flavors: Mango Lemonade Granita with Simply Lemonade with Mango and fresh mango or Blueberry Lemonade Granita with Simply Lemonade with Blueberries and fresh blueberries.
The fruit and sweetness from the lemonade is the perfect compliment to the fresh raspberries and lemons. Your kiddos are going to love it!
And don't forget to find more summer inspo for the end up summer. I'm using this recipe to soak up every last moment of summer.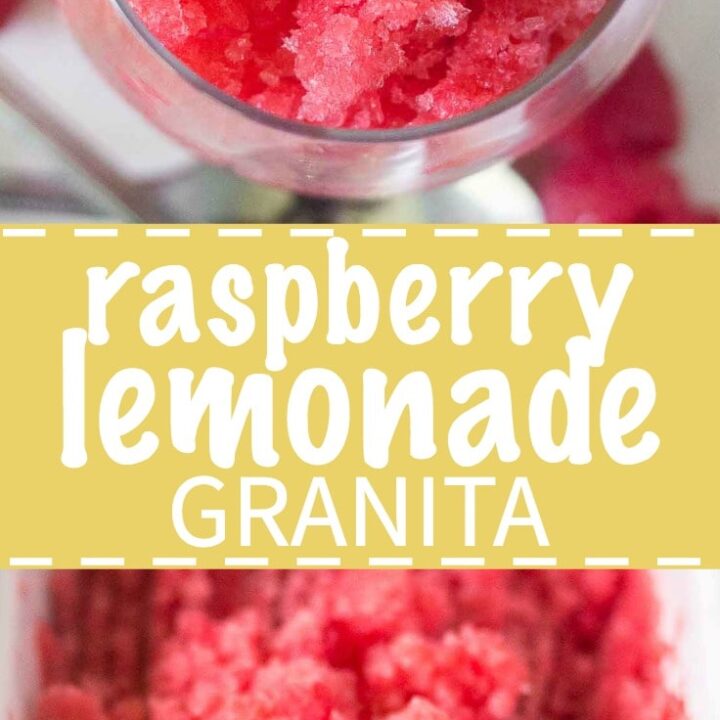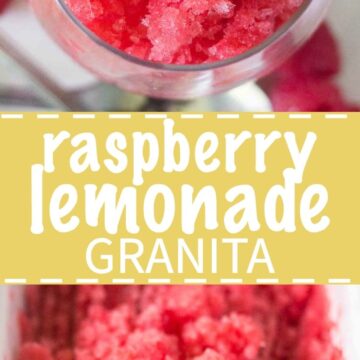 Ingredients
4

cups

raspberries

1/3

cup

granulated sugar

1/3

cup

freshly squeezed lemon juice

1-2 lemons

Zest of 1 lemon

2

cups

Simply Lemonade® with Raspberry
Instructions
Purée raspberries, sugar, lemon juice, lemon zest and Simply Lemonade® with Raspberry in a food processor or blender until smooth. Strain purée through a fine-mesh sieve into a 13x9x2 inch baking pan, pressing on solids.

Freeze mixture until edges begin to set, about 30 minutes. Using a fork, scrape to break up frozen portions around the edges. Freeze, scraping and breaking up mixture every 20–30 minutes, until mixture resembles fluffy shaved ice, 2–4 hours.