The real deal pumpkin cupcakes baked to perfection. The light and fluffy kind baked through with subtle hints of cinnamon and nutmeg. It's like they were designed to be topped with smooth and sweet cream cheese frosting. To marry the two together, I topped them all with a maple brown butter drizzle so perfect for the season.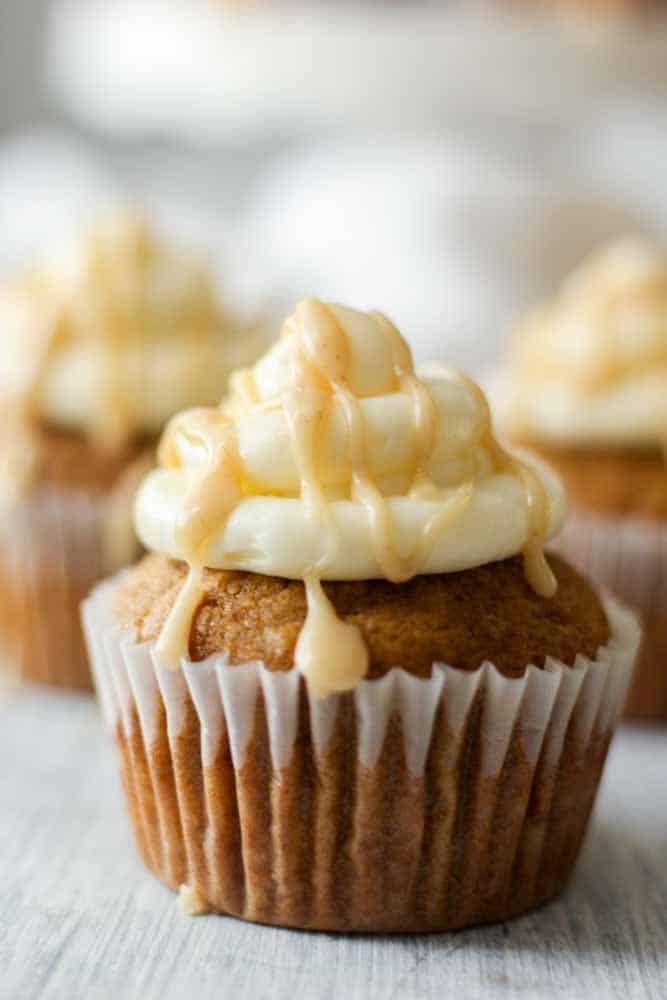 I know I've been sharing a lot of pumpkin recipes around here lately. And I also know it's still 80 degrees outside, but I'm just so excited for the fall season. Which got me thinking. What is it that makes me so excited for fall? I think it's because I know what to expect. I know adorable boots, pumpkin spice lattes, plaid scarfs and the holidays are upon us.
Which means some serious quality time with family, and college football tailgates, and the way the Bath and Body Works candles makes my apartment smell. I'm so excited about this season because I know exactly what's coming my way in the next couple months.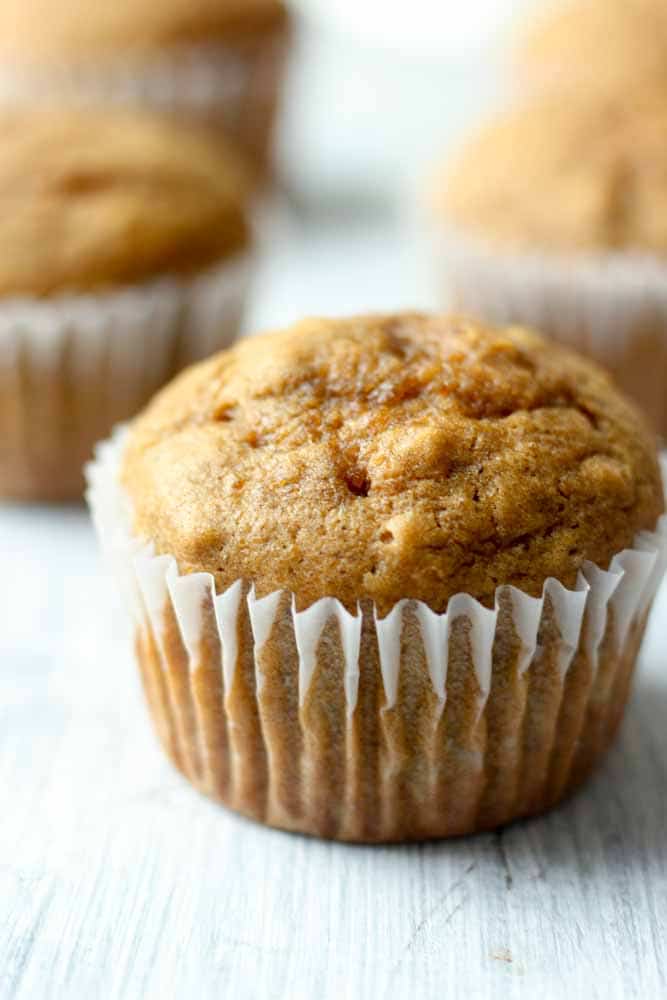 But what about the seasons of life that aren't so predicable? When you enter into the unknown and the obvious future isn't so easy to extract. Like when you move to a new city and start a new job, or when you leave college, or you get promoted and your new job title is terrifying, or you enter into a new relationship or your relationship status changes? Whatever it may be, the I'm-so-excited-for-fall feeling isn't exactly prevalent.
Unfortunately there's no way to avoid the season's changing, it's just going to happen. But the best news is we always get through with a lot of hope and tons of faith.
A long time ago someone told me one of my favorite quotes. "Everything is going to be okay in the end. If it's not okay, it's not the end." And I promise it will end! And we're all stronger for it. So if you're in a season where you're unsure of the future and wishing you knew what was going to happen next, you're not alone:)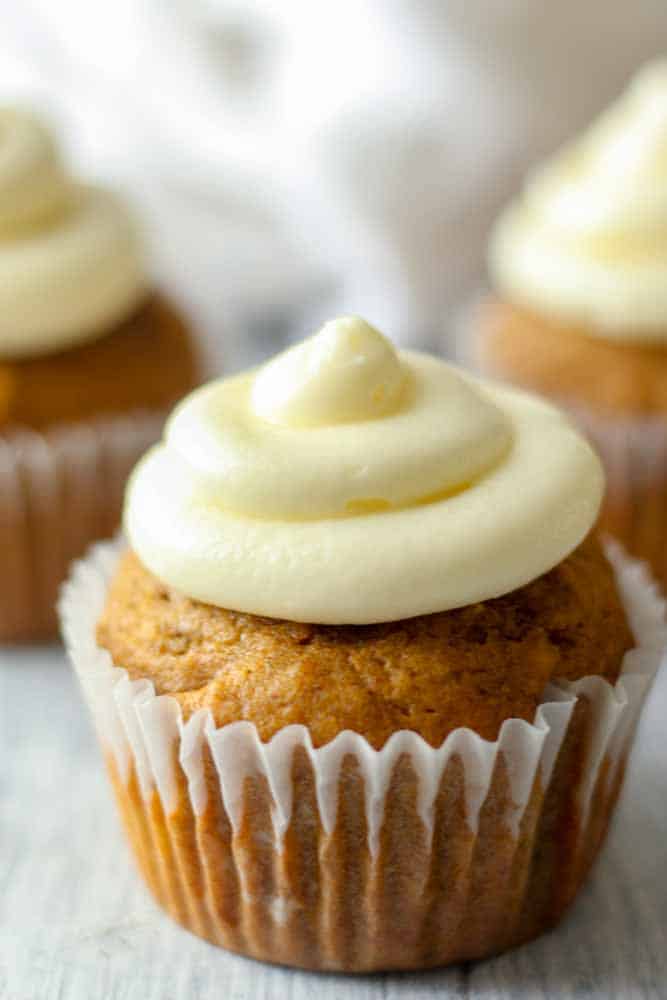 And when we finally end up where we're supposed to it will be filled with candles and scarfs and cinnamon apple everything and most likely these pumpkin cupcakes with cream cheese frosting.
Is there actually any better duo than pumpkin and cream cheese? I remember eating pumpkin cookies all year round because my best friend and I would walk to the bakery down my street and they had the BEST pumpkin cookies. I even had them at my high school graduation party they were so good. And I recreated those pumpkin cookies right here on this little blog of mine.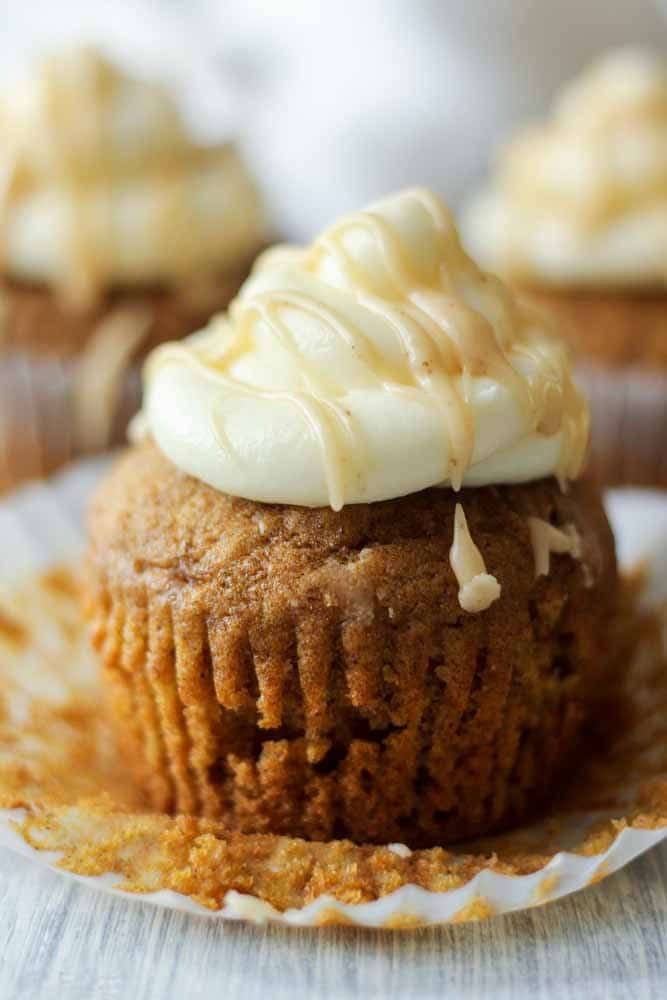 But why stop there? The pumpkin and cream cheese combo is endless and cupcakes are next best dessert recipe, obvi. The cupcakes are so light and airy and the tangy cream cheese frosting is the best complament. But why stop there? Maple brown butter drizzle brings all the flavors together and just about slaps you in the face with fall flavor. It's probably more of a love tap really, because you're going to love it right back.
I'm making these for my book club ladies this week and I can't wait for them to give them a try! I'm hosting this week and it's going to be a fall theme. Including apple cider sangria and lots of cheese and crackers.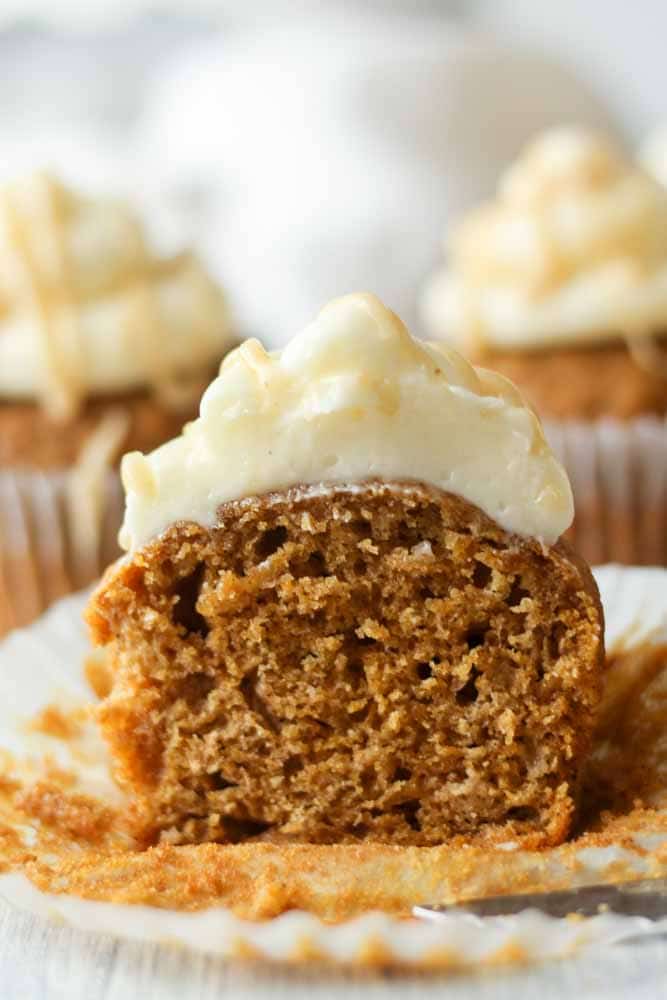 We call it the drinking club for people who like to read. It's much more appropriate. Though I don't always read the book. But it's okay because I bring snacks and make pumpkin cupcakes! I can't wait to share this recipe with all of them.
And you, of course!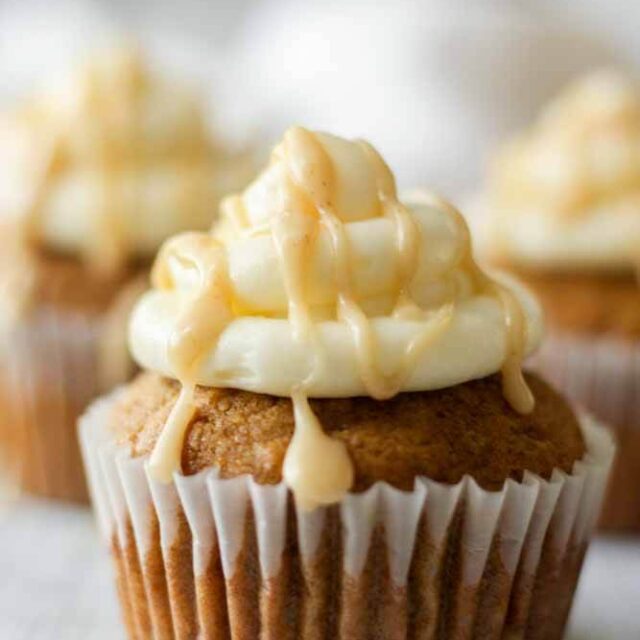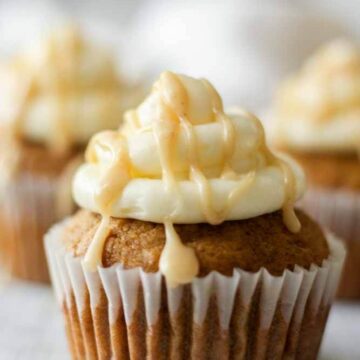 Ingredients
Pumpkin Cupcakes

1

and ¾ cups all-purpose flour

1

teaspoon

baking powder

¾

teaspoon

baking soda

½

teaspoon

salt

1 ½

teaspoons

pumpkin pie spice

½

cup

dark brown sugar

¼

cup

granulated sugar

2

large eggs

1

cup

pumpkin puree

½

cup

vegetable oil

¼

cup

milk

1

teaspoon

vanilla extract

Cream Cheese Frosting

1 8

oz

package cream cheese

softened

½

cup

1 stick butter, softened

1

teaspoon

vanilla extract

4

cups

powdered sugar

Brown Butter Maple Drizzle

2

tablespoons

butter- make brown butter

1¼

cups

powdered sugar

1

teaspoons

vanilla

2

tbs.

maple syrup

1-2

tablespoons

water
Instructions
Pumpkin Cupcakes: Preheat the oven to 350 degrees F. Line a 12-count muffin pan with cupcake liners and set aside.

In a large bowl, stir together the flour, baking powder, baking soda, salt, and pumpkin pie spice until combined and set aside. In a medium bowl, whisk the brown sugar, granulated sugar and eggs together until combined. Add the pumpkin, oil, milk, and vanilla and whisk until combined. Pour the dry ingredients into the wet ingredients and gently stir until just combined, being careful not to over mix.

Spoon the batter into the prepared cupcake cups, filling them about ½ of the way full. Bake for 17-19 minutes or until a toothpick inserted in the center comes out clean. Transfer cupcakes to a cooling rack and allow to cool completely before frosting.

Cream Cheese Frosting: In a large bowl with an electric mixer, beat together the butter and cream cheese until smooth, about 1 minutes. Add the vanilla and powdered sugar and beat on medium speed until smooth and combined, about 3 minutes. Transfer frosting to a piping bag and pipe frosting on to cooled cupcakes.

Brown Butter Maple Drizzle: In a medium saucepan over medium-high heat, melt the butter. Allow to cook until brown specs begin to form at the bottom of the pan, about 3 minutes. Once formed, stir immediately and remove from heat. Add the powdered sugar, vanilla, maple syrup and water and stir vigorously until smooth. Add more water a tablespoon at a time until you get the desired consistency. Drizzle over frosted cupcakes.