Peppermint mocha protein bites made with all the rich chocolate flavor and holiday peppermint. That's where this flavor train is headed to today.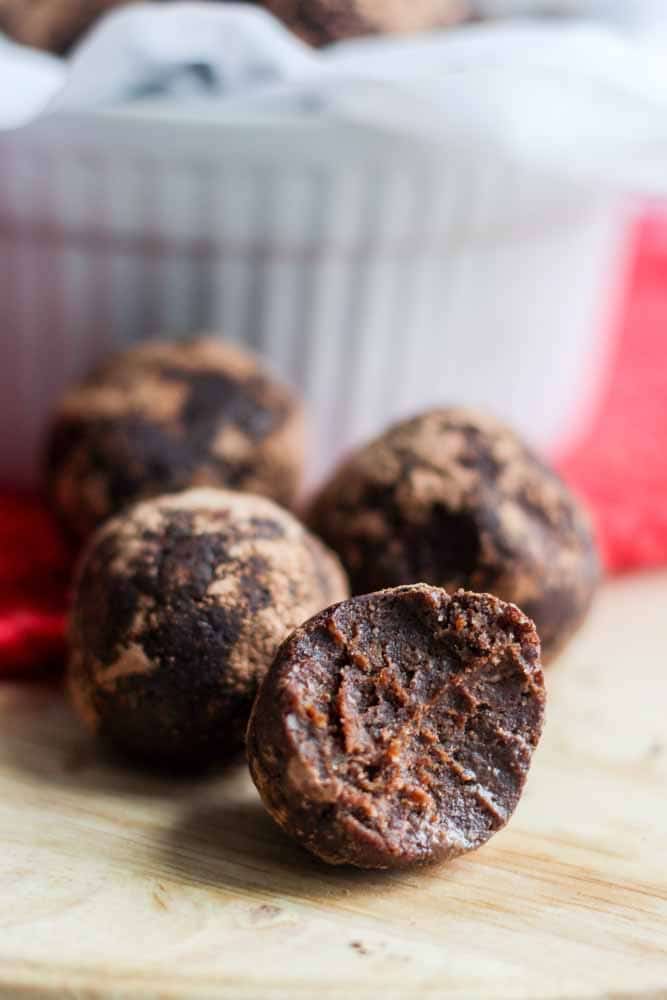 Happy holidays friends! We've made it to this wonderful time full of gift-wrapping, cookie baking, snow-falling place and it's SO GOOD. We had the first official snowfall last week here in Columbus, OH and the city turned in to a winter wonderland.
It snowed from 9am to 6pm without stopping. It was the snow packing kind of snow. The kind that makes the best and biggest snowman. It made me want to watch Frozen. Which I watched yesterday. Olaf is still my favorite of all time.
And I'm crossing my fingers the same thing happens on Christmas Day! Because for real, what's better than a blanket of fresh snow on Christmas?!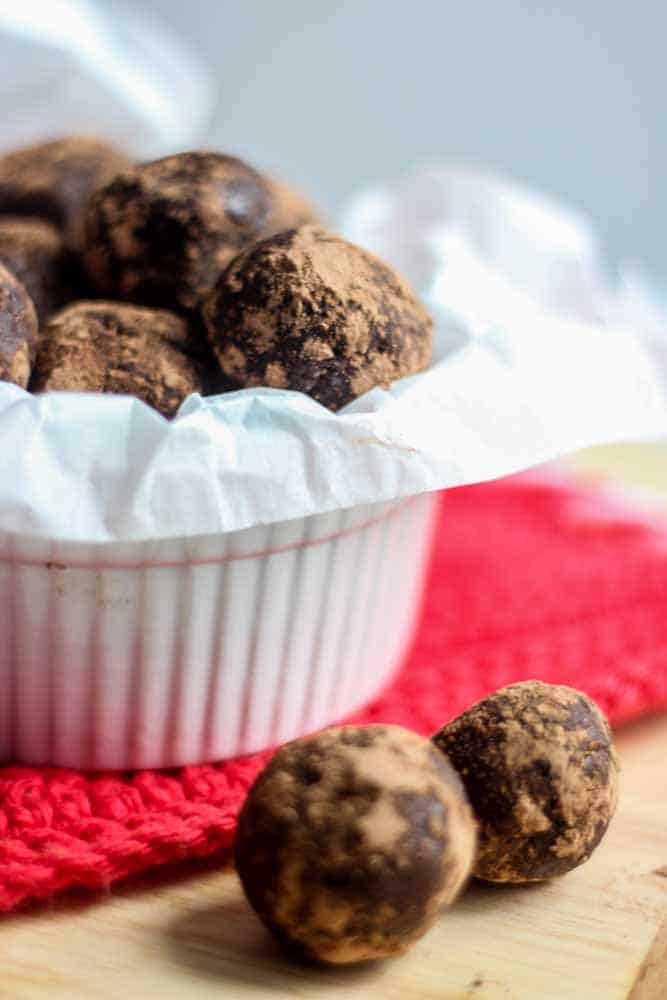 Along with the snow I've been basking in all of the holiday spirit. I've watched my fare share of Hallmark movies. And by fare share I mean every single one. I decorated my apartment the day after Thanksgiving and I've made dozens of batches of Christmas cookies.
I truly believe in the concept of moderation and that everyone should be able to enjoy delicious baked goods. And that a delicious baked good should be balanced with a lot of healthy choices in between. If you know me at all you know one of my favorite hobbies is lifting and working out and I'm always looking for new ways to incorporate healthy options into my recipes.
A smaller sweet treat that's good for you and fuels a workout? Doesn't get any better than that. So you there, who just finished up a workout or is heading out to (or staying in) to get a quick sweat sesh in right in between the wrapping and holiday parties and work time, these peppermint mocha protein bites are for you!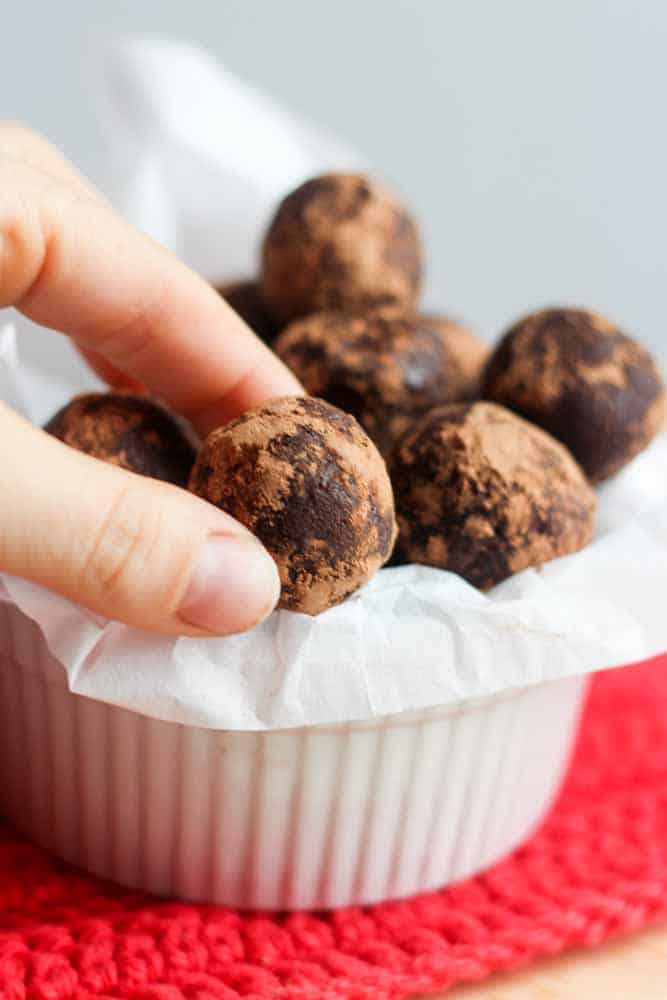 A quick and easy snack or pre/post workout recipe made in a large batch and easy to grab on the go in between the holiday craziness. But still super festive. Because peppermint mocha.
My friends at Chike sent me my favorite protein: mocha and iced coffee! They're both equally delicious and taste just like an iced coffee when you mix them with ice and almond milk. That's totally an option, but cold shake on the go doesn't quite translate to this Ohio frozen tundra.
Enter the protein bites. With a peppermint twist!

So what's in these peppermint mocha protein bites?
Lots of healthy ingredients including Chike Nutrition protein (obvi) and whole natural ingredients including almond flour, cashew butter and 100% real maple syrup. They are also super easy to make a paleo variation by swapping out the oat flour for additional almond flour.
The reason I love this recipe and this protein, aside from the 2 shots of real espresso coffee included, is that the main ingredient is whey protein isolate, the purest form of whey protein which is an essential dietary protein to help maintain a healthy weight (win!), curb hunger (double win!) and build lean muscle. All goals I have on a daily basis.
The protein and coffee in the protein bites give you an added boost before or after your workout or as a pick me up in the middle of the day, the sweetness from the maple syrup and the festive twist with more chocolate and peppermint extract.
All of this is happening and you won't even know you're eating something so healthy for you!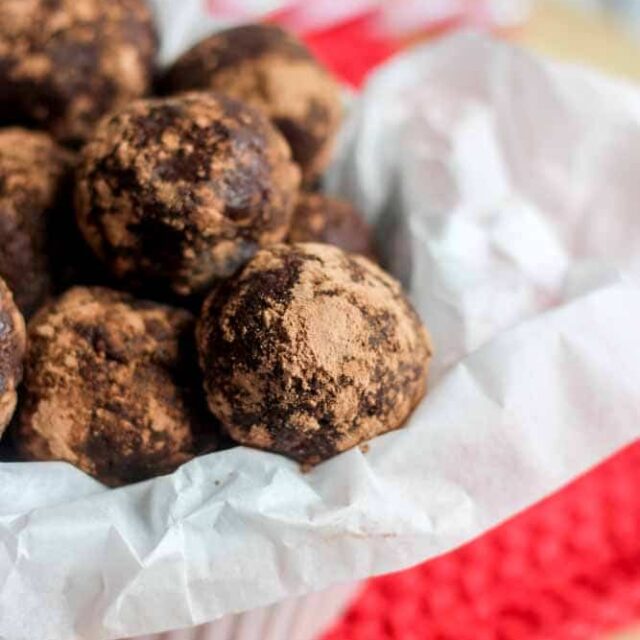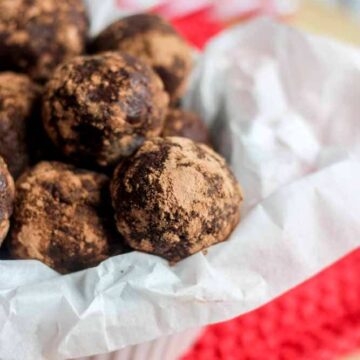 Ingredients
1/4

cup

Chike mocha protein powder

1 packet

1/2

cup

almond flour

1/4

cup

cocoa powder

1/2

cup

oat flour

1/4

cup

maple syrup

1/4

cup

creamy almond or cashew butter

1/4

teaspoon

peppermint extract

1/2

teaspoon

vanilla extract

1/4

cup

cocoa powder for rolling
Instructions
In a medium to large bowl, combine the Chike protein powder, almond flour, cocoa powder and oat flour and set aside.

In a medium bowl add the almond or cashew butter and maple syrup. Place in the microwave on high for 30 seconds. Remove and stir together with a rubber spatula then place back in the microwave and heat on high for 30 more seconds. Repeat until mixture is melted and combined.

Once melted, add the peppermint and vanilla extract to the syrup and but butter mixture and mix well. Pour wet ingredients into dry ingredients and stir until completely combined.

Using a large teaspoon, roll into 1 inch balls. Roll balls in extra cocoa powder and enjoy.

Sore in an air tight container in the refrigerator for one week or in the freezer for up to one month.