Monster cookie bites, you ask? The monster cookies we all fell in love with circa 2010 filled with everything but the kitchen sink including oats, m&m and all the sugar, but in no bake form. These cookie bites are like edible cookie dough, requiring no baking whatsoever. The best part is they're stuffed between salt pretzels and dipped in chocolate.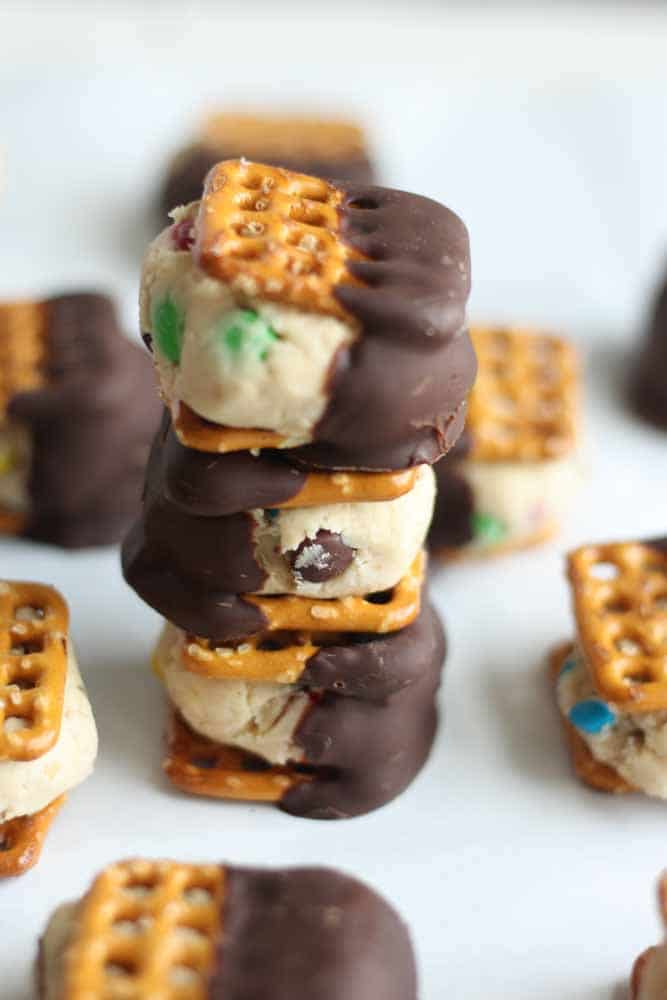 So turn your ovens off my friends and take 15 minutes with me to make a bite-sized dessert. I don't know about you but I feel guilty for working my oven so hard over the last couple of weeks. Christmas cookies, cranberry orange pound cake and all the other festive dessert things. It needed a baking break.
Can you feel bad for inadament objects? Not sure but that's my story and I'm sticking to it. And it also gives me an excuse to make these monster cookie bites.
After these I have no more baking plans in my immediate future. Just napping by the fire, last minute shopping and all the hot chocolate. And cookie eating of course because I was smart and froze all of my cookies. I had this weird issue this year where I felt really protective over my cookies. Is that strange?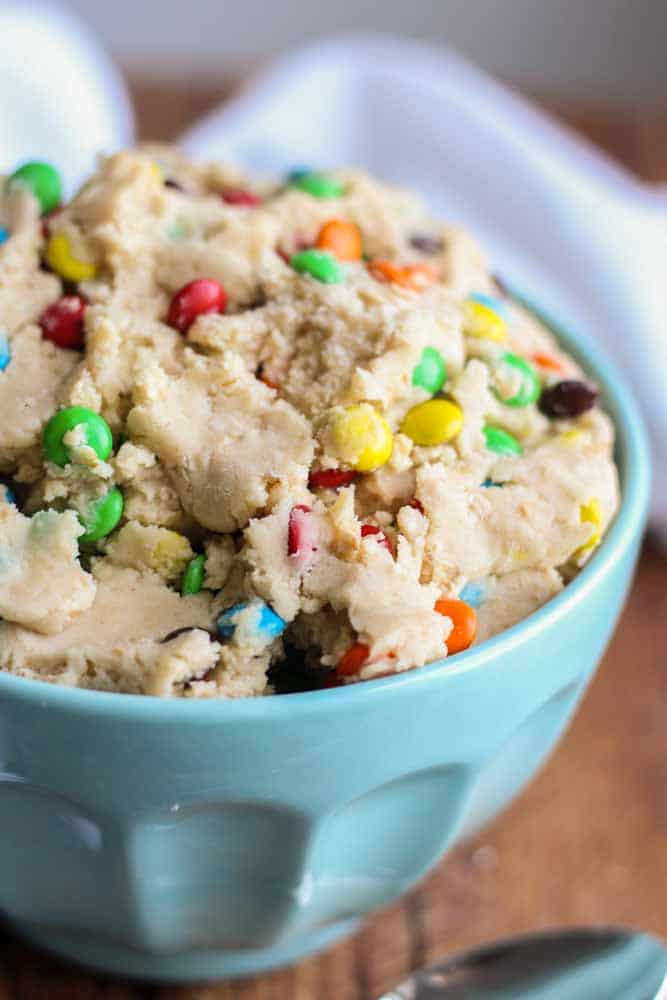 I worked so hard and spent so much time on every recipe that I was beyond proud of how they turned out and I was weirdly specific about who I wanted to give them to because I really really wanted them to enjoy them and eat every single one.
That's so weird, I know. It sounded weird in my head but as I'm writing it sounds even more weird. Anyone else struggle with this?
I know it's not exactly Christmas-y at all but it's a work in progress and I'm letting it go, mostly because even if they don't eat Christmas cookies it's the thought and time/love I put in to them for them that makes the difference and that's what everyone appreciate.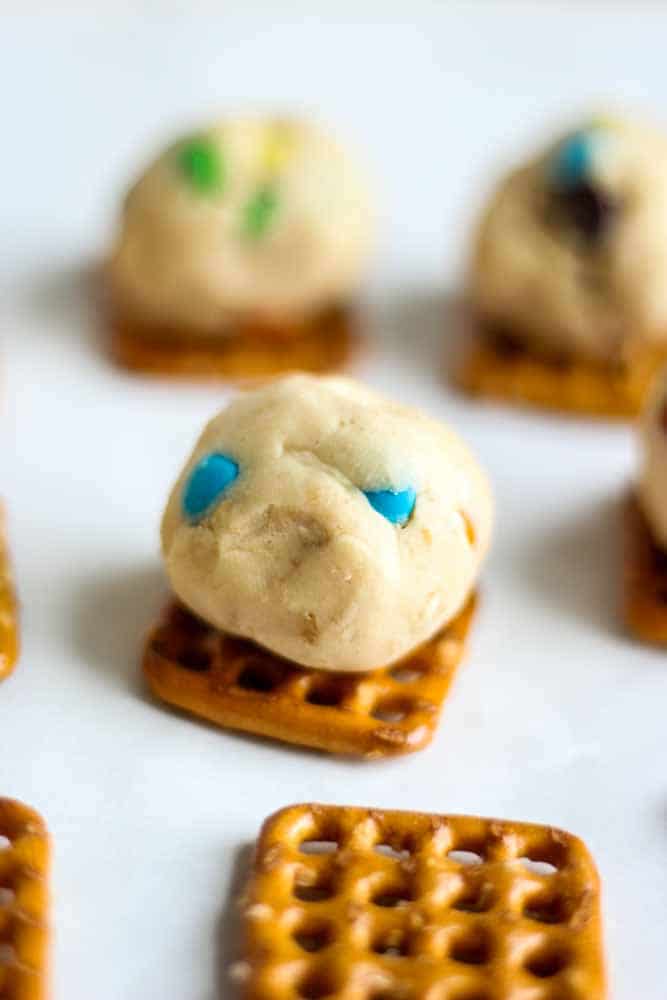 It's something I'm working through because my love for baking didn't start from any selfish reasons or for my pride but because I really feel like a baked good can change someone's day. Even the expected baking moments like Christmas still matter to those around us and baking for me is an expression of love. Once I remembered that the joy of baking and giving filled my heart again.
I'm feeling like this could be a really good plot for a Hallmark movie.
And even though they aren't baked and they're quick and easy to make, these Monster Cookie Bites are full of love. And also lots of other delicious things.

Let's cover the delicious things in these Monster Cookie Bites now:
Quick oats
Mini M&Ms
Peanut butter
Powdered sugar
Plus a few more typical dessert ingredients including butter, brown sugar and vanilla. Not many shocks here in the ingredient department. But all classic go-to's.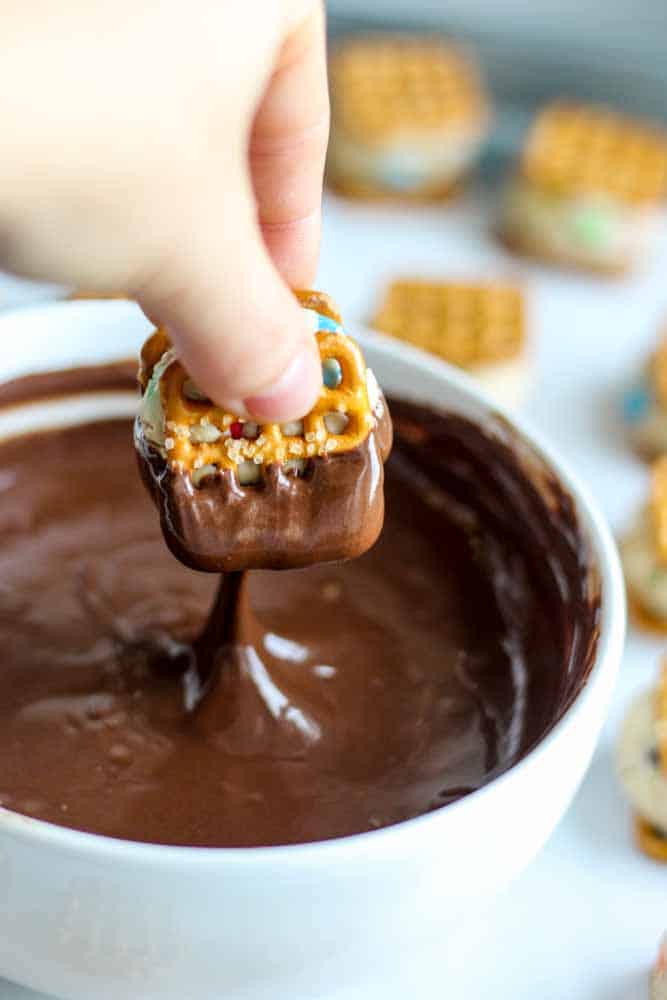 These are so great because you and guests can pop them in your mouth on the go and they're seasonal all year. Though you could get real festive and use red and green M&Ms. Both equally great decisions.
And in case these weren't easy enough I included a handy little video here to show you step-by-step how to make these monster cookie bites.
Also, I should note this is my last post before Christmas. Family and quality time are in my immediate future and I'm so excited for movies and chili on Christimas eve (family tradition) and taking naps by the fire.
Wishing you the exact same and have a wonderful and happy holidays with your friends and family.
https://youtu.be/yii3iVvkGQw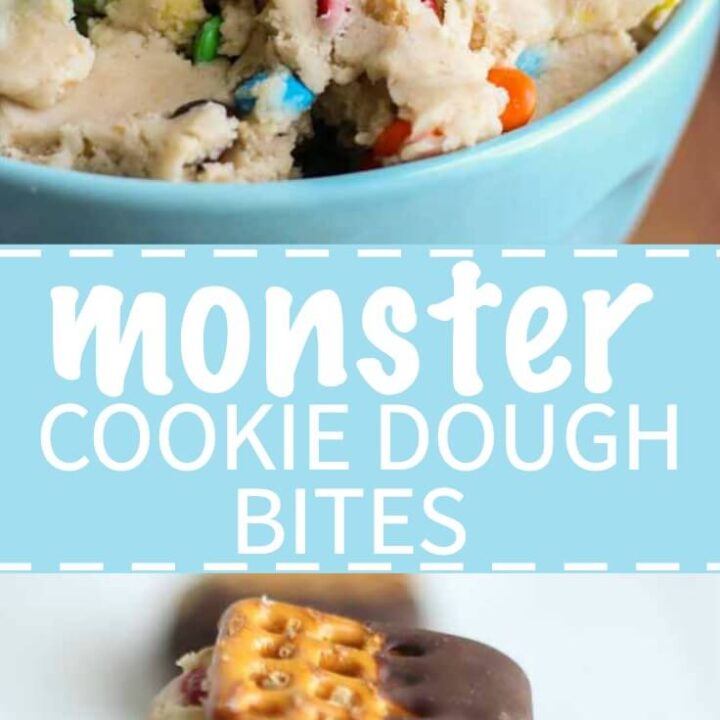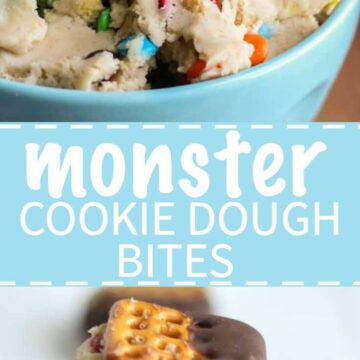 Ingredients
1

cup

butter

softened

½

cup

creamy peanut butter

3

tablespoons

brown sugar

3

tablespoons

all purpose flour

1

teaspoon

vanilla

1

cup

quick oats

3½

cups

powdered sugar

1

bag mini M&Ms

1

bag of square pretzels

3

cups

semi-sweet chocolate chips

1

tablespoon

coconut oil
Instructions
Line a large baking pan with parchment paper. Place about 60 square pretzels in an even layer on top. Set aside.

In a large bowl, cream together the butter and peanut butter until smooth, about 3 minutes. Add the brown sugar, flour, vanilla and quick oats and beat until combined, about 1 minute. Scrape down the sides of the bowl and add 1 cup of the powdered sugar. Beat well and gradually add in the recipe until well combined. Add more powdered sugar if necessary to reach the desired consistency. Pour in the M&Ms and stir together using a rubber spatula.

Use a large rounded teaspoon to roll dough into balls. Place one ball on top of each pretzel prepared on the baking sheet. Once all balls are rolled, place another pretzel on top and gently press down to sandwich, being careful not to break the pretzels.

Once all sandwiches are made, combine the chocolate chips and oil in a large tall measuring cup and heat in the microwave on high in 30 second increments until chocolate is melted.

One at a time, dip half of each pretzel sandwich into the chocolate and place back on the parchment paper. Repeat until all sandwiches are dipped. Place in the freezer for 15 minutes, or until chocolate is frozen.

Store in an air tight container in a cool place for up to 5 days or in the freezer for a month.