This post has been sponsored by the J.M. Smucker Company. All thoughts and opinions are my own.
Mocha Coconut Iced Coffee is cool, refreshing and packed with coconut and chocolate flavor. It's made with with Dunkin' Donuts Coconut Ground Coffee, coconut extract coconut milk and cocoa powder. Top it with coconut whipped cream and chocolate chips!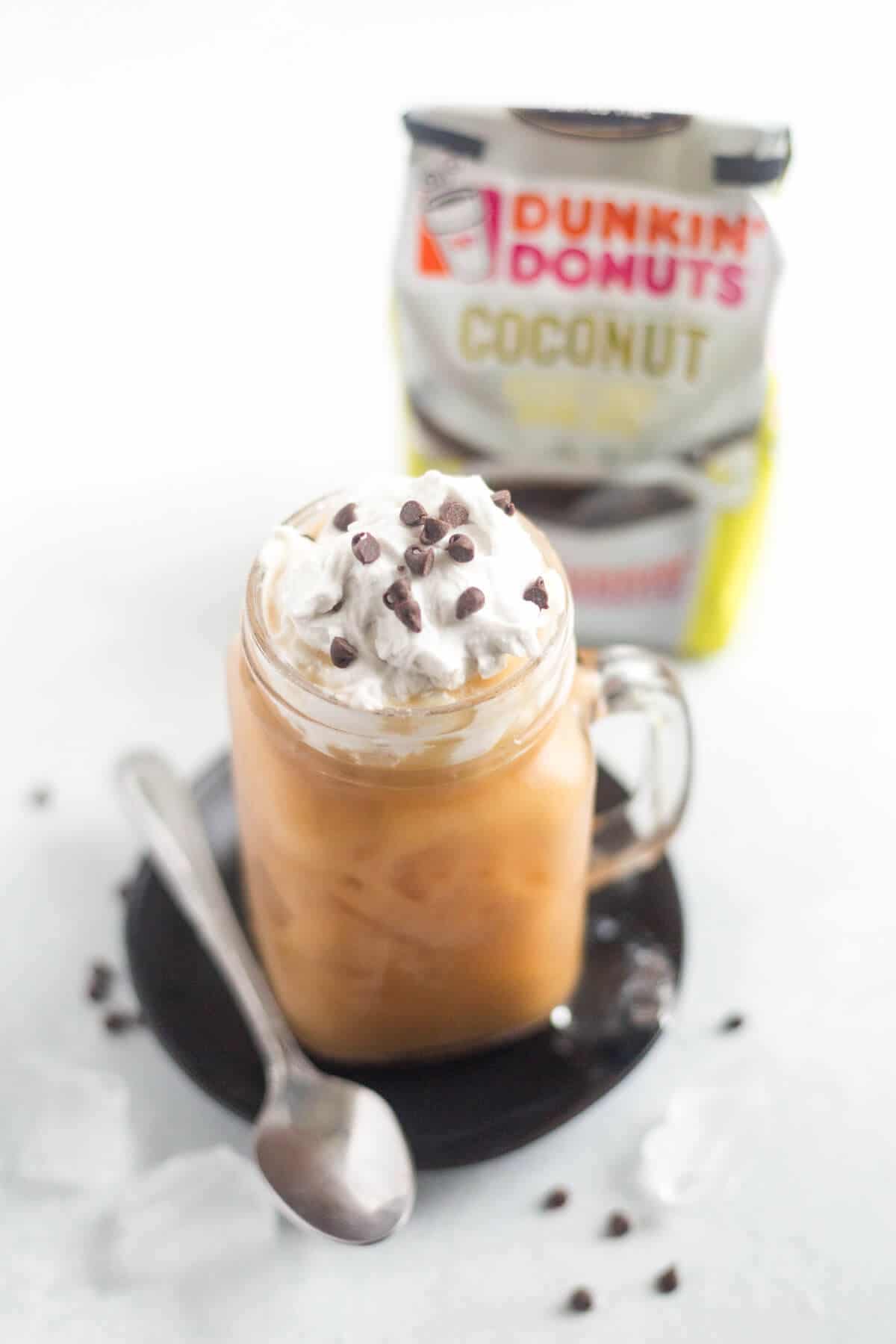 Is there anything better than coconut?! I mean....coconut oil, coconut milk, coconut sugar and now coconut coffee?!
I drink coffee every morning. Like most, I don't like to leave the house without it. If I'm lucky I get it brewed and in my tumbler just before I need to hit the road. I leave myself just enough time to get ready in the mornings, like down to the minute.
Looking for another delicious iced coffee? Try an iced caramel latte or pumpkin spice iced latte next.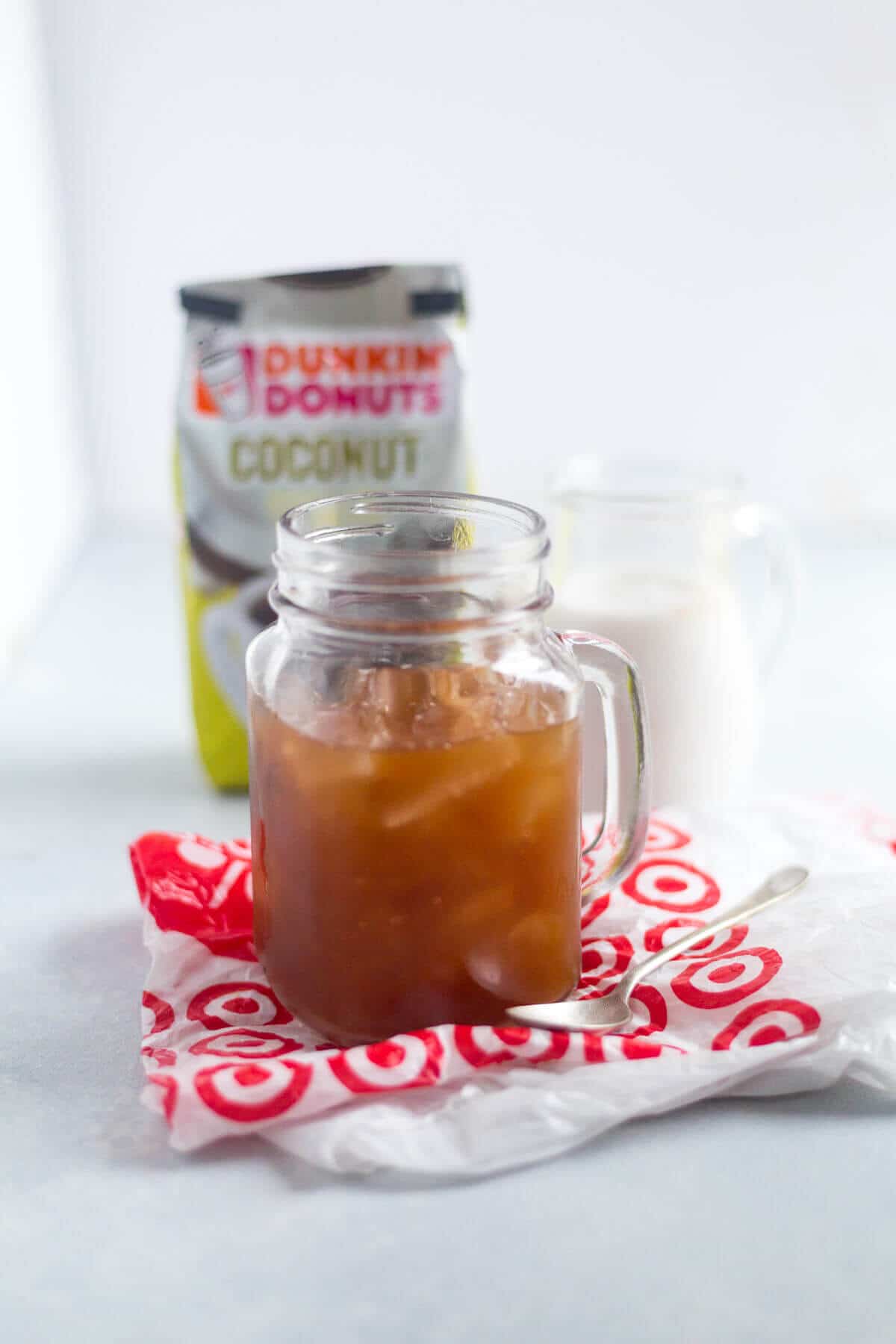 What can I say, I love my sleep. But I also love my coffee! A good night's rest and a giant cup of coffee make me look forward to the mornings.
I turn the radio off in the car on my way to work and take some time to be present and sip on my coffee.
It's the little things.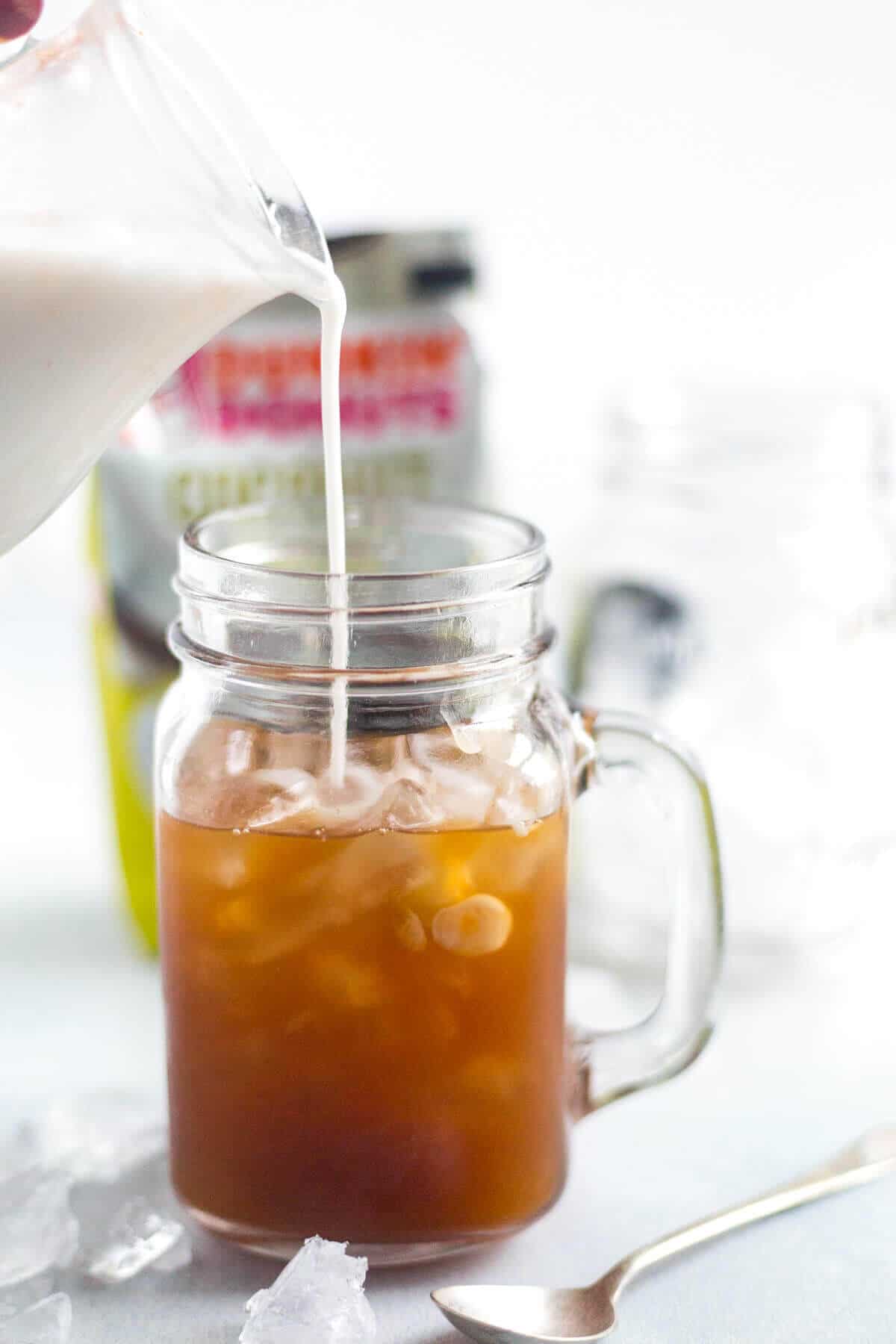 And what makes it even better is when my coffee tastes extra good. And this mocha coconut iced coffee is extra extra good. And because it's iced I like to brew it ahead of time so I have it ready in the morning and all i have to do is mix it together.
It's delicious and it saves me time. Win-win.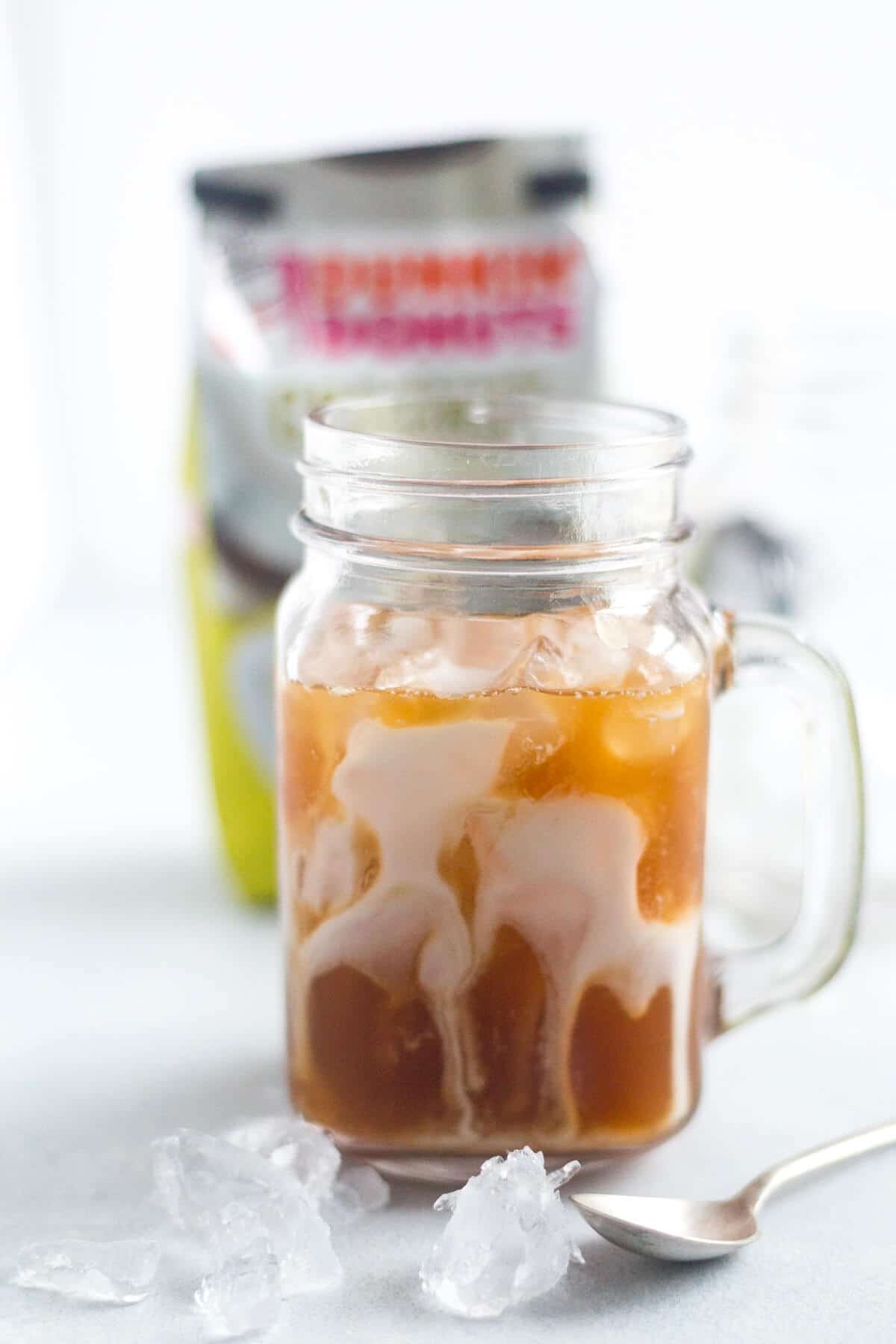 How to Make Mocha Coconut Iced Coffee Ahead of Time
To make this mocha coconut iced coffee ahead of time, brew the Dunkin' Donuts Coconut Ground Coffee the night before. Put it in a tumbler or glass and then place it in the refrigerator overnight. This way the coffee cools down and it's already brewed when you wake up.
You can also mix the coconut milk, coconut extract and mocha together in a separate glass. Place that one in the refrigerator overnight as well. When you wake up in the morning, combine the coconut milk mixture with the cold coffee and stir well.
Pour over lots of ice and enjoy in the comfort of your home or hit the road with it on your way to work.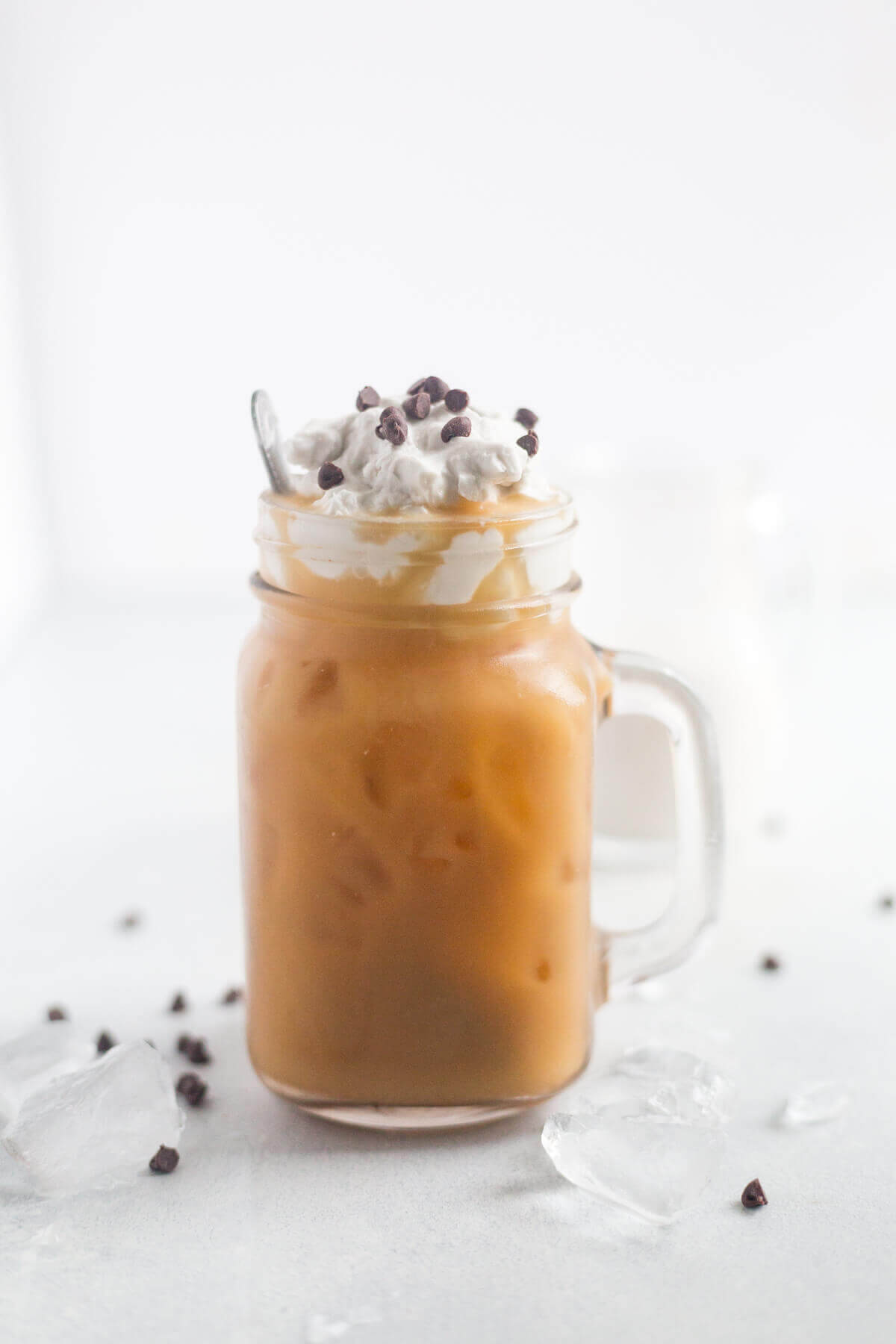 And because it's made with coconut milk that means this little glass of heaven is dairy free too! You can top it with whipped cream or homemade coconut whipped cream then sprinkle it with chocolate chips. You're gonna feel so fancy.
Ya'll, this coconut flavor is out of this world. The key is the subtle hints of coconut throughout that make it such a delicious flavor. The coconut extract and coconut milk add some nice flavor and the hints of coconut from the Dunkin' Donuts Coconut Ground coffee makes it that much better.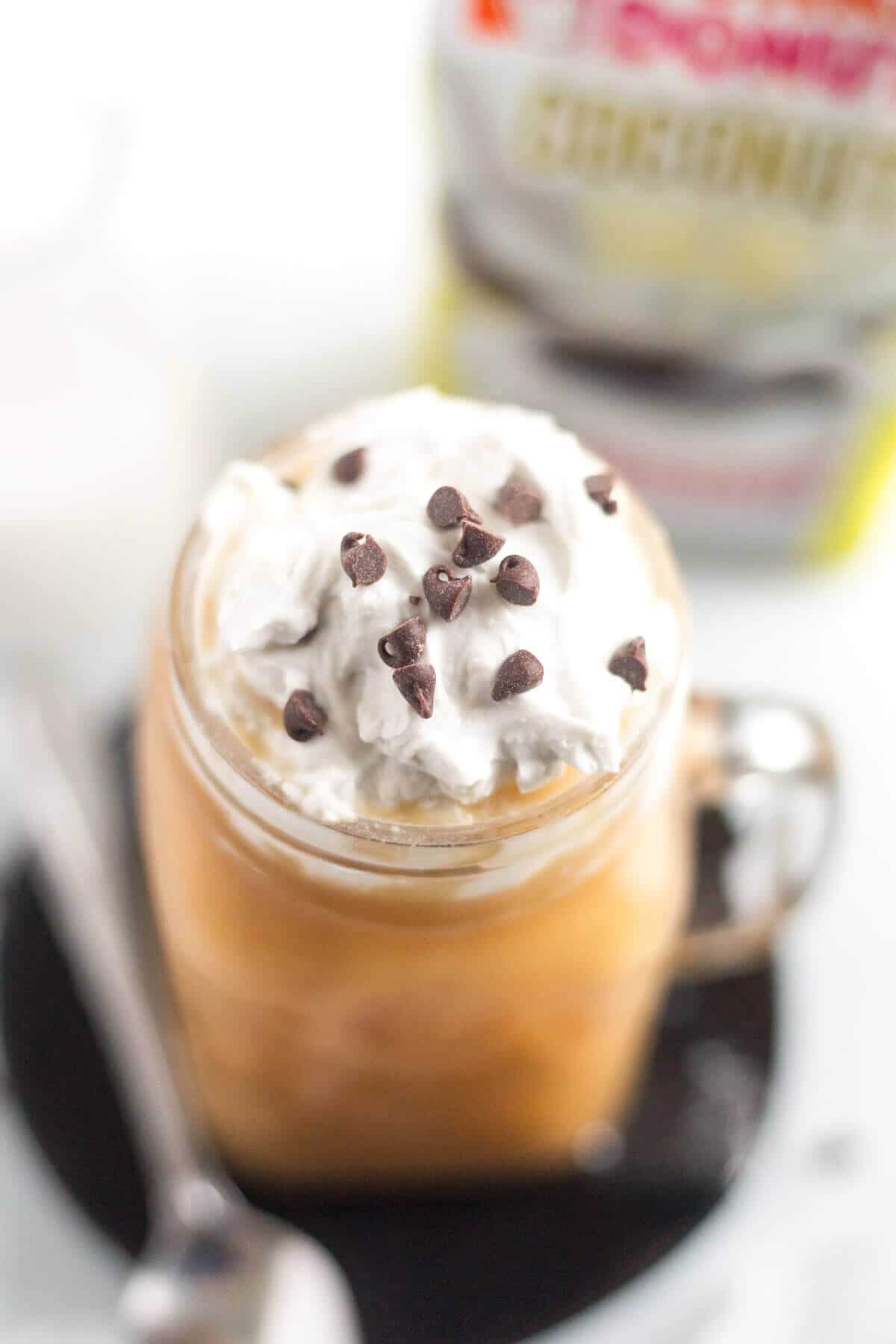 You can grab the coffee for a limited time (aka don't wait!) at Target. If you're like me then you likely head there once a week for odds and ends so snag this in the coffee aisle as you cruise through and get your coffee drink prep on.
The great thing about it is it comes ground. We have a Keurig but we keep the little holders to fill with ground coffee because the price is more reasonable and we love a delicious and unique seasonal product like this one.
My fiance and I have been drinking this mocha coconut iced coffee every morning for the last week and it's been such a highlight to my morning. Ya know when you can't wait to go to bed at night just so you can wake up and drink your coffee? You will have that feeling.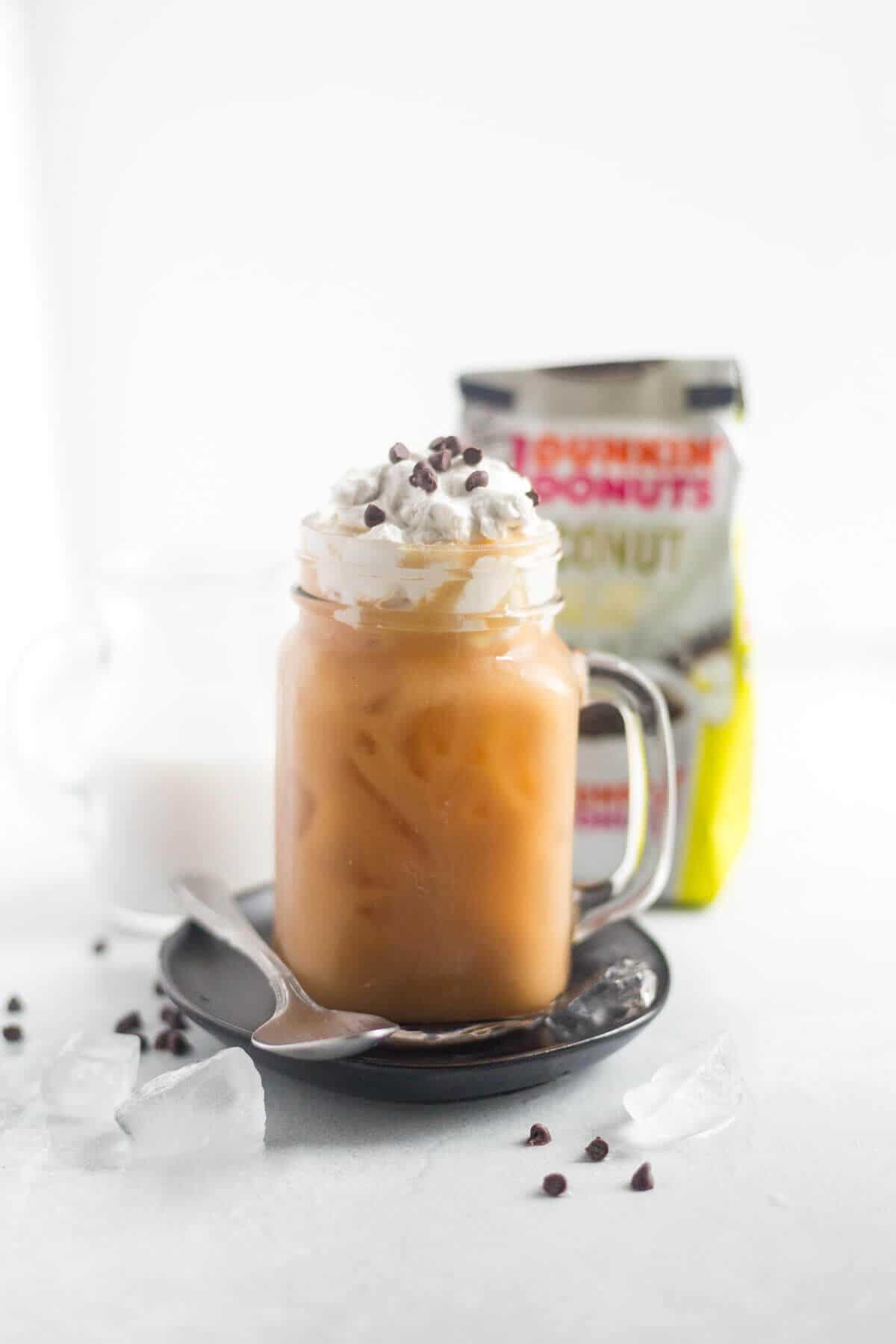 Even as I write this I'm a little tempted to hit the hay early so I can drink a cold cup because I've been talking about it so much here.
I don't know about you but I love extra ice in my glass to keep it extra cold. Don't worry about all that ice melting though because I have a feeling you'll drink this before that happens:)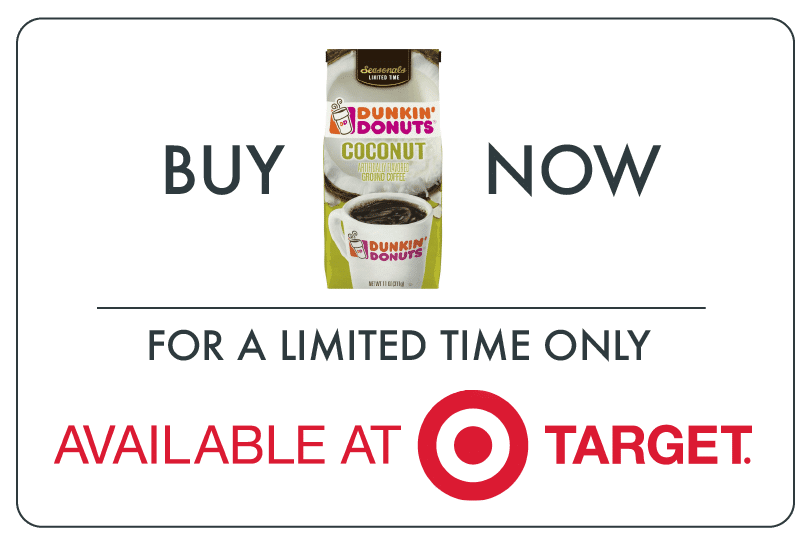 I hope you love this mocha coconut iced coffee recipe as much as I do and that it brightens up your mornings! If you make it don't forget to follow along on Instagram and tag me with #WhatMollyMade.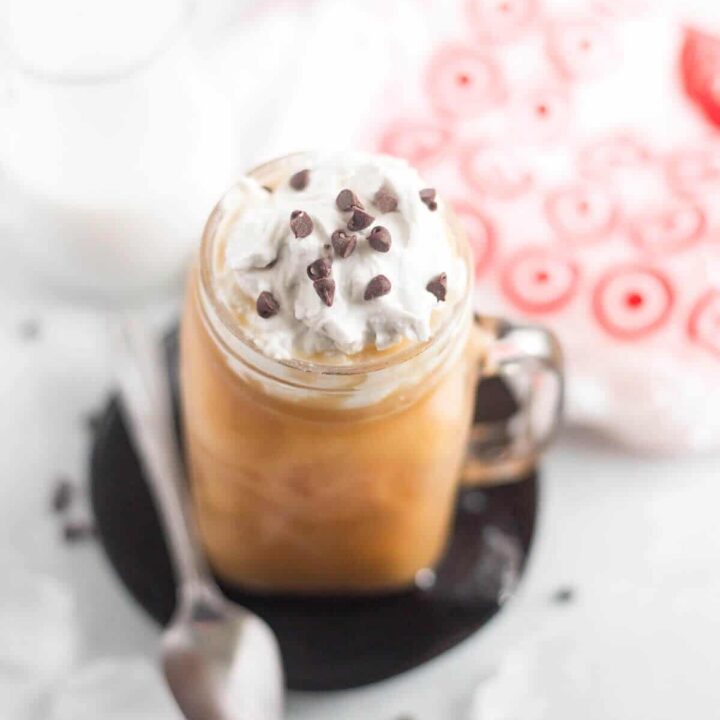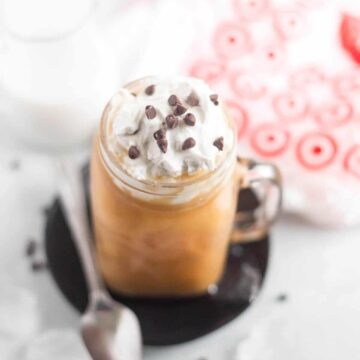 Ingredients
2

cups

Dunkin' Donuts Coconut Coffee

brewed Ground Coffee

2

teaspoons

cocoa powder

¼

teaspoon

coconut extract

¼

cup

coconut milk

not canned

topped with a dollop of coconut whipped cream

sprinkle with mini chocolate chips
Instructions
Pour the cooled coffee into two large glasses filled with ice. In a separate glass, combine the coconut extract, cocoa powder and coconut milk and stir well. Pour the coconut milk mixture over the coffee and stir well to combine. Top with whipped cream and mini chocolate chips.