Lemon blueberry scones filled with white chocolate chips and a hearty sprinkling of sugar and bursting with lemon zest and juicy blueberries.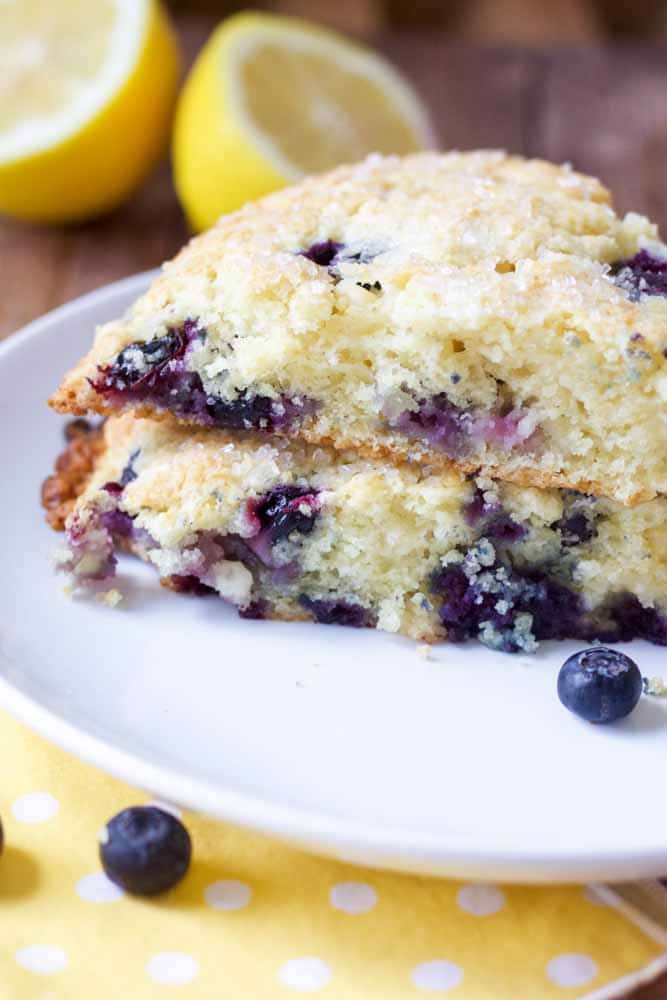 Is it just me, or is it a lemon blueberry scones kind of day?
I guess that's a rhetorical question, because every day should be a lemon blueberry scones day. And it has been in my life for the past week and a half. Because I've been eating these every day since then.
Because I live by myself, I make all this yummy food and never have enough people to share it with. The food blogging struggle is real. Or is it?
I think not. Trust me, I'm not complaining about having jumbo lemon scones bursting with blueberries and white chocolate chips every morning.

These lemon blueberry scones are so many things:
They're giant. In a great bakery style kind of way.
They're soft and delicately crumbly just the way you would imagine.
They're full of a zesty citrus flavor and melty white chocolate, bursting with blueberries when you bite into them.
They're the epitomy of spring baking.
Also noteworthy: these are basically the best to serve for brunch. I'm thinking Mother's Day?. Your menu will be bare with out these plump and crumbly blueberry scones with fat, juicy blueberries studded with sprinkling sugar.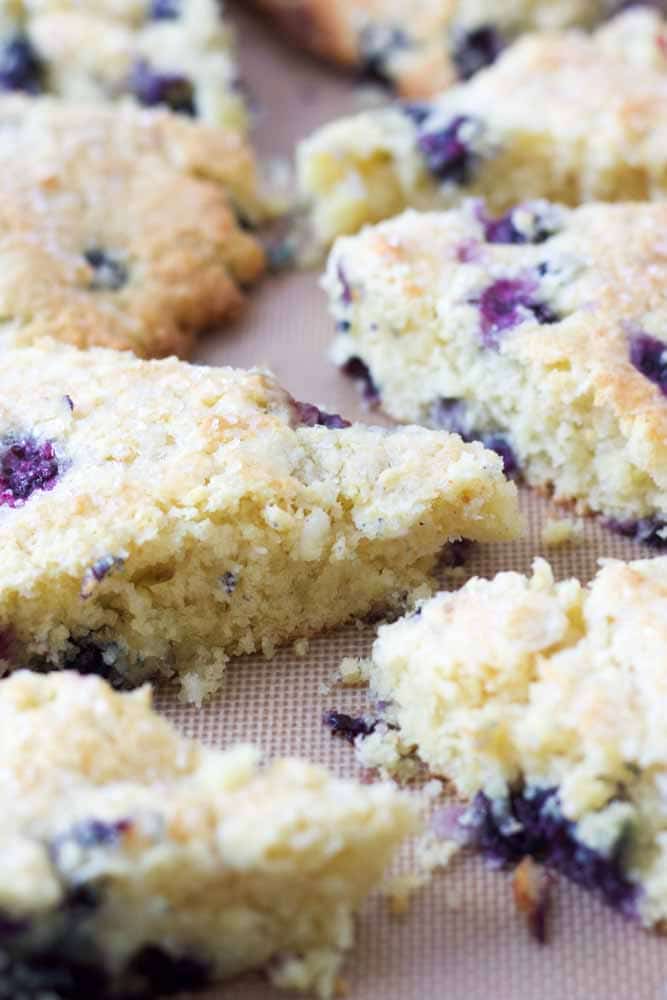 Dip them in milk or coffee, watch them crumble between your fingers, then plan nothing for the rest of the day aside from wearing sweatpants and watching Netflix.
And potentially eating more scones.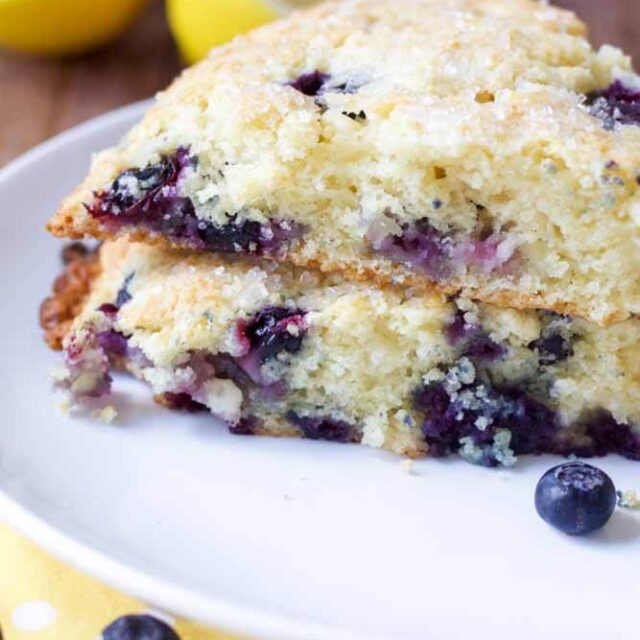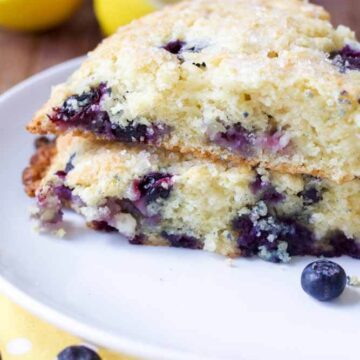 Ingredients
2

cups

all purpose flour

½

cup

sugar

1½

teaspoon

baking powder

½

teaspoon

baking soda

½

teaspoon

salt

½

cup

frozen butter

1/2

cup

heavy whipping cream

plus additional for tops

1

egg

1

teaspoon

vanilla

1/4

cup

lemon juice

about 1 lemon

2

teaspoons

grated lemon zest

1/2

cup

white chocolate chips

2

cups

blueberries

sprinkling sugar

for top of scones
Instructions
Line a large baking sheet with parchment paper or a silpat baking matt. Set aside

Whisk together flour, sugar, baking soda, baking powder and salt in a bowl. Using a cheese grate, grate frozen butter into flour mixture and cut with a pastry blender or two knives until butter is in small pieces. Set aside.

In a small bowl, whisk together egg, heavy cream, vanilla, lemon juice and lemon zest. Drizzle over flour and butter mixture and whisk together until just combined. Add blueberries and white chocolate chips and gently stir, being careful not to overmix the blueberries.

Flour your hands. Remove the dough from the mixing bowl and place on a floured work surface. Roll into a rectangle, about 1 inch thick. Cut into 8 triangles; pull the triangles apart from each other and brush with heavy cream and sprinkle with sugar. Place in the refrigerator for at least 30 minutes.

Preheat oven to 400 and bake for 20-22 minutes. Use a toothpick inserted in center to check if it's done. If toothpick comes out clean, it's done. Let cool on pan for 5 minutes.