Happy Thursday friends! We have a SUPER exciting reveal to share with you today for this week's Thursday Thoughts! And by we I mean myself and Zach (my fiance).
If you follow along here you know Zach and I moved into our new (and first!) home at the beginning of last month. We have a good amount of upgrades and updates we want to make but we knew one of the first things we wanted to do was create our very own home gym.
The first thing we did was paint the spare bedrooms. They were bright green before. Now they're a nice neutral, Joanne Gaines grey that we love love love. The second thing we did was order lots of fun things from Rogue Fitness.
One of the things I love most about Zach and my relationship is our shared love for health and fitness. It's at the core of our values and we both think it's super important. Not to mention we love working out together!
Zach is the head strength and conditioning coach and assistant athletic director at a high school here in Columbus and he launched an online personal training business, Heartbeat Strength, last September. He is the best and most knowledgable person I know when it comes to fitness and health and he even creates my workouts for me every day. The guys has a gift, people! For our full equipment rundown check out his site for more info on creating a home gym.
Before we got our house we dreamed about a home gym some day. We love the idea of it being so close and convenient so we can get a quick workout in whenever we want or not have to leave the cold house to hit the gym during the winter (helloooo Ohio weather).
It was high on the priority list the minute we moved in. And that's exactly what we did! One month into living here we made the move and ordered all the equipment for our home gym. Now...the minute you've been waiting for...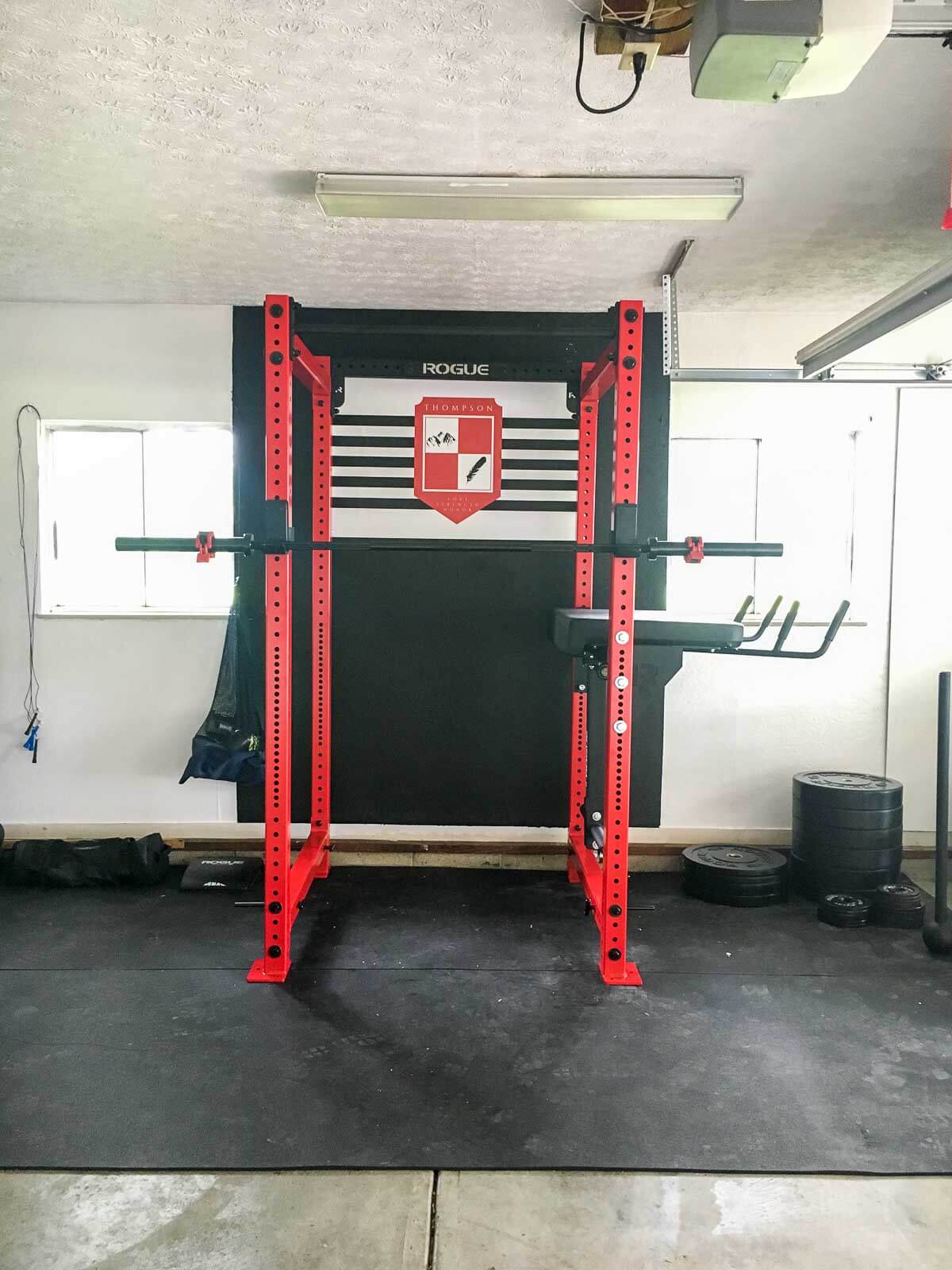 Home Gym Reveal
Our home gym is in our garage! We love the heat and humidity in the summer and are planning to get a space heater to warm up the place in the winter.
When we moved in the garage had large shelves on the sides, a big wooden cabinet and the paint was chipped along the entire wall. The first thing we did was update the cosmetics while we were waiting for the equipment to arrive. Also, I should note Zach essentially did all the work here. Shout out to him for being the best fiance!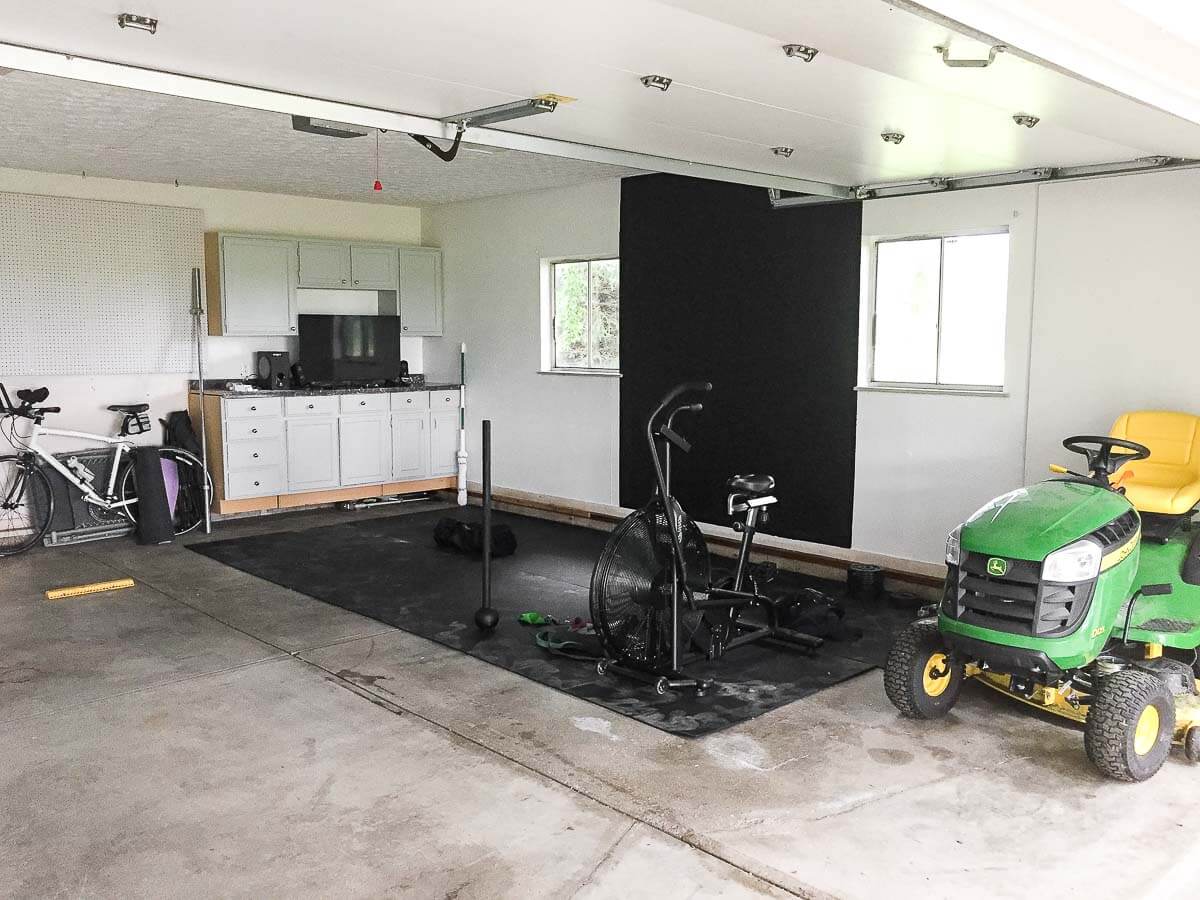 The simple cosmetic updates:
Painted the wall and windowsills white
Painted the cabinets grey
Painted a large piece of the wall with chalk paint so we could write out our workouts
Removed all the extra cabinets along the wall create more safe
Once the gym half of the garage was updated we got our giant shipment of gym equipment...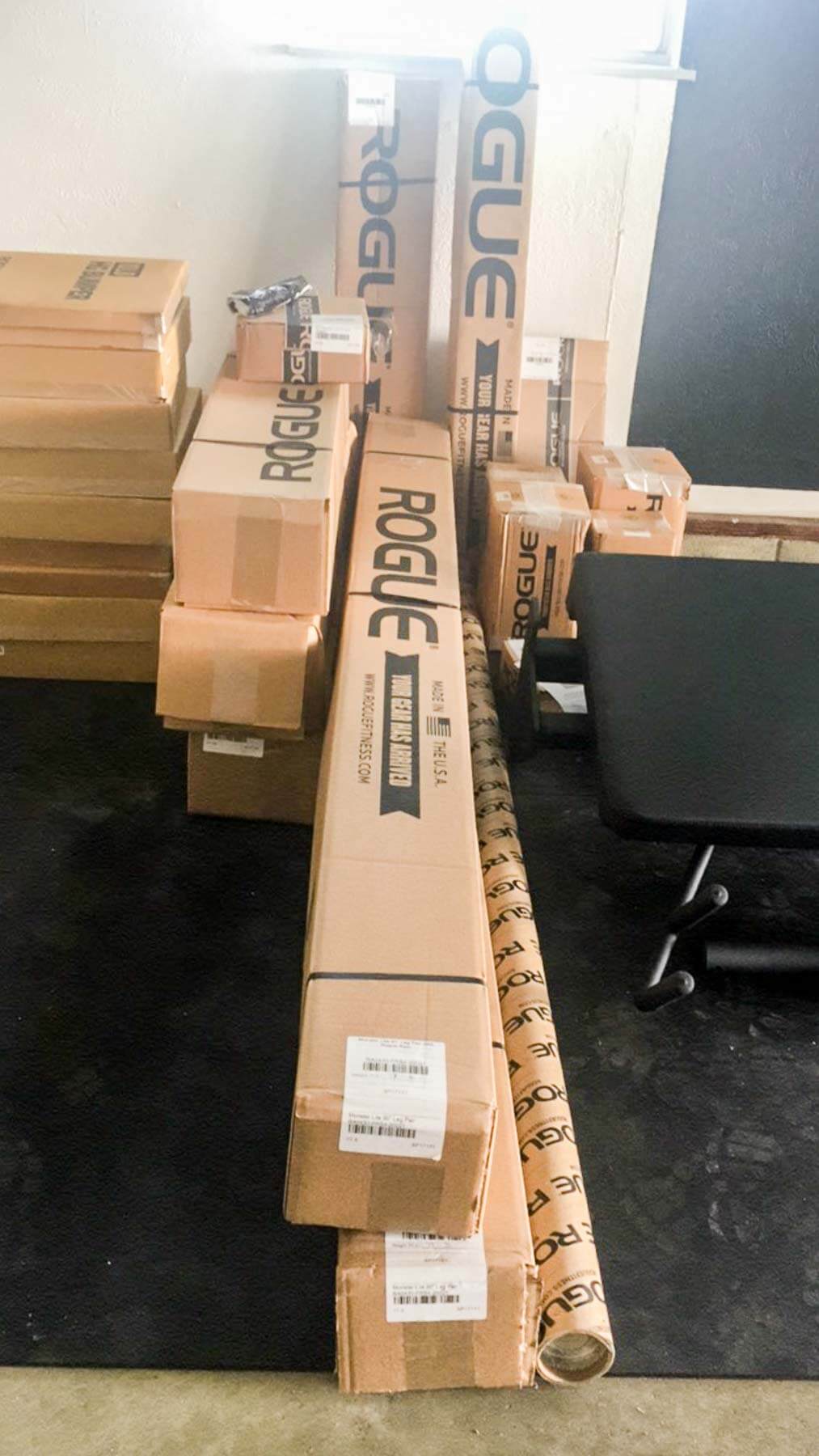 Needless to say, Zach was a very happy camper (lifter?).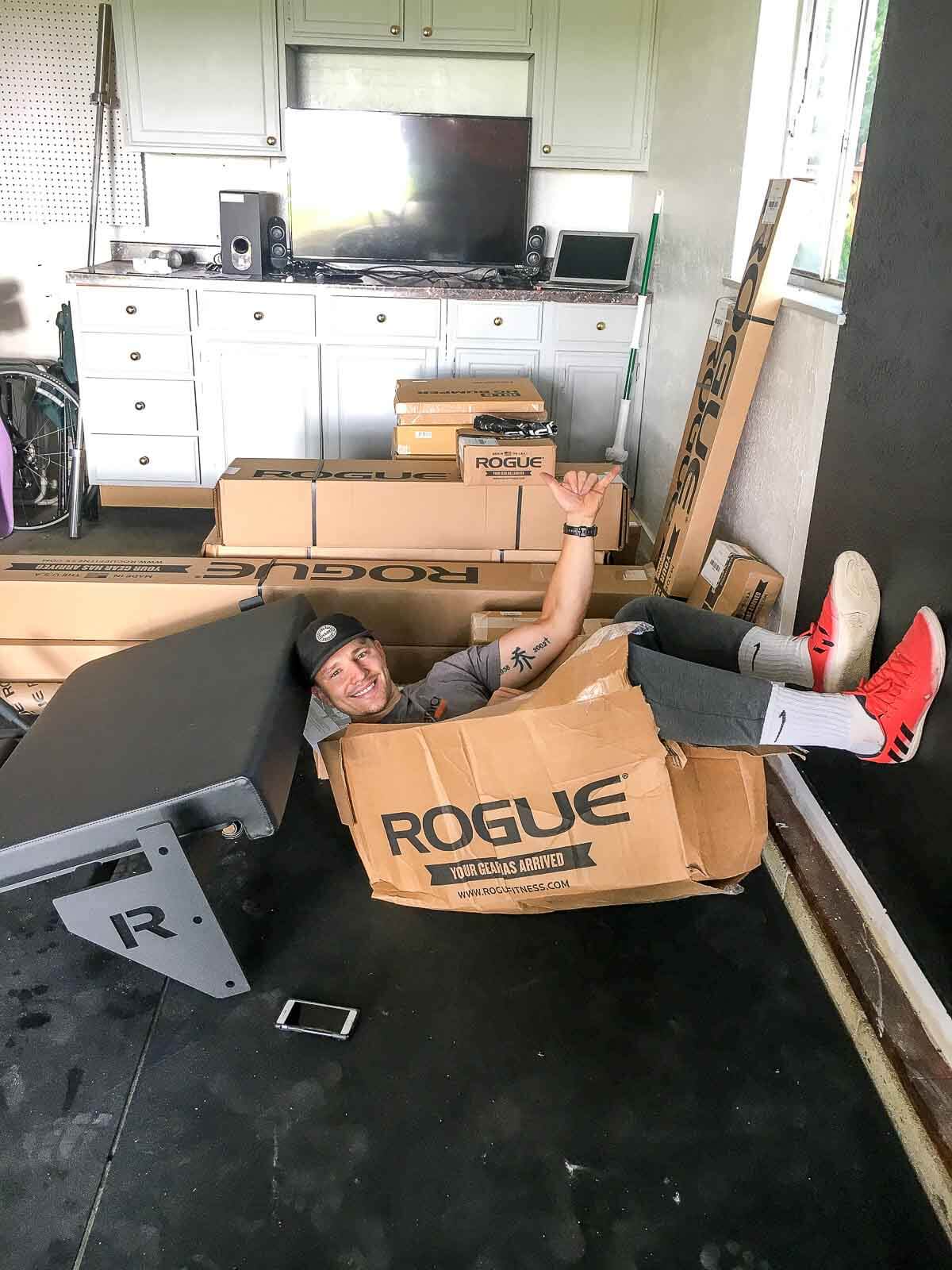 Zach put all of the equipment together in one day and now we're up and running with our home gym!
The equipment we ordered for our home gym:
Rubber flooring to cover the cement
A red rack from Rogue
Two barbells: a girl one and a guy one
All the bumper plates to put on the bars
5 kettlebells ranging from 25lb to 90lb
Assault bike
Hyper machine to attach to the side of the rack
Rubber bands
Jump ropes
Sand bag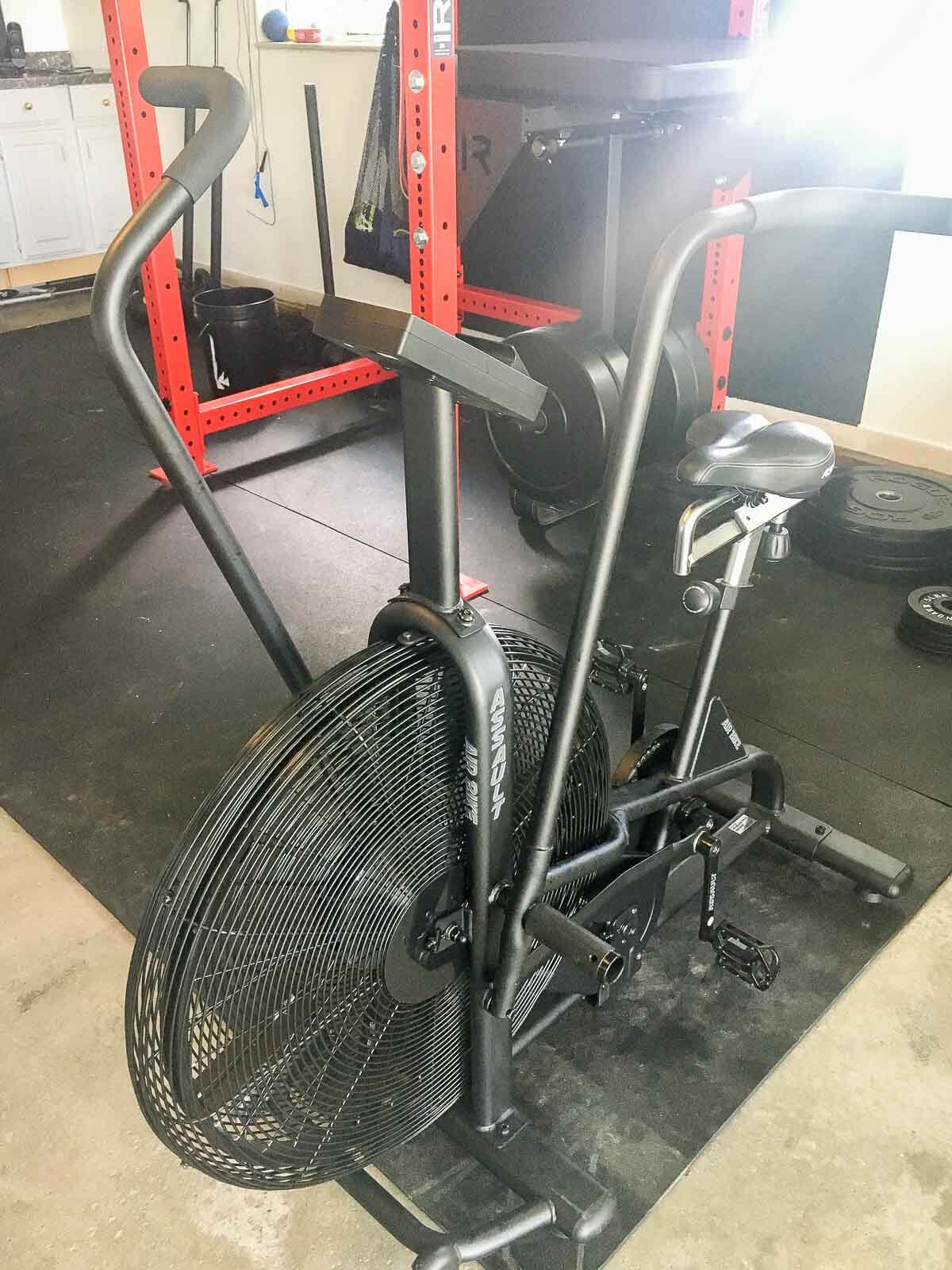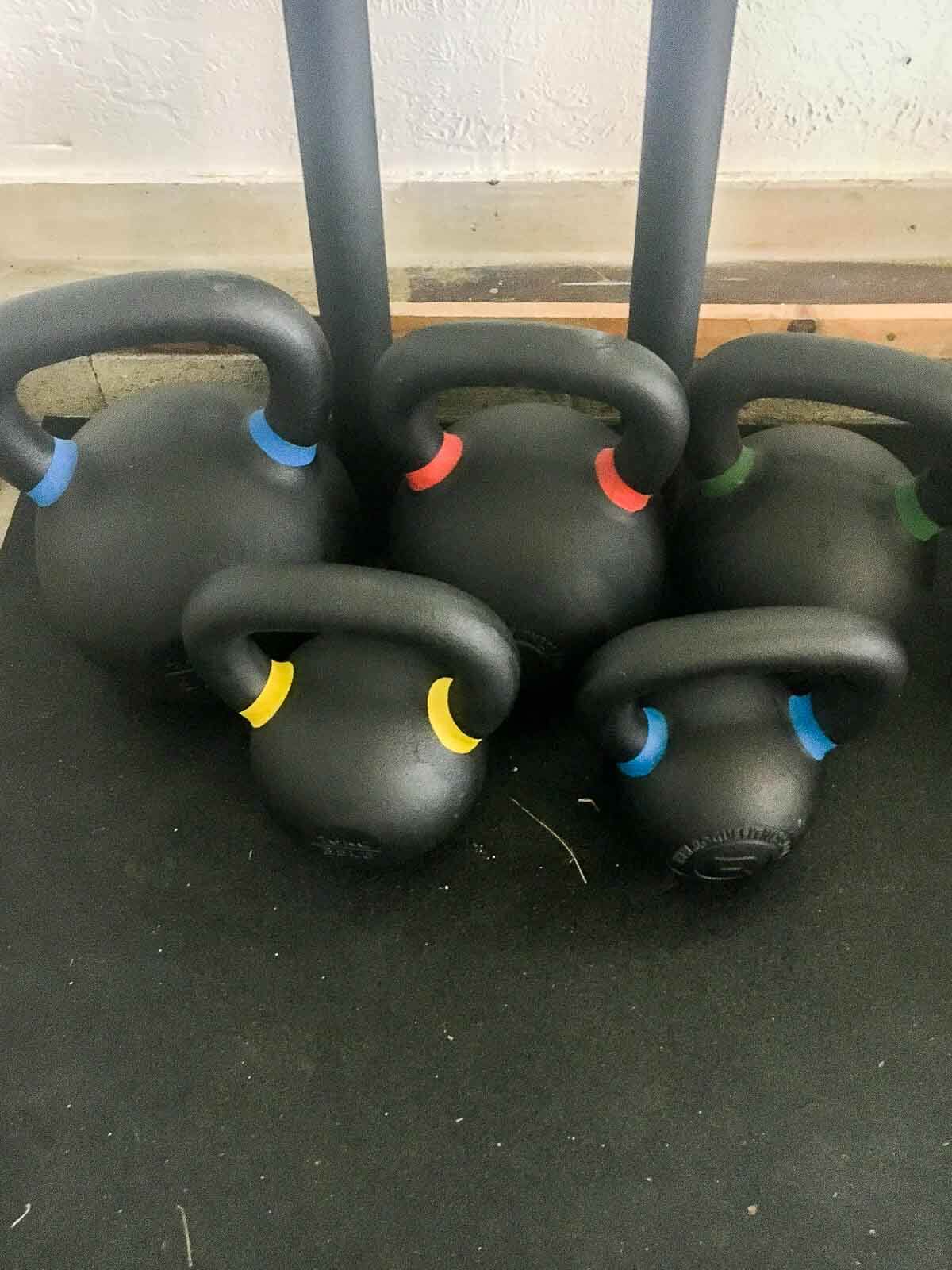 That's all! All the equipment we need to make our workout and fitness dreams come true. We'll likely add to the equipment collection over time, but for now, we are SO HAPPY with the home gym.
Two days ago I did my first workout in the home gym. It included squats, kettlebell swings, side lunges and sprints on the bike. I'm. Still. Sore.
If you want weekly workouts shared here let me know! Zach and I are thinking about the idea of him guest posting once a week to share a simple, but effective workout that anyone can do at home (no equipment required). If that's something you're interested in please respond in the comments with the type of workouts you're interested in.
And don't forget to follow Zach's site and Instagram for more fitness inspo!