Sweet and healthy cookie dough bites packed with protein and just right for a snack or late night craving. There's no eggs, oil or butter and they're gluten-free and paleo!
I've come to the realization that my life is a walking contradiction. How can one person be so in love with health and fitness but love to make and eat desserts? The struggle is so real, my friends.
Which is why I'm merging my two worlds with these easy protein cookie dough bites.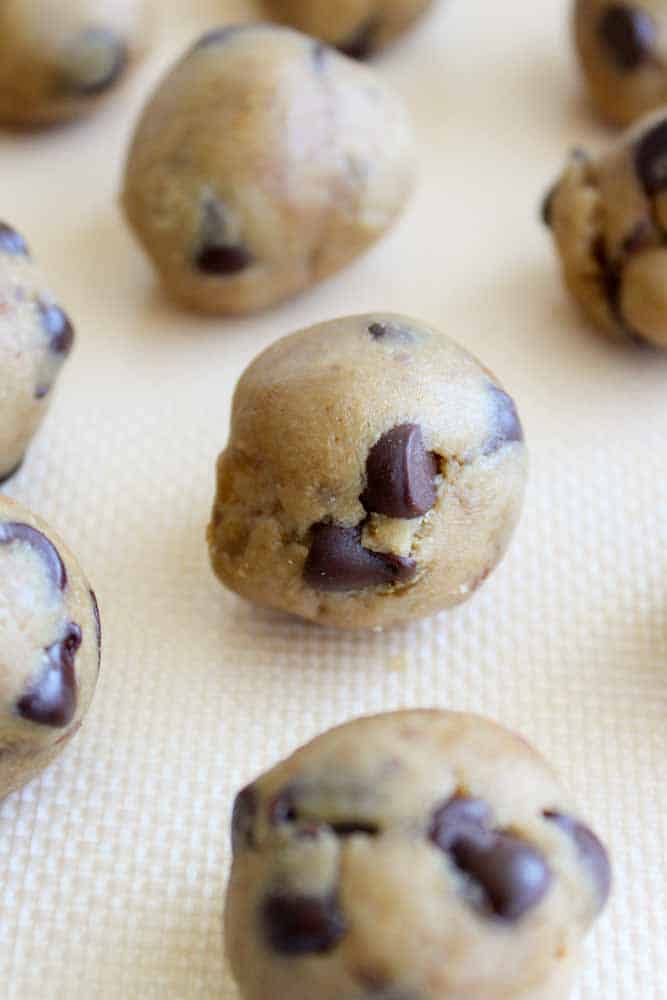 They are very VERY easy. And very similar to our Protein Cookie Dough Bars. They are just the perfect amount of sweet and most importantly, they actually taste like real life give-you-diabetes-from-all-the-sugar cookie dough. But they're not! They're filled with good-for-you-give-me-all-the-cookie-dough healthy bites. Doesn't get any better than that. Amiright?
Here's my deal with cookie dough: If I'm making cookies and you're in the vicinity, DO NOT TOUCH my dough unless otherwise stated (Chelsea has learned this lesson!). I work so very hard and put so much love into that dough that I get a genuine satisfaction when they turn out to be perfect and melty right out of the oven. And my family and friends robbing me of that is just plain cruel.
But let's be real, who doesn't love cookie dough? If I'm not the one making the dough I'm all hands on deck (bowl?) eating it with no reservations. Aside from the whole diabetes thing, that's slightly concerning.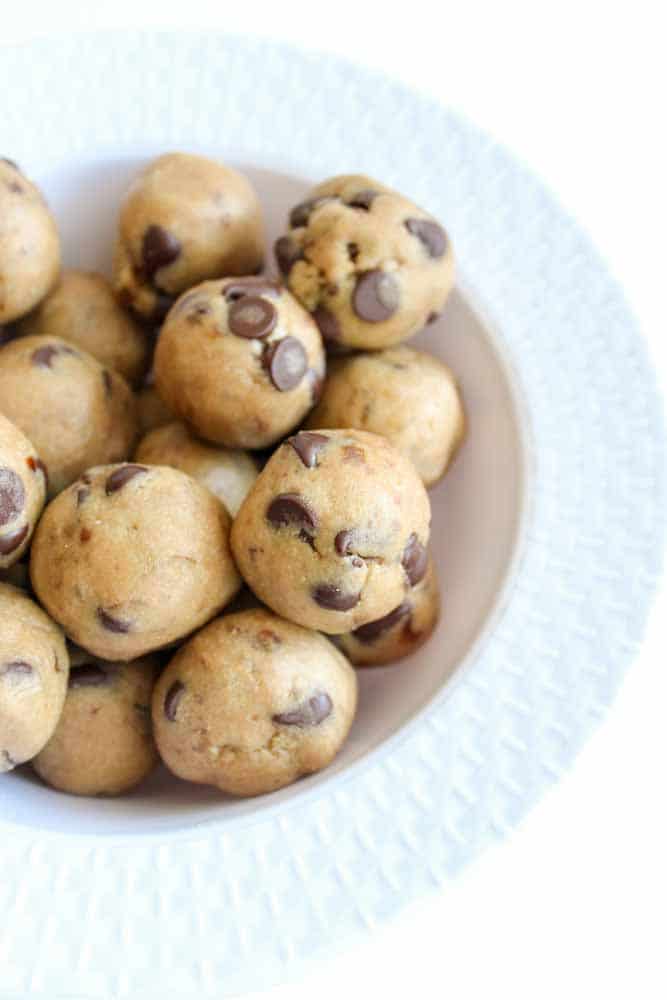 Which is why I've made these healthy cookie dough bites. They're packed with protein and they're gluten free and paleo!
I sent my mom a picture of these right after I finished editing the pictures and the following sentence actually came out of her mouth (keyboard?) "Are those gluten free? I would eat the shit out of those!" Thanks mom, at least I know you like them.
But I'm 99.9999% positive you will too.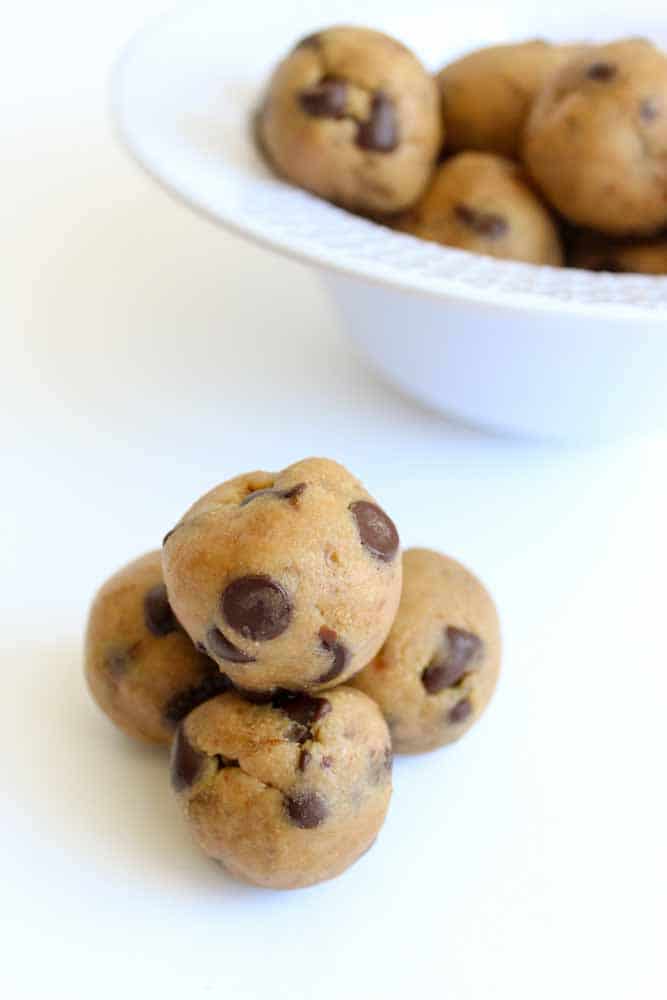 They're the best combination of taste and texture and guilt free. No eggs, no oil, no gluten and lots of protein and natural sweetness!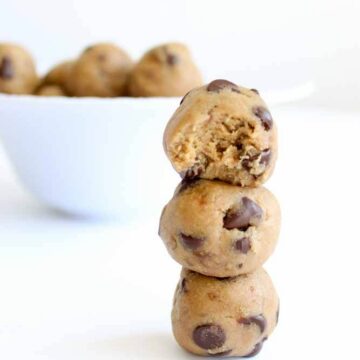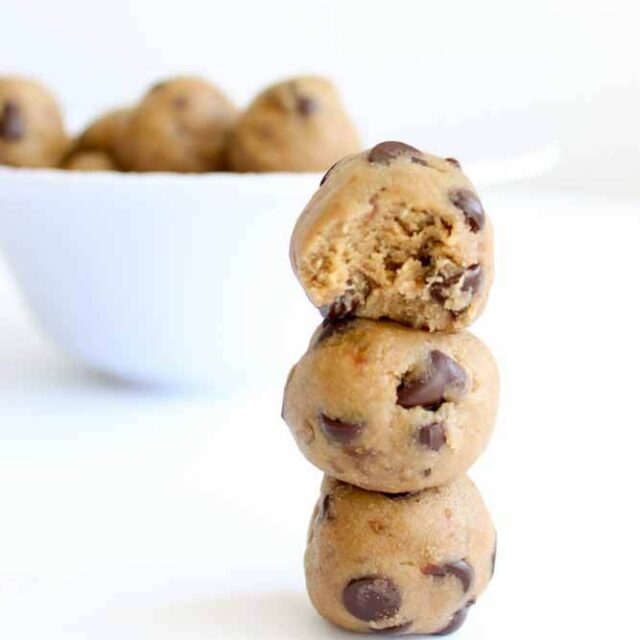 Ingredients
1/2

cup

cashew butter

1

cup

oat flour

1/4

cup

vanilla protein powder

1/3

cup

dates

pitted

4

tablespoon

almond milk

2

tablespoon

sugar free syrup

3/4

cup

dark chocolate chips
Instructions
Combine cashew butter, oat flour, dates, almond milk, and syrup in a food processor. Pulse until it comes together to form a soft dough. Add more almond milk if needed.

Using a rubber spatula, mix in the dark chocolate chips.

Place the dough in the freezer for one hour before rolling into balls.

Roll into one inch balls and store in freezer for up to 3 months.
Used in this recipe:
May include affiliate links