These brownies have 4 mouthwatering layers! Caramal, nougat and more chocolate all layered on top of a fudgy brownie.
I hope everyone had an amazing Christmas with their family! I had an amazing time and I'm still technically celebrating this entire week. I headed to Iowa on Tuesday night to celebrate Christmas with Zach's family.
We'll be here for a whole week eating more cookies, swapping stories, watching movies and just spending quality time together. It's been absolutely amazing so far (aside from this pesky cold/flu situation I'm battling).
Because I'm still in Christmas mode I'm getting in one last indulgent recipe before we kick off a month of healthy and guilt-free dessert recipes that will keep you on track on the new year. Get ready for paleo, vegan and gluten-free recipes comin at ya.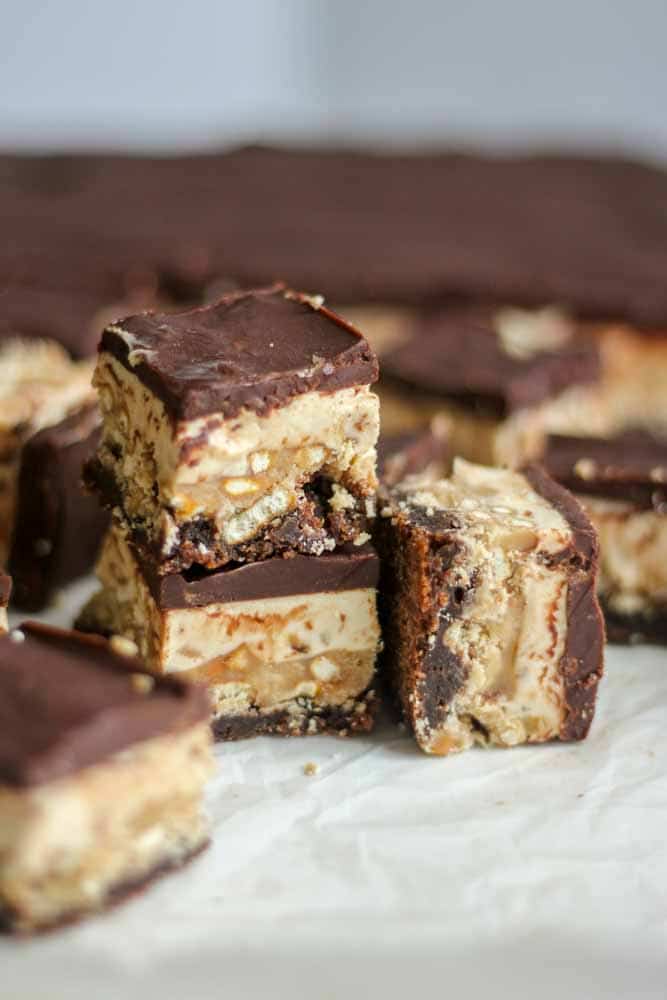 Until then, I'm sharing a recipe that speaks to my soul. A recipe filled with layers of my favorite dessert flavors. Caramel and pretzels (hellooooo sweet and salty), marshmallow nougat (with PEANUT BUTTER) and lots and lots of chocolate.
Let's break these brownies down layer by layer:
Brownie layer: This is a fudgy and chocolatey brownie that creates the sturdy base for all the layers on top. If you're crunched on time/don't have the ingredients you can definitely use a boxed brownie mix here (I won't tell anyone!).
Caramel layer: Seriously, who doesn't love salty and sweet? The combination of the soft and chewy caramel with the crunchy and salty pretzels makes this my favorite layer of them all (don't tell the other layers).
Nougat layer: This isn't just any old nougat layer. This nougat layer has peanut butter mixed in. Peanut butter and marshmallows and it goes right on top of the caramel layer.
Chocolate layer: A simple, yet delectable, chocolate ganache layer made with chocolate, butter and whipping cream. It's the final topping to these layers of love.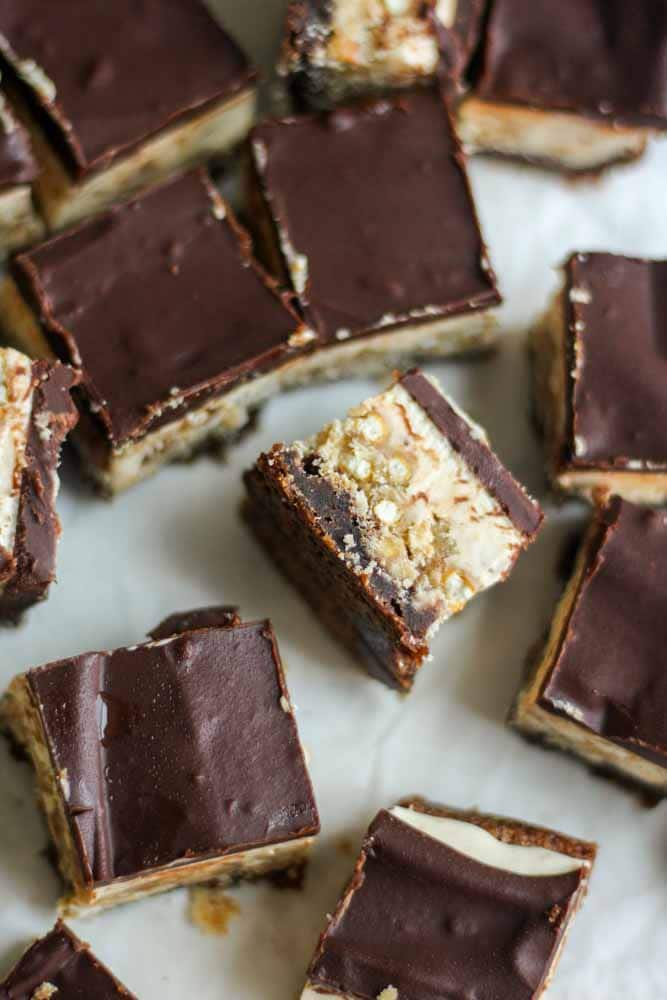 One recommendation before you get started making these! I suggest giving yourself ample time in between each layer to cool. Otherwise the layers will mix together and when you cut them into pieces you won't see the perfect lines between each layer. I know from experience. I was in a rush between the caramel and nougat layers and was not happy with the way that batch turned out.
I made each layer and allowed them to cool completely then threw them in the freezer for about ten minutes while I made the next layer.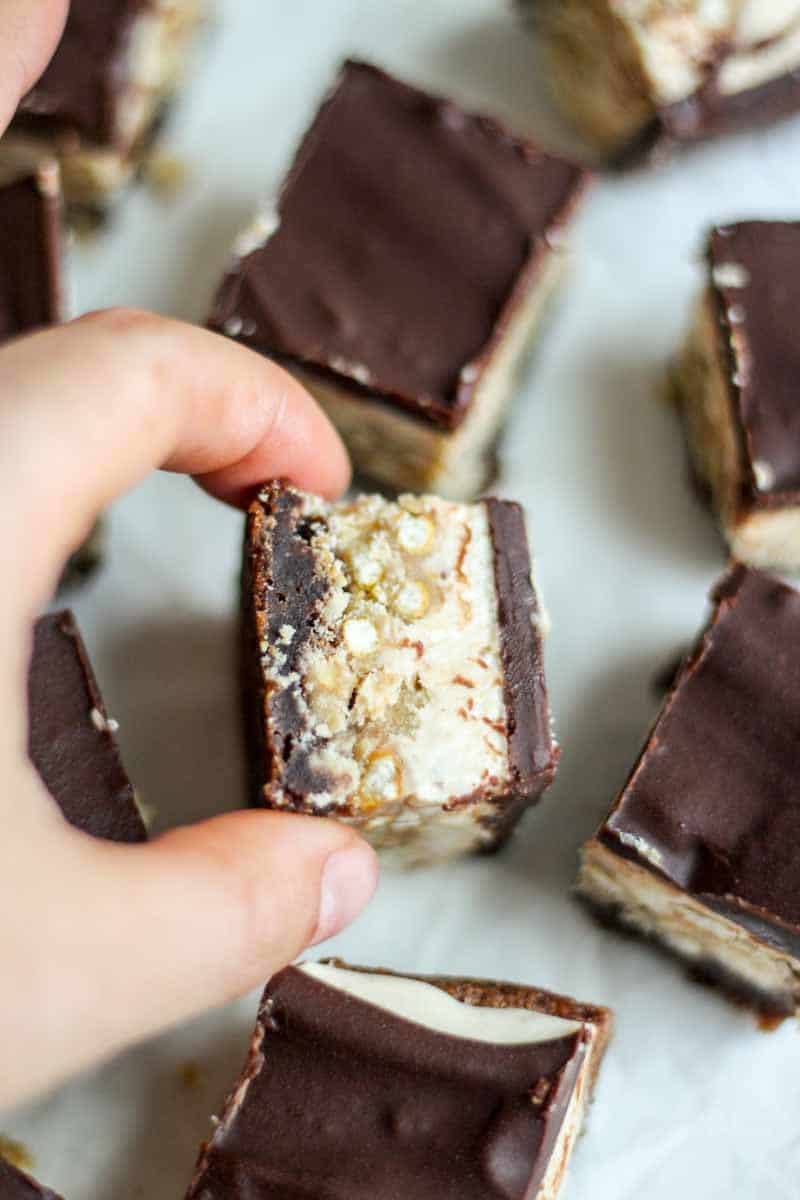 Run a sharp knife under hot water and when you cut into the bars you'll end up with the perfect lines so everyone will be able to see all the amazing layers happening here.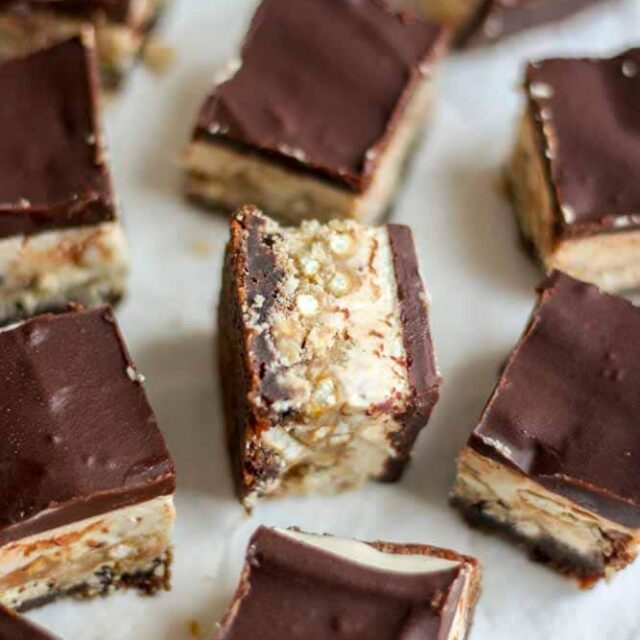 Ingredients
Brownie Layer:

½

cup

butter

3

ounces

unsweetened chocolate

chopped

1

cup

granulated sugar

2

eggs

room temperature

1

teaspoon

vanilla

⅔

cup

all-purpose flour

¼

teaspoon

baking soda

Caramel Layer:

14

oz

pack soft caramels

2

tablespoons

evaporated milk

1

tablespoon

water

1 ½

cups

pretzels sticks

crushed

Nougat Layer:

1 ¼

cup

granulated sugar

⅔

cup

evaporated milk

½

cup

1 stick butter, softened

7

oz

jar marshmallow fluff

¼

cup

creamy peanut butter

Chocolate Ganache Layer:

12

oz

semisweet chocolate

¼

cup

butter

¼

cup

heavy whipping cream
Instructions
Preheat the oven to 350°F degrees. Line a 13x9 inch baking pan with foil or parchment paper, extending about 1 inch over the edge. Grease and set pan aside.

For the brownie layer, in a medium saucepan, heat ½ cup butter and unsweetened chocolate over low heat until melted and smooth. Remove from heat and set aside to cool slightly. Stir one cup of sugar into melted chocolate mixture. Add eggs one at a time, stirring after each addition until combined. Stir in vanilla.

In a small bow, stir together flour and baking soda and to chocolate mixture. Stir until just combined. Pour into prepared baking pan and bake in preheated oven for 15-17 minutes or until a toothpick inserted in the middle comes out clean. Cool completely in the pan on a wire rack. Place in the freezer while you make the caramel layer.

For the caramel layer, in a large microwave safe bowl, combine the caramels, evaporated milk and water. Microwave on high for 30 seconds. Stir and repeat until mixture is completely melted. Stir in crushed pretzels. Pour and spread caramel layer over cooled brownie layer, spreading to the edges. Place the pan in the freezer while preparing the nougat layer to cool completely.

For the nougat layer, in a medium saucepan, combine sugar, evaporated milk, and butter. Bring to a boil over medium high heat, stirring constantly. Once boiling reduce heat to medium and boil at a moderate steady rate without stirring for 10 minutes. While boiling, in a large bowl, combine the marshmallow fluff and peanut butter together. Whisk the hot sugar mixture into marshmallow mixture until well combined. Pour the nougat layer over caramel layer from the freezer. Place back in the freezer while preparing chocolate layer.

For the chocolate layer, in a small saucepan heat and stir semisweet chocolate pieces, butter and whipping cream over low heat until melted and smooth. Pour chocolate layer over nougat layer and spread to the edges. Cover and chill for at least 2 hours.

Using the edges of the foil or parchment paper, lift uncut brownies out of the pan. Cut and serve.

Store in the refrigerator for up to 3 days or in the freezer for up to two months.