Looking for the perfect summer dessert? This Cookie Dough Layered Ice Cream Bar dessert is a frozen recipe everyone will L-O-V-E.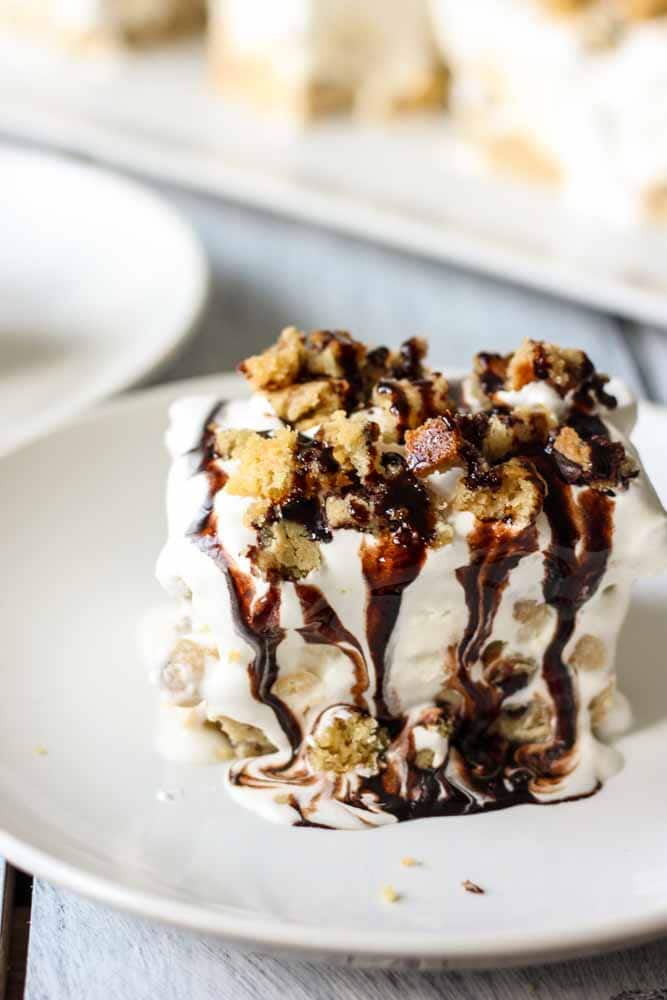 Is there actually anything more amazing than cookie dough? The answer is no. You need to let it go. You need to let it go. (Insert Megan Trainer "No" song voice.)
There is absolutely nothing more perfect and delicious than cookie dough. Which is the exact reason I combined it with ice cream for this summer recipe! We have to thank Chelsea's Messy Apron for the inspiration!
These cookie dough ice cream bars are a a delicious way to cool off this summer!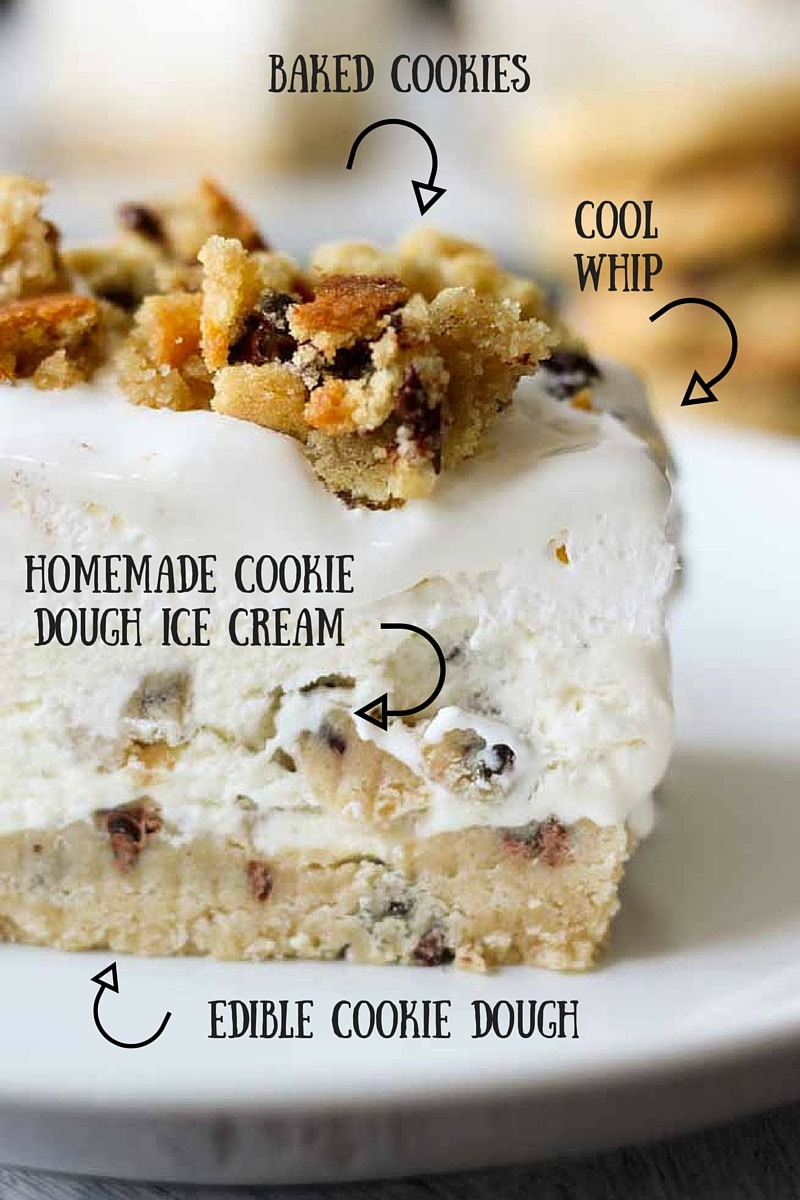 The bottom layer is….you guessed it! Edible cookie dough. I made a batch and a half of my regular edible cookie dough and saved a third of it for the next layer: homemade cookie dough ice cream!
This simple and easy homemade ice cream is 3 ingredients and doesn't require any churning! You ball up pieces of the reserved edible cookie dough and set them aside. Then you whip heavy cream until stiff peaks form, fold in sweetened condensed milk and vanilla then mix in the cookie dough!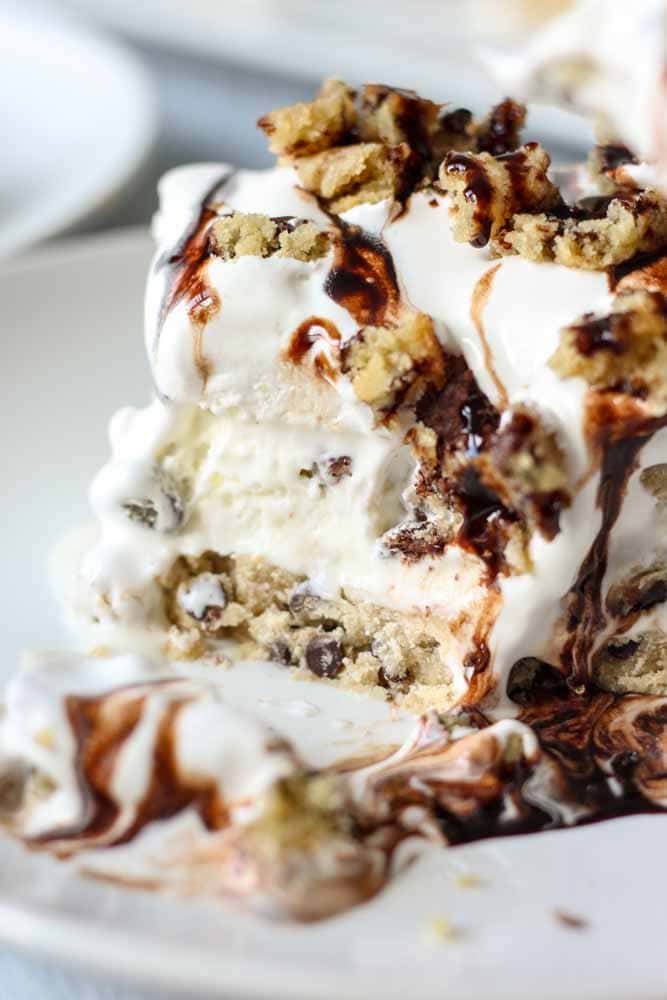 Freeze overnight and you've got the second layer!
These cookie dough ice cream bars are packed with cookie dough! Yum!
Then you add cool whip and crush up baked chocolate chip cookies. I had frozen *real* cookie dough in the freezer so we baked the cookies to crumble on top. If you don't have time, you can absolutely buy pre-made cookies to add to the top of the ice cream bars.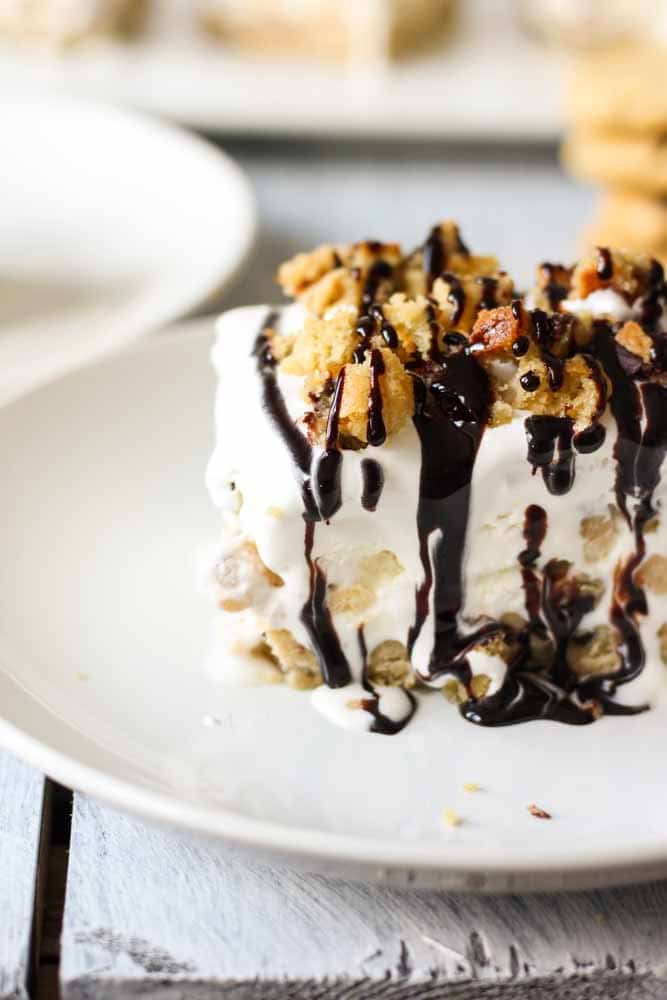 More ice cream recipes: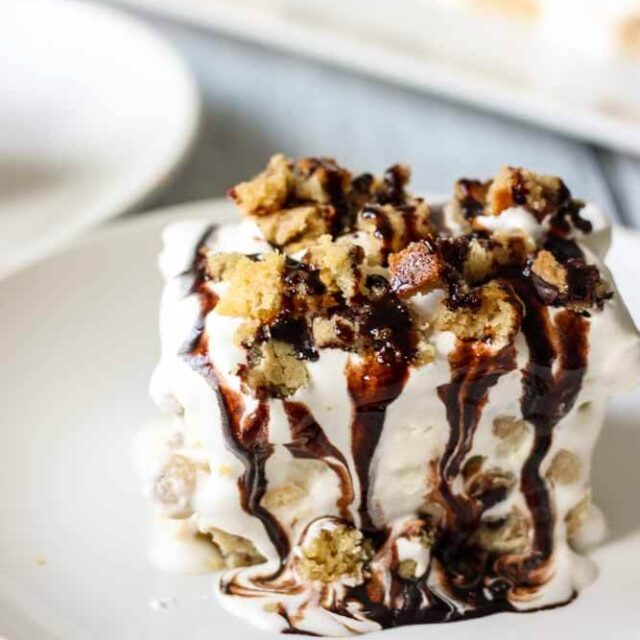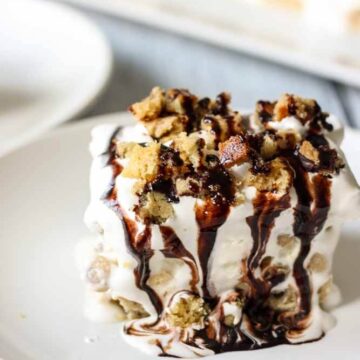 Ingredients
Edible Cookie Dough Layer:

1½

cup

brown sugar

⅔

cup

granulated sugar

1½

cup

unsalted butter

softened

3¾

teaspoons

vanilla extract

1½

teaspoon

salt

3

and ¾ cups flour

3

tablespoons

milk

1½

cup

miniature chocolate chips

Cookie Dough Ice Cream Layer:

3

cups

heavy whipping cream

cold

1-16

oz

can sweetened condensed milk

2

teaspoons

vanilla extract or vanilla bean paste

⅓

of the edible cookie dough from above

1

large container of cool whip

fresh baked chocolate chip cookies or store-bought chocolate chip cookies

to top

chocolate sauce

optional
Instructions
Line a 9x13 inch baking pan with plastic wrap letting the edges hang over sides of pan for easy removal. Set aside.

To make the edible cookie dough layer, combine the butter, brown sugar, granulated sugar and beat until fluffy, about two minutes. Stir in flour until combined then add miniature chocolate chip and mix well.

Remove ⅓ of the cookie dough and set aside. Press the other ⅔ of cookie dough evenly along the bottom of the pan. Place in the freezer.

To make the cookie dough ice cream, form tiny balls of cookie-dough from the reserved ⅓ edible cookie dough. Set aside.

In a large bowl, beat heavy cream with an electric mixer on high until stiff peaks form, about 4 minutes. In a small bowl, mix the sweetened condensed milk with the vanilla. Slowly fold in the condensed milk mixture until combined. Add the cookie dough bites and mix well. Pour into a 9x9 loaf pan and freeze overnight.

Spoon large scoops of all the cookie dough ice cream over the edible cookie dough layer already made in the 9x13 pan. Smooth as best you can to create an even layer.

With a rubber spatula, smooth the thawed whipped topping over the ice cream in an even layer.

Crumble baked or bought cookies over the cool whip. Cover and place in freezer until all layers freeze.

When ready to serve, remove from pan using plastic overhang and cut into bars. Serve with a drizzle of chocolate syrup, if desired.

Store leftovers in freezer for up to one week.